Christmas Sprinkle Cookies are sugar Cookies rolled in Christmas sprinkles for a special holiday treat! Delightfully soft & chewy Christmas cookies made with festive holiday sprinkles!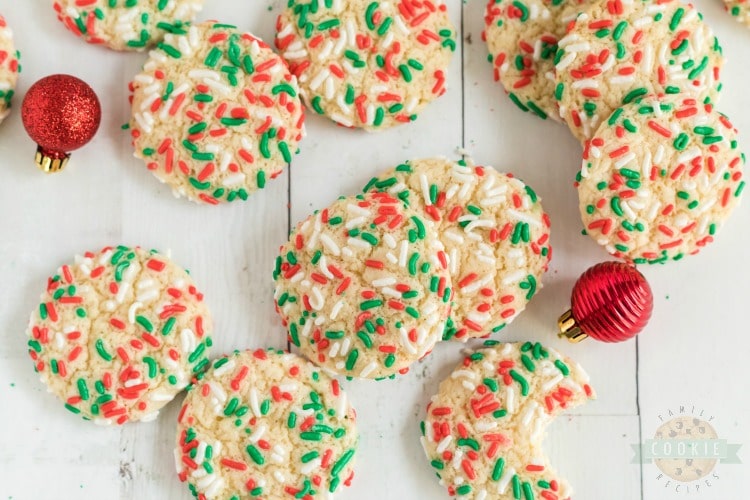 Christmas cookies are a traditional treat in almost every house. They're so popular that there are cookie gift exchanges where people share their favorites with friends and family! Imagine bringing these colorful and tasty Christmas sprinkle cookies to your next cookie exchange party. They're sure to be an incredible hit!

Tips for Making these Christmas Sprinkle Cookies
They will spread a lot during the baking process so make sure that you give each one space on the pan to do so. I recommend not placing more than 8 on a cooking sheet.
Another tip is that because you'll be rolling the dough in your sprinkles, having your sprinkles in a pie plate could be a great way to roll them around without feeling as confined as you would inside a cereal bowl.

Should I chill these sugar cookies?
You could if you wanted to, but there is no need to do so. The cookies come out perfectly soft and chewy when you follow the recipe as it is written. Chilling the dough is often recommended for sugar cookies, but this is a delicious exception to that rule.

Can I use any sprinkles?
Sprinkles come in many different shapes and colors so this is a very valid question. You can use any sprinkle of preference, but keeping the basic red, green and white "jimmies" sprinkles are what make this a great Christmas cookie recipe.
Christmas Sprinkle Cookies Ingredients
-1 cup butter room temperature
-1 cup granulated sugar
-2 eggs
-3 tsp vanilla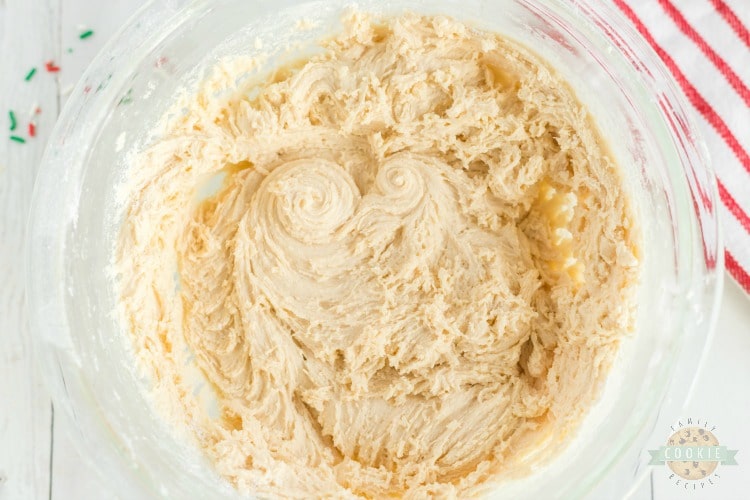 -2 1/4 cups all-purpose flour
-2 tsp baking powder
-1/2 tsp salt
-1 cup red & green sprinkles

How to make these Christmas Sprinkle Cookies
Preheat your oven to 350°.
You can use a stand mixer or a hand mixer, but inside a bowl, cream together the butter and the sugar. Cream them for about two minutes or until they're light and fluffy. Scraping down the sides of the bowl.
Add in the eggs and the vanilla and mix again until well combined.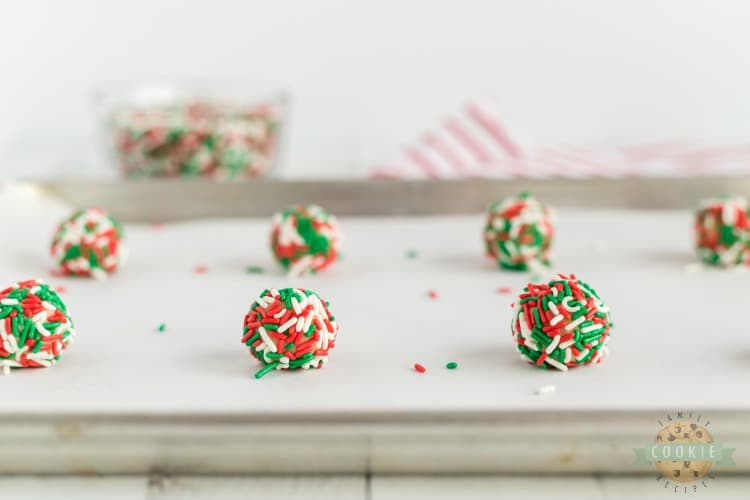 Add in the flour, baking powder, and salt. Mix them until they're fully incorporated. The dough will be sticky.
Pour your sprinkles into a bowl (or pie plate). Scoop the cookie dough out of the mixing bowl and place it in the sprinkles. Roll the dough around in the sprinkles until it is fully covered. Reshaped the dough into a ball before placing on a parchment paper-lined cookie sheet.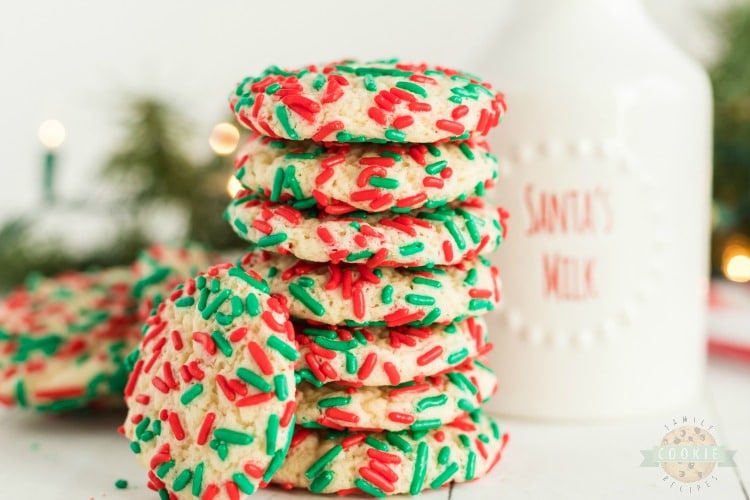 The cookies will spread quite a bit while baking, so I suggest limiting each cookie sheet to about eight cookies.
Bake at 350° for 10 minutes. Let them cool completely on the pan. The cookies will stay fresh in an airtight container for 2 to 3 days.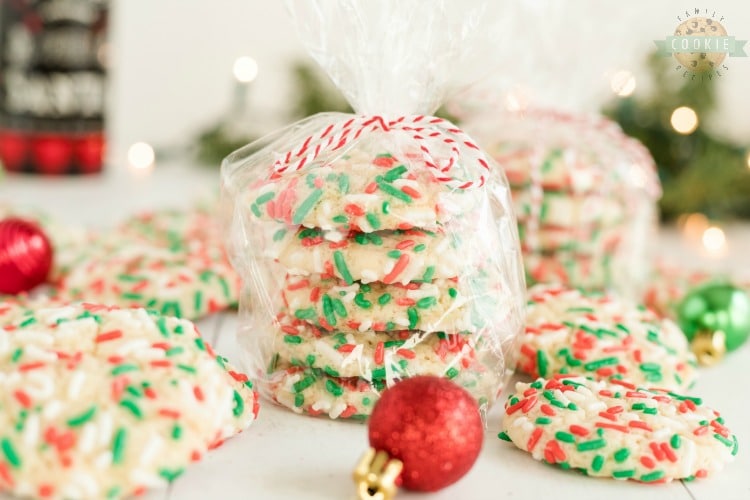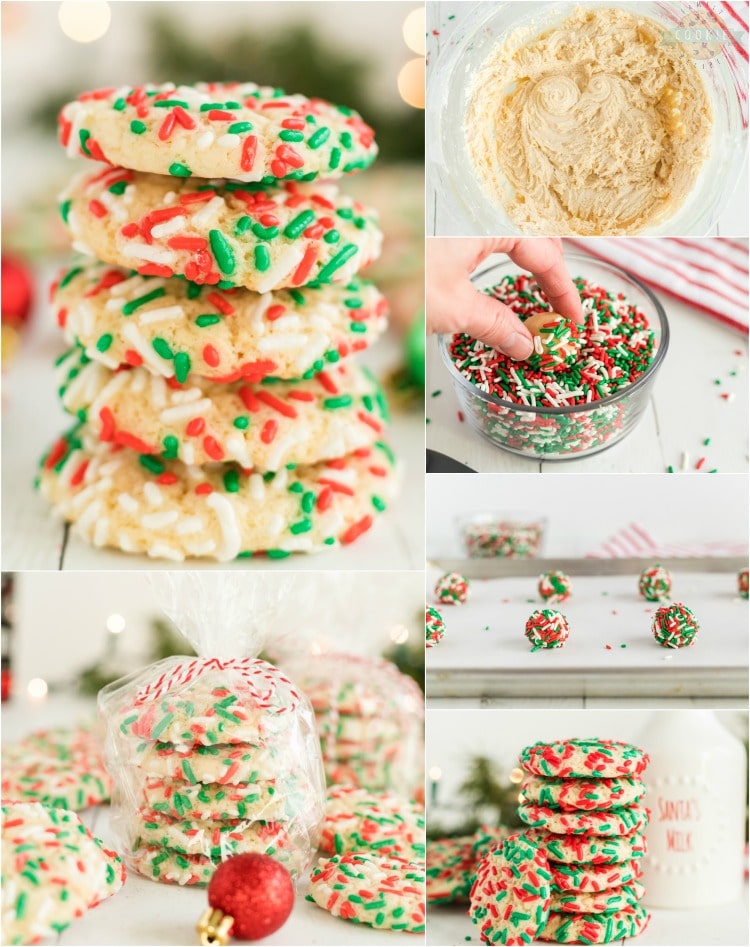 Can you freeze sugar cookies with sprinkles?
Absolutely! One of the best things about Christmas cookies is that they can freeze so well. Not only can you freeze the cookies after they've cooled down and been transferred to an airtight container, but you can also take your ready-to-bake dough balls and freeze those as well.
How do you get the sprinkles to stick to the cookie dough?
Rolling the sticky dough ball around in the sprinkles should be enough to do the trick, but if you find that you're having difficulty, it could be helpful to use your fingers to push the sprinkles into the dough to get a better grasp.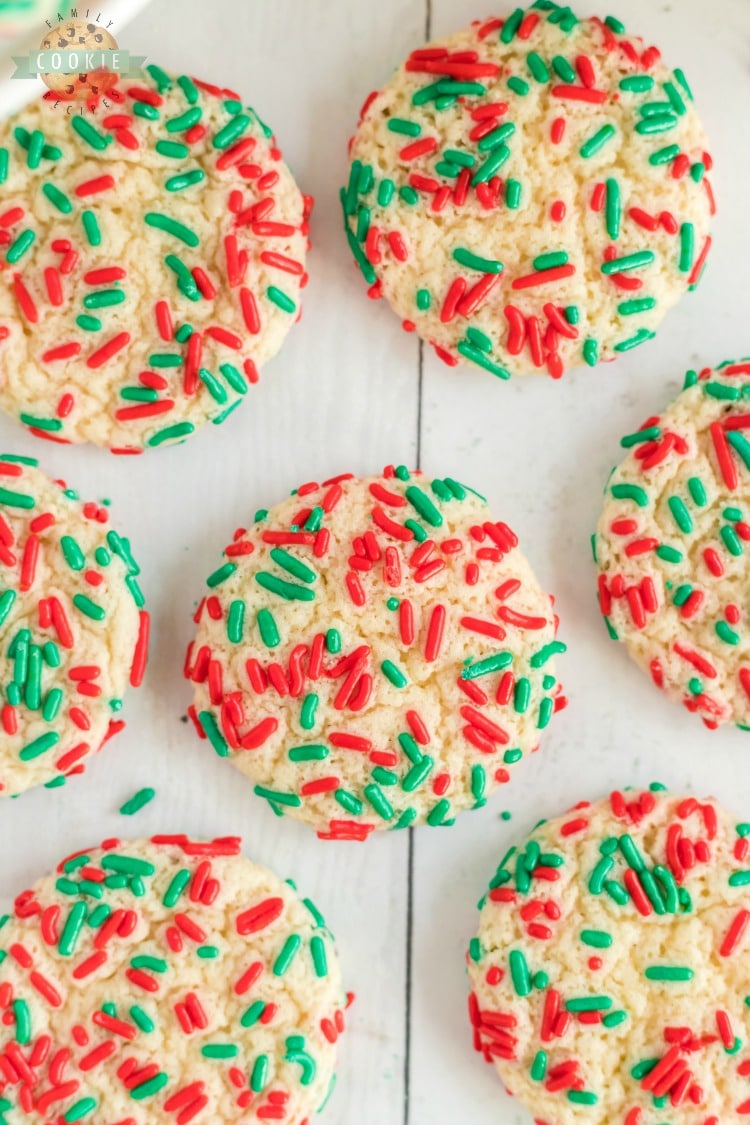 More Christmas Cookie recipes:


When you're a little girl, there's not many things that bring you as much joy as twirling in a pretty dress, right?! My daughter is still in the stage where she LOVES dresses and honestly, I'm all for it! I love her sweetmoment of fun here amidst family pictures.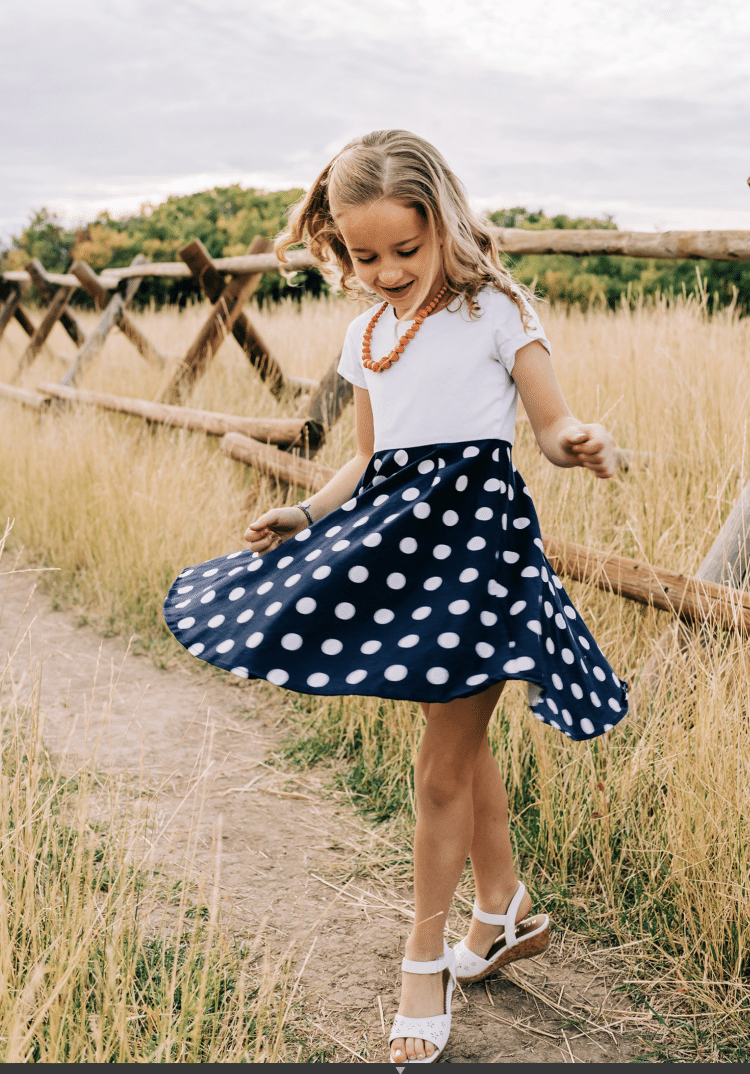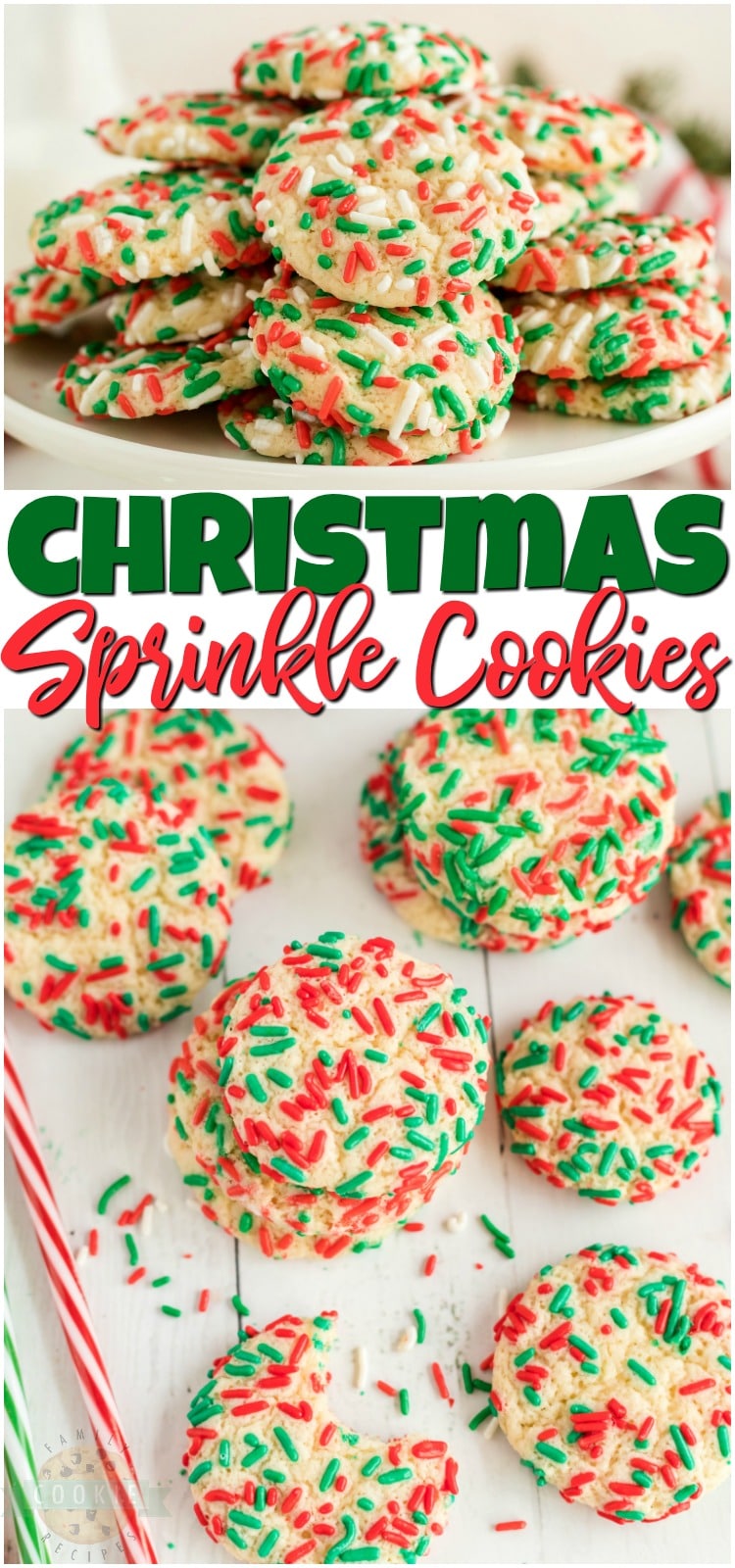 With these Christmas Sprinkle Cookies, you are sure to have a tasty and winning festive Christmas cookie recipe that everyone will enjoy!