Mint Christmas Cookies made from a buttery shortbread cookie dipped in chocolate & topped with holiday sprinkles. Green Christmas Cookies perfect for cookie exchanges and gift plates!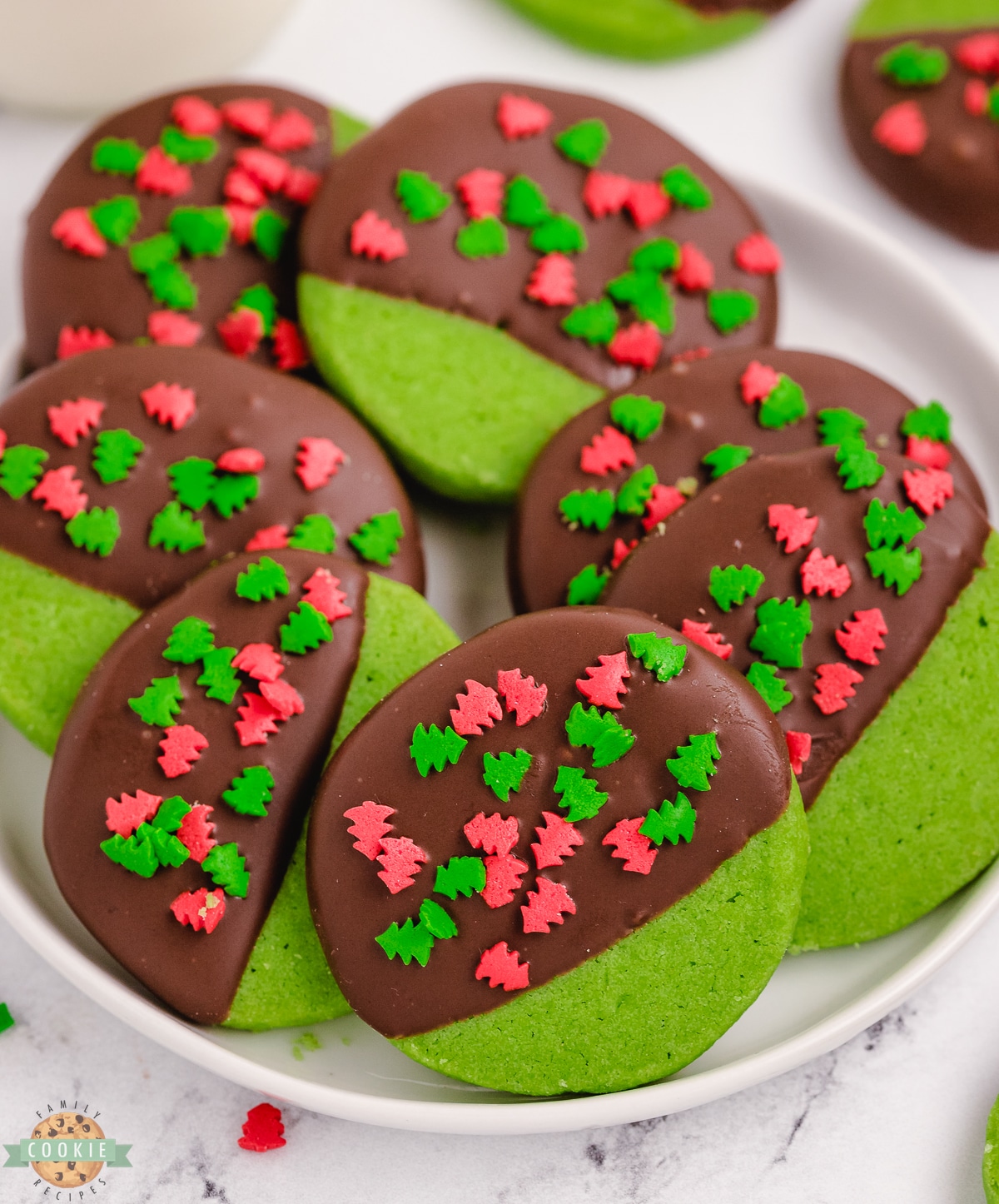 Be sure to check out our updated collection of BEST CHRISTMAS COOKIE RECIPES here!
Mint Christmas Cookies are one of my favorite Christmas cookies ever. If you like Mint Milanos, you'll love these because they taste very similar! The mint-chocolate combination is a favorite of ours and really, who can resist any treat that's got holiday sprinkles?! Not me! The recipe makes about 4 dozen too, so they're perfect for cookie exchange parties this time of year.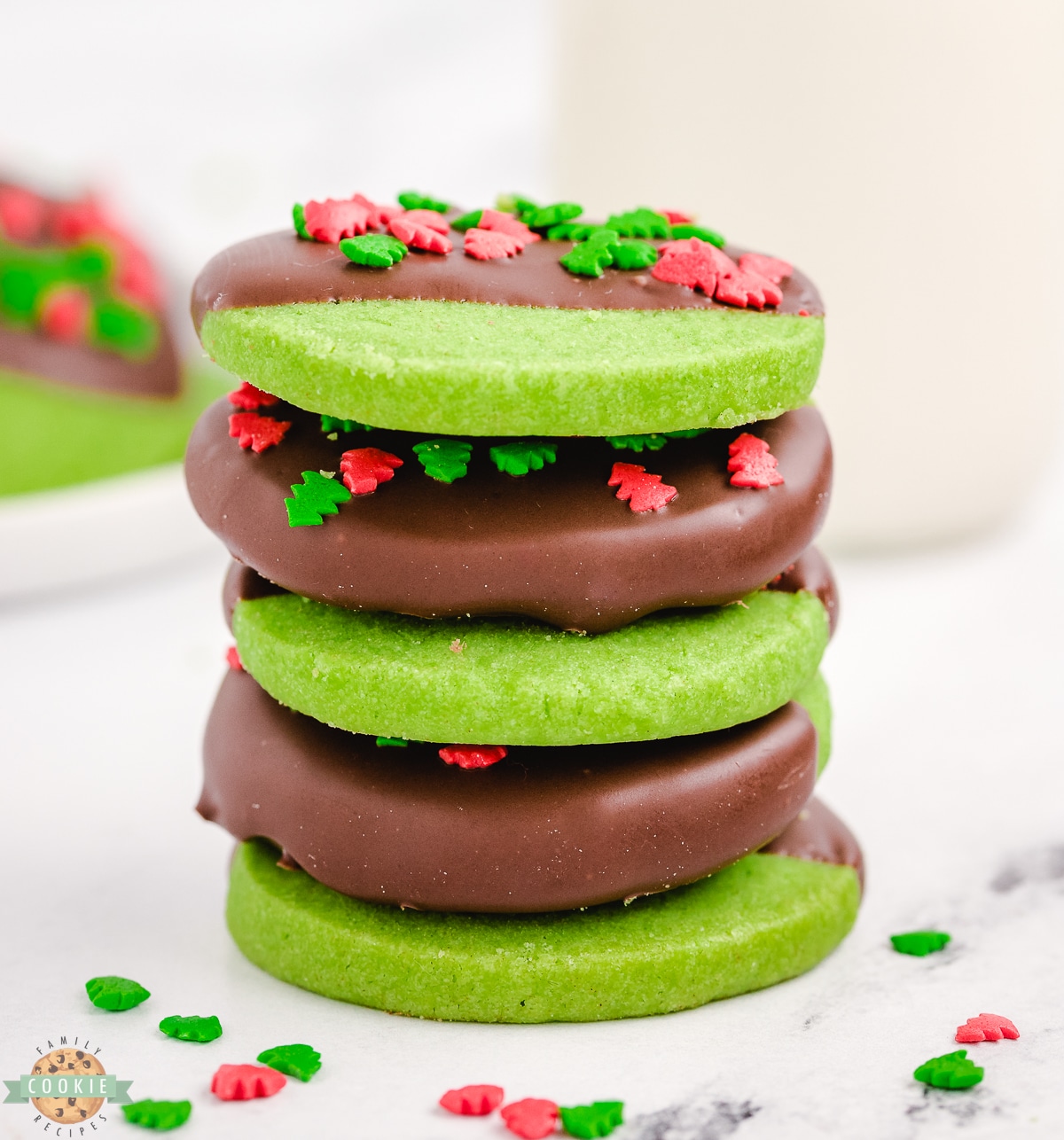 How to make Mint Christmas Cookies
One of my favorite things about this shortbread cookie recipe is that you can make them in advance! Use a hand mixer or stand mixer to mix the cookie dough and then shape the dough into logs and wrap in plastic wrap or wax paper. Store the cookie dough logs in the fridge for at least 2 hours. You can even make this cookie dough and put it in the fridge days in advance! Slice the cookies while chilled, then bake, cool and dip in chocolate. Sprinkle with festive holiday sprinkles and let cool to set.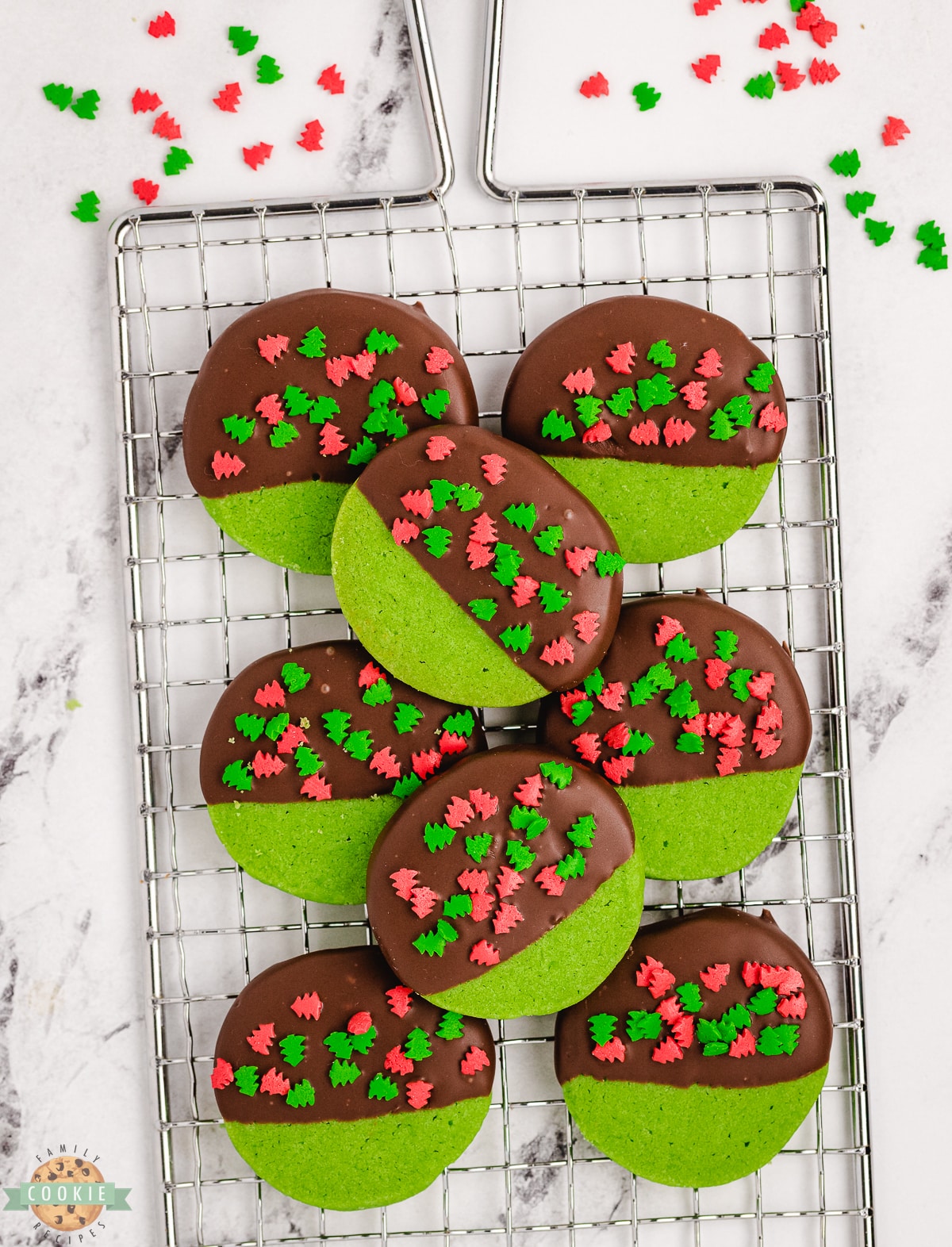 Baking Tips for making Shortbread Cookies
Here are 2 of my favorite kitchen items I use to make these shortbread cookies. I actually use these items in nearly every cookie recipe I make, as well as several other types of recipes, so they're quite versatile.
1. First, I line my cookie sheets with a piece of parchment paper. They're sold in sizes that fit a 12×16 cookie sheet perfectly and enable to cookies to bake well without sticking- and no mess from spraying oil on the cookie sheets!
2. The second item is a KitchenAid mixer. I love mine! I have a Bosch as well but I find I use my KitchenAid for cookies. There is a cookie paddle that comes with every mixer that you attach to the mixer. They're easy to use and help you mix the ingredients uniformly. Add this to your wish list because it's one of my all-time used small appliances ever.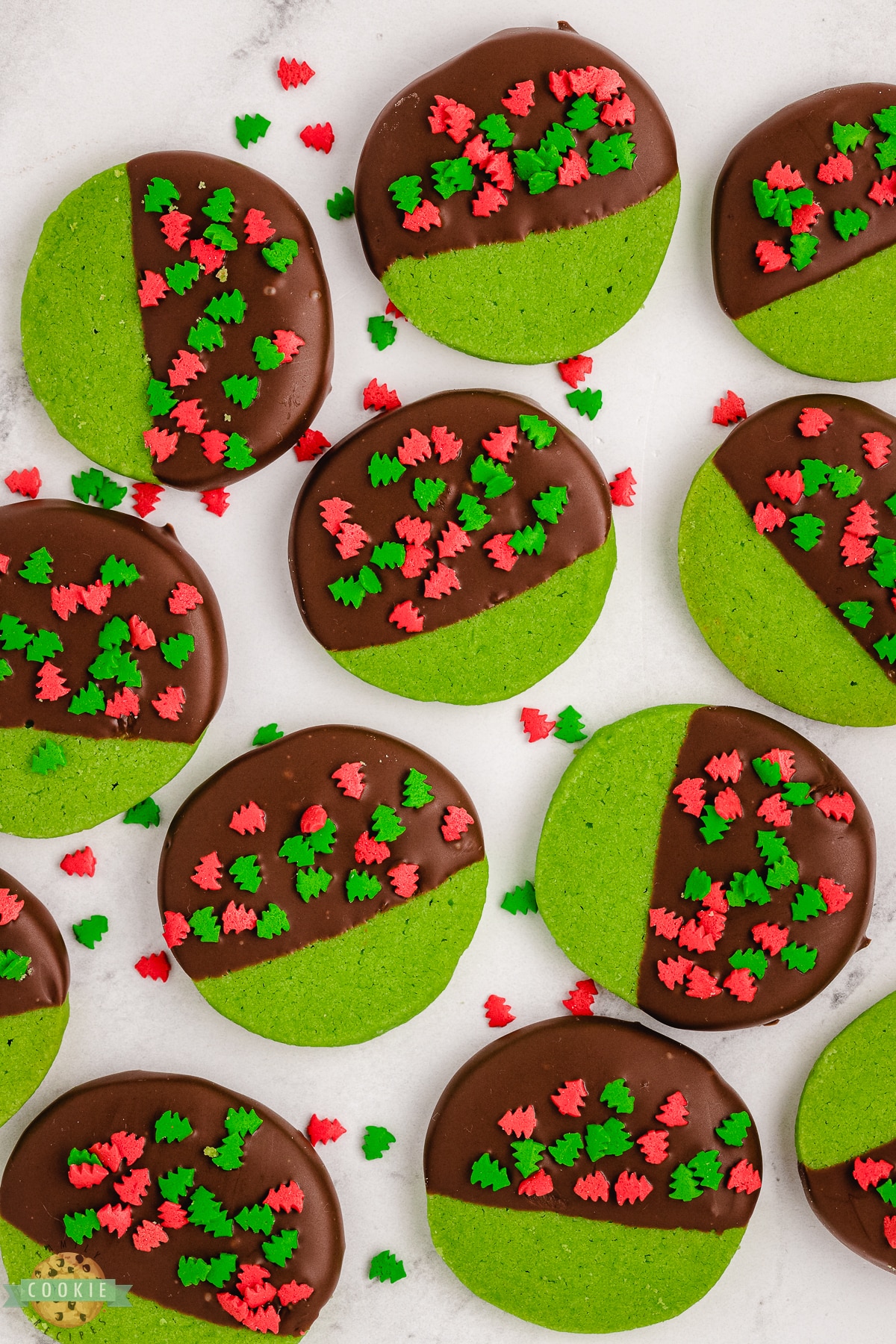 Mint Christmas Cookie Ingredients
— BUTTER: You'll need 1 cup butter, softened. This is equal to 2 sticks here in the US.
— SUGAR: We use 1/2 cup sugar for these Christmas cookies.
— MINT FLAVOR: I recommend using 2 tsp mint extract to flavor these cookies.
— DRY INGREDIENTS: You'll use 2 cups flour, 1 tsp baking powder & 1/4 tsp salt
— GREEN COLOR: I added 10-15 drops green food coloring to my cookie dough. Start with 5-6 drops, mix the dough and see how it looks. It's better to start with less coloring and add more! Natural colors are much less vibrant, so if you opt to use those, you'll need more.
— CHOCOLATE: I melt 2 cups melting chocolate wafers to dip the cookies in.
— SPRINKLES: I used some of my favorite festive Christmas sprinkles to top the cookies with.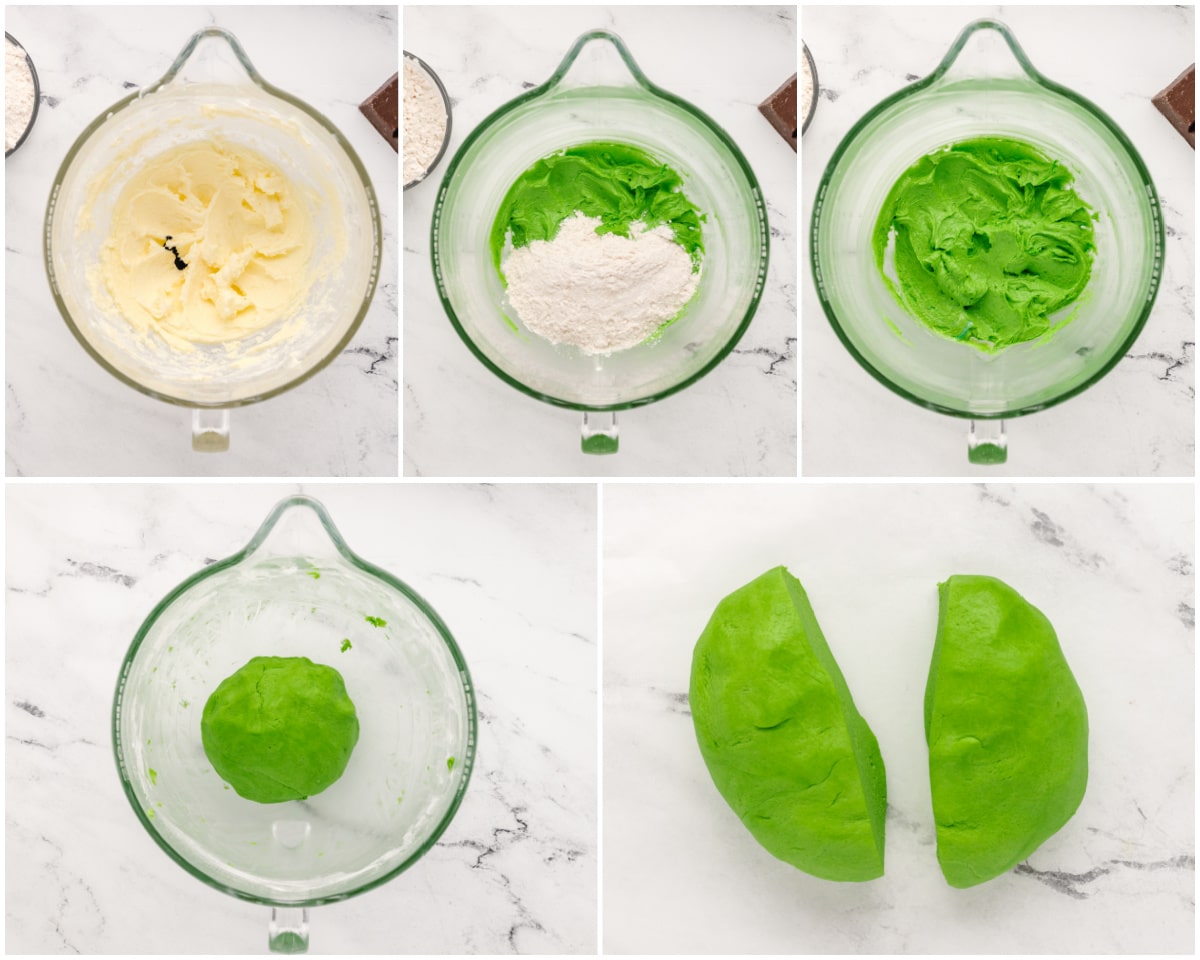 How to Make Green christmas Cookies
With an electric mixer, cream the butter with the sugar until the mixture is light and fluffy. Add in mint extract and coloring.
Add flour, baking powder and salt. Mix until it forms a dough.
Divide the dough in half. On a sheet of wax paper, form each half into an 8-inch log. Chill the logs, wrapped in the wax paper, for at least 2 hours or overnight. (If you're pressed for time, 30 minutes in the freezer works well too!) I always aim for round logs and end up with more oval shape. It works!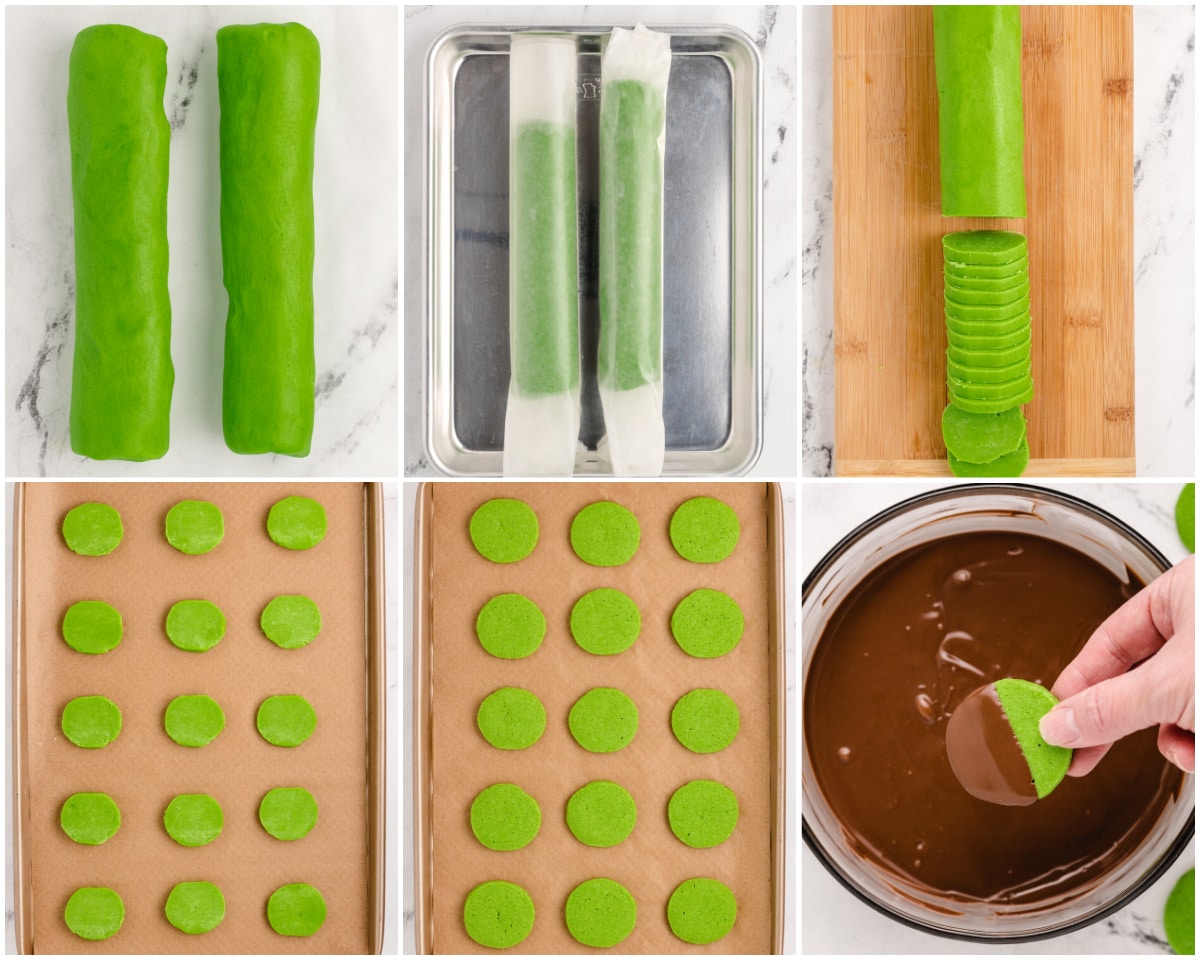 Heat the oven to 300°F. Line baking sheets with parchment paper.
Cut the logs into ¼-inch-thick slices with a sharp knife. Arrange the slices 2 inches apart on baking sheets.
Bake the cookies on the top rack of the oven for 22-26 minutes.
Transfer to wire racks to cool. Heat chocolate in microwave for 1 minute. Stir gently and continue heating in 15 second increments until smooth.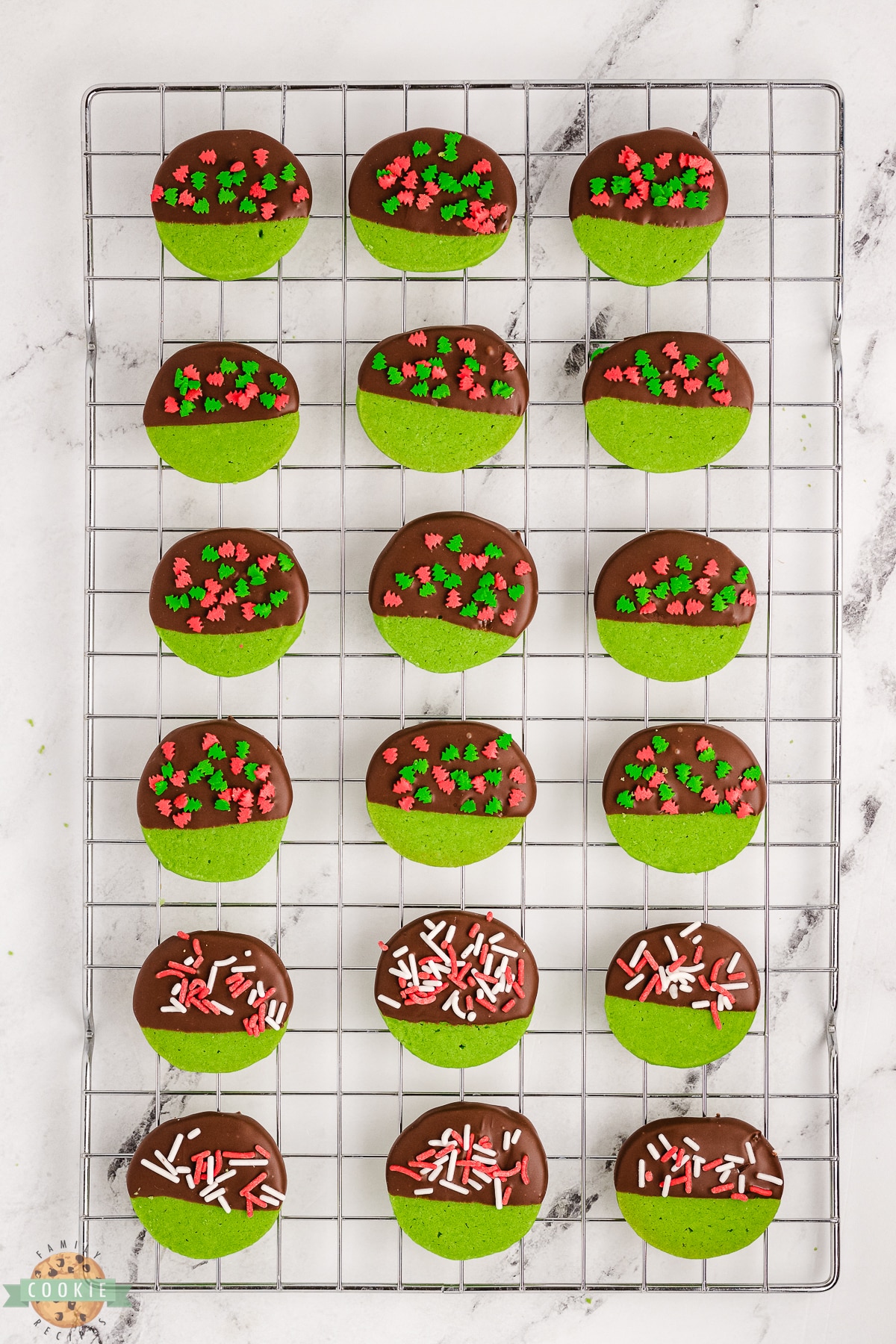 Dip 3/4 of the cookie into chocolate into chocolate. Set on wax paper and add holiday sprinkles. Do not remove until cool and set.
*You can use chocolate chips + 1 tsp coconut oil or shortening mixed in in place of melting chocolate.
My cookies are cooked unevenly. What am I doing wrong?
If your cookies are darker on the bottom than you'd like, it's probably an issue with your cookie sheet. I do not like thin cookie sheets or dark cookie sheets as these both tend to burn the bottoms of cookies. If you use a lot of cooking spray, the same result can happen. I prefer to use lighter colored cookie sheets with parchment paper or silicon baking mats. My favorite cookie sheets are Nordicware– I have 3 half sheets and 2 quarter sheets and love them all!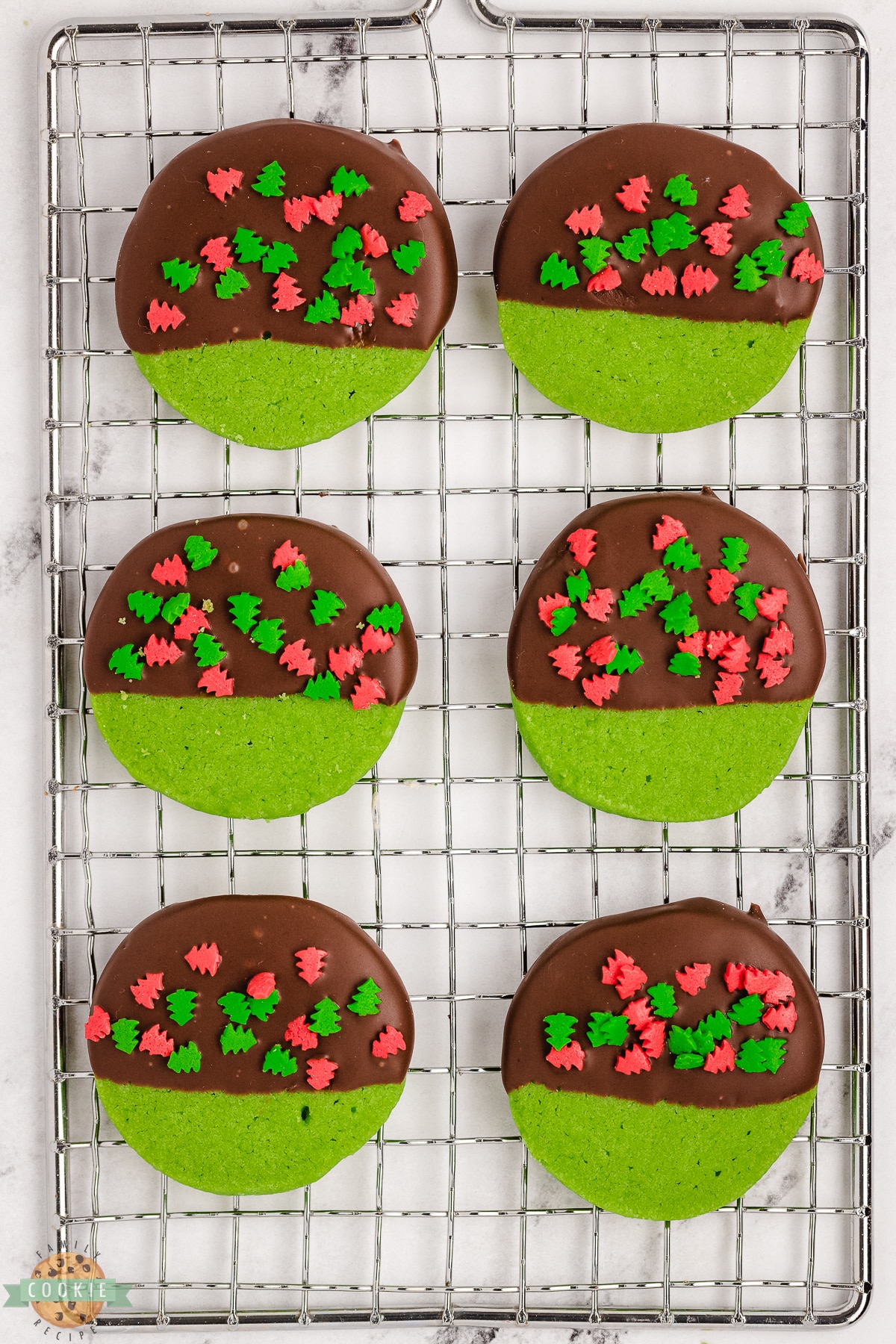 How can I tell if my cookies are done?
Bake the cookies until the bottom edges are barely beginning to brown, then remove the cookie sheet from the oven and let the cookies sit for an additional 2-5 minutes. After that, you can transfer them to a cooling rack to cool completely. As the cookies cool, they'll firm up in the middle so you'll have perfectly cooked cookies that are slightly crispy on the outside and soft and chewy inside. Note the time suggested in the recipe but know that everyone's ovens cook a bit differently. You'll have to pay close attention to how your oven cooks so you learn if you need to bake cookies a minute or two longer for instance, than what the recipe states.


This picture I took of my kids at the pumpkin patch just makes me laugh. It was a wee bit sunny, can you tell?! I'm just thrilled it wasn't raining… or even snowing, ha! No joke, we came home with 90 pounds of pumpkins. 90 POUNDS! It started as "everyone pick one" then I found 3 cute mini pumpkins I loved for the front porch and it went downhill from there. It was a fun family outing. Now, how to carve 90 pounds of pumpkins and keep my sanity… hmmm…