Peppermint Snowman Cookies a fun and festive wintery treat! Chocolate cookies stuffed with peppermint patties & decorated with a candy-covered snowman, these peppermint cookies are almost too cute to eat.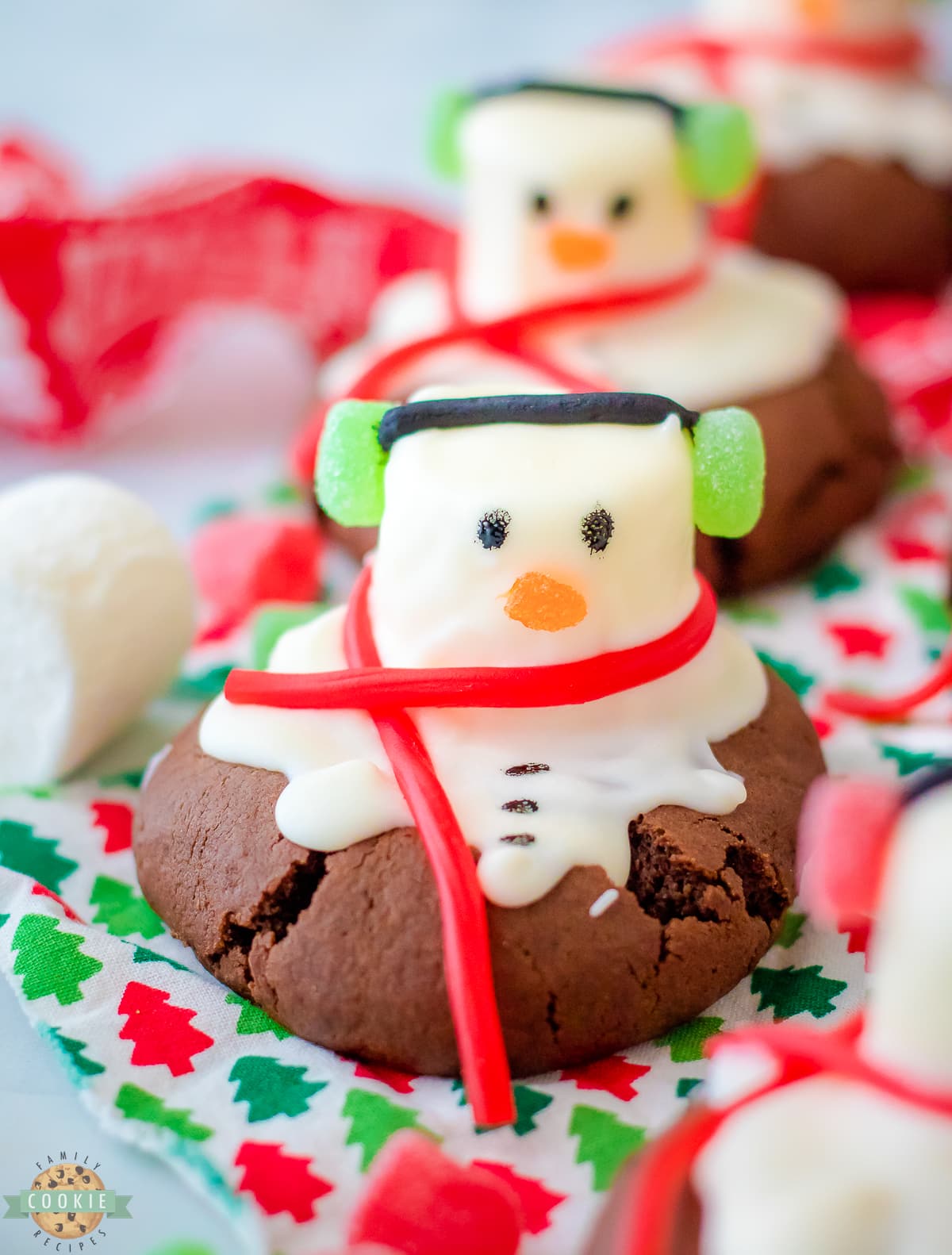 These are the best chocolate cookies, thick, soft, rich, and just a little chewy, everything that makes the perfect cookie. The peppermint patties in the middle give these soft cookies a great pop of peppermint chocolate flavor.
Peppermint Stuffed Snowman Cookies
These Peppermint Stuffed Snowman Cookies are the ultimate Christmas cookies. Thick, rich, soft chocolate cookies are stuffed with peppermint patties and then topped with a marshmallow that gets coated in white almond bark to look like a melted snowman. These are so cute for the holidays and decorated with little gumdrop ear muffs.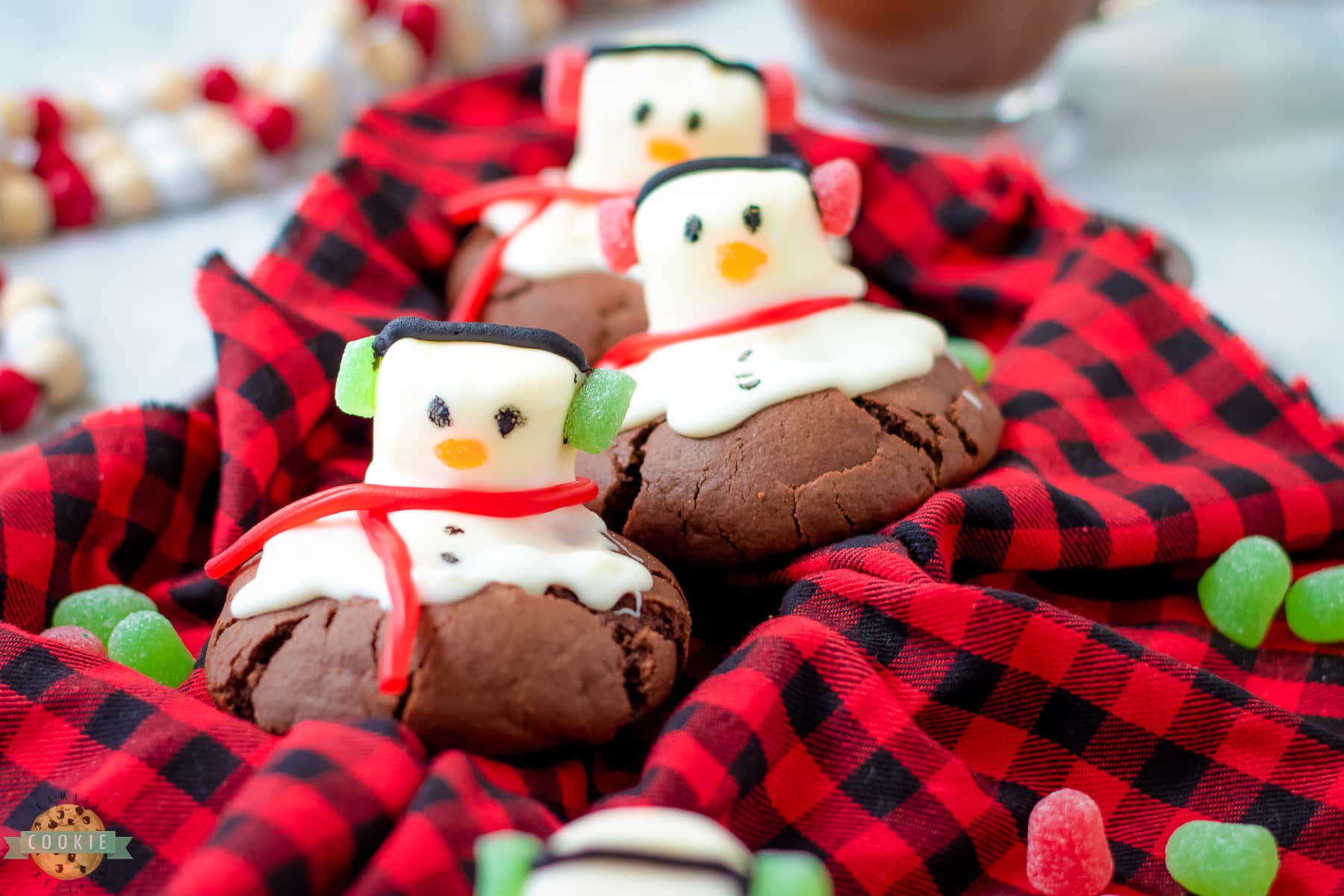 Why You'll Love This Recipe
Simple ingredients. You'll need some basic cookie ingredients such as flour, sugar, and eggs. But you'll also need some candies for dressing up your snowman. These ingredients are all pretty simple and easy to find in your local grocery store. Although, they can also be a great way to use up leftover holiday candies.
Easy steps. You won't need too much effort to make these cookies because they come together pretty simply. This is great for those of us that just want to get to the fun part- decorating!
Fun customizations. Swap out candy colors and placements, or even the candies themselves, for a unique snowman cookie every time. It may be the same recipe, but every cookie can have its own personality.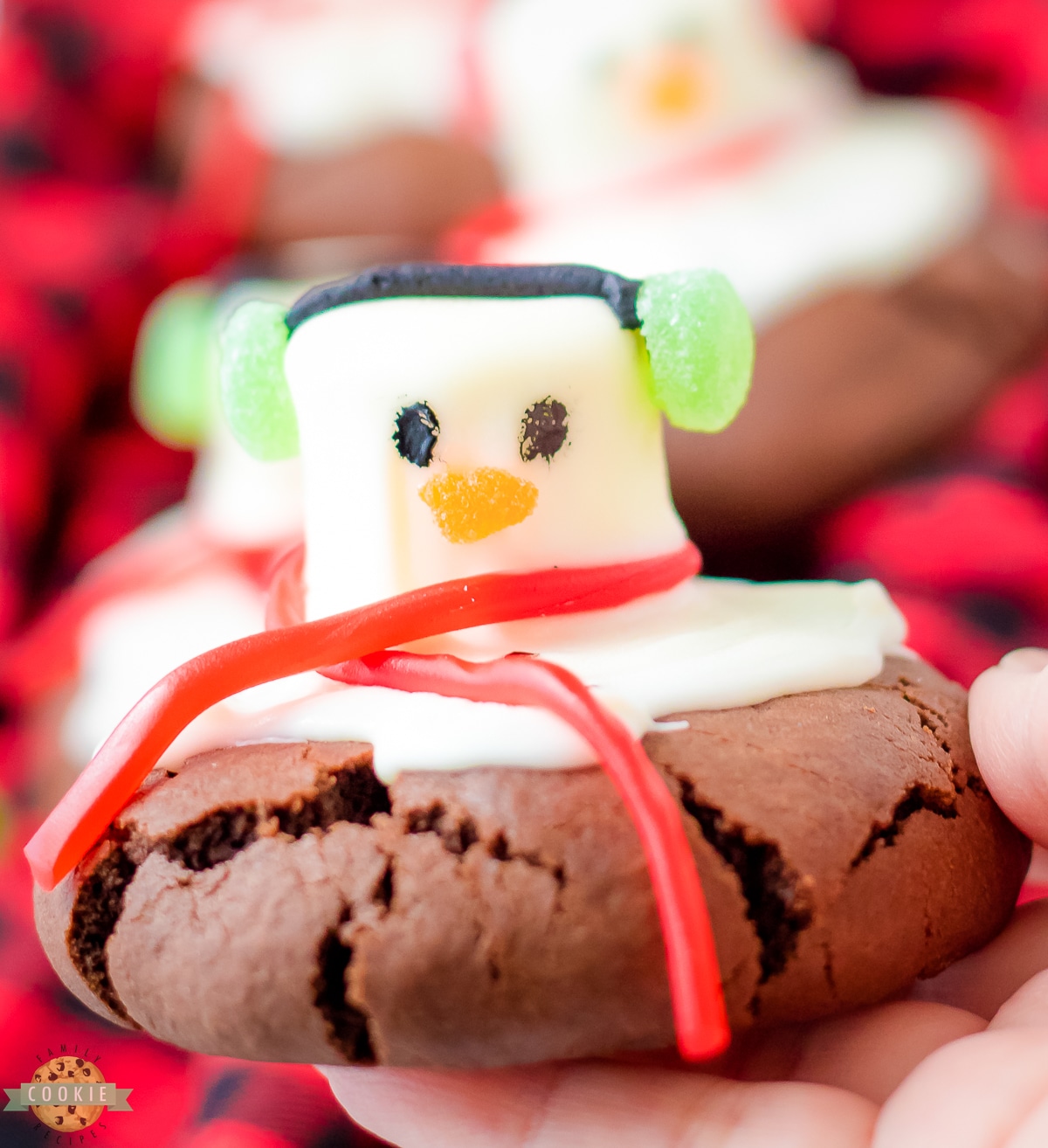 Peppermint Stuffed Cookies Ingredients
Butter– You will need ½ cup of butter (equal to one stick.) I use salted butter, but you can use what you have on hand.
Sugars– Use ¾ cups of brown sugar and 2 tablespoons of granulated white sugar for a chewy sweet cookie texture.
Egg– Adding in 1 large egg will help bind the dough together well.
Vanilla extract– For a fantastic flavor enhancer, use 2 teaspoons of vanilla extract.
Flour– The structural base of this recipe is 1 ¼ cups of all-purpose flour.
Cocoa– For a rich chocolatey taste, use ½ cup of unsweetened cocoa powder.
Baking soda– You will need ½ teaspoon of baking soda to help these cookies to puff up nicely as they bake.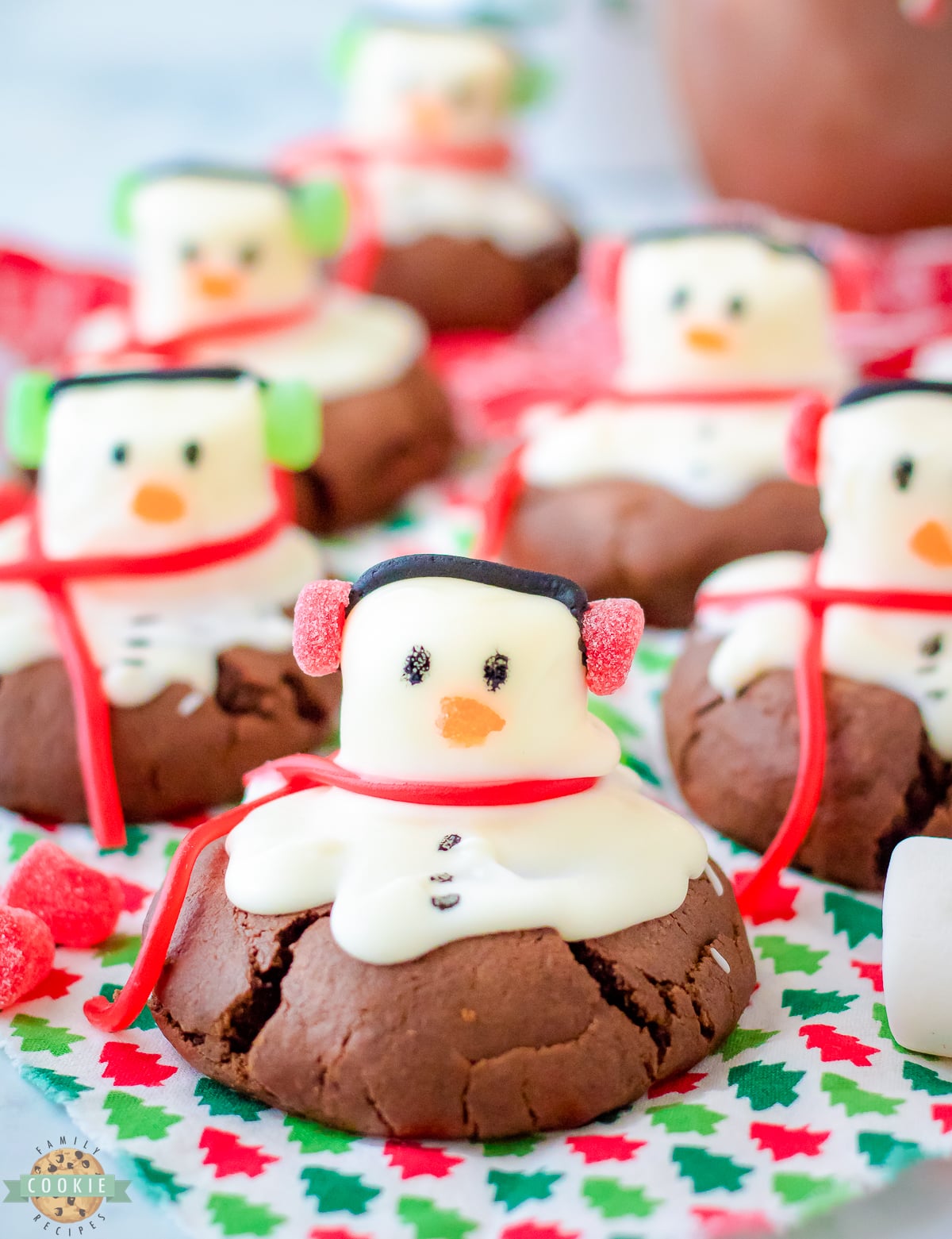 Salt– To enhance the flavors in this cookie dough, add in ¼ teaspoon of salt.
Peppermint patties– You'll need 6 peppermint patties. There is one inside each cookie for that "stuffed" look we want.
Marshmallows-For the snowman heads, you'll need 6 large marshmallows.
Almond bark- Use 1 pound of almond bark to coat the cookies with, this will be made to look like snow.
Candies– For added decorations on your snowman, you need orange gumdrops, twizzler pull and peels, red and green gumdrops, as well as some black frosting. You can buy the frosting in a pipeable bag from the baking aisle at your grocery store.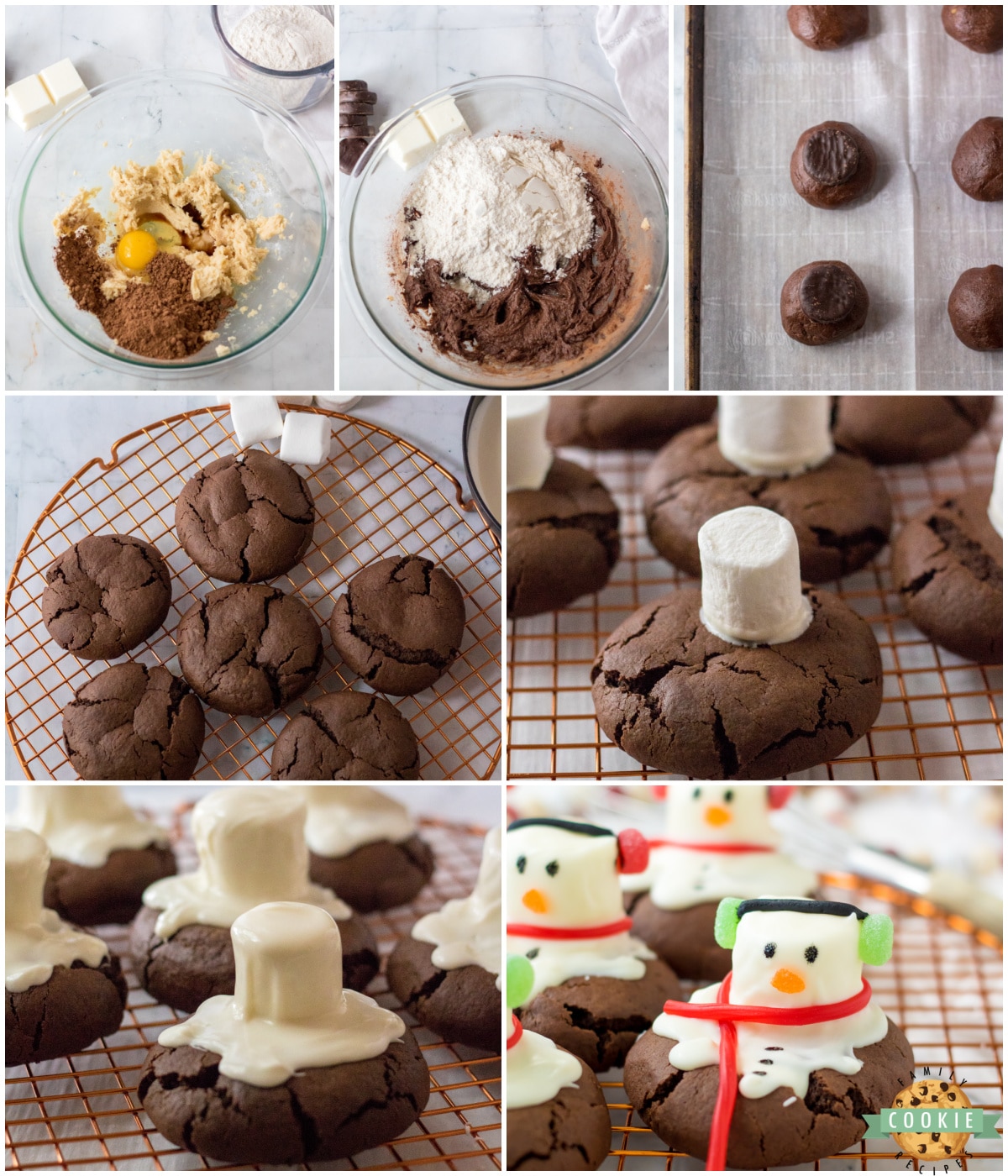 How to make Peppermint Snowman Cookies
Prep
Start by lining a baking sheet with parchment paper or a silicon mat, and then set it aside.
Make dough
In a large mixing bowl, cream the butter and both sugars together until light and fluffy.
Then, and in and mix the egg and vanilla extract until combined.
Next, mix in the flour, baking soda, cocoa powder, and salt until the mixture forms a dough.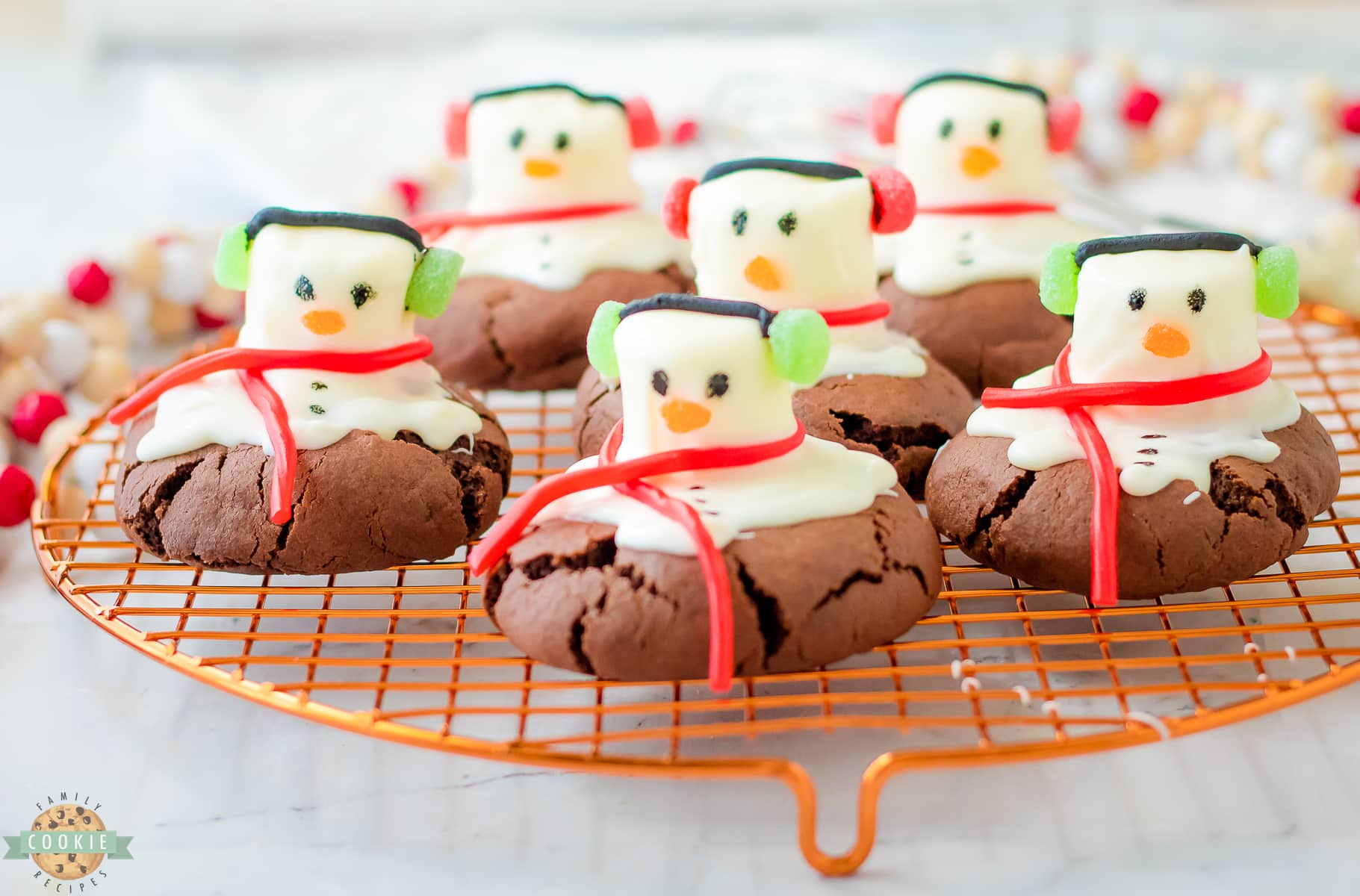 Chill
Proceed to separate the dough into 6 balls and then place a peppermint patty into the middle of each ball and then form the dough up and around the patty, covering it completely.
Continue to roll it back into a ball shape and place it onto the baking sheet and in the refrigerator to chill for 30 minutes.
Bake
Get the oven preheating to 350 degrees F. When to temperature, place the cookies in the oven and bake them for 10-12 minutes.
Be sure to allow the cookies to cool on the baking sheet for 10 minutes before transferring to a wire cooling rack to cool completely.
Assemble
When the cookies have cooled, place the almond bark into a microwave-safe bowl and heat in 30-second intervals, stirring between each until melted and smooth.
Next, dip the bottom of each large marshmallow into the almond bark mixture and then place them onto the top of each cookie.
Proceed to spoon the remaining melted almond bark over the top of each marshmallow and allow it to cover the marshmallow and the top of the cookie so that it looks like a puddle shape.
Repeat for all cookies and allow to cool and set for 10-15 minutes.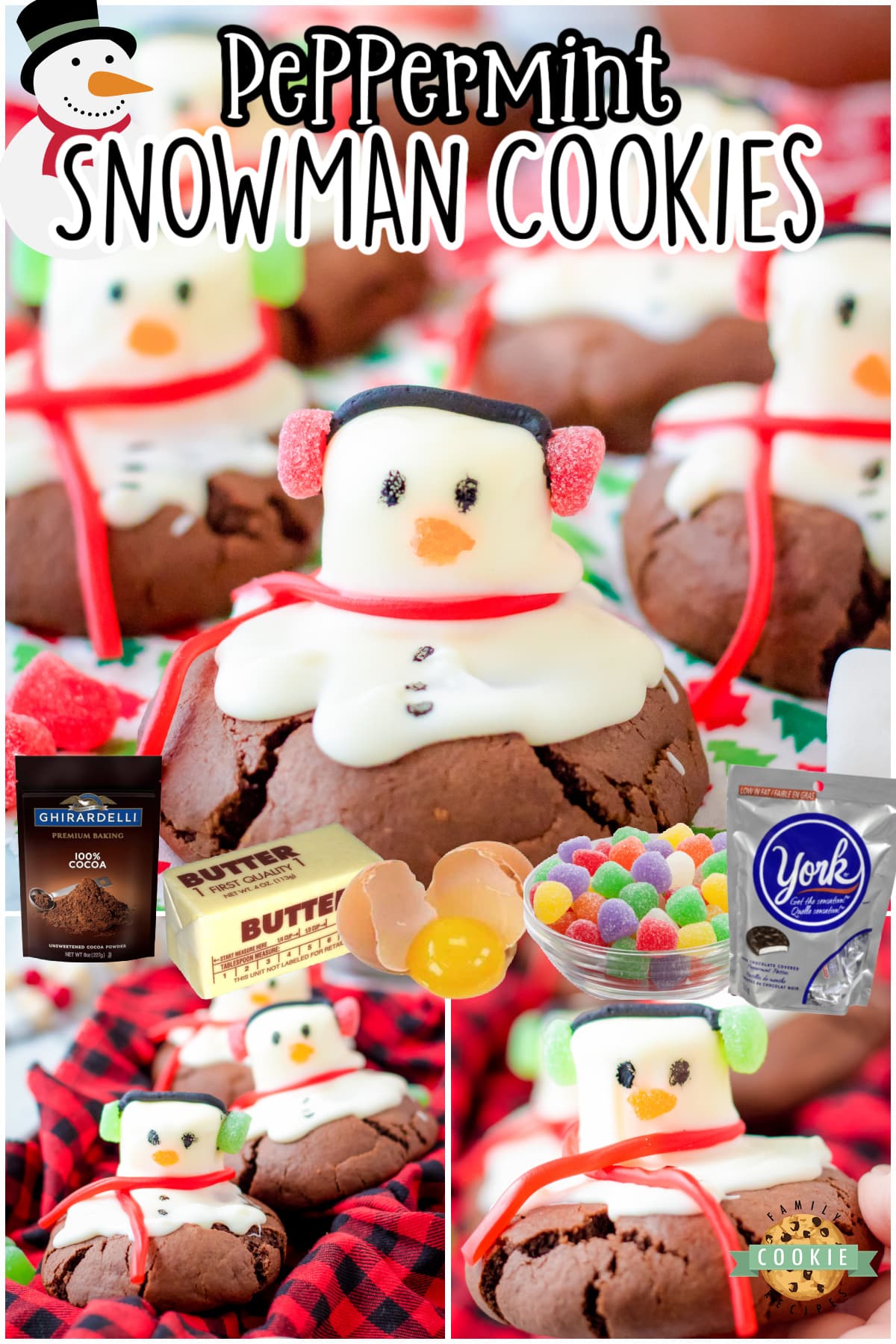 Decorate
After that, take a peeled strip from the Twizzlers and wrap it around each marshmallow like a scarf.
Then, cut the orange gum drops into tiny triangles for carrot noses and use the black frosting for dotting the eyes on your snowman heads.
To make the ear muffs, use the frosting to create a line across the top of each marshmallow. Now, cut the flat bottom off of 6 red gum drops and 6 green gumdrops. Place the flat part onto the sides of the snowman heads, one on each side to create ear muffs.
Serve the completed cookies immediately and enjoy!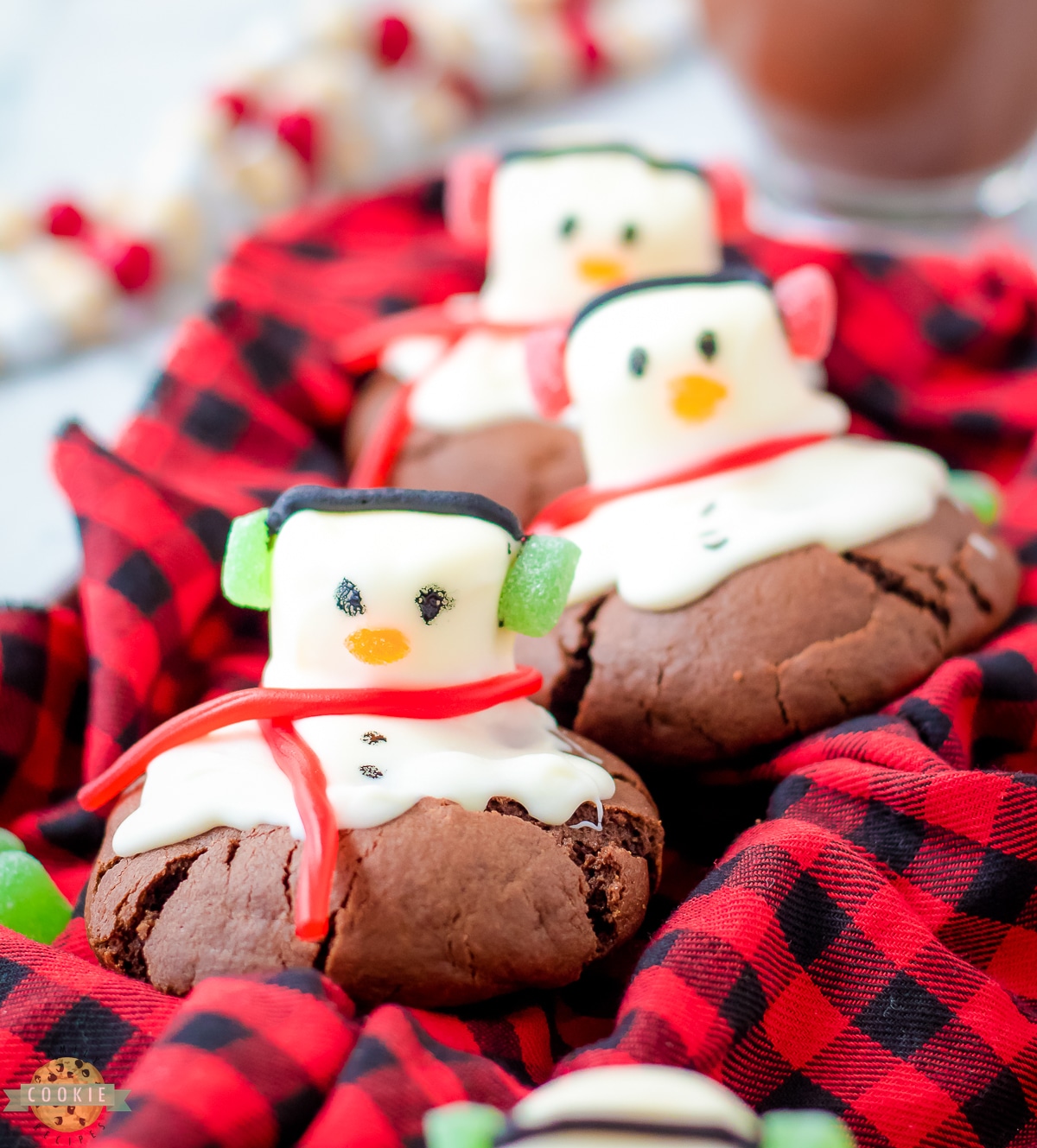 Tasty Variations
While I love stuffing these with peppermint patties for the holidays, you can swap out the peppermint patties for a peanut butter cup. You can also choose to paint on the eyes with a tiny paintbrush and the frosting or paint it with black food coloring. They also sell food coloring pens, making drawing the eyes on easy. Another idea is to use rainbow sour strips or fruit roll-ups for their scarves. Don't forget that you can use orange food coloring for your noses if you wish.
How long are snowman cookies good for?
These cookies can be kept stored in an airtight container at room temperature for up to 5 days. This should give you plenty of time to savor and enjoy every cookie.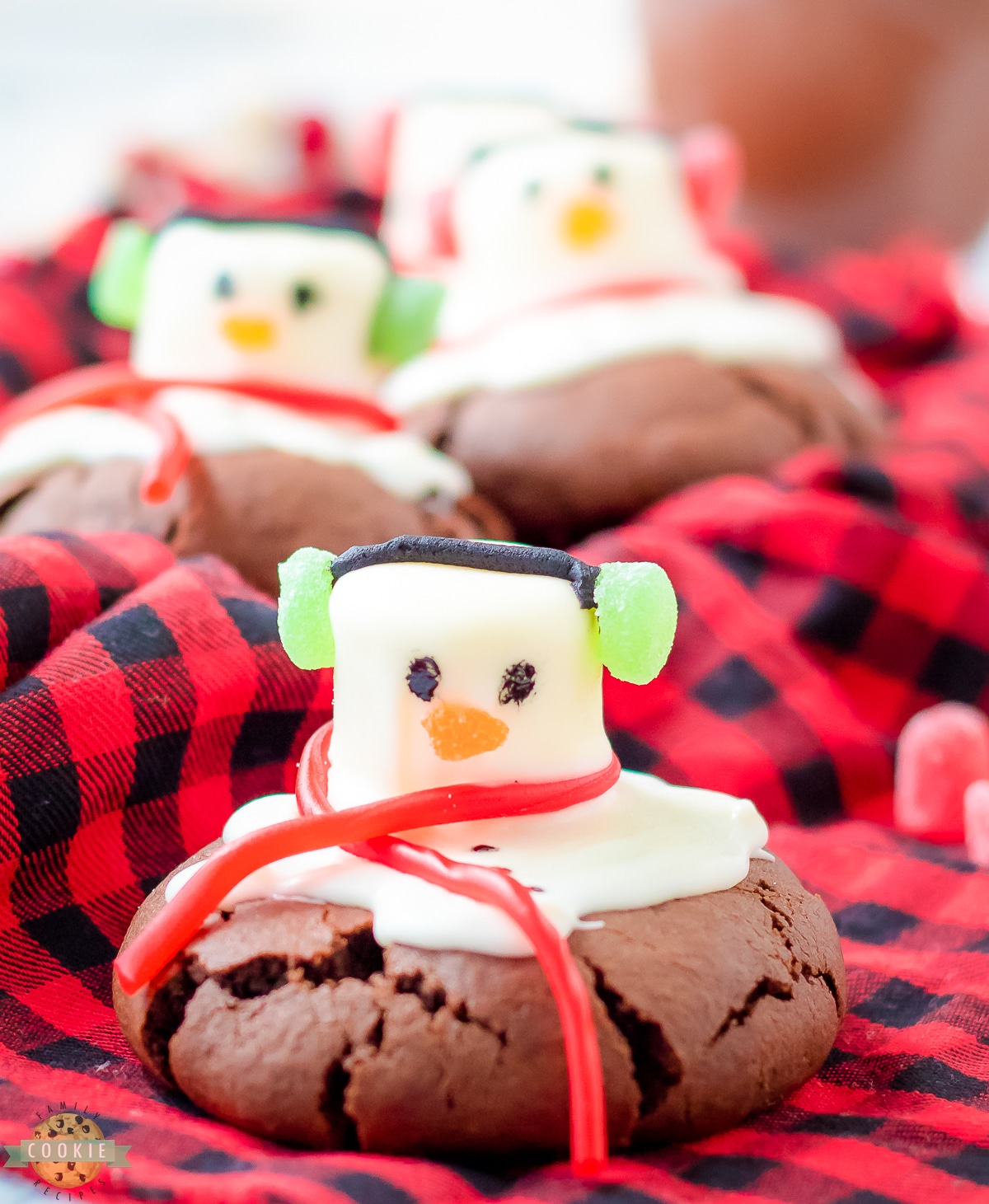 Can I freeze melted snowman cookies?
Yes! These cookies actually freeze very well. To do this, allow them to set completely before storing in an airtight container and freezing them for up to 3 months. Allow them to thaw for several minutes on the counter or for several hours in the fridge before eating. Note that quick thawing of the cookies will cause the almond bark to "sweat," which is normal but could cause the colors in the frosting and candies to "bleed" onto the white chocolate.


Family pictures with 7 people in them are difficult! It's slightly easier now that they're older, but still. I love this one!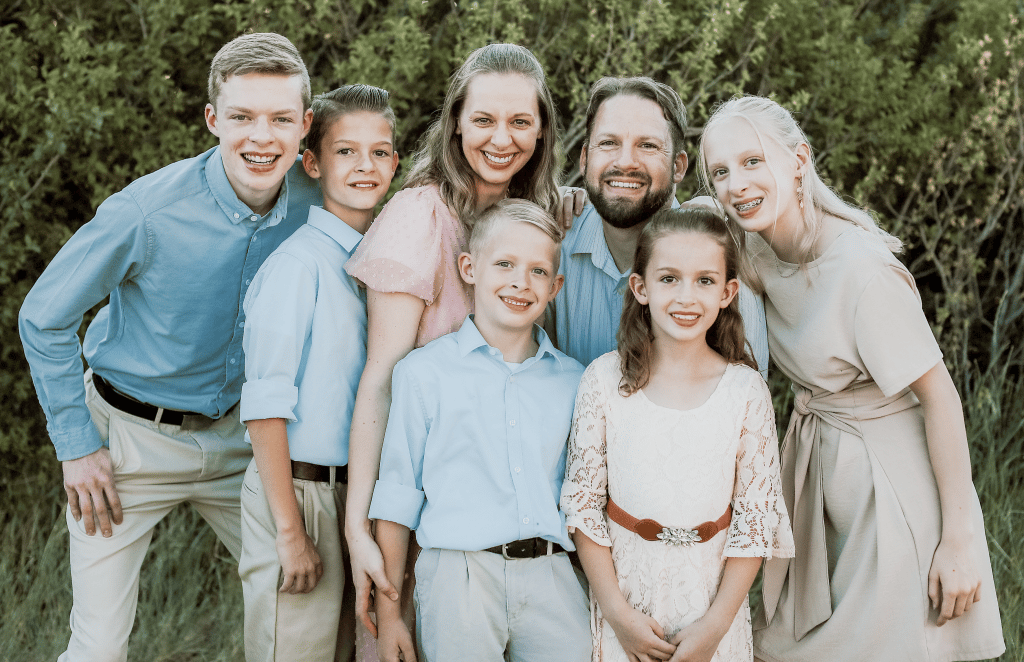 Peppermint Snowman Cookies an incredibly festive holiday treat! Chocolate cookies with peppermint patties in the center & decorated as a candy-covered snowman, these peppermint cookies are almost too cute to eat.