Chocolate Peppermint Blossoms are made with a cake mix, eggs, butter, and Hershey's Candy Cane Kisses. This easy cake mix cookie recipe yields soft and chewy chocolate cookies with just the right amount of peppermint!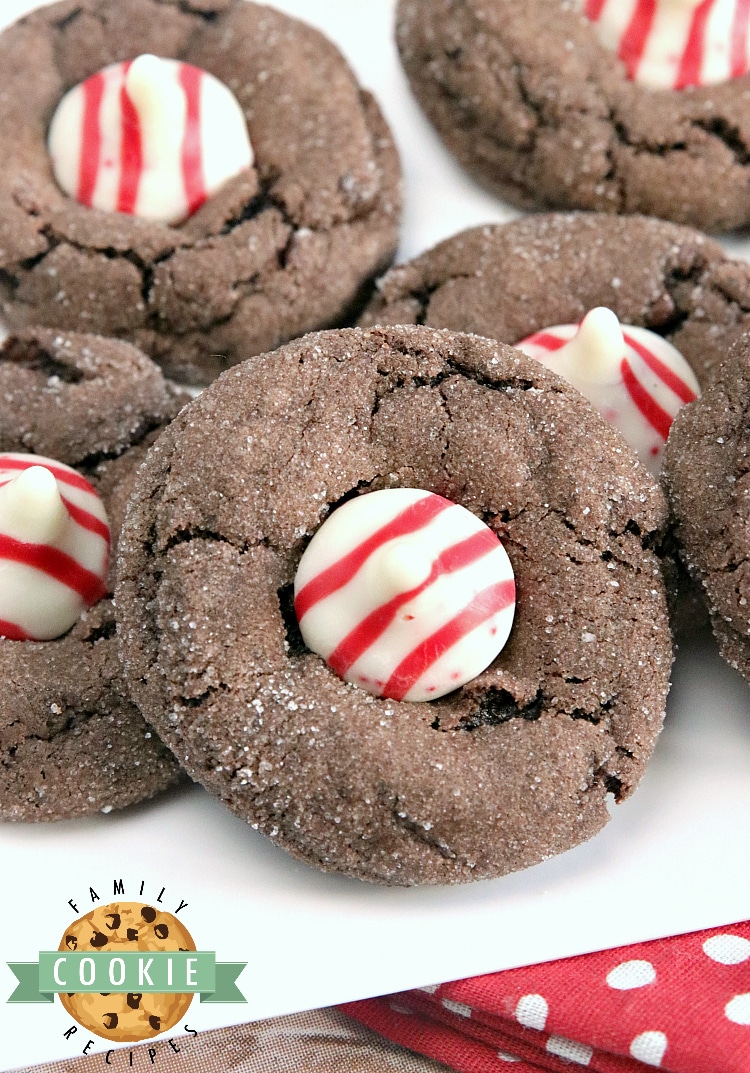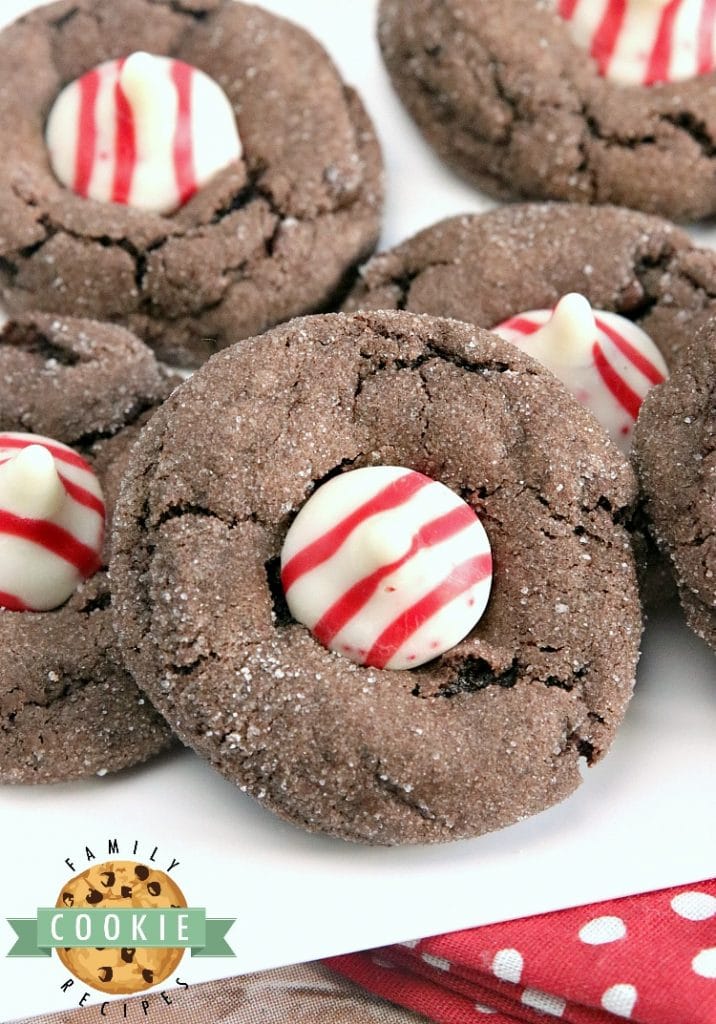 Chocolate Peppermint Blossoms have become my go-to holiday cookie recipe because they are so simple! Only 4 ingredients! Plus, these cookies are so pretty and they look perfect on trays for cookie exchanges and holiday parties – no one will ever guess how easy they are to make.
Cake Mix Cookies are so easy to make because all of the basic ingredients (sugar, flour, etc.) are already in the cake mix so you only need to add a couple of ingredients to make the cookies. These cookies have Candy Cane Kisses in the middle which adds the perfect amount of peppermint flavor to the cookies with hardly any extra work needed!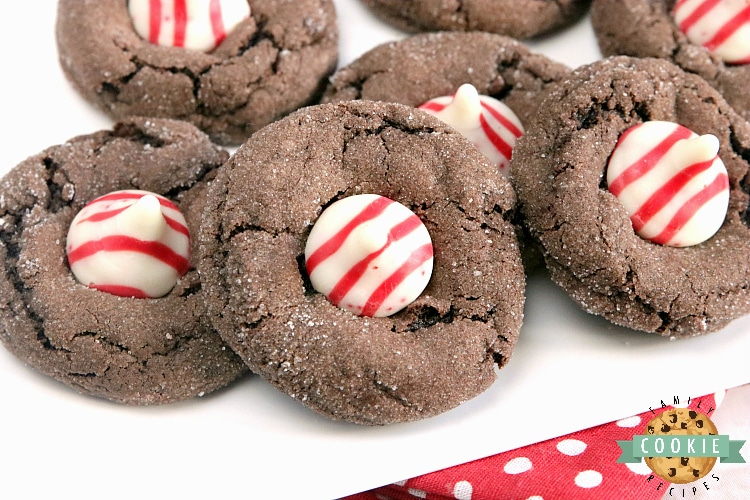 Cake mix cookies are cookies that are made with a box of cake mix as the base ingredient. Because many of the dry ingredients used in cookies are also the same ingredients you find in a boxed cake mix, you usually only have to add a few more basic ingredients to make soft and chewy cookies! One of the things that I love about cake mix cookies is that it is so easy to change up the flavors a little bit, just by swapping out the cake mix that you use. If you don't like chocolate, you could use a white cake mix instead, or a red velvet one would be delicious too. You can also use any flavor of Hershey's Kisses in the center, so if you don't like peppermint, use whatever kind you want!
Tips for making the perfect cake mix cookies
Preheat the oven. This will help your cookies turn out right every time!
Use a cookie scoop! If you want all your cookies to be perfectly shaped and have them all be the same size, a cookie scoop is the way to go.
Use parchment paper or a silicone baking mat. Doing this will make it really easy to remove the cookies from your cookie sheet so that you don't have to scrape them off the pan – they will just slide right off in perfect shape!
Don't over bake the cookies – when I take mine out of the oven, they still look slightly under baked but they will continue to bake on the cookie sheet for a couple more minutes so that's ok!
In this particular recipe, I actually melt the butter and then chill the dough for about an hour. If you don't have time to wait for the dough to chill, then just soften the butter before adding to the cake mix and then chill for a shorter amount of time. The reason that the dough is chilled is so that the cookies don't spread too much while baking – they will still taste delicious but will be much flatter and the Hershey's Kisses won't sit in the center quite so well.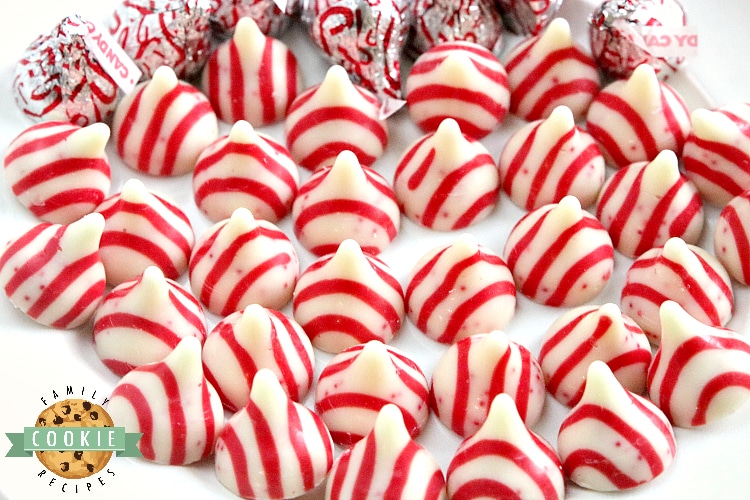 Ingredients in Chocolate Peppermint Blossoms
1 box chocolate cake mix (any kind, about 15-16 ounces)
2 large eggs
1/2 cup butter, melted
about 30 Hershey's Candy Cane Kisses, unwrapped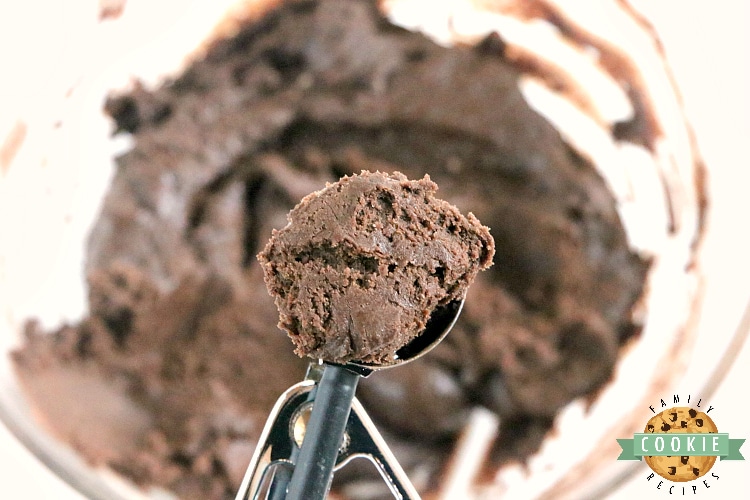 How to make Chocolate Peppermint Blossoms
Preheat oven to 350°. Mix together the cake mix, eggs and butter. The less mixing the better, and since the butter is melted, you can just use a large spoon to easily mix the cookie dough.
Chill the cookie dough in the refrigerator for about an hour.
Use a cookie scoop to scoop out 1 Tablespoon sized balls and then use your hands to make them completely round. If you want to coat them in granulated sugar, you can, but you definitely don't have to. I like the look of the sugar, but it is very subtle and doesn't affect the taste much either.
Place the cookie dough balls on a baking sheet and bake for 8-9 minutes or until the tops just begin to crack a little bit. As soon as you pull the cookies out of the oven, barely press a Hershey's kiss into the middle of each one. Let cool completely.
Cookies can be stored in an airtight container for 3-4 days, or in the freezer for up to a month.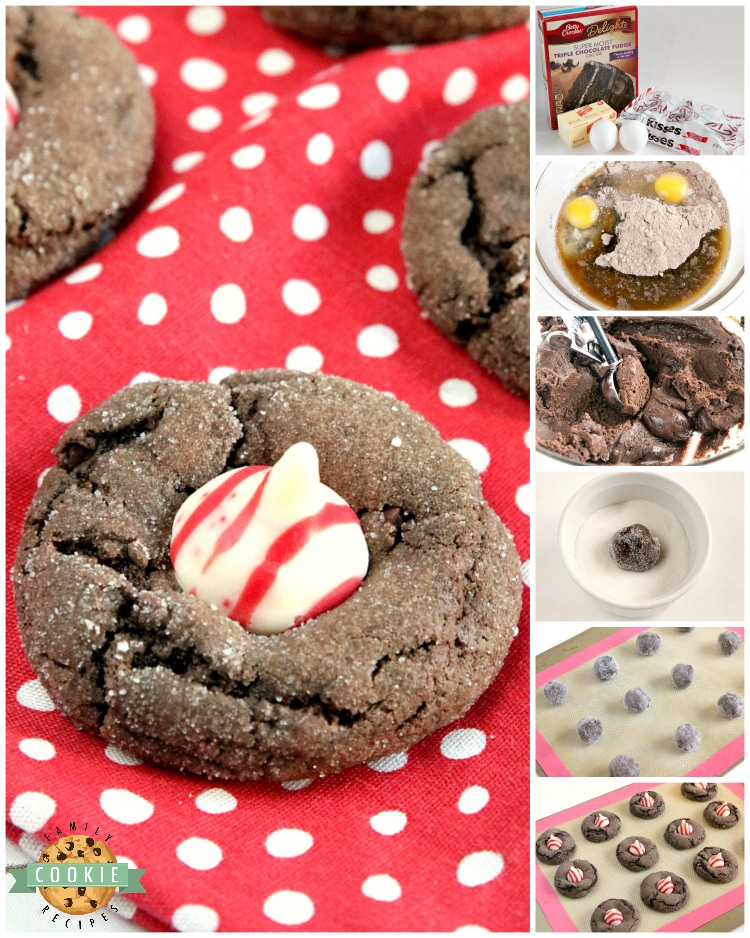 More cake mix cookie recipes you're going to enjoy!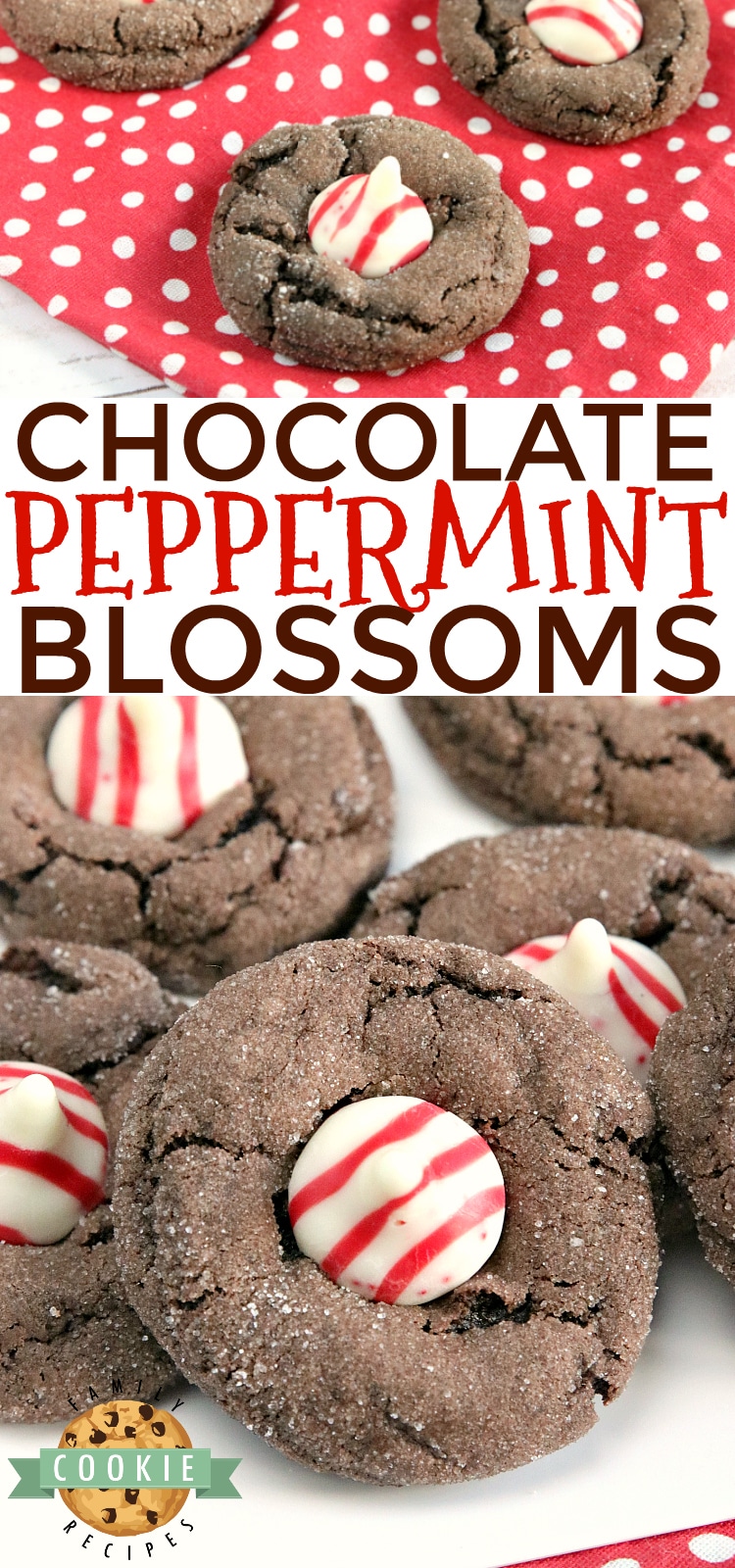 Chocolate Peppermint Blossoms are made with a cake mix, eggs, butter, and Hershey's Candy Cane Kisses. This easy cake mix cookie recipe yields soft and chewy chocolate cookies with just the right amount of peppermint!


This little one just had her birthday last week and we can't believe she is 1 already! Not quite walking yet, but getting sooo close! Had her 1-year checkup and she is literally OFF the charts for weight and head size! It's so funny to me that her head has measured higher than the 95%ile since she was born, but I don't think her head looks that big at all! And nobody else has ever commented about her head seeming large either. Her cheeks and thighs though? Definitely off the charts and we get plenty of comments on those! Kind of sad knowing that all of that chubbiness will melt away as she starts walking and then running everywhere. She is just the cutest and sweetest little thing and we are loving this stage of her life.