Chocolate Pecan Shortbread Cookies made by adding chopped pecans to our buttery chocolate shortbread then drizzling them with melted chocolate. These incredible shortbread cookies melt in your mouth and have the best chocolate flavor!
I've always enjoyed shortbread cookies! There's something about the buttery crispness that just melts in your mouth that is absolutely divine. I recently made a variation on a mint chocolate shortbread cookie that I love and the results are incredible! These have a wonderful flavor and I love how pretty they are. Chocolate shortbread should be on your Christmas cookie list for sure!

How to make Chocolate Pecan Shortbread Cookies
One of my favorite things about this shortbread cookie recipe is that you can make them in advance! Use a hand mixer or stand mixer to mix the cookie dough. Start by mixing the butter and sugar, then add in the vanilla extract and cocoa powder. Mix in the flour, baking powder and salt. Stir in the chopped pecans.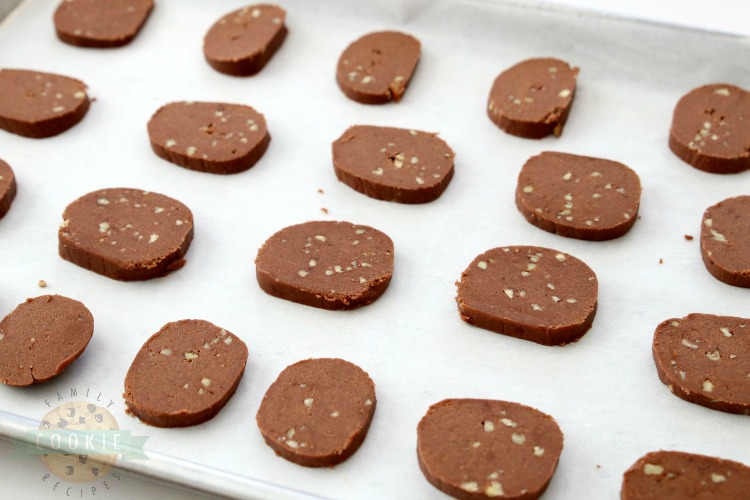 Shape the dough into logs and wrap in plastic wrap or wax paper. Store the cookie dough logs in the fridge for at least 2 hours. You can even make this cookie dough and put it in the fridge days in advance! Slice the cookies while chilled, then bake, cool and drizzle with chocolate. Let cool to set and add these to your Christmas cookie tray!

Kitchen Tools for making Shortbread Cookies recipe
Here are 2 of my favorite kitchen items I use to make these shortbread cookies. I actually use these items in nearly every cookie recipe I make, as well as several other types of recipes, so they're quite versatile. First, I line my cookie sheets with a piece of parchment paper. They're sold in sizes that fit a 12×16 cookie sheet perfectly and enable to cookies to bake well without sticking- and no mess from spraying oil on the cookie sheets!
The second item is a KitchenAid mixer. I love mine! I have a Bosch as well but I find I use my KitchenAid for cookies. There is a cookie paddle that comes with every mixer that you attach to the mixer. They're easy to use and help you mix the ingredients uniformly. I also use the metal whisk attachment in this recipe to make the frosting. It whips it up super fast! Add this to your wish list because it's one of my all-time used small appliances ever!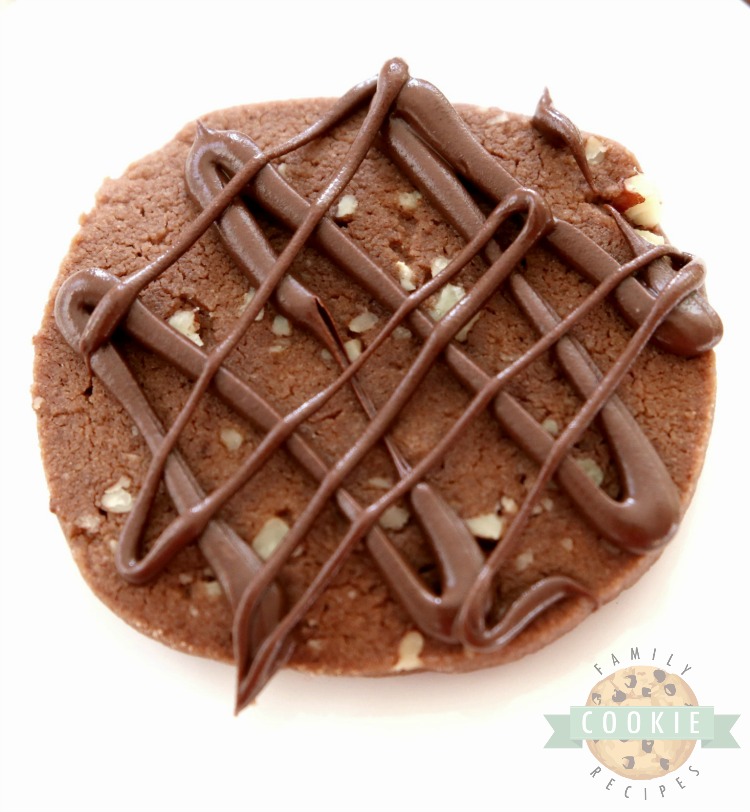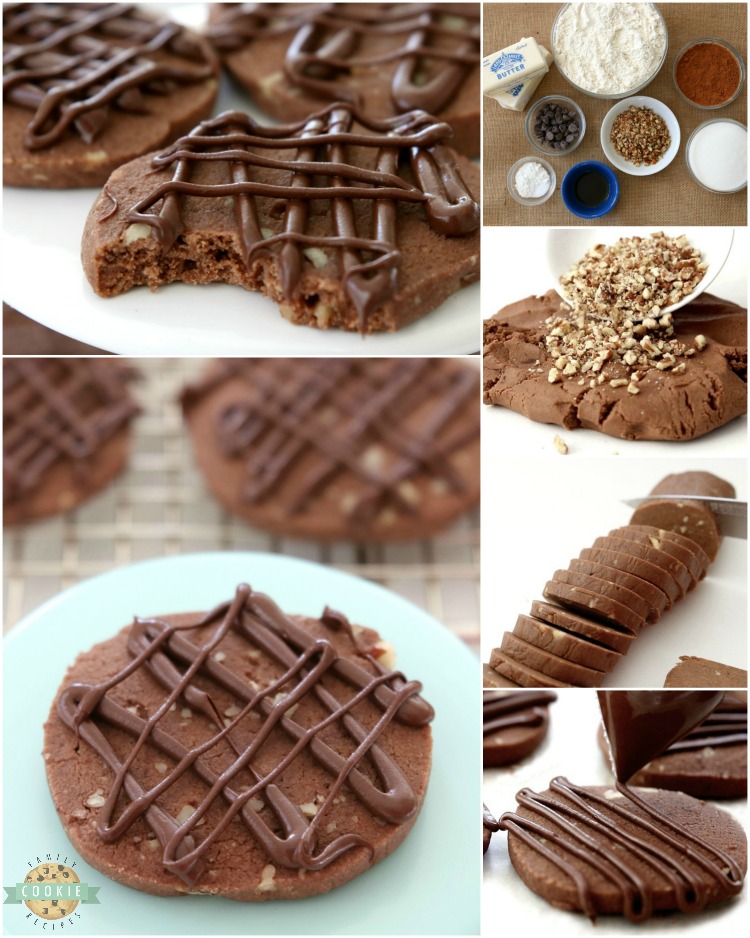 My cookies are cooked unevenly. What am I doing wrong?
If your cookies are darker on the bottom than you'd like, it's probably an issue with your cookie sheet. I do not like thin cookie sheets or dark cookie sheets as these both tend to burn the bottoms of cookies.  If you use a lot of cooking spray, the same result can happen. I prefer to use lighter colored cookie sheets with parchment paper or silicon baking mats. My favorite cookie sheets are Nordicware– I have 3 half sheets and 2 quarter sheets and love them all!
How can I tell if my cookies are done?
Normally I bake the cookies until the bottom edges are barely beginning to brown, then remove the cookie sheet from the oven and let the cookies sit for an additional 2-5 minutes. After that, you can transfer them to a cooling rack to cool completely. As the cookies cool, they'll firm up in the middle so you'll have perfectly cooked cookies that are slightly crispy on the outside and soft and chewy inside. Chocolate Cookies are a bit more tricky though as they're already brown!
Note the time suggested in the recipe but know that everyone's ovens cook a bit differently. You'll have to pay close attention to how your oven cooks so you learn if you need to bake cookies a minute or two longer for instance, than what the recipe states.

How do you soften butter?
I like to soften butter by using the defrost function on my microwave. If you need the full 1/2 cup cube of butter, you can leave it in the paper wrapper, otherwise, place the amount of butter you need in a glass or porcelain bowl. I use the lowest defrost setting on my microwave and just let it run for 20 seconds. Check the butter and see how soft it is by pressing it with a rubber scraper. If it is still not soft to the touch, meaning it doesn't indent when you press into it, let it warm for another 5-10 seconds. Watch it closely! Butter softens very quickly.
Can shortbread cookies be frozen?
Yes, you can freeze shortbread Cookies in an airtight container for up to 1 month. Make sure you first let them sit on the countertop for 2-3 hours before stacking them in the airtight container, so that the chocolate has enough time to set. Store each layer with a piece of parchment paper in between so that the cookies will not stick together and maintain their prettiness when defrosted.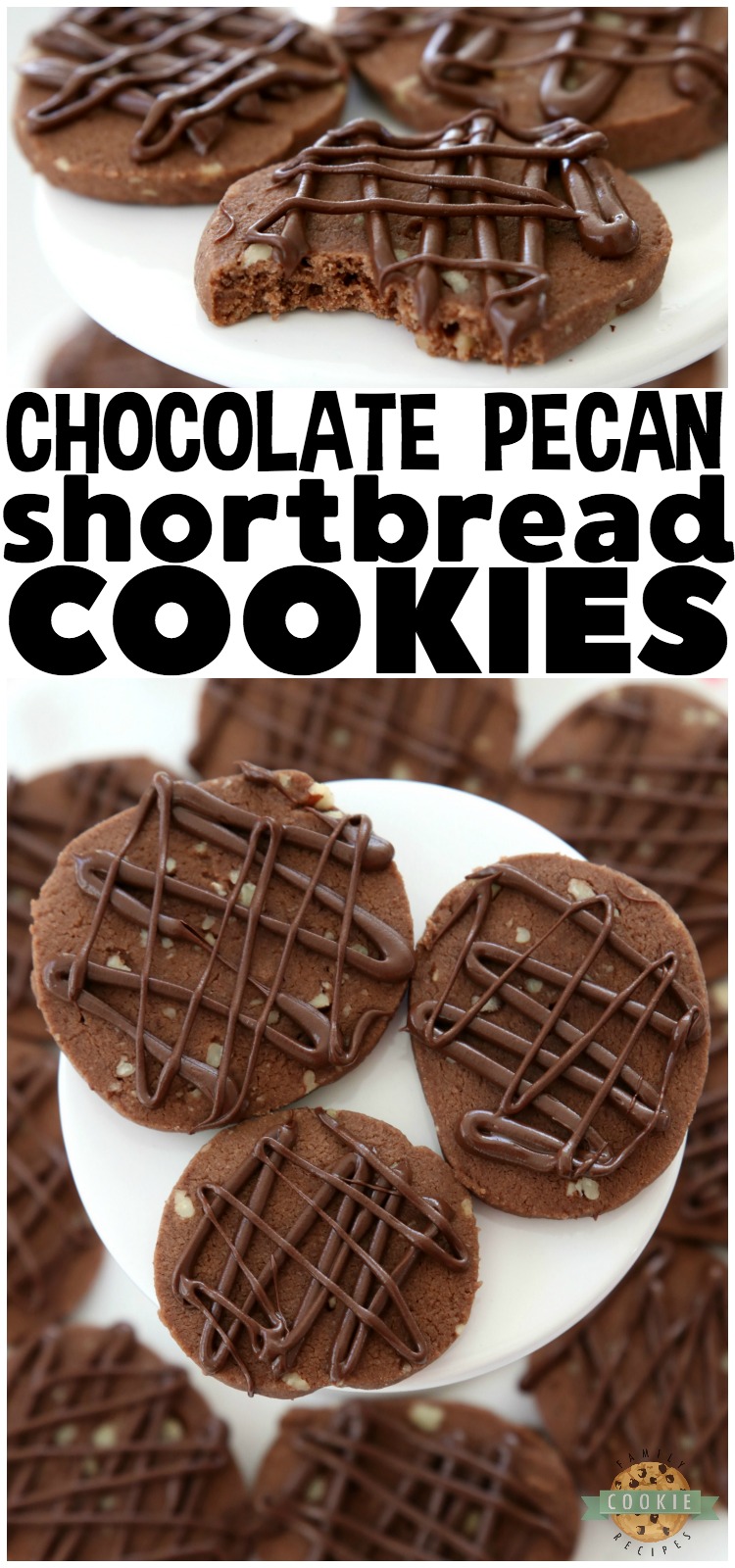 I want to flashback to Christmas a decade ago. Back then we only had 3 kids instead of 5 and everyday life was beyond exhausting. Okay, sometimes I still feel beyond exhausted but I'm not nearly as sleep deprived as I was back then! Oh boy, new babies are super cute but oh so difficult. I ran across this picture the other day and just love it. Clearly I was trying to have a moment with my new little baby during his first ever Christmas and he… was NOT having any of it! HA! I'm sure it was stressful at the time, but thankfully now I can look back and laugh.