Peppermint Vanilla Shortbread Cookies are perfectly tender, buttery whipped shortbread with a lovely peppermint vanilla glaze on top! Festive Christmas cookies that everyone enjoys!
Success with shortbread cookies
Shortbread cookies are very tender and crumbly, so they're a bit different than your traditional cookie dough. Here are some tips to making them perfectly:
Shortbread cookie dough is a bit sticky, so I like to spray both my hands & the cookie scoop with non-stick spray prior to scooping and rolling. Resist the urge to add more flour to the dough! If you add too much flour, the ratio of wet to dry ingredients is off and the cookies end up dry and crumbly.
Do not melt the butter! The butter needs to be softened (at room temperature), but using melted butter will ruin the cookies.
Spend a little extra time when you mix the butter and sugars. Creaming them together for 2-3 minutes will improve the consistency of your cookies.
Preheat the oven. This will help your cookies turn out right every time!
Use a cookie scoop! If you want all your cookies to be perfectly shaped and have them all be the same size, a cookie scoop is the way to go.
Use parchment paper or a silicone baking mat. Doing this will make it really easy to remove the cookies from your cookie sheet so that you don't have to scrape them off the pan – they will just slide right off in perfect shape!
Make sure not to overbake your cookies.
Ingredients needed to make Whipped Shortbread Cookies
Here's what you'll need to make these Shortbread Cookies:
Softened butter
Sifted powdered sugar
All-purpose flour
Cornstarch
Vanilla extract
Almond extract
Salt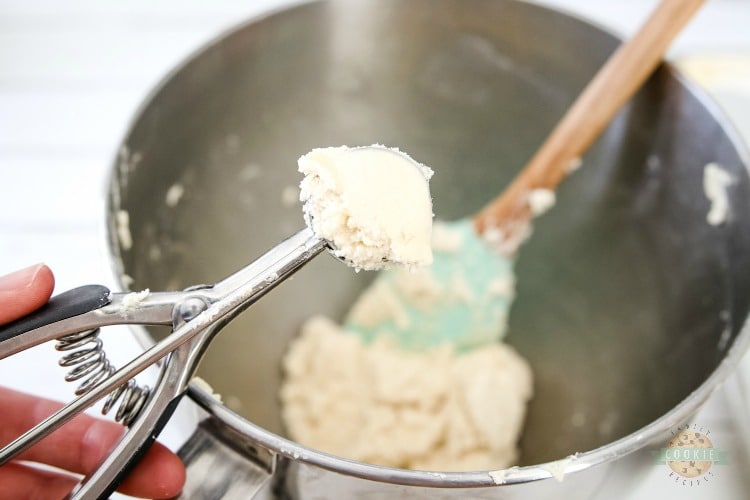 Ingredients needed to make Peppermint Vanilla Icing:
Melted Butter

Powdered sugar

Vanilla extract
Peppermint extract
Milk
Crushed peppermint pieces, for topping
How to make Whipped Peppermint Vanilla Shortbread Cookies
This is how to make the Vanilla Shortbread Cookies:
Preheat oven to 300°F. Line cookie sheet with parchment paper. Set aside.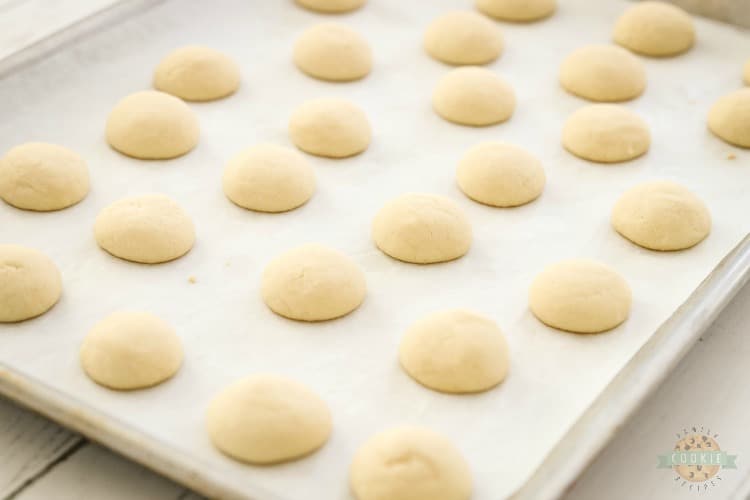 Using an electric mixer, cream butter and powdered sugar until light and fluffy, about 5 minutes.
Gradually add flour and cornstarch, beating until well blended.
Add in extracts and salt. Whip cookie batter on medium high speed for 5 minutes.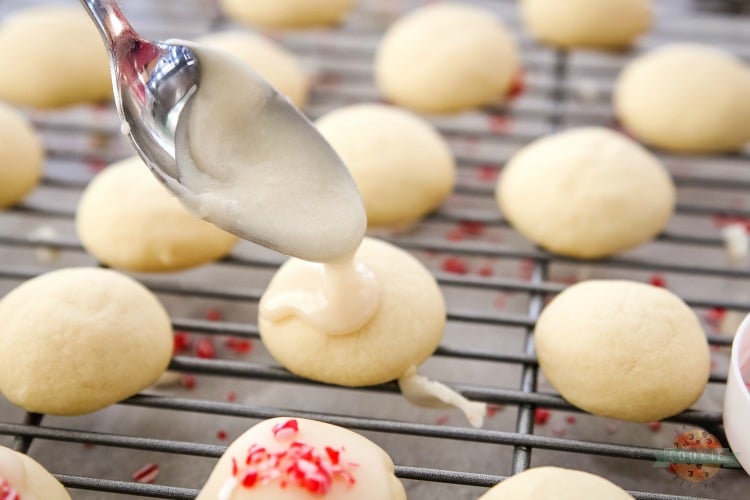 Scoop out balls of dough using a small 1 TBSP cookie scoop. Using greased hands, gently roll dough into smooth balls. Place on prepared pans, leaving only about 1″ of space between cookie balls. (The dough doesn't really spread, so you can fit a lot of cookies on 1 sheet!)
Bake at 300° for 20-22 minutes or until bottoms are lightly browned. Cool for 5 minutes before removing from pans to wire racks.
Spoon icing over the tops of each cookie. Immediately sprinkle with crushed peppermint pieces. (Icing sets quickly.) Cool to set. Store cookies in an airtight container for up to 7 days. Enjoy!!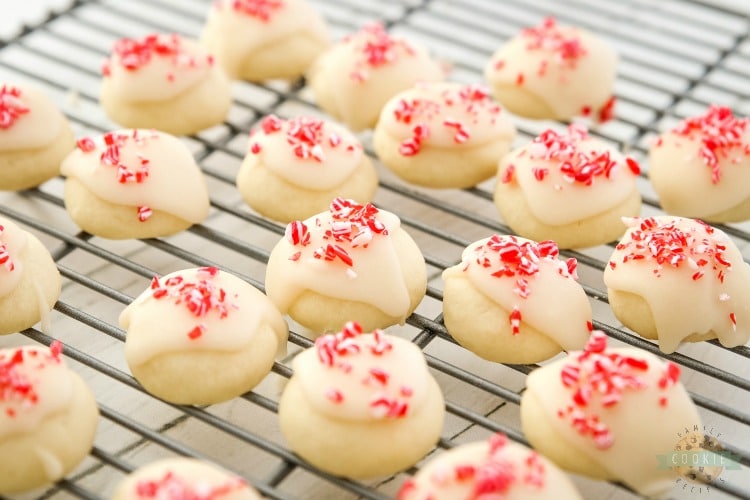 This is how to make the Peppermint Vanilla Icing:
Whisk all ingredients together until smooth, adding more milk as necessary until icing is pourable.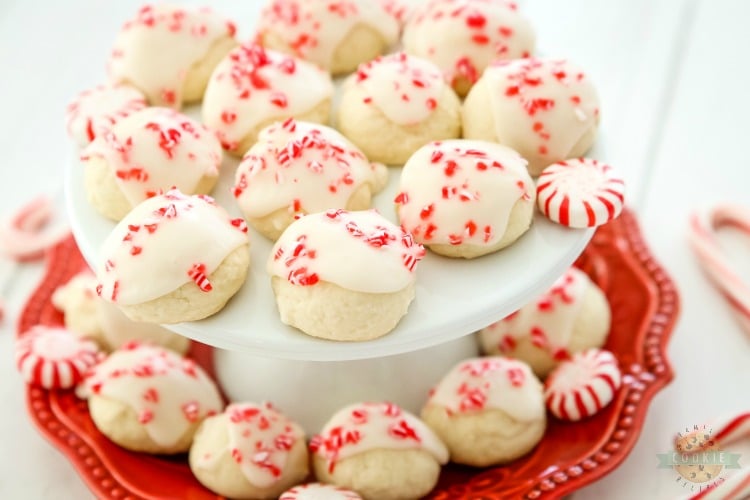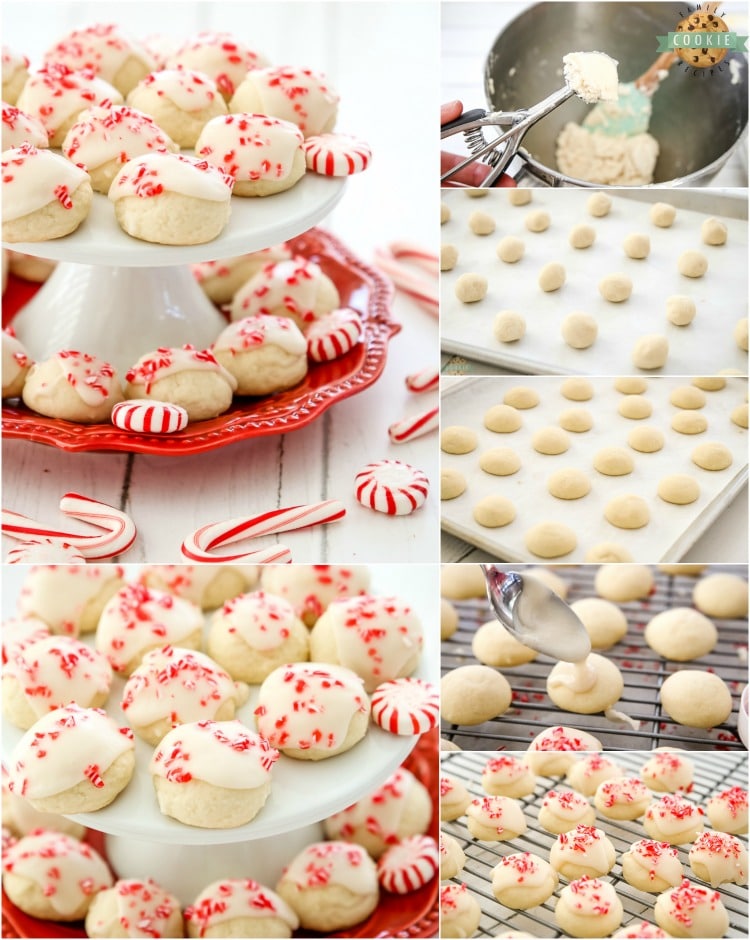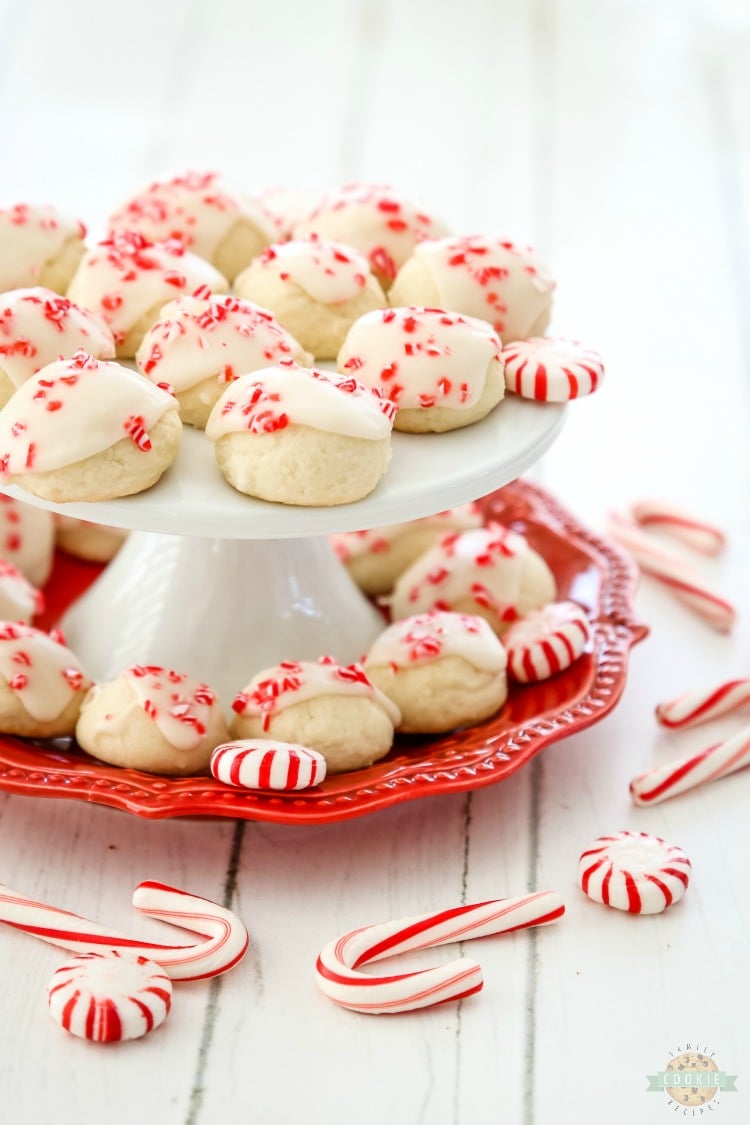 My Vanilla Shortbread Cookies are cooked unevenly. What am I doing wrong?
If your cookies are darker on the bottom than you'd like, it's probably an issue with your cookie sheet. I do not like thin cookie sheets or dark cookie sheets as these both tend to burn the bottoms of cookies. If you use a lot of cooking spray, the same result can happen. I prefer to use lighter colored cookie sheets with parchment paper or silicon baking mats. My favorite cookie sheets are Nordicware– I have 3 half sheets and 2 quarter sheets and love them all!
How can I tell if my shortbread cookies are done?
Normally I bake the cookies until the bottom edges are barely beginning to brown, then remove the cookie sheet from the oven and let the cookies sit for an additional 2-5 minutes. After that, you can transfer them to a cooling rack to cool completely. As the cookies cool, they'll firm up in the middle so you'll have perfectly cooked cookies that are slightly crispy on the outside and soft and chewy inside.
Note the time suggested in the recipe but know that everyone's ovens cook a bit differently. You'll have to pay close attention to how your oven cooks so you learn if you need to bake cookies a minute or two longer for instance, than what the recipe states.
How do you soften butter?
I like to soften butter by using the defrost function on my microwave. If you need the full 1/2 cup cube of butter, you can leave it in the paper wrapper, otherwise, place the amount of butter you need in a glass or porcelain bowl. I use the lowest defrost setting on my microwave and just let it run for 20 seconds. Check the butter and see how soft it is by pressing it with a rubber scraper. If it is still not soft to the touch, meaning it doesn't indent when you press into it, let it warm for another 5-10 seconds. Watch it closely! Butter softens very quickly.
Can Shortbread Cookies be frozen?
Yes, you can freeze shortbread Cookies in an airtight container for up to 1 month. Make sure you first let them sit on the countertop for 2-3 hours before stacking them in the airtight container, so that the chocolate has enough time to set. Store each layer with a piece of parchment paper in between so that the cookies will not stick together and maintain their prettiness when defrosted.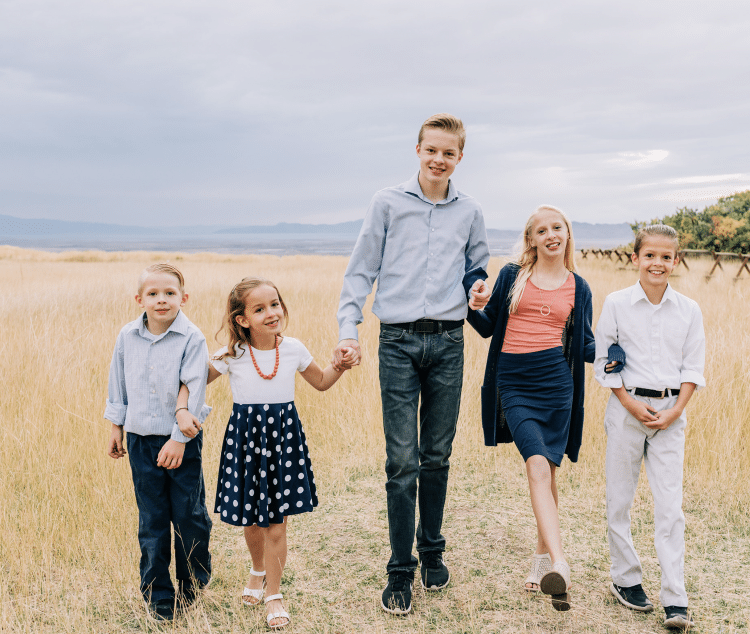 When did my kids get so big?! Heavens, everyone told me time goes by quickly, but I haven't really felt it until now. Good thing they're such good looking kids, because they drive me crazy sometimes!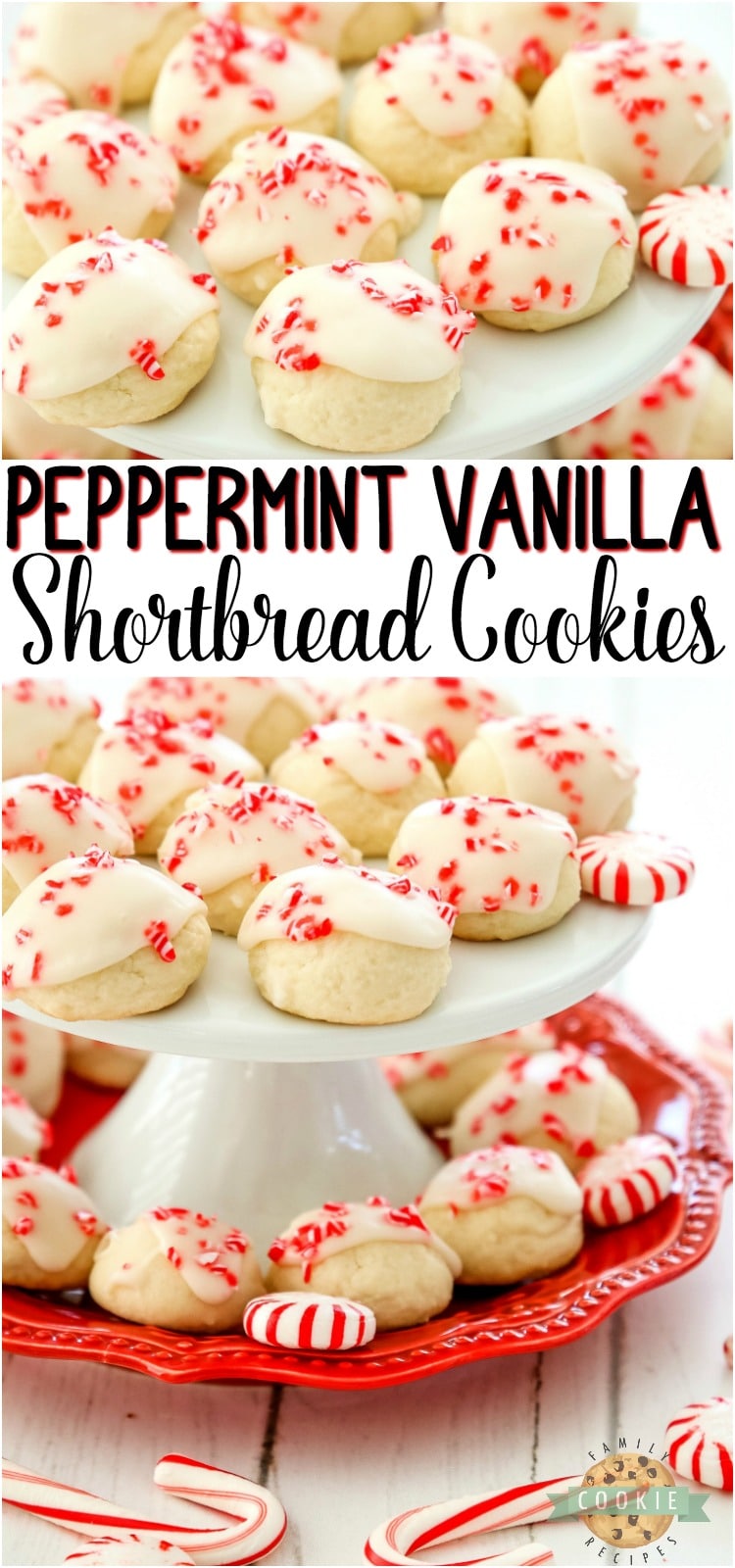 Peppermint Vanilla Shortbread Cookies are perfectly tender, buttery whipped shortbread with a lovely peppermint vanilla glaze on top! Festive Christmas cookies that everyone enjoys!