I've searched for years- THESE are the best gingerbread cut out cookies! The dough holds shape & bakes up perfectly every time & has a fantastic spiced gingerbread flavor. Favorite gingerbread men recipe ever!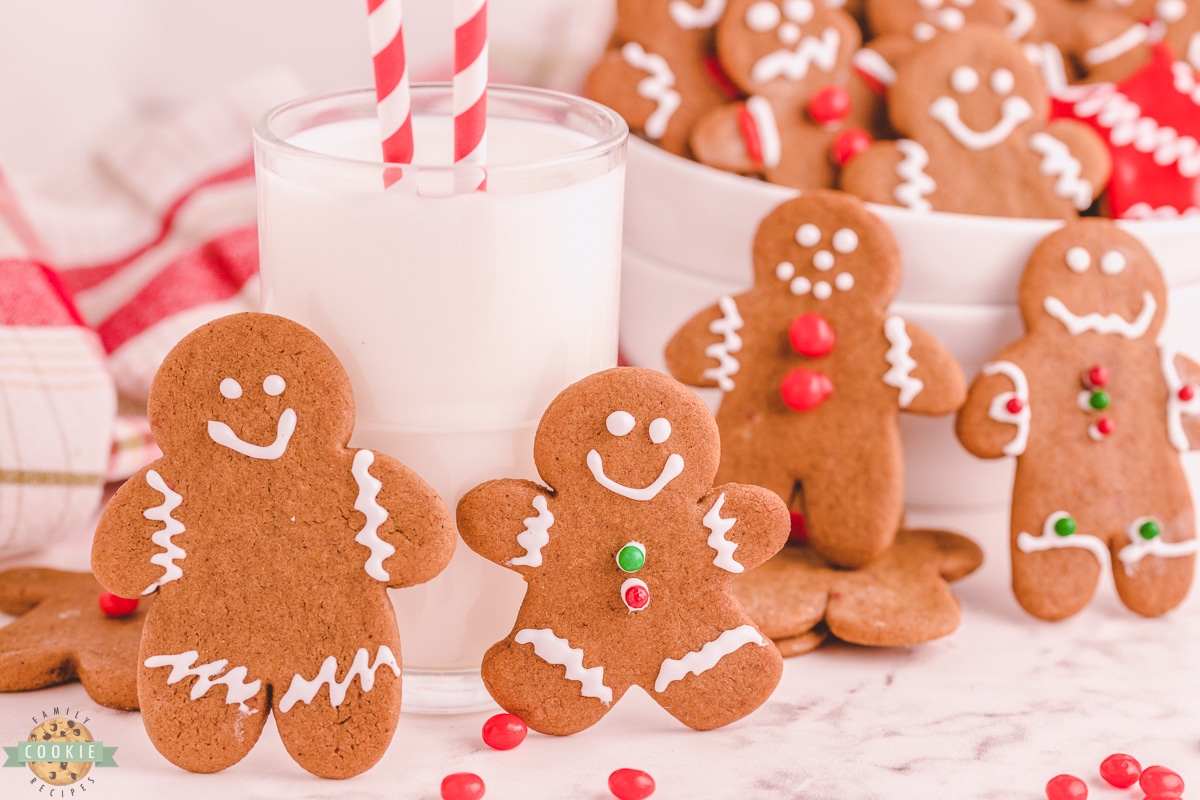 We enjoy these easy gingerbread cookies because they're packed with flavor, the texture is incredible and it's practically fail-proof. We make these almost every year and they're always a favorite go-to recipe of mine when I want gingerbread cookies. You really can't beat well-spiced gingerbread!
Best Gingerbread Cutout Cookies
This recipe makes the most perfectly soft and chewy gingerbread cookies you've ever eaten. Roll out the dough and cut into any shape desired (gingerbread people, Santa's reindeer, or even a snowman) and you'll be impressed with how well the dough holds together and doesn't spread while baking. Top them off with some icing and candies after they've cooled and they're perfect.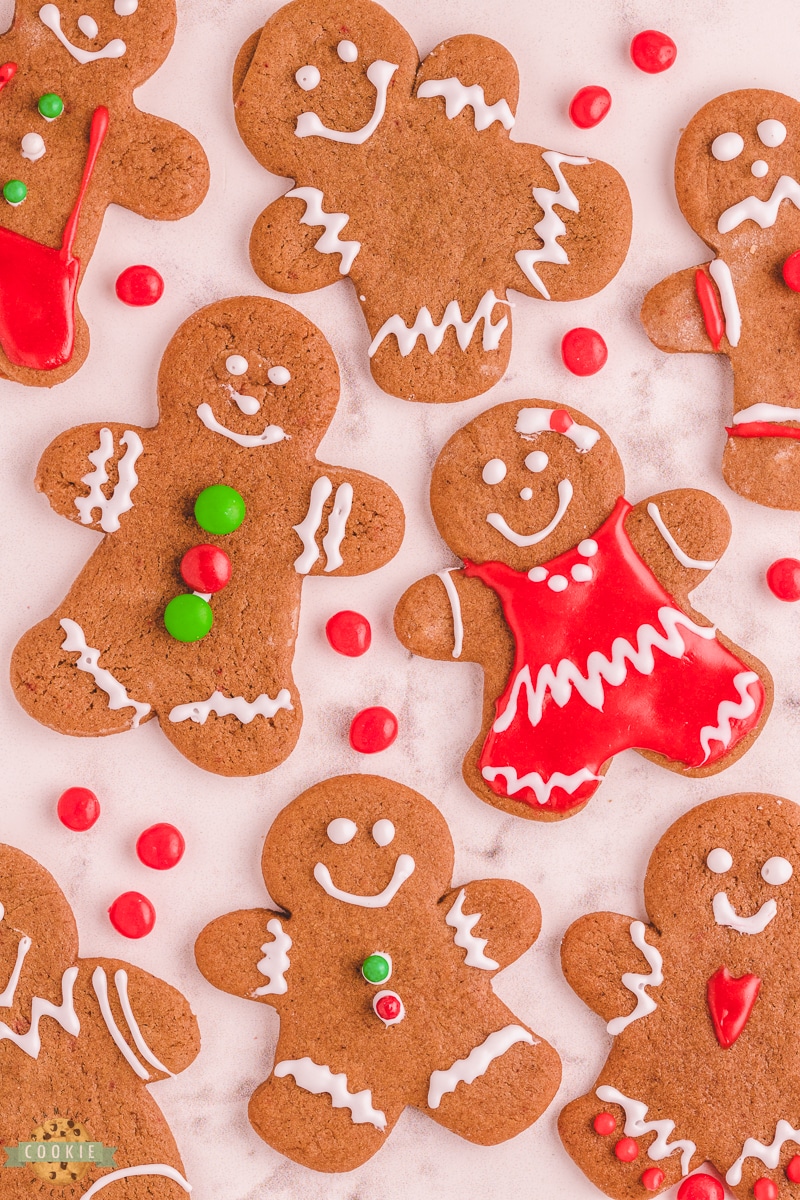 What are Gingerbread Cookies made of?
-Flour: You will need 3 cups of all-purpose flour for the base of the cookie dough in this recipe.
-Leavening agents: Use 1 teaspoon of baking powder and ¾ teaspoons of baking soda to make sure that the cookies puff up nicely as they bake.
-Salt: You will need ¼ teaspoon of salt to help enhance the flavors in the cookies.
-Spices: Use 1 tablespoon of ground ginger, 2 teaspoons of ground cinnamon, and ½ teaspoon of ground cloves to make perfectly spiced gingerbread.
-Shortening: You will need 4 tablespoons of shortening to help give the cookies more fat so that they stay soft.
-Butter: Use ½ cup of unsalted butter to add moisture and rich flavors to your cookies.
-Sugar: You will need 1 cup of dark brown sugar (light brown works too) to help give these cookies a nice chewy texture and sweetness.
-Egg: One egg is all you need to help bind the dough together well so that the cookies don't crumble.
-Molasses: You'll need ½ cup of molasses to give these cookies that traditional dark color and taste you get from gingerbread cookies.
-Vanilla: Enhance the flavors by adding 2 teaspoons of vanilla extract.
What is Blackstrap Molasses VS Regular Molasses
I like to use molasses that's labeled "Original" or "Mild" for baking cookies. Robust, Blackstrap molasses has a much stronger, more bitter flavor that's best used in savory dishes like baked beans. The brand I use is called Grandma's and is found on the baking aisle or near the breakfast syrup of most grocery stores.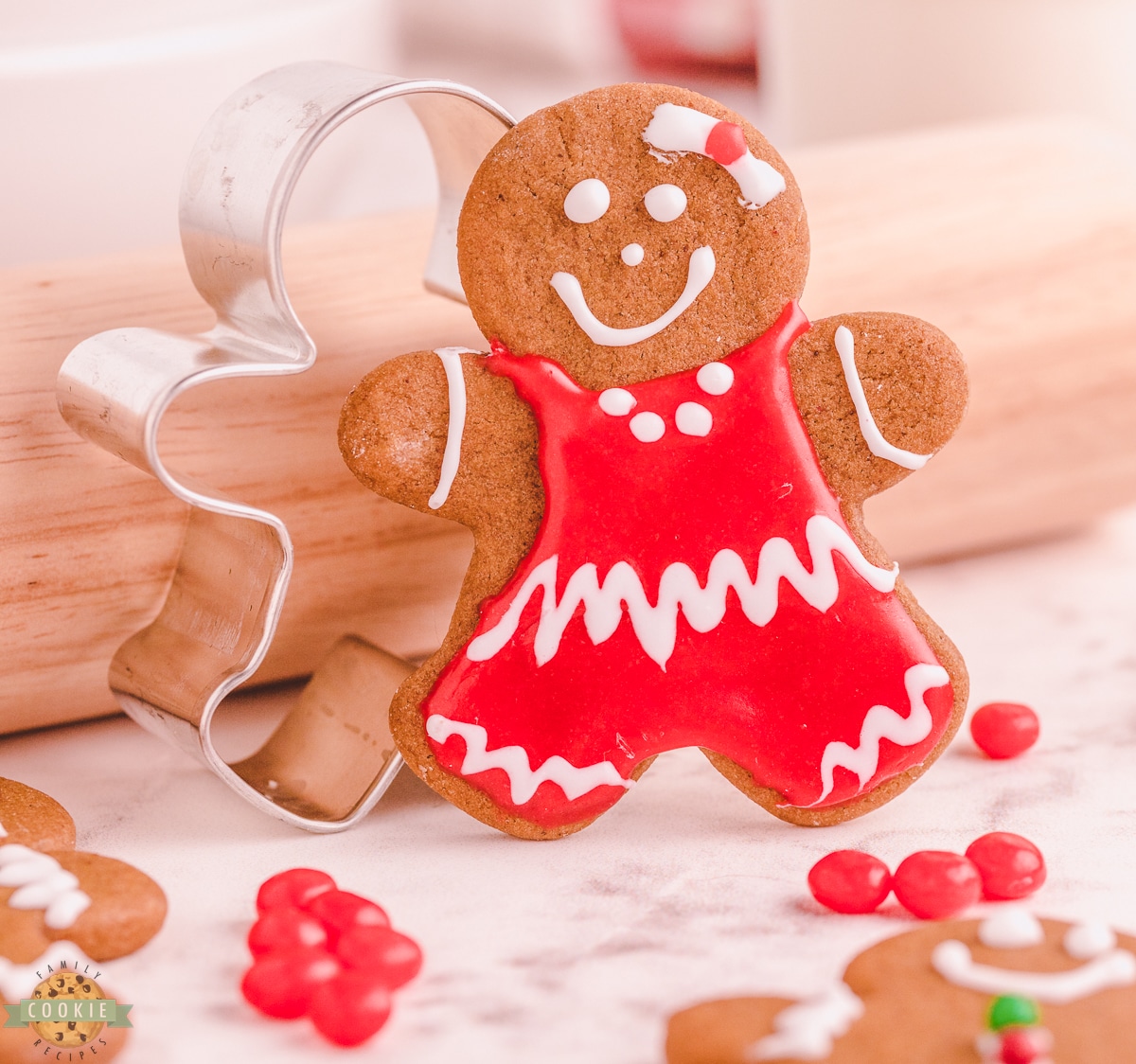 For the basic cookie icing, you will need:
-Powdered sugar: Use 3 cups of powdered sugar for the smooth sweet base of the icing.
-Vanilla: Flavor the icing with a teaspoon of vanilla extract.
-Corn syrup: Adding in 1 tablespoon of corn syrup will help to make the icing thick and shiny.
-Milk: Use 1-2 tablespoons of milk, as needed, for thinning the icing down to the perfect consistency.
-Food coloring: You'll need food coloring for any desired hues.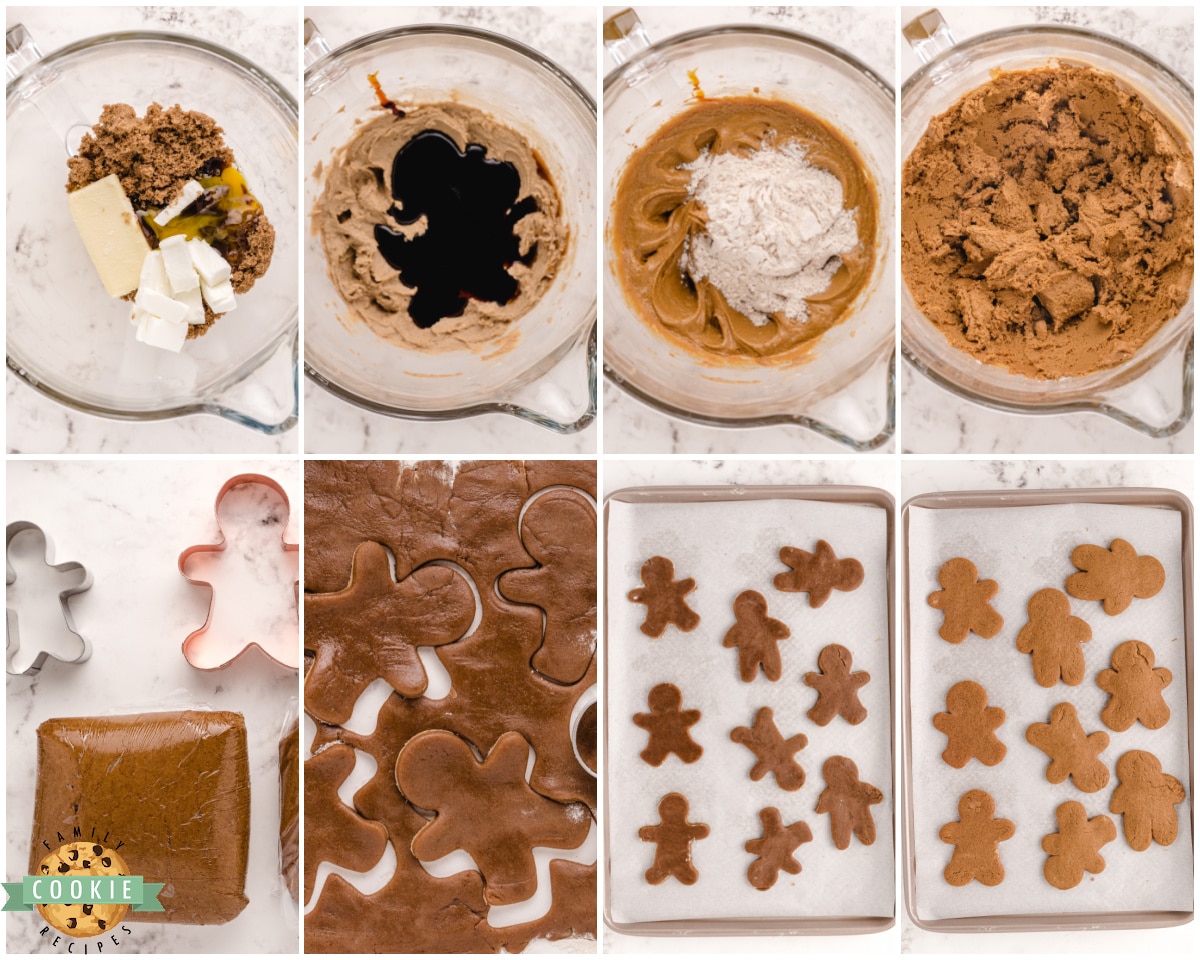 How to Make the Best Gingerbread Cut Out Cookies
Prepare the dough
Whisk together the flour, baking powder, baking soda, salt, ginger, cinnamon, and cloves until well blended in a small mixing bowl.
In a large bowl or in the bowl of your stand mixer, beat together the butter, shortening, brown sugar, and egg on medium speed until well incorporated.
Add in the molasses and vanilla and then mix again to combine.
Gradually add in the dry ingredients and mix until blended and smooth.
Let the dough rest
Divide the dough in half and wrap each in plastic. Let dough chill for 1 hour in the fridge, then at least 30 minutes at room temperature.
Preheat your oven to 375 degrees F and prepare your baking sheets with parchment paper.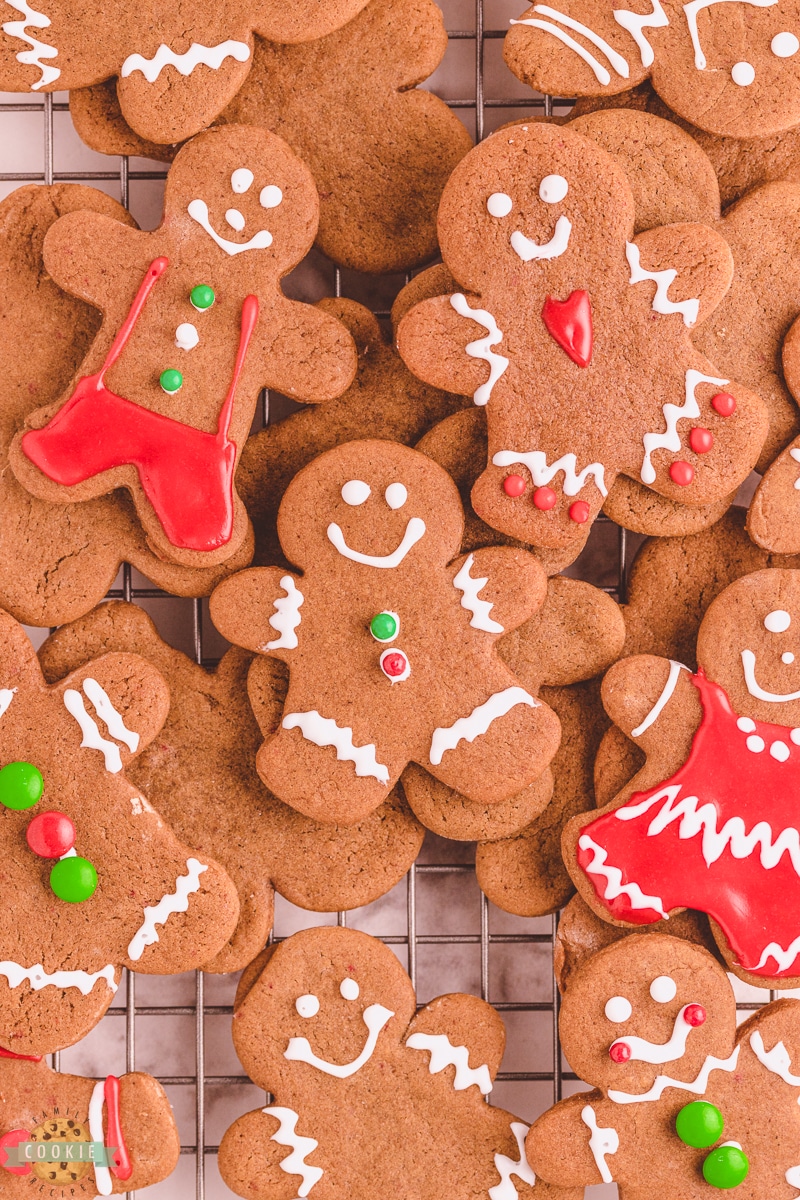 How to cut Out Gingerbread Cookies
Place one portion of dough onto a lightly floured surface and sprinkle some flour over the top of the dough and a rolling pin.
Roll the dough out so that it is just under ¼" thick. Be precise- use a ruler!
Use additional flour to help avoid sticking as needed.
Cut out your cookies using your desired cookie shape and space the cookies at least 1 ½ inches apart on your prepared baking sheet.
I love these gingerbread cookie cutters!
Bake
Bake the cookies one baking sheet at a time for 8-9 minutes.
Let the cookies cool on the tray for 5 minutes before transferring to a wire rack to cool completely.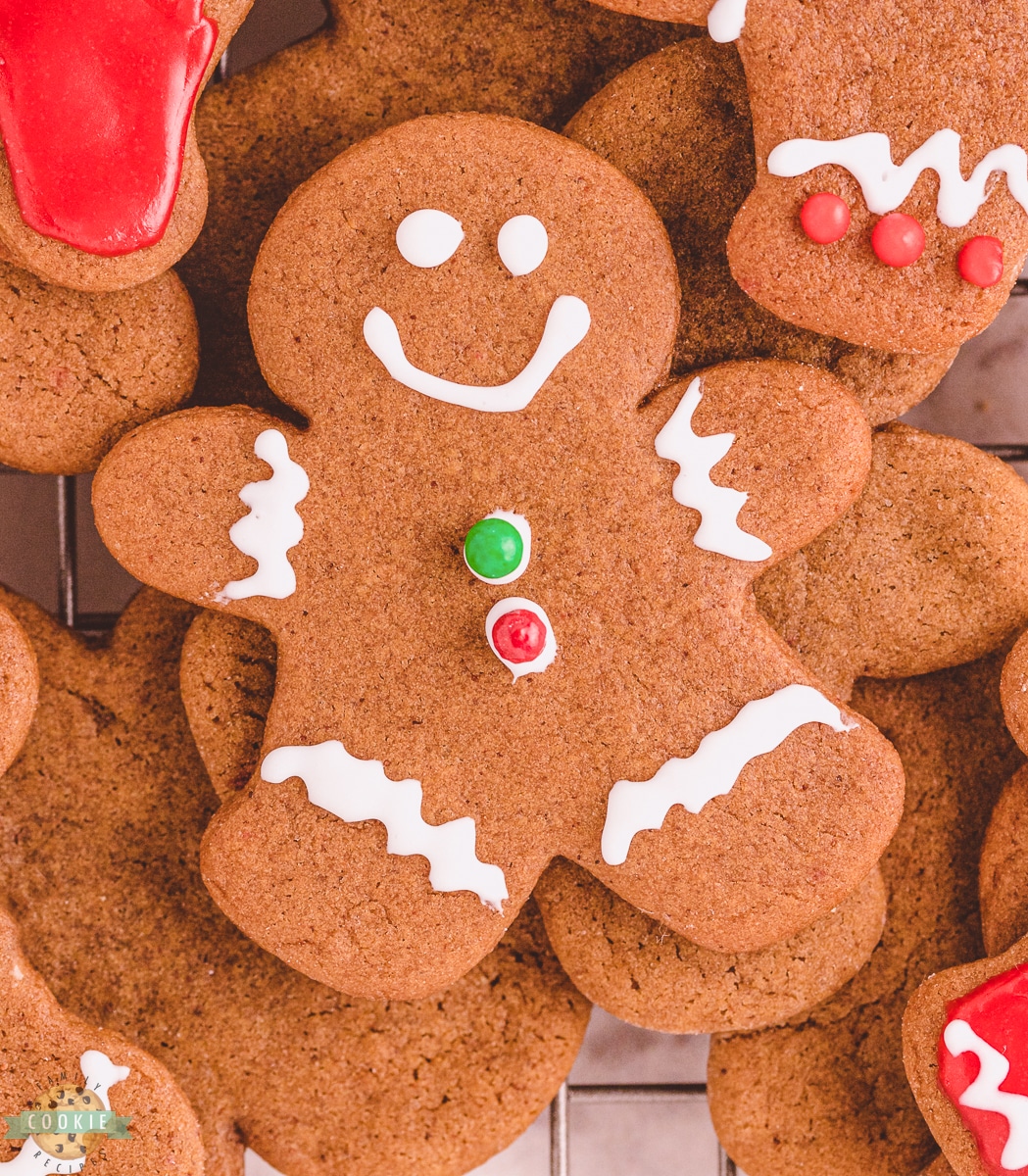 Decorate
Prepare the icing by whisking together the ingredients until smooth. Transfer the icing to a bag and pipe it out onto your cookies as desired.
Use additional candies like M&Ms, chocolate chips, red hots, etc to add more unique fun. Enjoy!
Why do I have to chill Gingerbread dough?
Chilling the dough and giving it time to rest not only improve the texture of your gingerbread cookies, but the process greatly improves the flavor! Giving the spices time to meld is critical. I often even make the dough the night before, then chill overnight, then bring the dough out to come to room temp for a couple hours before rolling out.
How do you Know When Gingerbread Cookies Are Done
Gingerbread cookies are a bit tricky because you can't really check for a light brown color to indicate they're plenty cooked! I recommend the following 4 steps to make sure you have perfectly baked gingerbread cookies:
Roll dough out to recommended thickness. We roll ours to just barely under 1/4″ thick. If you want thicker cookies, roll them to just over 1/4″ thick and bake for 10-11 minutes.
Use a good baking sheet. I like to use a light colored, aluminum baking sheet.
Bake for 8-9 minutes exactly! You can even bake 1 sheet for 8 minutes and another for 9 minutes and decide which you like better.
Leave cookies on the tray for another full 5 minutes after you remove them from the oven! This lets them bake just a tiny bit longer and helps them stay soft, but still not fall apart when you move them.
How long are gingerbread cookies good for?
These cookies once iced and set can be stored in an airtight container at room temperature for up to a week. This should give you plenty of time to enjoy these holiday cookies with family and friends.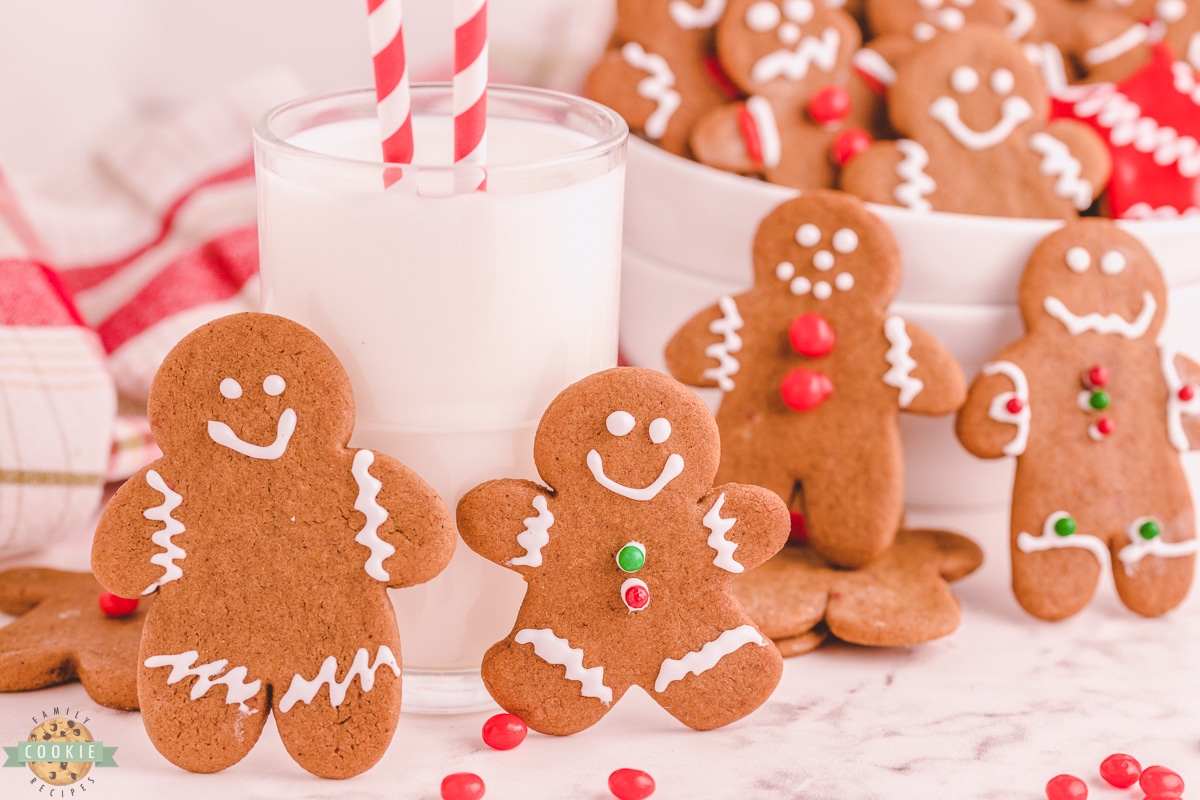 Can you Freeze gingerbread cookies?
Gingerbread cookies are easily frozen, either before or after baking them. I prefer to form the cookie dough balls and freeze those so that I can pull them and bake them whenever I need them. This way the cookies will be warm and fresh every time!
Freezing Gingerbread cookie dough balls
To freeze the cookie dough, place the shaped balls on parchment paper on a cookie sheet and freeze for about 30-45 minutes. Then transfer them to an airtight container or Ziplock freezer bag. When you are ready to bake them, just pull them out and place on a cookie sheet, let them thaw for about 10-15 minutes and then bake as usual.
Freezing Baked gingerbread Cookies
You can also freeze the cookies once they have been baked. Just make sure they have cooled all they way to room temperature and then place them in an airtight container in the freezer. Cookies will stay good in the freezer for 2-3 months.
Freezing a batch of Gingerbread Cookie Dough
If you want to simply make the cookie dough ahead of time, with the intention of thawing, rolling out and making cut out cookies, it's easy! First, wrap the dough in a piece of parchment paper. Then place inside a freezer ziplock bag. If you're planning on leaving the dough in the freezer for longer than 6 weeks, you can always double bag it!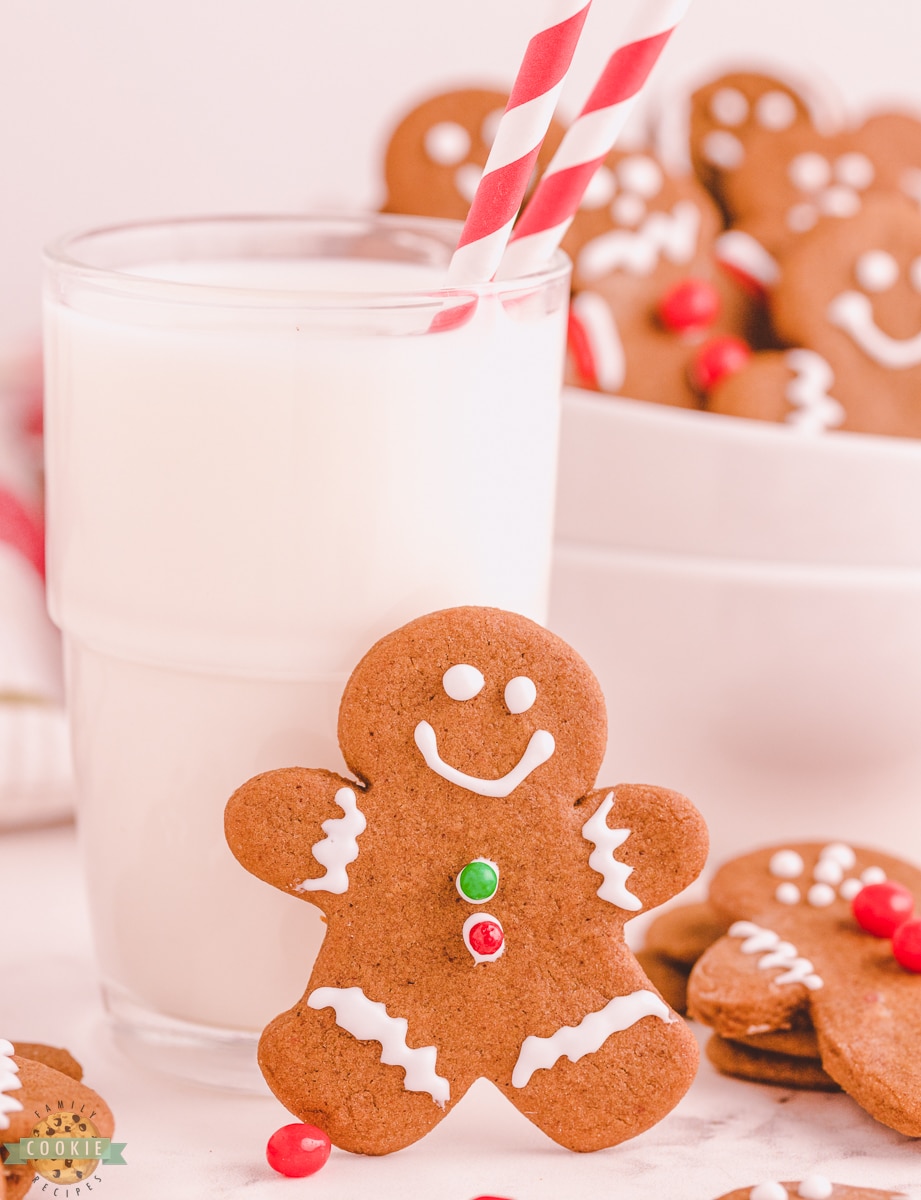 Ahh, here's a flashback to the good ole days before digital filters! My kid's discovered this and had me take a dozen pictures of them, EACH! Funny memories!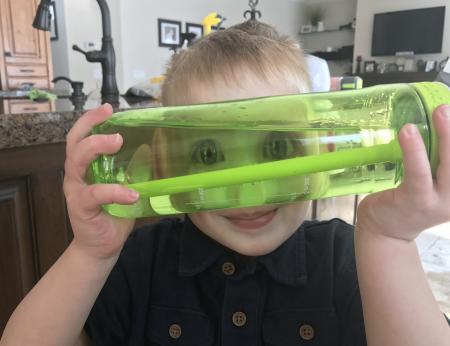 The best gingerbread cutout cookies have soft and chewy dough and a well-spiced taste in every bite. These cookies are easy to make and so much fun to decorate. Your family will love them!