Classic Christmas Cut-Out Cookies perfect for the holidays! Easy sugar cookies for cookie cutters with a simple shiny cookie icing that everyone loves.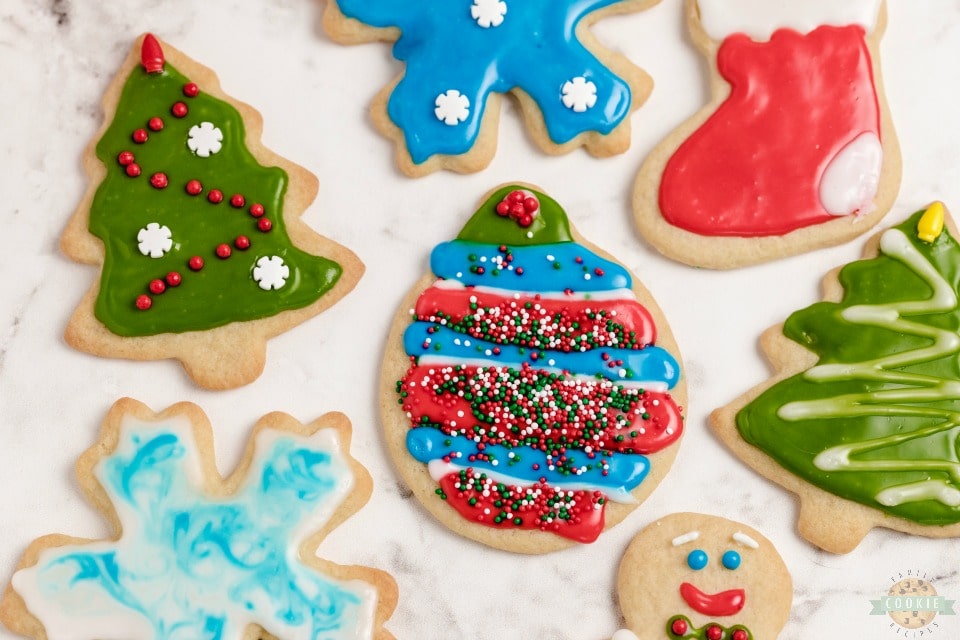 These easy cut out cookies are soft & sweet with a lovely buttery texture. We love cut out cookies around here because it's a chance for the whole family to get creative and have fun decorating cookies together. I'm sure yours will too once you try this fun Christmas cookie recipe!
What Are Christmas Cut Out Cookies?
These are super awesome cut out cookies that hold their shape. Perfect for use with holiday themed cookie cutters, sprinkles, and icing colors. That said, you could just as easily swap out a few sprinkles and cutter shaped to make these any time of the year if desired.
Christmas Cut Out Cookie Ingredients
-Sugar: We need 1 cup of granulated white sugar to get a sweet cookie with nice edges.
-Butter: With 1/2 cup (one stick) of softened butter we can get a richer flavor.
-Egg: We need 1 egg to be the binder for this dough so that the cookies hold together.
-Vanilla: We need 1 teaspoon of vanilla extract to get a good flavor base. I like using higher quality vanilla, but use what you have on hand.
-Sour Cream: We need 1/3 cup of sour cream to help thicken the dough. This also makes the cookies soft and practically melt in your mouth once they've been baked.
-Salt: a 1/2 teaspoon of salt will enhance the flavors in the cookies.
-Baking Soda: 1/2 teaspoon of this leavening agent will make these cookies puff up while baking.
-Flour: We need 2 cups of all-purpose flour for the gluten base of this dough.
Easy Cut-Out Sugar Cookie Icing Ingredients
-Powdered Sugar: 3 cups of powdered sugar will give us a thick and sweet icing that's perfect for cookie decorating.
-Warm Water: We just need 1/4 cup of warm water to help make a paste with the sugar so that it can be drizzled or piped onto cookies.
-Light Corn Syrup: This will add a little thickener as well as shine to the icing. We need 1 tablespoon of corn syrup to do this.
-Vanilla Extract: Adding in just 1/4 teaspoon of vanilla we can get slightly flavored icing that will taste great with our cookies.
How to Make Christmas Cut Out Cookies
Cream together the sugar and butter in a bowl using an electric mixer.
Add in the eggs and vanilla, and mix again.
In another bowl, combine the sour cream, salt, and baking soda until well mixed.
Add the flour and the sour cream mixture to the egg and butter mixture, beating until the dough is nice and smooth.
Cover and chill the dough in the fridge for several hours (overnight is a great idea). The colder the dough is, the better!
Roll out the cookie dough on a lightly floured surface and then use shaped cookie cutters to cut out festive shapes.
Bake at 375 degrees F for 10 minutes and allow to cool before frosting.
In a bowl, whisk together all of the icing ingredients and then pipe or spread it onto the cookies. Decorate with sprinkles if desired. Enjoy!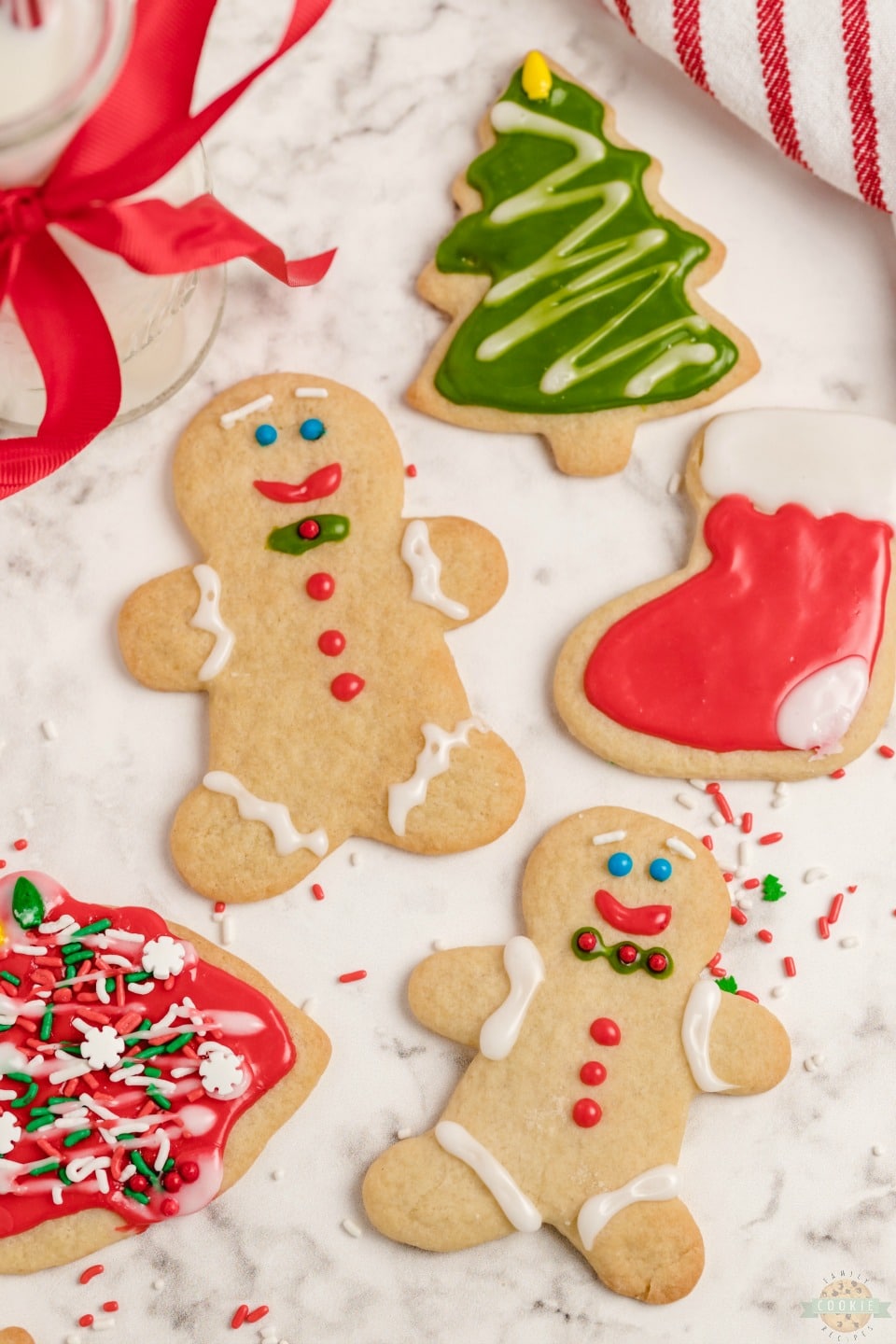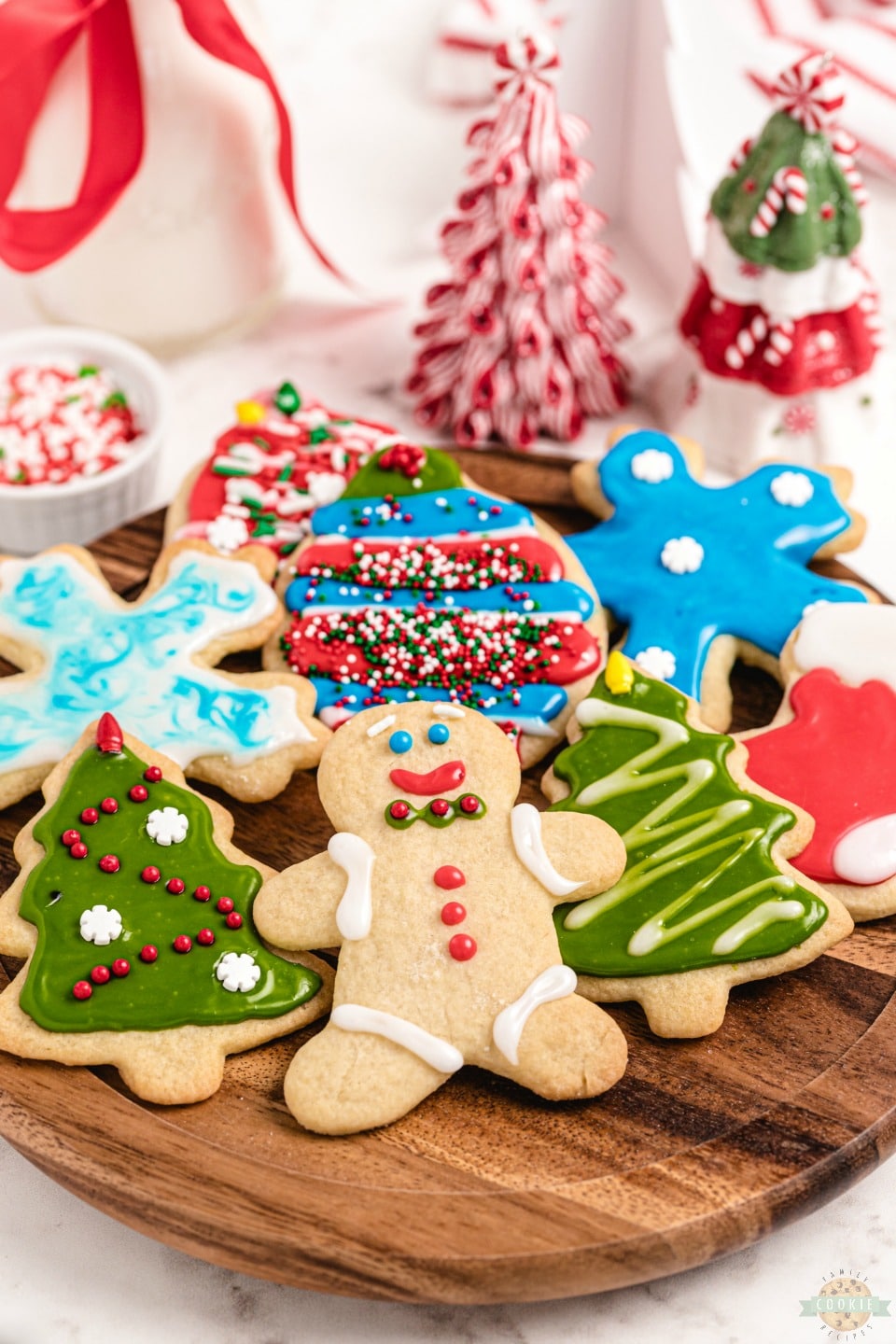 Roll your cookie dough out so that it is about 1/4 inch thick, this is the perfect thickness. Not too large and not too small. Too thin of a rolled dough can cause over-cooked or discolored cookies whereas thicker dough may not cook properly so try to get the dough to be an even thickness so that all of your cookies turn out perfectly.
If your dough is too warm when you go to bake them the cookies may spread. This is because the butter gets softer and melts easier. I recommend chilling the dough for as long as possible and if it warms up while you're rolling, place your shaped cookies on a baking sheet and chill those for a few minutes (about 10) before baking just to be safe.
How long are cut out sugar cookies good for?
With or without icing, these cookies can be good for up to a week or so if stored in an airtight container at room temperature. For longer storage, you can freeze them.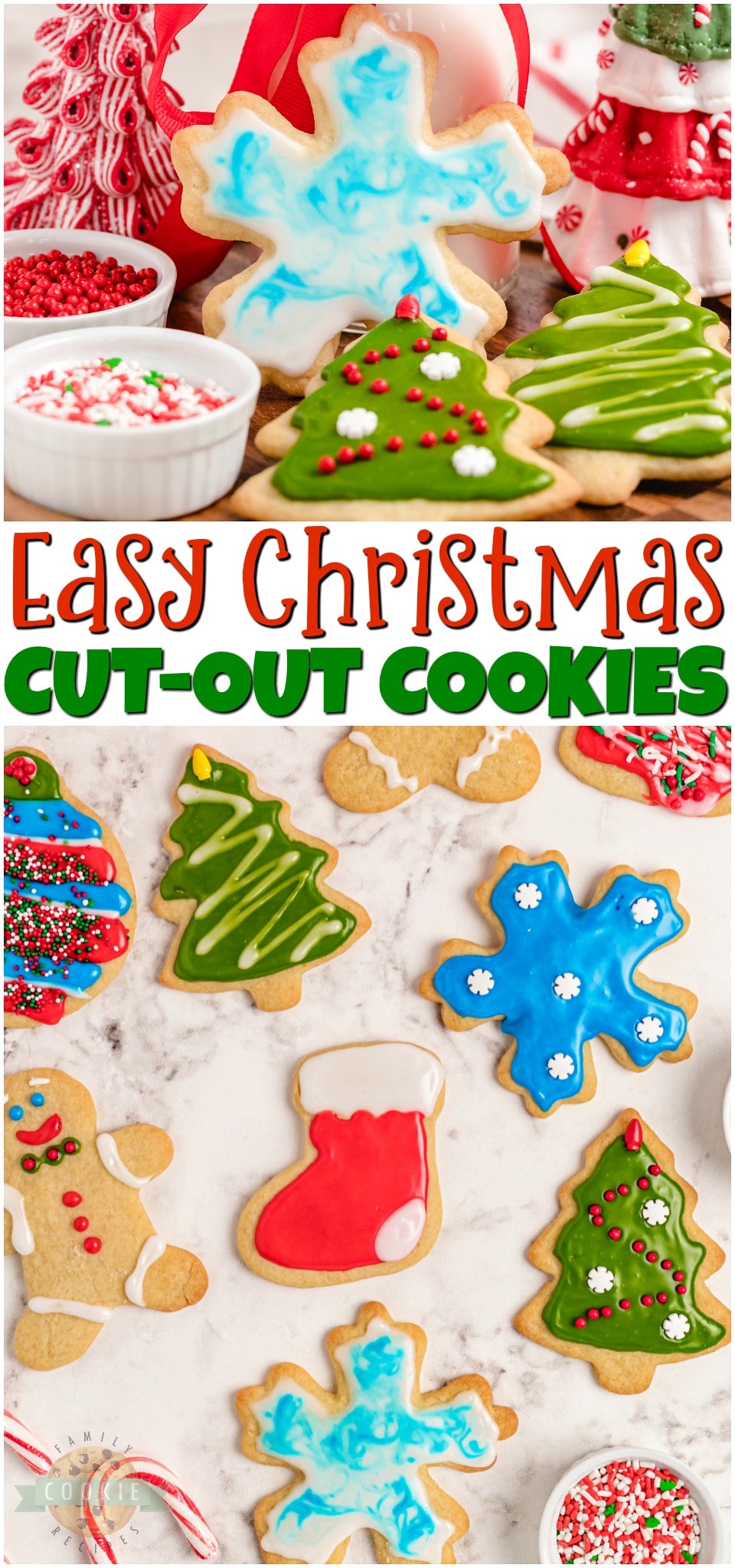 Classic Christmas Cut-Out Cookies perfect for the holidays! Easy sugar cookies for cookie cutters with a simple shiny cookie icing that everyone loves.