Cinnamon Chocolate Crinkle Cookies taste like Mexican hot chocolate and are amazing! Soft & chewy cookies with a fantastic chocolate taste with a hint of cinnamon.
If you've never had Mexican hot chocolate then I can tell you you're missing out. It's rich, packed with chocolate flavor and has a nice amount of cinnamon spice added. Very much like these cookies! These Mexican chocolate cookies are definitely going to wow everyone over as a great Christmas cookie recipe.
Making Homemade chocolate crinkle cookies
While this recipe has chocolate chips and no cocoa powder, it goes one step further by melting the chocolate chips and blending them in the batter. I do this a lot with my chocolate cookie recipe if you can't tell, and I swear it is the best method out there.
Melting chocolate into cookies gives it a richer flavor and is perfect for a chocoholic like myself. Try it and you'll be amazed at how big of a difference it can make to a simple recipe!
Cinnamon Chocolate Crinkle Cookies Ingredients
-3/4 cup butter
-1/4 cup semi-sweet chocolate chips
-1 cup packed brown sugar
-1/4 cup corn syrup
-1 egg
-2 cups all-purpose flour
-2 teaspoons baking soda
-1-1/2 teaspoons ground cinnamon, divided
-1/4 teaspoon salt
-1/2 cup powdered sugar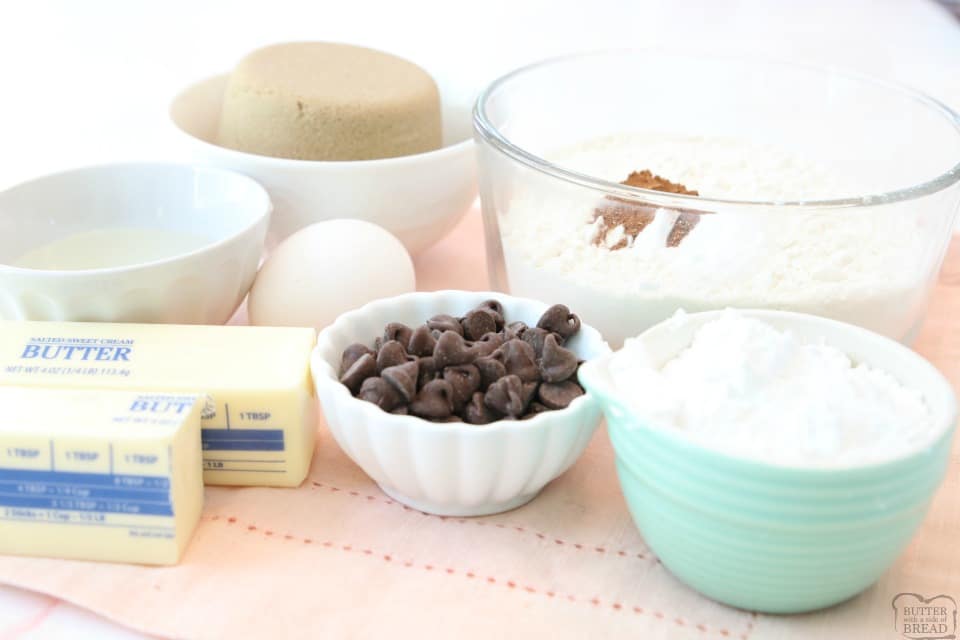 How to Make Chocolate Crinkle Cookies
Melt your butter and chocolate chips in the microwave in a bowl and stir until smooth. 30 second intervals, stirring between each should do it.
In a mixing bowl, mix the brown sugar and corn syrup with an electric mixer until they're well blended. Beat in the egg and chocolate butter mixture.
In another bowl, whisk together the flour, baking soda, 1 teaspoon of cinnamon, and the salt. Gradually beat this mixture into the brown sugar mixture. Cover the bowl and place it in the fridge to chill for about 1 hour.
Preheat your oven to 350F degrees.
In a shallow bowl, mix your powdered sugar and the remaining 1/2 tsp of cinnamon.
Scoop out the dough using a medium sized cookie scoop. Roll it into a ball and then place it in the powdered sugar mixture.
Place the cookies on a lined baking sheet.
Bake the cookies for about 10-12 minutes or until the tops are cracked and the cookies are set. Cool on the pans for 2 minutes before transferring to wire racks to finish cooling.
Why Are My Chocolate Crinkle Cookies Flat?
Crinkle Cookies are somewhat flat overall. Not chilling the dough long enough is the #1 reason for a very flat crinkle cookie. You should make sure to let your dough chill for a minimum of 30 minutes no matter what. This helps to keep the dough (and butter) cold so that they stay nice and puffy while baking.
How Do You Get Crackle Effect on Cookies?
This happens naturally during the baking process. The powdered sugar coating on the cookies is spread apart as the cookie bakes and expands creating a unique design revealing the chocolate cookie inside with the powdered sugar islands on top.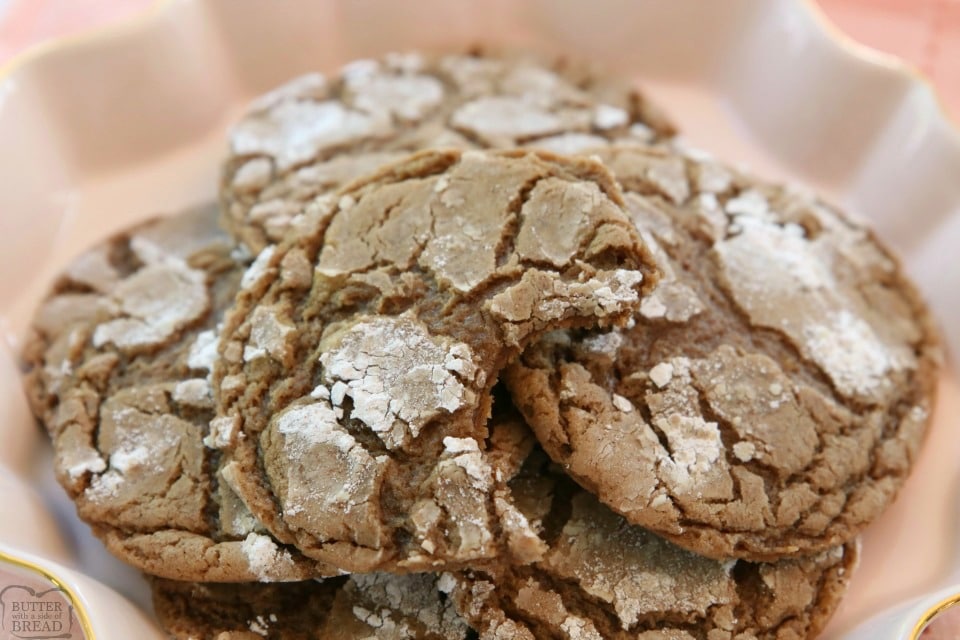 Serve Cinnamon Crinkle Cookies
These cookies would be amazing if paired beside your favorite cup of hot cocoa and marshmallows! Of course, they could also be amazing with a simple glass of cold milk too. 😉 Honestly, you'll be too busy stuffing your face with these cookies to worry about needing to pair them with anything.
What If I Don't Have Brown Sugar on Hand?
If you find yourself unable to go shopping you can make your own brown sugar at home! With 1 cup of white sugar and 1 tablespoon of molasses, you can mix the two together to create brown sugar. That's actually how it's made and it's such a simple hack to do.
How Long Does Chocolate Crinkles Last?
If you keep your cookies stored in an airtight container at room temperature you can expect these cookies to last up to a week and be just fine. Anything after that could result in a stale cookie, but you can always freeze them for a longer storage solution if needed!
Other Chocolate Cookie Recipes You're Going to Love!


A couple years ago I gave my husband a unique gift of 3 months of a "MunchBox." His birthday comes a short time after Father's Day and I was so clueless as to what to get him, so at the last minute, I added this. Let me tell you- it's turned into a super fun once-a-month Sunday tradition for our family! Every month a MunchBox arrives full of 7-8 snacks and treats from different countries. Sometimes the snacks are from the US, but they're very unique, localized snacks, so nothing common comes in the box! This past Sunday we opened the box and had to document these "Smog Balls."  They're sour candies from Pakistan that are a mix of Gobstoppers, Sour Patch Kids and maybe Mike & Ike's??! They were fun & some liked them more than others, obviously!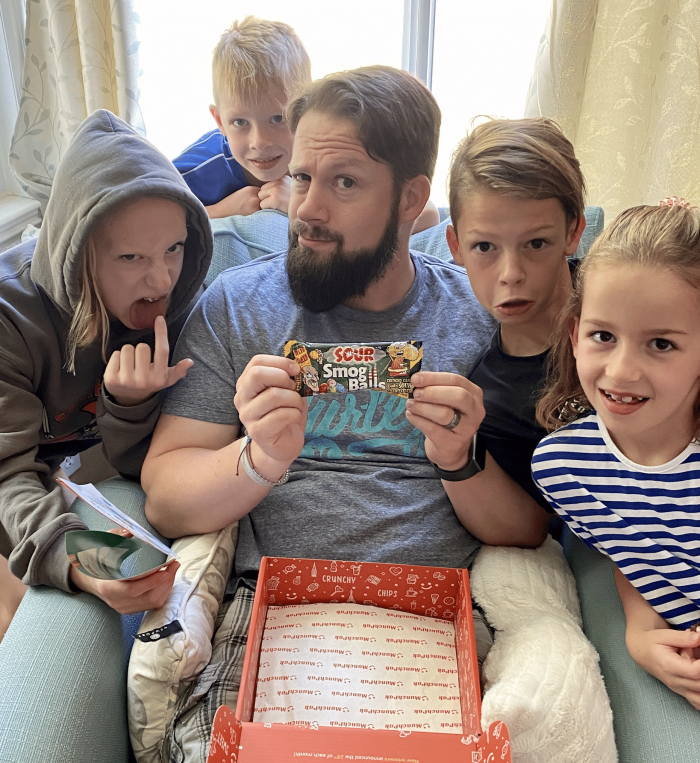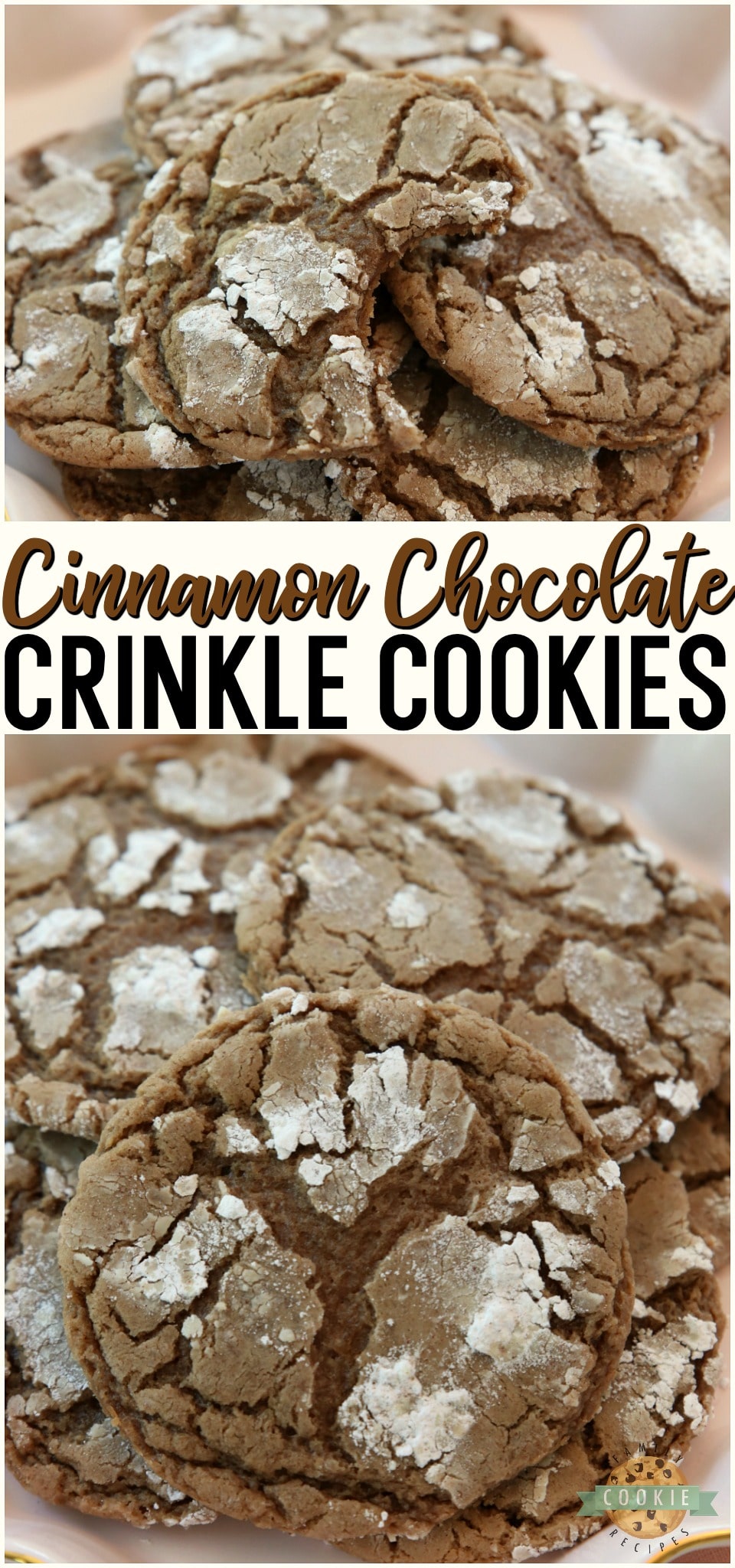 These Cinnamon Chocolate Crinkle Cookies taste just like Mexican hot chocolate but in the chewy and tender form of a delicious cookie. You're going to love the chocolate crinkle cookies with a hint of cinnamon!