Double Chocolate Chip Cookies made with twice the chocolate for the ultimate chocolate chip cookie! Soft chewy cookies with fantastic chocolate flavor for those who LOVE chocolate!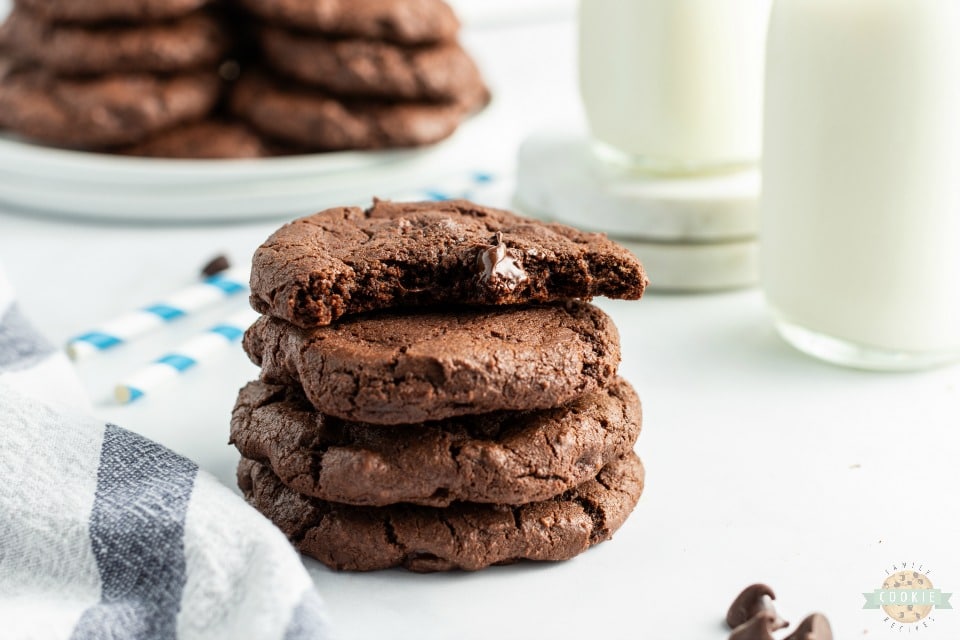 These double chocolate chip cookies have melted chocolate right in the batter giving you a rich and gooey cookie you're going to enjoy. Everyone loves a good cookie with a crisp edge and a soft melt-in-your-mouth center, right? I'm drooling just thinking about these chocolatey cookies!
Making the perfect chocolate cookie
I have trial and errored my way through hundreds of cookie recipes over the years trying to create the most perfect batch of cookies. Over that time I picked up a few tricks to make the cookies turn out amazing.
One of the biggest things is adding melted chocolate to the cookie batter. I do this with a few other cookie recipes too and it's always a hit.
The other thing is the heavy cream. How many cookie recipes do you see asking for heavy cream instead of milk? There's not that many out there and those without it are missing out. This thick liquid helps the cookies to remain soft and perfect while adding a great rich flavor to every bite.
What kind of chocolate chips can I use?
We recommend using semi-sweet chocolate chips because it gives a great sweet, chocolaty to counterbalance the rest of the cookie, but you can choose whichever ones you like best! White chocolate, milk chocolate or even dark chocolate all work great. Each one changes the appearance and flavor of the cookies though, so keep that in mind.
How many cookies can I make with this recipe?
This recipe can make between 2.5 and 3 dozen cookies depending on how big you make them. The larger you make the cookies the less you can make and the longer they will need to bake. Keep an eye on them while they're baking to make sure that they don't become over cooked.
Double Chocolate Chip Cookies Ingredients
Here's what you'll need to make these cookies:
-2 cups flour
-1 cup cocoa powder
-1 teaspoon baking soda
-¼ teaspoon salt
-½ cup butter
-½ cup heavy cream
-1 cup brown sugar
-1 cup sugar
-1 teaspoon vanilla
-2 eggs
-⅓ cup melted semisweet chocolate chips
-2 cups chocolate chips
How to Make Double Chocolate Chip Cookies
In a medium bowl whisk together the flour, cocoa powder, baking soda, and salt.
In a large bowl cream together the butter, heavy cream, both sugars, and the vanilla. You can use a hand mixer or a stand mixer to do this.
Add in the eggs one at a time.
Add in the melted chocolate last. (Be careful that your chocolate isn't too hot, you don't want to cook the eggs).
Add in ⅓ of the flour mixture into the creamed sugar mixture. Repeat until well combined. Stir in the chocolate chips.
Scoop the cookie dough onto a lined or greased cookie sheet.
Bake in the oven at 350 degrees F for 15-17 minutes.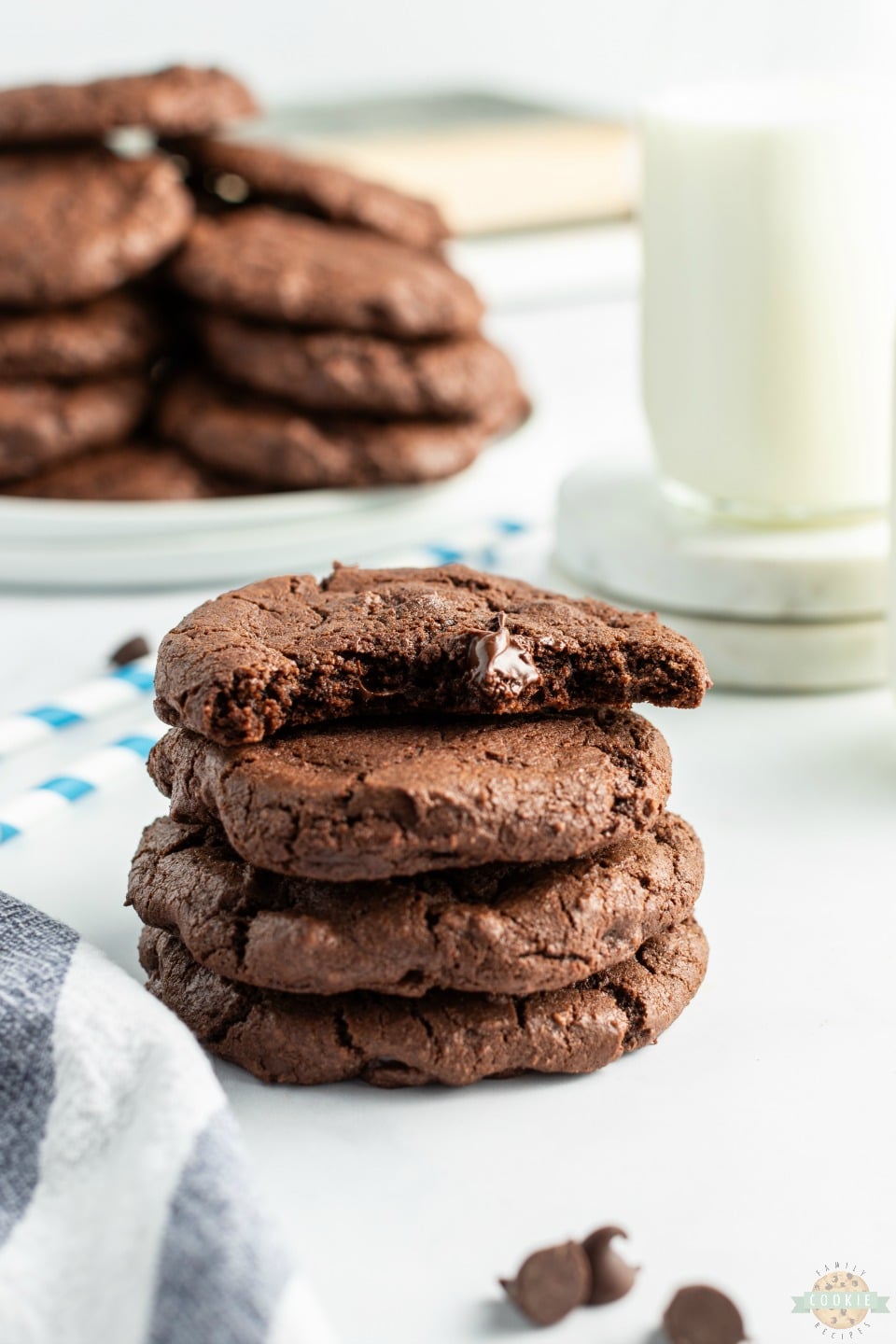 Tips for Making Better Cookies
Spend a little extra time when you mix the peanut butter and sugars. Creaming them together for 2-3 minutes will improve the consistency of your cookies.
Preheat the oven. This will help your cookies turn out right every time!
Use a cookie scoop! If you want all your cookies to be perfectly shaped and have them all be the same size, a cookie scoop is the way to go.
Use parchment paper or a silicone baking mat. Doing this will make it really easy to remove the cookies from your cookie sheet so that you don't have to scrape them off the pan – they will just slide right off in perfect shape!
How long do double chocolate chip cookies last?
Around here, not long! Haha. But honestly, they can last up to a week or two at room temperature in an airtight container. The older they get the staler they become so it's best to enjoy them while they're fresh.
Can you freeze chocolate cookies?
Absolutely! If you want to make these cookies last as long as possible and taste fresh, freezing is a great option. Simply freeze the cookies flat on a baking sheet for about an hour before transferring to a Ziploc bag or an airtight freezer-friendly container. Then you can freeze them for up to 6 months.
To eat a cookie all you have to do is take it out of the freezer and let it thaw on the counter for a few minutes (about 15). Frozen cookies when individually wrapped are great for packing in the lunch bags!


Mother's Day recently came and went and I always find myself reflecting on the past. When you have 5 kids, you tend to have A LOT of memories of bringing babies into the world! I had some pretty incredible adventures along the way that make me just so dang grateful that I'm a mom. We didn't have it easy, but I know SO MANY people had a much, much more difficult go of it all. So thankful for my experiences as a mother!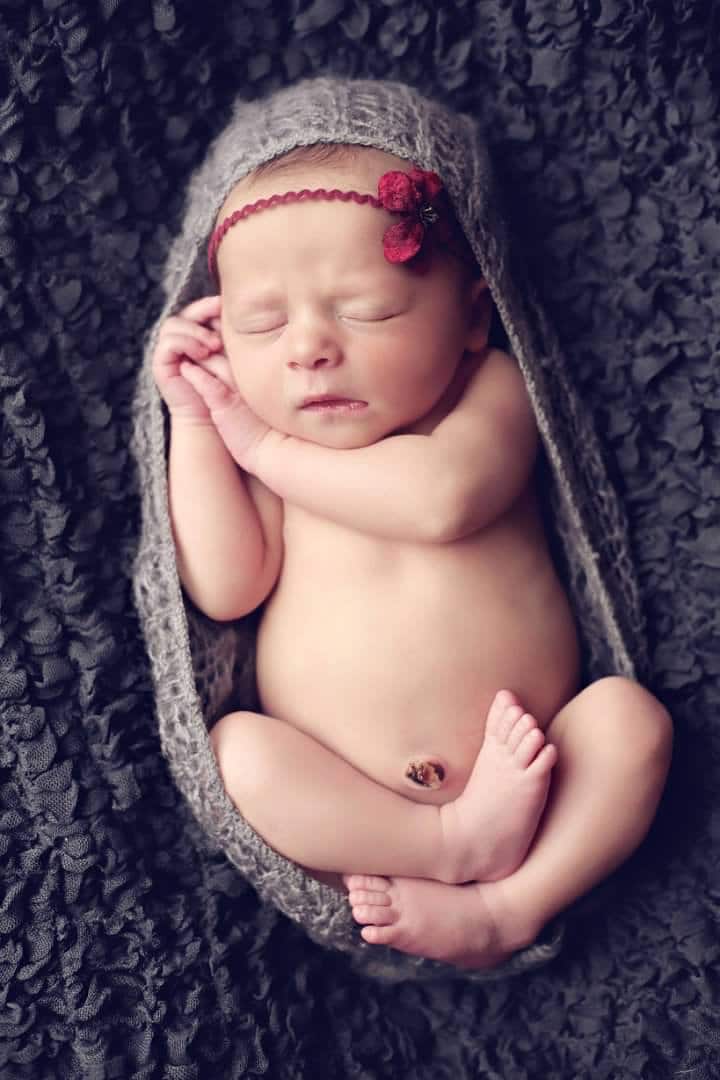 Here's a cute newborn baby pic of my youngest daughter and 4th child. She was the only one we ended up doing these professional newborn photo shoots with. I kind of regret that, but I also remember the process and whew- it was stressful. They take hours because you are literally at the mercy of your newborn. Feeding them. Changing them SO MANY TIMES. Hello, no diaper! And yeah, they have to be only a handful of days old so you've just barely had a baby. It's quite intense. But also amazing. I mean, look at her in all her 5-day-old glory!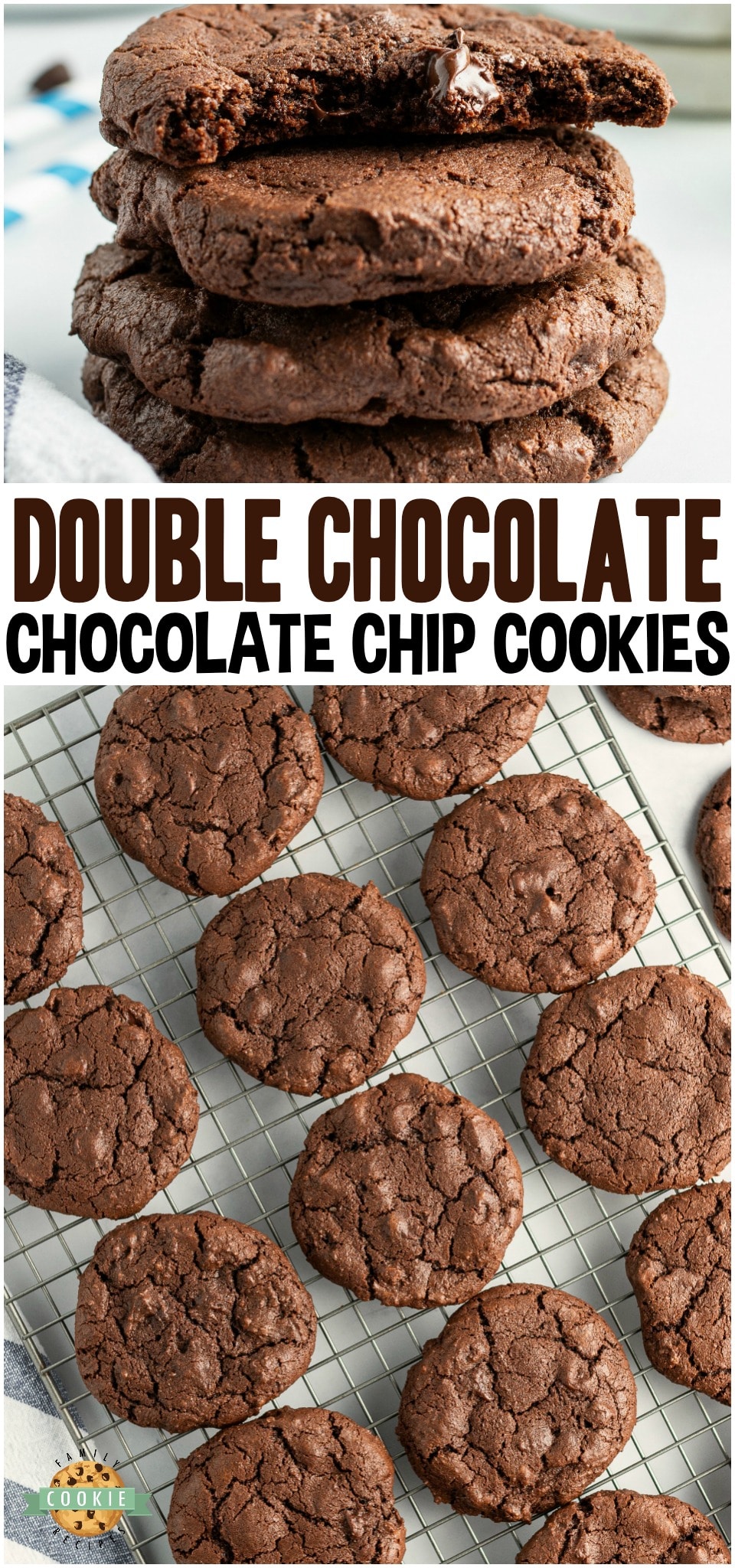 Double Chocolate Chip Cookies are the rich and delicious cookie that everyone can enjoy. With soft and tender cookies like this, you'll wish you had made a second batch. Double Chocolate Chip Cookies made with twice the chocolate for the ultimate chocolate chip cookie! Soft chewy cookies with fantastic chocolate flavor for those who LOVE chocolate!