White Chocolate Chip Lemon Cookies are soft, chewy and perfectly sweet lemon cookies! White chocolate chips & lemon pudding mix add great flavor and texture to these delicious spring cookies.

White Chocolate Chip Lemon Cookies seem to perfectly fix my craving for anything and everything lemon this time of year! There are signs that Spring is coming- the snow is melting, green leaves are starting to peek through and my kids are wearing shorts. Wait – they'd wear shorts even if it was 35 degrees, so scratch that as a sign of impending Spring! I added lemon zest to these soft and chewy pudding cookies because it brightens the flavors. I love the white chocolate chips in them too – they pair so well with the lemon. Enjoy!
What is lemon zest?
Lemon zest is small bits of the outside rind of lemons. It's used in recipes to add a stronger lemon flavor. You can get lemon zest by grating the rind off a lemon using a fine cheese grater or lemon zester. Grate zest into a bowl, then measure it out as needed using measuring spoons.

Can you freeze lemon zest?
Yes, you can freeze or even refrigerate lemon zest in small, airtight containers for up to 1 month. I love buying a bag of lemons and then zesting them and juicing them to use later on.
Which is better, lemon zest or lemon extract?
Lemon extract is easier to store and use, since you buy it and keep it in your cupboard. But even still, I prefer using lemon zest in my recipes because it adds a much more authentic lemon flavor. Lemon extract is made with a concentrated amount of alcohol and lemon and I feel you end up tasting the alcohol flavor too much.
How to make lemon cookies
To make these lemon cookies, you'll first need to cream together sugar and butter. I like to use a stand mixer, but it's not required, of course! Add egg and milk.
In separate bowl, combine sour cream, pudding mix, salt and baking soda. Add flour and sour cream to butter mixture, mixing until smooth. Mix in white chocolate chips and zest. Add 1 drop of yellow food coloring if desired.
Drop by rounded tablespoonfuls onto greased cookie sheet. This step is easiest if you use a cookie scoop! Bake at 375 for 10 minutes. Transfer to a cooling rack and enjoy!
White Chocolate Chip Lemon Cookie recipe ingredients
Here's what you'll need to make these lemon cookies:
1 cup sugar
1/2 cup softened butter
1 egg
1/3 cup sour cream
2 TBSP milk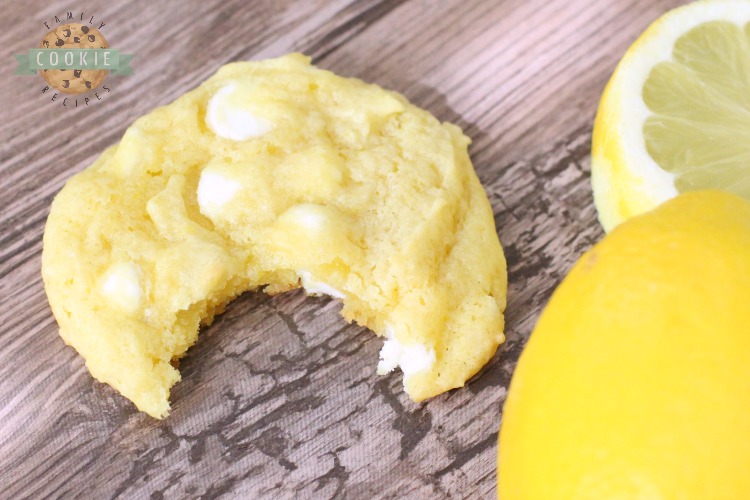 1/2 tsp. salt
1/2 tsp. baking soda
2 cups flour
1 (12 oz) bag white chocolate chips
1 small box lemon pudding mix
zest from 1 lemon, about 2-3 tsp
Step-by-Step Directions for making a Lemon Cookie Recipe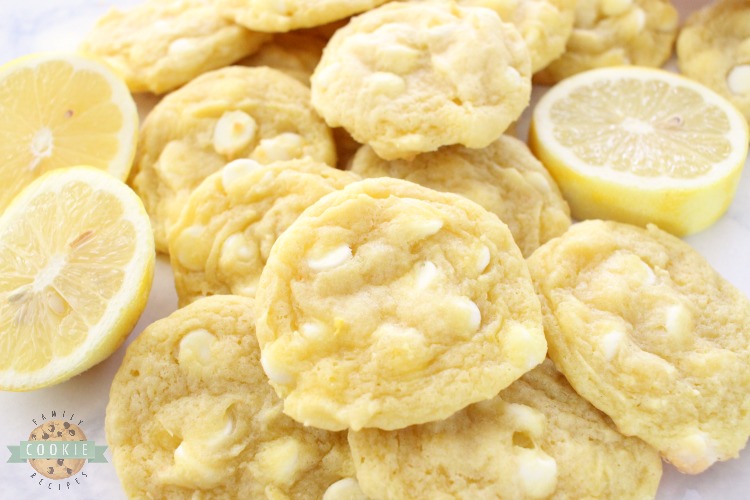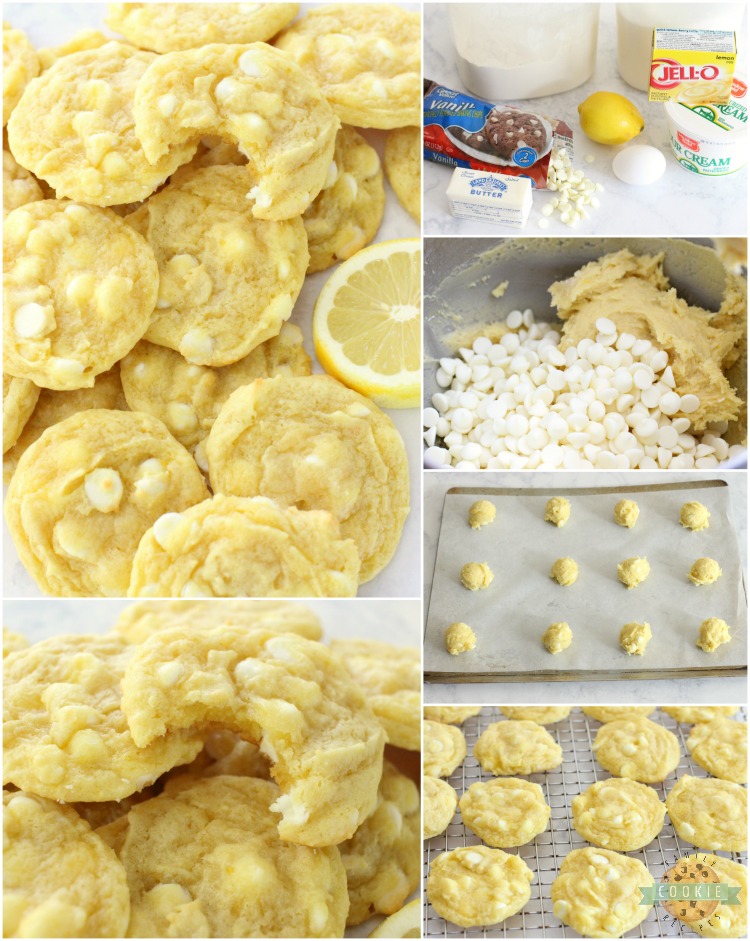 How do you soften butter?
I like to soften butter by using the defrost function on my microwave. If you need the full 1/2 cup cube of butter, you can leave it in the paper wrapper, otherwise, place the amount of butter you need in a glass or porcelain bowl. I use the lowest defrost setting on my microwave and just let it run for 20 seconds. Check the butter and see how soft it is by pressing it with a rubber scraper. If it is still not soft to the touch, meaning it doesn't indent when you press into it, let it warm for another 5-10 seconds. Watch it closely! Butter softens very quickly.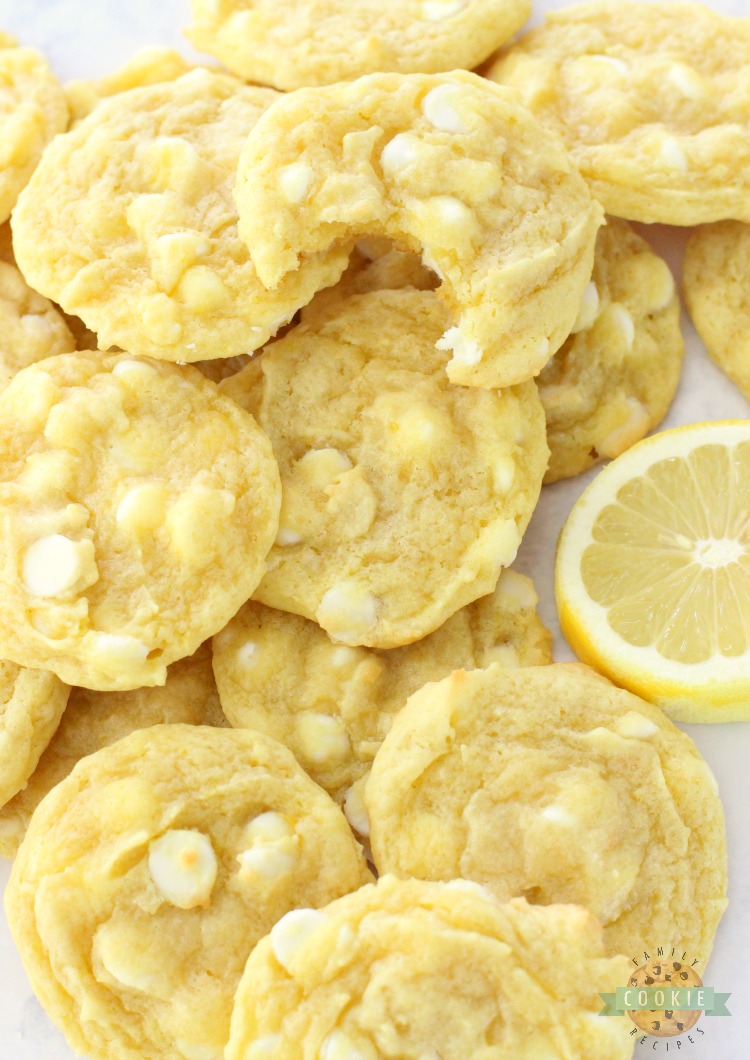 Love cookies with fruit in them? Try these other lemon favorites: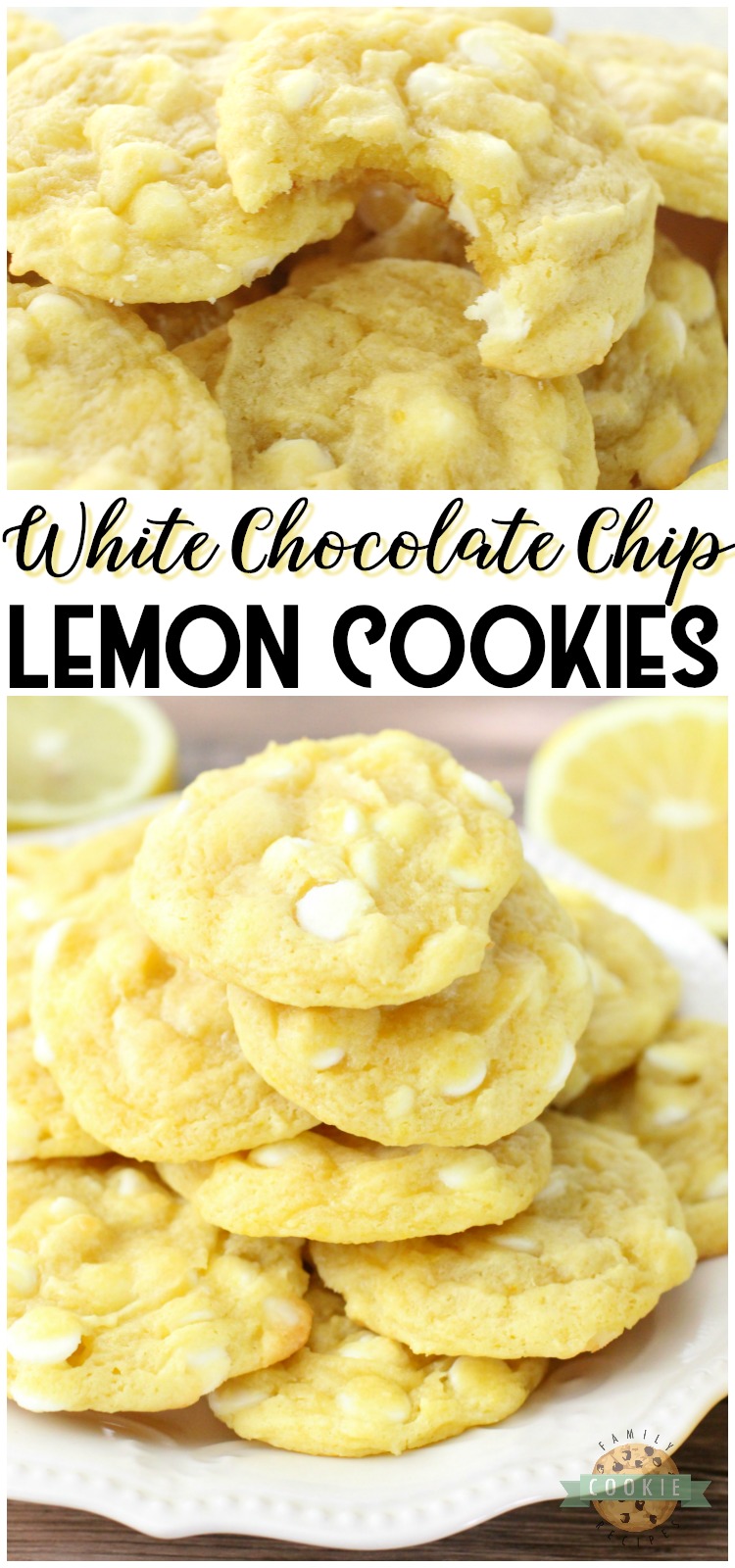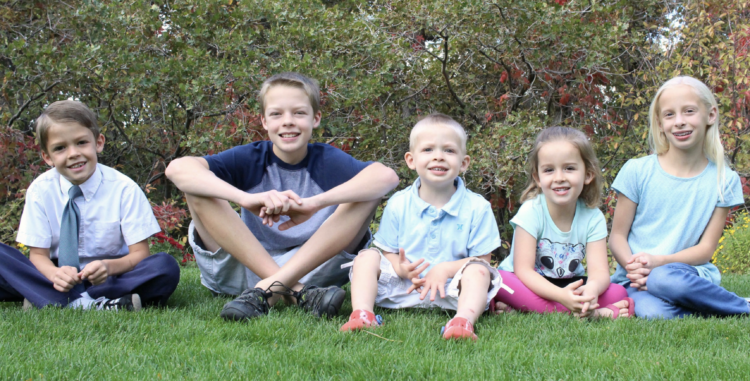 Flash back to my 5 kids a couple years ago. It's so fun to see how everyone has grown since then!