Lemon Sugar Cookie Bars made with a soft & chewy sugar cookie base then topped with a sweet lemon glaze. Easy recipe for sugar cookie bars!
I pulled inspiration from several of my favorite cookie recipes for this delightful Lemon Sugar Cookie Bars. They're the perfect antidote for this freezing, snowy weather we've been having. They're soft, perfectly sweet and the lemon flavor is bright and lovely. My family devoured them!

What is lemon zest?
Lemon zest is small bits of the outside rind of lemons. It's used in recipes to add a stronger lemon flavor. You can get lemon zest by grating the rind off a lemon using a fine cheese grater or lemon zester. Grate zest into a bowl, then measure it out as needed using measuring spoons.

Can you freeze lemon zest?
Yes, you can freeze or even refrigerate lemon zest in small, airtight containers for up to 1 month. I love buying a bag of lemons and then zesting them and juicing them to use later on.

Which is better, lemon zest or lemon extract?
Lemon extract is easier to store and use, since you buy it and keep it in your cupboard. But even still, I prefer using lemon zest in my recipes because it adds a much more authentic lemon flavor. Lemon extract is made with a concentrated amount of alcohol and lemon and I feel you end up tasting the alcohol flavor too much.

Ingredients needed to make Lemon Sugar Cookie Bars
Here's what you'll need to make the sugar cookie base:
–1 cup butter, softened
–1 1/4 cup granulated sugar
–1 egg
–2 tsp vanilla extract
–1 lemon, fully zested and juiced. You'll need a combined total of 1 TBSP+ 2 tsp lemon zest and 2 TBSP lemon juice
–2 1/4 cup all-purpose flour
–1 tsp baking powder
–1/2 tsp salt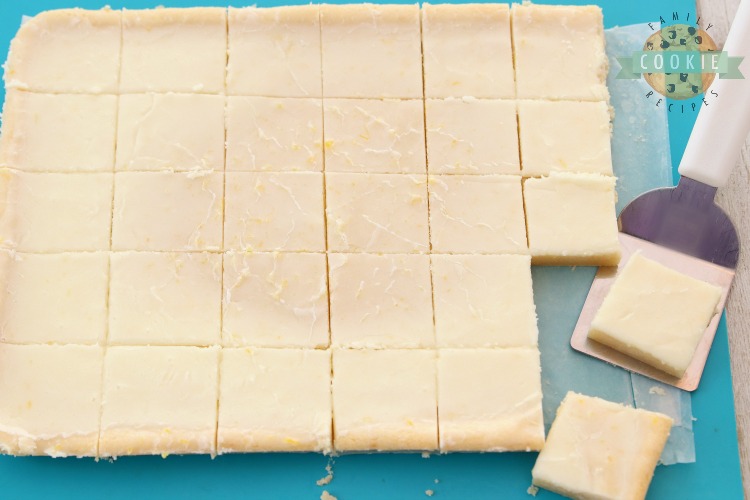 Here's what you'll need to make the Lemon Glaze:
–3 TBSP butter, melted
–1 1/2 cups powdered sugar
–2 TBSP milk
–2 TBSP lemon juice
–2 tsp lemon zest

How to make Sugar Cookie Bars
Preheat oven to 375 degrees F. Line a 9×13 pan (or quarter bakers sheet) with parchment paper. Set aside.
Mix butter with an electric mixer on high for 1 minute, until lighter in color. Add in sugar, egg, vanilla extract and lemon zest, and mix again.
Combine dry ingredients and whisk lightly, so that the salt and baking powder are well incorporated into the flour. Pour into the butter mixture and mix well.
Transfer dough to prepared pan and press down so that dough is spread evenly across entire pan. Bake for 20 minutes. Cool 20 minutes.
Whisk lemon glaze ingredients and pour onto warm cookie bars. Spread glaze across cookie bars with a rubber scraper. Let fully cool to set. Cut into 30 squares.If you sprayed the pan with non-stick spray, you can just cut the bars in the pan. If you lined the pan with parchment paper, you can pull the entire sheet of cookies out, then cut them into squares out of the pan. Store leftovers in an airtight container.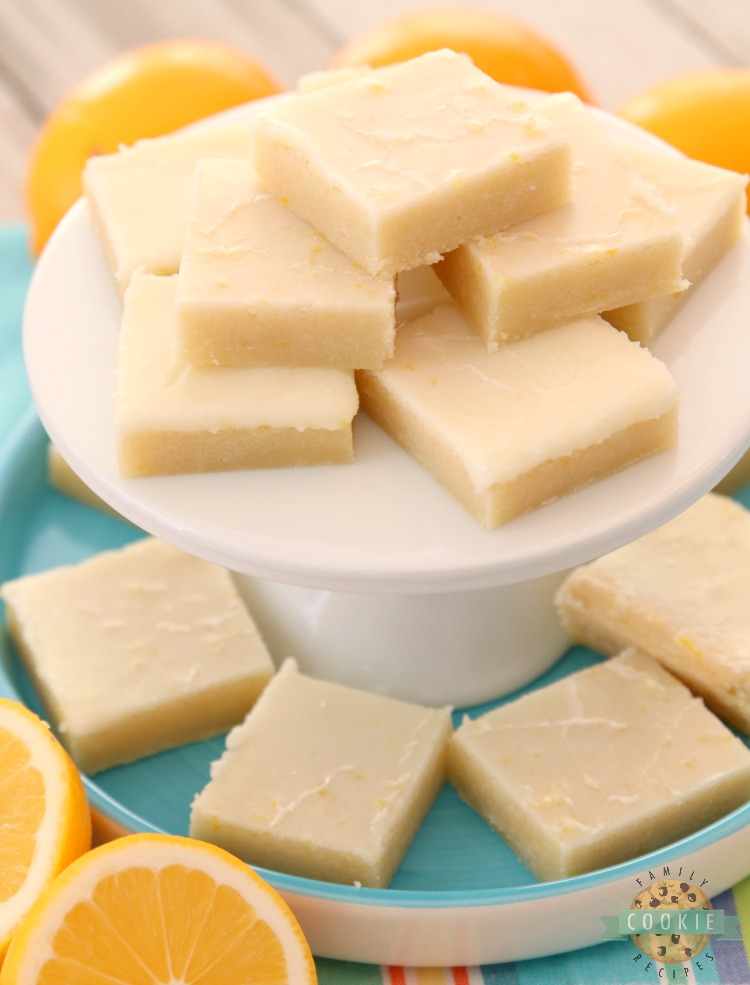 Love cookies with fruit in them? Try these other lemon favorites: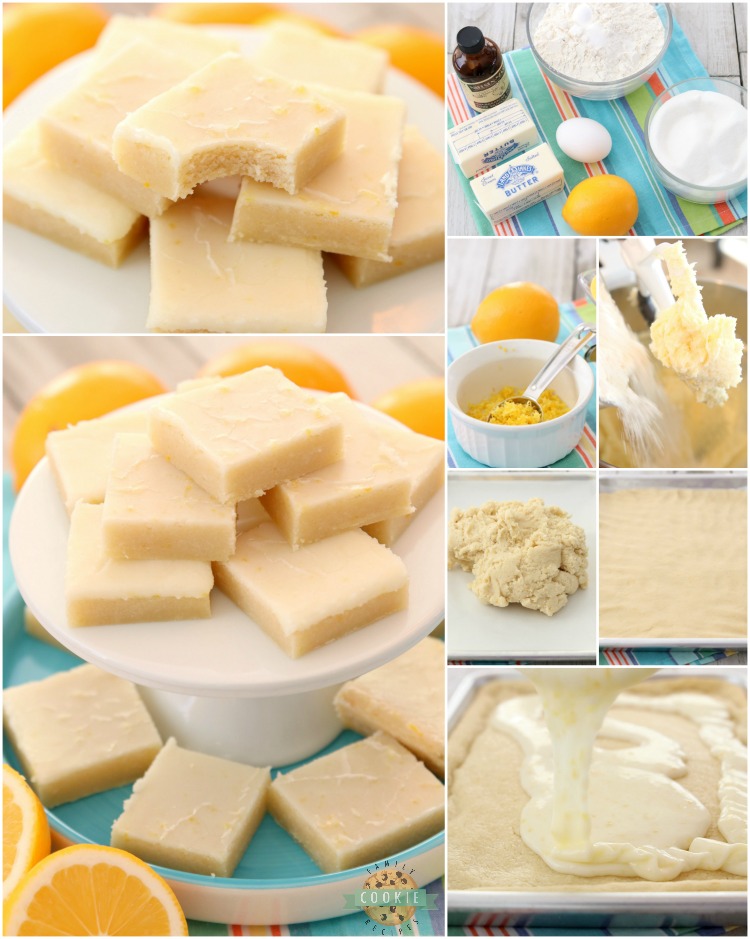 How do you soften butter?
I like to soften butter by using the defrost function on my microwave. If you need the full 1/2 cup cube of butter, you can leave it in the paper wrapper, otherwise, place the amount of butter you need in a glass or porcelain bowl. I use the lowest defrost setting on my microwave and just let it run for 20 seconds. Check the butter and see how soft it is by pressing it with a rubber scraper. If it is still not soft to the touch, meaning it doesn't indent when you press into it, let it warm for another 5-10 seconds. Watch it closely! Butter softens very quickly.
Can sugar cookies be frozen?
Yes, you can freeze sugar cookie bars in an airtight container for up to 1 month. You can freeze the bars glazed and either cut or not cut. To freeze the whole batch, I recommend wrapping the bars in plastic wrap then storing in a large freezer bag. If you're freezing the bars already cut, make sure you first let them sit on the countertop for 2-3 hours before stacking them in the airtight container, so that the glaze has enough time to set. Store each layer with a piece of parchment paper in between so that the cookies will not stick together and maintain their prettiness when defrosted.