Frosted Lemon Sugar Cookies made by adding fresh lemon juice and zest to a simple sugar cookie dough. Easy Lemon Cookies piped with a super simple rosette, so they taste incredible and they're pretty too!
Don't forget to check out our updated collection of SOFT AND SWEET SUGAR COOKIES here!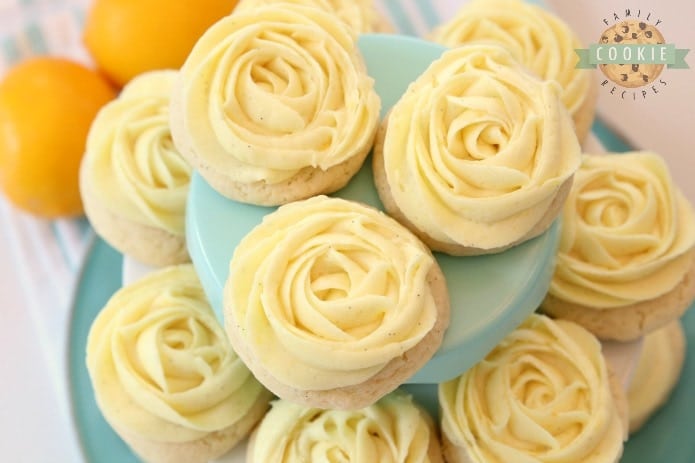 Making this lemon sugar cookie recipe is so simple, no rolling out or dough chilling is necessary! Just bake and top with a bright lemon buttercream frosting. My all-time favorite Sugar Cookie recipe!
Best Sugar Cookie Recipe Ever!
These Lemon Sugar Cookies are one of my favorite cookie recipes ever! They are soft, perfectly sweet and everyone goes crazy over the fresh lemon buttercream frosting on top. It's absolutely delicious. I love that these lemon cookies are so easy to make too, no dough rolling or chilling required. You can literally just make the dough, scoop it on the baking sheet and bake right away.
They cool quickly and you're welcome to frost with a knife, or you can make the darling rosettes on top of each cookie like I did. It's fast and easy, I promise! I'm not a cake decorator by any means and I was able to frost each cookie really fast and they looked just lovely.
Tips to get the PERFECT Frosted Lemon Sugar Cookies:
Three kitchen items make these cookies come together really fast. I actually use these items in nearly every cookie recipe I make, so they're quite versatile.
First, I line my cookie sheets with a piece of parchment paper. They're sold in sizes that fit a 12×16 cookie sheet perfectly and enable to cookies to bake well without sticking- and no mess from spraying oil on the cookie sheets!
The second item is a KitchenAid mixer. I love mine! I have a Bosch as well but I find I use my KitchenAid for cookies. There is a cookie paddle that comes with every mixer that you attach to the top of the mixer. They're easy to use and help you mix the ingredients uniformly. I also use the metal whisk attachment in this recipe to make the frosting. It whips it up super fast! Add this to your wish list because it's one of my all-time used small appliances ever!
The third item is a cookie scoop! Years and years ago I used to use 2 spoons to measure and scrape cookie dough onto the pans. It wasn't a perfect process and I often ended up with oblong cookies in various sizes. A friend of mine brought cookies to a party and I noticed each and every one of her cookies looked PERFECT. Her secret? A cookie scoop! They come in three sizes- 1/2 tablespoon, 1.5 tablespoon and 3 tablespoon scoops. I used the middle size- 1.5 tablespoon for these, and most other cookies. (Although when I'm serving a large crowd, I use the small cookie scoop. People love having a smaller cookie, especially at an event with several other desserts. For this Lemon Sugar Cookie recipe I used the middle scoop.
Frosted Lemon Sugar Cookie Ingredients
Butter: Adding ½ cup of butter, softened, gives these cookies a wonderfully rich taste.
Sugar: You need 1 cup of sugar to make the cookies sweet and chewy.
Egg: Use 1 egg in this cookie dough for more great taste and amazing texture too.
Vanilla extract: To enhance all the incredible flavors in this cookie dough, add in 1 tsp of vanilla extract.
Sour cream: Make these cookies extra soft by adding in ⅓ cup of sour cream.
Lemon juice: You will need 2 TBSP of lemon juice, fresh tastes best, but you can use a premade mix too.
Lemon zest: For even more citrus flavor, add in 1 TBSP of lemon zest.
Salt: Using ½ tsp of salt will help balance all the flavors in this cookie dough recipe well.
Baking soda: Adding ½ tsp of baking soda will help these cookies rise as they bake.
Flour: The base of this cookie dough is 2 cups of all-purpose flour.
Lemon Butter Cream Frosting
Butter: For a delicious frosting, you need ½ cup of butter, softened.
Vanilla extract: Give the frosting amazing flavor with 1 tsp of vanilla extract.
Milk: Adding in 2 TBSP of milk will help make this icing nice and creamy.
Lemon juice: For more amazing flavor, add in 2 TBSP of lemon juice.
Lemon zest: Use 1 TBSP of lemon zest to give a wonderful pop of color and flavor.
Powder sugar: The base of this frosting is 4 cups of powdered sugar.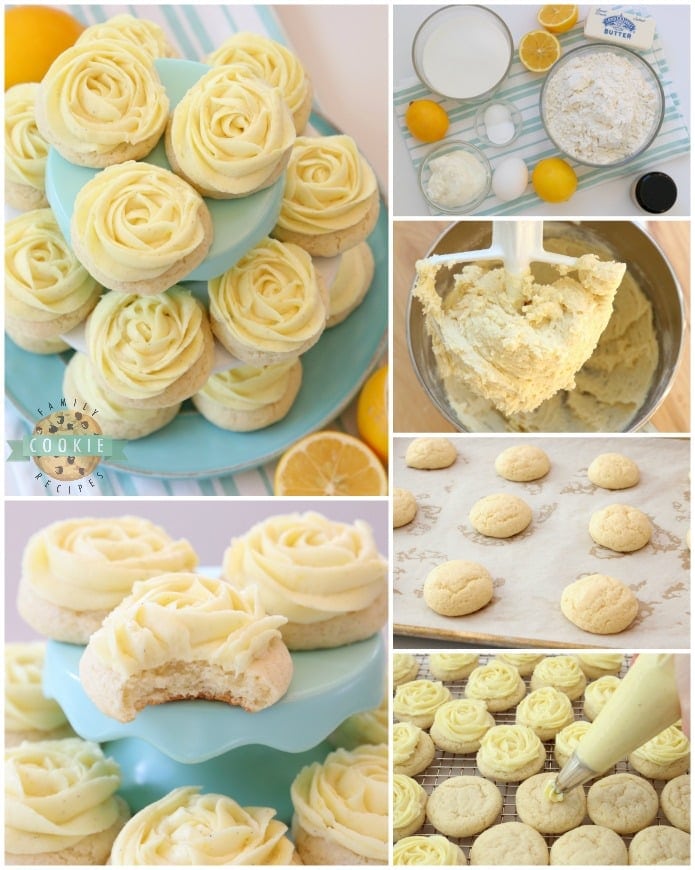 How to make Frosted Lemon Sugar Cookies
Prep
Begin by preheating the oven to 375 degrees F. Then line a cookie sheet with parchment paper or a silicon mat, set aside.
Dough
In a large bowl, cream together the softened butter and sugar. Then, add the egg, vanilla extract, sour cream, lemon juice and zest.
After that, gently whisk together the salt, baking soda and flour in a separate bowl.
Procced to pour a ⅓ of the dry ingredients into the butter mixture and mix to combine. Continue process, adding ⅓ of the dry ingredients at a time until it's all mixed in.
Bake
Next, scoop out 1.5 tablespoons of dough and roll into a ball. You can use a medium cookie scoop to make this process faster. Rolling the cookie ball is optional, but I wanted very pretty cookies, so I took the additional 5 seconds and rolled them individually. Place them on the prepared cookie sheet.
Place in the preheated oven and bake for 10 minutes. Let the cookies fully cool before frosting.
Lemon frosting
In a medium bowl, mix the butter, vanilla extract, milk, lemon juice and lemon zest for 30 seconds with an electric mixer. Continue to add in the powdered sugar, 1 cup at a time, until you reach your desired consistency.
Transfer the frosting to a piping bag with a closed star tip, I used a Wilton 2D tip. Begin piping in a tight circle in the middle of the cookie, continue in a circular motion until you reach the outside of the cookie. The frosting will set but I recommend not stacking cookies that have been frosted with a rosette so that you don't squish them. Cookies frosted normally can be stacked though! 
Serve cookies immediately and enjoy!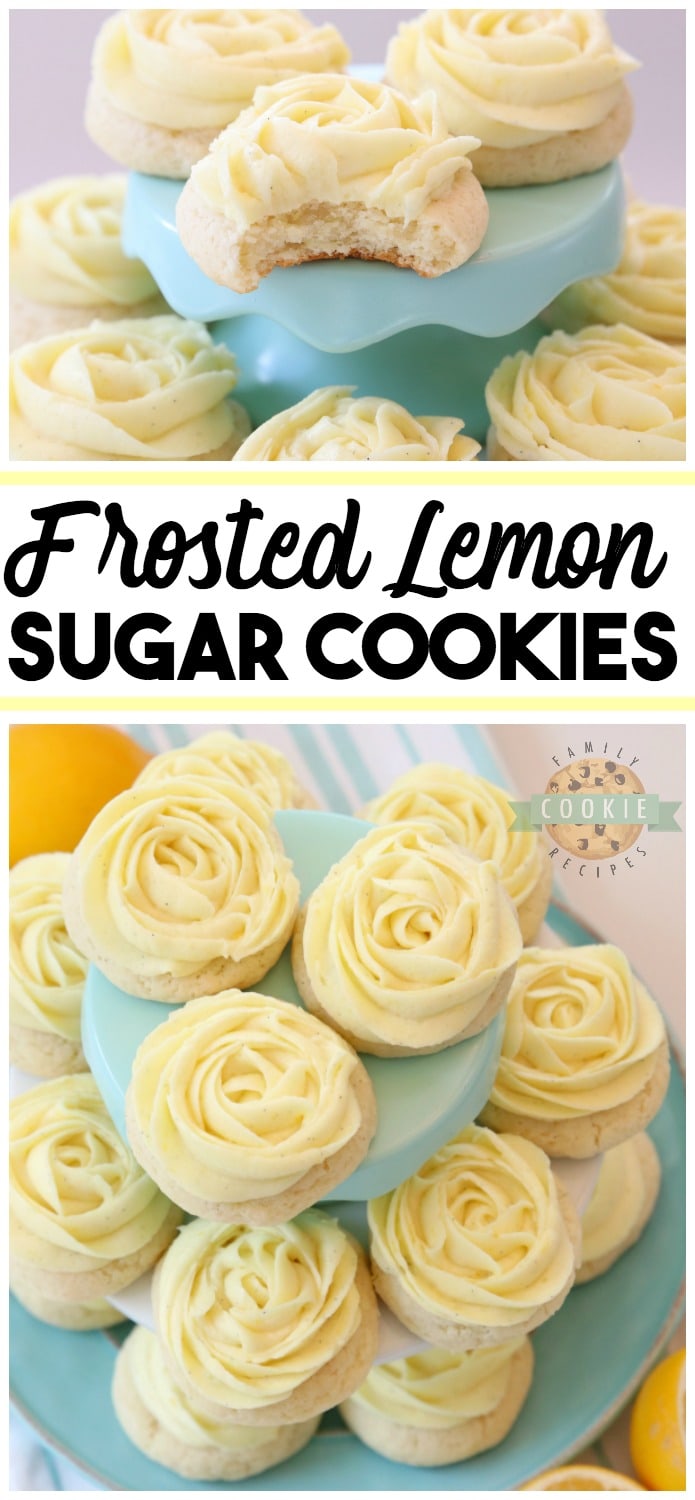 HOW DO YOU KEEP SUGAR COOKIES SOFT?
This is another reason to love these cookies, thanks to the cream cheese in the dough- they stay softer for longer! After the cookies have cooled, simply place them in an airtight container to keep them fresh for as long as possible. It also helps to make sure that when you roll out the cookie dough that you do it to the right thickness so that they don't become brittle when baking.
HOW TO ZEST A LEMON
The easiest way to zest a lemon is to use a citrus zester. By rubbing the peel of a washed lemon along the grated edges we get tiny shredded pieces perfect for your baked goods and recipes. If you do not have a citrus zester you can use a vegetable peeler to remove the outermost layer of peel (not the white part under the colored peel). Then chop the peel into very tiny pieces, like minced garlic, and use as desired.
How long should I let these cookies cool?
Cookies are best left to cool on the baking sheet they're cooked on for 3-4 minutes, then you can transfer them to a cooling rack to cool further. This way, they don't fall apart as cookies are pretty soft still when they're pulled out of the oven. After a couple minutes on a cooling rack, cooking are usually cool enough to eat! Warm cookies are the best!
Try a few of our other favorite sugar cookie recipes:
Love cookies with fruit in them? Try these other lemon favorites: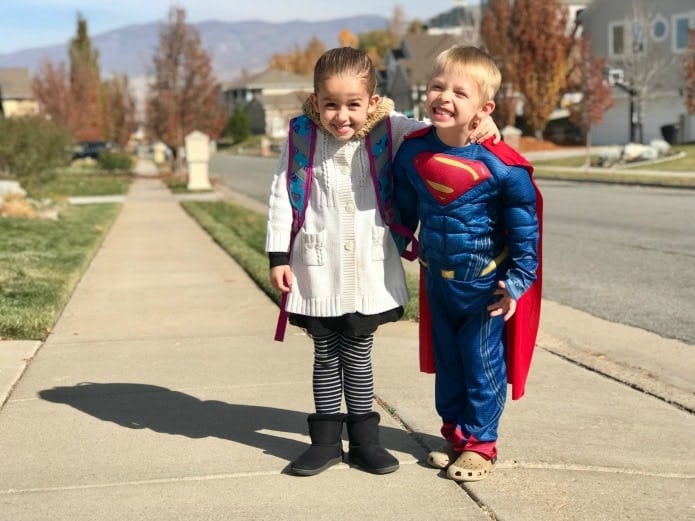 The last day of school is this week and I have to say, I'm a bit sad these two crazy kids aren't going to get to hang out as much next year! Afternoon kindergarten is the best! They play each morning and really enjoy each other's company a solid 86% of the time. We've done the walk to the bus stop every day this year and each time, A is sad when L climbs up into the bus and waves goodbye. Someday he'll get his turn to ride the bus!