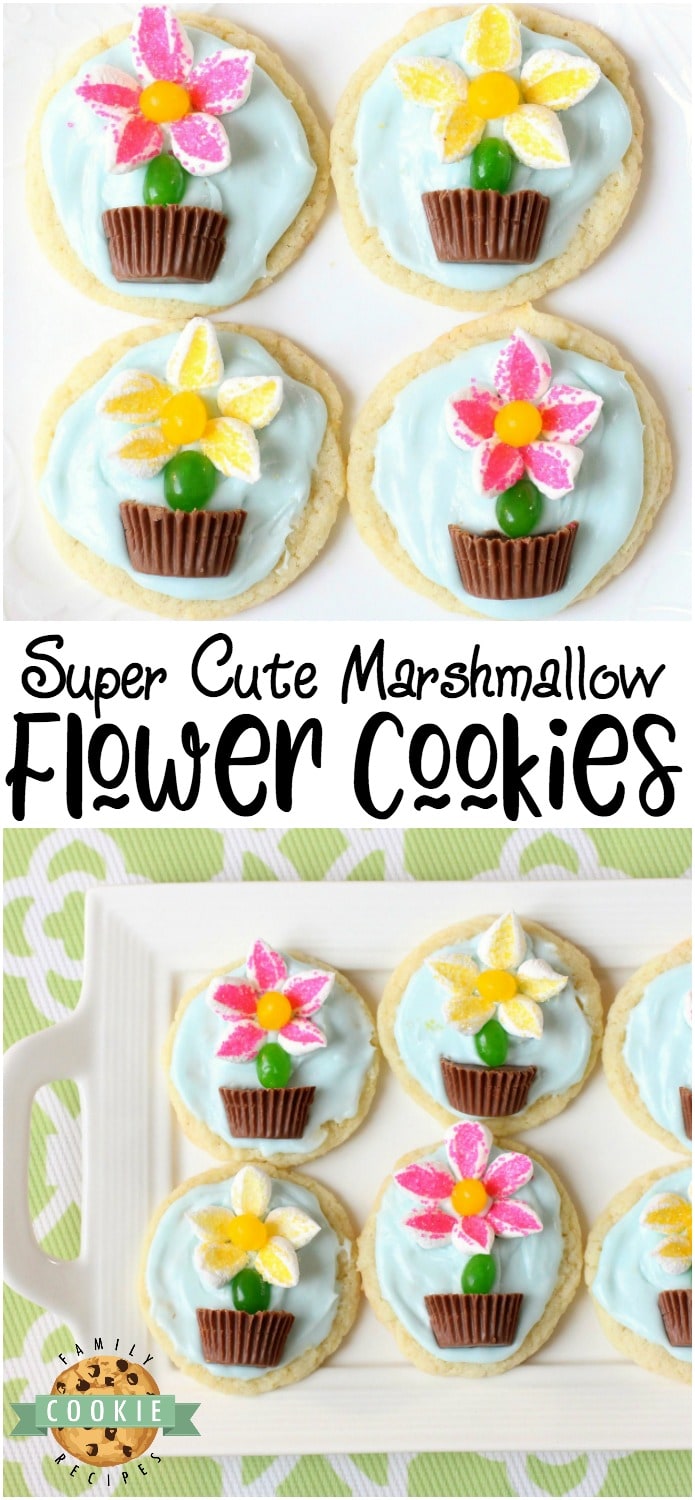 Marshmallow Flower Cookies are easy to make and perfect for Spring baking! Everyone loves these cute treats topped with marshmallow flowers with a jelly bean stem, in a chocolate pot!
Flower Pot Cookies made with soft sugar cookies topped with candies made to look like Spring flowers in a chocolate pot.
I couldn't wait to share these darling flower cookies with you all! I saw the idea to use a halved Reese's Peanut Butter Cup as a flower pot from an old Taste of Home Cookbook and everything else came together quickly after that. Using marshmallows as flowers is something I've also done for pudding cups- you can see my Spring version here and a Fall version here. It's so fun!
I used a Krusteaz Butter Vanilla Sugar cookie mix because it's super fast and they taste great. You can also use our favorite recipe for sugar cookies here, or this recipe for Swig sugar cookies would be perfect as well!

Marshmallow Flower Cookies
2 dozen cooked & cooled sugar cookies
light blue frosting (recipe below)
jelly beans (you'll need 24 green ones & 24 yellow ones)
Mini Reese's Peanut Butter Cups (12)
Mini marshmallows
colored sugar sprinkles, yellow & pink
Frosting recipe: Whisk together 2 TBSP softened butter, 1 1/2 cups powdered sugar and 1-2 TBSP milk until desired consistency. Whisk in 1/2 tsp vanilla and 2 drops of blue food coloring.
Frost cookies with blue frosting.
Cut mini Reese's cups in half and place each half towards the bottom of each cookie. Arrange 1 green jelly bean lengthwise above the peanut butter cup.
Cut each mini marshmallow diagonally, then dip the sticky part into the colored sugar. Arrange the marshmallow halves around the top of the cookie in a circular shape, leaving enough room for the yellow jelly bean in the middle.
Repeat the process for each cookie until you have an entire garden in your kitchen! ENJOY!
If you like our Marshmallow Flower Cookies, try a few of our other favorite Spring/Summer cookie recipes: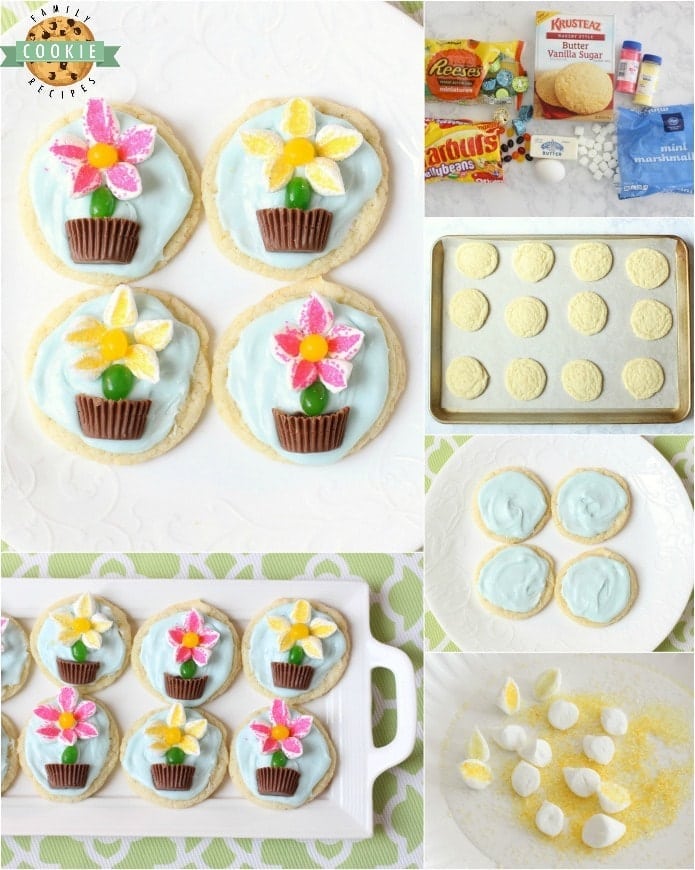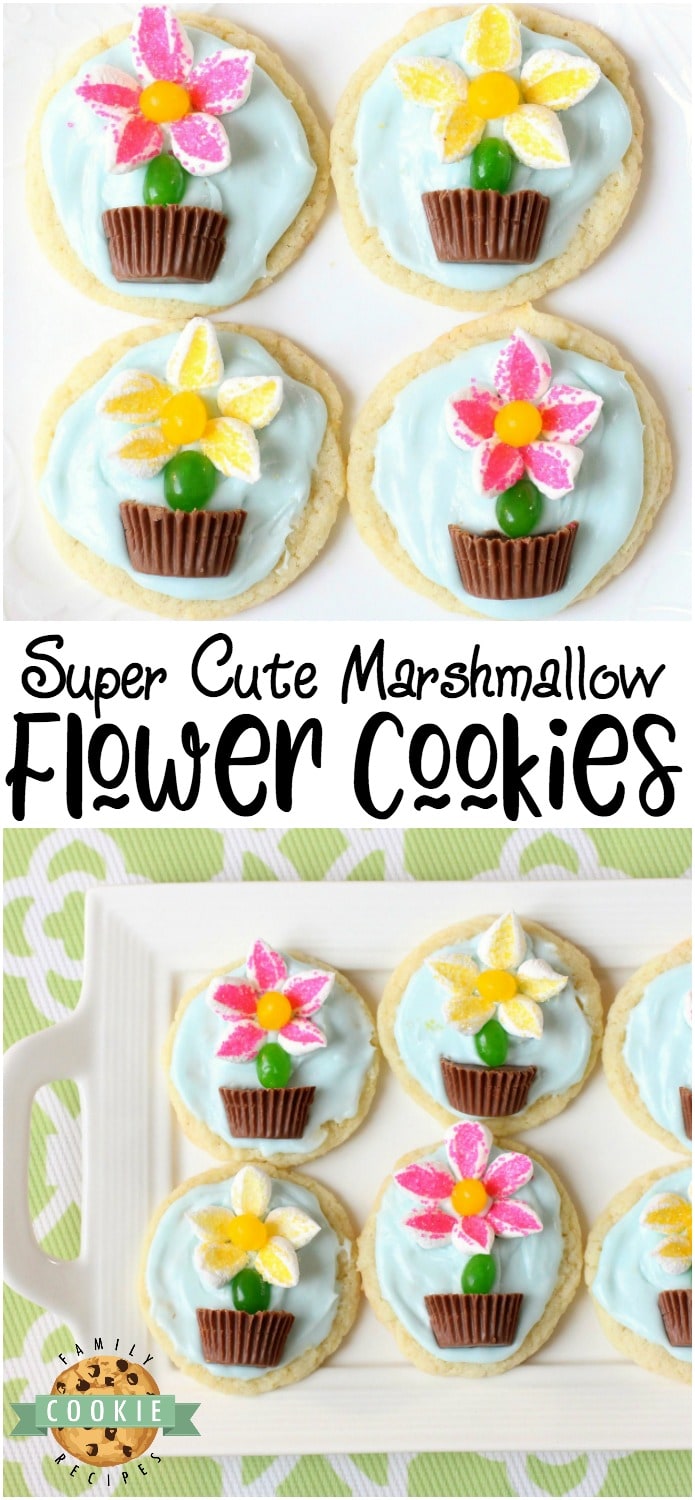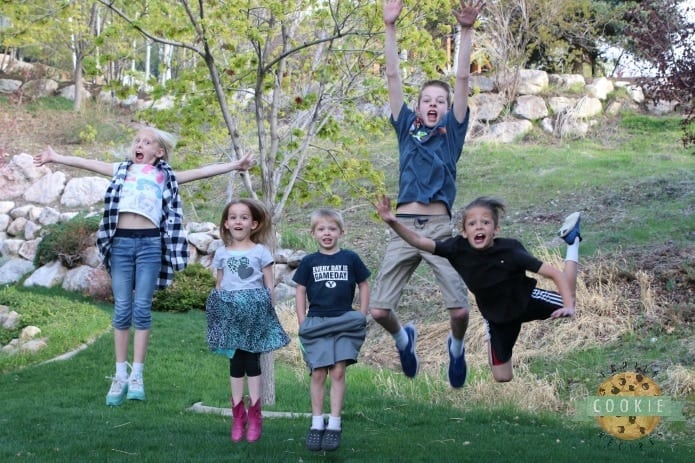 Jumping pictures are among my kid's favorite pictures to take. Often, when I'm trying to get a few good photos and a few aren't cooperating, I'll dangle the carrot of taking a jumping picture. It usually works instantly and they're all happy smiles while talking about just how they're going to make this jumping picture the MOST EPIC one yet. Truthfully, I'll take smiles in any form, so I kind of like them too.