Super Simple 4th of July Cookies made with just 4 ingredients and NO BAKE! Easy red, white and blue cookies made with Milano cookies dipped in red and blue melting chocolate then sprinkled with gold stars. Made in just 15 minutes and they're perfectly patriotic!
I wanted to make some easy 4th of July Cookies that wouldn't take much time and when I suddenly had this idea, I knew they'd be wonderful! Oh my word, I honestly can't even begin to portray how SIMPLE these patriotic cookies are to make. EASY I tell you. I used the fridge to cool down my chocolate and they were done in under 20 minutes! Plus, how fun are they? Perfect for 4th of July, right?! Enjoy!
How to melt chocolate for cookies
Melting chocolate in the microwave is easy if you go slowly. Always use a glass or ceramic bowl and chocolate that's not too old. To melt 1/3 cup of melting chocolate I'd begin with 1 minute 15 seconds in the microwave. After that, let chocolate sit for 2-3 minutes. Then, gently stir and see if chocolate begins to melt smooth. If it's still really solid, add 20 seconds in the microwave, then let it sit again. Often chocolate looks like it's not melted when it really is, and you don't know for sure until you gently stir it. If your chocolate melts but it's too thick to work with, try adding 1/4 teaspoon of coconut oil or shortening, then letting it melt and stirring it in.
Where do I buy melting chocolate and edible gold stars?
I bought both the red and blue melting chocolate as well as the edible gold stars at our local Michael's store. I've also seen them at JoAnn's and even in the cake decorating section at Walmart. If you find them somewhere else, leave a comment and let me know!
4th of July Cookies
1 package Chocolate Milano cookies
1/3 cup red candy melts
1/3 cup blue candy melts
tiny edible gold stars
How do you make 4th of July Cookies?
Place red melting chocolate in a small glass or ceramic bowl. Microwave on high for 1 minute 15 seconds. Let sit 2 minutes, then gently shake bowl. Chocolate should lose shape and look melted. If not, place it back in the microwave for another 10-20 seconds.
Take a Milano cookie and dip one corner in the red chocolate. Place on a cookie sheet lined with wax or parchment paper to cool. Repeat until all cookies are dipped with red. Gently sprinkle edible gold stars on top. Place in fridge for 5 minutes to cool completely.
Repeat process with blue chocolate candy melts, melting, then dipping the other corner of the Milano cookie in to coat. Be sure to leave a stripe of white in the middle of the cookie! Sprinkle with edible gold stars. Place in the fridge until cool.
Enjoy! Cookies can be made 2-3 days ahead although they do look best made the same day. Store leftovers in an airtight container in a cool location.
If you like our Easy 4th of July Cookies, try a few of our other favorite holiday cookies: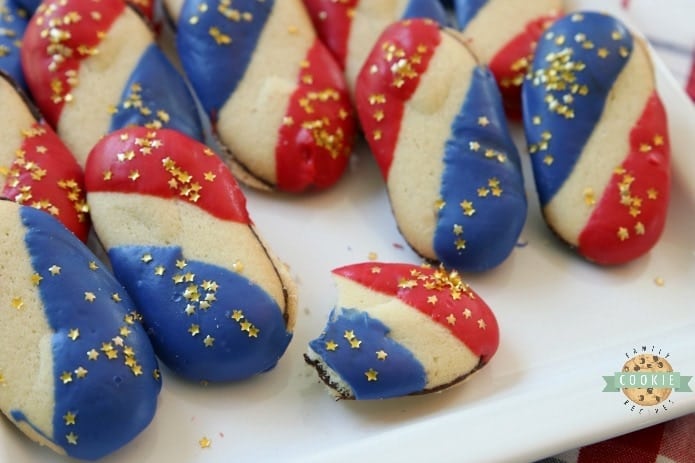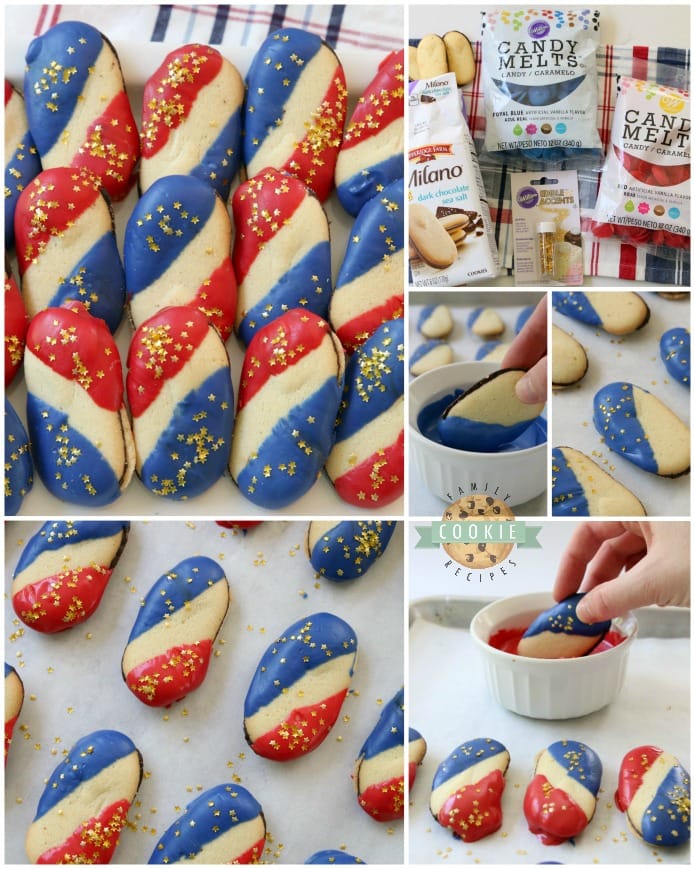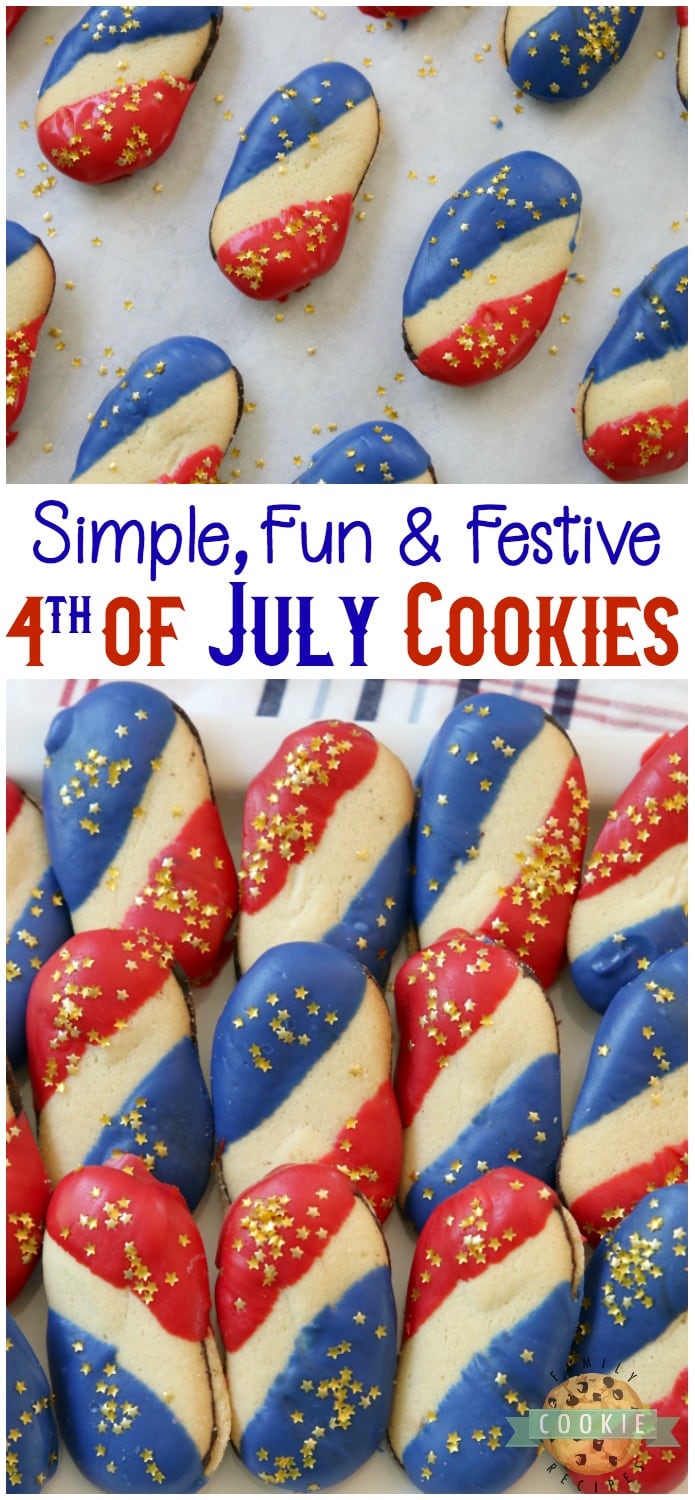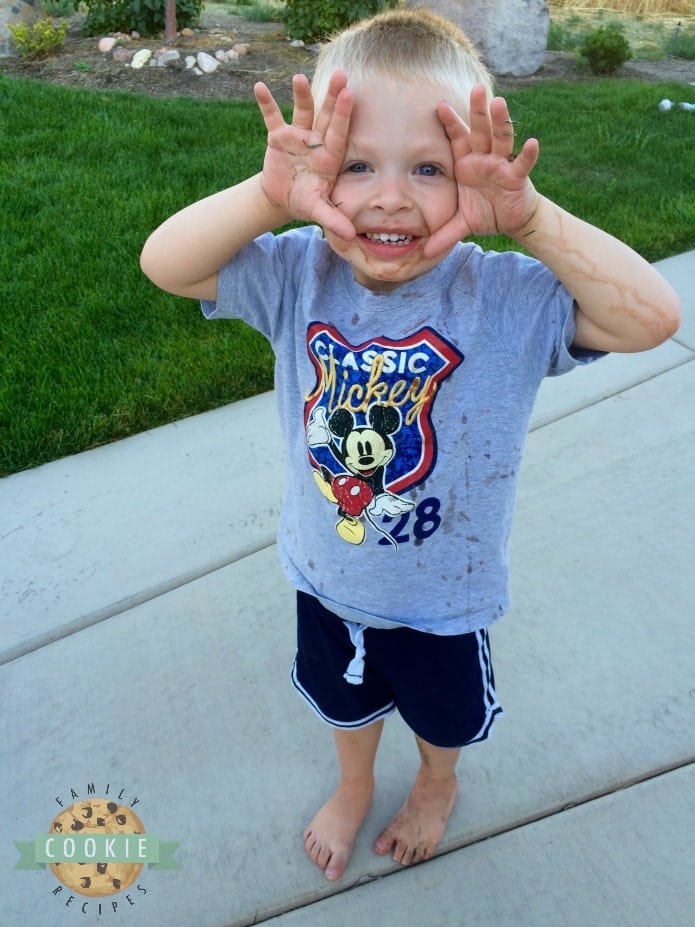 Summertime and popsicles just go together, don't they? Here's the result of my little one (big, little one!) thoroughly enjoying a popsicle. It's a good thing messes don't bother me nearly as much anymore! {I love that he even has grass stuck to his face!}