Frosted Peppermint Cookies are soft, pillowy cookies baked with peppermint candy and topped with peppermint vanilla buttercream and candy cane pieces.
The holidays are upon us and there's nothing I love more than to bake Christmas cookies with my kids. This recipe for Frosted Peppermint Cookies is one of my favorites. The cookies are soft, have great flavor and the peppermint vanilla buttercream is amazing. My kids love to help every step of the way from mixing the dough, scooping onto cookie sheets, frosting, and of course, sprinkling with crushed peppermint pieces.
The holidays can get so busy, so here are some ways to save time making this Frosted Peppermint Cookies recipe:
Mix the dough and frosting beforehand, then store in separate airtight containers in the refrigerator until ready to use. This is an easy way to speed up the process when making cookies with kids. I usually make the dough and frosting the night before, then, the next day, when the kids are ready to make Christmas cookies, it's a faster process.
You can scoop dough balls out on a cookie sheet lined with parchment paper, then freeze until ready to use! When baking, just add 1 to 2 minutes to compensate for frozen dough, unless you're able to thaw them out prior to baking.
Did you know you can purchase candy cane pieces already in small bits?! Check the holiday baking aisle of your grocery store and see if they carry them. I love purchasing these because it not only saves me time making the cookies, but I have less dishes to wash as well!
Not really a time-saving tip per se, but you might want to double the recipe and make enough cookies to give out as gifts to friends and neighbors. It's still a fun, family activity making the cookies and you'll be crossing the gifts off your list as well!
Frosted Peppermint Cookies
yields 3 dozen cookies
1/2 cup softened butter (1 stick)
1 cup granulated sugar
1 egg
3/4 cup milk
1 tsp vanilla
2 1/2 cups all-purpose flour
1/2 tsp baking soda
1/2 tsp salt
3/4 cup peppermint candy*
Preheat oven to 400 degrees F.
Cream together butter and sugar for 1 minute. Add in egg, milk and vanilla and mix again until smooth.
Combine dry ingredients and add 1/2 to the mixing bowl, mix, then add the other half. Add in peppermint candy and mix to combine. Dough will be softer & stickier than normal cookie dough.
Scoop out about 2 TBSP of cookie dough onto a parchment lined cookie sheet. Bake for 9-10 minutes and let cool for an additional 2 minutes on the cookie sheet. Transfer to a cooling rack.
Once fully cool, frost with about 1 TBSP of peppermint vanilla buttercream per cookie. Top with crushed candy cane pieces. Store cookies in an airtight container.
*For peppermint candy I used a combination of peppermint baking chips and crushed candy cane pieces.
Peppermint Vanilla Buttercream
1/2 cup room temperature butter (1 stick)
1 tsp peppermint extract
1 tsp vanilla extract
2-3 TBSP milk
3 rounded cups powdered sugar
1/2 cup crushed candy cane pieces
Mix butter in a mixing bowl on medium power for about 3 minutes, until whipped and light in color.
Add in vanilla, peppermint extract, milk and 1 cup of the powdered sugar.
Mix for 1 minute. Add in the other 2 cups of powdered sugar and mix on medium for 3-4 minutes, adding additional milk if needed until desired consistency is achieved.
After you try these delicious Frosted Peppermint Cookies try some of our other favorite Christmas Cookies: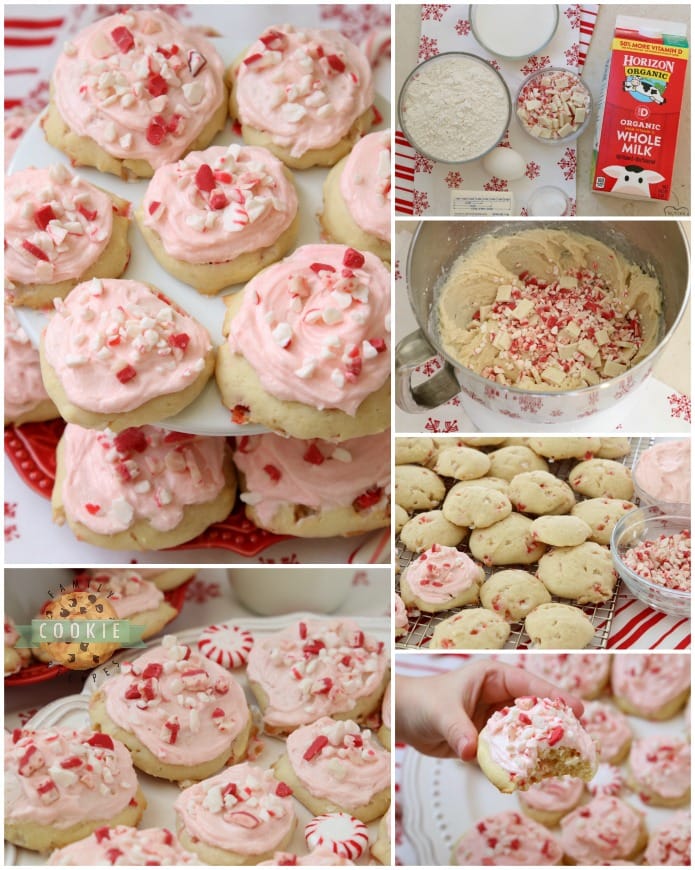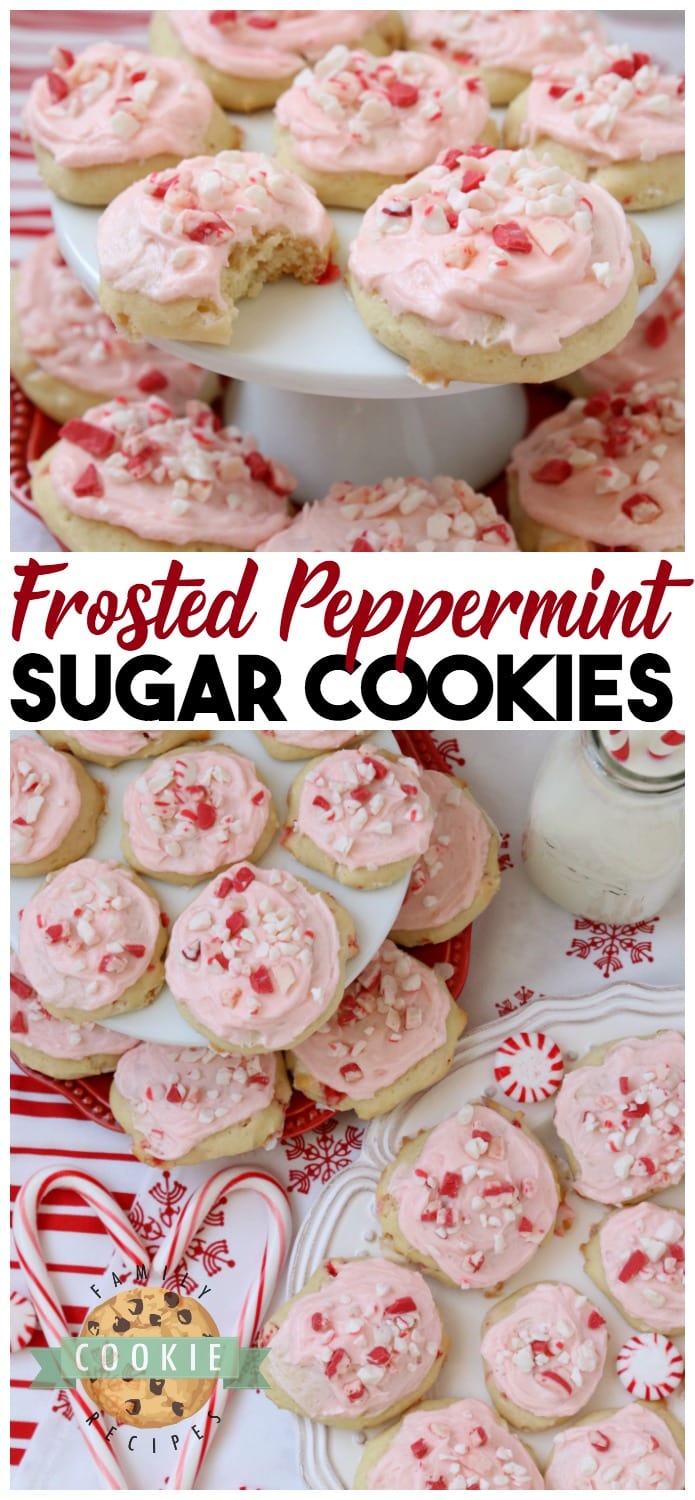 Frosted Peppermint Cookies are soft, pillowy cookies baked with peppermint candy and topped with peppermint vanilla buttercream and candy cane pieces.  Perfect Christmas cookie recipe for holiday parties & cookie exchanges!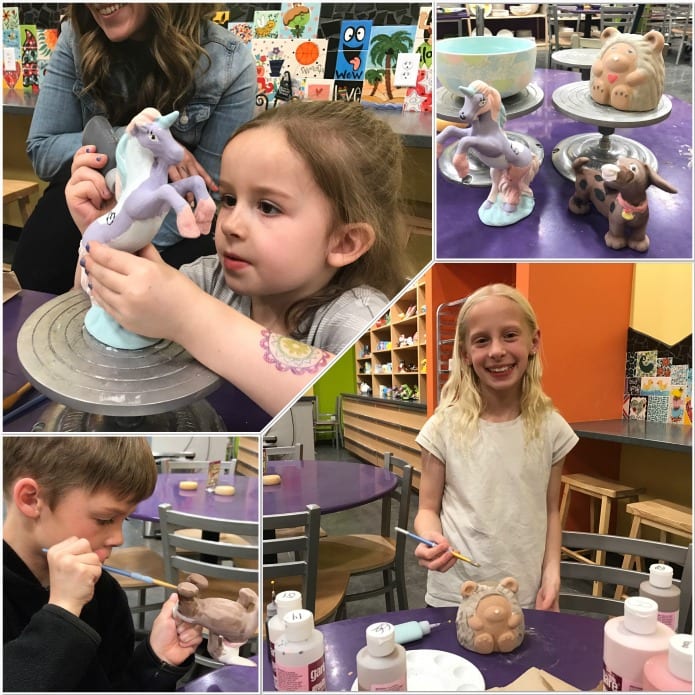 My kids LOVE to make crafts. We've been blessed to be able to expose them to a variety of crafting; here, they're painting pottery. If you've never been to a pottery painting place, do a Google search and find one near you! They're so fun. Plus I love that they have everything you need there and bonus, they're equipped for messes, so clean up is a breeze. Fun!