Chocolate Orange Slice Cookies mimic orange slices dipped in chocolate, their bright, tangy citrusy flavor comes from a orange Kool-Aid mix baked into the cookies! These orange slice cookies are a perfect cookie recipe for holiday treat exchanges during the holidays.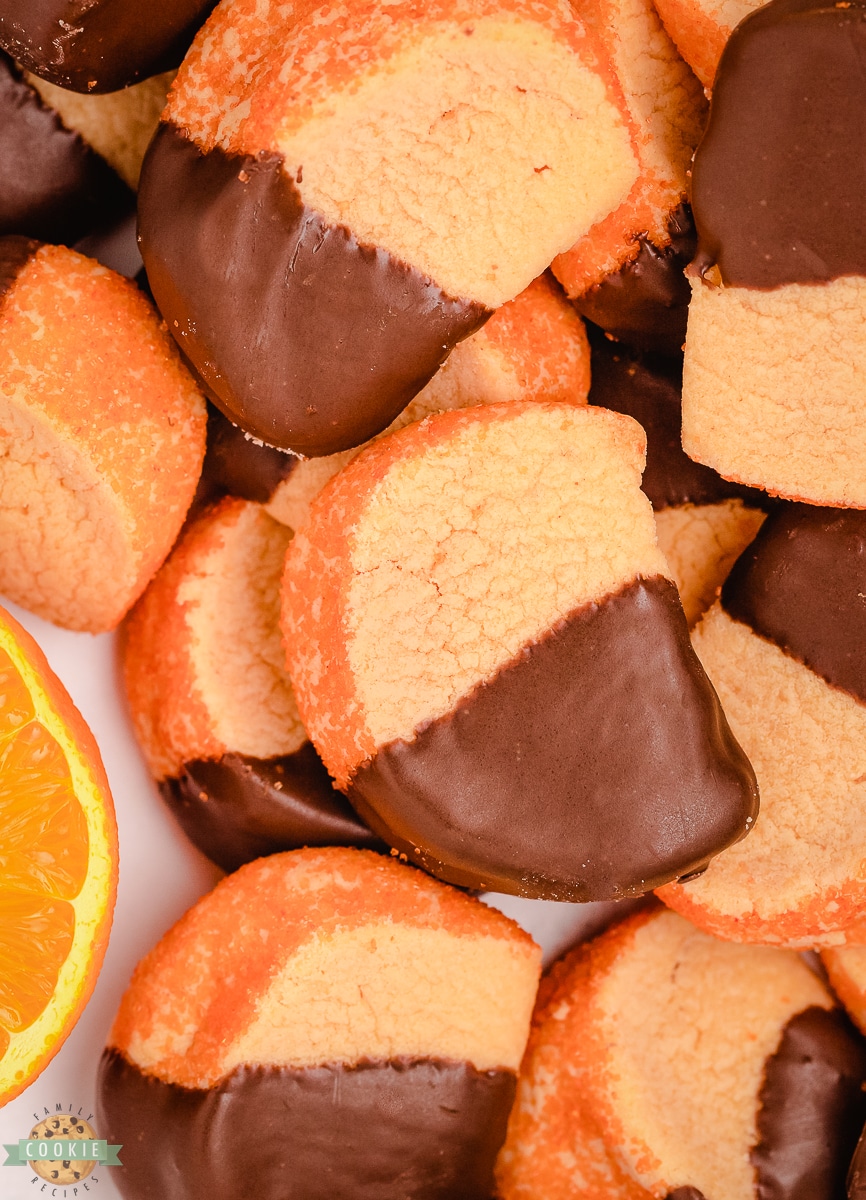 Chocolate covered orange cookies are a fun, unique cookie recipe that everyone is sure to love. These orange chocolate covered cookies taste incredible and look fun too, they are great for a special treat for the loved ones in your life.
Chocolate Dipped Orange Cookies
These cookies are a fun twist on a classic holiday treat, I know everyone loves the popular orange chocolate ball that we see around holidays. This cookie recipe is simple to make, using basic ingredients that are most likely already in your kitchen. The fun and unique appearance of these cookies makes them so fun and perfect for parties, family gatherings, cookie exchanges or simply snacking on for a few days. Give them a try and see just how delicious they are!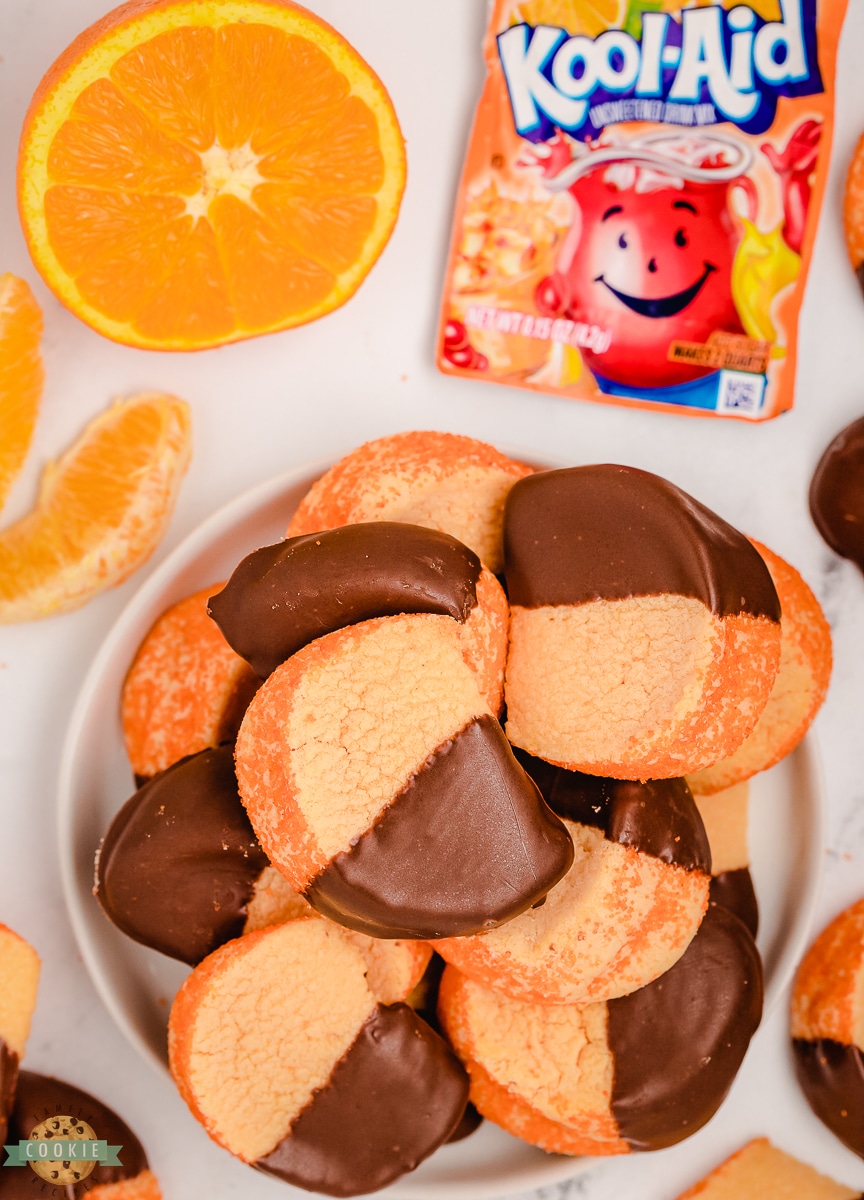 Why you'll enjoy these chocolate covered cookies
We have narrowed down our top three reasons why we think this sensational recipe will be loved in your house.
Simple ingredients. You do not need much to make this recipe. In fact, the ingredients that you do need are very simple pantry and kitchen staple ingredients. Meaning that you may already have most of what you need on hand already.
They tastes amazing. These cookies are packed with great flavors. The powder sugar for sweetness creates a nice soft, texture cookie while the orange drink packet gives amazing taste.
Unique dessert. With regular cookies you get all the amazing taste, but this cookie recipe delivers on taste and appearance. The orange slice shapes create a special treat on any event or holiday dessert table.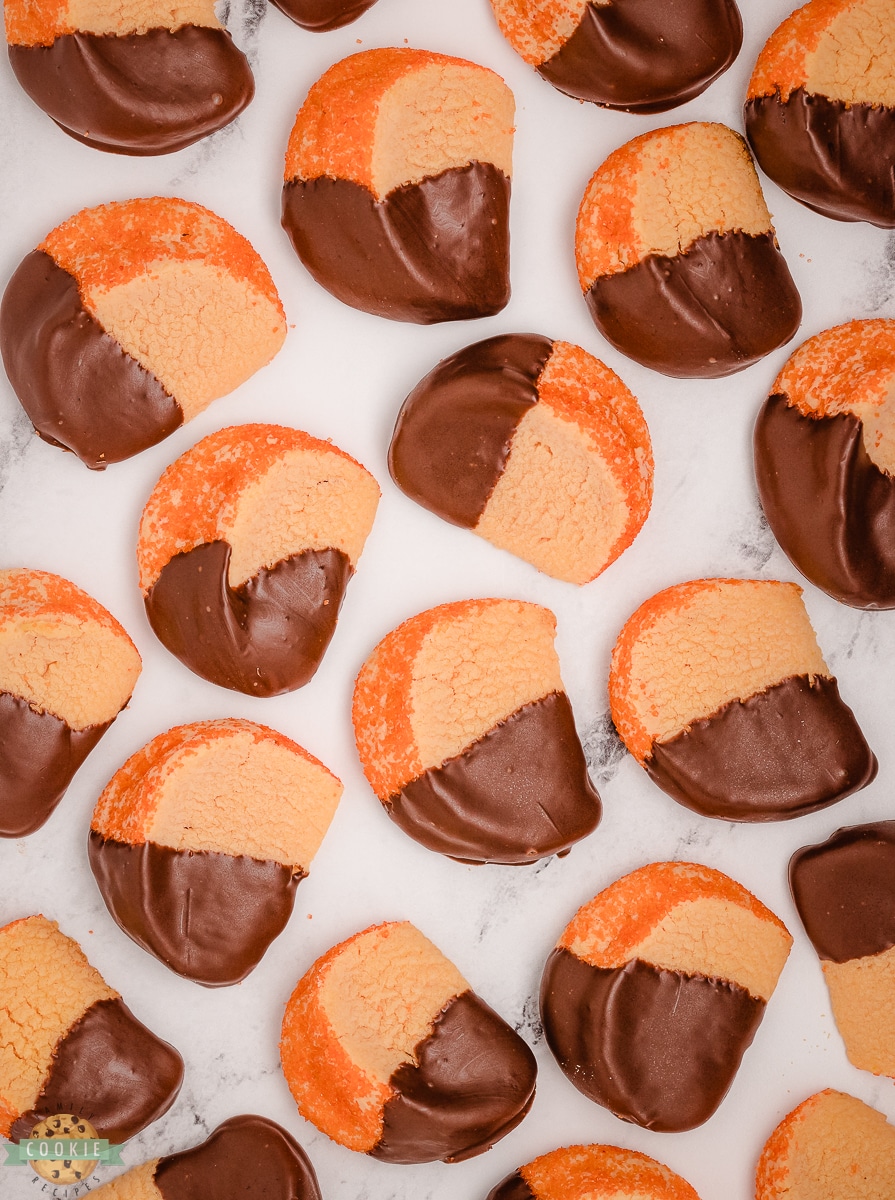 Chocolate Orange Slice Cookie Ingredients
Powder sugar: Adding in 2 cups of powdered sugar gives these cookies a light texture and sweet taste.
Butter: You need 1 cup (2 cubes) of softened butter to give these cookies a nice rich flavor.
Kool aid packet: For the orange flavor and color, add in 1 .15-ounce package of orange drink mix (I like to use the Kool-Aid brand packet).
Egg: Use 1 egg to help bind the dough together well and create great cookie texture.
Flour: For the base of this cookie recipe use 2 1/2 cups of flour.
Salt: To help balance the wonderful flavors, use 1/2 teaspoon of salt.
Cream of tartar: Adding in 1 teaspoon of cream of tartar will help the cookies rise as they bake.
Sprinkles: Using 1/4 cup of orange sugar sprinkles will give these cookies a great crunchy texture and more sweet taste.
Chocolate wafers: You will need 1 cup of chocolate dipping/coating wafers for the chocolatey cookie coating.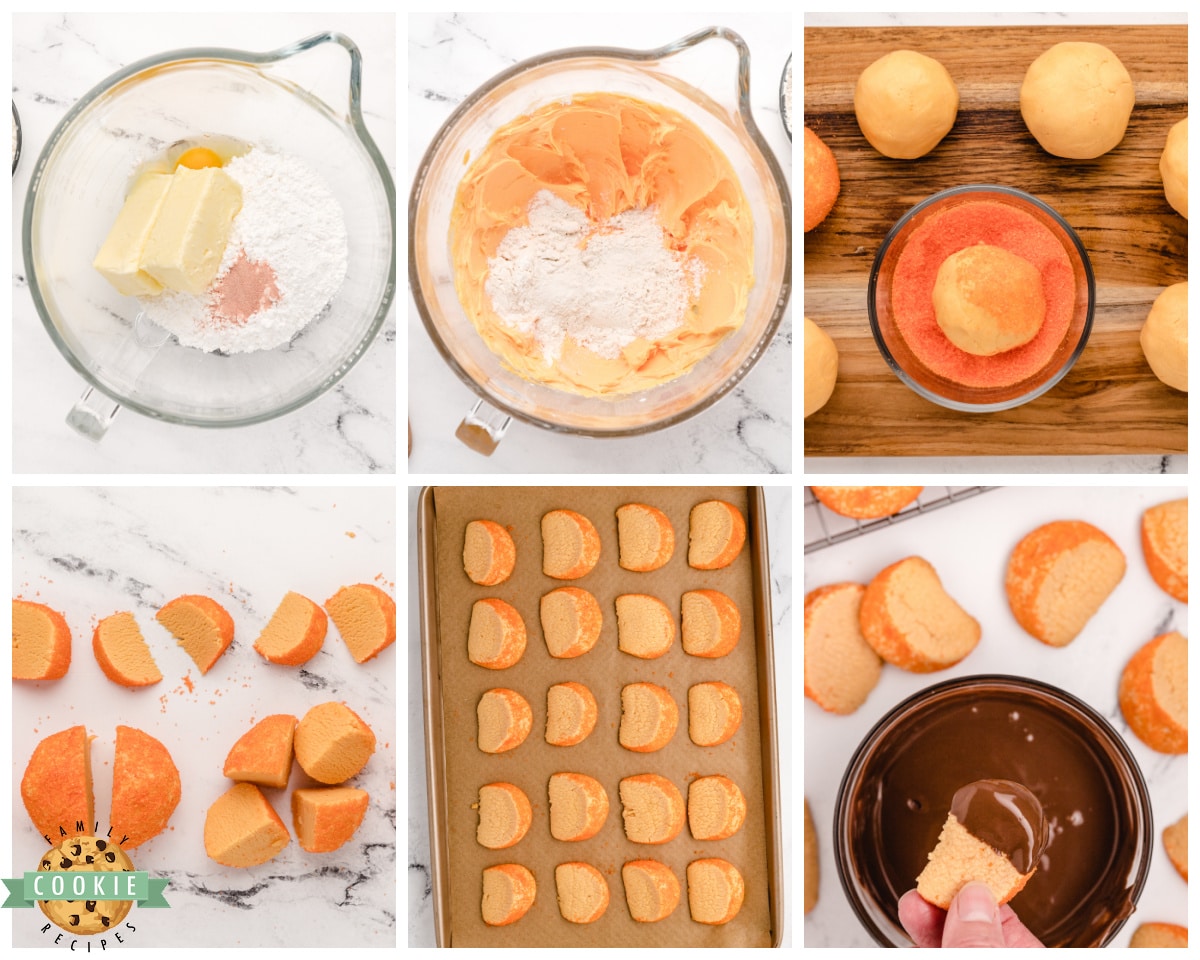 How to make Chocolate Covered Orange Slice Cookies
Prep
Begin by lining a baking sheet with parchment paper or a silicon mat, set aside.
Also, pour the orange sugar sprinkles in a medium size bowl, set it aside for later use.
Cookie dough
In a large mixing bowl, combine the powdered sugar, softened butter, dry orange drink mix and the egg. Mix until smooth.
Then, stir in the flour, salt and cream of tartar until combined.
Proceed to divide the dough into 8 equal pieces, then roll each piece into a ball and roll each ball in the orange sugar sprinkles until coated, pressing into dough if needed. Chill the balls of dough for 20 minutes in the refrigerator on the parchment lined baking sheet.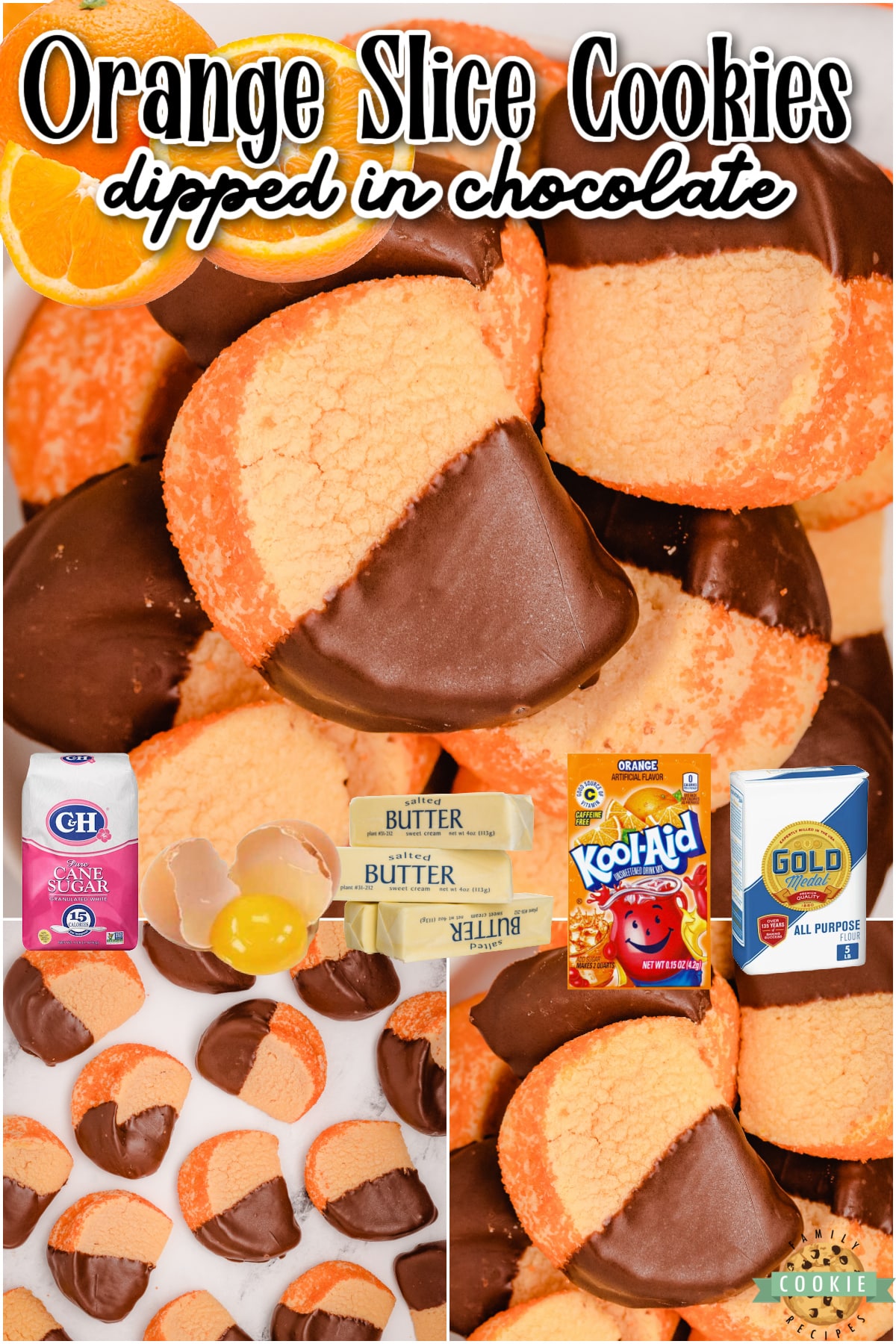 Bake
Start preheating the oven to 350 degrees F.
Pull the cookie dough from the fridge and begin to slice each ball into 8 wedges. Place the wedges bake on the parchment lined baking sheet, fitting 24-28 wedges on a sheet. Proceed to bake in the preheated oven for 8-10 minutes. Cool cookies completely before dipping in the chocolate.
Dipping chocolate
Start melting the dipping chocolate in a glass bowl for 1 minute in the microwave. Add additional time in 15 second increments until the chocolate is smooth and melted. (Do not overheat!)
Then, dip half of each cookie in melting chocolate and place on parchment paper cool to cool and set for about 15 minutes.
Serve and enjoy!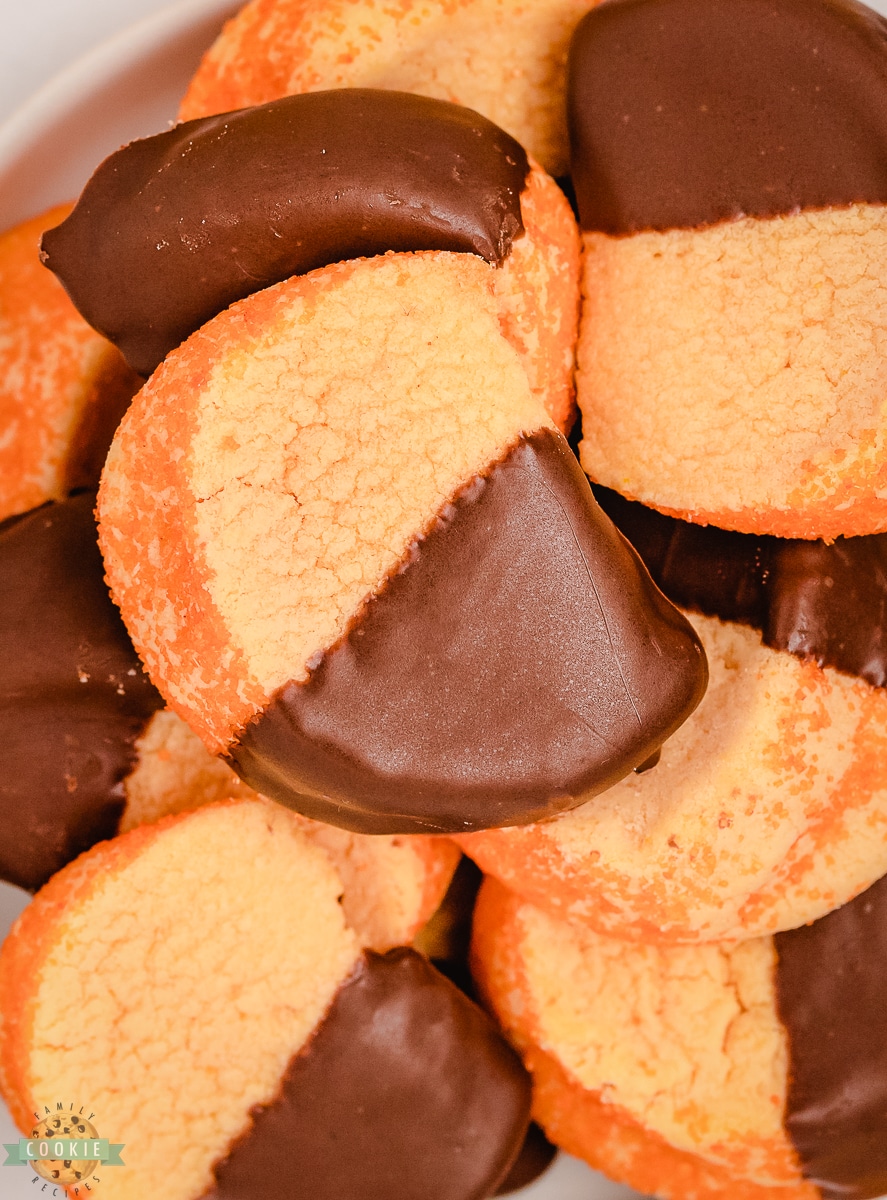 HOW LONG ARE ORANGE COOKIES GOOD FOR?
If kept in the refrigerator, in an airtight container, these cookies can last up to 5 days before going stale. Also, consider placing a piece of parchment paper between each layer of cookies so they do not stick together.
CAN I FREEZE ORANGE SLICE CHOCOLATE COOKIES?
Absolutely! Place the cooled cookies in a freezer-friendly container and freeze for up to 3 months at a time. It would be best to wait to dip the cookies in the chocolate until you are ready to enjoy them as well. Thaw at room temperature and enjoy!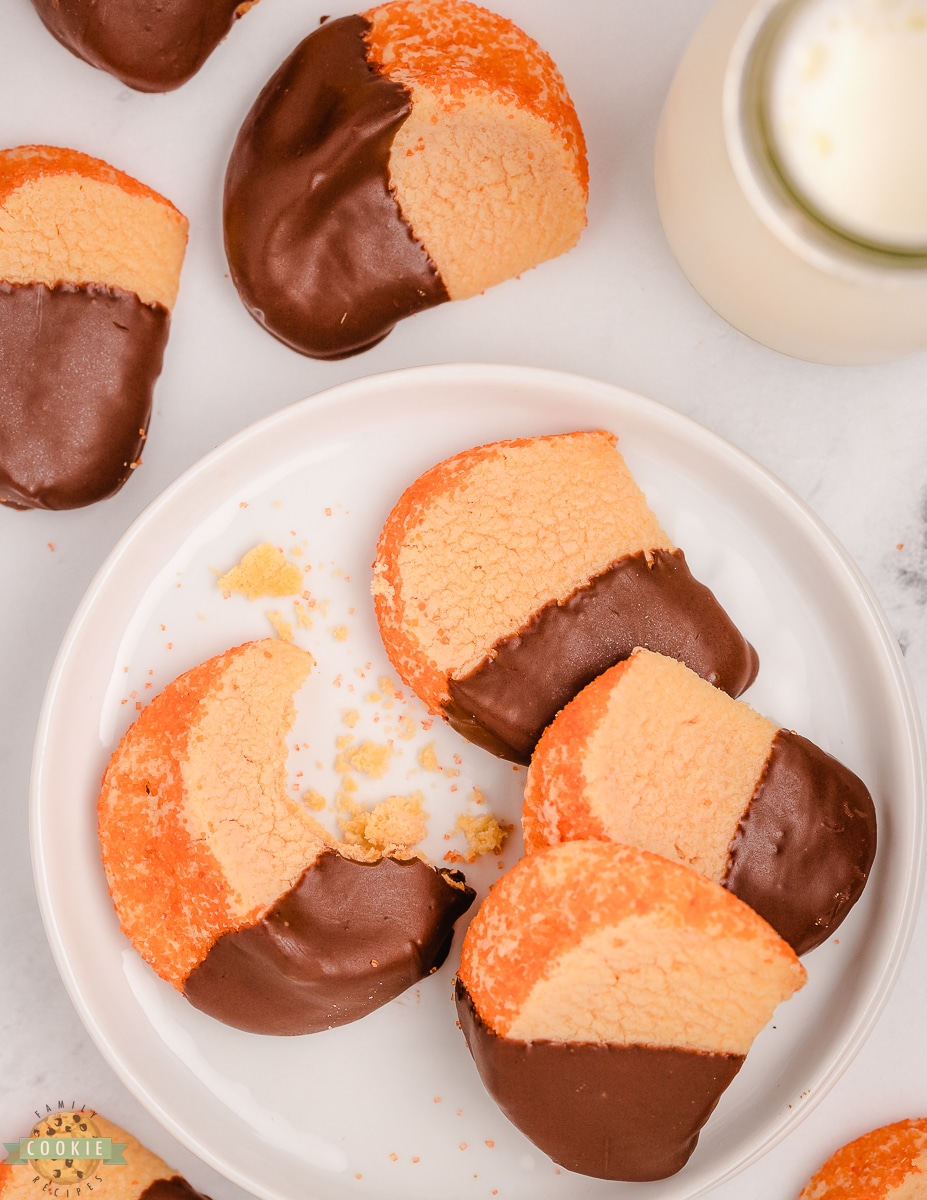 Try some more of our other favorite Christmas cookies:
Chocolate Orange Slice Cookies mimic orange slices dipped in chocolate, the tangy citrusy flavor comes from a orange Kool-Aid mix baked into the cookies! These orange slice cookies are a perfect cookie recipe for holiday treat exchanges during the holidays.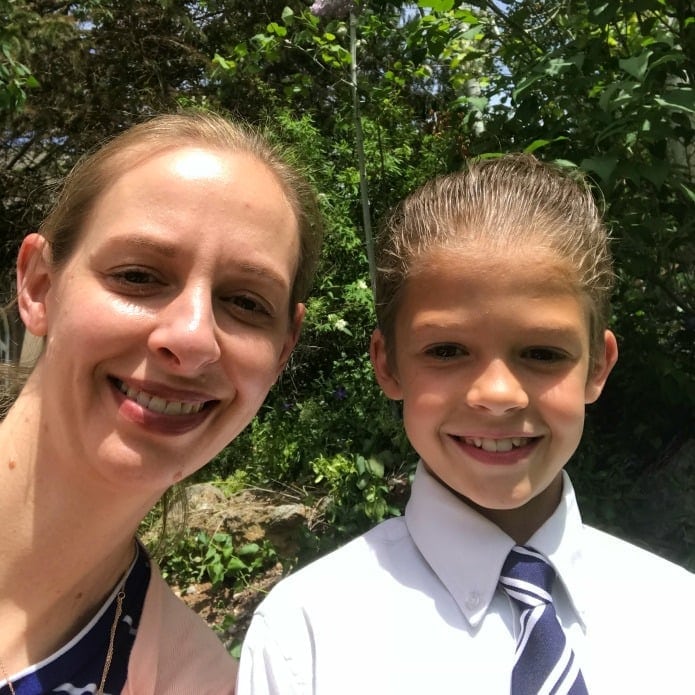 This handsome kid is my middle child in every sense of the word. Middle son, middle child and plenty of middle child syndrome, ha! I try and give him a little extra attention to compensate and it seems to be doing the trick. In the last year he's grown and matured to the point where not only do I love him as my child, but I really, really like him too! He's so fun to be around and always has me laughing. He's so talented in so many ways too. I can't wait to see what he does as he continues to grow.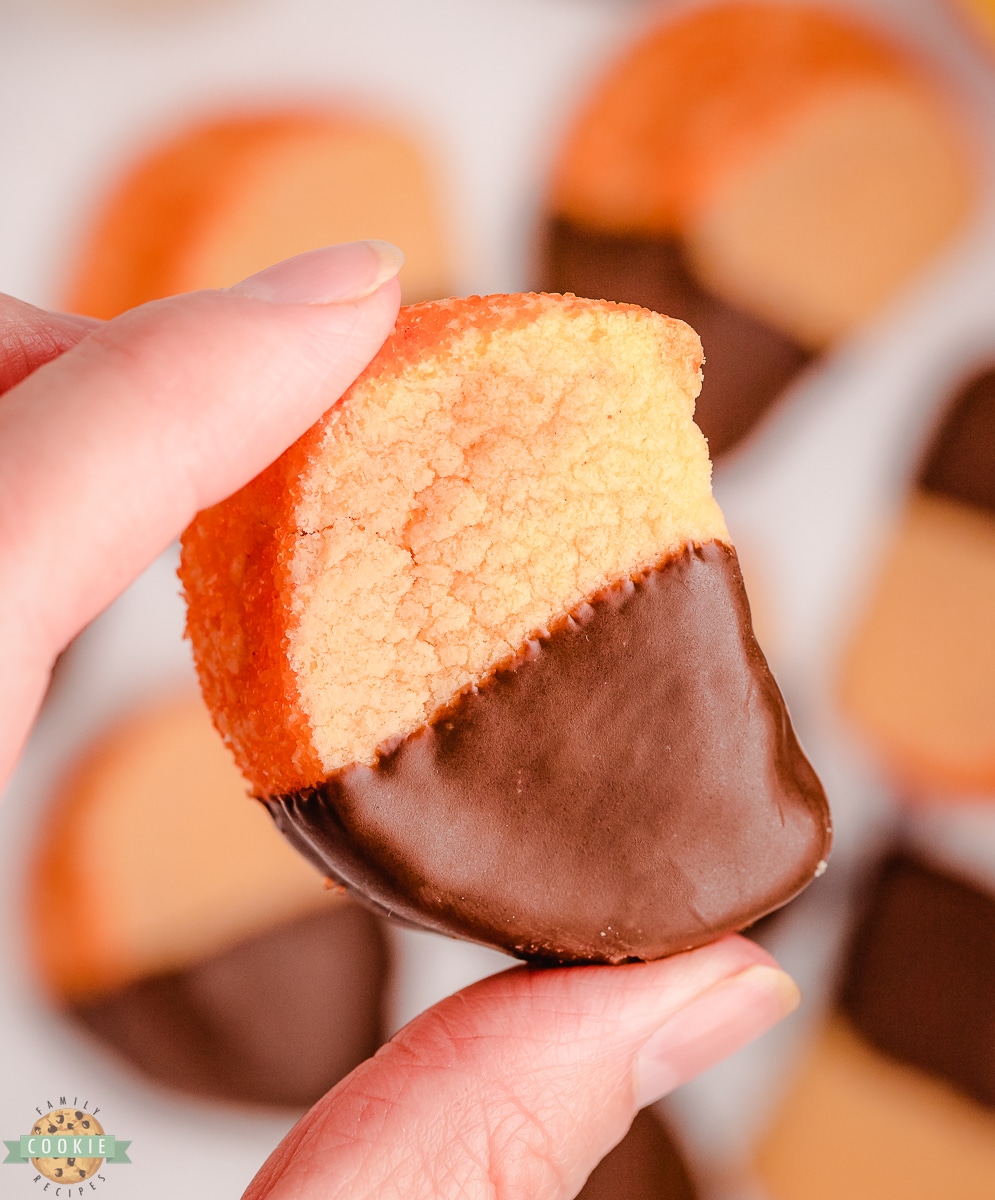 What is the best way to soften butter?
When you want softened or room temperature butter (65 degrees F) and don't have any on hand, follow these simple tips for warming it up quickly without overheating and melting the butter. Softened butter is needed to incorporate with the dough for a seamless smooth consistency so getting your butter to the proper temp is important.
Here are some ways to warm up your cold stick of butter:
Let it sit on the counter for 1 hour prior to making your cookie recipe.
Slice the butter into tablespoon sized pieces and place into a warmed glass for 10-15 minutes. A glass right out of the dishwasher or a measuring glass warmed with water in the microwave (before disposing of the water) are both great options.
Warm a small clean kitchen towel and wrap your sticks of butter (in the wrappers) for a few minutes.
I like to use a warmed tall drinking glass and place the wrapped sticks of butter in the cup before turning it over on the counter for several minutes.