Christmas gingerbread cookie bites are a fun twist on a classic! Simple one-bite cookies are everything you love about gingerbread, only EASY. Perfect holiday cookies for your next Christmas party!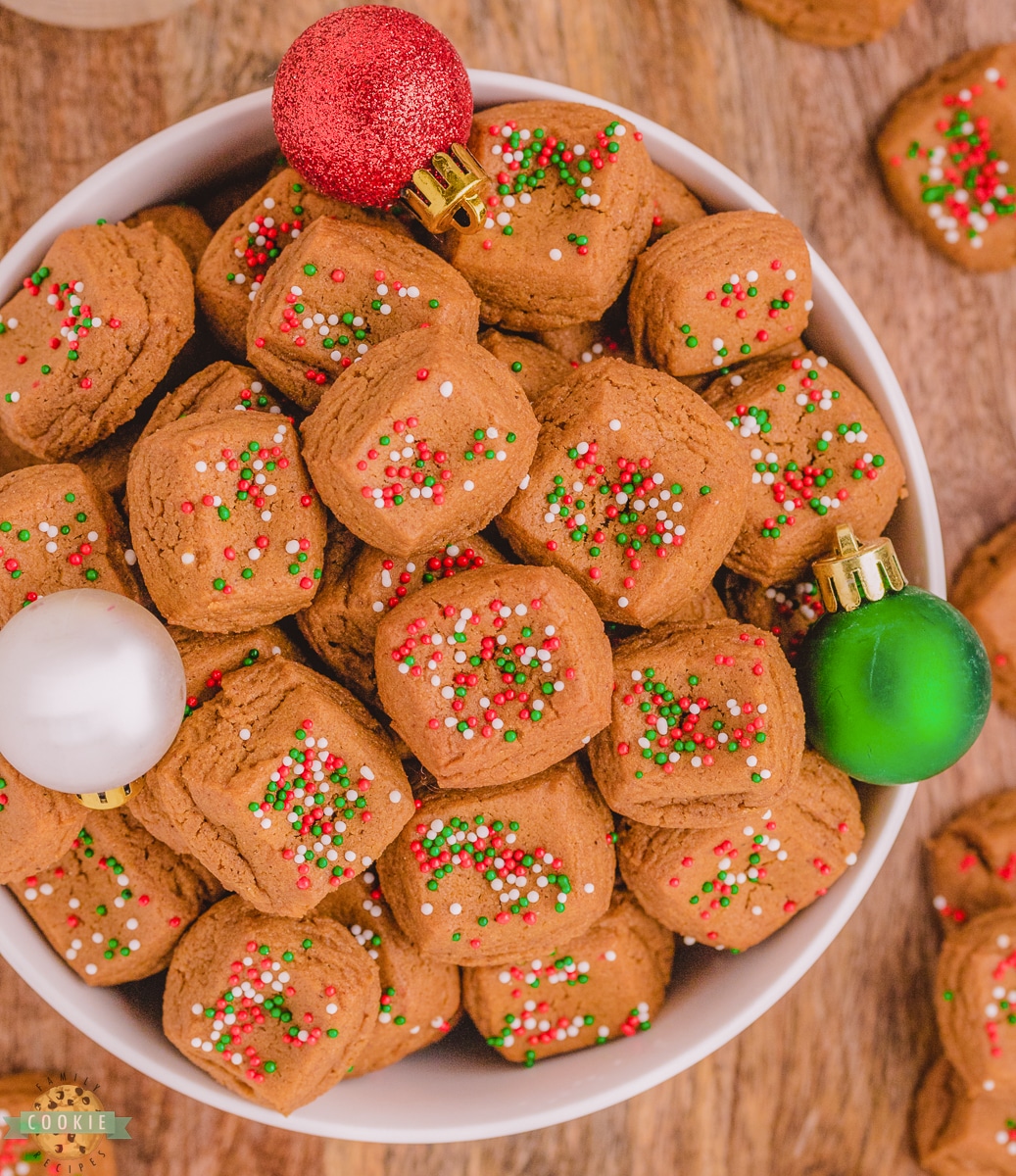 This fun poppable version of gingerbread cookies is always a huge hit when I serve them up. Everybody loves them and no one expects gingerbread squares, making them an instant conversation piece too. Every batch makes up about 100 squares so they're perfect for anything from cookie exchanges to parties and snacking.
What Are Gingerbread Cookie Bites?
These cookie bites are small cube-shaped cookies made from a simple homemade gingerbread cookie dough. The shape comes from being pressed, chilled, and sliced from a pan so there's no rolling the dough or shaping necessary- making it even simpler than most holiday cookies. These cookies are soft, chewy, and always an instant classic. Make these holiday gingerbread cookie bites soon and see how fast they become a new tradition in your home.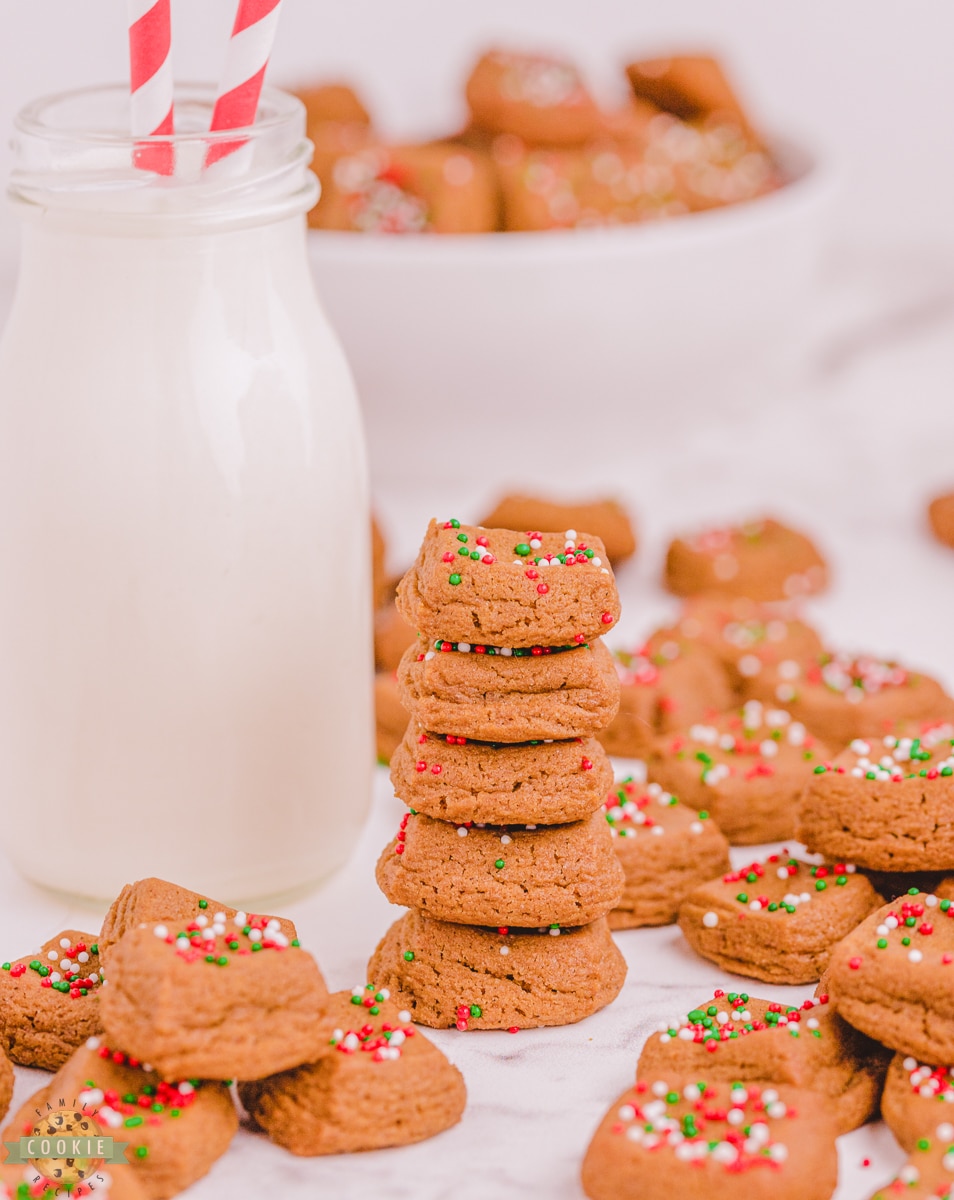 Gingerbread Bites Ingredients
-Flour: You will need 3 cups of all-purpose flour for the base of the cookie dough.
-Leavening agents: Use 1 teaspoon of baking powder and 3/4 teaspoon of baking soda for cookies that puff up a bit as they bake.
-Salt: Adding in ¼ teaspoon of salt will help enhance the flavors in the cookies.
-Spices: Use 1 tablespoon of ground ginger, 2 teaspoons of ground cinnamon, and 1/2 teaspoon of ground cloves for well-spiced gingerbread cookies.
-Shortening: You will need 4 tablespoons of shortening to help give the cookies more fat for a richer texture.
-Butter: Use ½ cup (one stick) of unsalted butter to make these cookies richer in taste.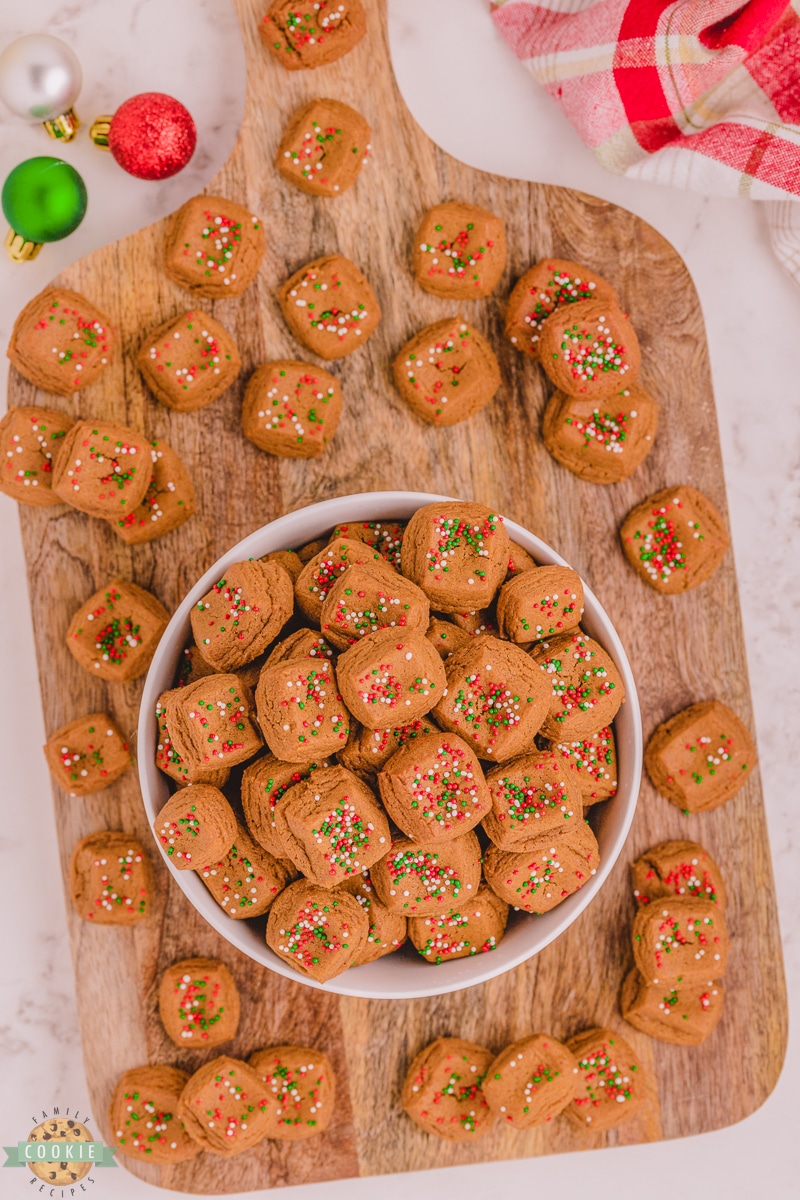 -Dark brown sugar: Using 1 cup of dark brown sugar will make the cookies sweet and chewy while giving a nice depth of flavor.
-Egg: Use 1 large egg to help bind the dough together well.
-Molasses: You will need ½ cup of molasses to help flavor the dough and make it taste like traditional gingerbread.
-Vanilla: Adding in 2 teaspoons of vanilla extract will make the dough taste even better.
-Sprinkles: Use ¼ cup of holiday-colored nonpareil sprinkles for a festive touch to every cookie bite.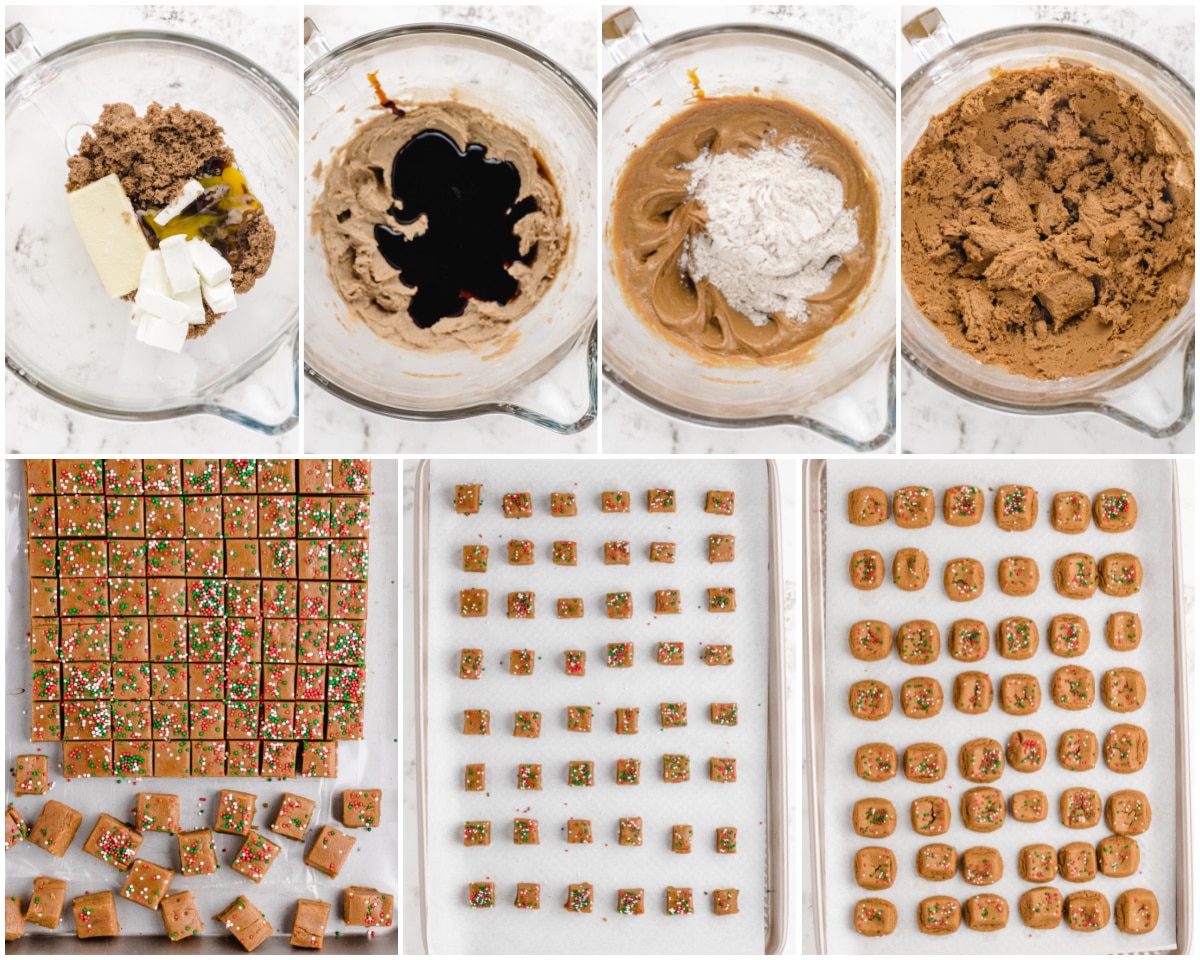 How to Make Christmas Gingerbread Cookie Bites
In a small bowl, whisk together the dry ingredients (flour, baking powder, brown sugar, salt, ginger, cinnamon, and cloves). Until well blended.
In a large bowl or in the bowl of a KitchenAid stand mixer, beat the butter, brown sugar, and egg on medium speed until well mixed.
Add in the molasses and vanilla extract and mix again.
Slowly add in the flour mixture until well blended and smooth.
Press the dough into the bottom of a parchment-lined 9×13 baking dish. The dough should be pressed into a flat and even layer.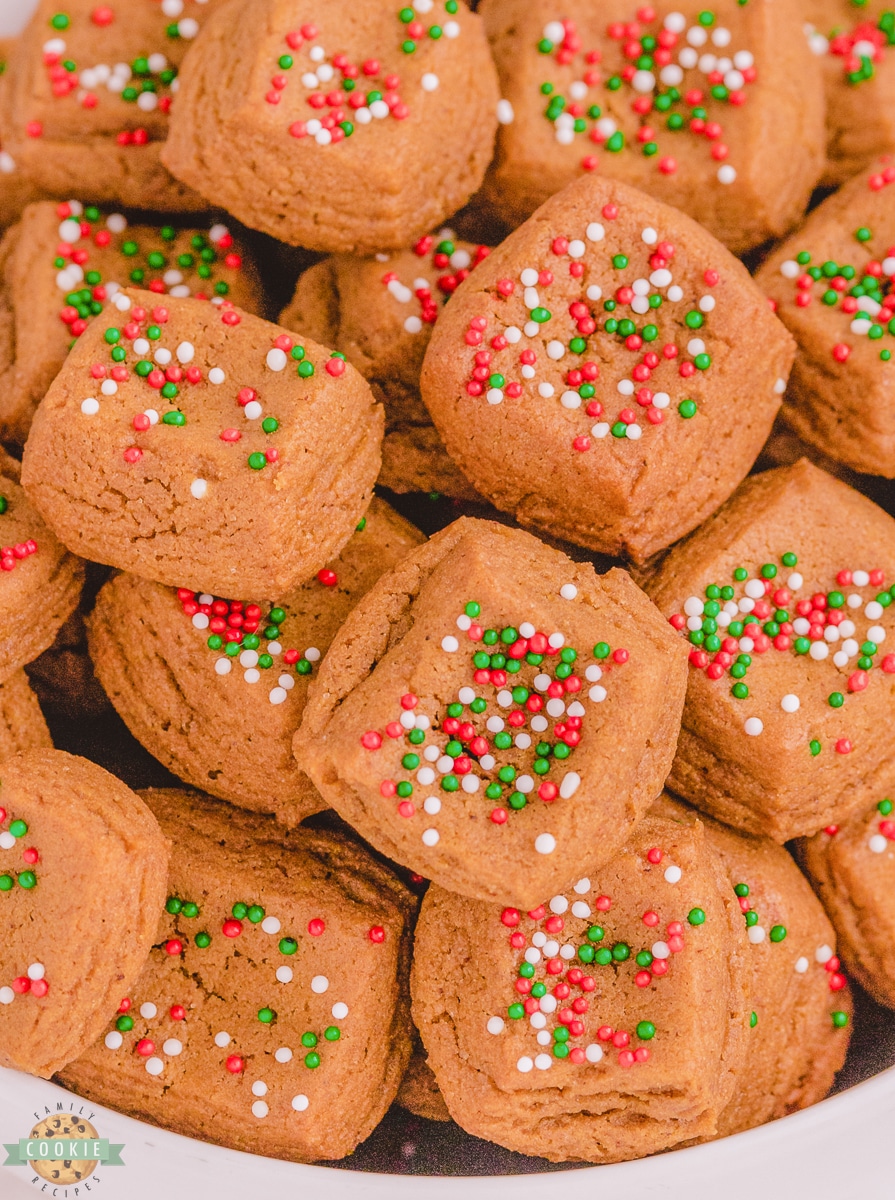 Sprinkle your nonpareils over the top of the dough and lightly press them into the dough to make them stick.
Chill the dough for 2 hours or up to 8 hours.
Preheat your oven to 375 degrees F and line baking sheets with parchment paper.
Remove the chilled dough from the pan and place it onto a cutting board. Lay a ruler at the top of the dough and then slice 10 or 11 rows in one direction and do the same to the other side making about 100 cubes of dough.
Transfer the cubes to your lined cookie sheets, leaving an inch of space between the cookies. You should be able to fit about 30-35 cookies per sheet.
Bake the cookies one baking sheet at a time, for 7 minutes.
Let the cookies cool on the sheet for 2 minutes before transferring to a wire rack to cool completely.
Enjoy!
Can gingerbread cookies be frozen?
Yes, these cookies can be frozen in an airtight container for up to 3 months making them perfect for party prep if you're trying to knock out a few desserts in advance or if you simply want to prolong the wonderful taste of gingerbread for a few months after the holidays. Simply allow the cookies to cool on the counter for a few minutes before eating and enjoy!
How long do gingerbread cookies last?
These cookies can last up to a week or so if kept properly stored in an airtight container at room temperature. For best results, I always recommend eating within about 3 days because that's when cookies are at their peak and taste the freshest. They also taste incredible when warm from the oven so make sure to grab a few after they've cooled.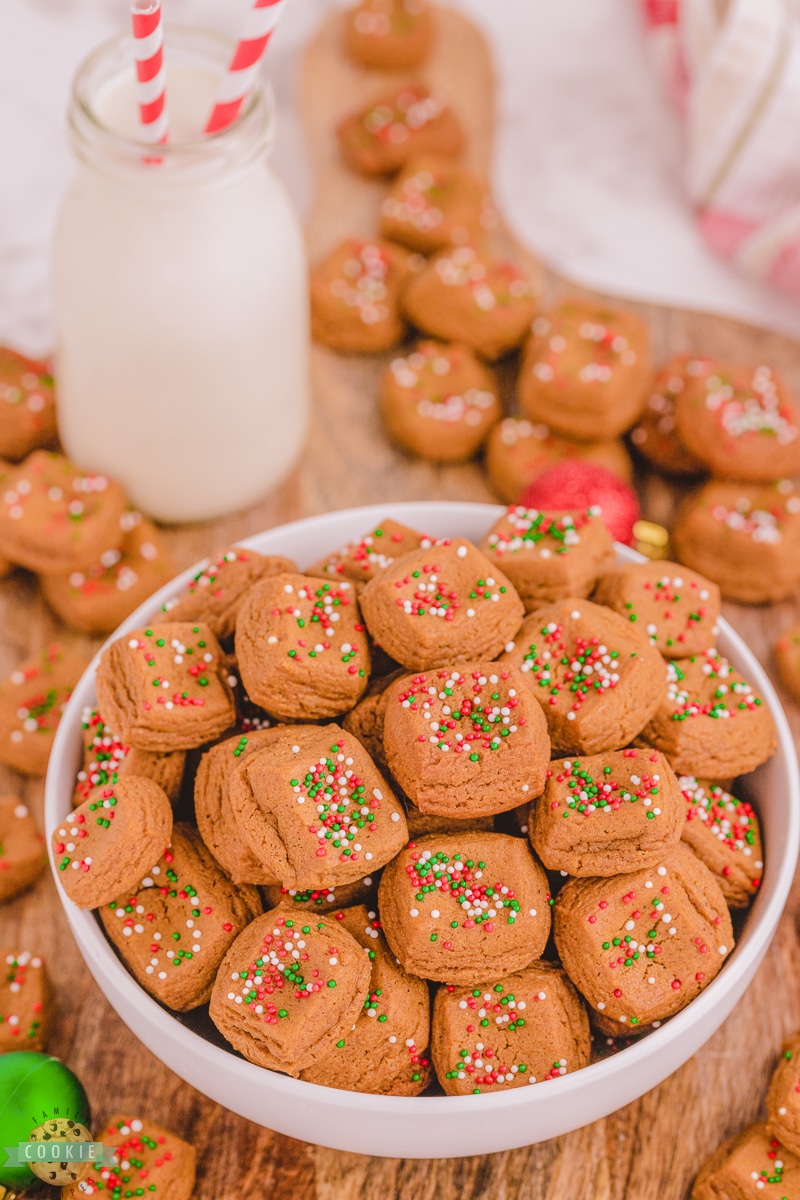 Check out these other great Christmas cookie recipes!

This is my Grandpa on his 90th birthday. Heavens, I can't even imagine what 90 must feel like! He's had a particularly rough year, so my sisters and I all gathered the troops and put on a fabulous party. He seemed like he enjoyed it and we sure had fun, so I consider it a success!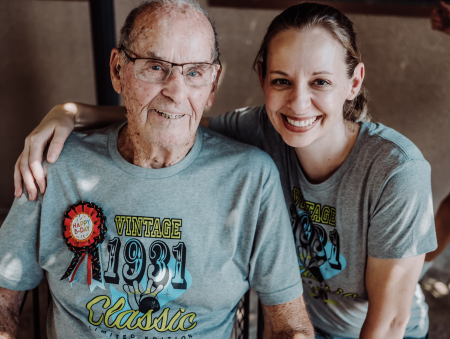 These Christmas gingerbread cookie bites are soft, chewy, and always an instant classic. Make these holiday gingerbread cookie bites soon and see how fast they become a new tradition in your home.