Peppermint butter cookies made easy with classic ingredients, then dipped in chocolate and sprinkled with peppermint! Delicious flavor in these buttery crisp, delicate Christmas cookies!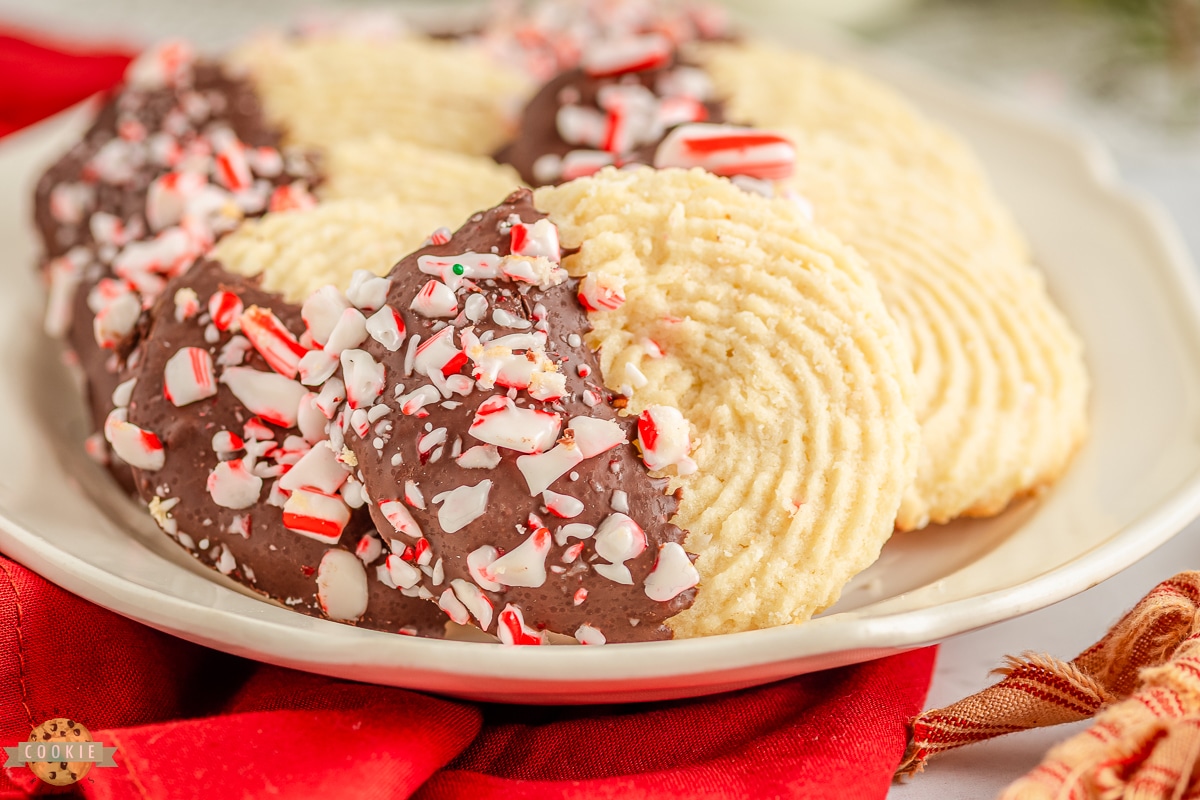 These peppermint butter cookies are on the Santa-approved list and it's not hard to see why. Made with crushed candy canes, chocolate, and a buttery rich melt-in-your-mouth cookie, these sweet treats are always welcomed. Every batch makes a few dozen so there's plenty to share too!
Candy cane butter cookies
Butter cookies are an easy piped cookie recipe made with soft dough. They look like the old-fashioned danish butter cookies you buy in blue tins from the store (often seen holding grandma's sewing kit after the cookies were eaten). We're taking these buttery crisp cookies and adding a little holiday spirit by dipping them in chocolate and sprinkling candy cane pieces on top. Yum!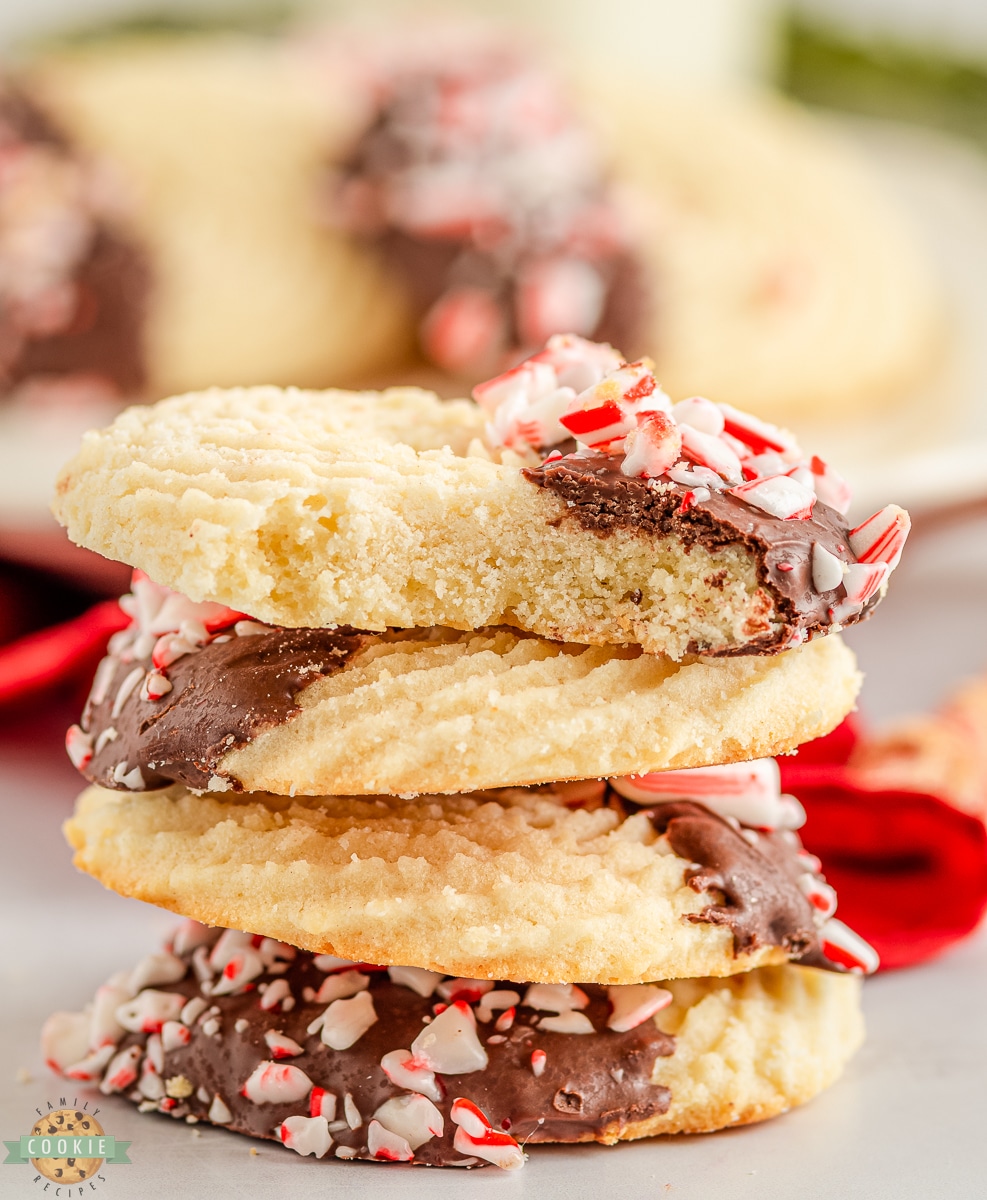 Peppermint butter cookies ingredients
-Butter: You will need 2 cups of room temperature butter, this is 4 sticks.
-Sugar: Use 1 ⅓ cups of granulated sugar to make sure that these cookies turn out perfectly sweet.
-Eggs: 2 eggs plus one egg yolk will make the cookies rich in taste.
-Milk: You will need 4 tablespoons of milk to help get a good consistency out of the dough.
-Salt: Use 1 teaspoon of salt to enhance the flavors in the cookies.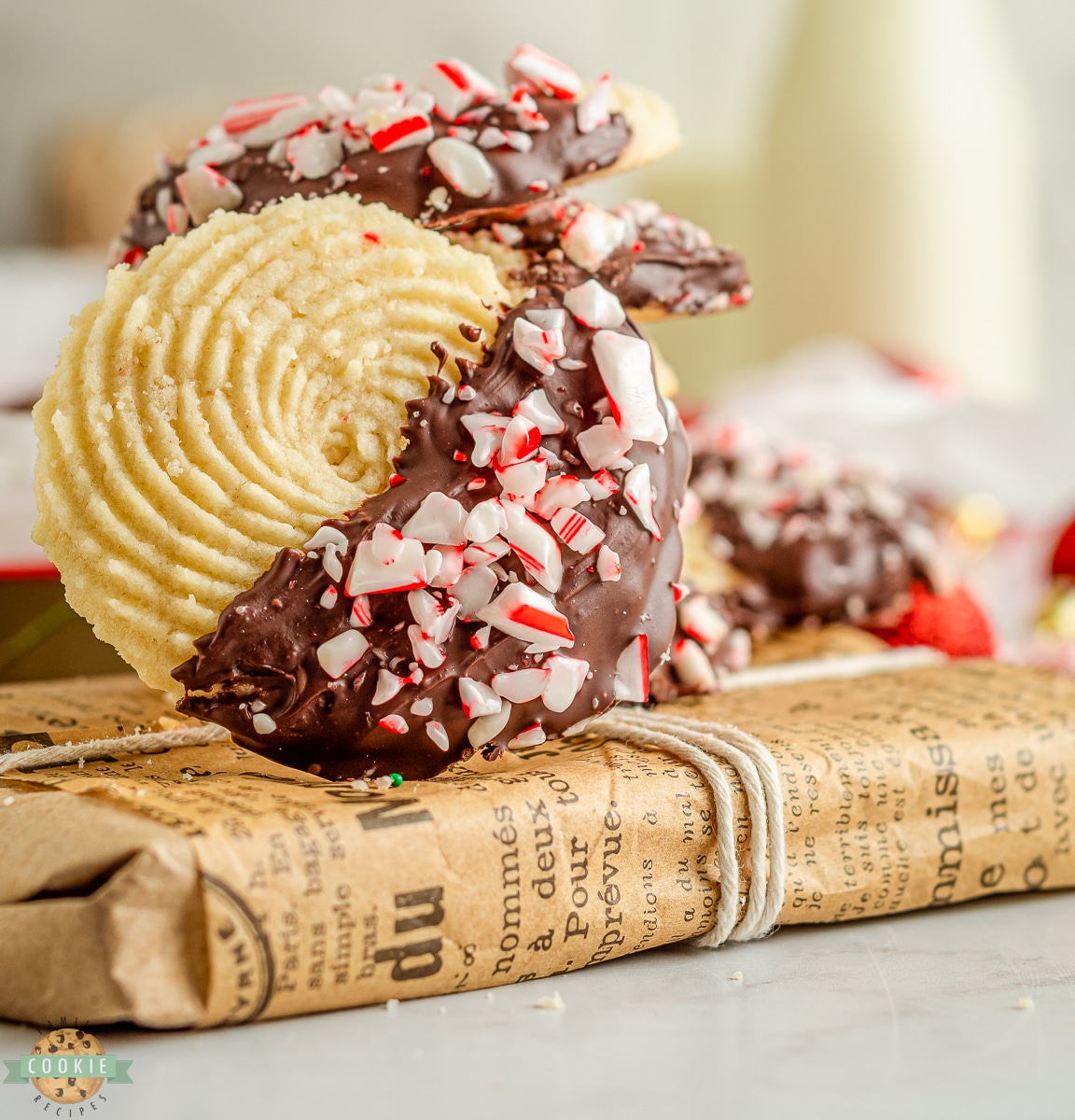 -Vanilla: Make the cookies taste better with a teaspoon of vanilla extract. High-quality vanillas will taste even better, but use what you have on hand.
-Flour: The base of the cookie dough is 4 ⅔ cups of all-purpose flour.
-Peppermint extract: You need ½ teaspoon of peppermint extract to help give an even stronger minty flavor.
-Chocolate chips: Use ⅔ cups of melted chocolate chips to use as a dip for the cookies.
-Crushed candy canes: You will need ⅓ cup of crushed candy canes to sprinkle on top of the cookies.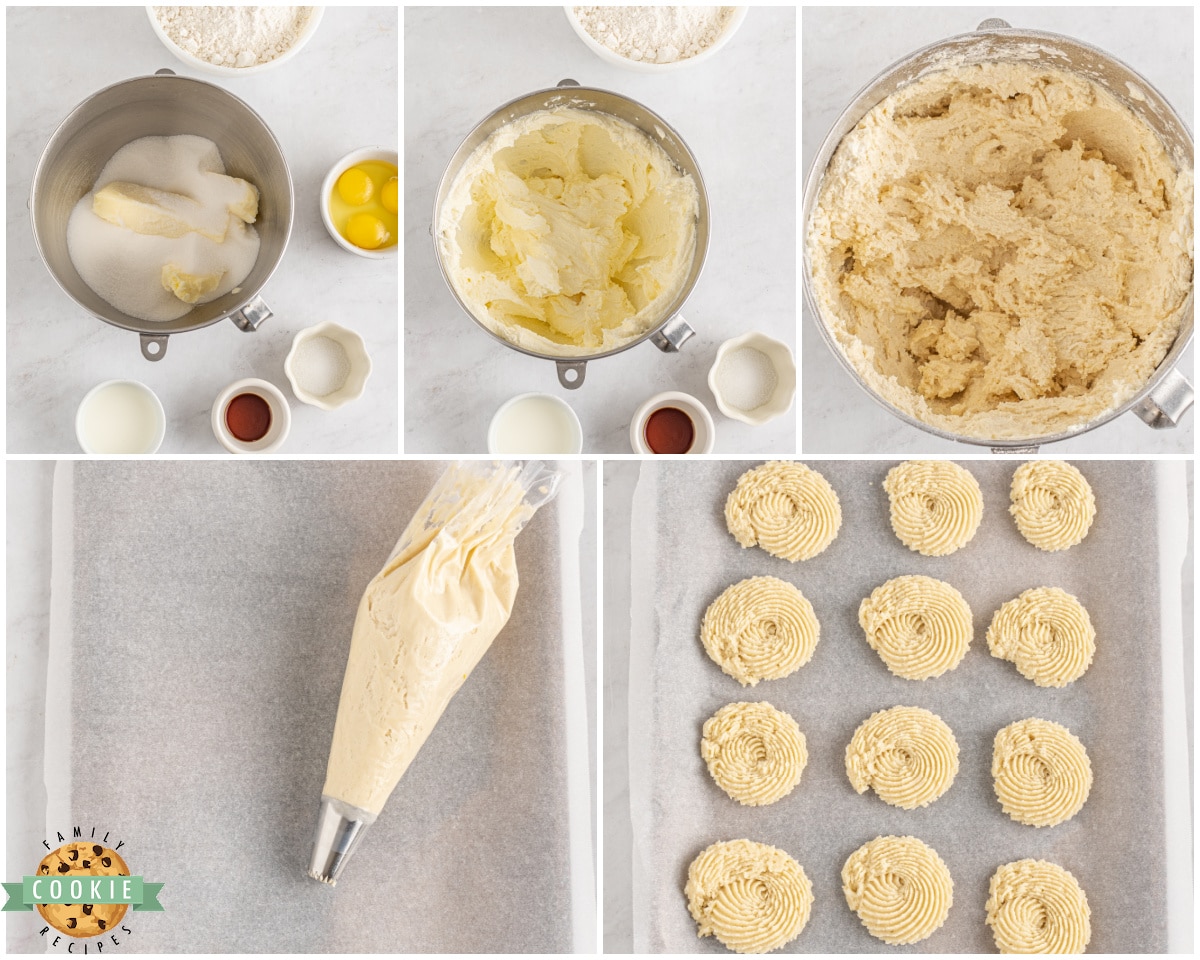 How to make peppermint butter cookies
Add your butter and sugar to the bowl of a stand mixer that has been fitted with the paddle attachment. Beat together on high speed for 2 minutes until creamy and fluffy.
Add in the eggs and beat again for 15 seconds to combine.
Add in the milk, salt, and vanilla extract and beat together until mixed.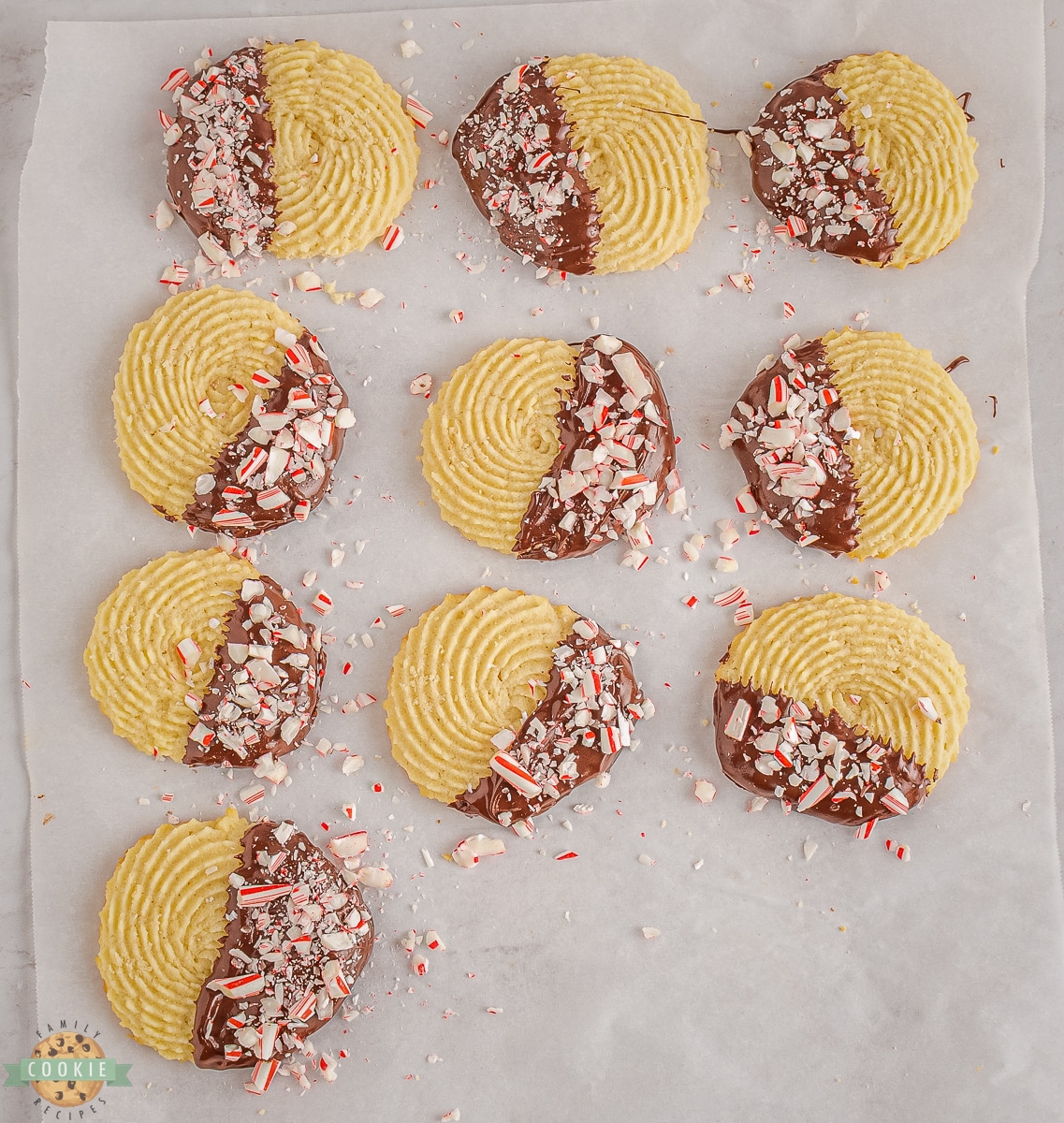 Add in the flour and mix to combine completely.
Mix in the peppermint extract and then spoon the dough into a piping bag with a large fitted star tip.
Hold the bag at a 90-degree angle to a parchment-lined baking sheet and pipe the cookies into a circle pattern and place them all 2 inches apart being careful not to have the cookies overlap or touch.
Place the baking sheet into the fridge and chill for at least 1 hour.
Once the cookies have chilled, preheat the oven to 350 degrees F and place the cookies into the oven. Bake for 12 minutes.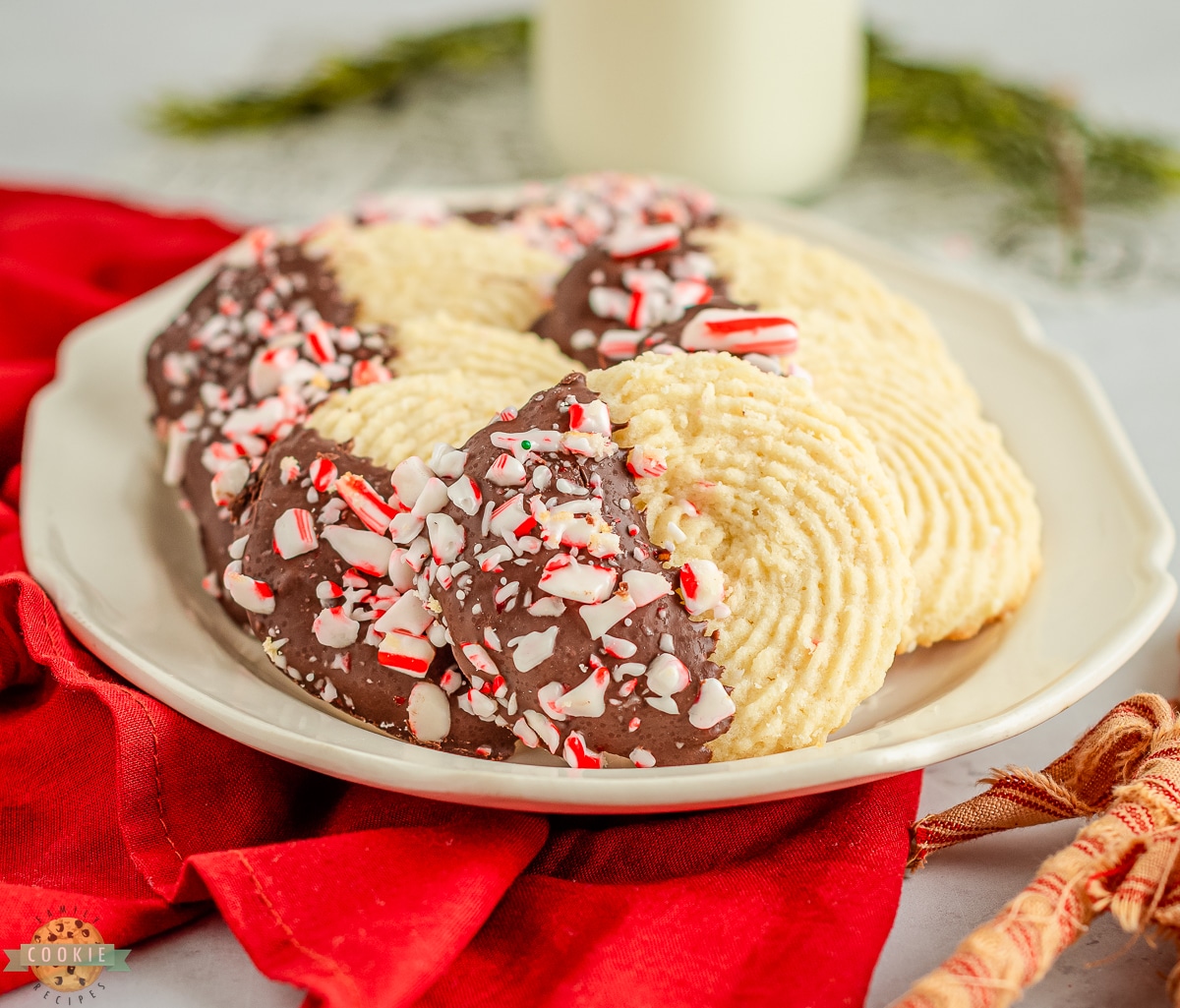 Once baked, remove from oven and allow to cool completely on a wire rack.
When the cookies are cooled, dip half of each cookie into the melted chocolate and then sprinkle the tops with crushed candy canes.
Let sit at room temp or in the fridge until set. Enjoy!
How long are peppermint butter cookies good for?
These cookies can be held in an airtight container at room temperature for up to 2 days. For longer storage keep them stored in the same manner in the fridge for up to a week.
Can I freeze peppermint butter cookies?
I do not recommend freezing the cookies once they have been dipped in chocolate and sprinkled with candy cane pieces because once the cookies begin to thaw the candy pieces will become chewy and sticky and the chocolate will begin to "sweat" as it comes to room temp.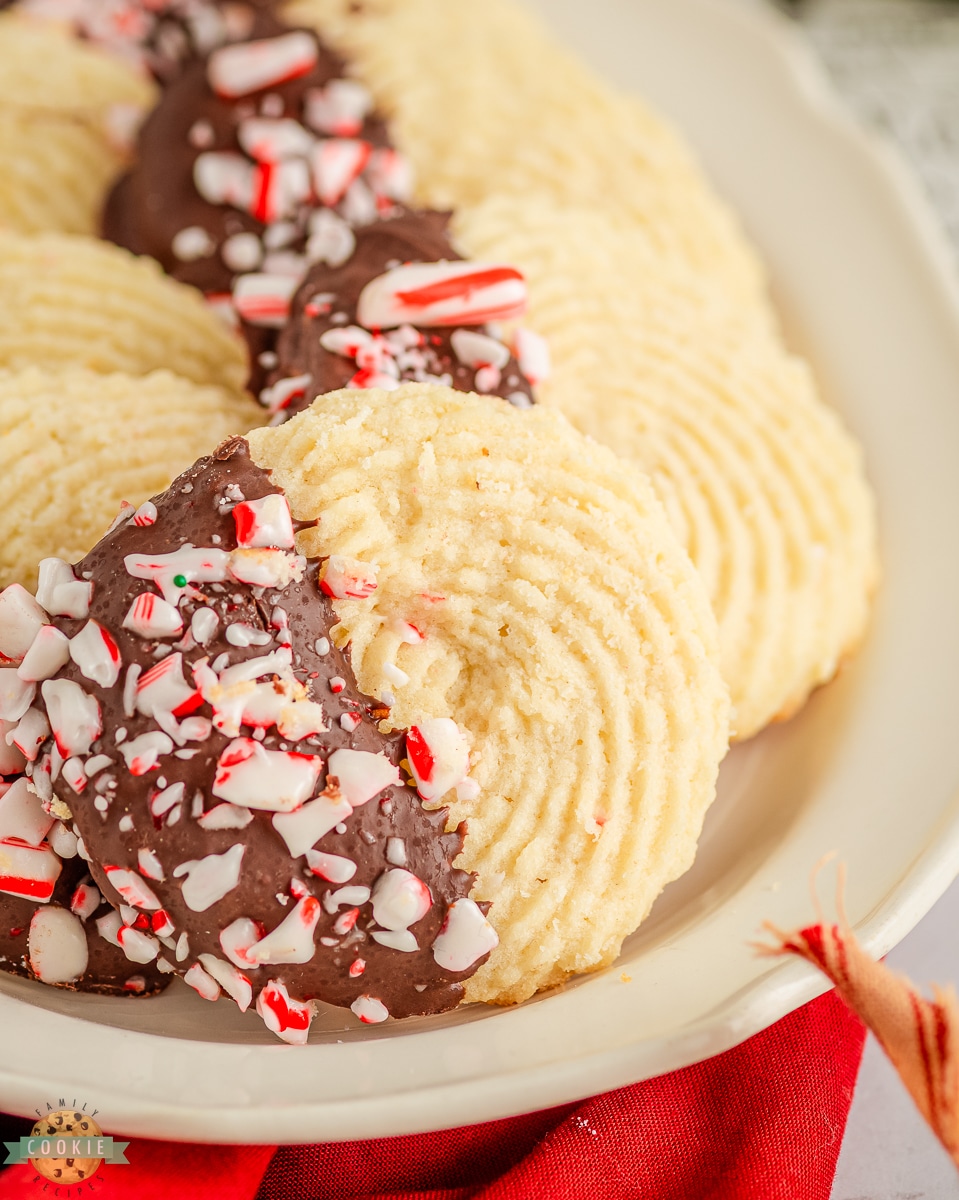 Check out these other great peppermint cookie recipes

Look at these 5 cuties! One of these kids is now an adult. Another is in high school! Time does go by fast!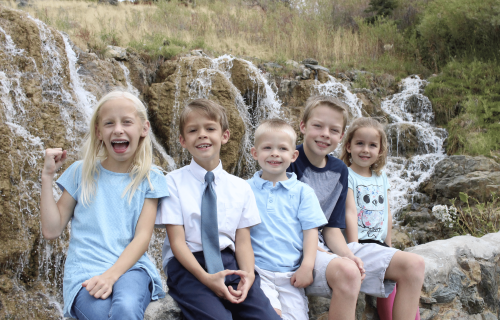 This peppermint butter cookies recipe is one to treasure every holiday season. Made with simple soft cookie dough and crushed candy cane pieces, they're a refreshing cookie that tastes incredibly delicious.