Peppermint Oreo Cookies are made with pudding mix, Oreo cookies, crushed candy canes and peppermint extract. This delicious peppermint cookie recipe yields a perfectly soft and chewy cookie that is sure to be a favorite holiday cookie!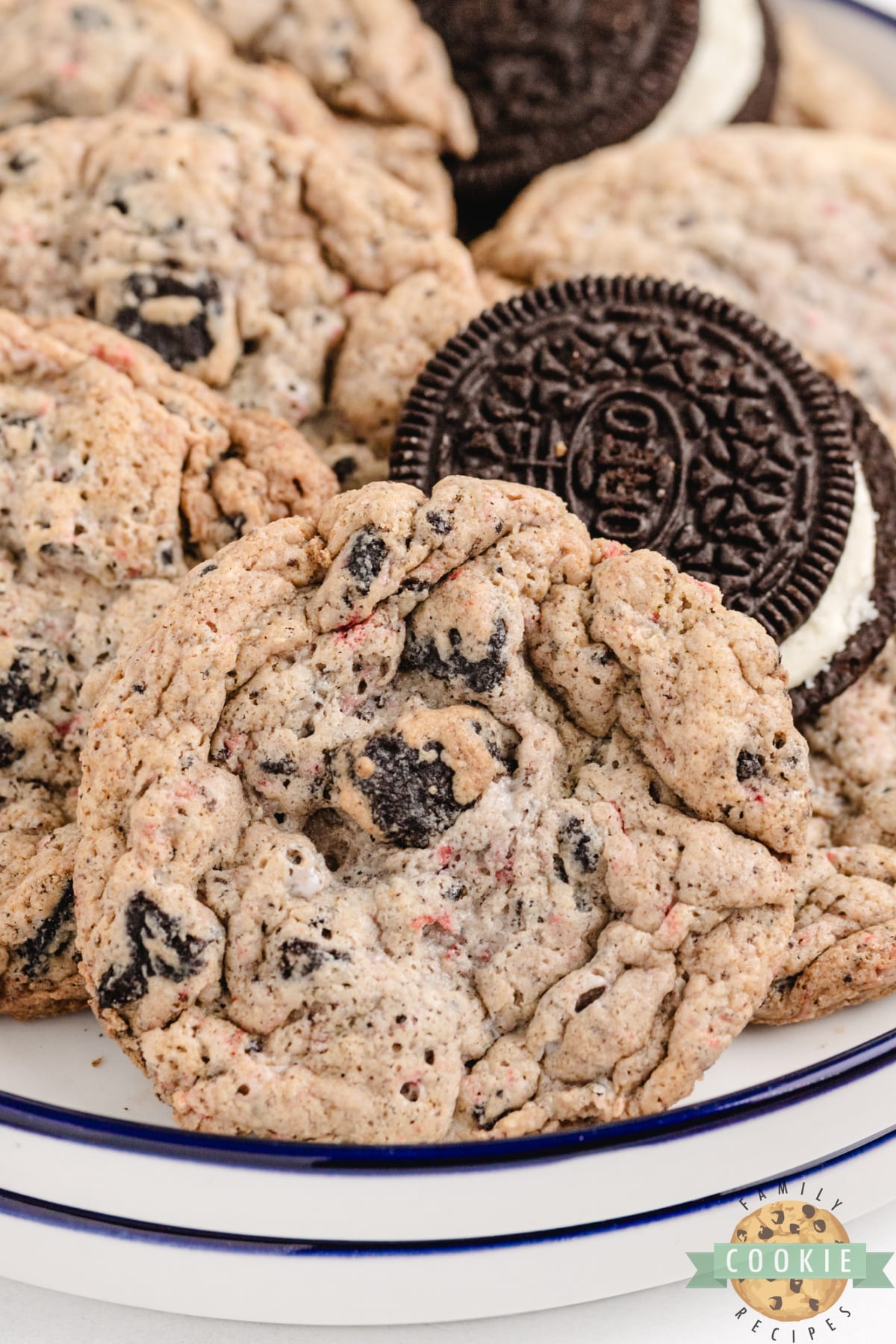 One of my all time favorite cookie recipes ever (and one of our most popular!) is our Cookies & Cream cookies. I decided to add a little bit of a holiday twist to this recipe and it is absolutely amazing!
Peppermint Oreo COOKIES
Peppermint Oreo Cookies are made with instant Oreo pudding mix, crushed Oreo cookies and crushed candy canes. Add some peppermint extract for a stronger peppermint flavor! These cookies turn out soft and chewy every single time. No need to chill the dough or anything fancy – these cookies are super easy to make. Peppermint cookies are absolutely perfect for the holidays!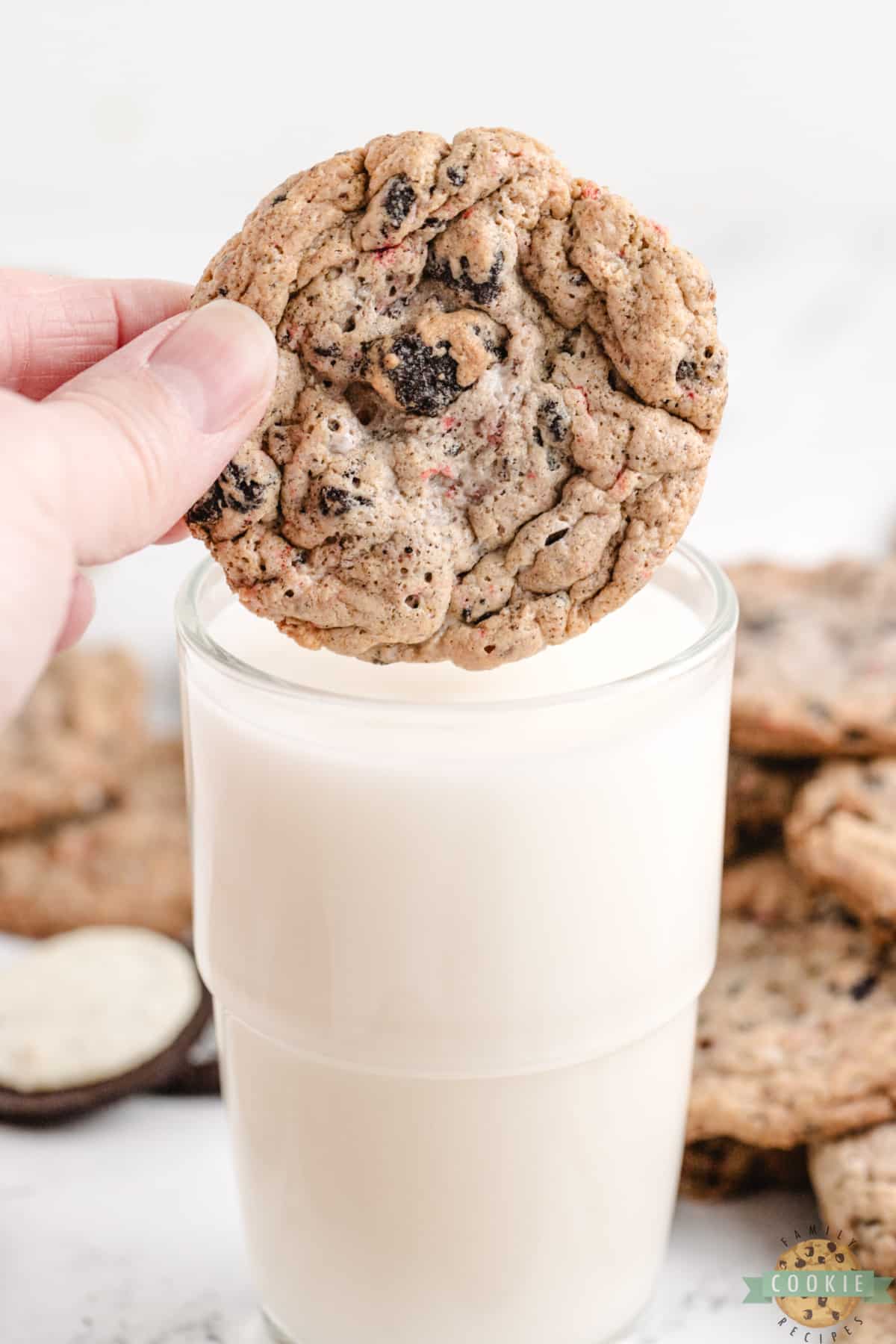 PUDDING COOKIES
We love cookie recipes that have pudding mix in them. No need to make the pudding, you just add the powder to the dough. Cookie recipes that include pudding always help create the soft texture we all love, but below you'll find a few other tips for making soft cookies!
SOME TIPS FOR MAKING COOKIES THAT STAY SOFT AND CHEWY:
Make sure that you have enough flour in the dough. If the dough is too sticky, you may need to add a little bit of flour.
Spend a little extra time when you mix the butter and sugars. Creaming them together for 2-3 minutes will improve the consistency of your cookies.
Preheat the oven. This will help your cookies turn out right every time!
Use a cookie scoop! If you want all your cookies to be perfectly shaped and have them all be the same size, a cookie scoop is the way to go.
Use parchment paper or a silicone baking mat. Doing this will make it really easy to remove the cookies from your cookie sheet so that you don't have to scrape them off the pan – they will just slide right off in perfect shape!
Don't over bake the cookies – when I take mine out of the oven, they still look slightly under baked but they will continue to bake on the cookie sheet for a couple more minutes so that's ok!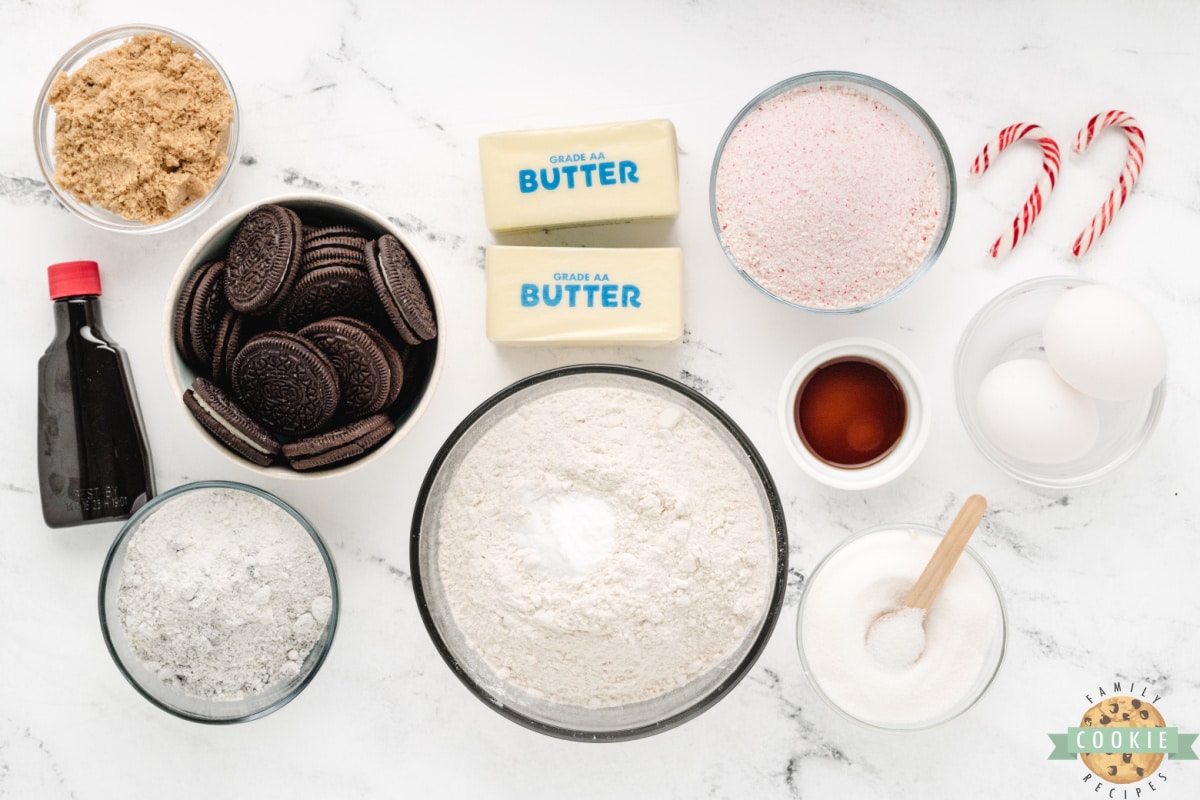 INGREDIENTS IN PEPPERMINT OREO COOKIES
Butter – Make sure the butter is completely softened to room temperature before adding to the cookies. For best results, use real butter.
Brown sugar– I always use light brown sugar in these cookies. Just make sure your brown sugar is soft and fresh because if it is dried out, it will affect your cookies!
Sugar – Regular granulated sugar adds some extra sweetness to the cookie recipe.
Oreo Cookies & Cream instant pudding mix – This is what makes these cookies so soft and delicious! Sometimes certain stores don't carry this, but I've always had good luck finding it at Walmart. If you absolutely can't find the Oreo pudding mix, you can use vanilla instead.
Eggs – You'll need 2 eggs – I always use large eggs in recipes for best results.
Vanilla – I suggest using a good quality vanilla extract or a Vanilla Bean Paste.
Flour – I usually use all purpose flour, but you can use bread flour, or even pastry flour in this recipe.
Baking soda – This is the leavening agent in the cookies. Make sure your baking soda isn't old or expired for best results.
Crushed candy canes – The miniature candy canes are so much easier to crush! You can use any type of candy cane or peppermint. You want to crush them fairly well, but I like some bigger chunks so don't crush them too finely.
Oreo cookies – Key ingredient in this particular cookie recipe! Feel free to add a few more than what the recipe calls for! Just make sure not to crush them into fine crumbs- you'll want larger chunks of Oreos in your cookies!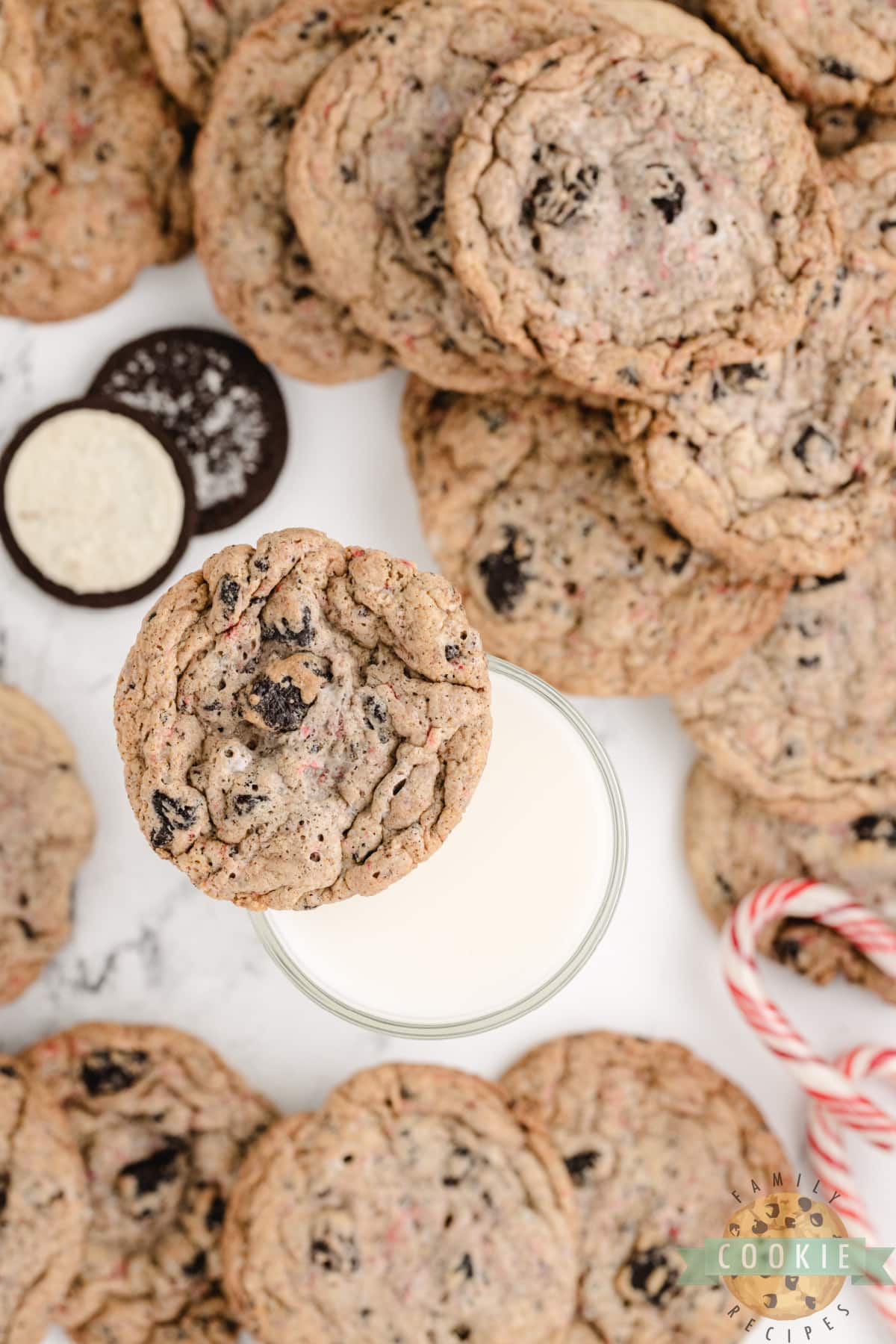 HOW TO MAKE PEPPERMINT OREO COOKIES
Preheat oven to 350°.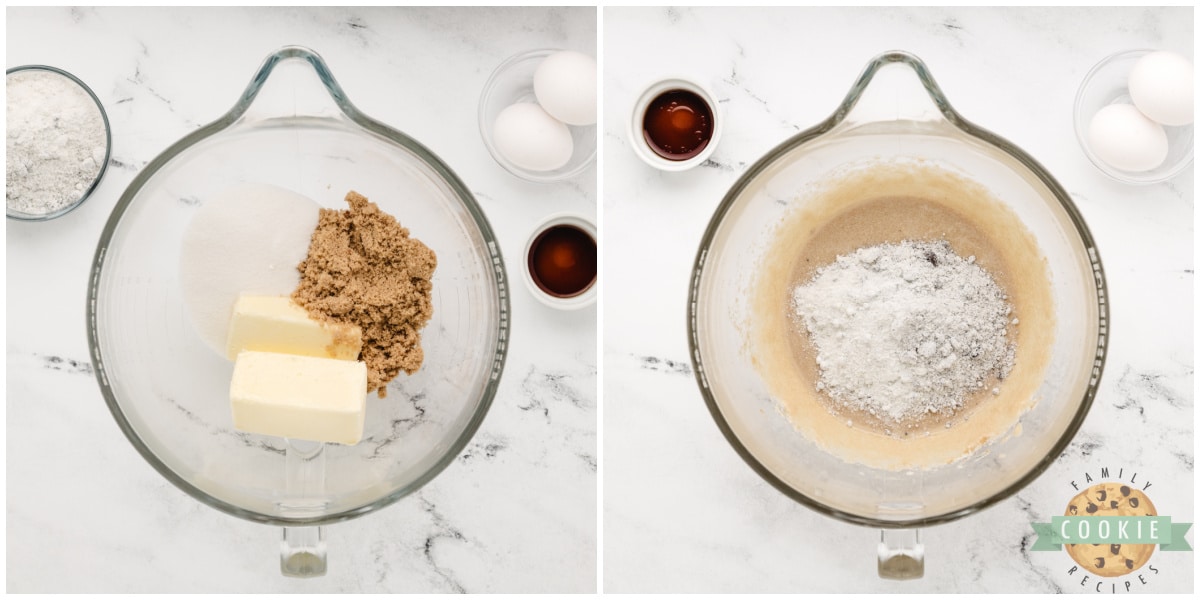 Use a hand mixer  or stand mixer to cream the butter and sugars together for at least 2-3 minutes. Add the pudding mix and mix until well blended.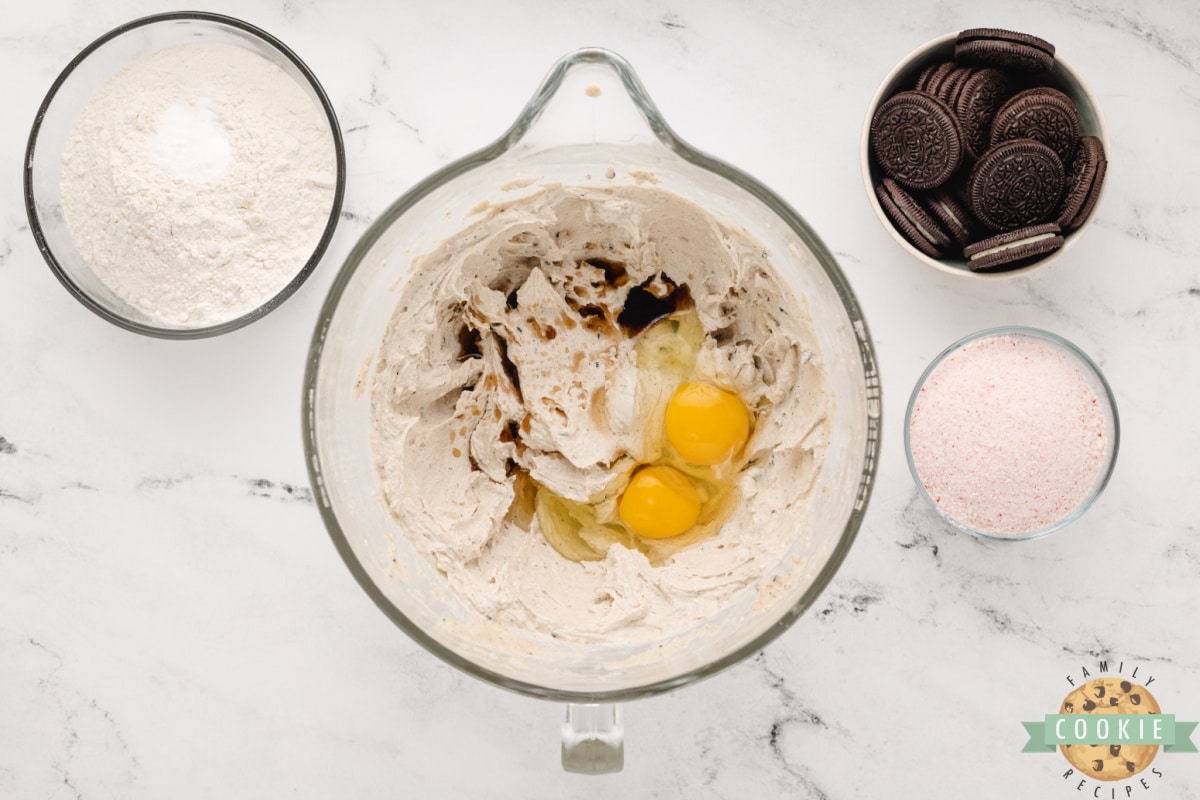 The next step is to add the eggs and vanilla and mix for another 2-3 minutes.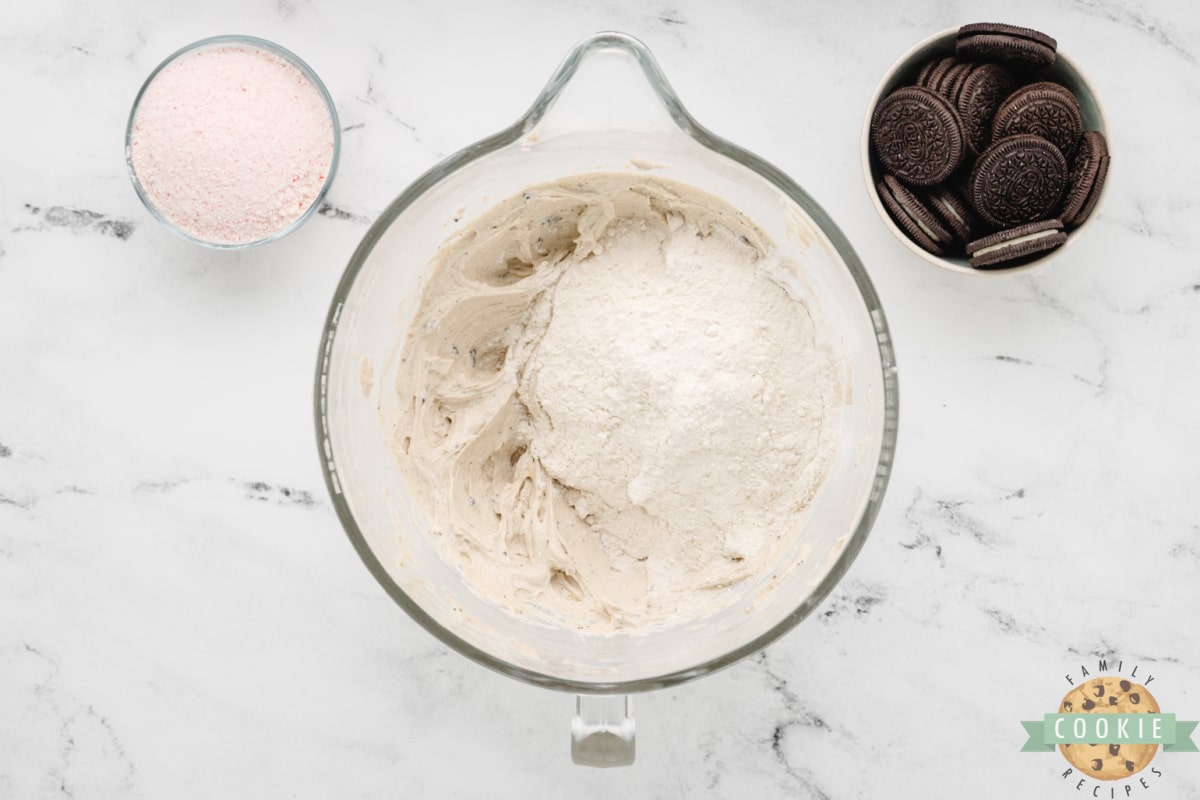 Add the flour and baking soda and mix just until combined.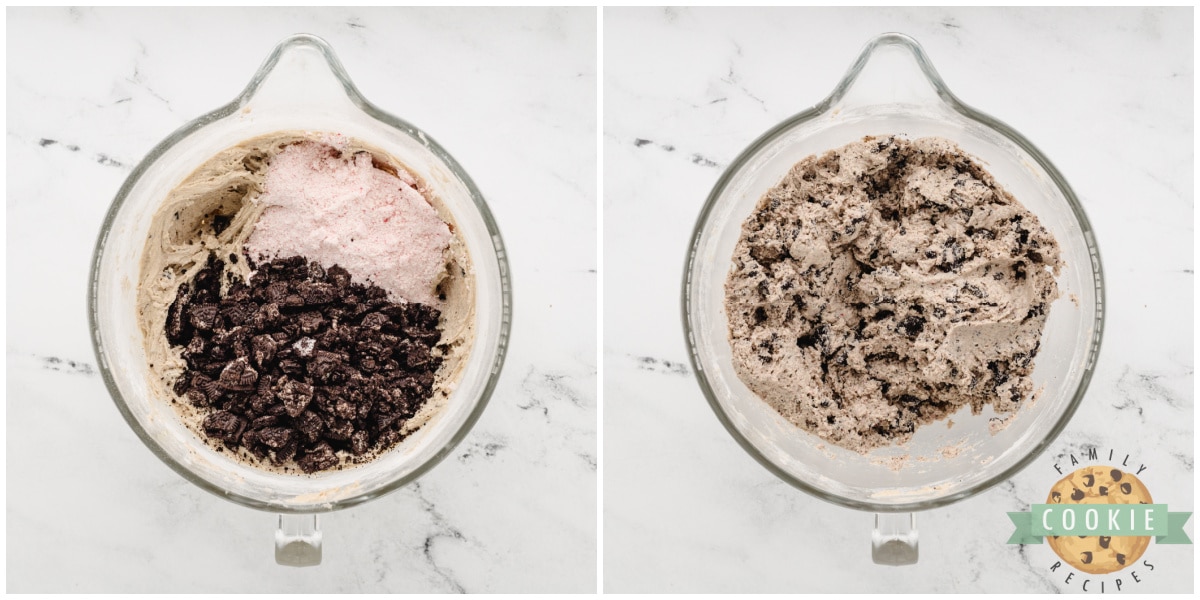 Once the dough is well mixed, you can stir in the Oreo cookie chunks and crushed candy canes with a wooden spoon.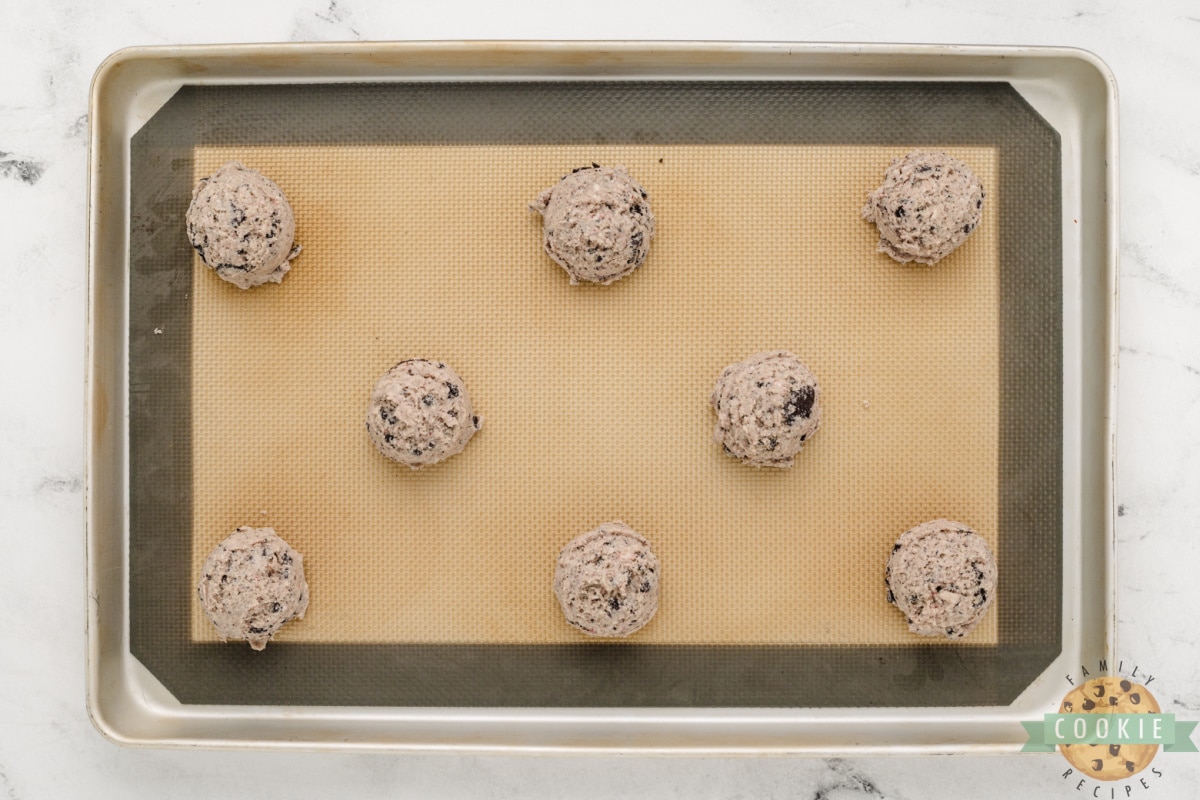 Drop cookies by rounded teaspoonfuls (I use a cookie scoop) onto a greased cookie sheet or one that has been lined with parchment paper or a silicone baking mat. Bake for 8-10 minutes.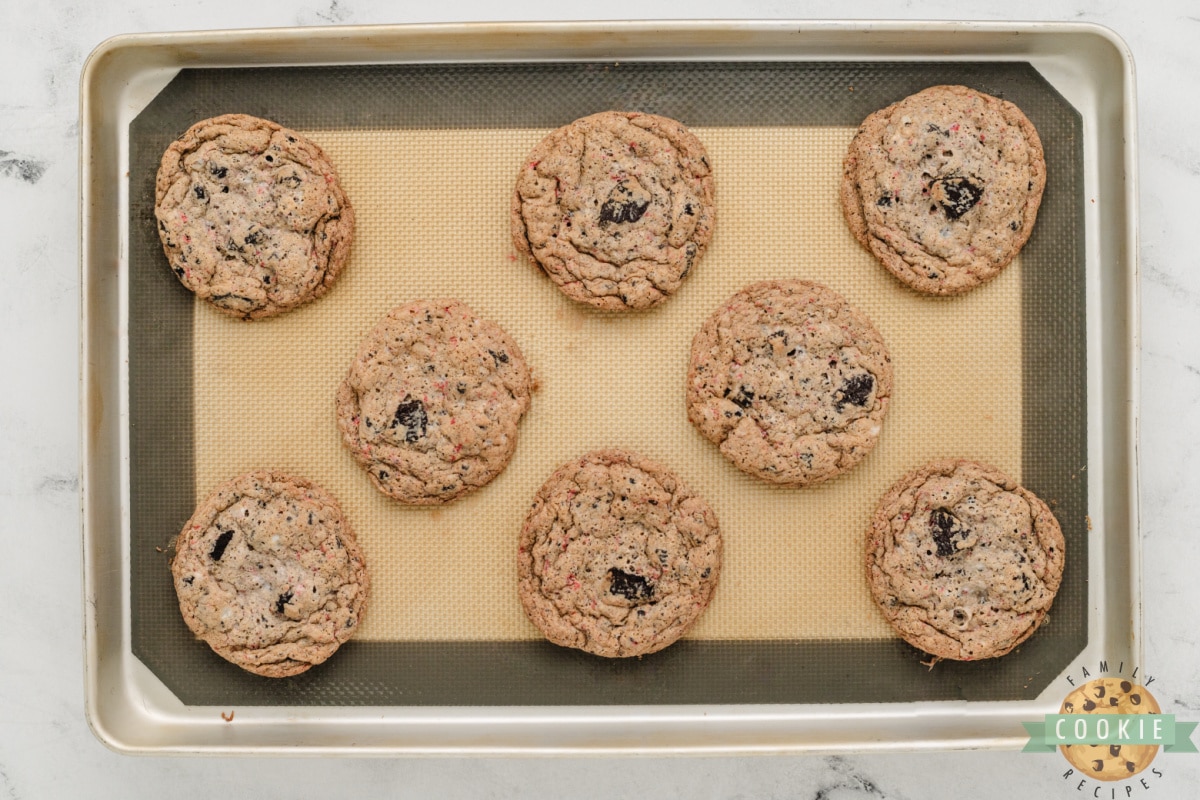 Let the cookies cool on the baking sheets for about 4-5 minutes before transferring to a wire rack to cool completely.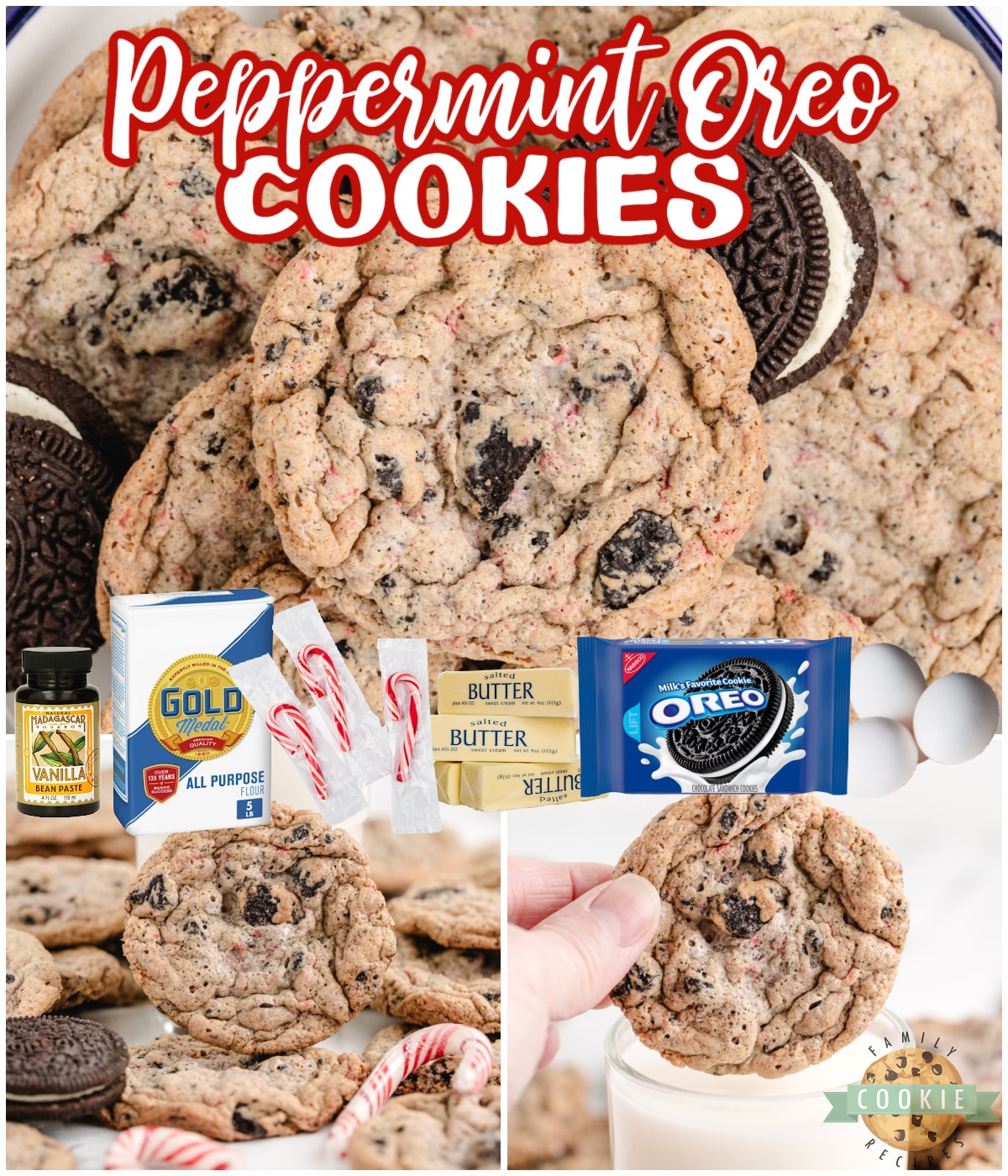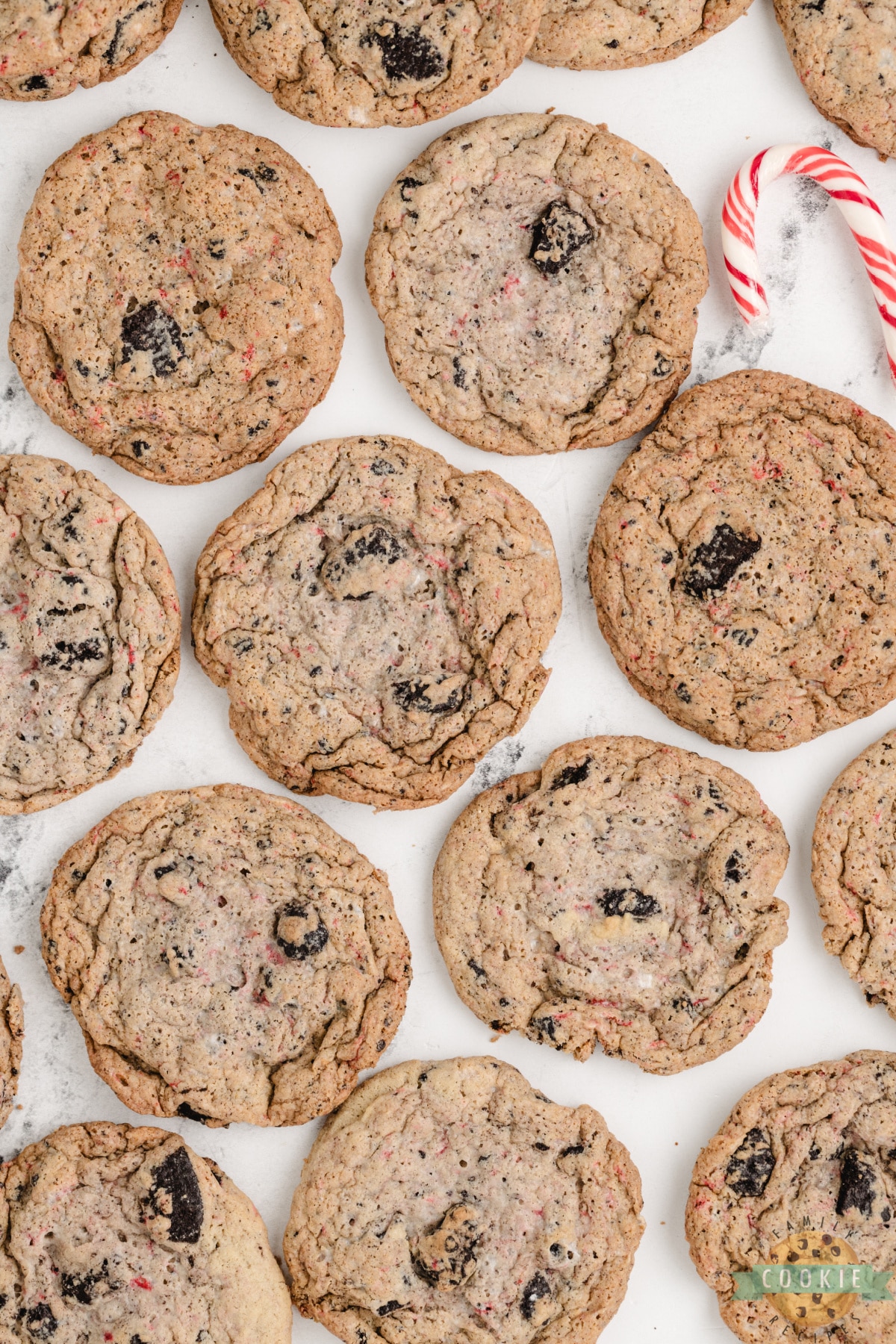 HOW TO GET A PERFECTLY ROUND COOKIE SHAPE
Want to know a neat little trick? After your cookies have been baked, while they are still hot and cooling on the pan, take a medium-sized round cookie cutter or a round glass/drinking mug and place it over the top of the cookie. The round shape should be slightly bigger than the cookie for this trick to work.
Swirl the round cutter/object around the cookie, knocking it into the sides a bit as you go. The more you swirl, the smaller and thicker the cookie will become. Then let the cookies cool. This is how you can get homemade cookies to look perfectly rounded. This trick won't work with cutout cookies, but it works fine with drop cookies and rolled cookies.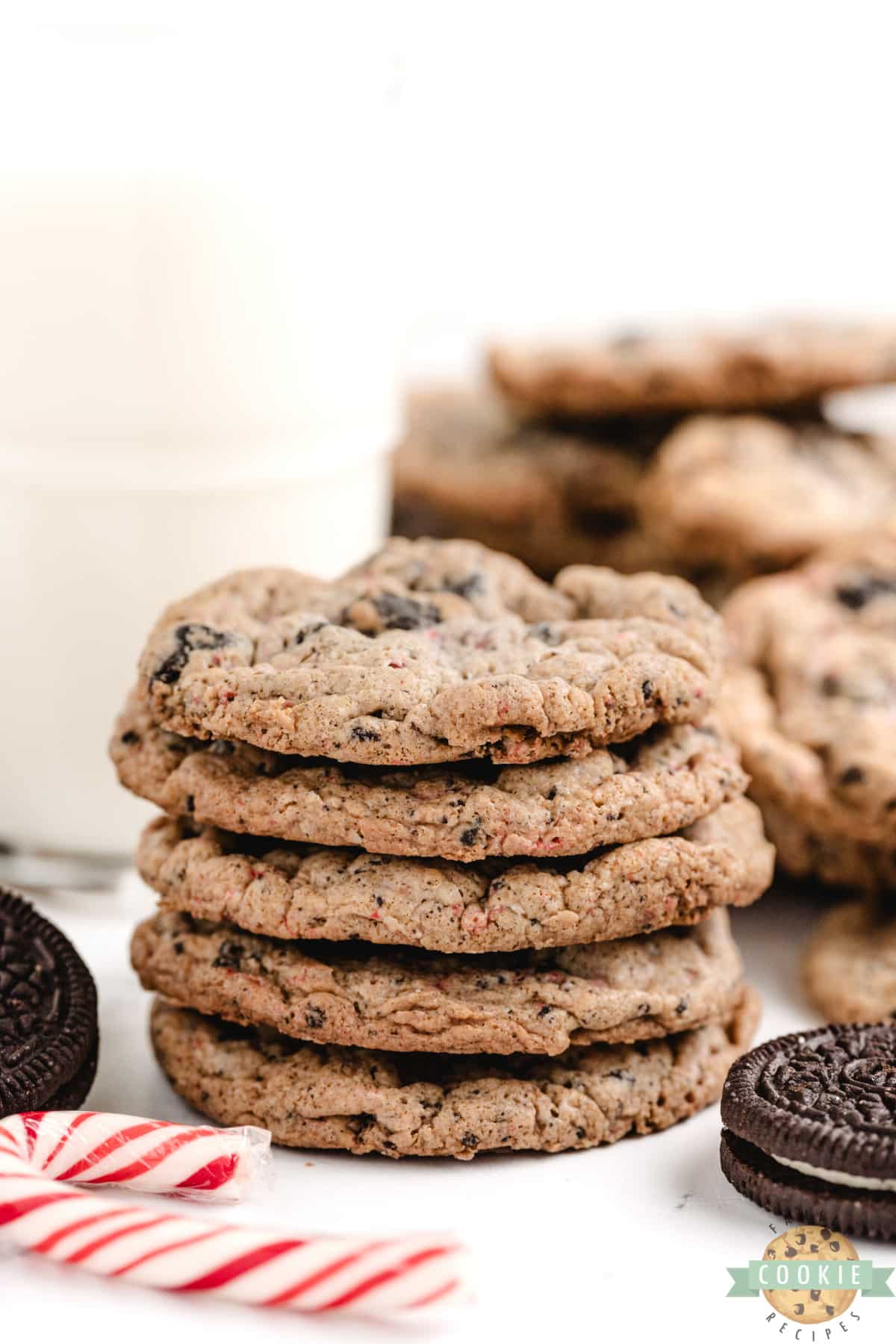 How do you crush Oreo cookies?
The Oreo cookies should not be crushed too much because you want to make sure to have large chunks of Oreos in the cookies. My favorite way to crush the Oreos is by placing them in a Ziplock bag and then smashing them with a meat mallet or a rolling pin. This method gives you more control over how finely the Oreos are crushed.
You can also use a blender or food processor to crush Oreos but make sure to pulse the Oreos for only a quick second at a time to make sure that you don't over blend. This method is wonderful if you want to make fine crumbs for an Oreo crust, but is a little trickier when you want larger pieces of cookie.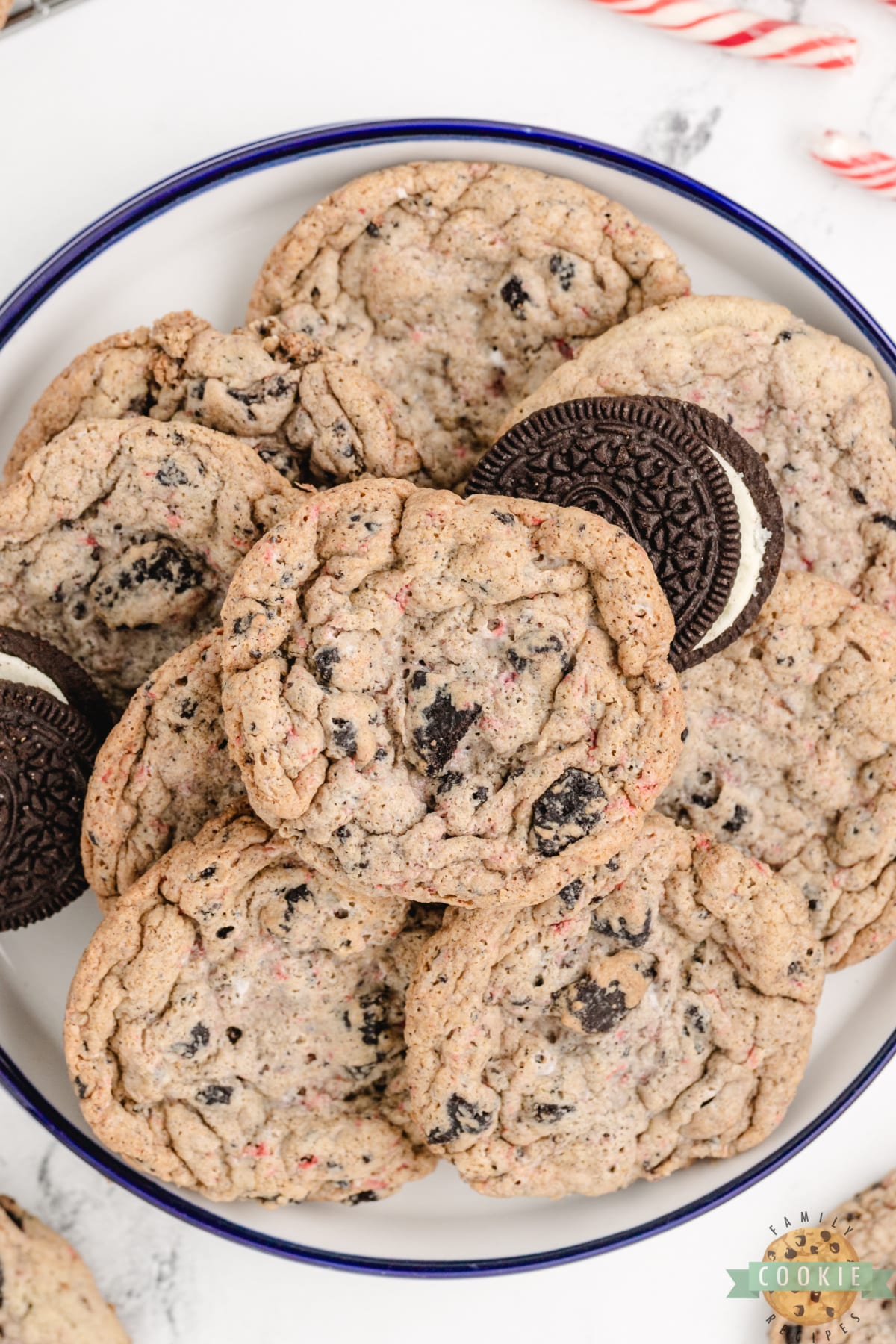 WHY ARE MY OREO PEPPERMINT COOKIES CRISPY AND HARD?
If your cookies are hard, crunchy or crispy, you probably baked them too long! Cookies will continue to bake for a couple of minutes on the hot cookie sheet even after you remove them from the oven, so you don't want to wait until they are golden brown before taking them out!
Most of my cookies are baked until barely done. I don't even wait for the tops to start turning golden brown, but look at the edges on the bottom of the cookies. If the edges look like they are turning a little bit golden brown, they're done!
Why are my cookies flat?
If your cookies are flat and spread out too much while baking, you may need to add a little bit more flour. Start by just adding a few tablespoons of flour to the batter and see if that is enough to help the shape of your cookies. If you are using a recipe with butter, make sure you aren't melting the butter. There are a few cookie recipes that actually call for melted butter, but most of them just require the butter to be softened to room temperature. Which leads to the next question…
HOW DO YOU SOFTEN BUTTER TO ROOM TEMPERATURE?
SET IT OUT AT ROOM TEMPERATURE
The best way to soften butter is to set it out for a few hours before you make your cookies. Since most of us (or maybe just me!) aren't that prepared or don't think that far in advance, there are a few tricks to softening butter perfectly in just a matter of minutes.
IN THE MICROWAVE
My favorite way to soften butter is in the microwave. It's definitely fast, so you have to be very careful not to melt it. Just put the whole stick of butter in the microwave (as long as it isn't wrapped in foil!) and microwave for about 6-7 seconds. If the butter is still really cold, try another 5-7 seconds and check it again. You may need a few intervals, but if the butter starts to feel soft, don't do more than a few more seconds.
I actually prefer to use the defrost setting on my microwave – I don't know exactly what that mode does differently, and it takes a little bit longer (closer to 30 seconds), but it seems to be easier to get the butter to soften without melting.
You may be lucky enough to have a 'Soften Butter' feature on your microwave. My new microwave has this and it works perfectly, but I have to run the cycle twice to get the right temperature.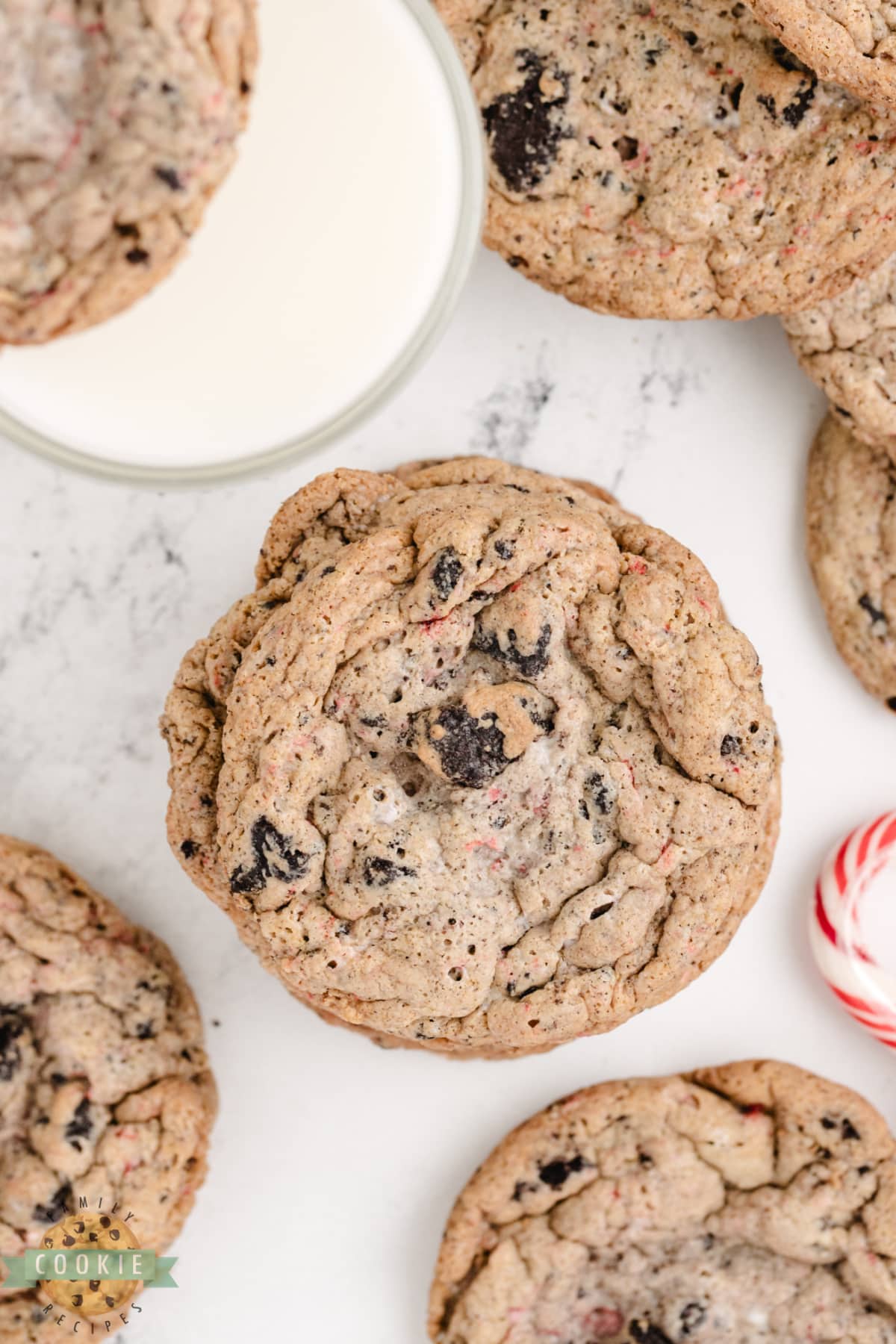 HOW LONG SHOULD I LET THESE COOKIES COOL?
Cookies are best left to cool on the baking sheet they're cooked on for 3-4 minutes, then you can transfer them to a cooling rack to cool further. This way, they don't fall apart as cookies are pretty soft still when they're pulled out of the oven. After a couple minutes on a cooling rack, cooking are usually cool enough to eat! Warm cookies are the best!
HOW LONG ARE OREO PEPPERMINT COOKIES GOOD FOR?
These cookies can be kept stored in an airtight container for up to 3-5 days. To keep the cookies nice and chewy I recommend keeping them stored in the fridge.
CAN I MAKE THE COOKIE DOUGH IN ADVANCE?
Yes, you can make the dough and keep it in a well-covered bowl in the fridge for up to a day in advance. So make the dough one day and bake it the next. Perfect for parties and occasions where you want fresh cookies but without being in the kitchen for too long.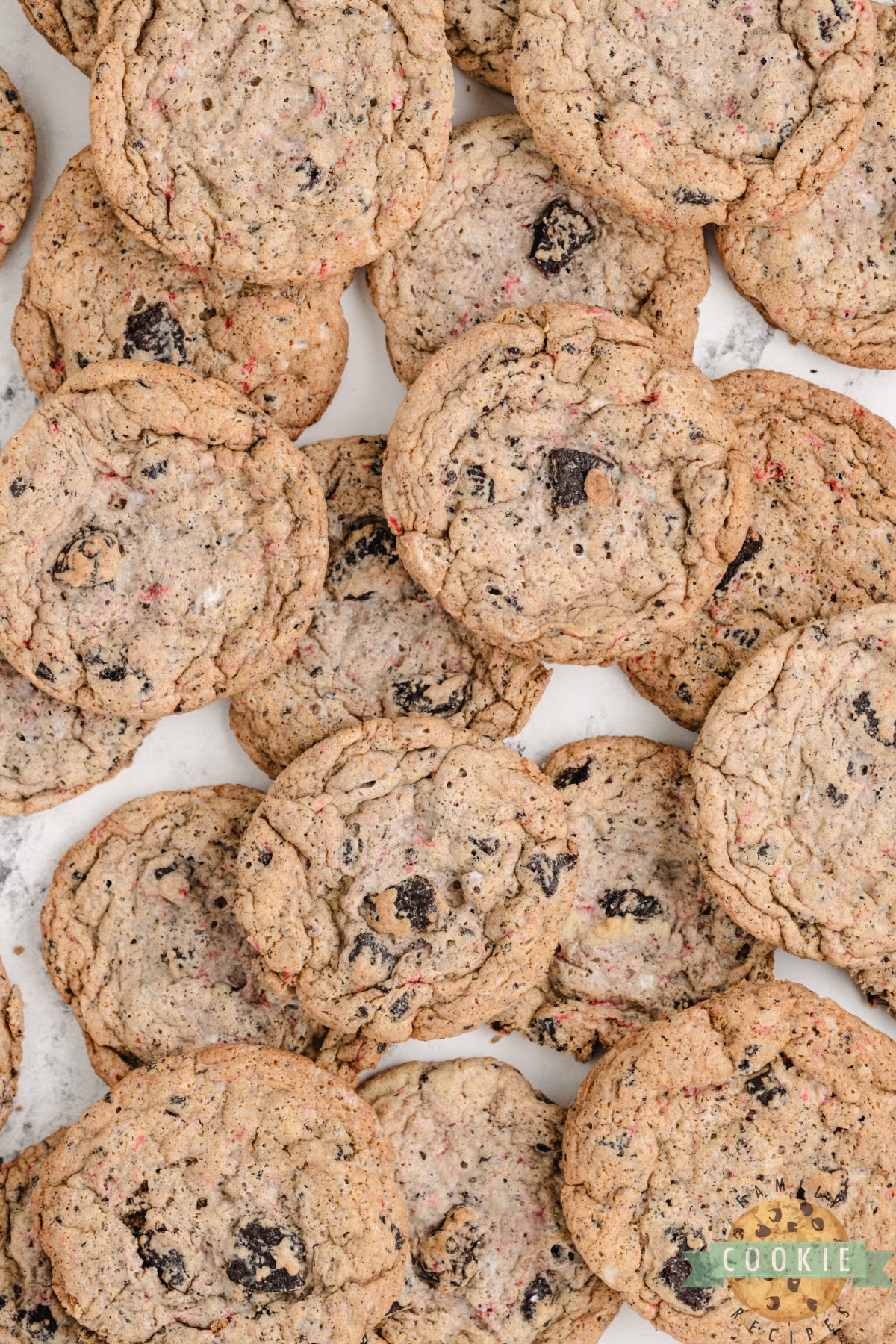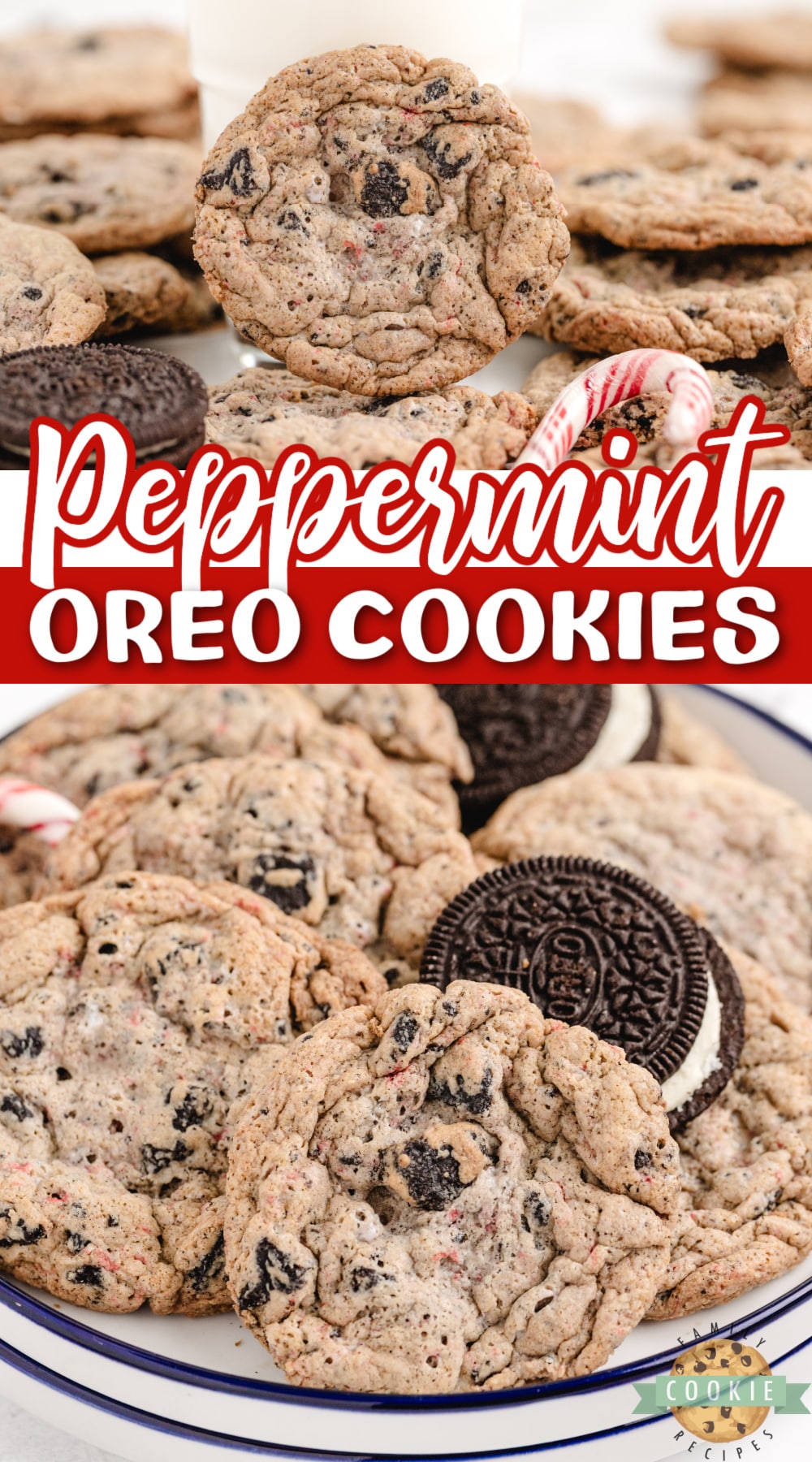 Peppermint Oreo Cookies are made with pudding mix, Oreo cookies, crushed candy canes and peppermint extract. This delicious peppermint cookie recipe yields a perfectly soft and chewy cookie that is sure to be a favorite holiday cookie!