Peppermint shortbread cookies are festive buttery cookies topped with white chocolate & candy cane pieces! Shortbread cookies are perfect for Christmas!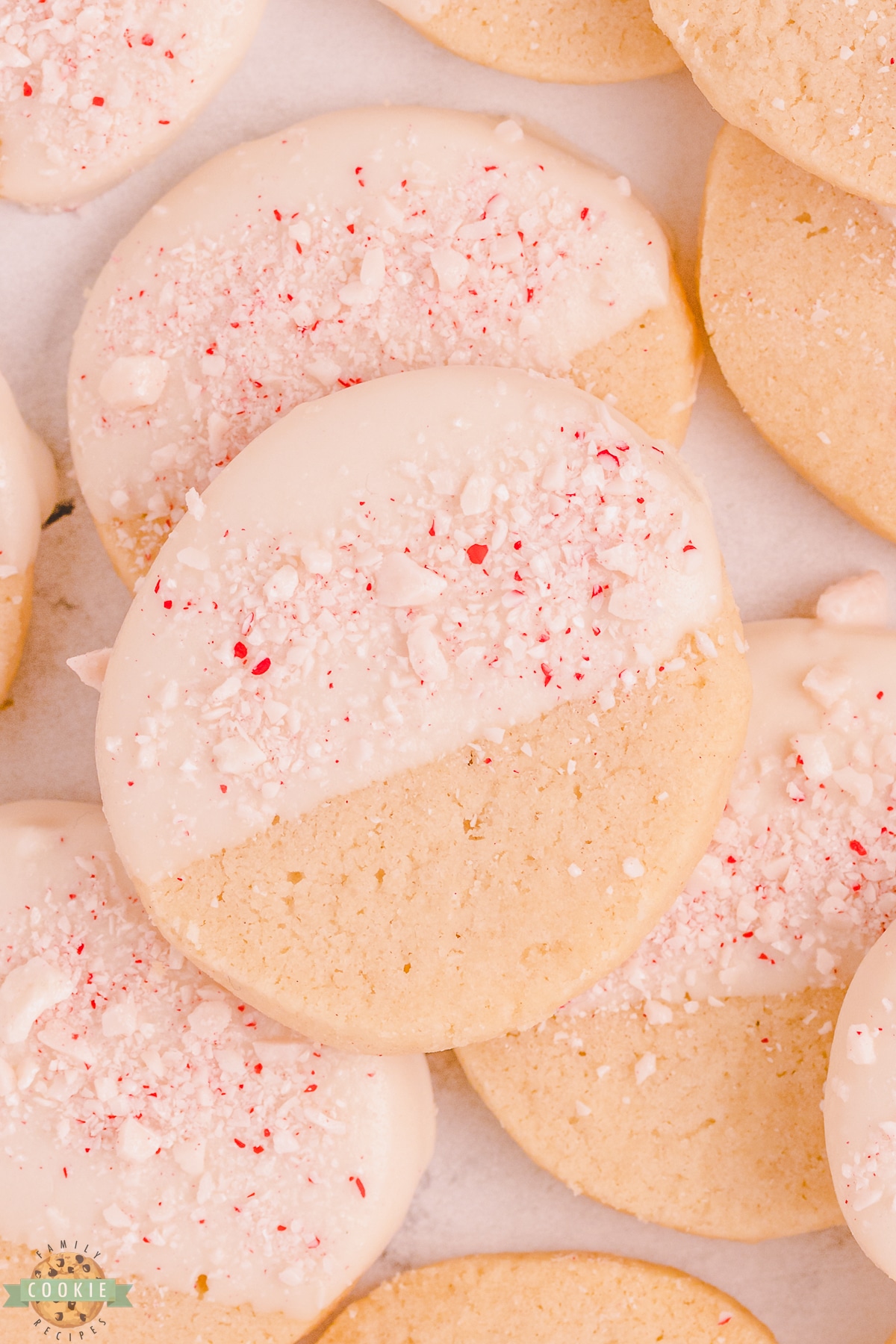 With this peppermint shortbread recipe, you will have options all winter long. Made with the cold weather in mind, these cookies taste great warm, cold, or next to your favorite mug of hot cocoa. Serve them up at a holiday party, or keep them in the cookie jar for daily snacking.
White Chocolate Peppermint Shortbread Cookies
The only thing better than peppermint is peppermint with chocolate. They're a classic duo which is why peppermint mochas and peppermint bark are two seasonal sweets that people crave and look forward to yearly. We're dipping our cookies in melted white chocolate for that ultimate winter experience.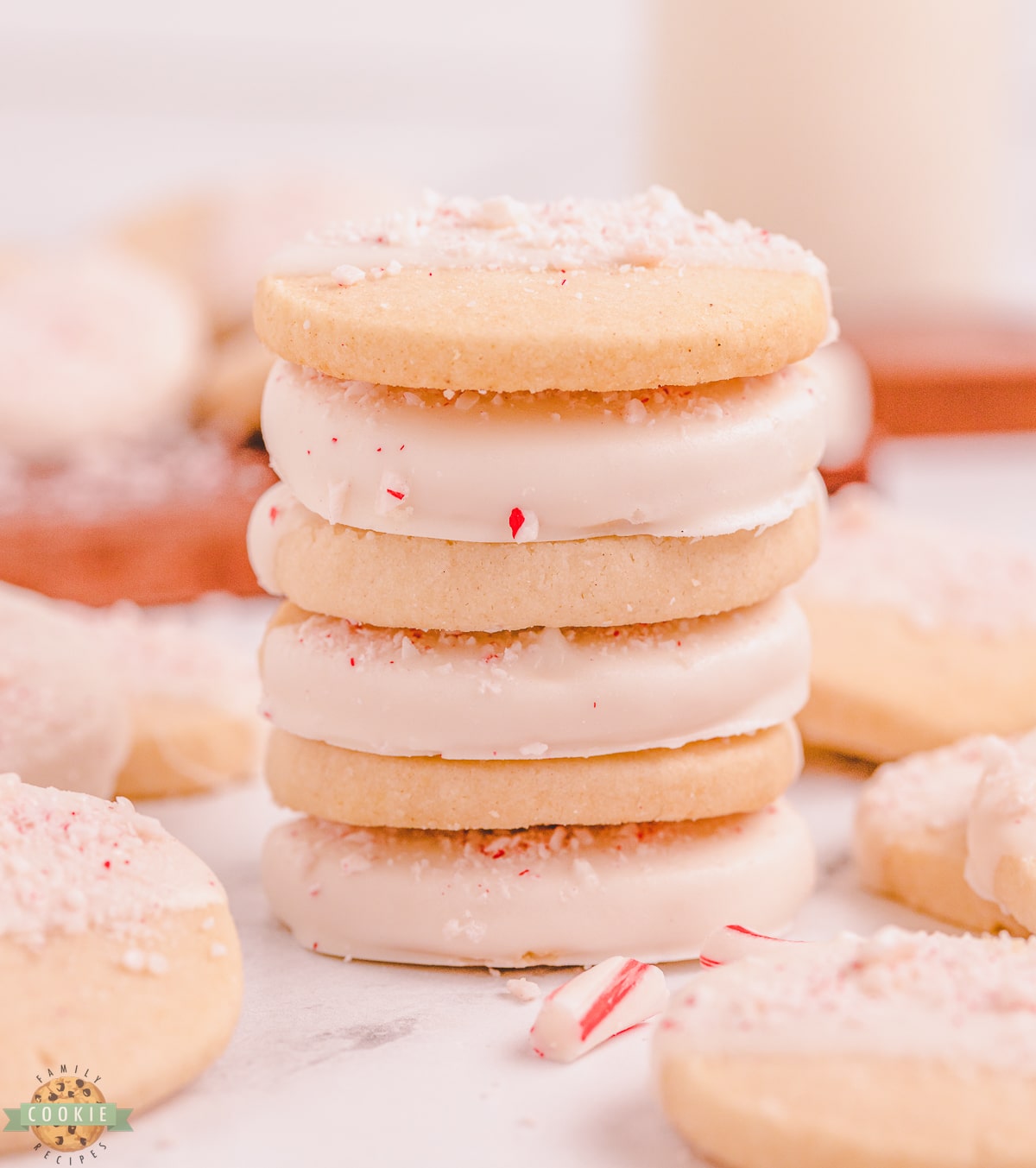 Why You'll Love This Recipe
Basic ingredients. We don't need much to make these candy cane shortbread cookies, but what we need can be mostly found in your pantry, like salt, sugar, flour, and baking powder.
The steps are easy to follow. Make this dough with simple steps like mixing, chilling, slicing, and baking. This recipe is pretty basic and doesn't require much effort, but it will require patience as the dough chills.
They're great for parties! For holiday parties, Christmas cookie exchanges, or gifts, these dipped peppermint shortbreads are a wonderful treat worth sharing with everyone!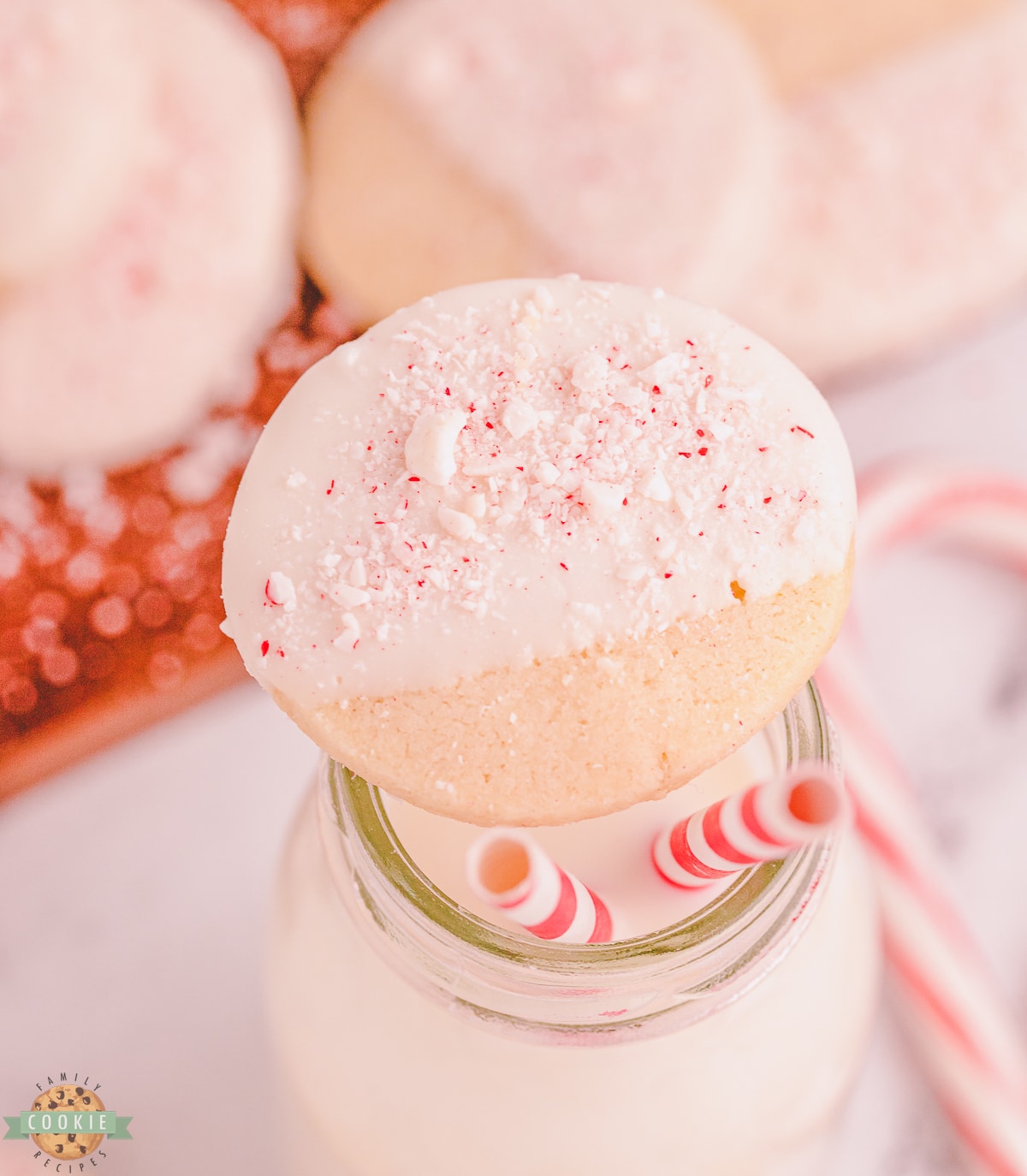 Peppermint Christmas Cookies Ingredients
Butter– You will need 1 cup of softened butter. This is two sticks of butter.
Sugar– Use 1/2 cup of granulated white sugar to make the cookies nice and sweet.
Extract– For peppermint flavor, you'll want to use 1 teaspoon of peppermint extract.
Flour– Add in 2 cups of all purpose flour for the structural base of the cookie recipe.
Baking powder– Use 1 teaspoon of baking powder to get the cookies to puff up a little as they bake.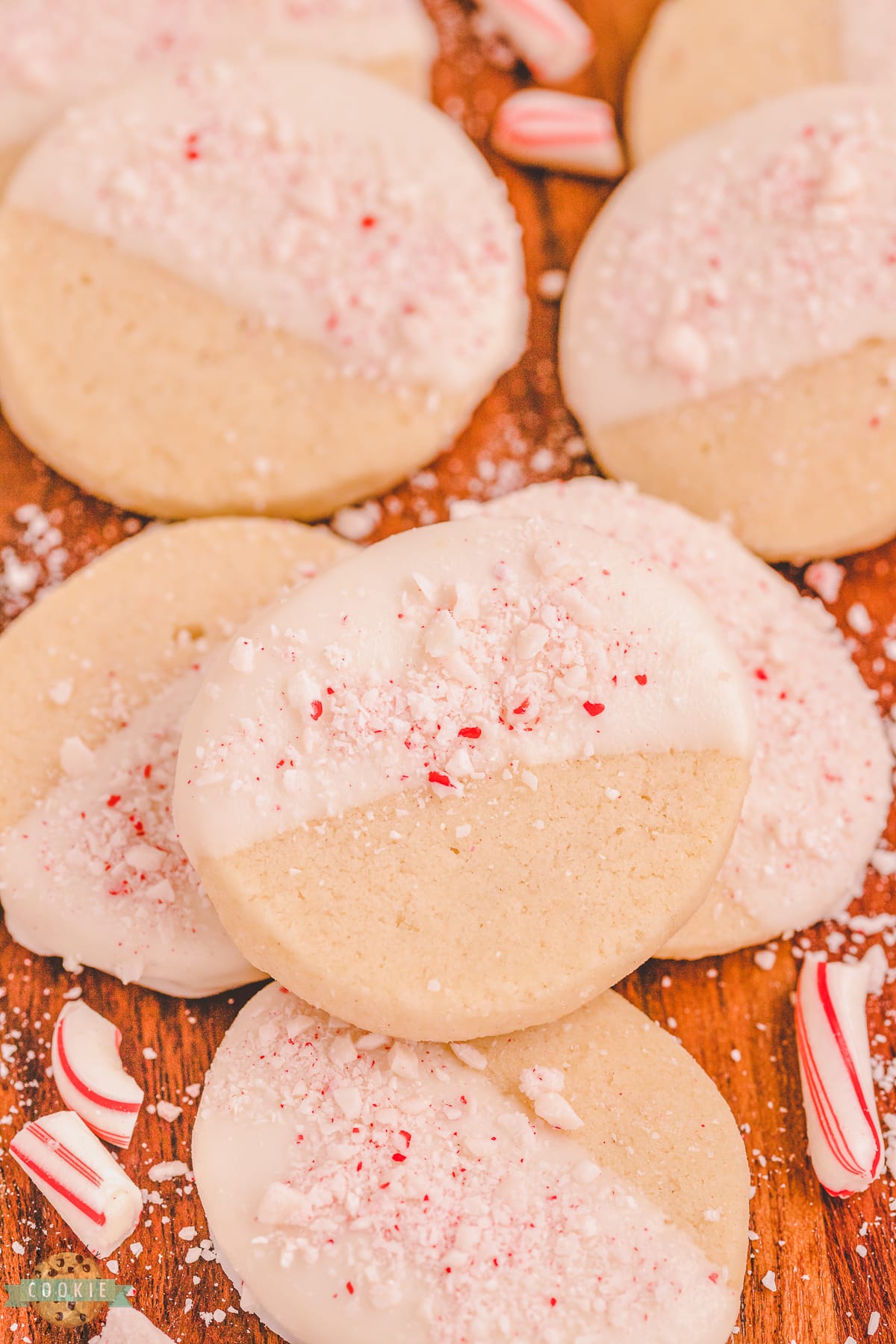 Salt– Adding in 1/4 teaspoon of salt will enhance the flavors in the dough well.
White chocolate– You will need 2 cups of white melting chocolate for dipping the cookies in. Note that you can use 2 cups white chocolate chips + 1 tsp coconut oil or shortening mixed in place of melting chocolate.
Candy canes- Use some finely crushed candy cane pieces to garnish the cookies so they look colorful and seasonal.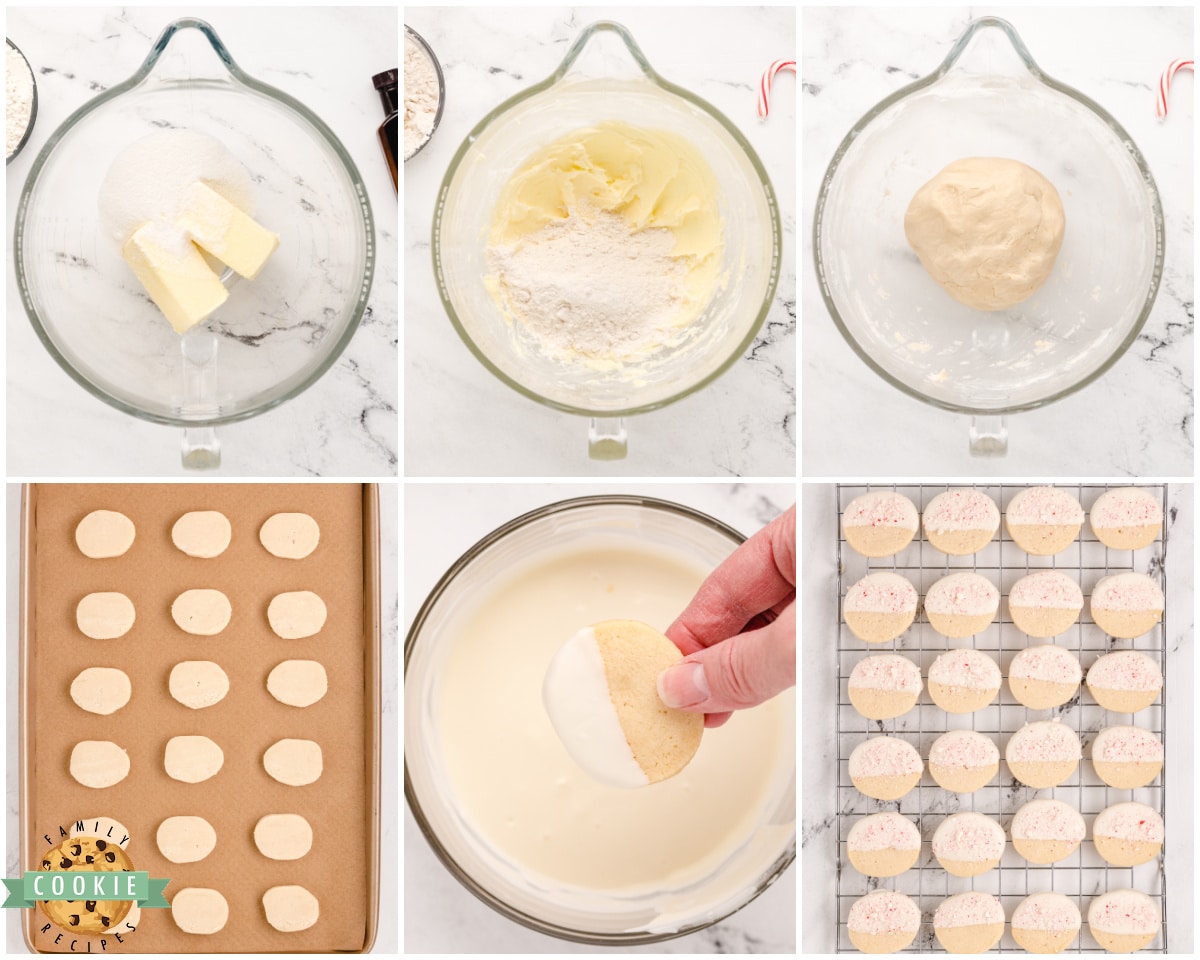 How to Make Peppermint Shortbread Cookies
Make dough
Cream the butter and sugar in a bowl with an electric mixer until light and fluffy.
Add in the peppermint extract and then mix again.
Add in the flour, baking powder, and salt. Mix together until a dough forms.
Chill
Divide the dough in half and form each one into an 8-inch log. Place onto a sheet of wax paper.
Wrap the piece of wax paper around the logs (1 piece of paper per log). Chill in the fridge for at least 2 hours or overnight. If you're in a hurry, you can chill for 30 minutes in the freezer.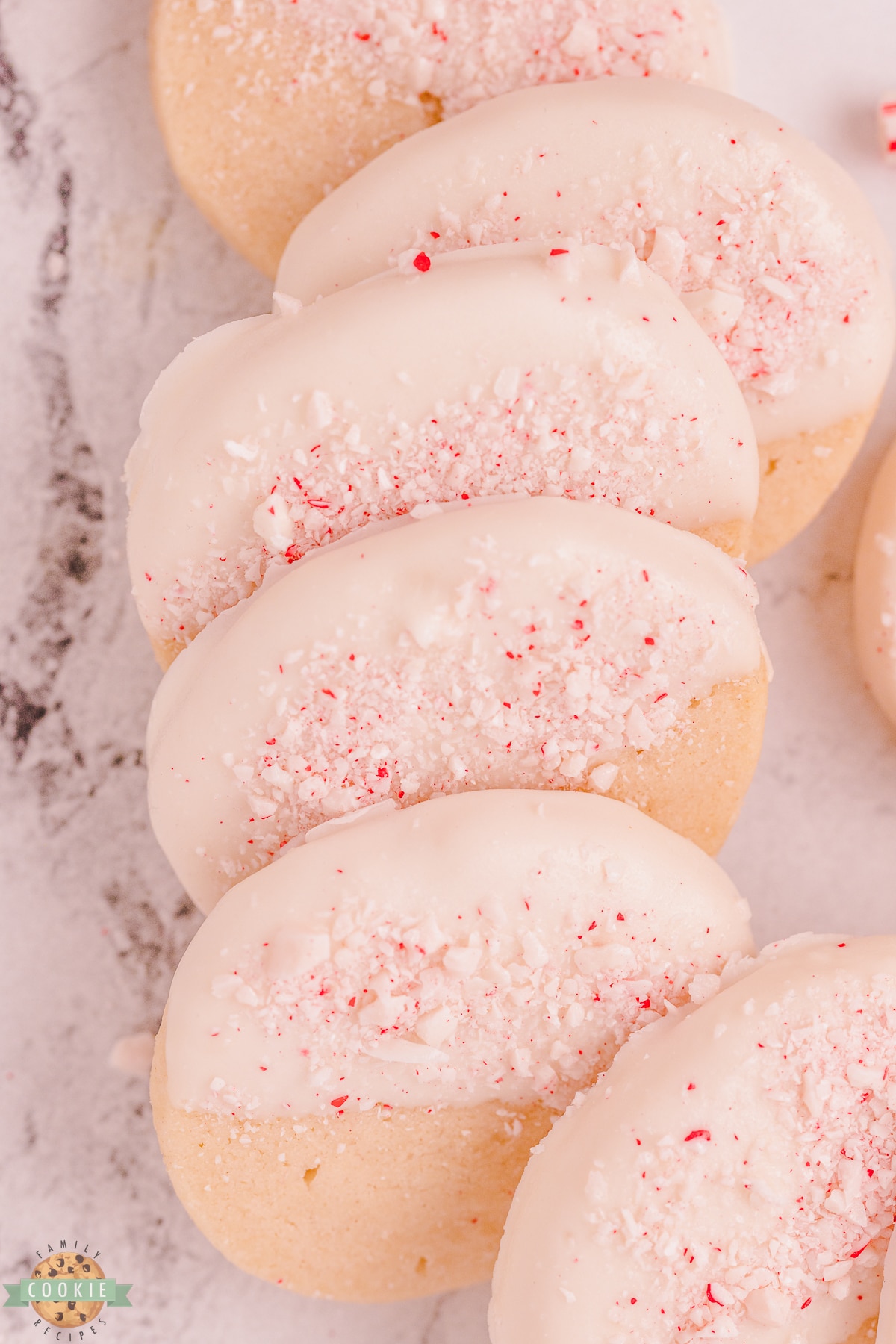 Prep
Preheat your oven to 300 degrees F.
Line some baking sheets with parchment paper and then set them aside.
Cut your logs of dough into 1/4 inch thick slices using a sharp knife.
Arrange the slices 2 inches apart on a baking sheet.
Bake
Bake your cookies in the oven on the top rack, for 22-26 minutes.
Transfer the cookies to a wire rack to cool completely.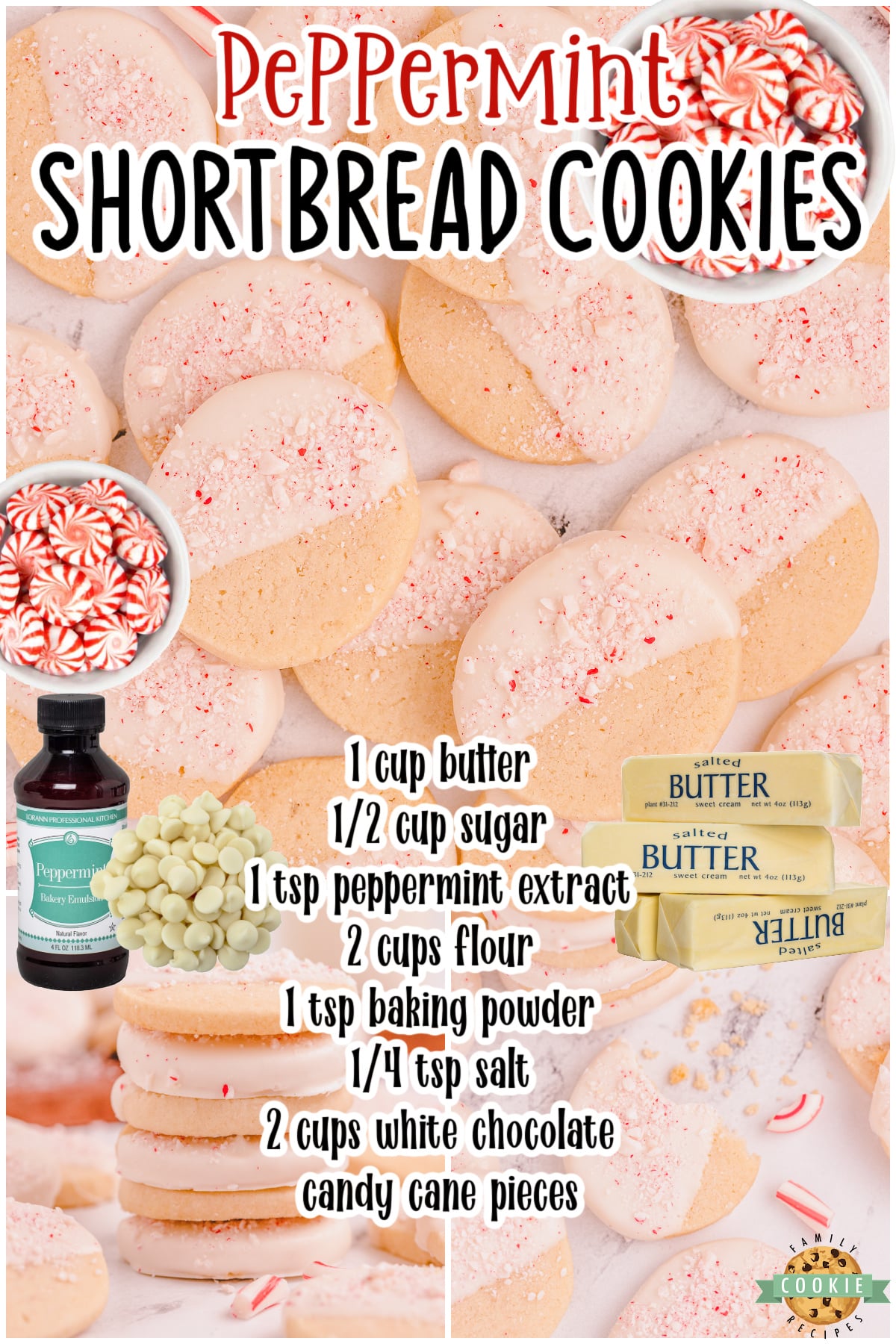 Assemble
Melt your white chocolate in a microwave safe bowl for 1 minute. Stir gently and then continue to heat in 15 second intervals, stirring between each until smooth.
Dip 3/4 of the cookie into the chocolate, then set them down onto the wax paper and sprinkle with candy cane pieces.
Let the cookies remain on the wax paper until fully set. Enjoy!
How long are peppermint shortbread cookies good for?
These cookies can be kept stored in an airtight container at room temperature for up to 5 days. I don't recommend sticking them in the fridge or freezer though because the candy cane pieces on the cookies will become soft, chewy, and sticky little messes thanks to the cold and moisture.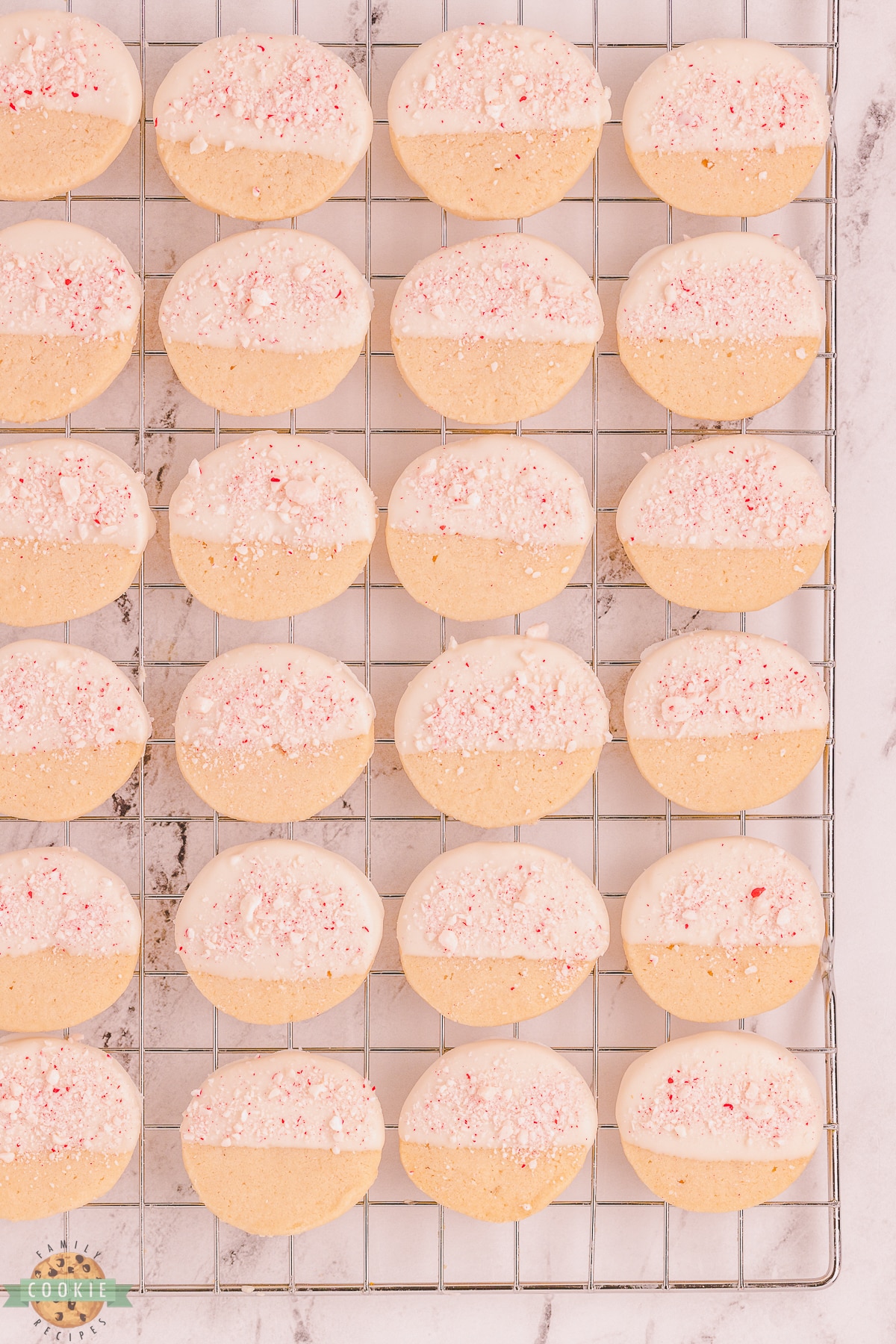 Do I have to chill the cookie dough?
When recipes request that you chill your cookie dough it is usually for a good reason. That reason is that the flavor gets a bit more time to develop and the cookies taste even more incredible. But the biggest reason is because of the butter/fats in the dough. By chilling the dough we allow the fats to solidify which means your cookies will not spread out as much while baking, so the texture turns out perfectly. This is especially important on warmer days or when your butter is warm or softened.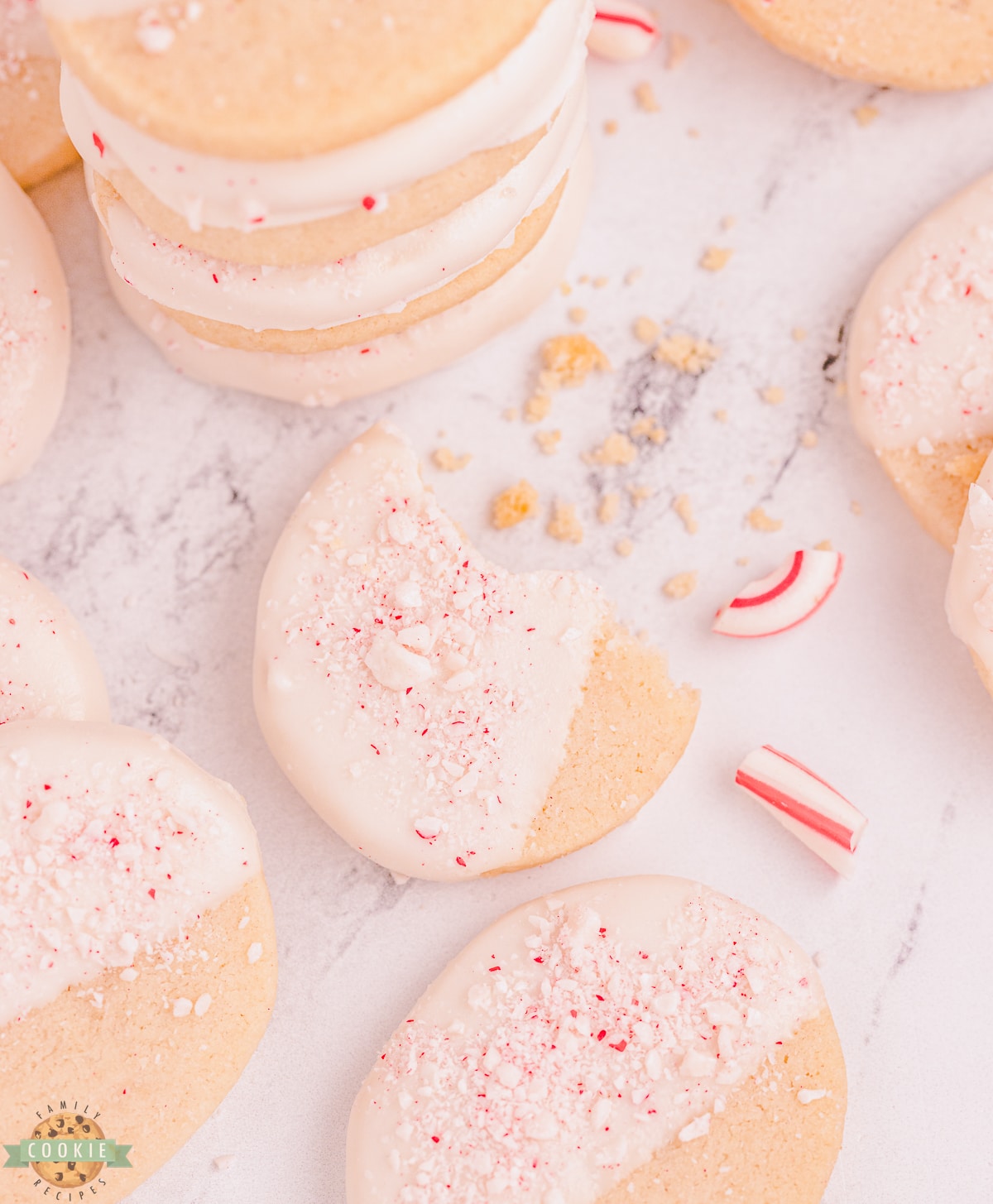 What is the best way to soften butter?
When you want softened or room temperature butter (65 degrees F) and don't have any on hand, follow these simple tips for warming it up quickly without overheating and melting the butter. Softened butter is needed to incorporate with the dough for a seamless smooth consistency so getting your butter to the proper temp is important.
Here are some ways to warm up your cold stick of butter:
Let it sit on the counter for 1 hour prior to making your cookie recipe.
Slice the butter into tablespoon sized pieces and place into a warmed glass for 10-15 minutes. A glass right out of the dishwasher or a measuring glass warmed with water in the microwave (before disposing of the water) are both great options.
Warm a small clean kitchen towel and wrap your sticks of butter (in the wrappers) for a few minutes.
I like to use a warmed tall drinking glass and place the wrapped sticks of butter in the cup before turning it over on the counter for several minutes.


This cute girl got her own room recently! I would have loved to have my own room at her age. She's been making all sorts of little design decisions, making the space her own and it's been so fun to watch the process. My favorite choice of hers so far? A reading nook on the lower bunk, complete with fairy lights!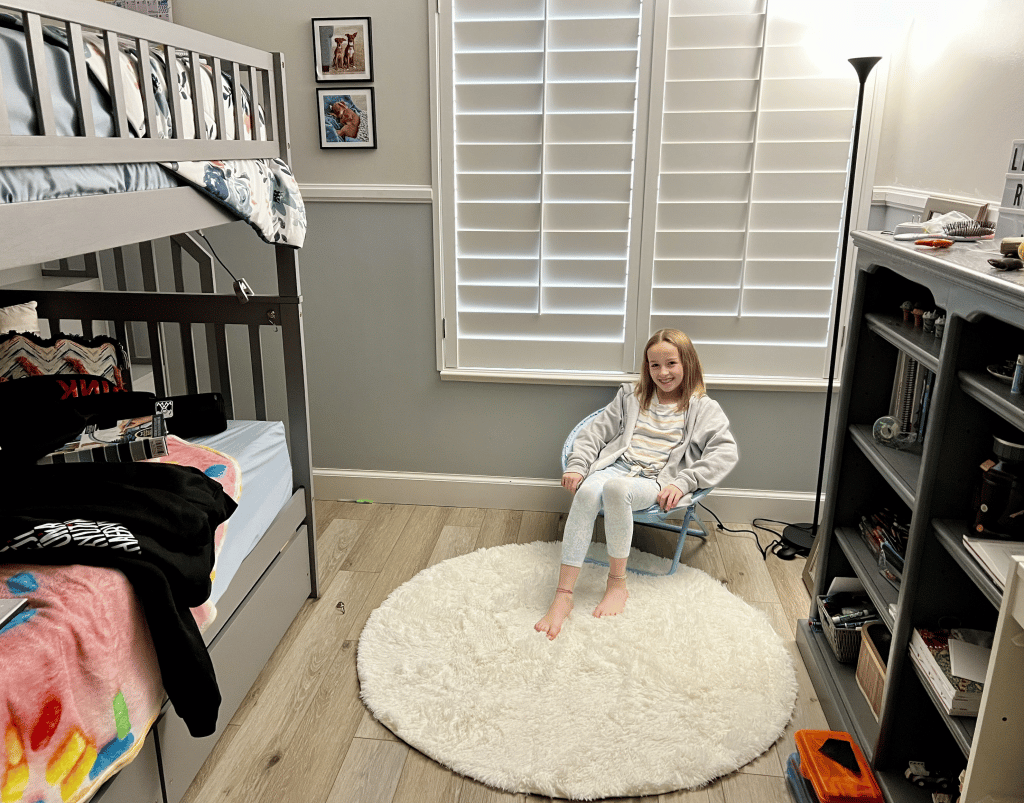 Try these peppermint shortbread cookies for a winter wonderland treat you won't forget. Buttery, crisp, and so refreshing too. Topped with white chocolate and candy cane pieces, these cookies are perfect for the season.