Orange Cardamom Cookies are a delightful treat that combines the sweet and tangy flavor of oranges with the warm, aromatic spice of cardamom. To make these cardamom cookies, you will need a box of cake mix, oil, eggs, cardamom, and a few other simple ingredients.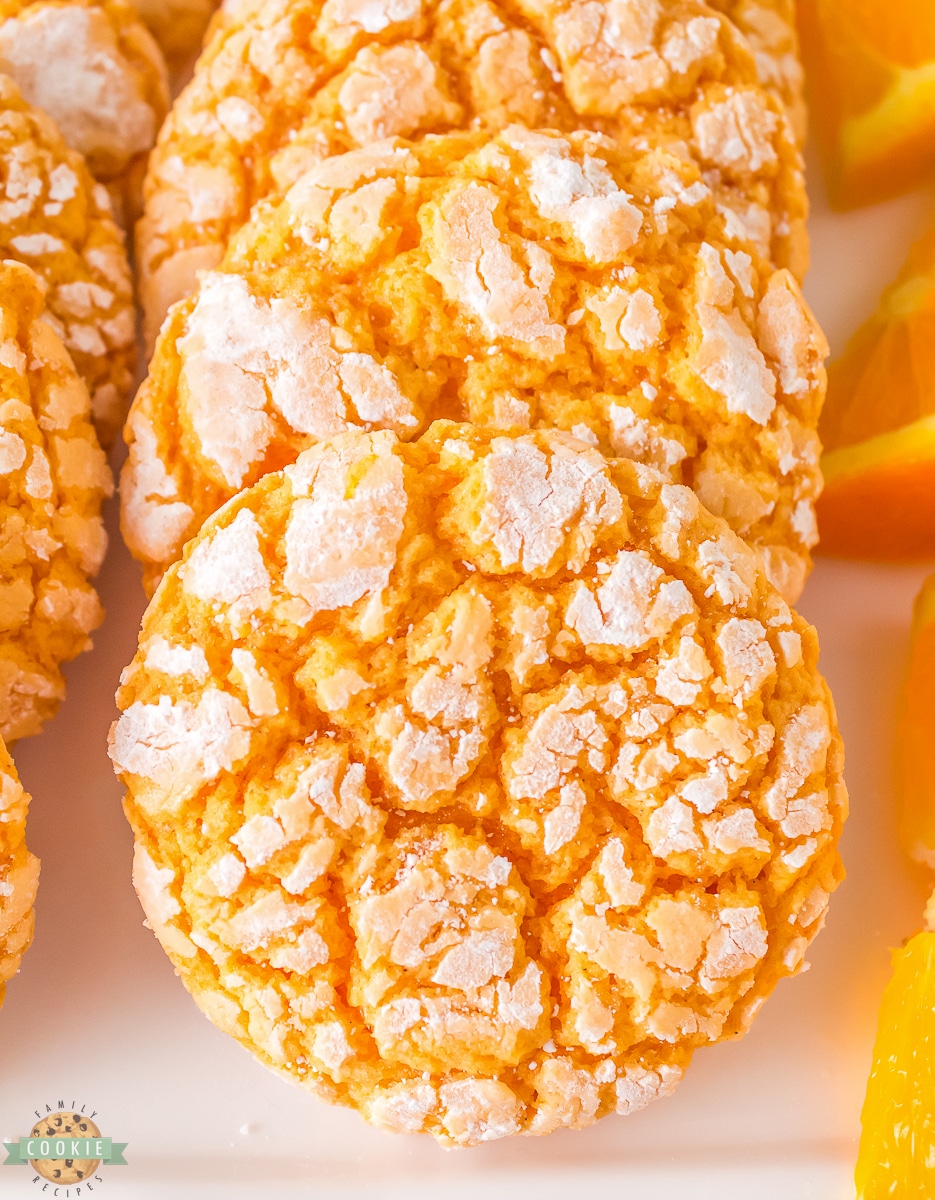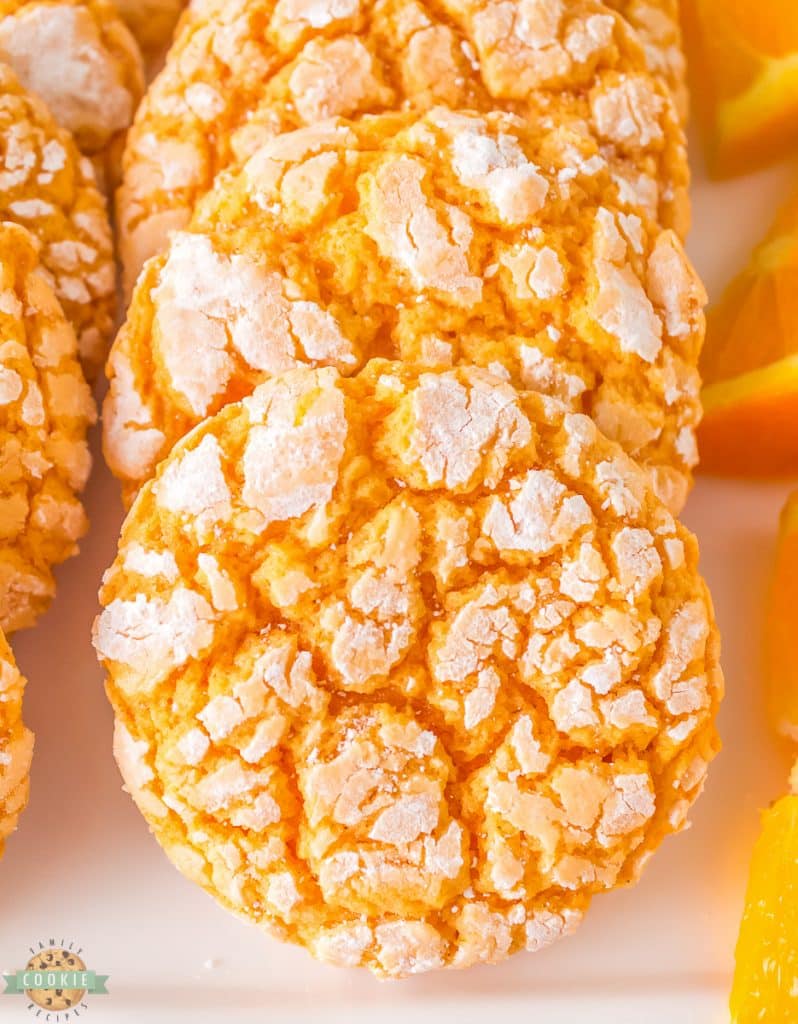 These orange cookies are perfect for any occasion, whether it's a cozy night in or a festive holiday gathering. This cake mix cookie recipe is a delicious and easy-to-make treat that is sure to impress. So why not give them a try and add a little sweetness and spice to your day?
The Unique Flavor of Orange and Cardamom Cookies
Orange and cardamom are two flavors that complement each other perfectly in cookies. The flavor profile of these cookies is complex and multi-layered, making it a favorite among cookie lovers. The cardamom adds a warm and slightly sweet flavor that perfectly balances the citrusy notes of the orange. The spice also adds a subtle floral aroma to the cookies, making them smell as good as they taste.
One of the great things about orange and cardamom cookies is that they are incredibly versatile. They can be enjoyed as a standalone treat or paired with a cup of tea or coffee. They are also perfect for gifting to friends and family, as they are both delicious and visually appealing.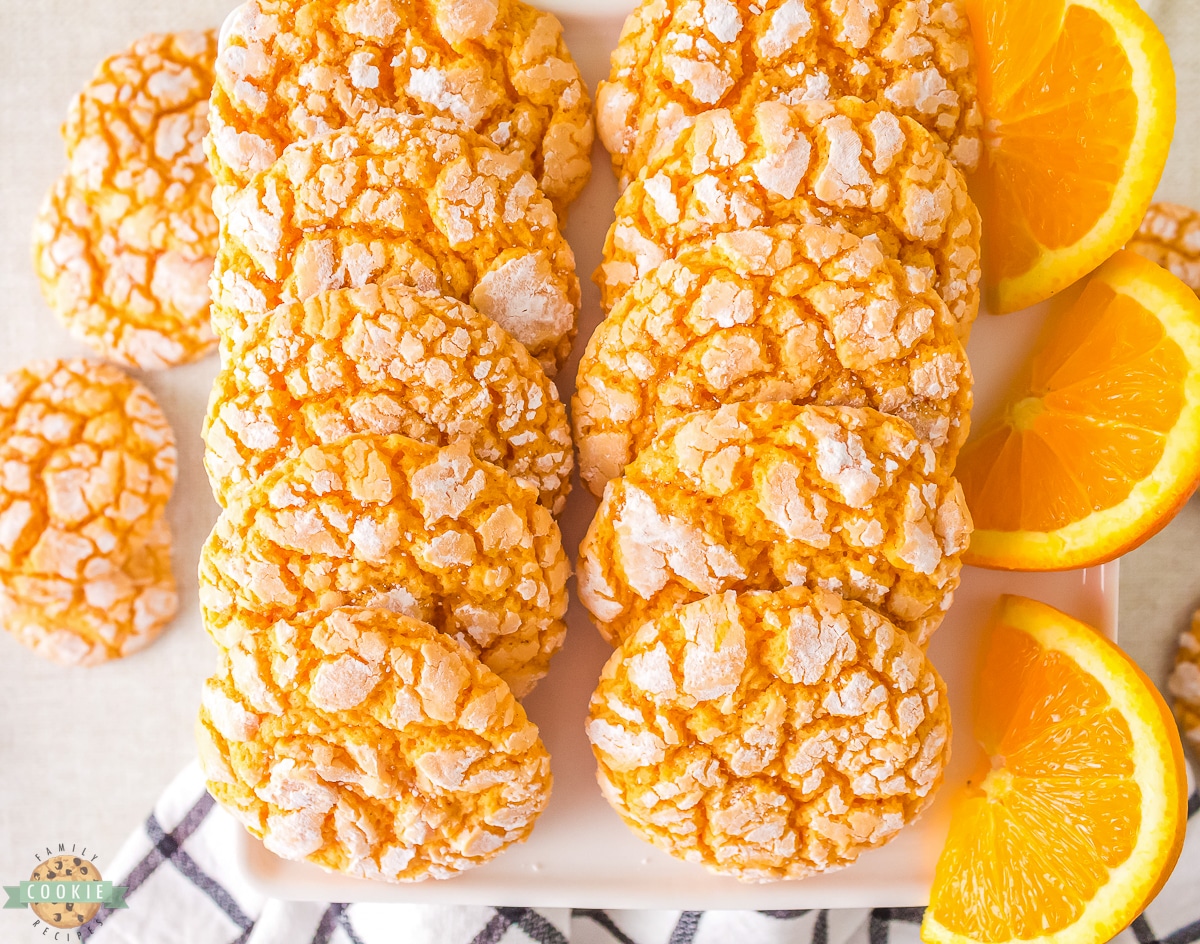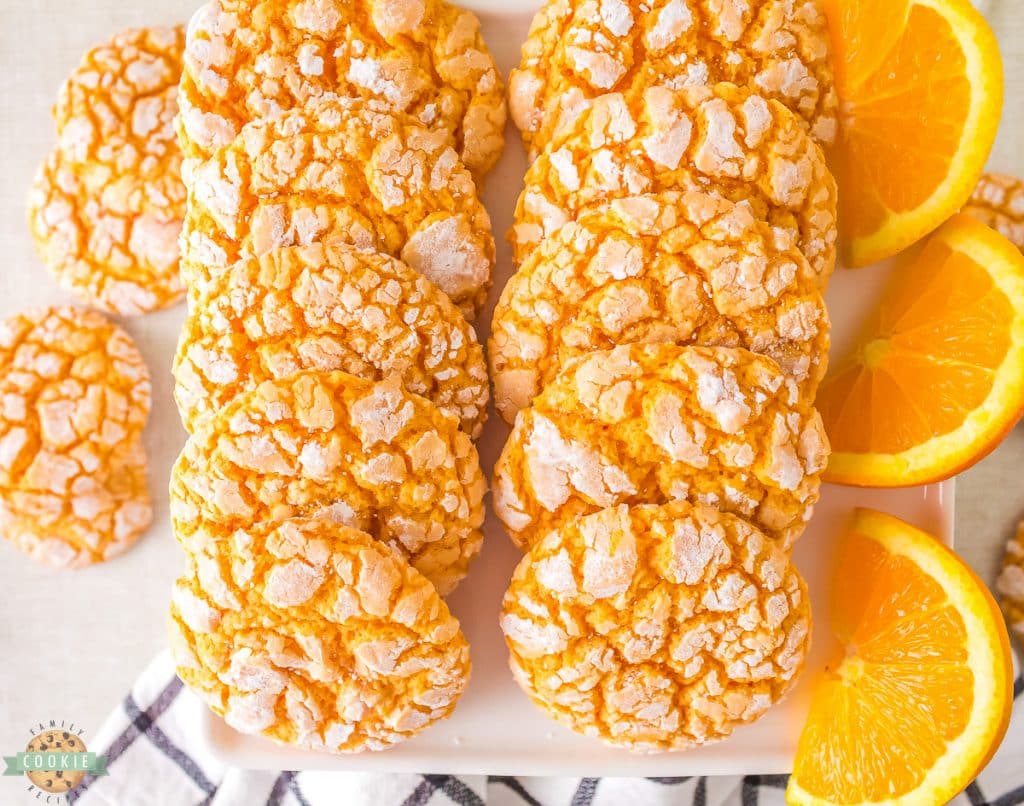 Why you'll enjoy these Cardamom Orange Cookies
Made easily with boxed cake mix. We make orange supreme cake mix cookies and add the spices and other ingredients to the dry mix. This makes whipping up a batch of these cookies very simple!
Enjoy them any time of day. These cookies are excellent with a cold glass of lemonade in the afternoon, after dinner with milk, or with your morning coffee. They have a wonderful subtle spiced flavor to them that goes well for dessert or a snack.
They are not too sweet. While cookies rolled in powdered sugar might sound like a sweetness overload waiting to happen, these cookies are actually a wonderful balance of sweetness and bright flavors. They are a great balance to the cardamom spice that levels out the sweet flavor.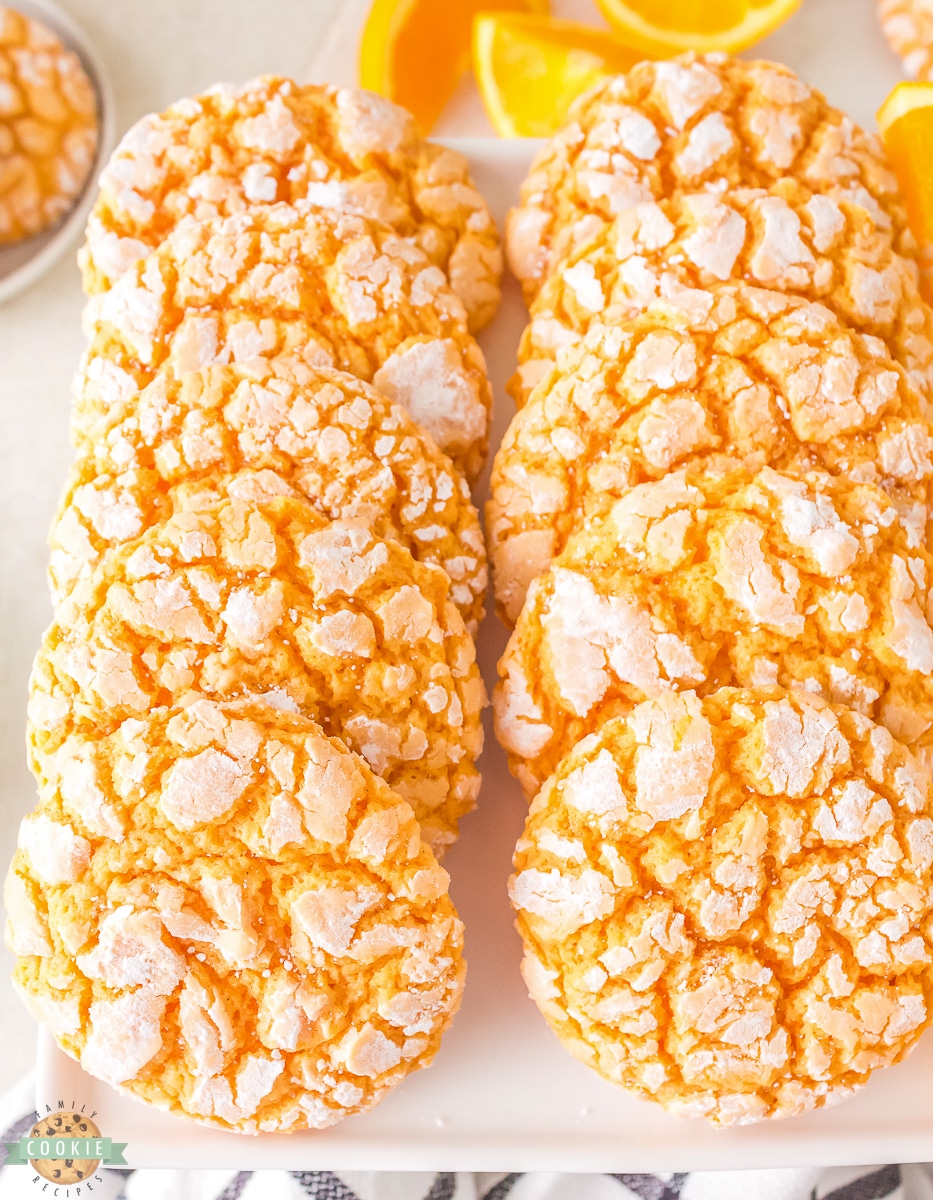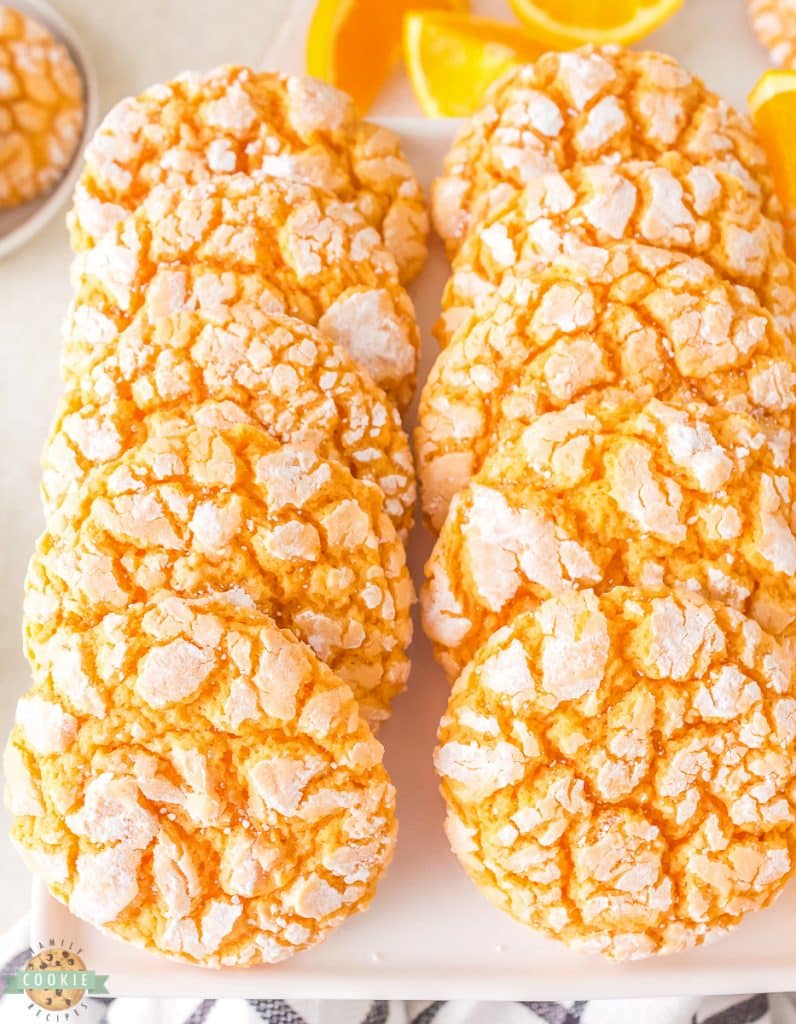 Cardamom Cookie Ingredients
Orange cake mix: You will need one 15.25-ounce sized box of orange flavored cake mix for the base of these cookies. I used Duncan Hines Perfectly Moist Orange Supreme cake mix, but any brand will work.
Vegetable oil: Use ⅓ cup of vegetable oil to help give these cookies the needed fats to stay moist. You can use olive oil if you prefer.
Eggs: Use 2 eggs to bind the cookie dough together well and give them great texture.
Vanilla extract: For a wonderful flavor enhancement, add a ¼ teaspoon of vanilla extract.
Orange zest: Adding in 1 teaspoon of orange zest will give these cookies a nice fresh taste in every bite.
Cardamom: You will want to use 1 teaspoon of dried cardamom for a lovely and unique addition to these cookies.
Powdered sugar: Use about ½ cup of powdered sugar to roll the cookies in before baking for the crinkle appearance.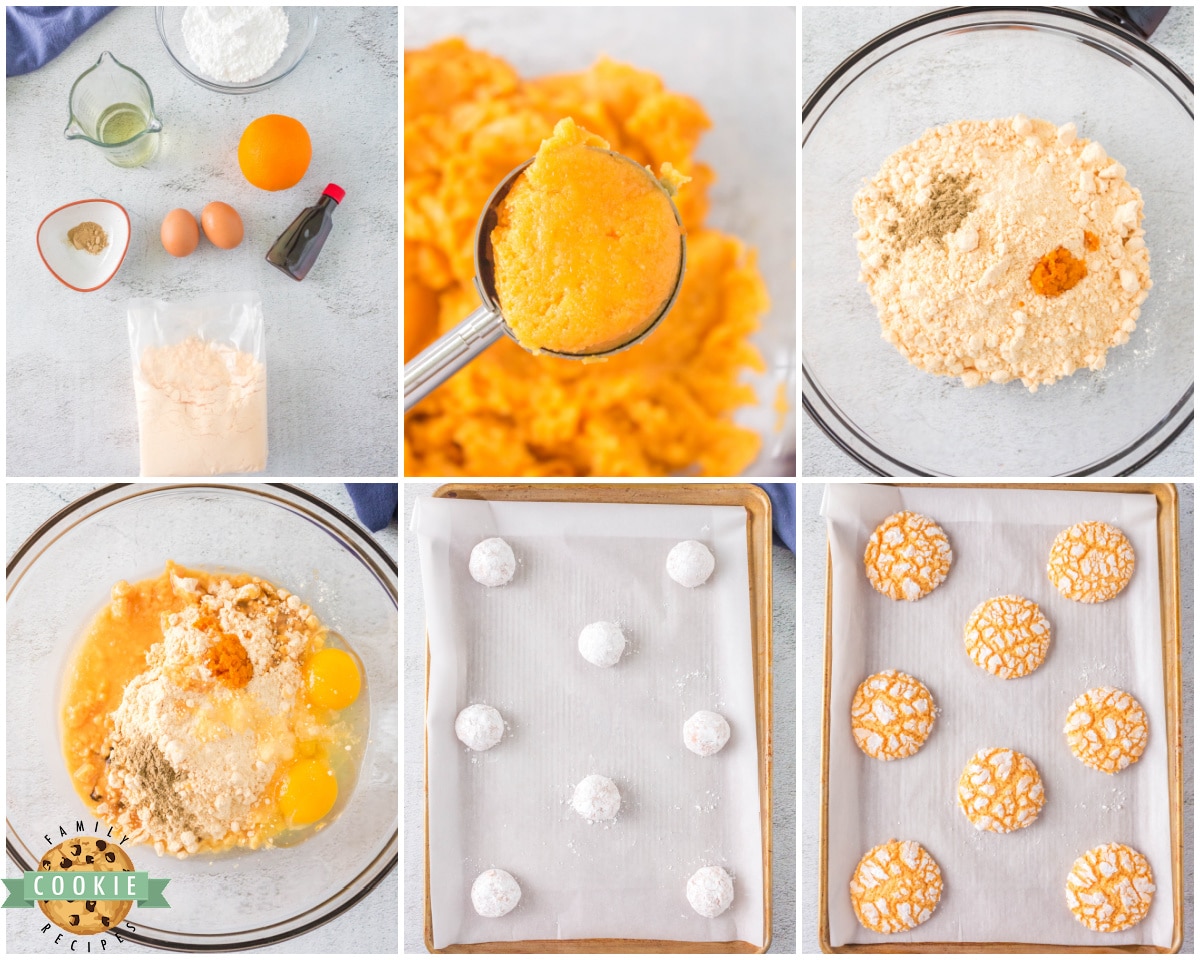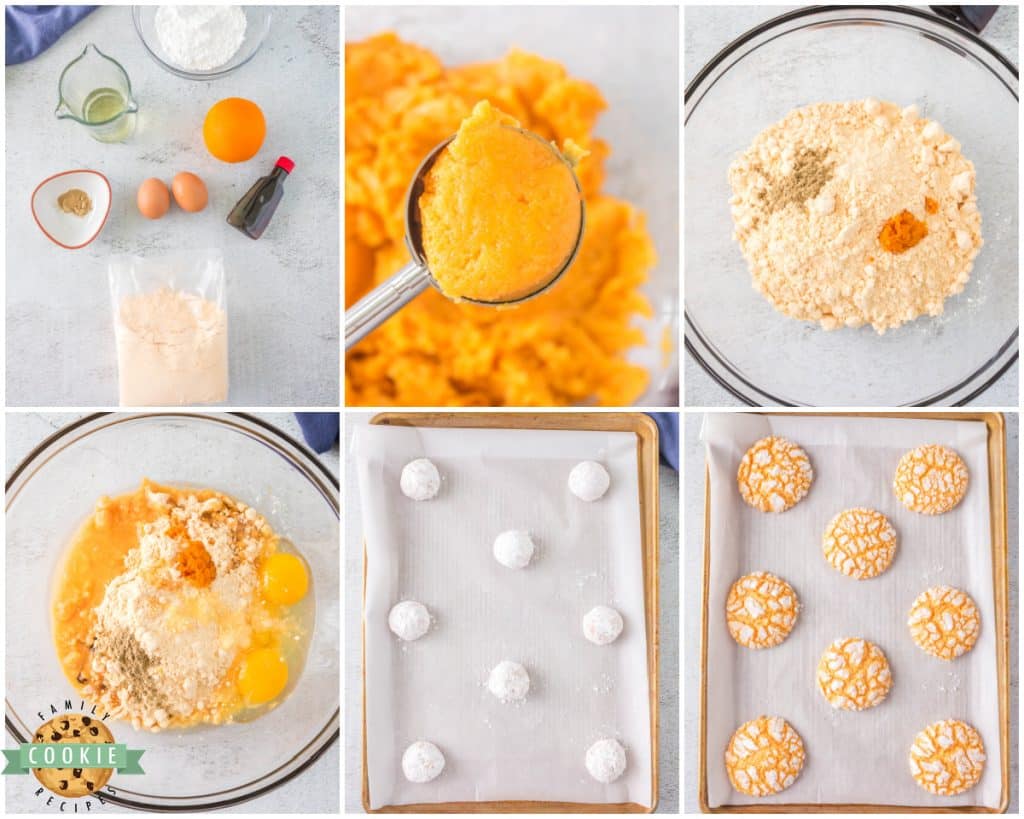 How to Make Orange Cardamom Cookies
Cookie dough
Start by combining the dry cake mix, oil, eggs, vanilla extract, orange zest, and cardamom in a large mixing bowl and mix using an electric hand mixer.
Continue to mix on medium speed until the ingredients have been combined and no more streaks of dry cake mix remain. You can mix by hand with a wooden spoon or whisk if preferred.
Chill dough
Proceed to cover the bowl in plastic wrap and place it into the fridge, chill for 60 minutes.
Prep
When the dough has chilled for 60 minutes, get the oven preheating to 350 degrees F.
Then, line a baking sheet with some parchment paper or a silicone mat and set it aside.
Pour the powder sugar into a small bowl to roll the cookie dough in.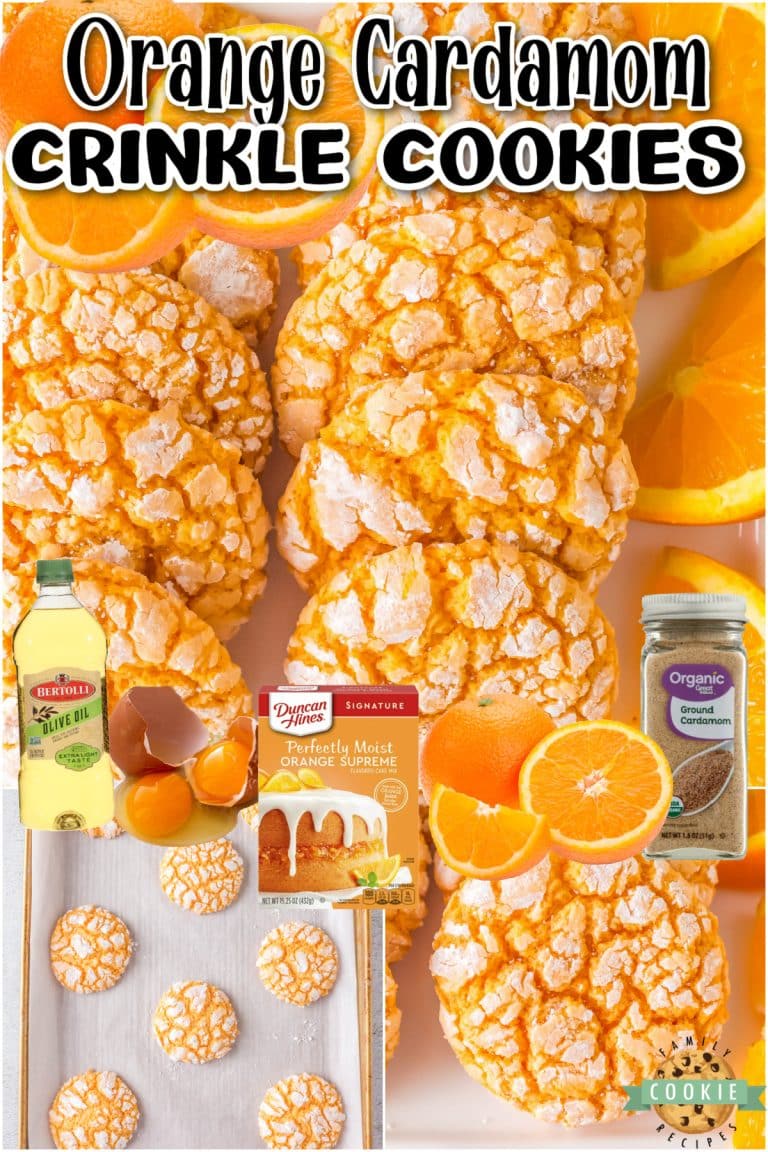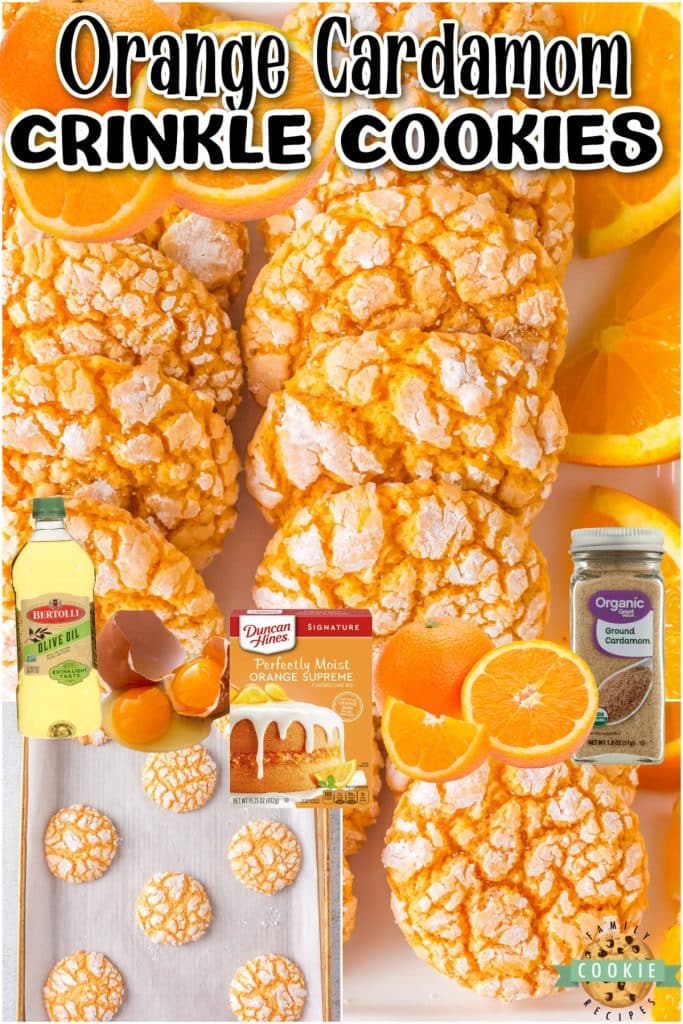 Scoop the dough
Using a medium sized cookie dough scoop, scoop the dough into 1 ½ tablespoon sized balls.
Next, roll each dough ball into the powdered sugar, covering it completely. Then place onto your prepared baking sheet at least 2 inches apart so there is room for the cookies to spread.
Bake and cool
Proceed to bake the cookies for 10-12 minutes or until the edges look set and the tops are crinkled. We like to bake ours for exactly 11 minutes.
Let the cookies cool on the pan for 3-4 minutes before transferring them to a wire rack.
Once the cookies have cooled completely, serve and enjoy!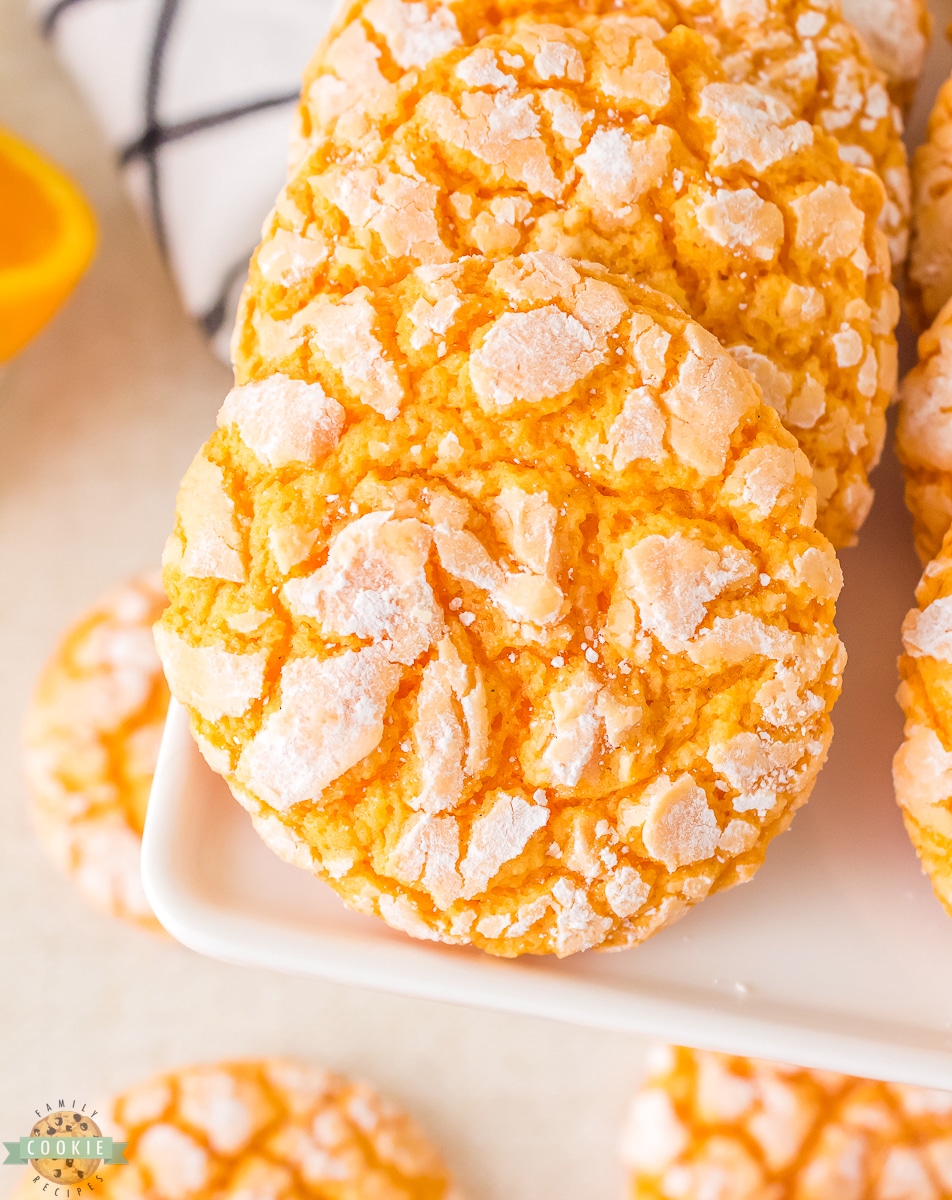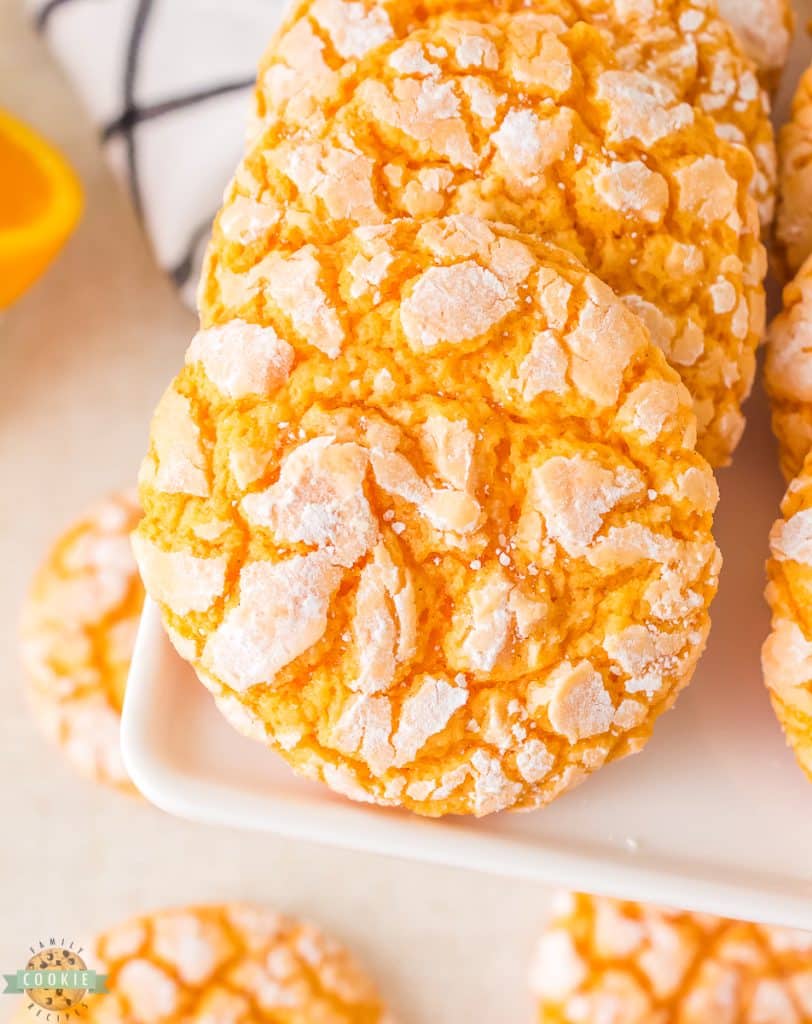 Best Time to Serve These Delicious Cookies
Orange cardamom cookies are a versatile treat that can be enjoyed at any time of the day. However, there are certain occasions and moments when these cookies are particularly well-suited and can be enjoyed to their fullest potential.
Afternoon Tea: Orange cardamom cookies are a perfect accompaniment to a cup of tea or coffee in the afternoon. The subtle orange flavor and fragrant cardamom spice pair well with the warm, comforting beverage. The cookies are not too sweet, making them an ideal snack to enjoy with your tea or coffee without overpowering the flavors of the drink.
Brunch: These cookies are also a great addition to a brunch spread. They can be served alongside other sweet treats such as muffins, scones, and fruit salad. The unique flavor profile of the orange and cardamom will add a touch of sophistication to the meal.
Dessert: Orange cardamom cookies can also be served as a dessert. They can be paired with a scoop of vanilla ice cream or a dollop of whipped cream for a simple yet elegant dessert. The cookies are not overly sweet, so they won't overwhelm the palate after a heavy meal.
How long are orange cardamom cookies good for?
After these cookies have been baked and cooled completely, you can keep them stored in an airtight container for 3 days at room temperature. Or you can keep them stored in the fridge for up to 5 days.
Can you freeze cardamom cookies?
Yes, cardamom cookies can be frozen for later consumption. To freeze the cookies, let them cool completely and then place them in an airtight container or freezer bag. Make sure to label the container or bag with the date and type of cookie. When you're ready to eat the cookies, simply thaw them at room temperature for a few hours before serving.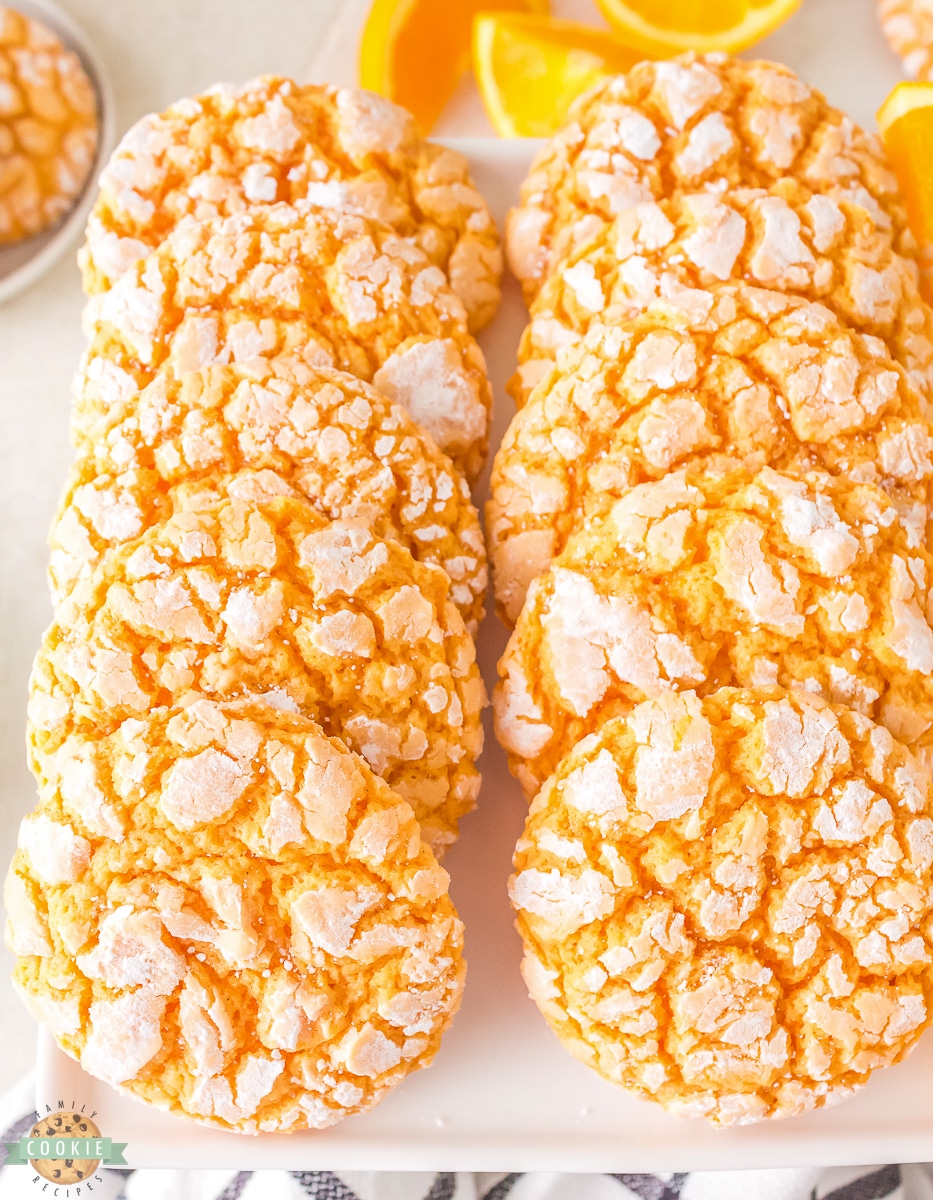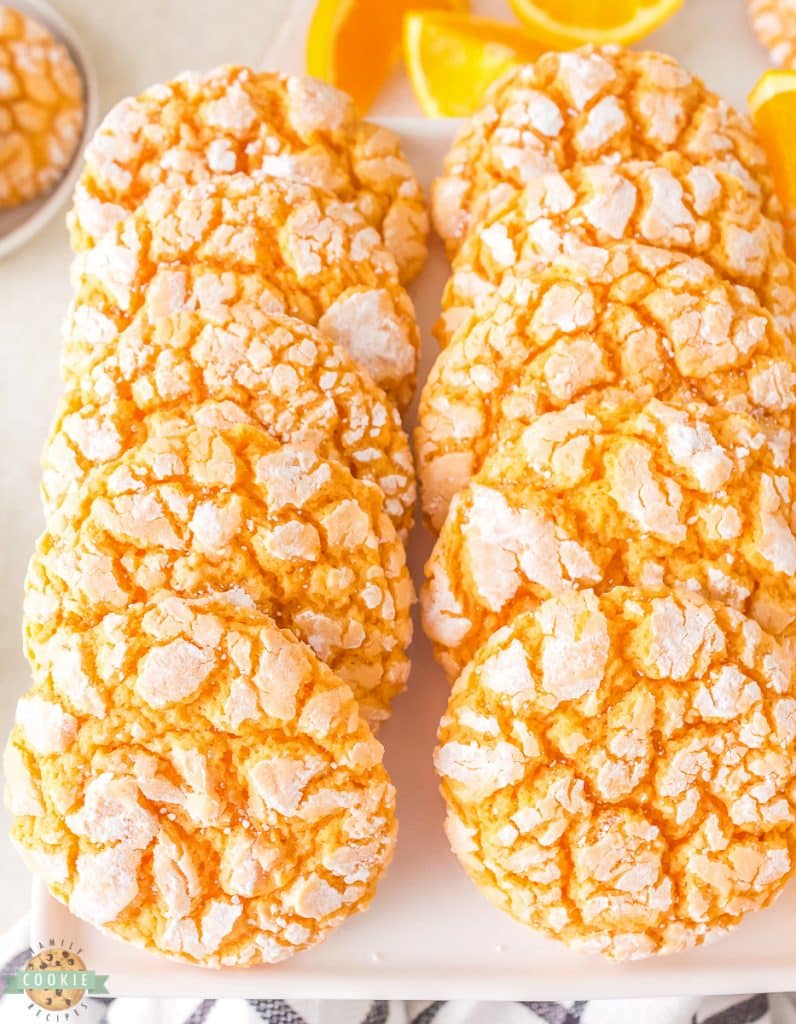 Can I omit the cardamom?
Cardamom spice might not be accessible and it's ok. If you can't find it, omit it. If you want to try these cookies, I do encourage finding the spice because it brings a hint of earthy flavor to the cookie, and the predominant flavor is orange, which is perfect for any occasion.
What are some variations of cardamom cookies?
Cardamom cookies can be made in various ways by adding different ingredients. Some popular variations include adding chopped nuts, raisins, or chocolate chips to the cookie dough.
What is the origin of cardamom cookies?
Cardamom cookies are believed to have originated in Scandinavia. They are a traditional holiday cookie in Norway, Sweden, and Denmark. However, cardamom is also commonly used in Indian and Middle Eastern cuisine, so it's possible that the cookie has roots in those regions as well.
What are tips for spicing up a cake mix cookie recipe?
To add some spice to a cake mix cookie recipe, we mix in some ground cardamom along with the cake mix. You can also add other spices such as cinnamon, nutmeg, or ginger to create a unique flavor. Additionally, you can add some vanilla extract or almond extract to the cookie dough to enhance the flavor.


Our cute Chihuahua-MinPin puppies are almost 3 years old. I held off getting a dog for a LONG time and now after having lived with dogs for a while, I'm glad. I feel like my kids were the perfect age to get pets. They've thoroughly bonded with them and can care for them well. But I have to say, I'm pretty sure I'm the dog's favorite. Ha!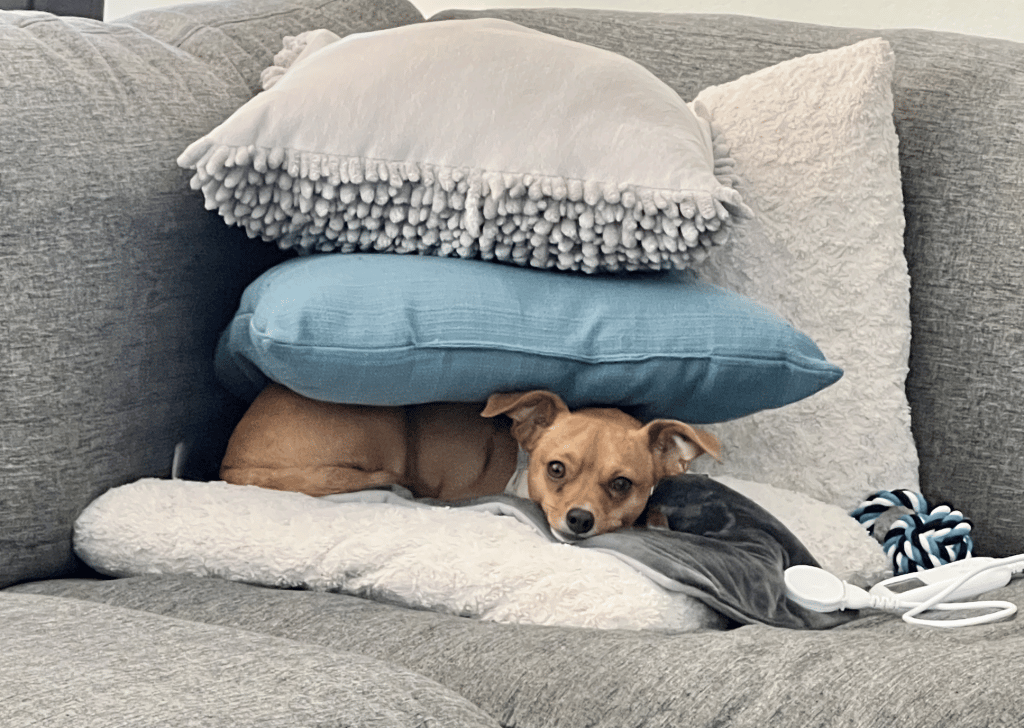 Orange Cardamom Cookies are packed with bright and refreshing citrus flavors and a wonderful herbal earthy taste of cardamom in every bite. You are going to want to make these cardamom cookies all year long!