These red velvet cake mix cookies will be the hit of any fourth of July party. Made with boxed cake mix and colorful patriotic M&Ms, every bite is festive, fun, and delicious!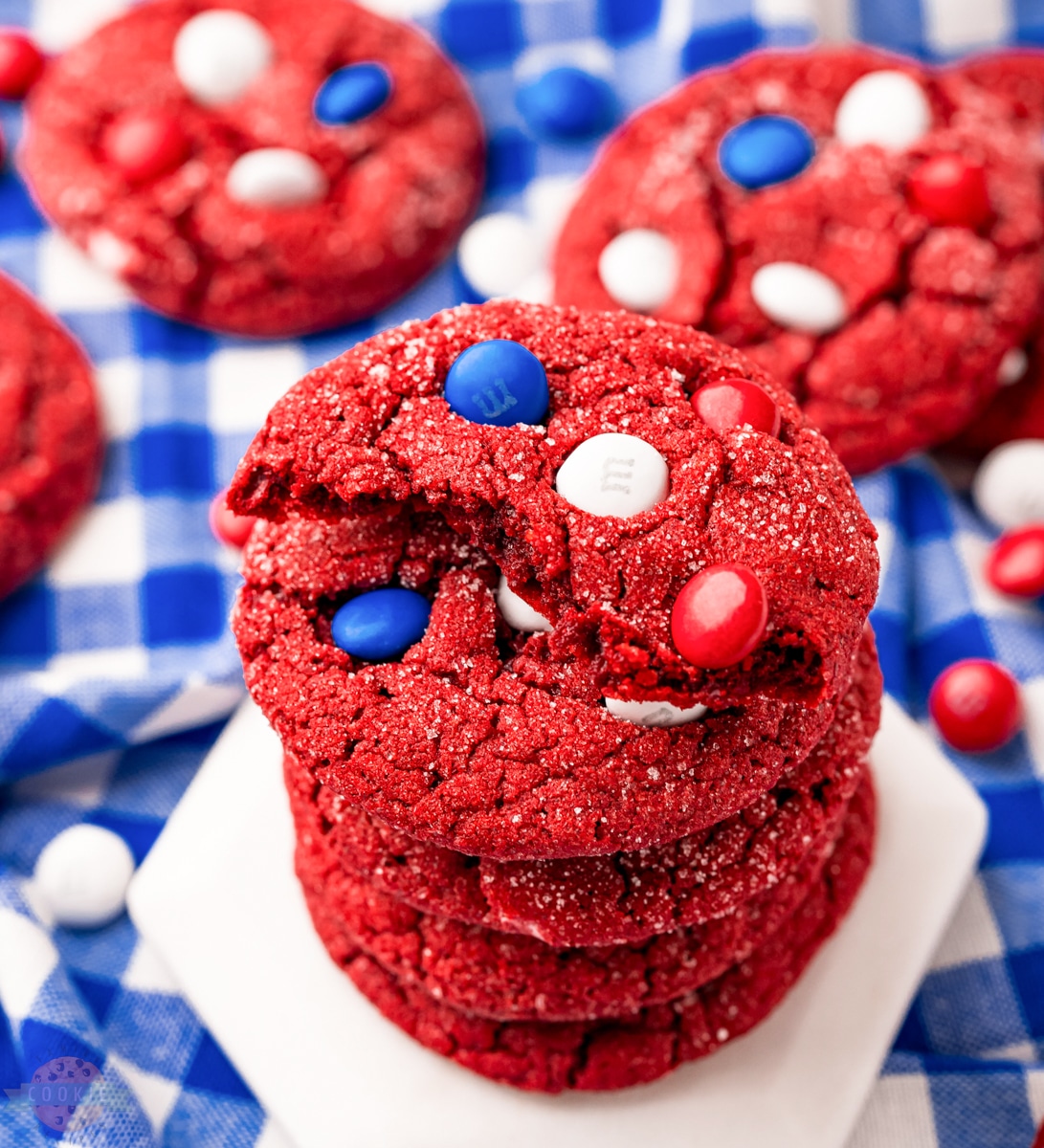 You're going to love how well these easy 4th of July cookies come together. Making these red velvet cookies from cake mix recipe is one way to cut down on food prep time and enjoy more time with the family, friends, and fireworks. The best part is that every batch makes a wonderful amount of red white and blue cookies to serve up so you have plenty to share with everybody!
4th of July cookies
The fourth of July is a day where America celebrates its independence and when it became its own ruling government. Every year since July 4th, 1776 we have celebrated in one way or another. More recently, we find lighting fireworks and enjoying a meal with family to be the most common form of celebration.
Showing up to the party with a tray of patriotic cookies like these is one way to help make your mealtime more festive and fun.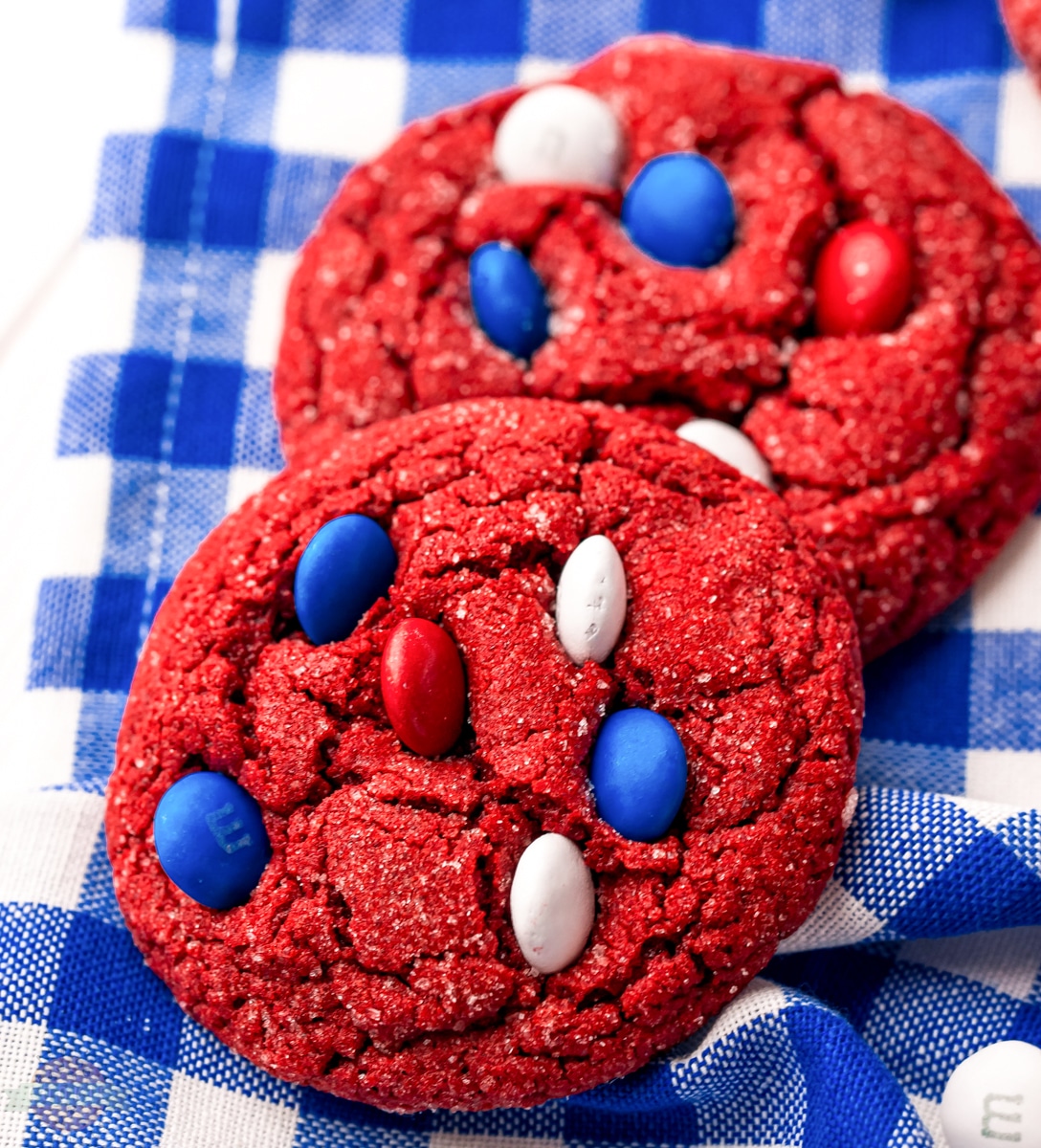 Ingredients for 4th of July Cookies
-Red velvet cake mix: You will need to use a standard 15.25-ounce box of red velvet cake mix. You can use any brand or even swap out the flavor for the same size box of different cake mixes. Make sure you only use the dry mix, do not prepare it into the cake batter.
-Oil: Using ⅓ cup of vegetable oil you will give your dough some much-needed fats so that the cookies turn out perfectly soft, moist, and fabulous.
-Eggs: 2 large eggs will help to act as the binder in the dough and bring the cookies together in the perfect consistency.
-M&Ms: You will need 1 cup of red, white, and blue patriotic colored M&Ms. This is about half a large bag of M&Ms.
-Sugar: You will need about ½ cup of granulated sugar for rolling the cookie dough balls in before baking. This will give them a nice sparkly finish.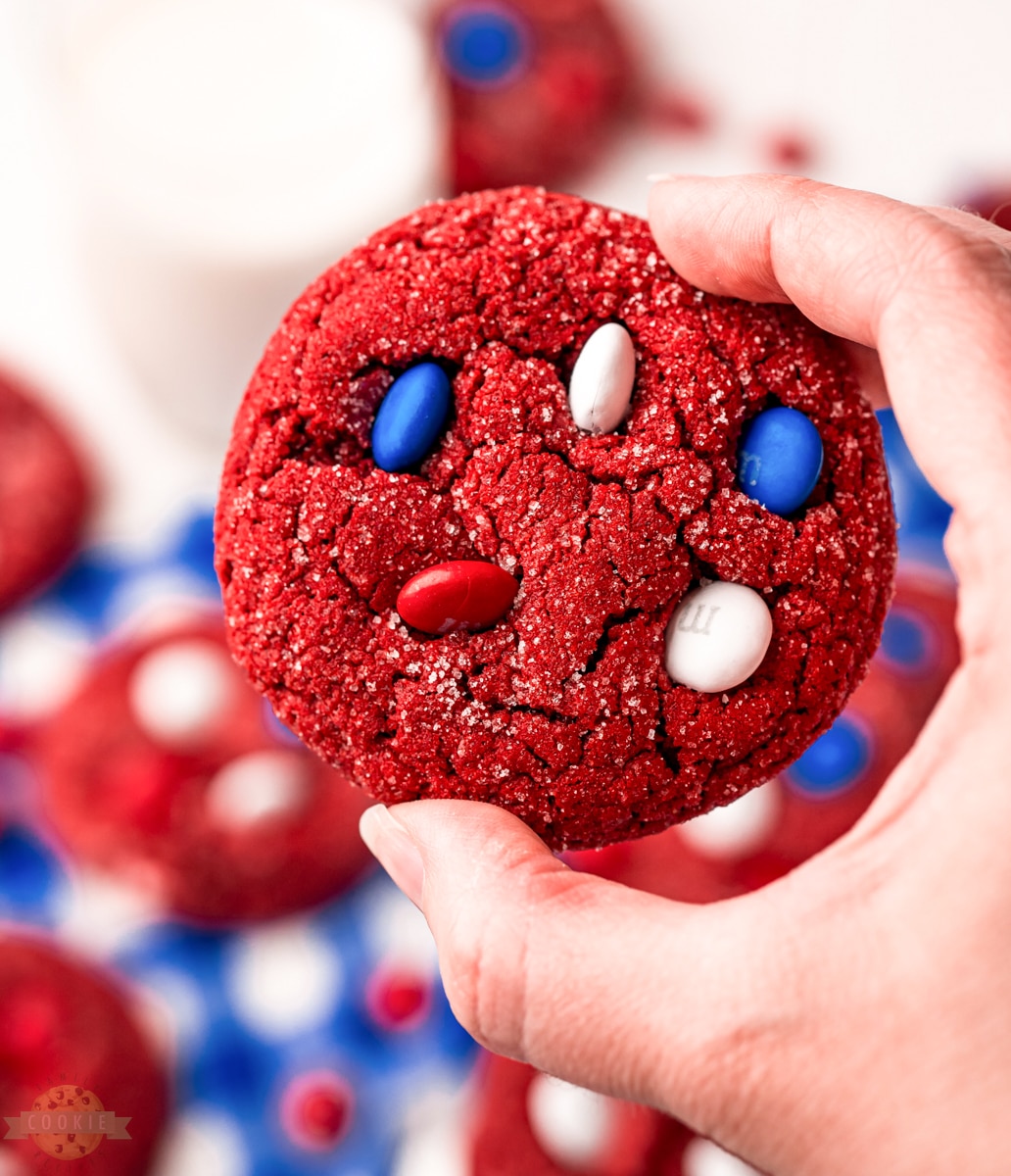 How to make red velvet cake cookies
In a large bowl, add the cake mix, vegetable oil, and eggs. Beat until combined.
Fold in half of the M&Ms.
Chill the dough in the fridge for 60 minutes. See recipe card notes on why this is an important step.
Preheat your oven to 350 degrees F and line a baking sheet with parchment paper.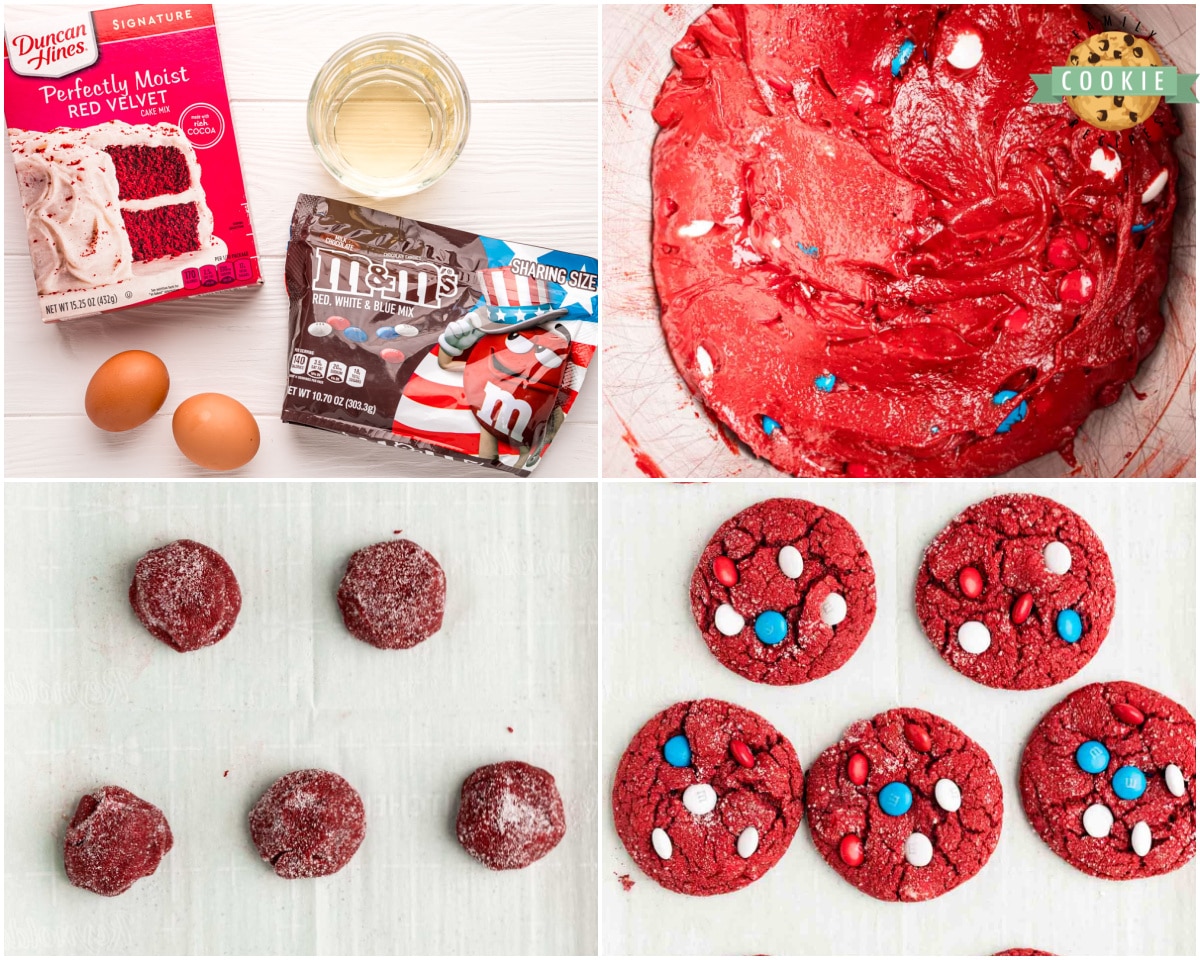 Using a medium-sized cookie scoop, portion out the dough and roll it into balls. Roll the dough balls into your granulated sugar and then place the dough balls onto the prepared baking sheet. Make sure to leave 2 inches of space between each cookie.
Bake in the oven for 8-9 minutes. Do not overbake the cookies. The cookies will appear puffy and slightly underdone when removed from the oven but will finish cooking as they cool on the baking sheet.
Press the remaining M&Ms onto the tops of the cookies right after removing them from the oven.
Let the cookies cool on the baking sheet for about 5 minutes before transferring to a wire rack to cool completely.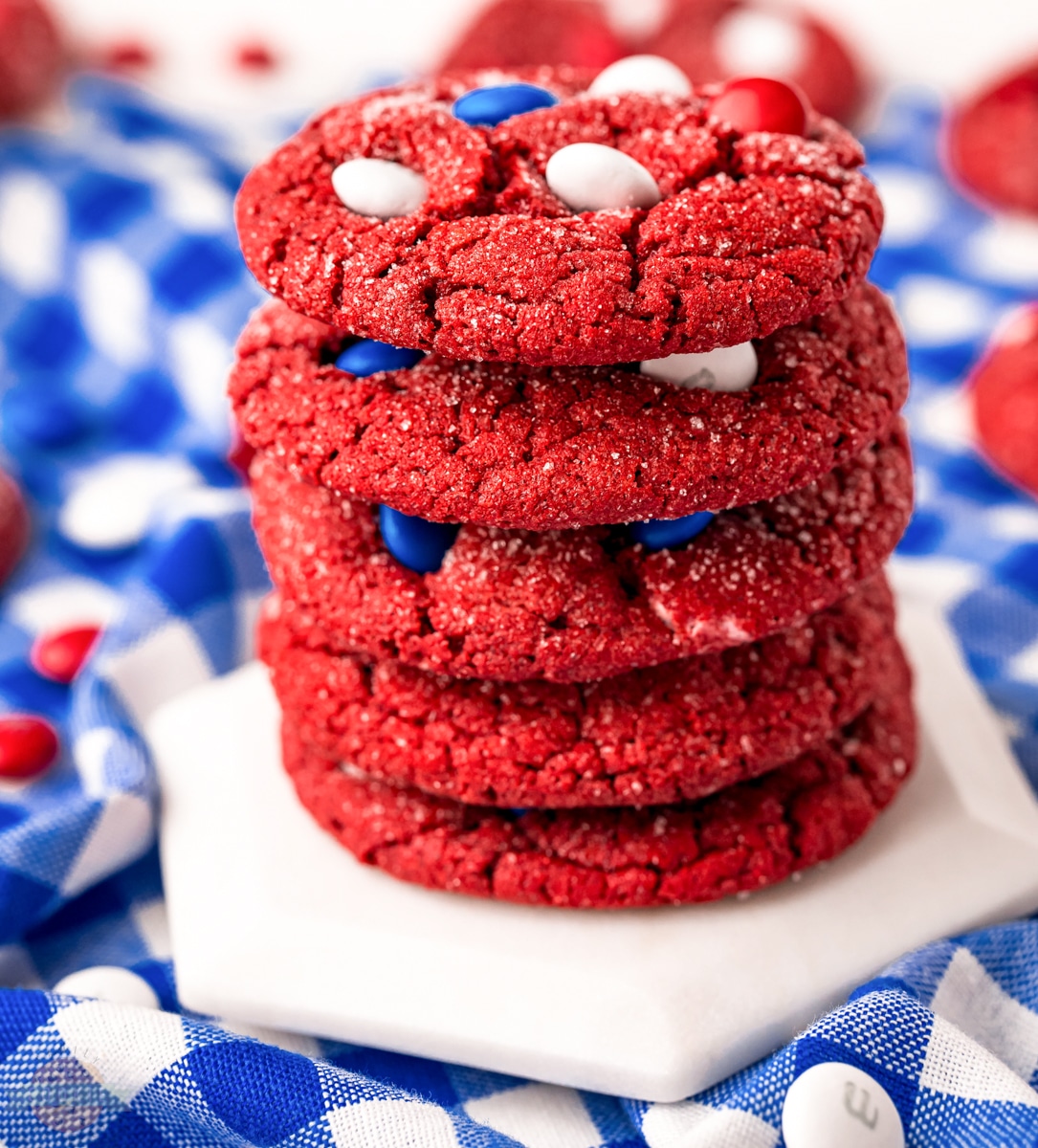 Enjoy!
Can you freeze cake mix cookies?
Yes, these cookies can be made in advance and frozen for up to 3 months. Simply allow them to cool completely before storing them in an airtight container in the freezer.
Why is my cake mix cookie dough still wet?
Sometimes, when making cake mix cookie dough the batter turns out a bit wetter than anticipated. This is usually due to using the wrong-sized cake mix box as they all hold different weights but remain in same-sized boxes making it easy to not notice. If your box was a tad smaller than a 15.25-ounce box, you can adjust the results by simply adding in ¼ cup of flour when mixing the dough together.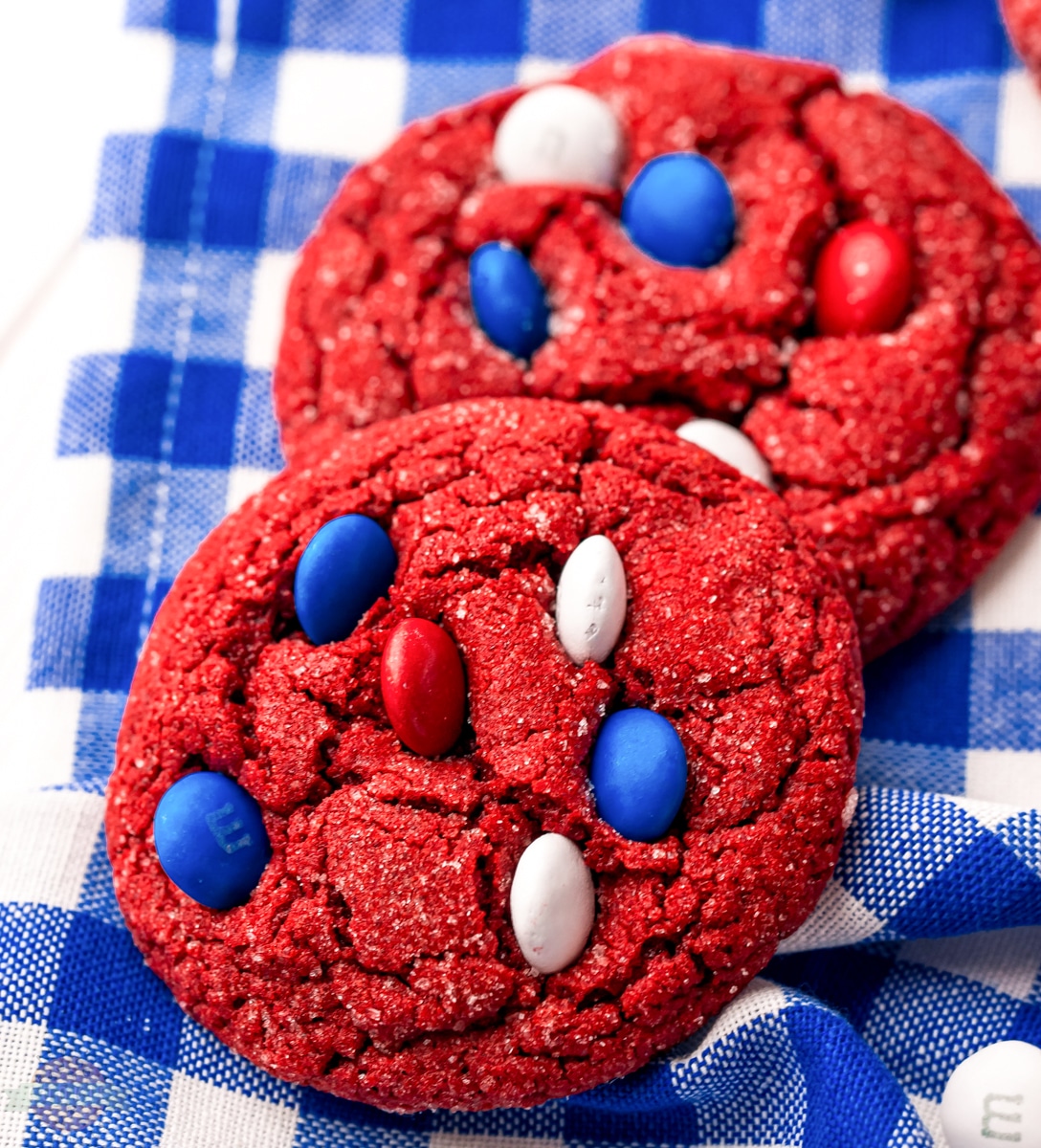 How long do cake mix cookies last?
Around here they never last too long, but we have a cookie-loving family haha. If you manage to keep a few from being eaten, you can safely store them in a Ziploc baggie or in an airtight container at room temperature for up to a week.
More patriotic recipes to try
Looking for more cake mix ideas? Check these cookie recipes out!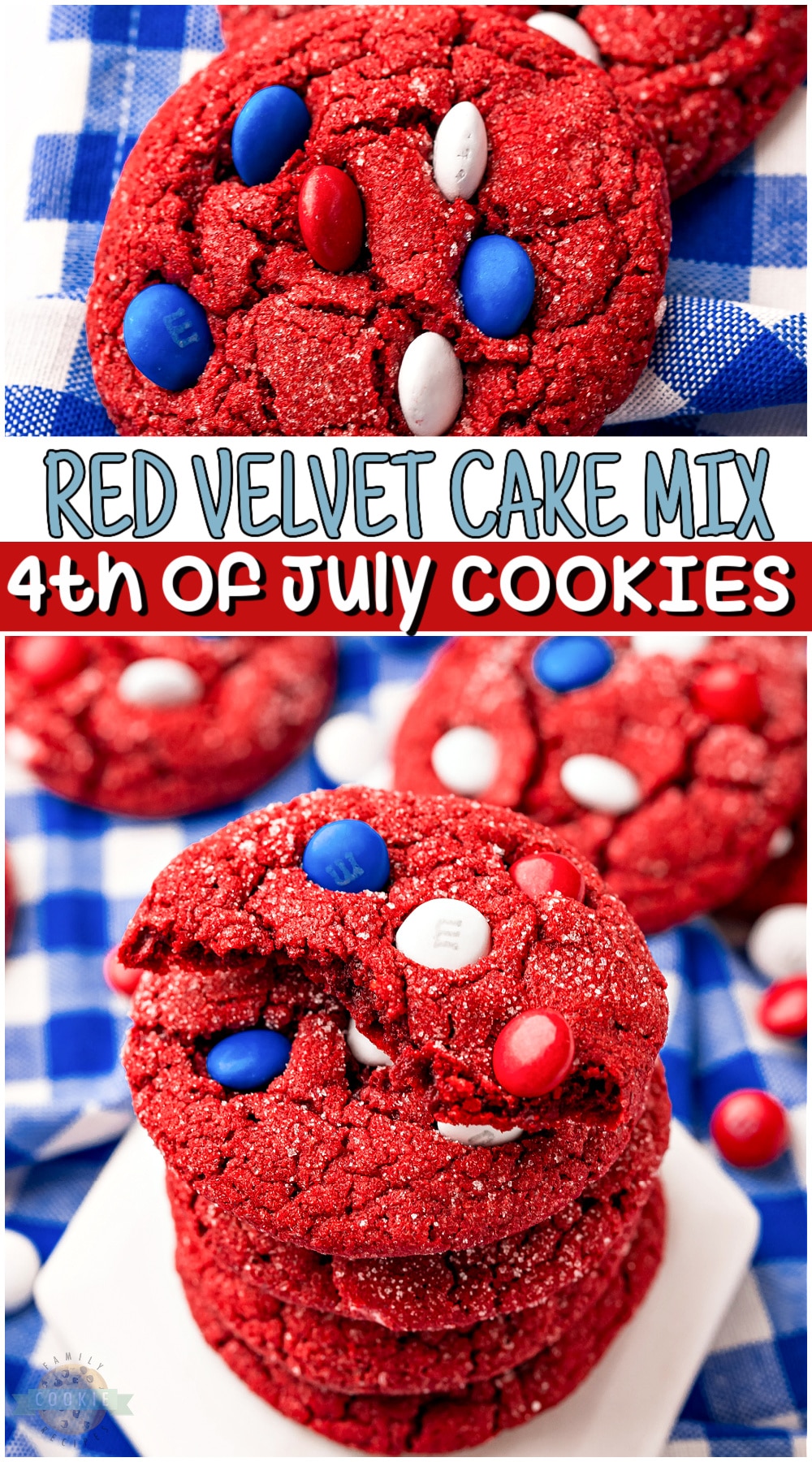 This easy recipe is a favorite among many but it gets a holiday twist with the addition of red, white, and blue M&M's. They are soft, chewy, and rolled in sugar for an extra sparkly finish!