Fun Patriotic Cookie Bars made with swirled red, white & blue icing making them perfectly festive! Easy sugar cookie bar recipe for 4th of July & Memorial Day.
We're a week away from 4th of July and I really wanted to make a simple, patriotic dessert for my family. These cute Patriotic Sugar Cookie Bars fit the bill! I made them the night before and let them sit overnight so that the icing would be set. Easy patriotic treat that everyone loved- you've got to make them!
Tip: These Patriotic Cookie Bars are easy, but they do have several steps. So plan about 1.5 hours to make them. There is a lot you can do in between steps, for instance, you can make frosting while the cookies are baking. Note that the cookie bars have to sit for several hours for the icing to set. That's why I made them the night before I needed them and let them sit out overnight.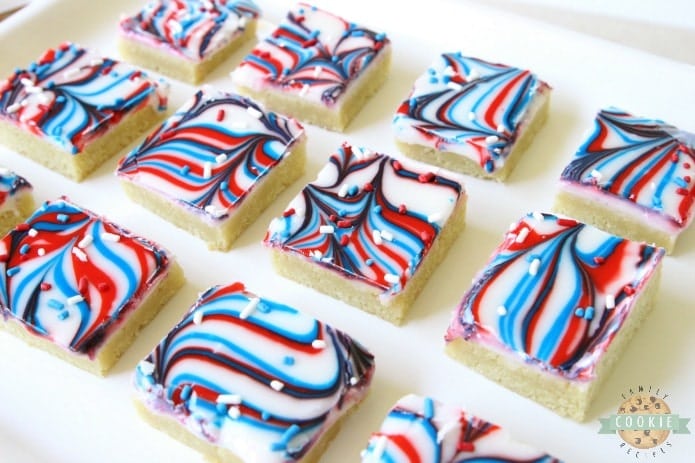 Patriotic Cookie Bars
Cookie Bars:
1 cup sugar
1/2 cup softened butter
1 egg
1 tsp. vanilla
1/3 cup sour cream
1/2 tsp. salt
1/2 tsp. baking soda
2 cups flour
Vanilla Icing Layer:
1/2 cup powdered sugar
1 TBSP softened butter
2 TBSP milk
Royal Icing Layer:
3 cups powdered sugar
5 TBSP milk
2 TBSP corn syrup
1 tsp almond extract
red and blue food coloring (I use the Wilton Color Right bottles and they're amazing!)
Preheat oven to 375 degrees F.
Cream together sugar and butter.  Add egg, sour cream and vanilla. Add flour, baking soda and salt to butter mixture, beat until smooth.
Transfer dough to a 9×13 pan or quarter bakers sheet that's been sprayed with non-stick spray. Spread dough to edges and gently flatten until it's mostly even.
Bake at 375 for 15 minutes. Let cool completely before frosting.
Whisk vanilla icing together and spread the thin layer over the cookies. This gives the royal icing a smoother surface and makes it easier to marbleize the icing.
Whisk royal icing ingredients together until smooth. Separate roughly 3 TBSP worth of icing each into 2 small bowls. Add a few drops of red coloring to one of the bowls and blue to the other. Stir until color is even. Transfer blue and red icing to separate baggies.
Pour white icing onto the cookie bars and quickly spread over the entire surface, until smooth and even. Cut the corners of each of the baggies holding red and blue icing. Pipe red and blue lines of icing down the length of the cookie bars. Take a thin knife and swirl icing in even motions. Don't over-swirl or you'll start to see purple sections forming!
Let cookie bars cool and set for several hours before cutting. Cut Patriotic Cookie Bars into squares and enjoy!
After you try our Swirled Patriotic Cookie Bars try a few of our other delicious sugar cookies: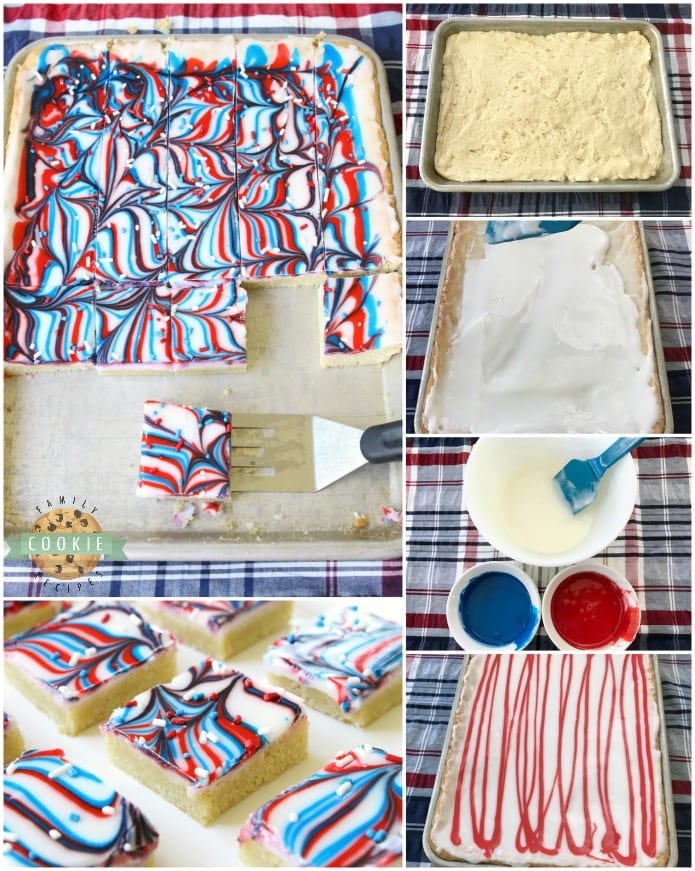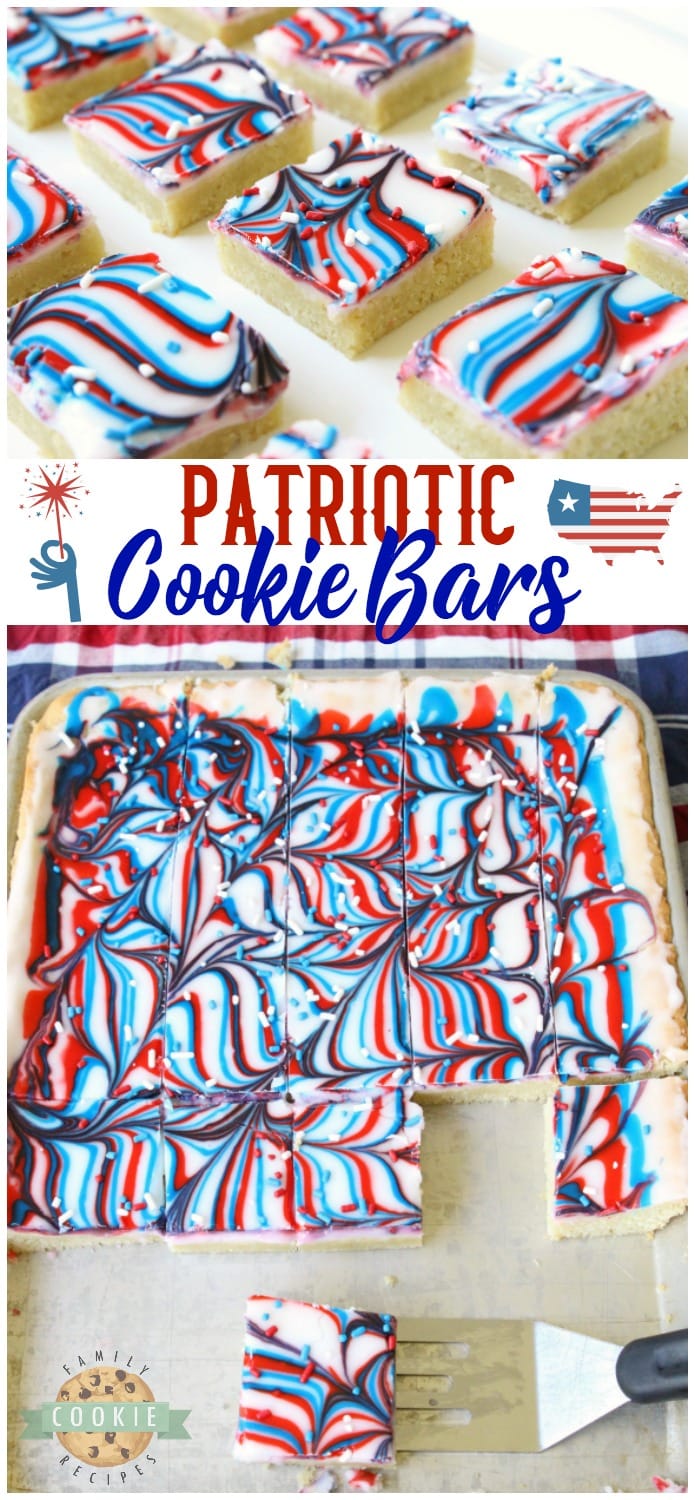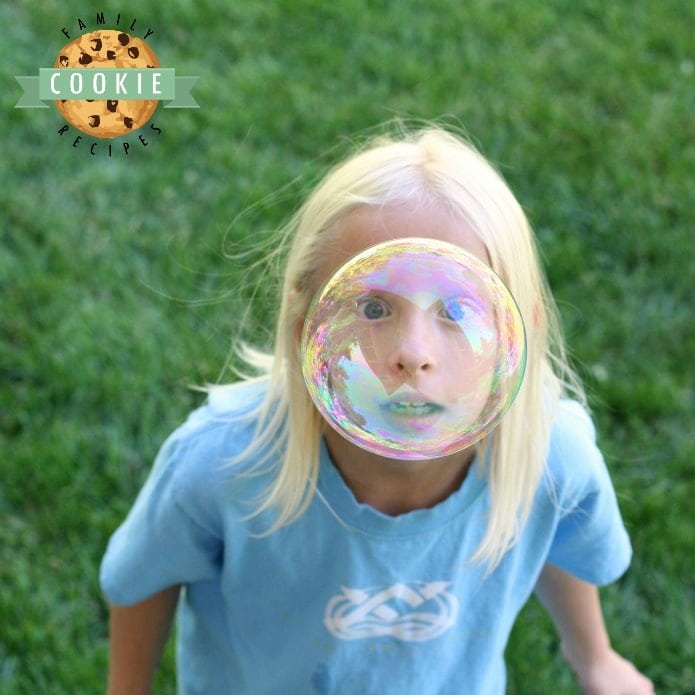 Nothing like a little bubble fun during the summer, right?! Can I tell you how LUCKY this shot was. Seriously! The stars aligned and we got the perfect bubble-face picture. H loves it. I have it framed in our house!