Bright & fun Colorful Cookies made with a cake mix! Simple recipe for soft, festive cookies perfect for Back To School. Your boxed cake mix is about to get an inventive and creative new upgrade!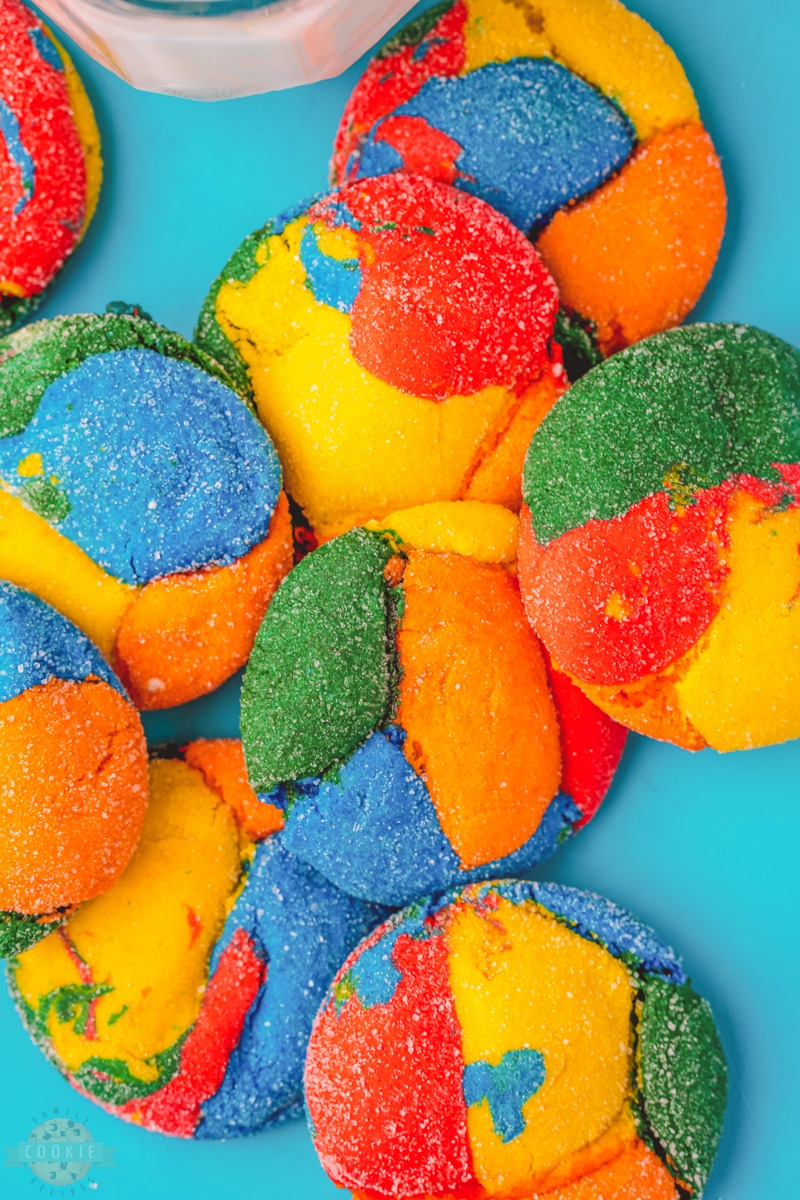 These cookies are soon to be the hit of the party and kids will go nuts over the fun colors to choose from. Prepped in just minutes and ready to eat in practically no time at all, you're going to have your hands full of cookies soon. Just don't forget the glass of milk.
What are cake mix cookies?
If you've never made cake mix cookies before then you'll be pleased to know that it takes minimal steps, ingredients, and effort to get a perfectly chewy and soft cookie. Every batch makes about 2 dozen cookies so there's plenty to share and with these colorful rainbow cake mix cookies you can easily turn them into a party theme and make them even more fun.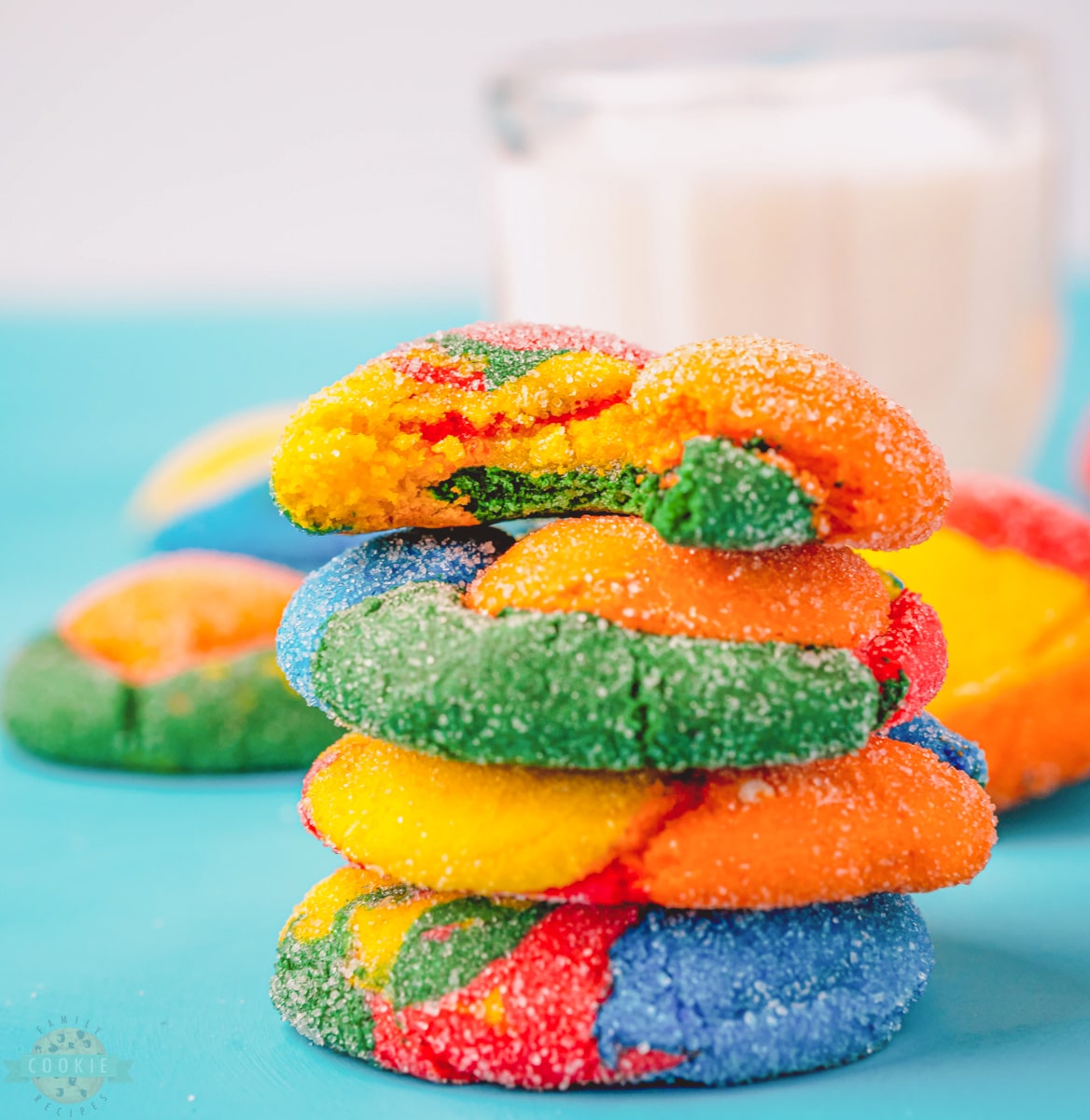 Rainbow cake mix cookie ingredients
-Cake mix: Use a standard-size (15.25 ounce) box of white cake mix (Just the dry stuff!) Yellow cake mix can work too but it will cause your colors to change due to the added yellow hues.
-Oil: Using ⅓ cup of vegetable oil you will get a nice moist cookie worth biting into.
-Eggs: You will need 2 large eggs to help bind together the cookie dough.
-Food coloring: Use any colorful food coloring you have on hand. Gel food coloring is more vivid but liquid food coloring should work fine as well.
-Sugar: To roll our cookies in you will need about ½ cup of granulated sugar. This gives us a chewier cookie and a nice sweetness to bite into.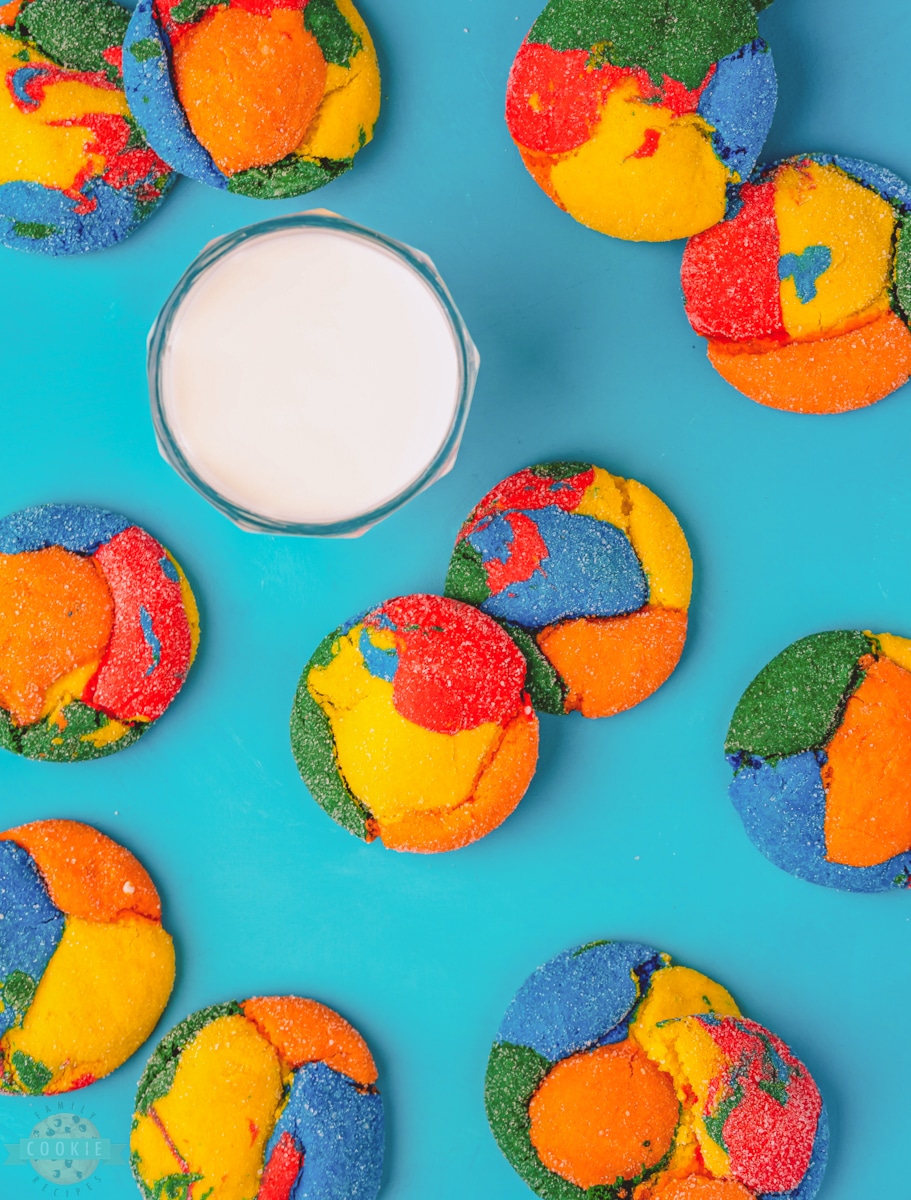 How to Make Colorful Cookies
In a large bowl or in the bowl of a stand mixer with a paddle attachment, combine the cake mix, vegetable oil, and eggs until combined.
Divide the dough into however many different colors you're wanting and then add food coloring to each portion of dough.
Mix the dough until the food coloring has been well blended.
Chill the dough for 45 minutes.
Preheat your oven to 350 degrees F and then line a baking sheet with parchment paper.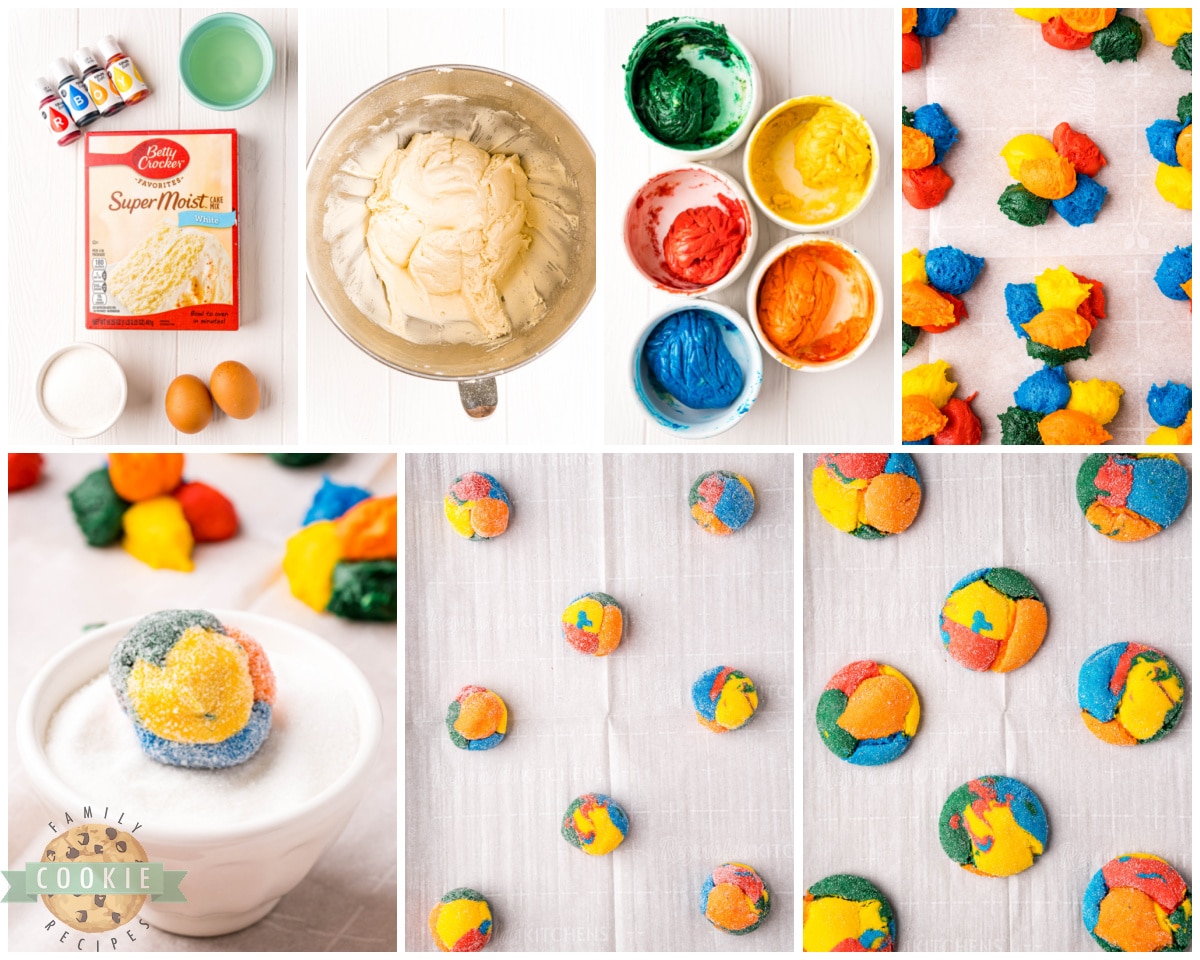 Use two teaspoons to portion out the dough and drop one dollop of dough per cookie. Use a medium-sized cookie scoop to scoop the dough dollops together and gently roll them into balls.
Roll the cookie dough balls in the granulated sugar to coat.
Place the dough balls at least 2 inches apart on your prepared cookie sheet.
Bake in the oven for 8 to 9 minutes. Do not overbake these cookies, they will appear puffy and slightly underdone when they come out of the oven but will finish baking on the sheet.
Let the cookies cool on the baking sheet for about 5 minutes before transferring to a wire rack to cool completely.
Enjoy!
Can I freeze cake mix cookies?
Yes, these cookies can be frozen in an airtight container for up to 3 months. Just thaw the cookies before eating. This should only take a few minutes on the counter at room temperature.
Which food coloring works best for cookies?
I used Wilton color performance dye, but you could also use regular food coloring or gel coloring. These will have varying strengths and certain colors may transfer off of the other dough more than others.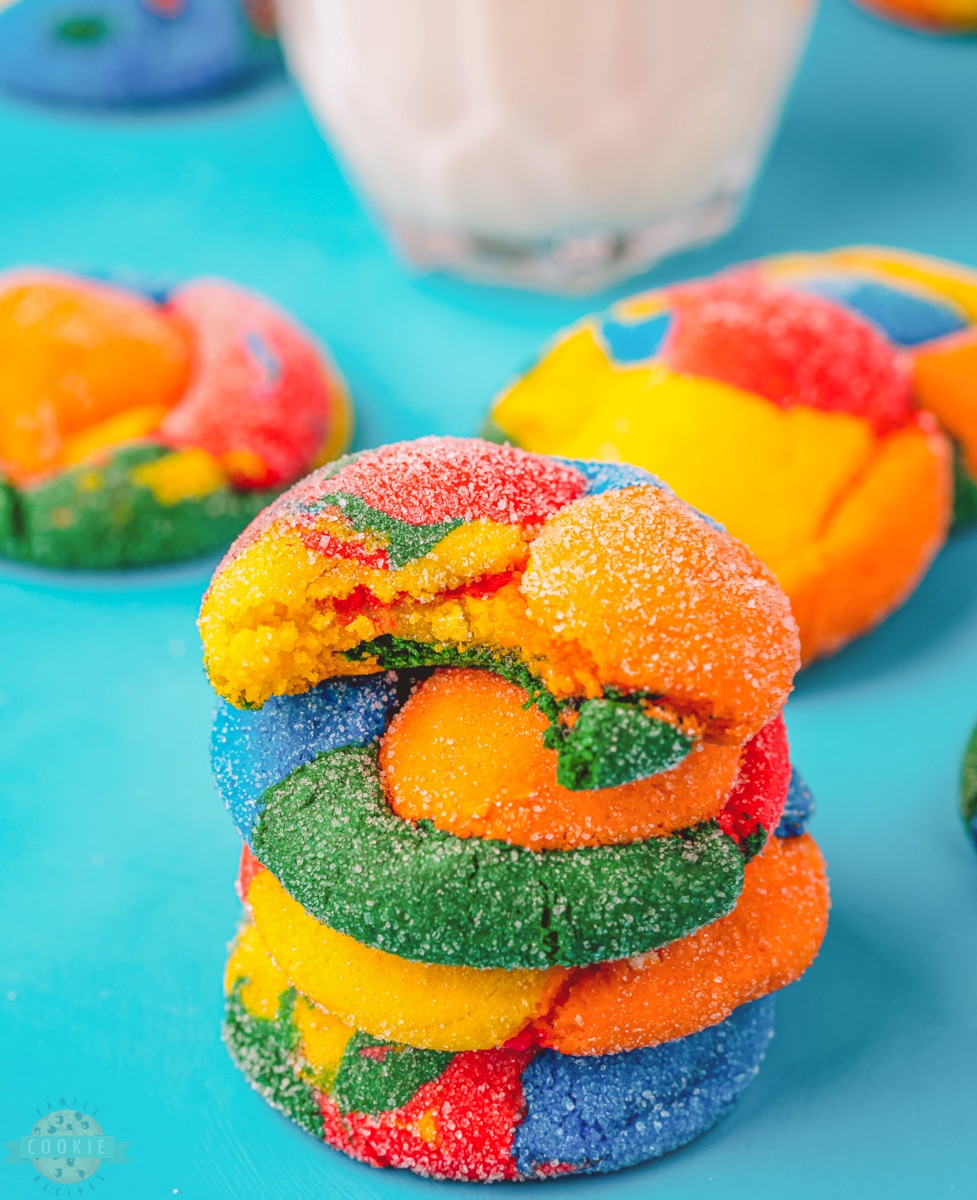 Do I have to chill cookie dough before baking?
It is extremely important that you chill these cookies for at least 45 minutes and not longer than 1 hour. The dough will be too soft to shape and roll without chilling. Prior to the 1 hour mark, these cookies really puff up and have more of a soft and chewy texture, after 1 hour they can become hard and crunchy.
More Cake Mix Cookie Recipes You'll Enjoy


The summer is winding down. We've got quite a bit happening next week, but after everyone returns home from their various activities, I think we'll be diving headfirst into back to school prep! I love change, I always have. I welcome the summer but it's every year at about this time where I begin to get excited for SCHOOL!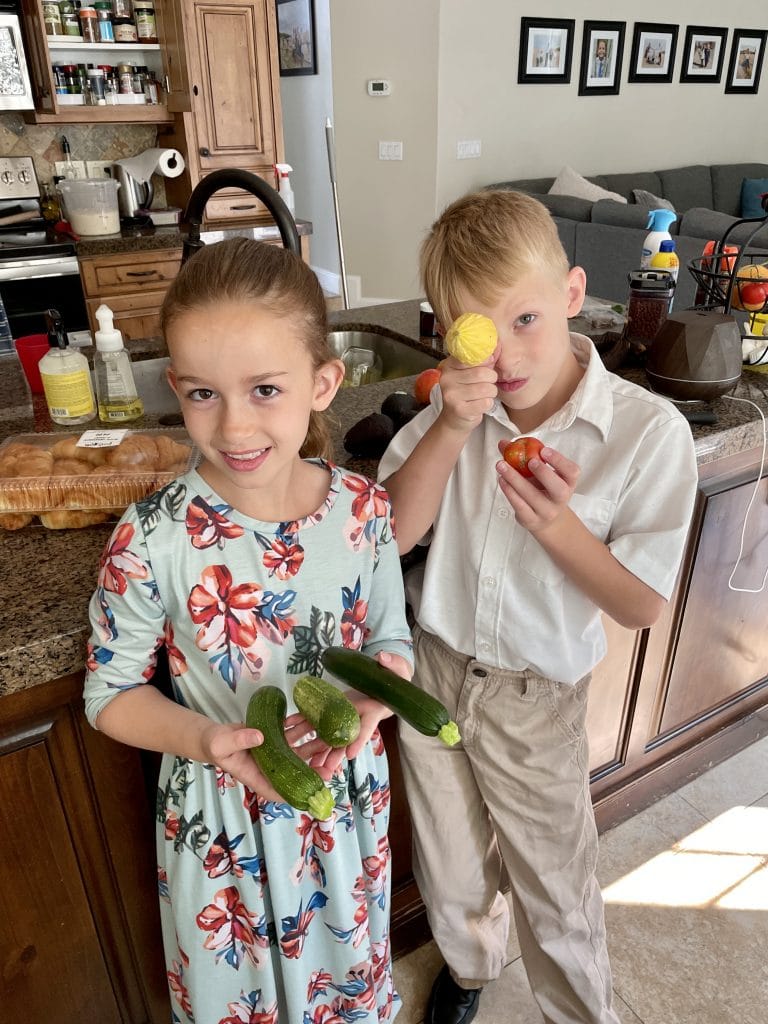 But for now, we're still enjoying summer and we're especially enjoying the fresh garden veggies the deer decide to share with us!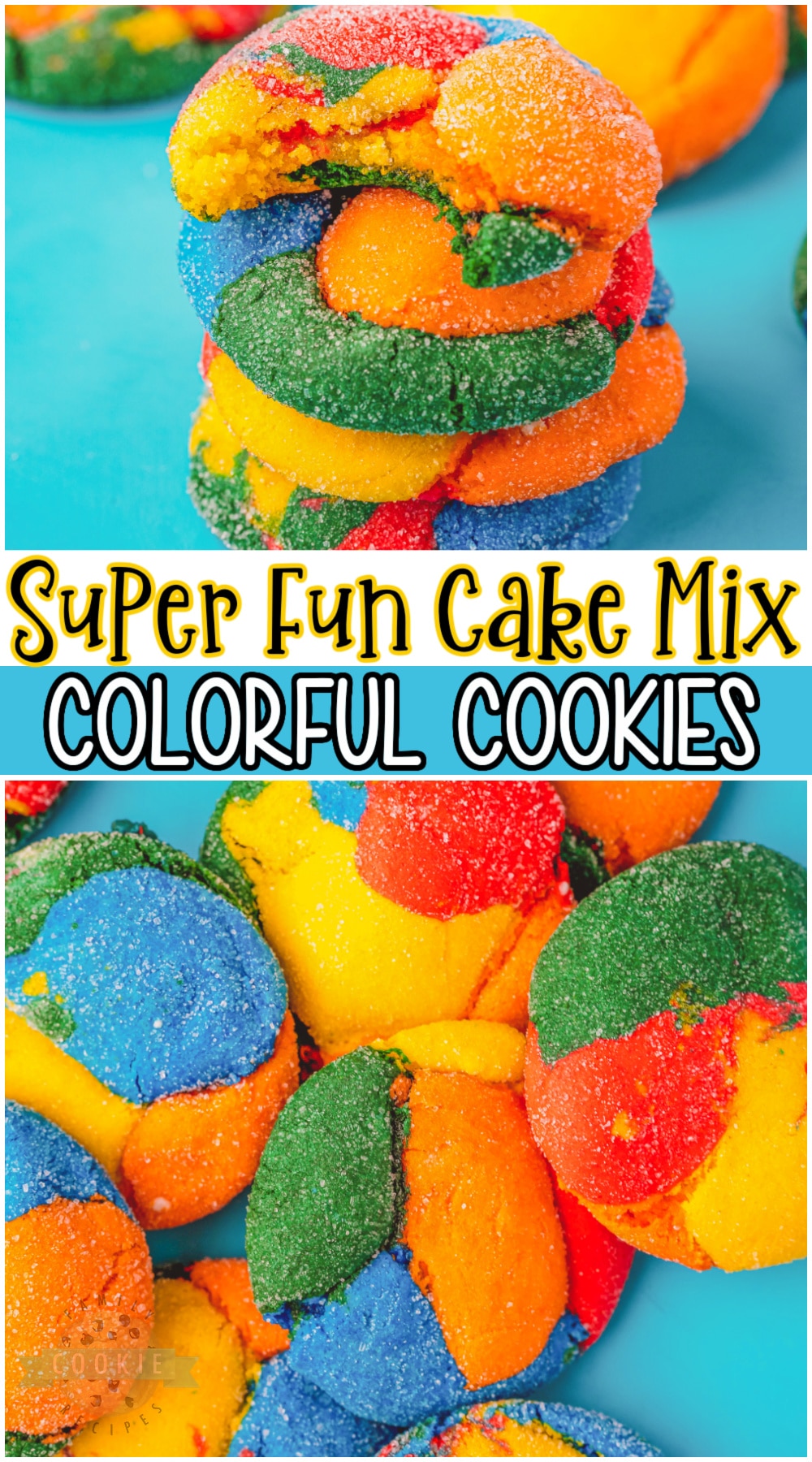 You're going to love these easy colorful cookies. Made with boxed cake mix, these cookies are a simple treat that are the perfect snack for back to school!