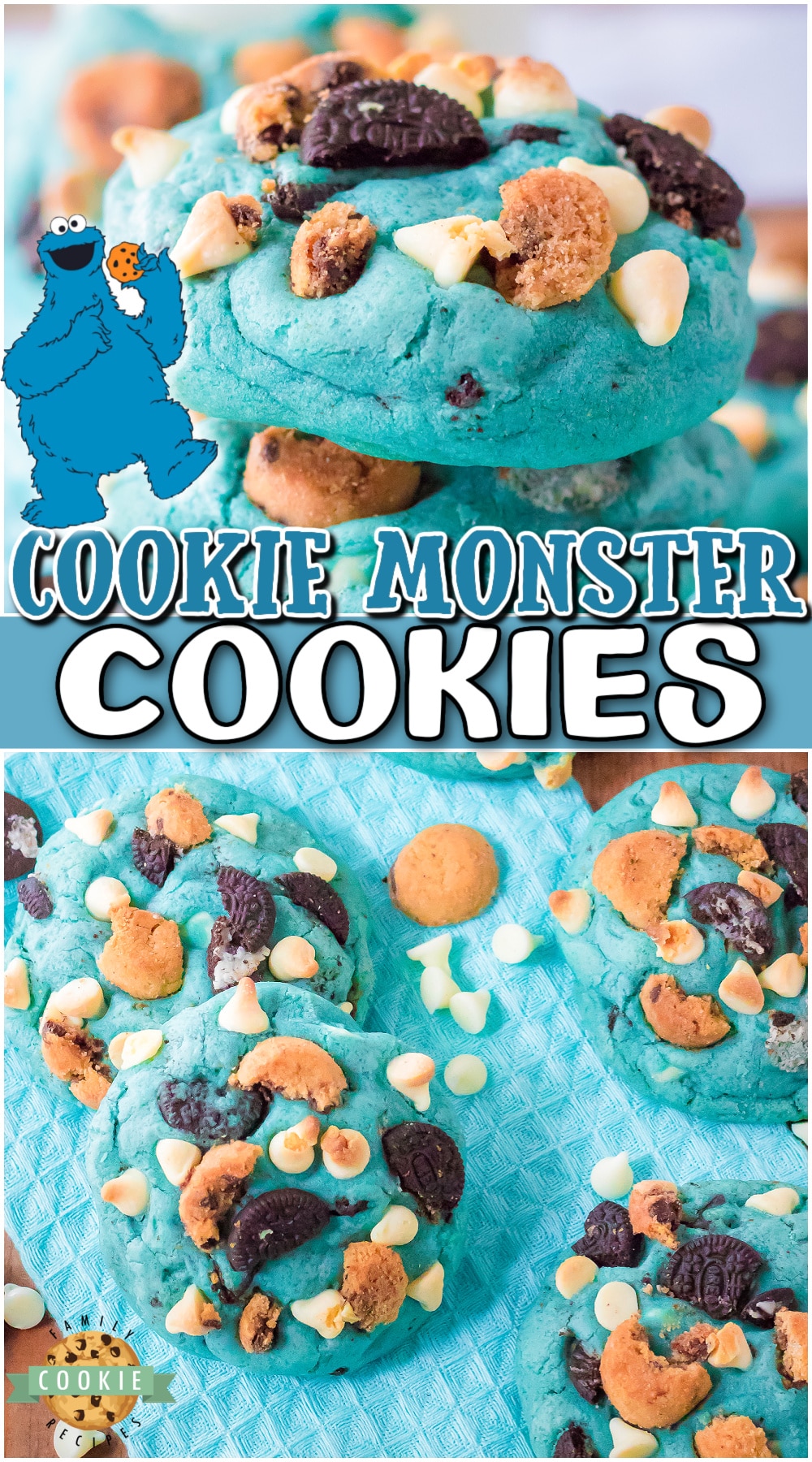 Cookie Monster Cookies are a fun, cute and OH SO delicious treat. Jumbo cookies made BLUE & studded with white chocolate chips, mini Oreos and mini chocolate chip cookies!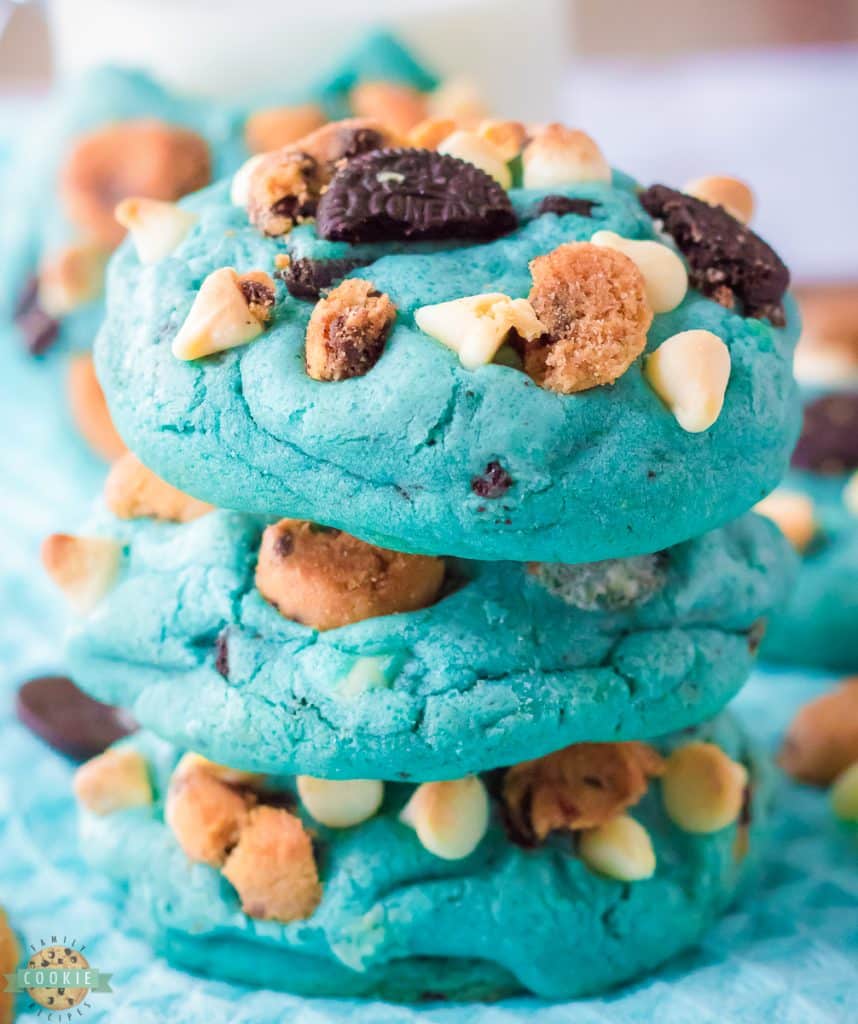 These blue cookie monster cookies are the absolute cutest, with the familiar blue coloring which makes them especially delightful. This cookie monster dessert has a lovely soft center, chewy edges, and the crunchy oreo bits makes these extra tasty!
What are Cookie Monster Cookies?
This cookie recipe was made popular on TikTok in the past few months and we can definitely see why. These cookie monster cookies are so fun to make! If you have young kids in your house these cookies will be a huge hit. Made to be the blue coloring like Cookie Monster himself and packed with tons of amazing flavor, this sweet treat is sure to be a hit with family and friends. They are great for kids and adults alike, birthday parties, holidays and many more occasions!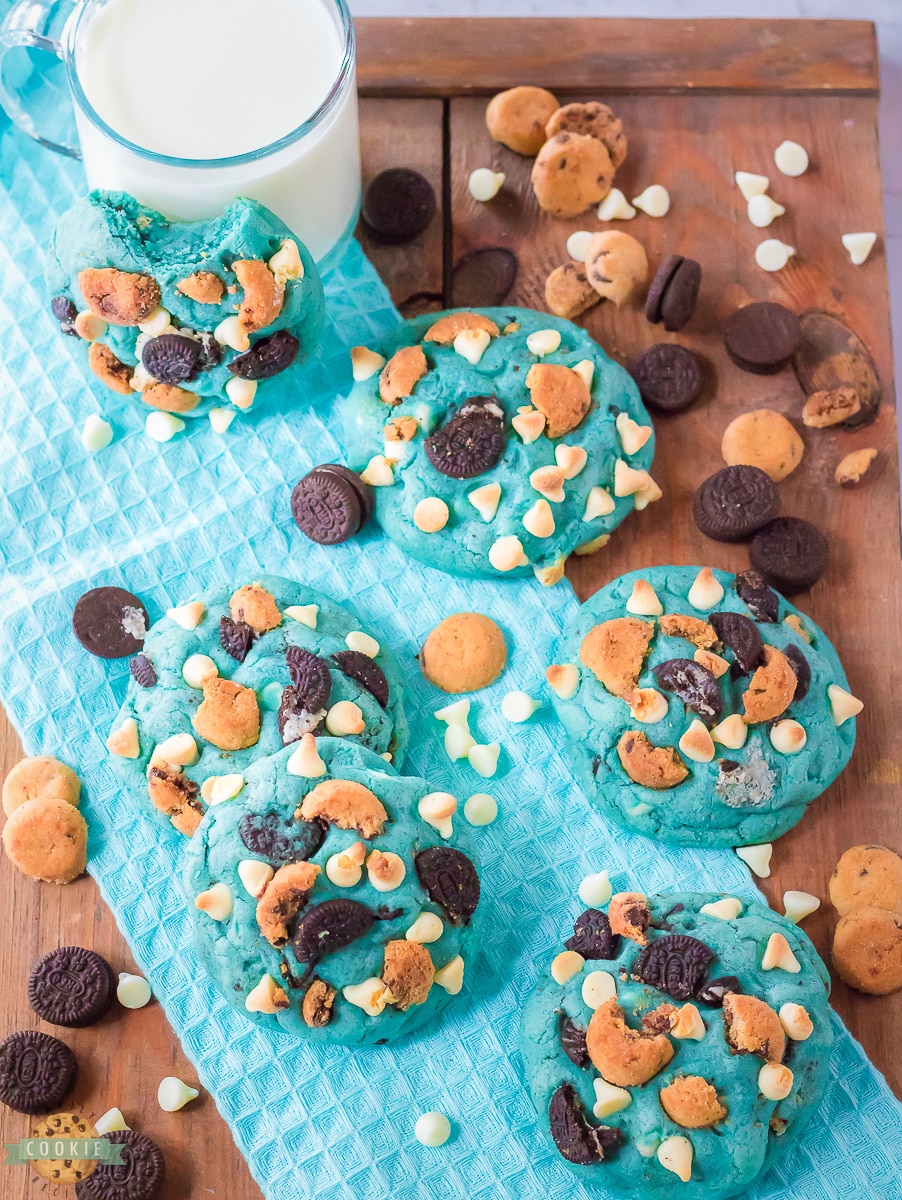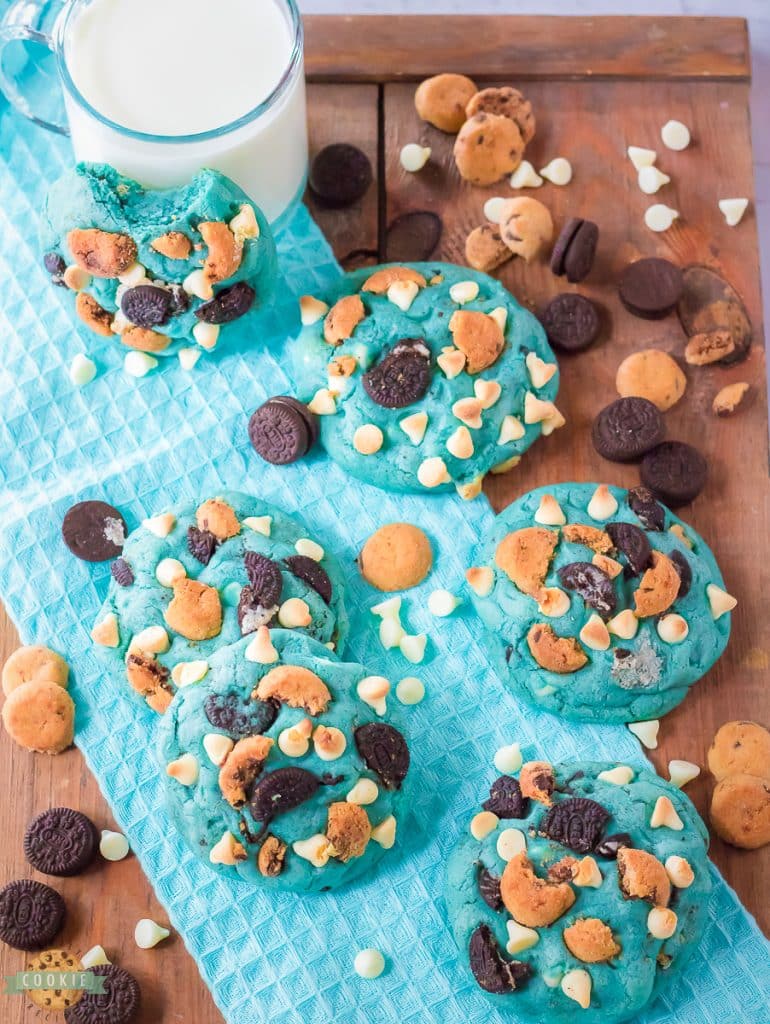 Why we think you will absolutely love these cookie monster cookies!
Here are a few more reasons for why you should give these cookies a try today.
No rolling pin needed. These cookies come together easily and without a lot of equipment. You do not need to roll out the dough or cut shapes. Just mix together and roll into balls. They do require a little patience, but they are so worth it!
One cookie is enough. While it can usually be hard to stop at "just one" cookie, these cookies are larger than life. So one cookie can really satisfy that sweet craving.
Fun and festive. If you are looking for a great cookie recipe for a birthday party, look no further. These cookies are so fun to make and everyone will enjoy them immensely.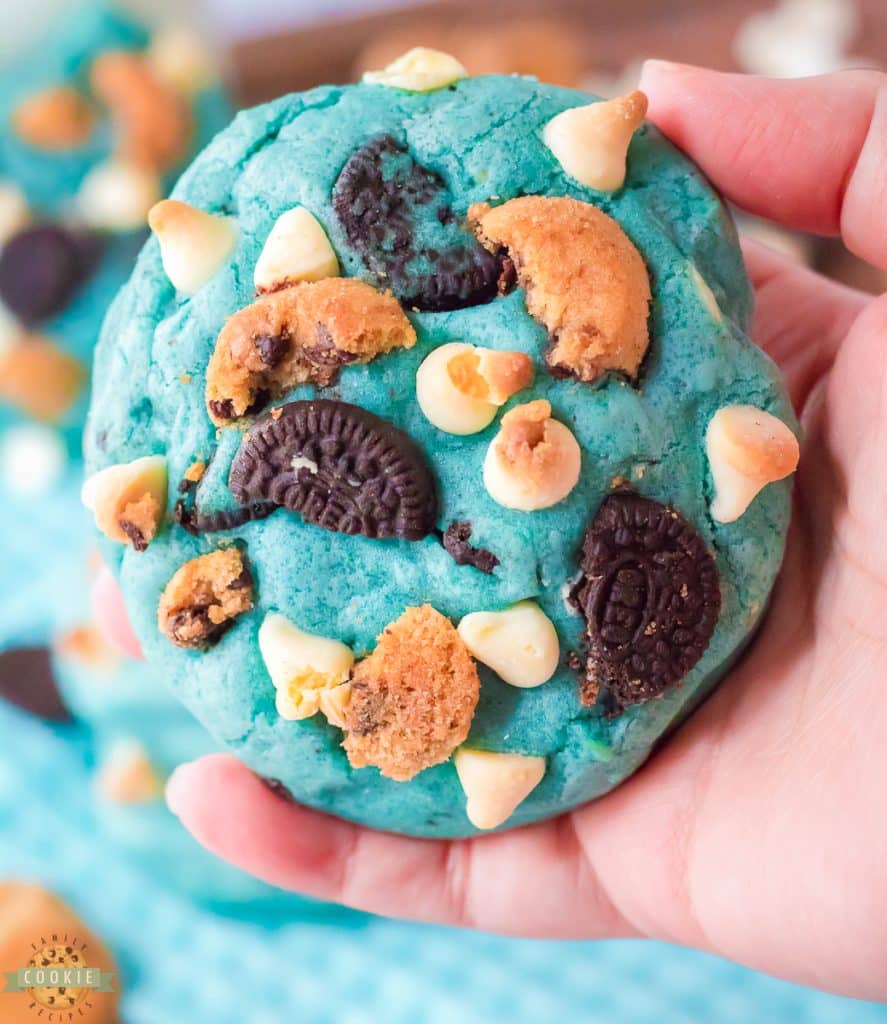 Cookie Monster Cookie Ingredients
Butter: You will need ½ cup (one stick) of softened unsalted butter to make these cookies nice and rich in taste.
Brown sugar: Using ¾ cups of brown sugar will create a chewy cookie edge and give it a great depth of flavor.
Granulated sugar: You need ¼ cup of granulated sugar to help flatten the cookies out a bit.
Egg: Use 1 large egg to help bind the dough together well.
Vanilla extract: Adding in 1 teaspoon of vanilla extract will help enhance the flavors in the dough.
Blue food coloring: For the perfect addition to this cookie, use blue food coloring.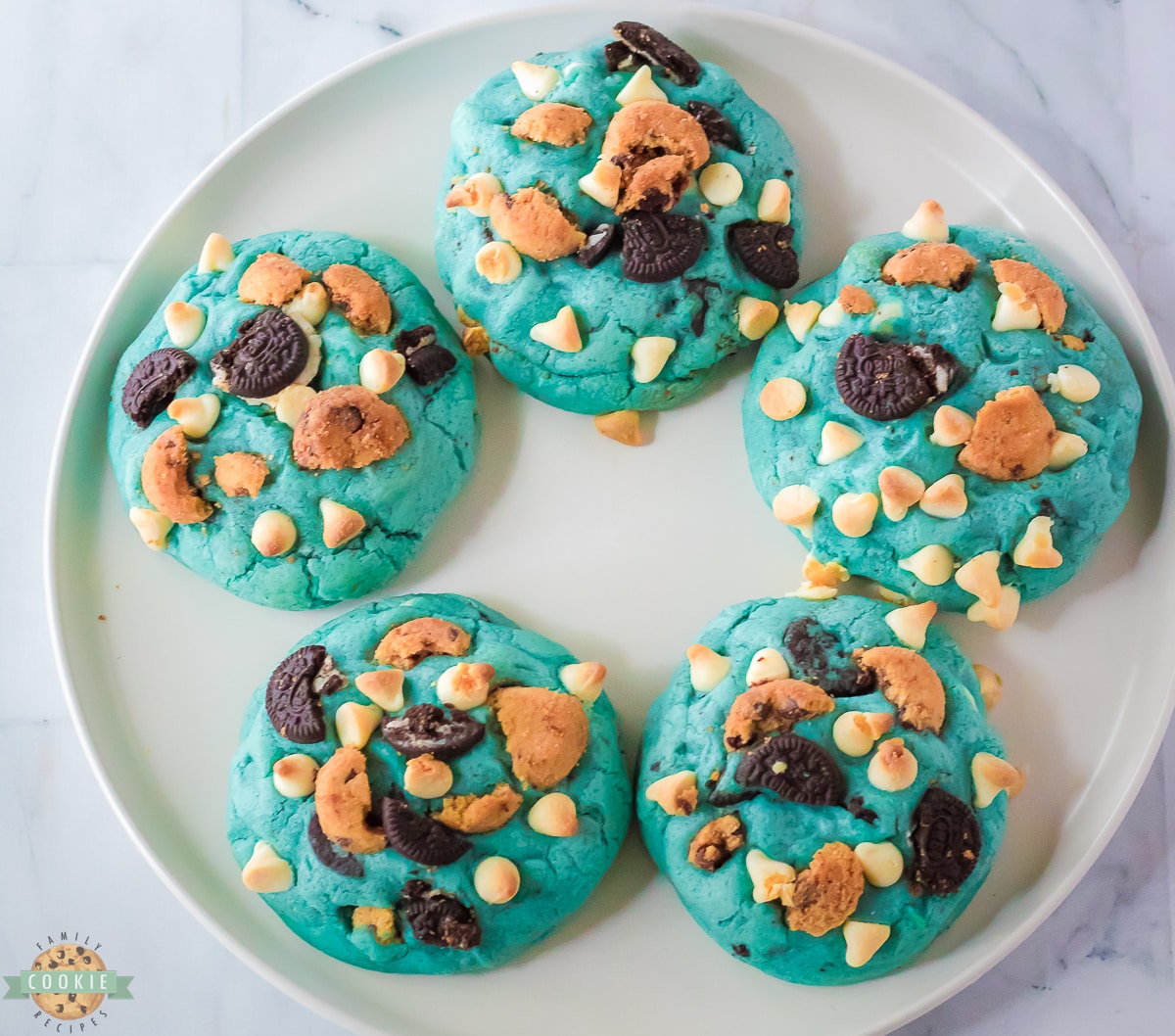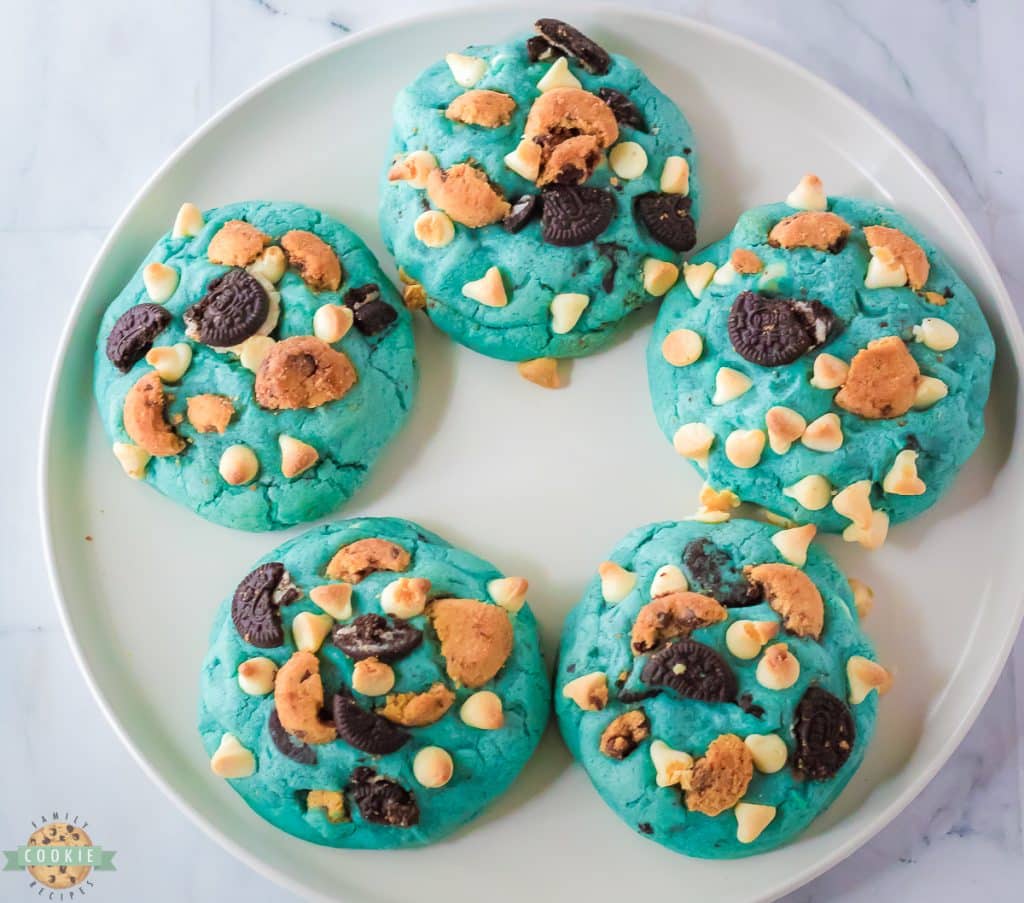 Flour: You will need 2 cups of all-purpose flour for the base of this cookie dough.
Salt: Use ½ teaspoon of salt to help bring out the flavors in these cookies.
Baking powder: Adding in ½ teaspoon of baking powder will help the cookies to spread up and out as they bake resulting in a soft and thick cookie you will love.
White chocolate chips: Use ⅔ cup of white chocolate chips, divided, for amazing flavor.
Oreos: You need ⅔ cup of mini Oreos, divided, for a wonderful crunchy addition to this treat.
Chocolate chip cookies: For even more amazing taste, add in ⅔ cup of mini chocolate chip cookies, divided.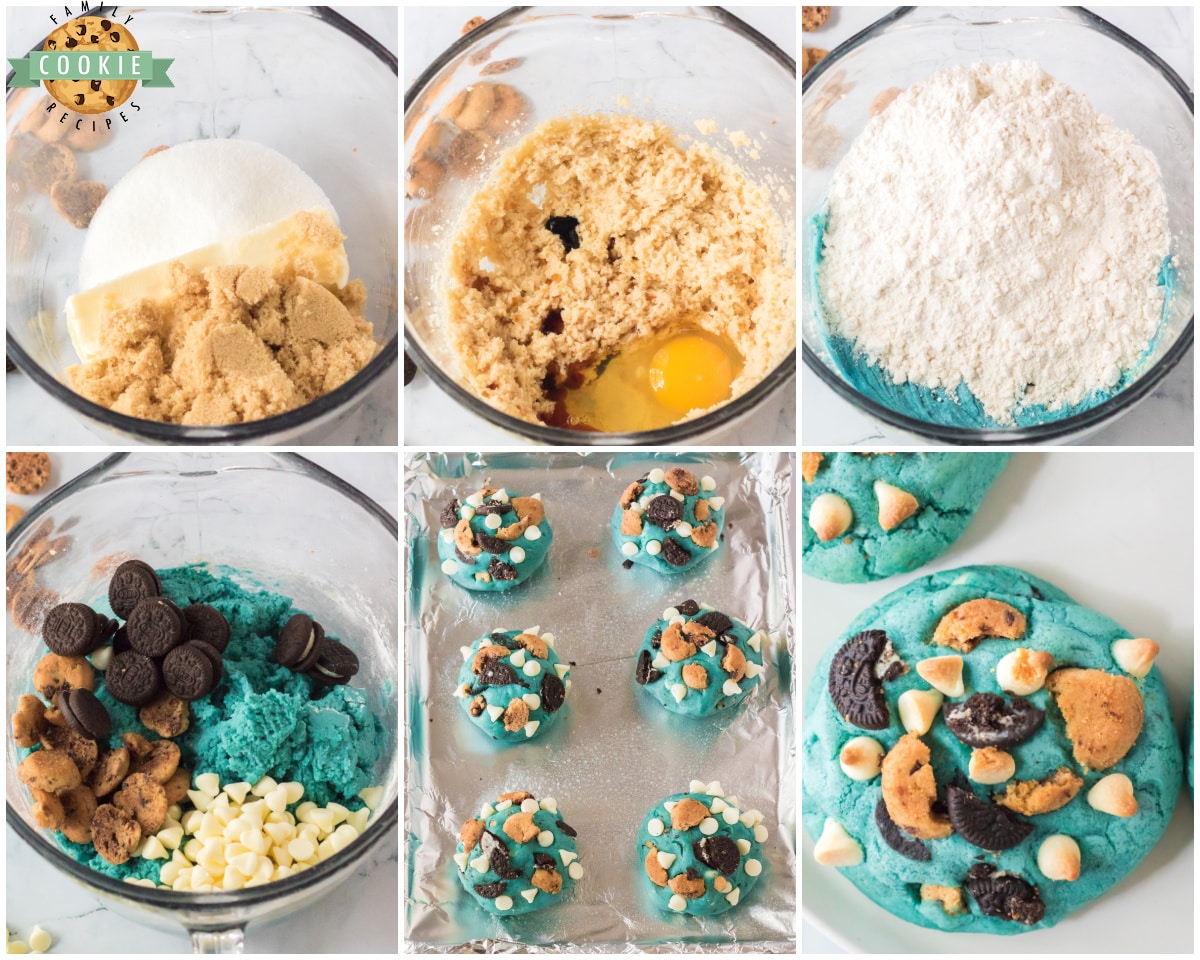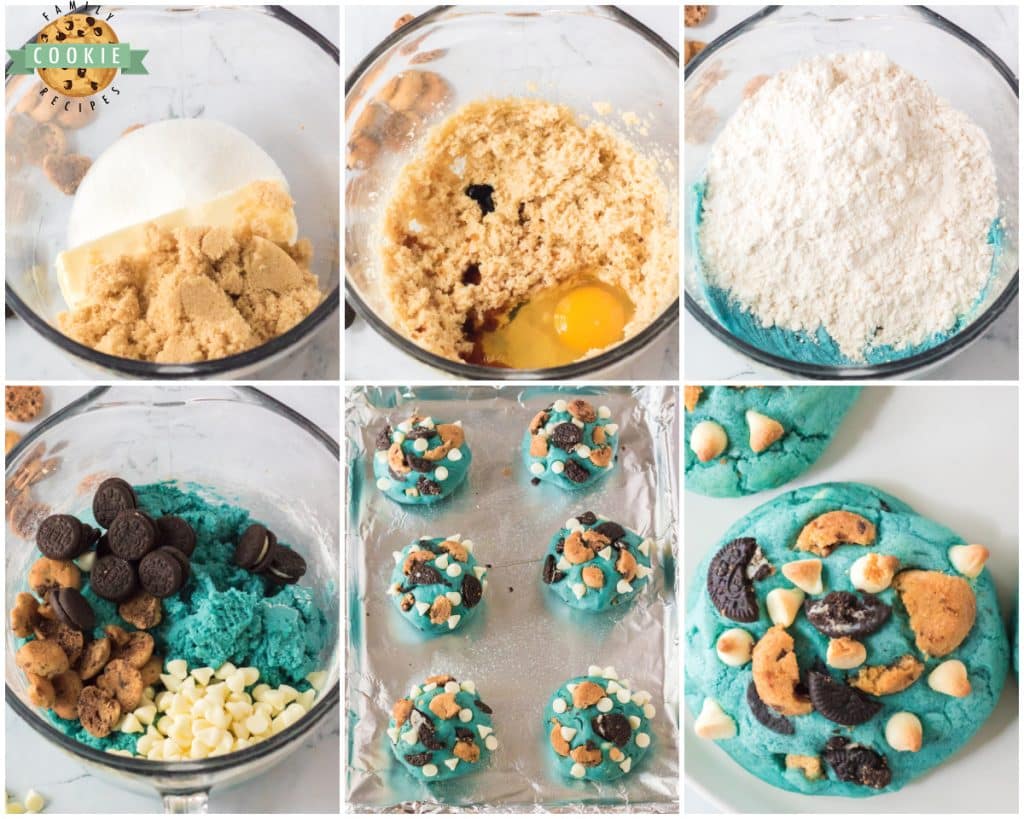 Step by step on how to make Cookie Monster Cookies
Cookie Dough
In a large bowl, with an electric mixer, cream together the softened butter and both sugars, until fluffy.
Then, beat in the egg, vanilla extract and 3 drops of blue food coloring. Feel free to add more food coloring if it is not your desired shade.
Next, add in the flour, baking powder and salt. Mix until just combined.
After that, stir in ⅓ cup of white chocolate chips, ⅓ cup of mini Oreos, ⅓ cup of mini chocolate chips. Use your mixer or a spoon to break up the cookies just a bit while stirring them in.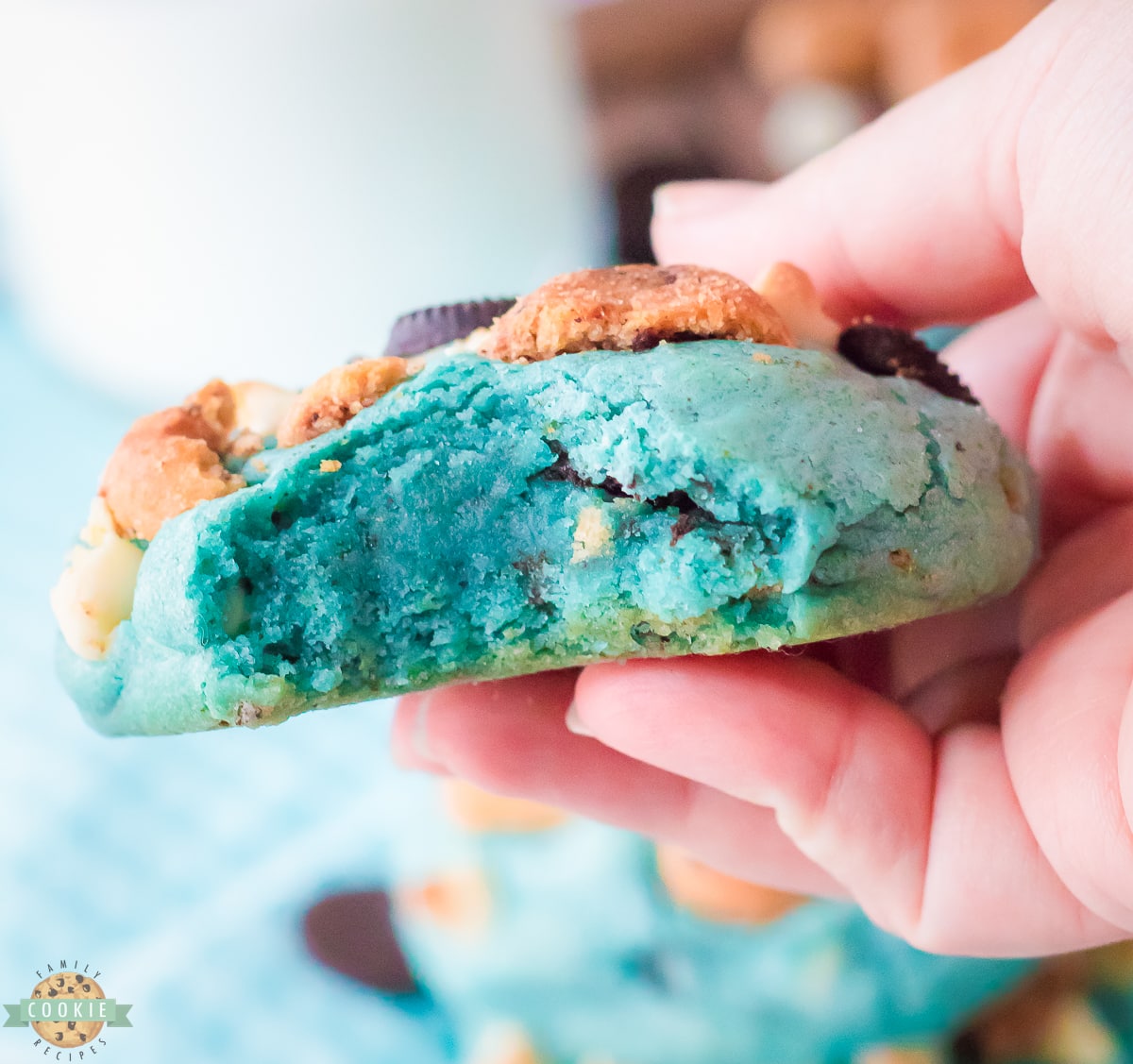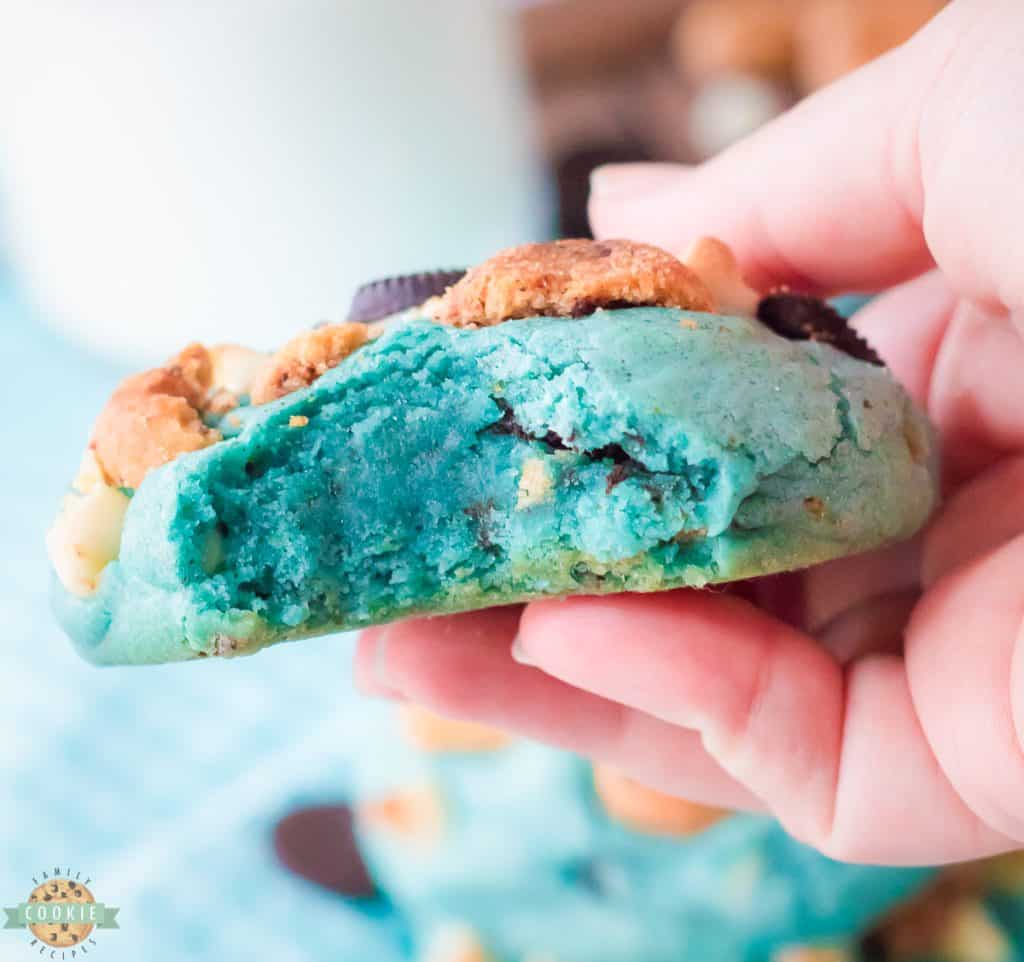 Proceed to divide the dough into 6 equal portions and form each portion into a ball. Place on a lightly greased cookie sheet.
Lastly, break up the remaining mini Oreos and mini chocolate chip cookies. Place the remaining white chocolate chips, mini Oreos and mini chocolate chips cookies all over the top of the cookie dough.
Chill Dough
Place the cookie dough in the fridge and refrigerate for at least 30 minutes. Meanwhile preheat the oven to 350 degrees.
Bake
Bake the cookies for 15-18 minutes, you want the edges to just be golden brown, we want the cookies to stay chewy. Cool 5 minutes and then transfer to a rack to cool completely. Enjoy!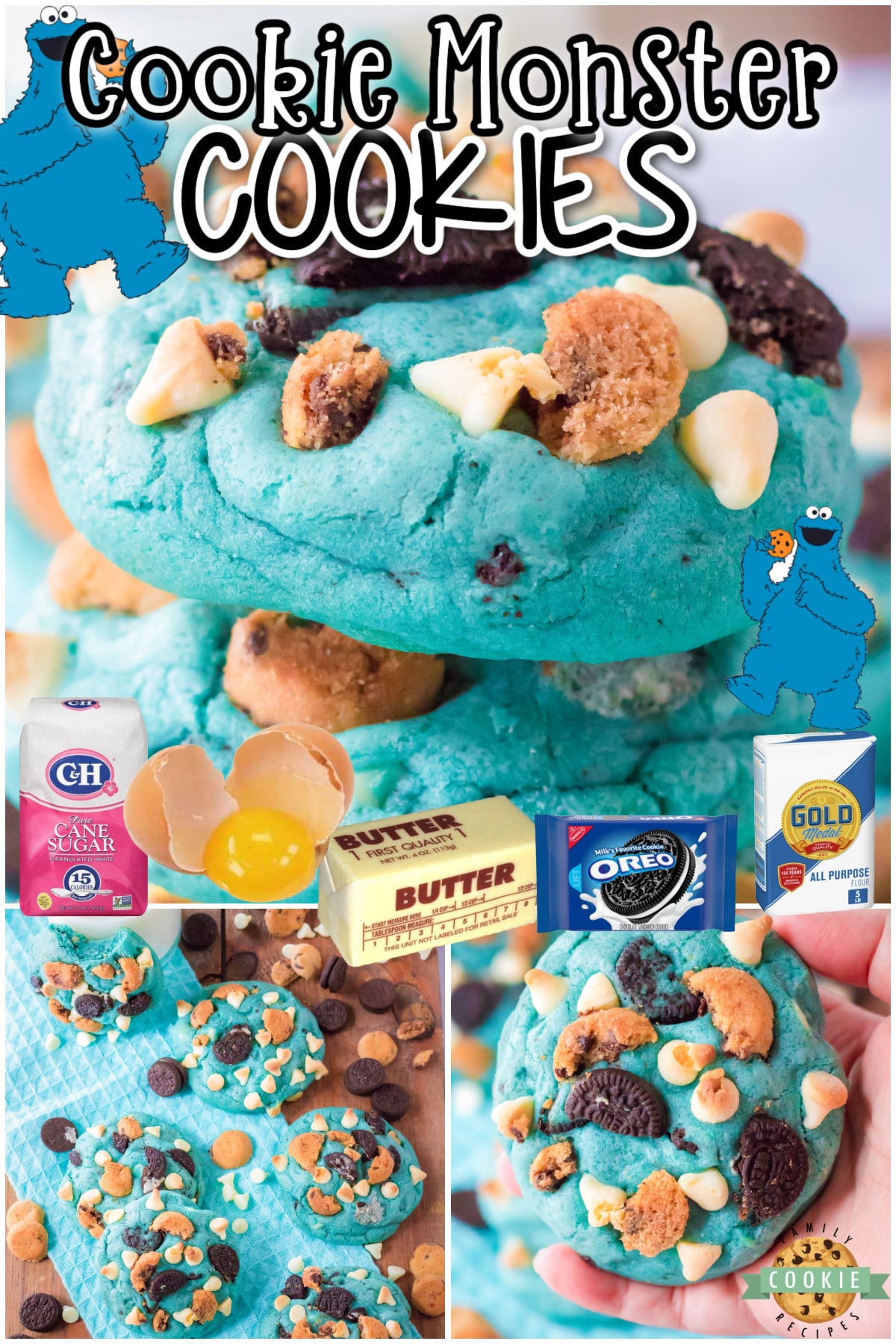 Cookie Tips and Tricks
Here are a few helpful tips for creating the best monster cookies.
You will want to refrigerate these cookies before baking to keep them nice and chewy.
I find gel food coloring works best. It gives the cookie dough a great vibrant coloring.
Feel free to switch out the white chocolate chips for regular chips if you like. You cannot go wrong with either one of these options.
This recipe makes 6 large cookies, but you can divide the dough into 12 regular size cookies if you like or you can even make mini ones!
How long are these cookies good for?
These cookies can be kept stored in an airtight container for up to 3-5 days. To keep the cookies nice and chewy I recommend keeping them stored in the fridge.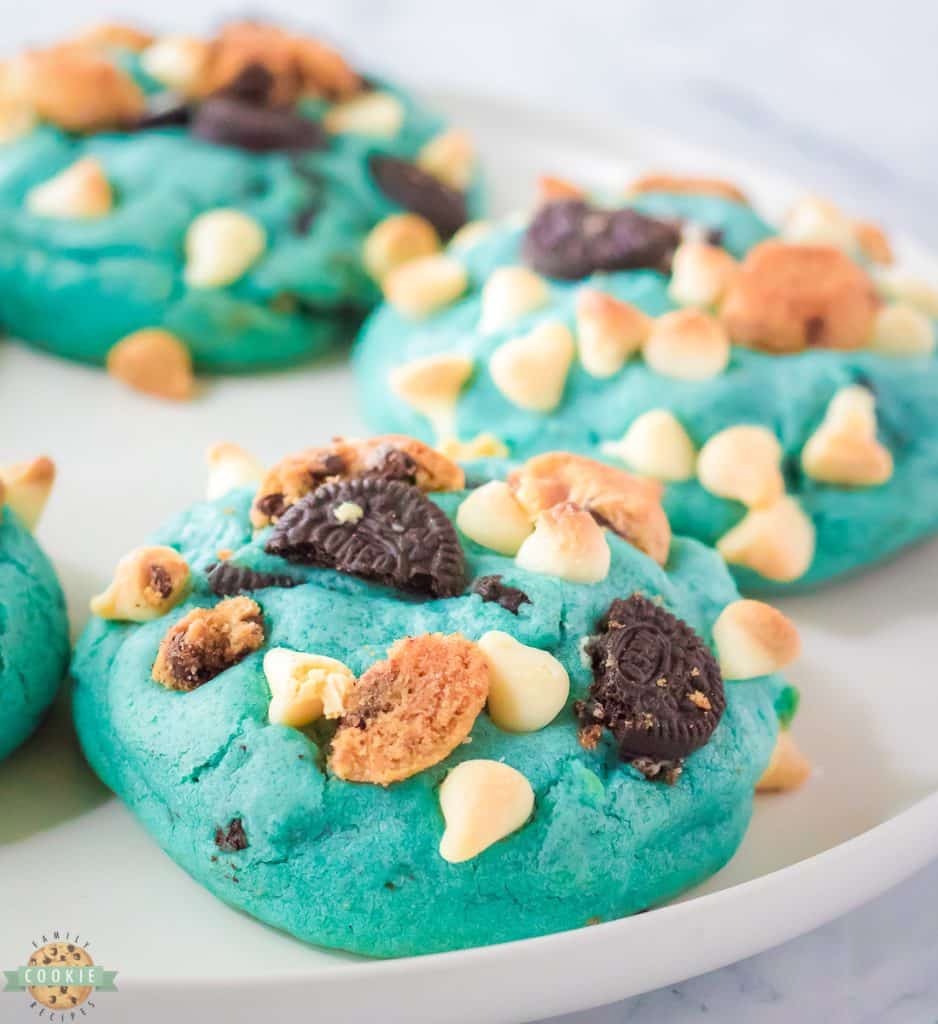 Do I have to chill the cookie dough?
When recipes request that you chill your cookie dough it is usually for a good reason. That reason is that the flavor gets a bit more time to develop and the cookies taste even more incredible. But the biggest reason is because of the butter/fats in the dough. By chilling the dough we allow the fats to solidify which means your cookies will not spread out as much while baking, so the texture turns out perfectly. This is especially important on warmer days or when your butter is warm or softened.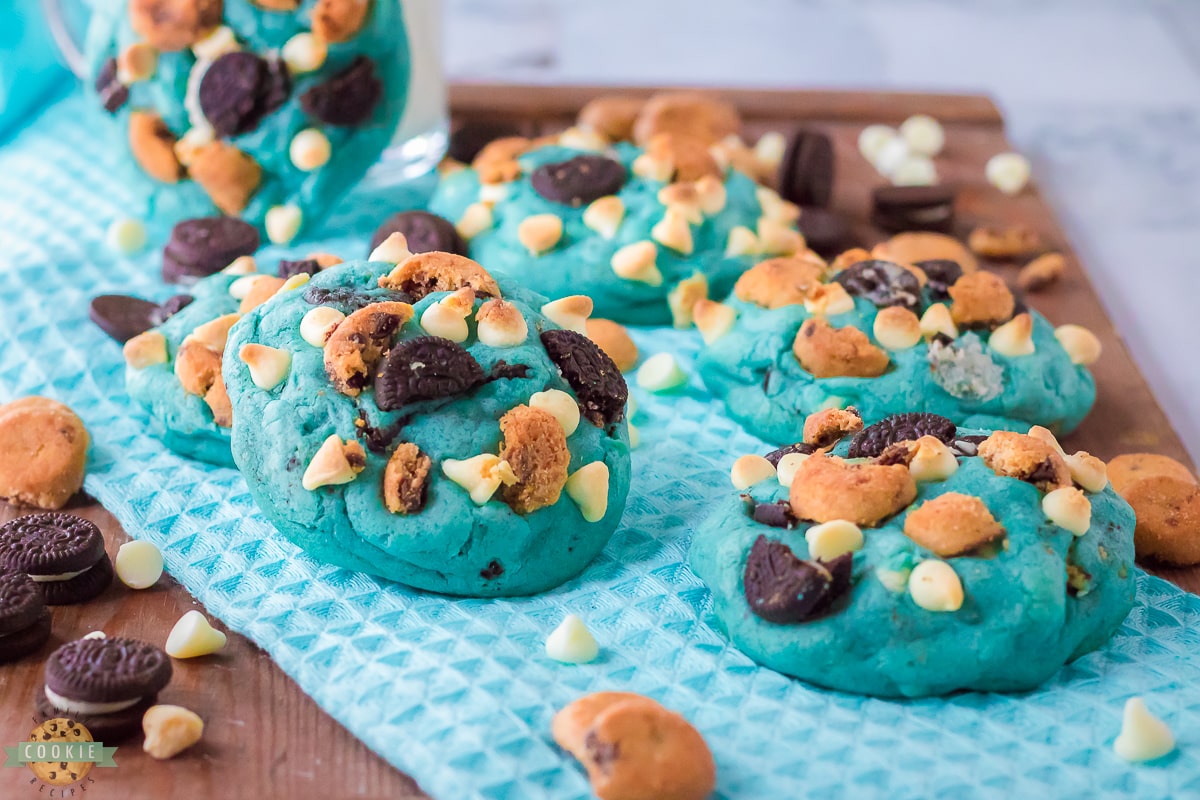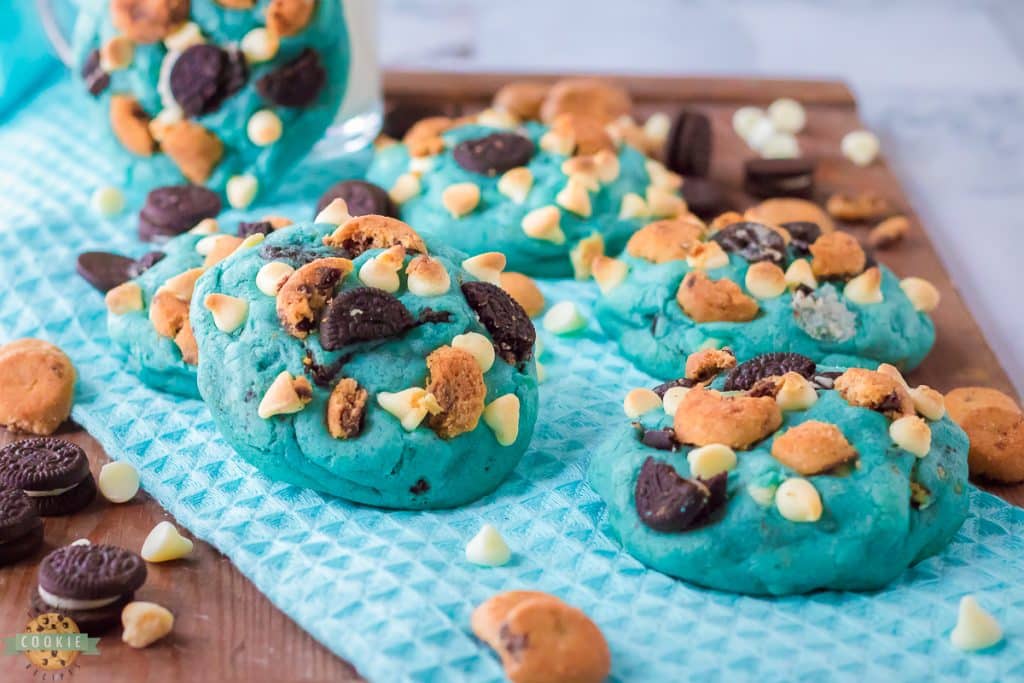 CAN YOU FREEZE COOKIES?
I love freezing cookies! There are 2 ways I prefer to freeze them. The first is by freezing the unbaked cookie dough balls. I scoop & shape the balls round with my hands, then freeze them in 1 layer on a cookie sheet. You can position them as close together as possible without touching. Freeze, then once solid, transfer them to a ziplock freezer bag. Then you can pull them out and bake them whenever you want! You'll want to either let them thaw on a cookie sheet while preheating the oven, or add a couple minutes to the bake time to compensate for frozen cookie dough.
The second way is to just freeze the baked cookies. My mother in law does this ALL the time. They turn out pretty well, albeit a tiny bit drier and more crumbly once thawed. Oh and you've got to make sure you thaw them. Frozen cookies are pretty hard to eat. Thankfully, they only take about 20 minutes or so to thaw out.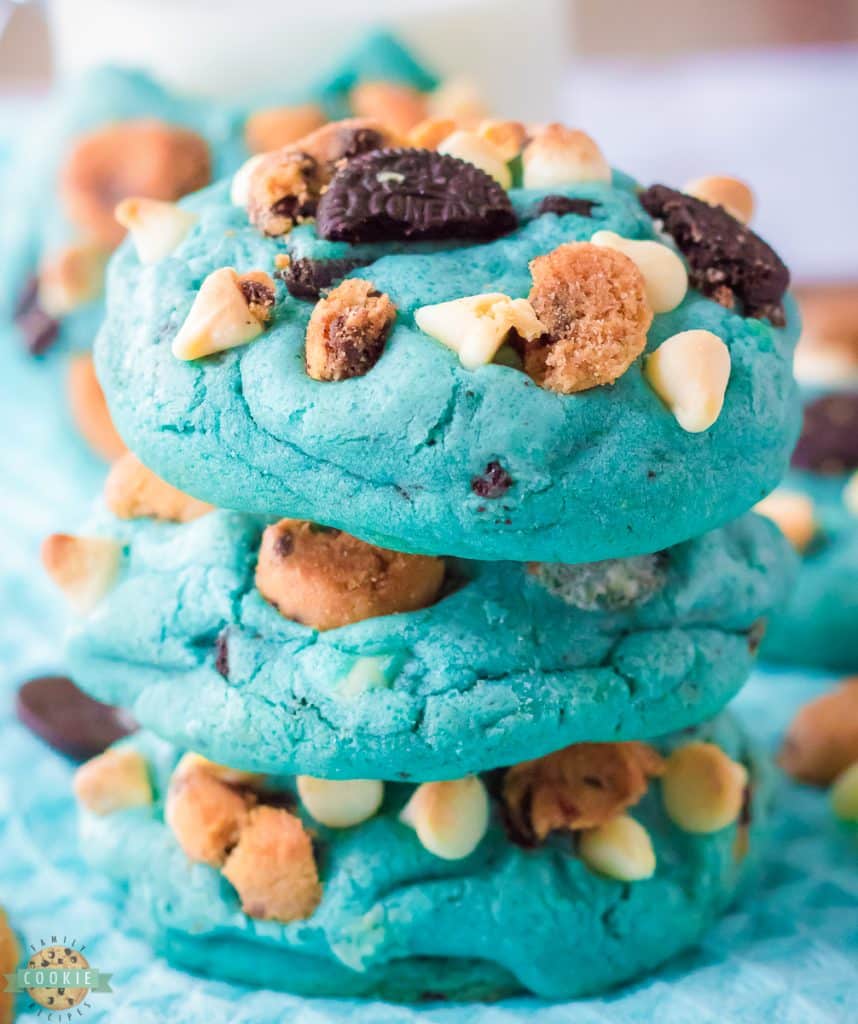 Can I make these cookies gluten free?
You sure can! Swap out the regular flour for your favorite GF brand to start with. Then, you will need to swap out the Oreo cookies and chocolate chip cookies for a gluten free cookie. There are so many options to choose from these days this should not be difficult. Do not let a gluten allergy hold you back from enjoying these amazing and wonderful cookies!


Sometimes when you're waiting for an event to start and you have nothing to do, you just bust out the photo filter app and have fun! Aren't we both so pretty?!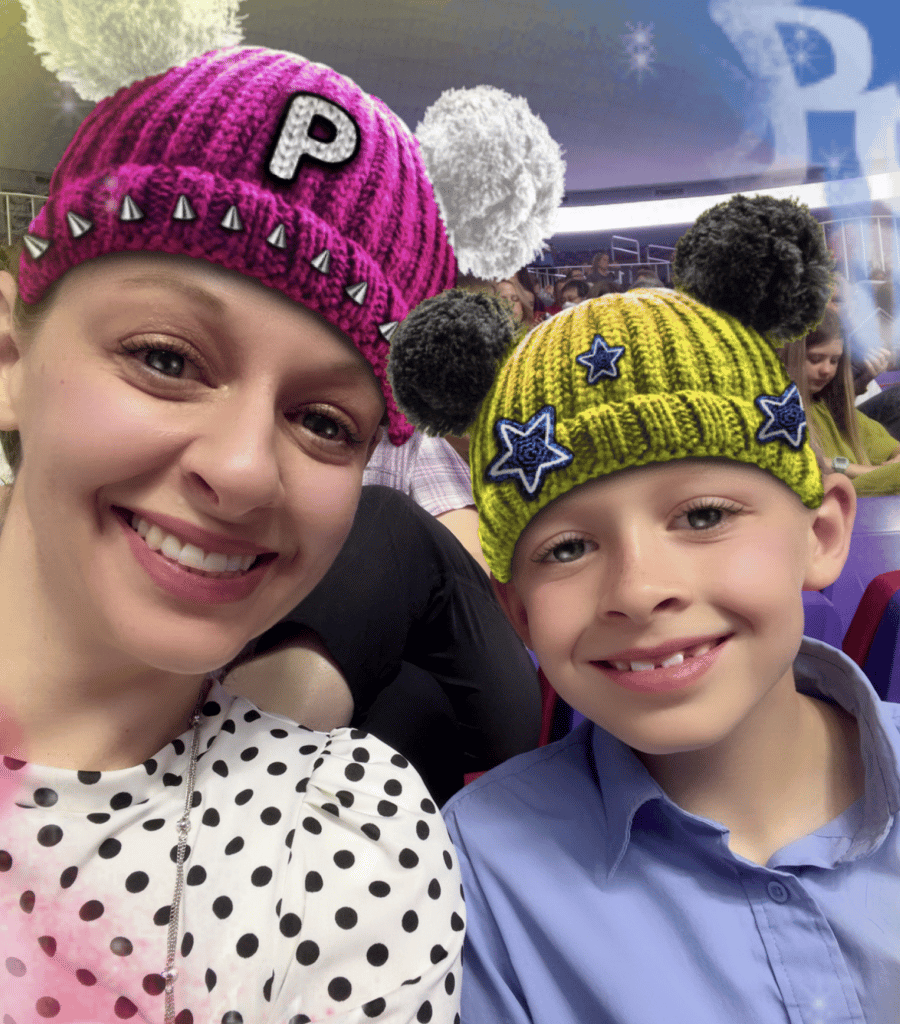 If you loved these cookies, check out more amazing recipes here!
Cookie Monster Cookies are an enjoyable and delicious treat. These monster cookies are soft cookies, loaded with white chocolate chips, mini Oreos and mini chocolate chip cookies.