Chocolate Glazed Donut Cookies made to look like your favorite breakfast treat! Sugar cookies cut to look like chocolate donuts are the best kind of cookies. Don't forget the sprinkles!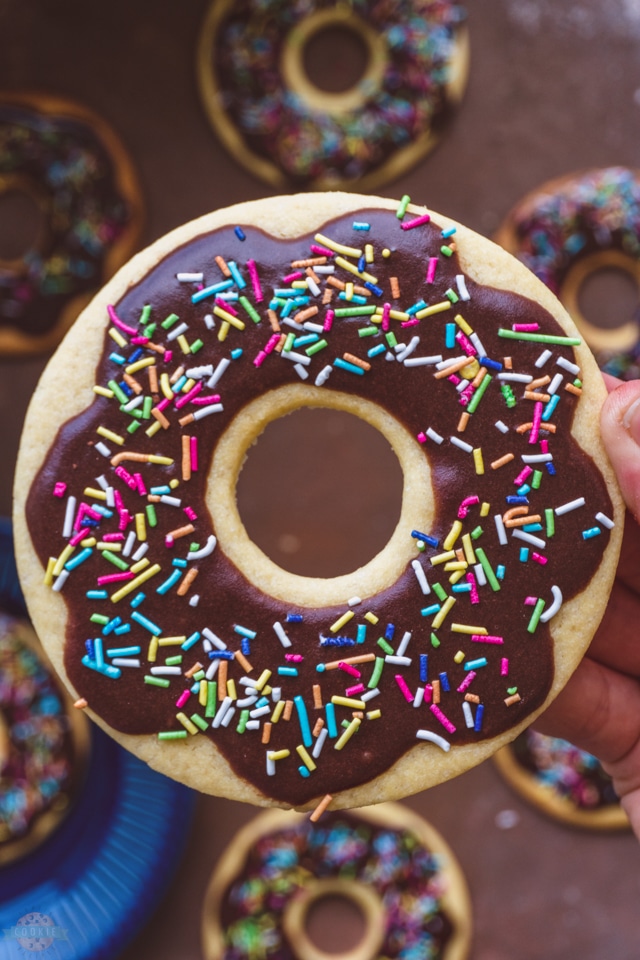 Glazed donut cookies are easy and fun to make, (almost more fun than eating them!) With such a simple sugar cookie dough and chocolate glaze recipe to follow you'll have these cookies made with little prep work. Add your own sprinkles on top and you know you'll have an irresistible treat to share.
What are donut cookies?
While these sugar cookies are in fact, not an actual donut- they will look like one. These baked cookies are shaped and cut to look like round donuts and then given a simple glaze over the top that just makes them look incredible. Adding a burst of color with festive sprinkles just makes them look the part even more. You're going to love these fabulous donut cookies!

Chocolate Donut Cookie Ingredients
-Butter: To create a rich-tasting cookie we will need 2 sticks (1 cup) of room temperature butter.
-Sugar: To help give our cookies the sweetness and crisp edges we're looking for, we will need ¾ cup of granulated sugar.
-Egg: We need 1 egg at room temperature. Fun tip, you can warm an egg quickly by placing them in a bowl of warm water. This only takes a few minutes and is perfect for when you forget as I often do.
-Flour: 3 cups of all-purpose flour is the base of our cookie dough.
-Vanilla: 1 tablespoon of vanilla extract will make our cookies taste incredible, use stronger vanilla for a stronger flavor.
-Baking powder: A teaspoon of baking powder will help them to puff up a bit as they cook, giving us a great texture.
-Salt: A pinch of salt will help to naturally enhance the flavors in these cookies.

For the chocolate glaze:
-Powdered sugar: The base of our glaze is 2 cups of powdered sugar. This will help give us a sticky sweetness that remains nice and smooth.
-Cocoa powder: To make our glaze taste and look like chocolate we will need 1 tablespoon of cocoa powder.
-Milk: We need 4-5 tablespoons of milk to get our glaze to the perfect consistency but the actual amount of milk will vary based on your own preferences.
-Sprinkles: Adding sprinkles will make our cookies look incredible, you will need about 5-6 tablespoons of sprinkles to cover them all.
How to Make Chocolate Glazed Donut Cookies
Whisk together the butter and sugar in a large bowl until they are light and creamy. Add in the egg and then continue to whisk.
Add in the flour, baking powder, vanilla, and salt.
Mix the dough until it comes together. Place in the fridge for 15 minutes to chill and rest.
Preheat your oven to 350 degrees F and line a baking sheet with parchment paper. Set aside.
Roll your dough out until it is about ¼ inch thick and then use donut cookie cutters or two circle cutters to cut out your donut shapes. Re-roll and cut the dough as needed.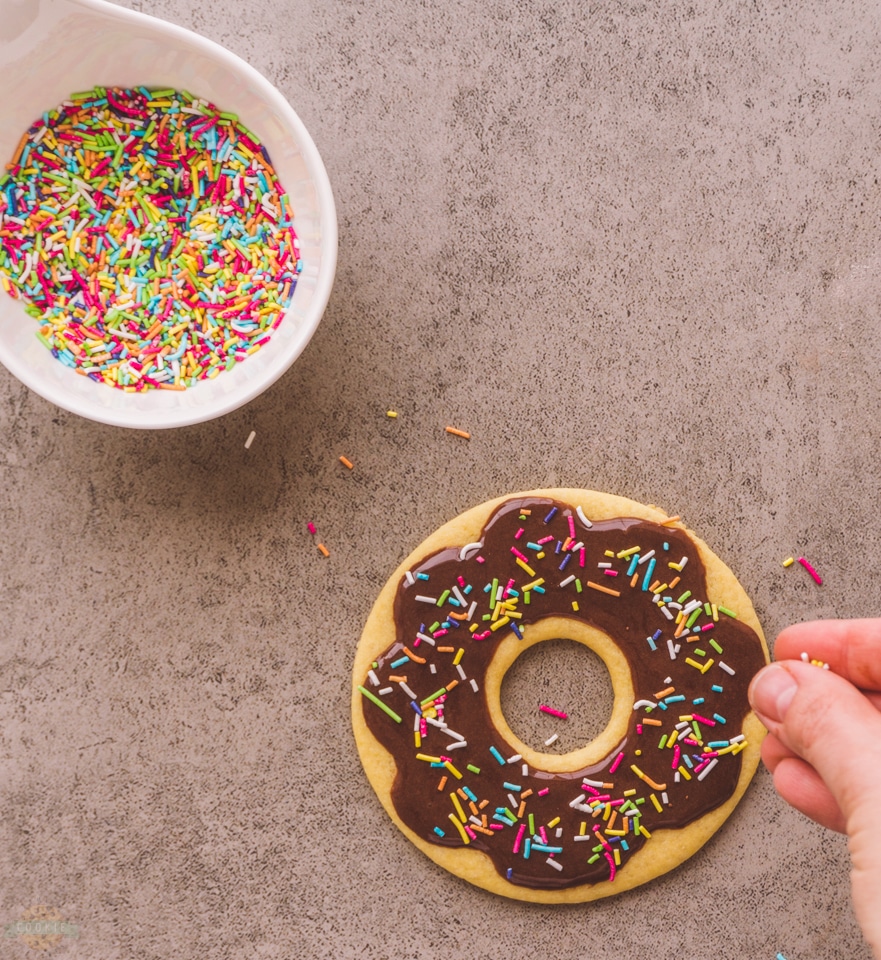 Bake the cookies in the oven at 350 degrees F for 10 minutes.
Allow the cookies to cool on the baking sheet for 5-10 minutes before transferring to a wire cooling rack.
Make the chocolate glaze by whisking together the ingredients until smooth in a small bowl.
Spoon the glaze over the cookies and top with sprinkles as desired. Let cool to set. Enjoy!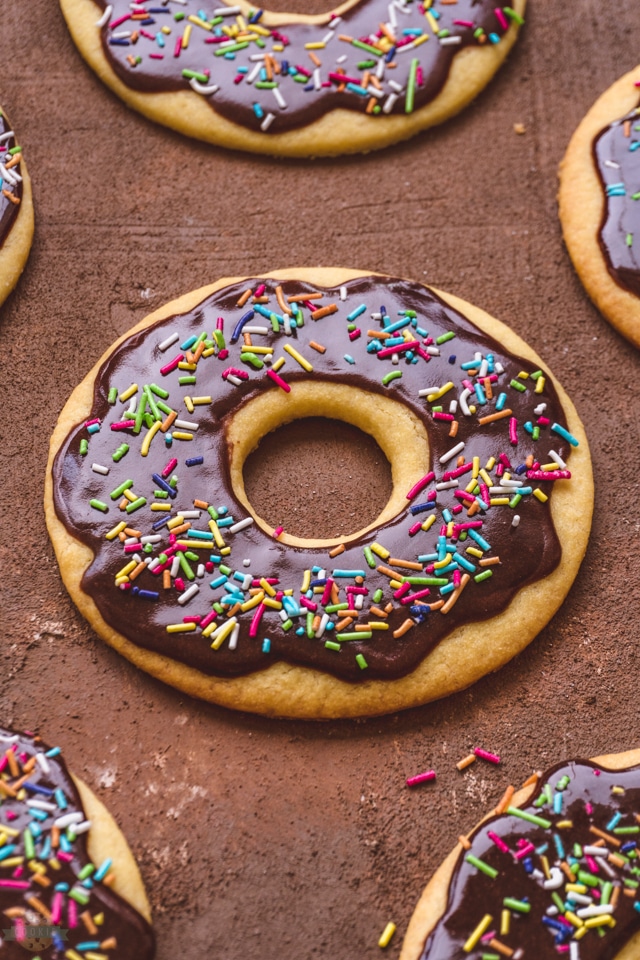 How long does cookie glaze take to harden?
This is almost completely dependent upon the temperature in the room, how wet your glaze is, and the temperature of the cookies when you apply the glaze. At most the glaze should take about 2 hours to harden/set but if needed you can speed up the process by placing the cookies in the fridge.
What can I use to cut out cookies?
If you don't have round cookie cutters available and would like to be a bit more resourceful you'll be happy to know that you probably have some great tools on hand already. Using the mouth of a glass cup or jar you can create the larger circle of the donut shape. Using a smaller circle you can cut out the centers. Depending on the cup you use you may find that the centers are the perfect size if you use a small liquid medicine cups (like those ones that come with kids liquid Tylenol). Make sure whatever you use is clean and food-friendly though as not everything is a safe choice.

More Glazed Cookie Recipes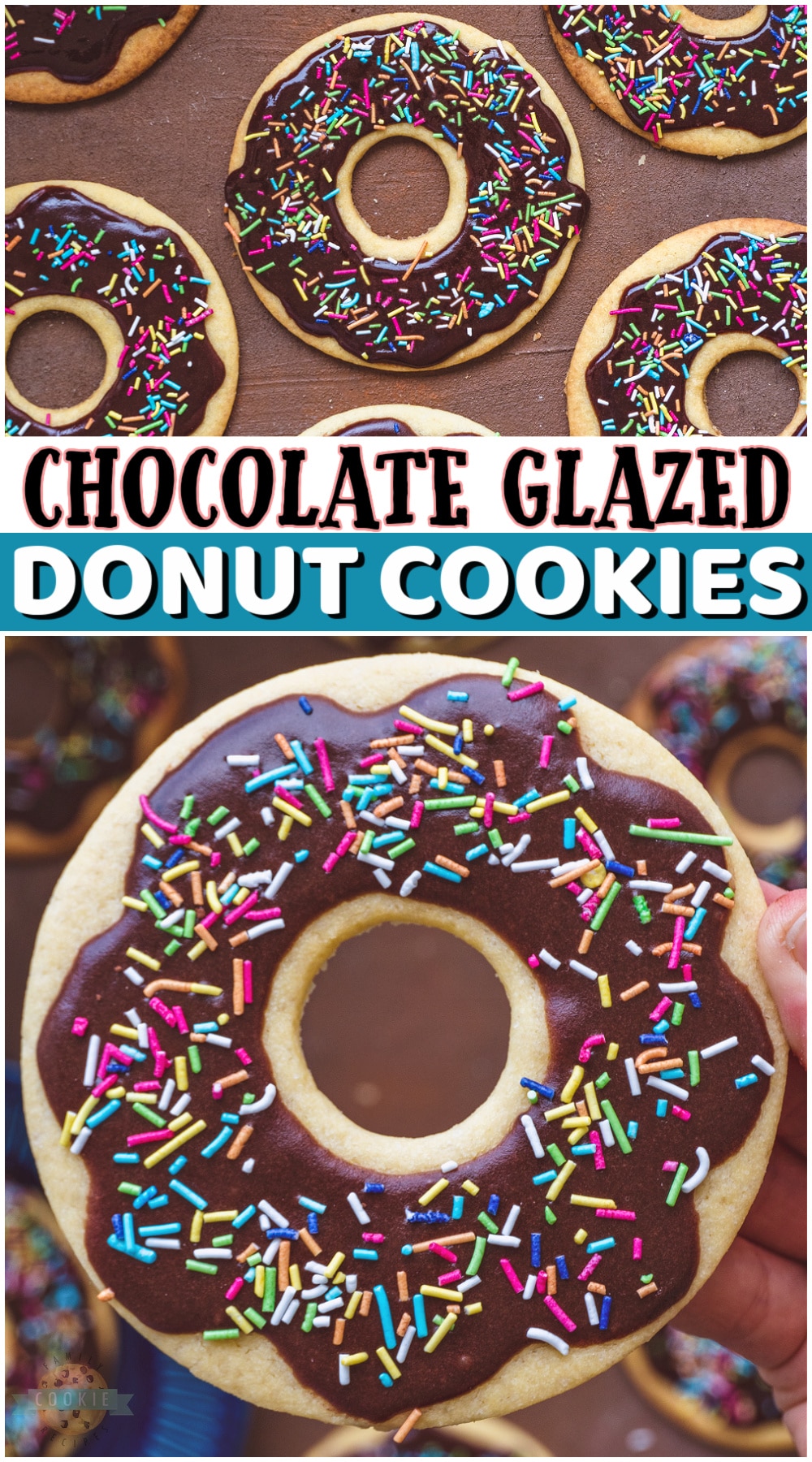 These chocolate glazed donut cookies are a tasty treat fit for any occasion. Serve them up at parties or just because and you know they'll be a success.