Lemon Zucchini Cookies made with lots of lemon flavor and shredded zucchini. Topped with a delicious lemon glaze, these zucchini cookies are absolutely incredible!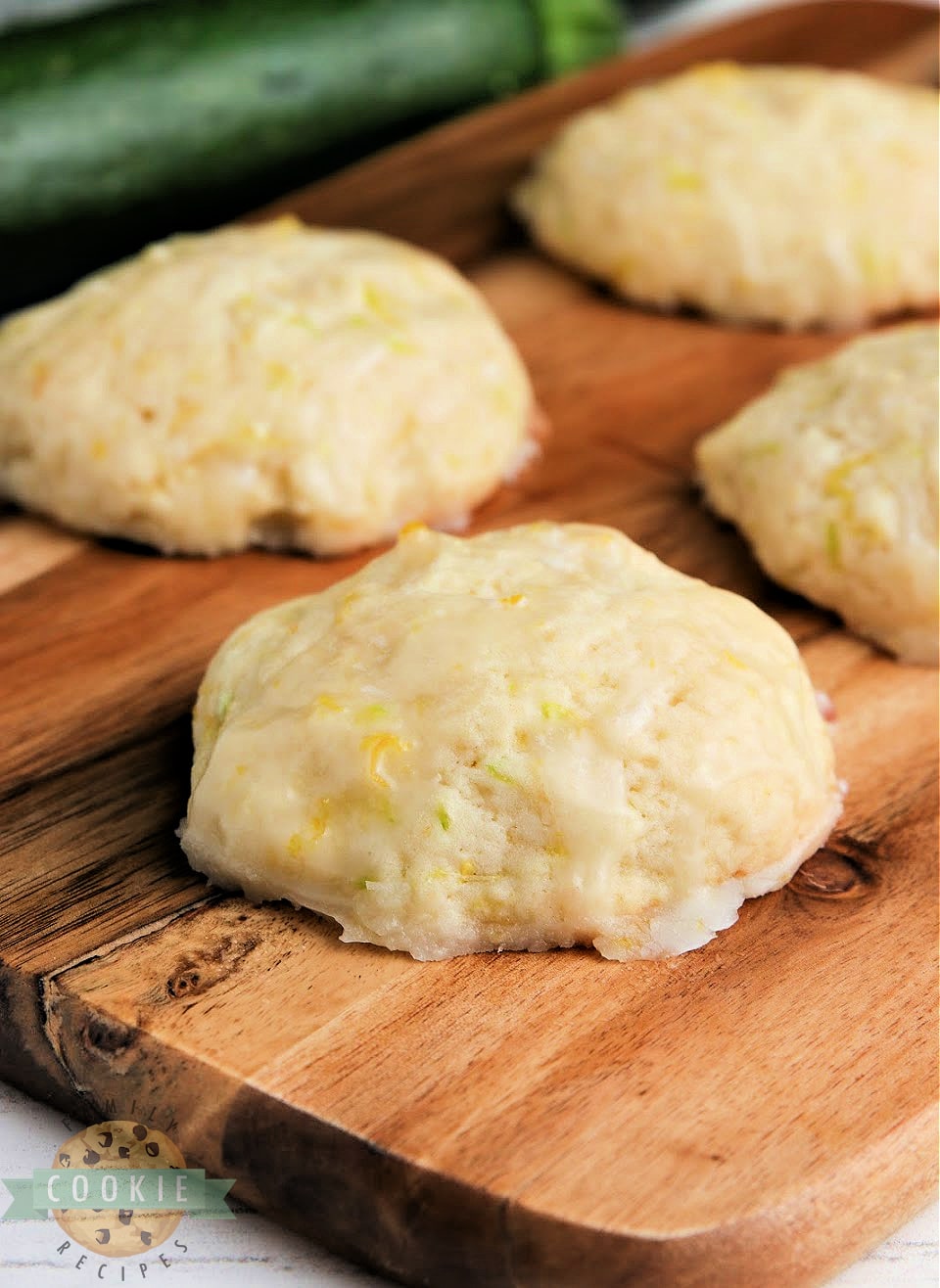 Lemon Zucchini Cookies are so moist because of the grated zucchini in them. You can peel the zucchini and no one will even ever know that it's in there! The cookies are even delicious without the glaze, but the glaze adds a lot of lemon flavor.

Ingredients in Lemon Zucchini Cookies
2 cups flour
1 tsp baking powder
1/2 tsp salt
3/4 cup butter, softened to room temperature
3/4 cup sugar
1 egg
1 tsp lemon zest
1 cup zucchini, peeled and grated
Glaze:
1 cup powdered sugar
1 1/2 Tbsp lemon juice
1/2 tsp lemon zest
How to make Lemon Zucchini Cookies
Preheat oven to 375°.
In a medium mixing bowl, mix flour, baking powder and salt together. Set aside.
In a large bowl, cream butter and sugar together for about 2-3 minutes. Add egg and lemon zest and beat for another 2-3 minutes.
Slowly stir in the flour mixture until combined and then add the zucchini and fold it in. Drop by rounded tablespoonfuls onto a greased cookie sheet. Bake for 10-12 minutes, until lightly browned on the tops and edges.
In a small bowl, mix the glaze ingredients and drizzle onto the cookies once they are partially cooled.

TIPS FOR MAKING THE BEST COOKIES
Do not melt the butter! The butter needs to be softened (at room temperature). Using melted butter will ruin the cookies.
Spend a little extra time when you mix the butter and sugars. Creaming them together for 2-3 minutes will improve the consistency of your cookies.
Preheat the oven. This will help your cookies turn out right every time!
Use parchment paper or a silicone baking mat. Doing this will make it really easy to remove the cookies from your cookie sheet so that you don't have to scrape them off the pan. They will just slide right off in perfect shape!
Make sure not to over bake your cookies. They may not even look totally done on the tops, but if the bottoms start to brown, I take mine out and they are perfect!

DO YOU HAVE TO PEEL ZUCCHINI TO MAKE ZUCCHINI COOKIES?
No you do not have to peel zucchini before making zucchini cookies. I like to peel it for these cookies though just so that I can sneak it into them without my kids noticing. The cookies will look different (and have a lot more green in them!) if you leave the peel on, but the taste won't be affected at all.
SHOULD I SQUEEZE EXCESS WATER OUT OF MY ZUCCHINI BEFORE MAKING ZUCCHINI COOKIES?
Nope, you don't need to squeeze out excess water from grated zucchini before adding it to your cookie dough. Zucchini naturally has a lot of water in it. Interestingly enough, each zucchini is a bit different when it comes to water content. I find zucchini straight from my garden has quite a bit more water in it than zucchini from the grocery store. If there seems to be a lot of extra moisture, you may want to squeeze it out a little bit, but the moisture in the zucchini is part of what makes these cookies so soft and delicious.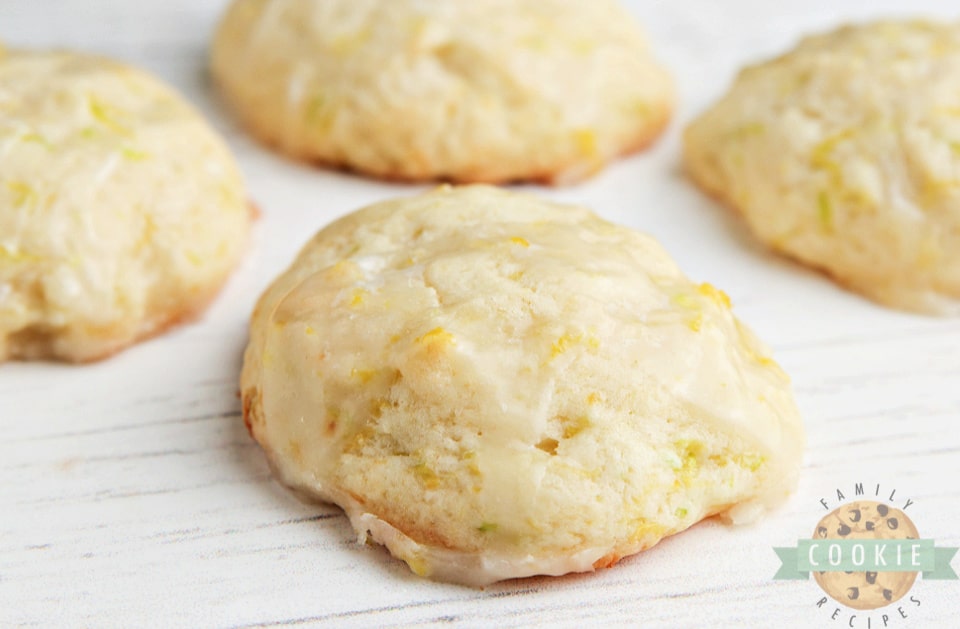 OTHER DELICIOUS COOKIE RECIPES: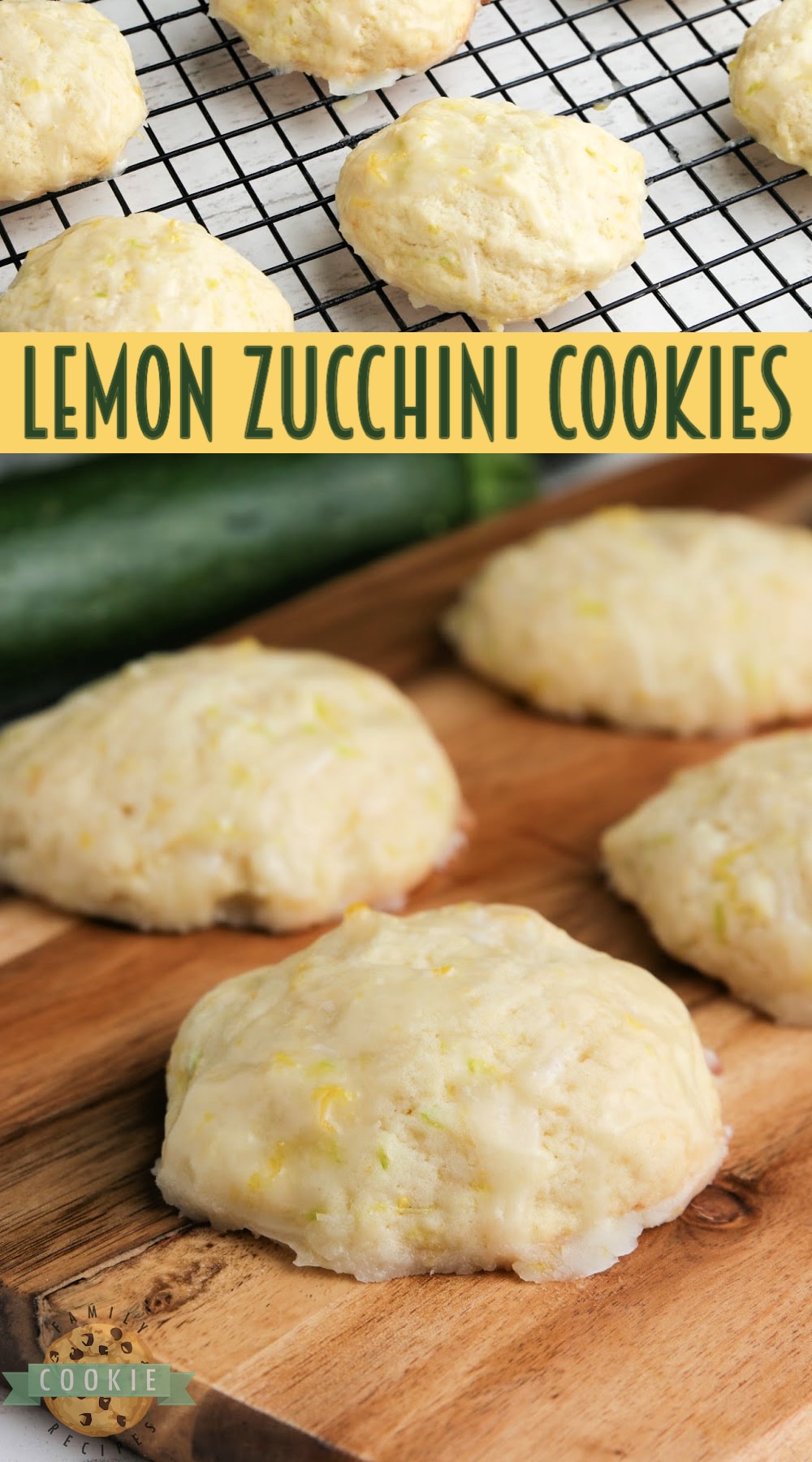 Lemon Zucchini Cookies made with lots of lemon flavor and shredded zucchini. Topped with a delicious lemon glaze, these zucchini cookies are absolutely incredible!


Check out this handsome kid of mine! For the last year, he has been a bit opposed to haircuts. He would let me do an occasional trim just to keep it out of his eyes, but it was pretty shaggy. And he has really straight hair. Plus, he has about 5 times more hair than a normal person. It was pretty scraggly, especially since combing it wasn't high on his list of priorities. I finally got so tired of it that I bribed him to cut it. When I first saw him after his haircut, I almost cried. I am so happy to be able to see his face again! He is so handsome and I honestly forgot how cute he is because his hair was covering up so much of him for the last year! All of his sisters were equally complimentary and I think he really liked all the gushing, so I'm hopeful that the long hair is gone for good. At least until he is old enough to care about taking care of it!