Lemon cream pie cookies are a delicious way to enjoy the tastes of a lemon cream pie without the hassle of pie crust. These lemon cookie cups are easy to grab and go and this lemon cookie recipe makes enough to share.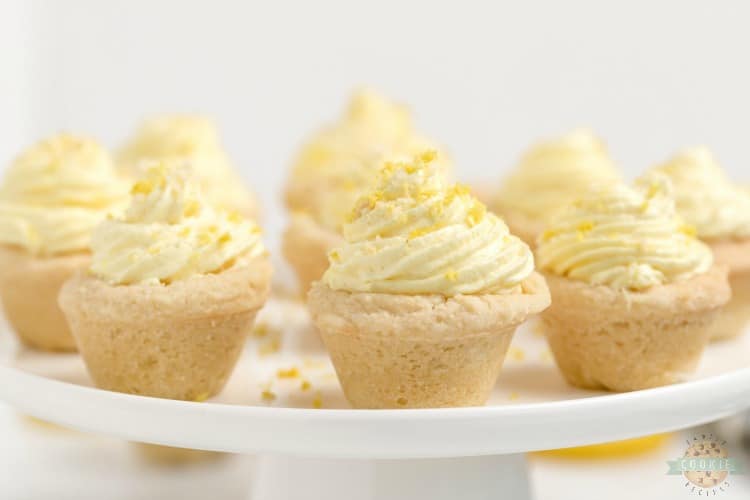 These lemon filled cookies are a nice way to enjoy bited sized lemon pie without meringue. They are a great alternative to pie because you not only get to avoid the issues of trying to make a perfect pie crust, but you also save yourself all of the dishes from slicing and serving an entire pie (an awesome bonus fact I thought you'd appreciate).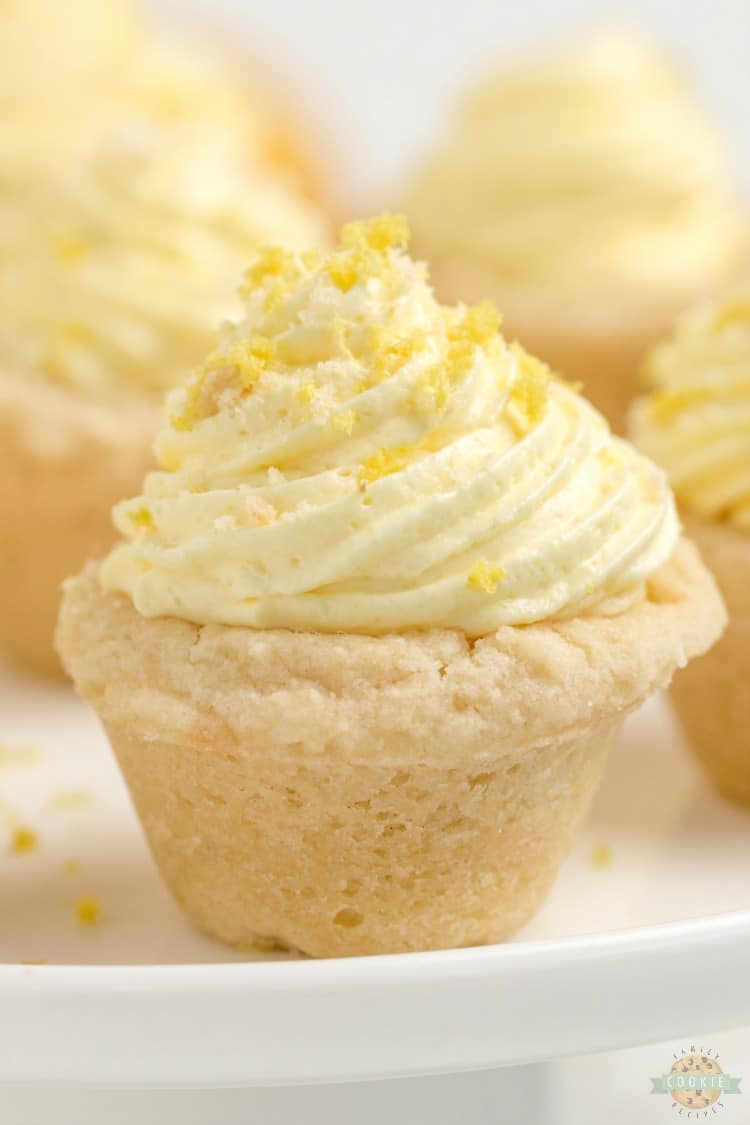 Making These Lemon Filled Cookies
These lemon cream pie cookie cups are made by using a mini muffin pan instead of a baking sheet. This is what helps to give the cup shape that is needed to hold the filling.
You'll want to use a cookie scoop to make sure that the cookie dough is the same amount in every muffin cup. This helps to get the lemon cream cookies to cook at the same pace and all turn out similar.
Using a pastry bag or a sandwich bag with the corner cut off to help pipe the lemon cream into the cookie cups is a great way to make it easier for you and a lot less messy!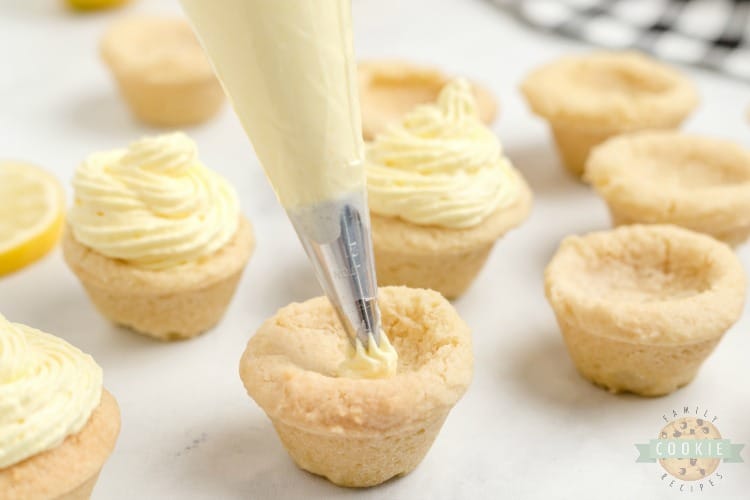 Can you make lemon cream cookies in advance?
You can make your lemon cream cookies in advance. The cookie cups can be made up to a few days before being filled, and the filling can be made in advance and stored separately as well. Assembling the cookies more than 12 hours in advance can lead to soggy cookies.
How do I store lemon cream cookies?
Already filled and assembled lemon cream cookies should be stored in an airtight container or a plastic wrap covered serving platter inside of the fridge. You'll want to keep it in a single layer so that the tops aren't destroyed by stacking them.
Lemon Cream Cookies Ingredients
Here's what you'll need for the cookie cups
-1 cup sugar
-1/2 cup softened butter
-1 egg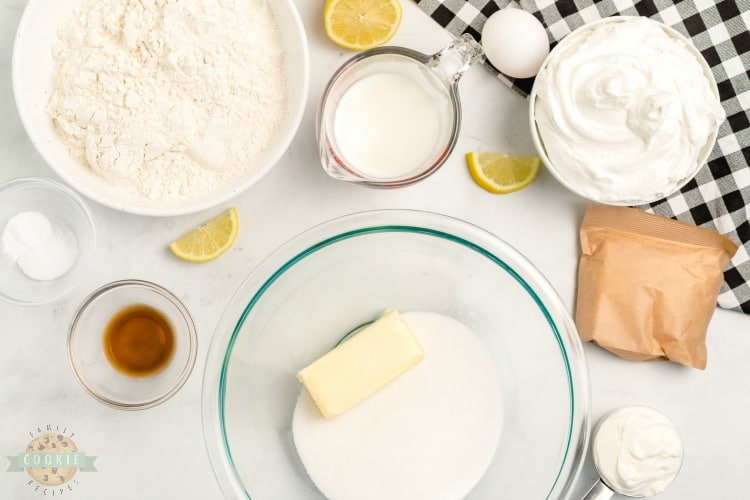 -1 tsp. vanilla
-1/3 cup sour cream
-1/2 tsp salt
-1/2 tsp baking soda
-2 cups flour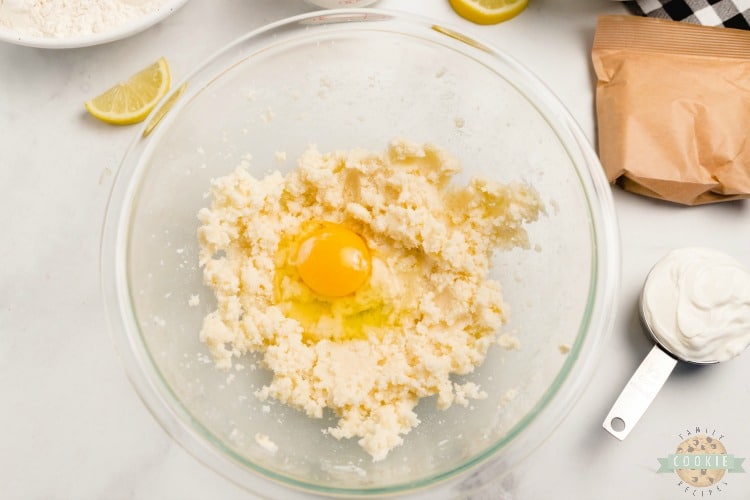 Here is what you will need for the lemon cream filling:
1 3.4 oz box lemon flavored instant pudding
1/2 cup milk
1 8-oz tub whipped topping
Lemon zest
How to Make Lemon Cream Pie Cookies
Preheat your oven to 325 degrees F and spray a mini muffin tin with non-stick cooking spray. Using a hand mixer, cream together the sugar and butter.  Add in the egg and the vanilla, mix again. Add in the sour cream, salt, and baking soda. Add in flour and then beat until smooth.
Scoop out 1 TBSP of dough into each muffin cup. I use a cookie scoop- it makes this process so fast and I love that all the cookies are uniform! You'll have enough dough to make 24 cookie cups, plus about 6 more cookies. You can bake these additional cookies on a baking sheet.
Bake for 17-18 minutes. Then let the cookies stand for 1-2 minutes after taking them out of the oven. Spray the round side of a 1 tsp measuring spoon with non-stick spray. Press down into the center of each cookie to create a well. Let them cool completely- if you need to hurry this process, feel free to stick the pan in the freezer for 20 minutes.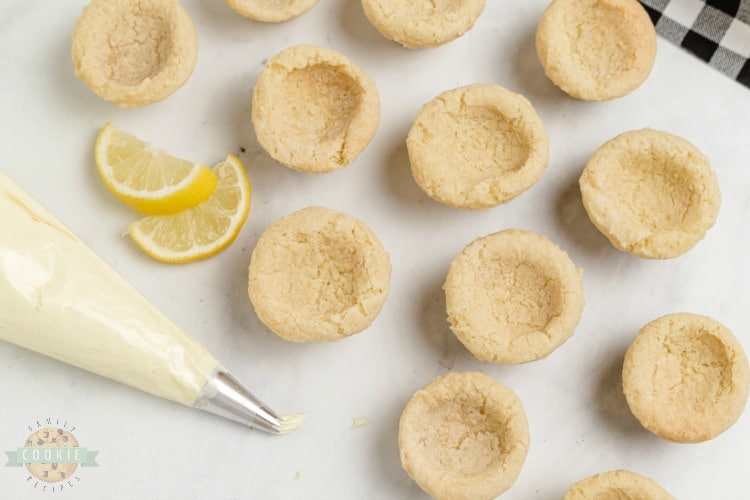 While the cookies are cooling down, you can mix up the lemon cream pie to fill them with.
Whisk together the box of dry pudding mix and the milk. Add in the whipped topping and then gently stir until combined. Transfer the filling to a pastry bag or a ziplock bag and store in the fridge until the cookies are fully cool.
Take the cookies out of muffin tin- I just slid the tip of a knife down 1 side and they popped right out. Pipe the lemon cream into each cup and top with lemon zest.
Store in the refrigerator. Cookies can be completely made and assembled up to 8-12 hours ahead of time. If any longer, make the cookies and lemon cream, then assemble just prior to serving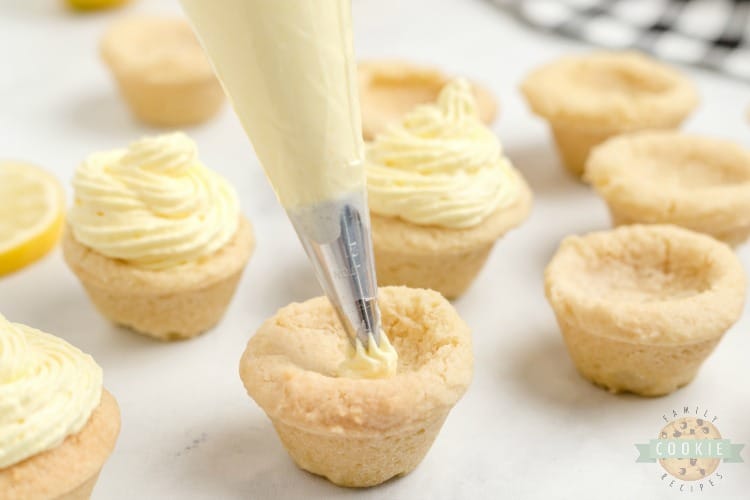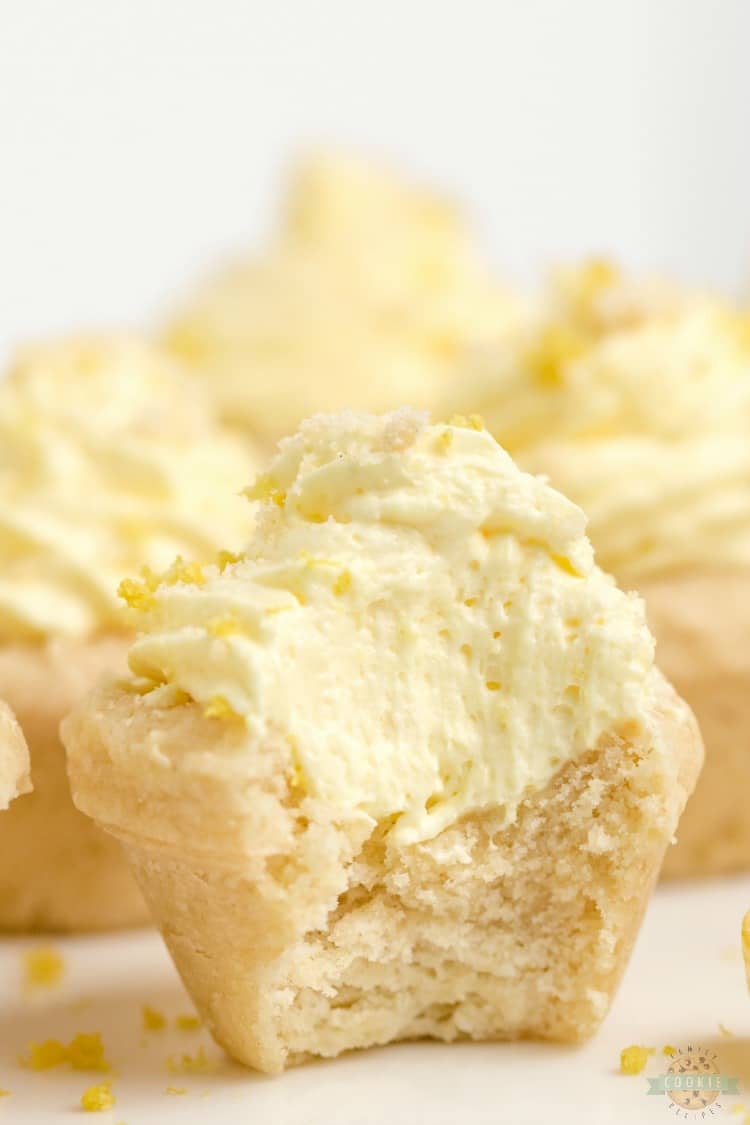 Can I freeze lemon cream cookies?
While you probably could freeze these cookies, I don't think I can recommend it. The cookies would become soggy as it thaws and the lemon cream pudding mixture may even separate making them very unappealing texturally and appearance-wise.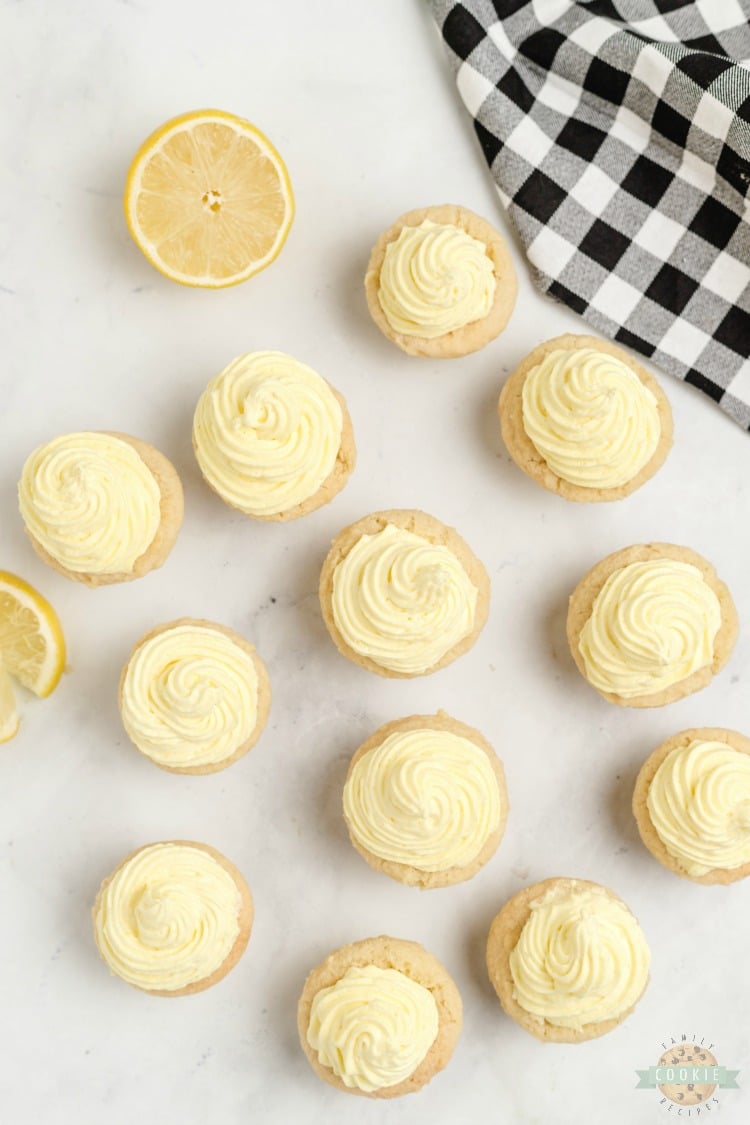 Can I use a different pudding mix for a different flavor?
Yes, you can! Swap out the lemon pudding mix for a same size box of a different instant pudding flavor that you wish to try. These cookie cups would be a great party snack, and having a variety of flavorful options could be a great way to give everybody a choice in desserts.


I wanted to share a fun picture of my mom and all of my sisters! We recently (before the COVID-19 virus went crazy!) took a trip to San Diego together. It was amazing! No kids, no husbands, just all of us girls, a hot tub and great Mexican food. It was an incredible trip. Hopefully we can make this a more regular occurrence…you know, once we can all leave the house again.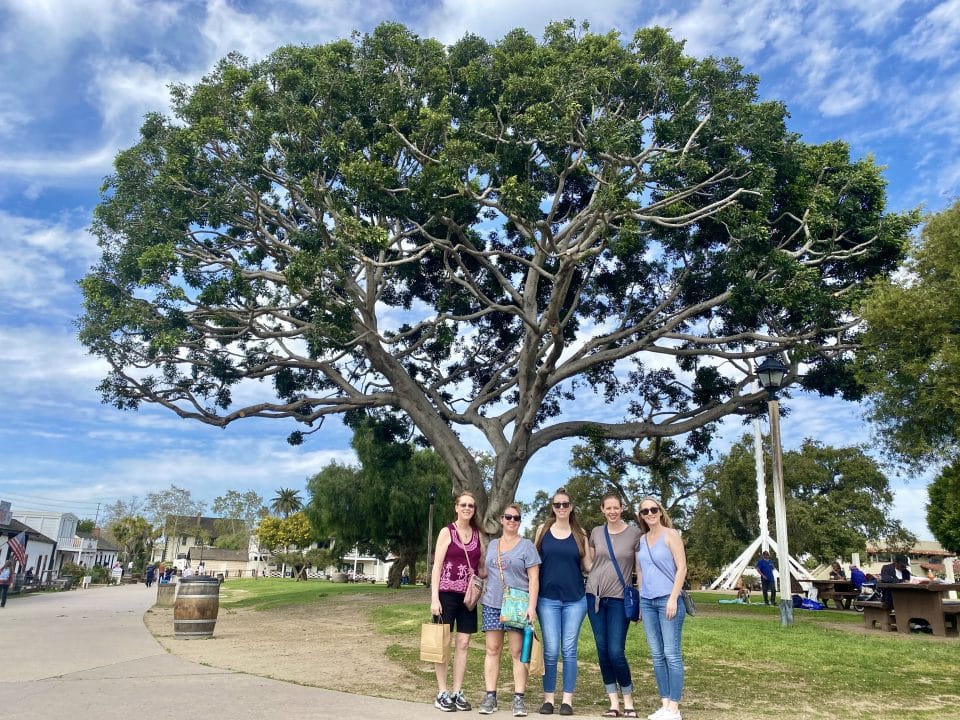 Other Lemon Cookie Recipes You'll Enjoy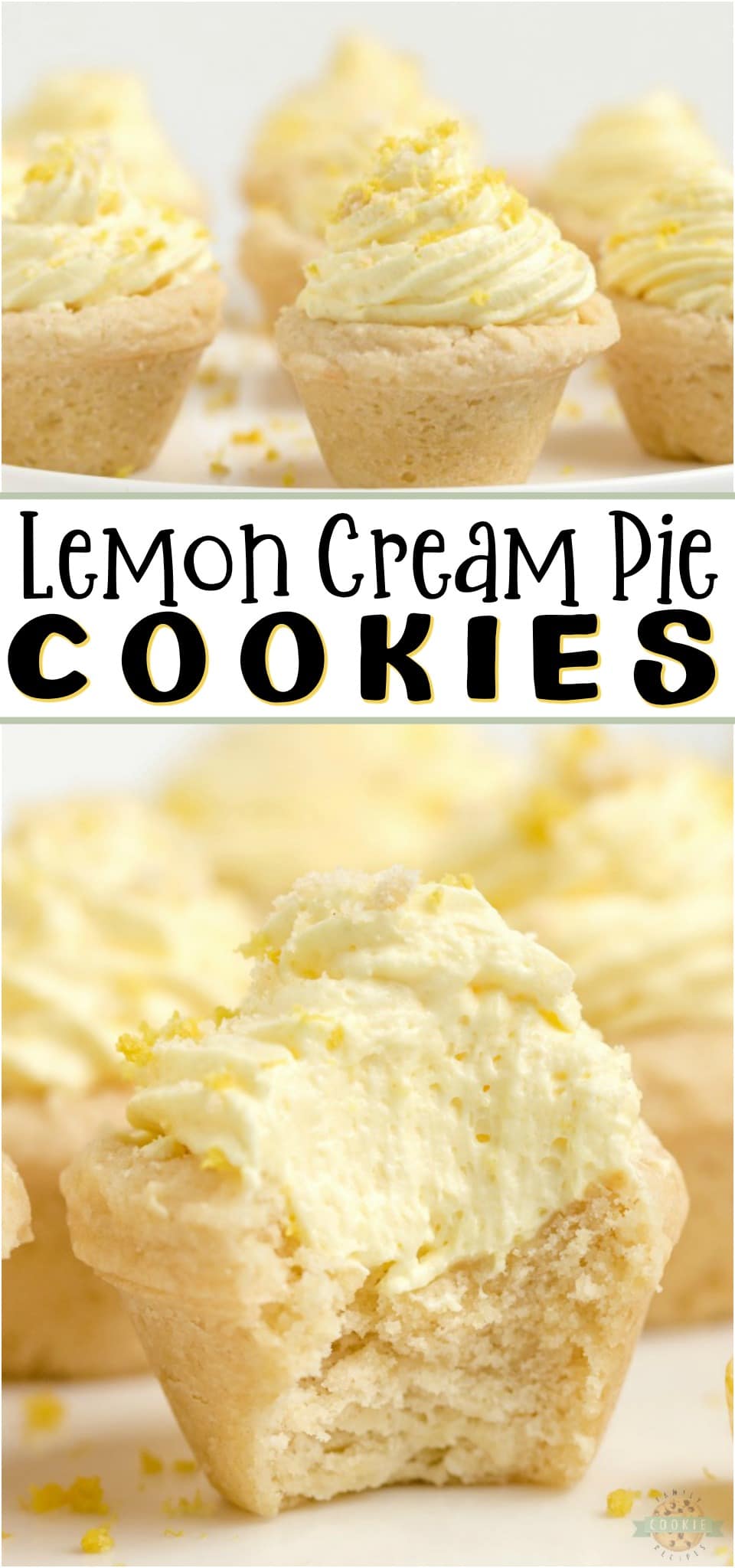 You're going to love these lemon cookie cups because lemon cream pie cookies are an incredibly tasty way to satisfy your sweet and sour cravings and they're so cute when finished that they look great at parties!