Strawberry shortcake cookies are a delicious sugar cookie topped with whipped cream and fresh sliced strawberries. Every sweet bite reminds you of traditional strawberry shortcakes!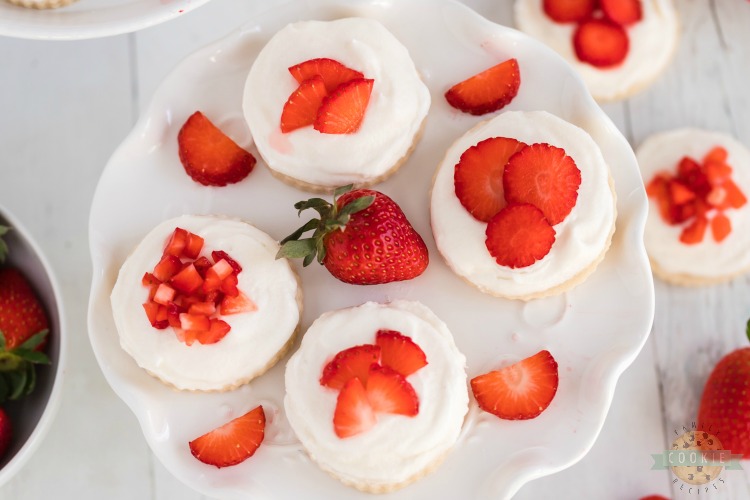 Strawberry shortcake is a delicious and traditional dessert going back to the 1500's and sugar cookies have been around for a very long time too, but it wasn't until recently that these two desserts joined forces. Strawberry shortcake cookies are a winning combination that the world didn't know it needed.
Tips for Making Strawberry Shortcake Cookies
You can use any frosting you want, but this whipped cream frosting recipe (included on recipe card) is absolutely to die for. It really helps to mimic the flavors of a real strawberry shortcake because those are often topped with whipped cream.
I recommend using whole fresh strawberries that you slice yourself, because freeze dried berries are chewy and frozen strawberries are messy and will result in a soggy cookie.
How do you prepare strawberries?
After carefully inspecting your fresh whole strawberries for any imperfections or signs of mold, place the ones you've chosen to use in a colander.
Rinse them under running water, do not submerge. Place the colander on some paper towels or a clean kitchen to and allow them to rest until you're ready to use.
How do you slice strawberries?
Hull the berries by removing the green cap at the end and then place the berry on a cutting board. Using a sharp knife, slice the berries lengthwise for heart shaped berries, or quarter and slice for smaller pieces. You can do either cutting style, just remember that they have to fit on a cookie so don't make them too big!
Strawberry Shortcake Ingredients
For the cookie crust, you will need:
-1/2 cup butter softened
-1/2 cup granulated sugar
-2 tsp vanilla extract
-1 egg white
-1 tsp baking powder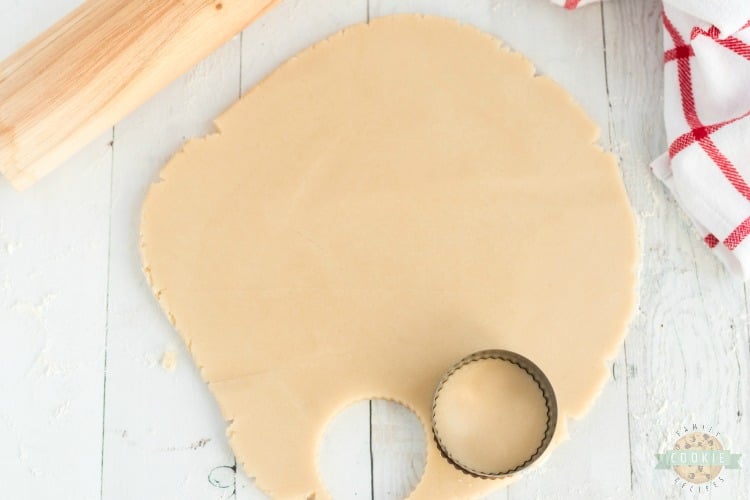 -1 1/2 cups flour
For the toppings you will need:
-1/4 cup butter
-1 1/2 cup powdered sugar
-1 tsp vanilla
-1 tbsp milk
-1/2 cup heavy whipping cream
-Freshly sliced whole strawberries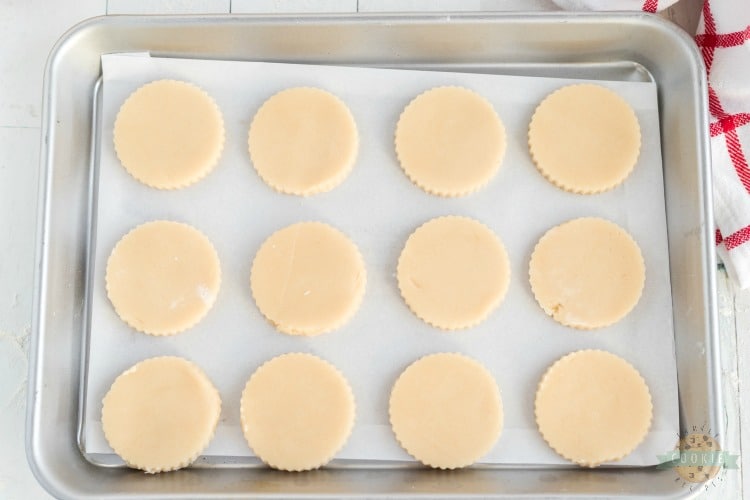 How to Make Strawberry Shortcake Cookies
To make the cookie 'crust' start by preheating your oven to 350 degrees.
Cream together the butter and the sugar in the bowl of a stand mixer for a full 3 minutes.
Scrape the sides and then add in the vanilla and egg. Mix until combined.
Add in the flour and the baking powder to the bowl. Mix slowly at first while gradually getting faster until the dough comes together. The texture should be like Playdoh. Add in a little flour or water if needed to get it to a soft and pliable consistency.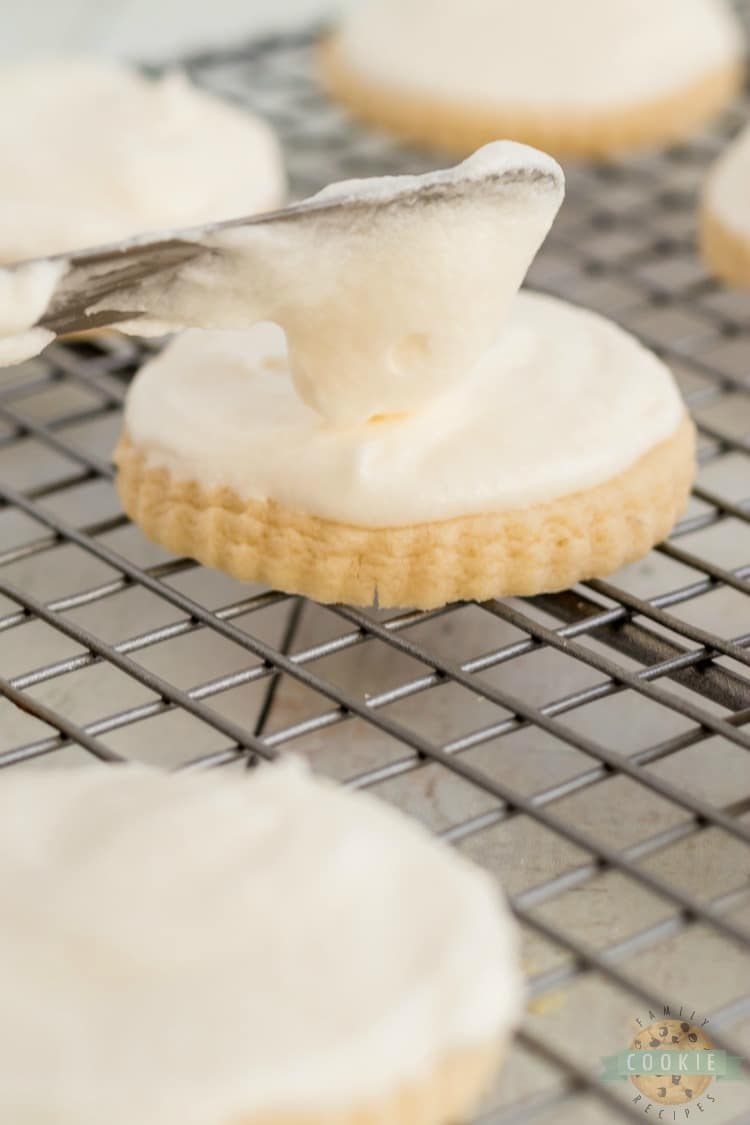 Turn the dough out onto a floured surface. Use a rolling pin and then roll until it's about 1/4 inch thick. (The cookies will not rise while baking, they will not get thinner while baking. Roll out to your desired FINISHED thickness.)
Use cookie cutters and cut out desired shapes or circles. Transfer the cookies to a silicone or parchment lined cookie sheet.
Bake at 350° for 6-8 minutes or until the centers are puffy and no longer glossy. Pull the cookies out of the oven BEFORE they start turning brown. If they turn brown, the cookie will be dry and 'crackery' instead of soft and chewy.
To make the whipped cream frosting, combine all of the ingredients in the bowl of a stand mixer using the whisk attachment. Whip until it's well combined.
In a separate bowl, use beaters and whip the heavy whipping cream until stiff peaks form.
Gently fold the buttercream and the whipping cream together until combined and smooth.
Spread a generous amount of the Whipped Cream Frosting onto the sugar cookie base. Top with your fresh strawberry slices.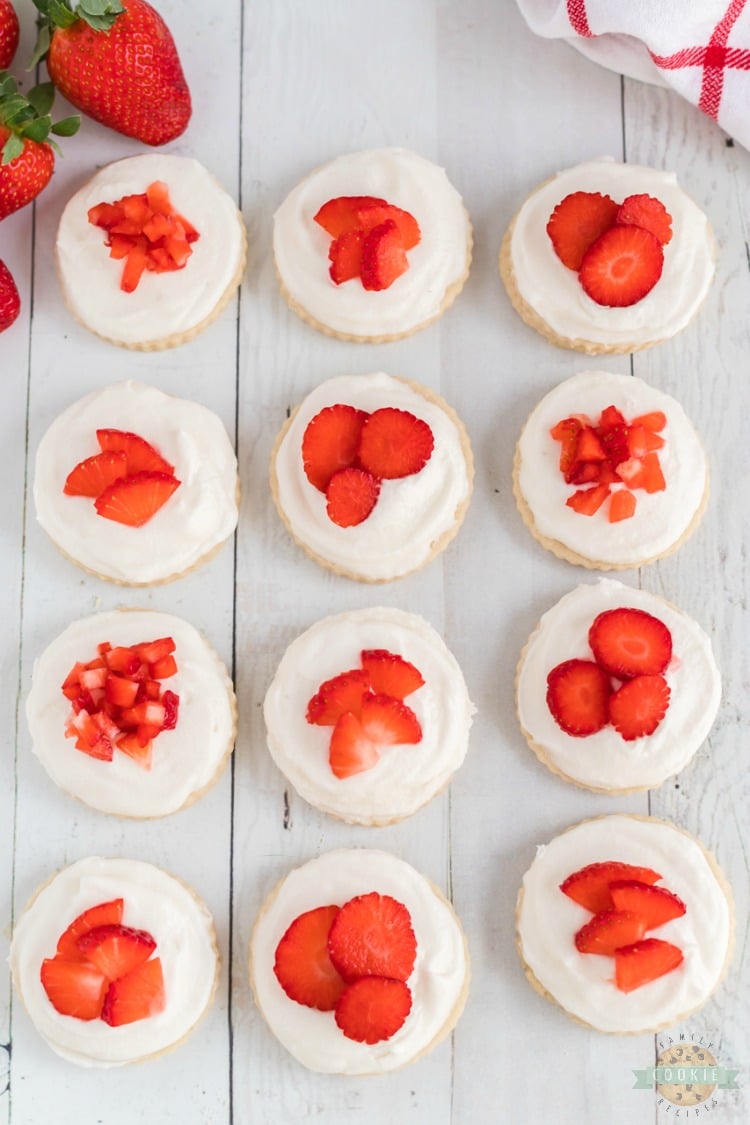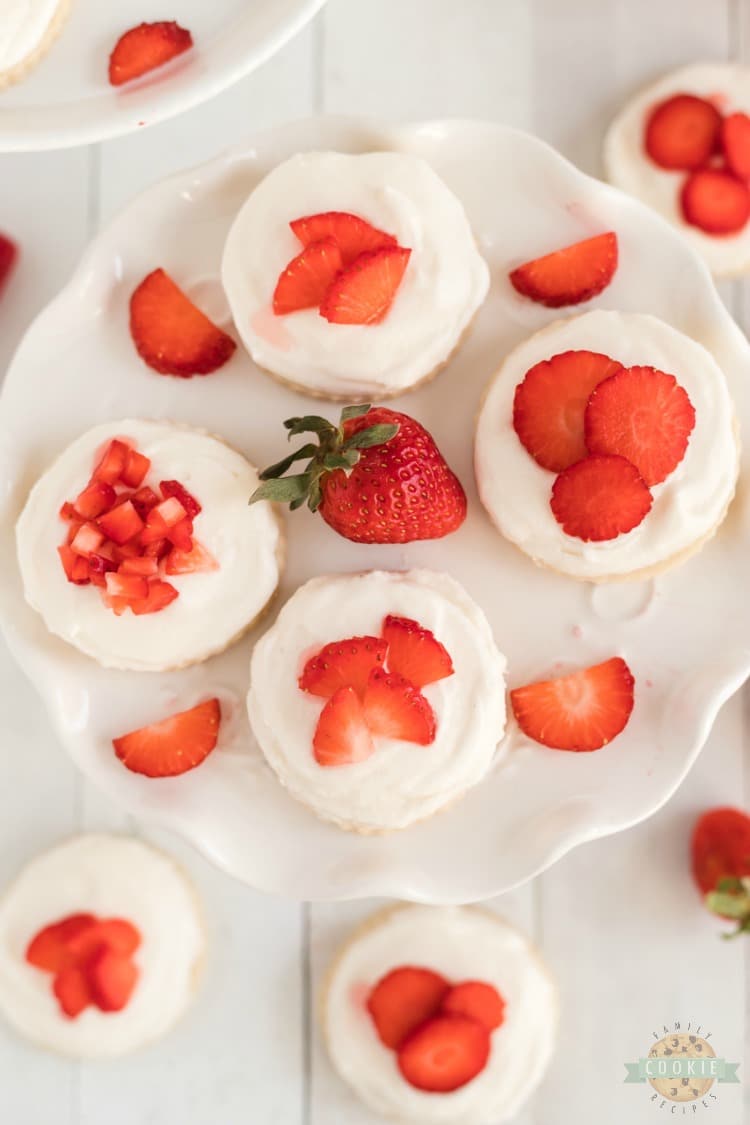 Can you freeze strawberry shortcake cookies?
While you can freeze the cookie bases as long as they are unfrosted and undecorated, I would not recommend freezing a fully made cookie. The whipped cream frosting and the fresh strawberries won't do well and the cookie will become a soggy mess. These cookies are best eaten fresh!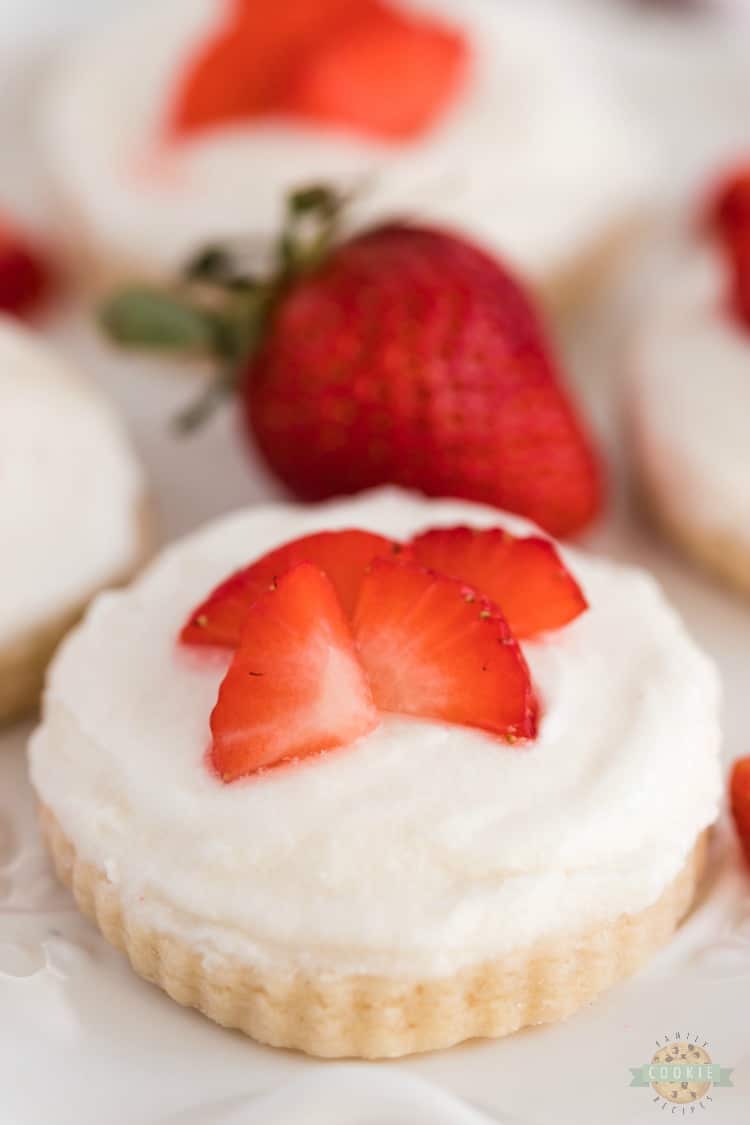 How long will strawberry shortcake cookies last?
If properly stored, your cookies can be expected to last up to 3 days, but you will notice that the cookies are better fresher. The older they become the softer they become. The whipped cream frosting and the strawberries will soften the cookie with time and make them a little messier to eat.
How do I store shortcake cookies?
You will want to store your fully decorated strawberry shortcake cookies inside of the fridge in an airtight container. Laying the cookies inside of a large container, placing a sheet of parchment paper over the top and creating stacked rows on top of one another is a great way to keep them stored without sticking together.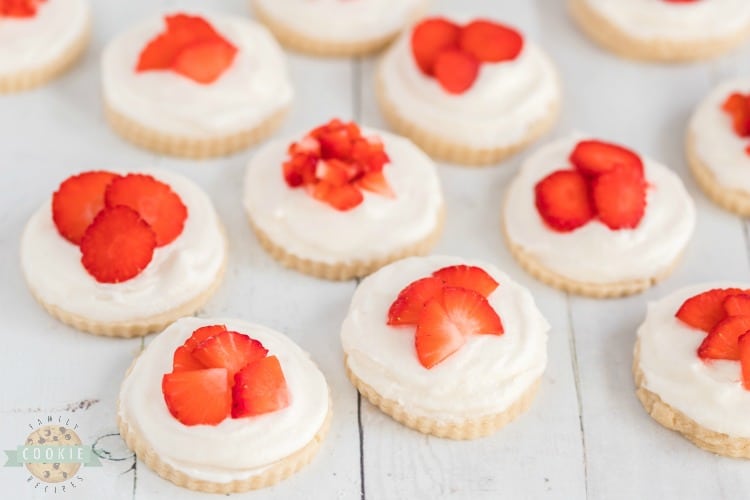 All 7 of us are home right now- we're amidst the great COVID-19 virus quarantine. Oh and to make it extra fun, Utah decided to have a 5.7 earthquake yesterday morning. So we're hunkered down, trying to do school work, also trying to stay calm amidst all the unknowns right now. I caught this cute, quiet moment that made me smile. We're dog-sitting for…a while. This cute girl's owners are stuck overseas. Good thing she likes to cuddle; she fits right in! We're all enjoying extra reading time for sure!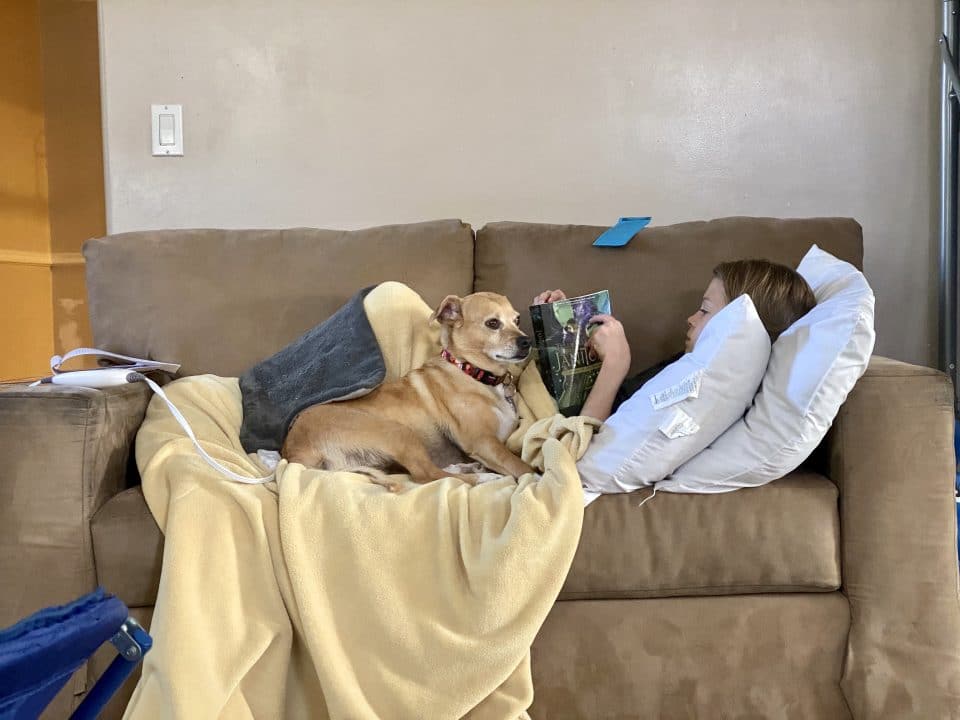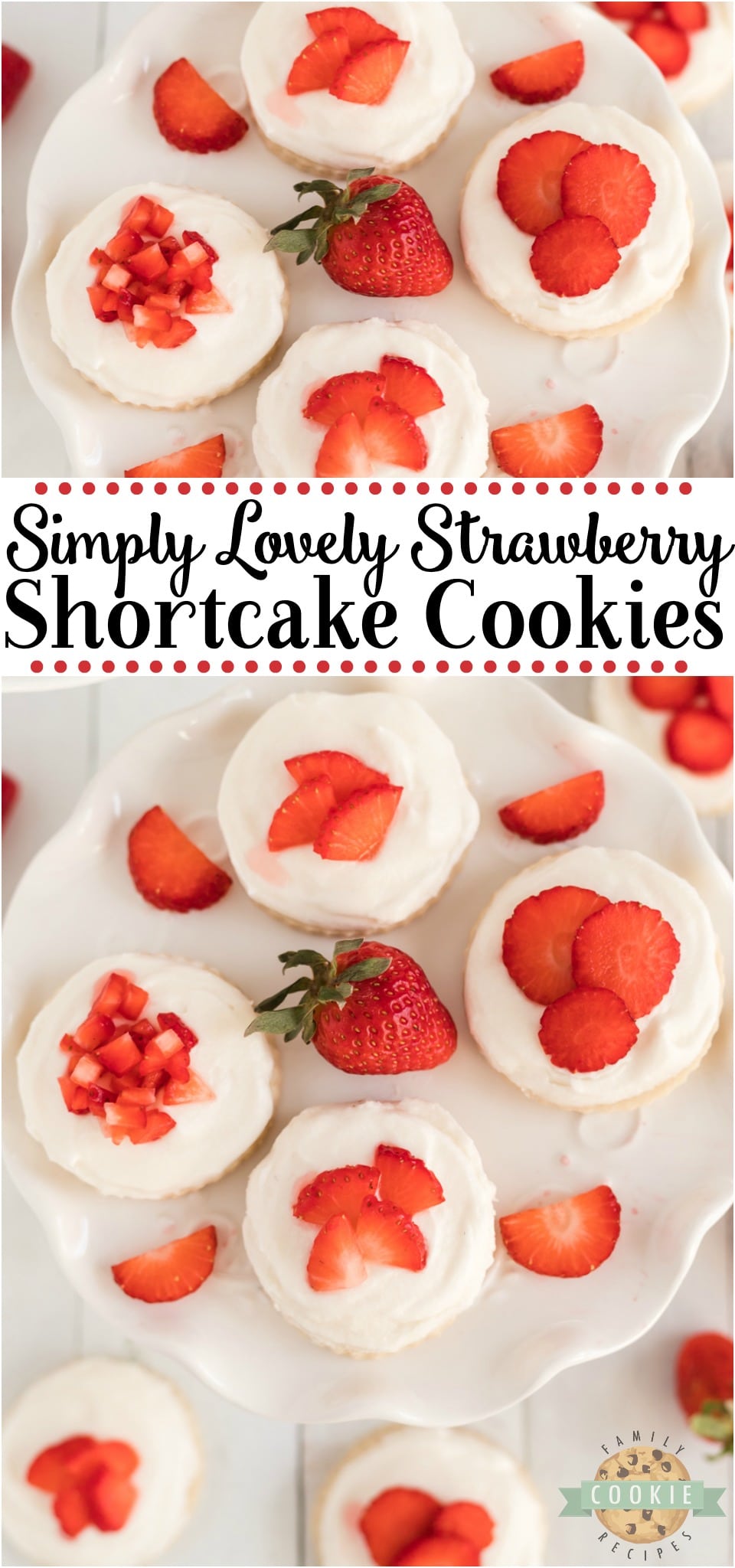 Strawberry shortcake cookies are a delicious sugar cookie topped with whipped cream and fresh sliced strawberries. If you enjoy the tastes of fresh strawberries, whipped cream, and sugar cookies, you're going to love these strawberry shortcake cookies. They're so good you won't be able to eat just one!