Cherry Cheesecake Cookies have cream cheese and cheesecake pudding in them, are topped with a little bit of cherry pie filling and then sprinkled with graham cracker crumbs!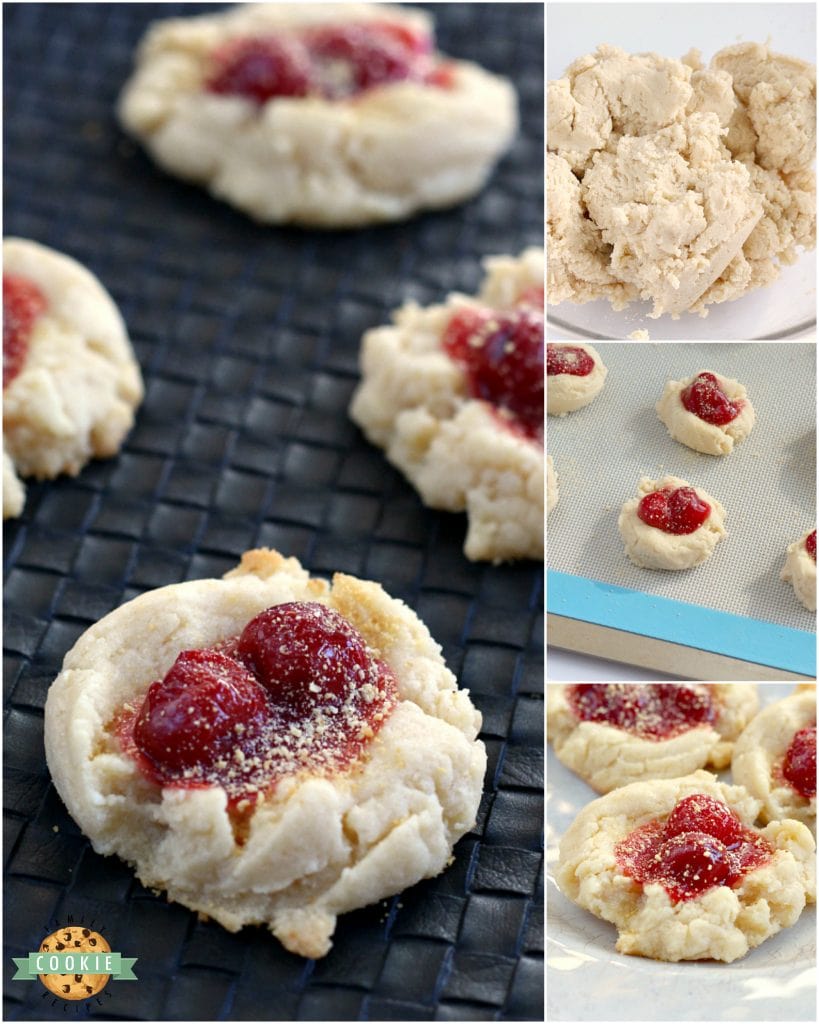 Cherry Cheesecake Cookies actually taste so much like cheesecake – you won't believe it! I have been wanting to try a recipe that I have for Cream Cheese Chocolate Chip cookies for a while and then when I started making the dough, I had the idea to add some cheesecake pudding and turn them into a cheesecake inspired cookie instead! The dough is absolutely amazing (and it doesn't even require an egg, so if you are like me and enjoy the dough more than the actual cookies, you can eat as much as you want)! The dough is kind of like sugar cookie dough, but you can definitely taste the cheesecake flavor from the pudding and cream cheese.
Even when they are baked, the cookies remain so soft! I think it's because of the cream cheese and the pudding in them. I added a little bit of cherry pie filling to the top right before baking, but I kind of want to try mixing in some fresh raspberries or blackberries – I think that would be delicious. Honestly, I think these cookies would be absolutely delicious without adding anything – just as plain cheesecake cookies. They are that good. I sprinkled some graham cracker crumbs on top just for fun, but you could definitely leave those off too. This is one of those cookie recipes that is just so good and is so versatile too – I'm sure that you could add pretty much anything to these and they would taste amazing.
I really love cheesecake, but cookies are so much easier to take to parties and serve especially since the cookies don't have to be refrigerated like real cheesecake does. I am so excited to try lots of variations on these cookies and take them to all of the potlucks I go to this summer. I usually stick with my tried and true Chocolate Chip cookies, but I feel like these are just as good and you could make them with chocolate chips too!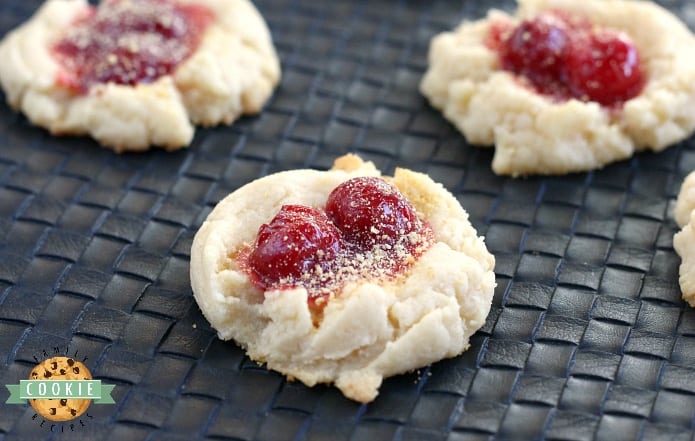 CHERRY CHEESECAKE COOKIES
1/2 cup butter, softened
3 oz. cream cheese, softened
1 Tbsp. milk
1/2 cup sugar
1 (3.4 oz) cheesecake instant pudding mix
1/2 tsp. vanilla
1 cup all-purpose flour
3/4 cup cherry pie filling
graham cracker crumbs for topping, if desired
Cream butter, cream cheese and milk with an electric mixer until well blended.
Beat in sugar, pudding mix and vanilla and then mix in the flour.
Use a medium-sized cookie scoop to scoop out dough onto a cookie sheet. With your thumb, make a slight indentation on the top of each cookie. Scoop a little bit of the cherry pie filling into each indentation. If desired, sprinkle some graham cracker crumbs on top.
Bake cookies at 350° for 8-10 minutes (until the bottoms start turning a very light golden brown). Cool on a wire rack. Enjoy!
After you try these Cherry Cheesecake Cookies try a few of our other favorite fruity cookies: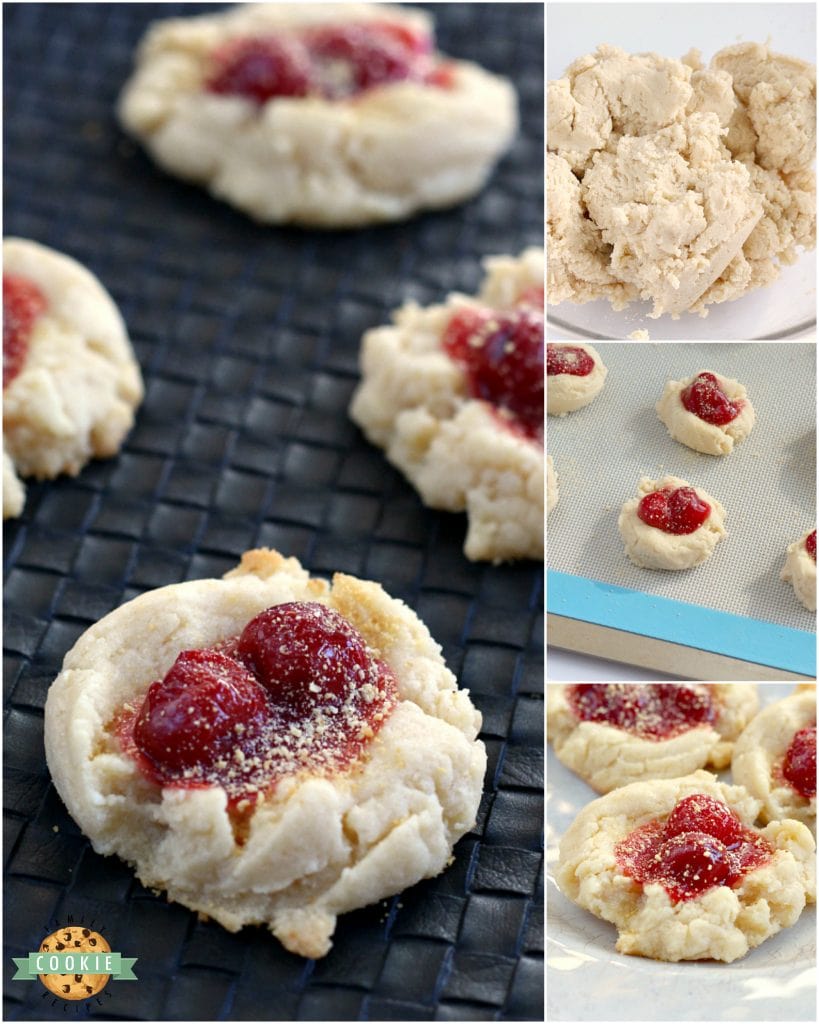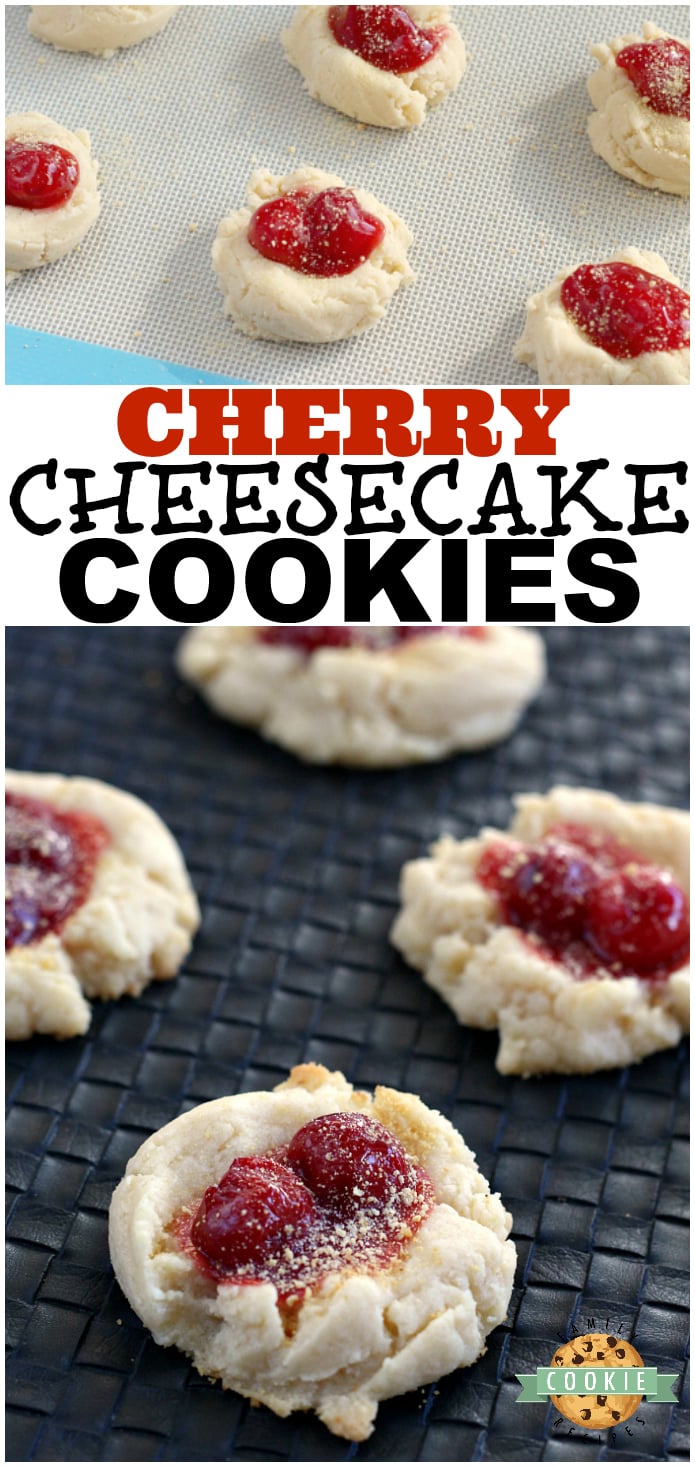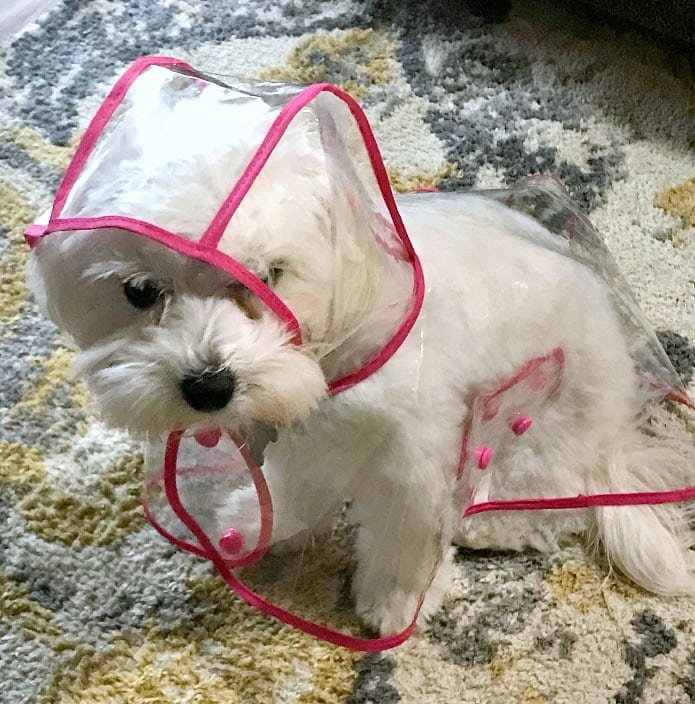 This is our puppy Sydney – she is actually almost one so I guess in dog years, she's almost an adult or something like that, but we still call her a puppy. And no, I'm not quite to the point (nor do I plan to ever be) where I consider her one of my "kids" but we are all pretty fond of her! She got a raincoat for Christmas from my brother who decided that she needed one since we live in WA! It made for a great photo shoot at least. 😉