Lemon Slice & Bake Cookies are a simply, buttery cookie recipe with lovely lemon flavor. Easy to make ahead, these lemon shortbread cookies are perfect for parties & as gifts!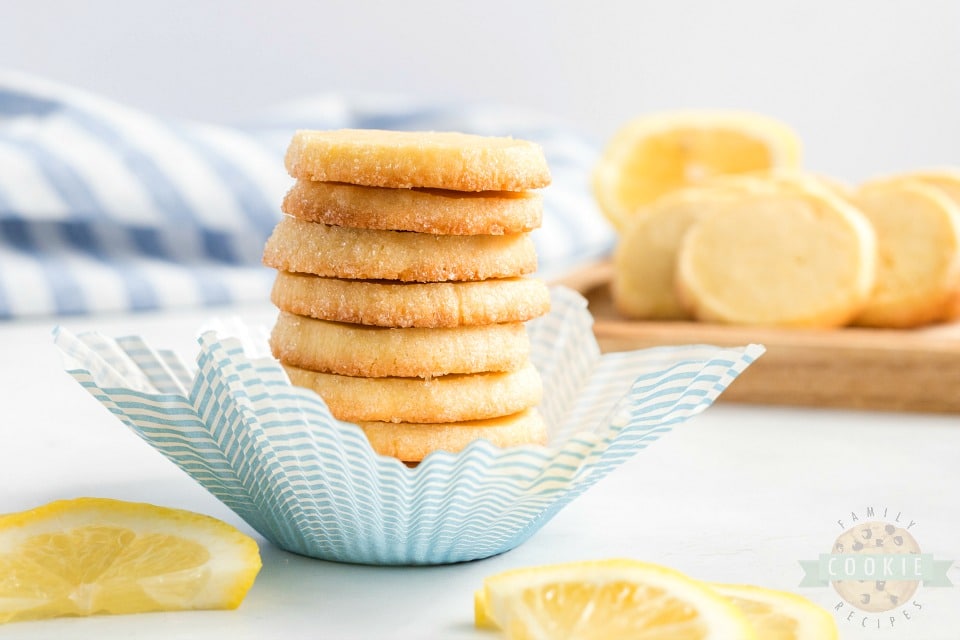 These cookies have just the perfect amount of lemon and a nice buttery flavor. Bonus points for being so easy too! These lemon shortbread cookies are simple and delicious!
WHAT ARE SLICE AND BAKE LEMON COOKIES?
Slice and bake lemon shortbread cookies are an icebox cookie recipe that is super simple and easy to make. Just make the dough, shape it, chill, slice, and bake- it's really that easy! The cookie dough is chilled to allow the flavors to meld. The result is a sweet, tangy buttery lemon cookie!
LEMON SLICE AND BAKE COOKIE INGREDIENTS
-Flour: This cookie dough base needs about 1 cup of all-purpose flour.
-Powdered sugar: As crazy as it sounds, we're using powdered sugar in the cookie dough. It adds sweetness, plus a lovely delicate texture to the cookies.
-Salt: Salt helps to bring out the natural flavors in the dough and make them shine.
-Lemon zest: Giving us that fresh lemon taste is about 2-3 teaspoons of fresh lemon zest.how to make Lemon Slice and Bake Shortbread Cookies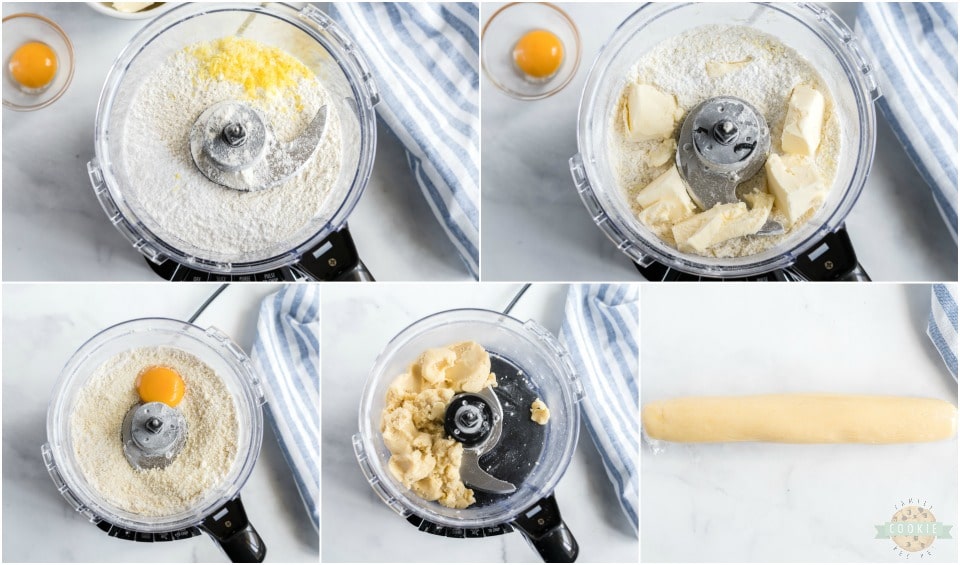 -Lemon juice: Using ½ tsp of fresh lemon juice we can get the lemon flavor infused into every delicious tangy bite.
-Butter: One stick of butter will give us the rich and buttery flavor and texture that we enjoy so much.
-Egg yolk: We only need a single egg yolk, so save the egg white for some other recipe like a delicious and healthy omelet.
-Turbinado sugar: This is sugar in the raw- the large grains of golden brown sugar. We're going to use it to roll the dough in before slicing!
How to Make Slice & Bake Cookies
In a food processor or blender, pulse the flour, powdered sugar, salt and lemon zest until combined.
Add in the butter and pulse until sandy. Add in the egg yolk and lemon juice and then pulse until the dough comes together.
Remove from the food processor and form the dough into a 1.5″ wide log. Wrap in plastic wrap and chill until firm. (At least 2 hours, but up until 1 month.)
Preheat your oven to 350F degrees. Remove the cookie log from the fridge and then let it sit for about 5 minutes.
Cut the log in half. (I found it easier to roll/ cut when the log was smaller.)
Spread your turbinado sugar on a plate; roll cookie log over sugar to coat outside, pressing sugar onto entire surface.
Slice the log into 1/4″ slices and then arrange on a parchment-lined baking sheet.
Bake for about 13-15 minutes, until the cookies are golden brown around edges. Cool completely and ENJOY!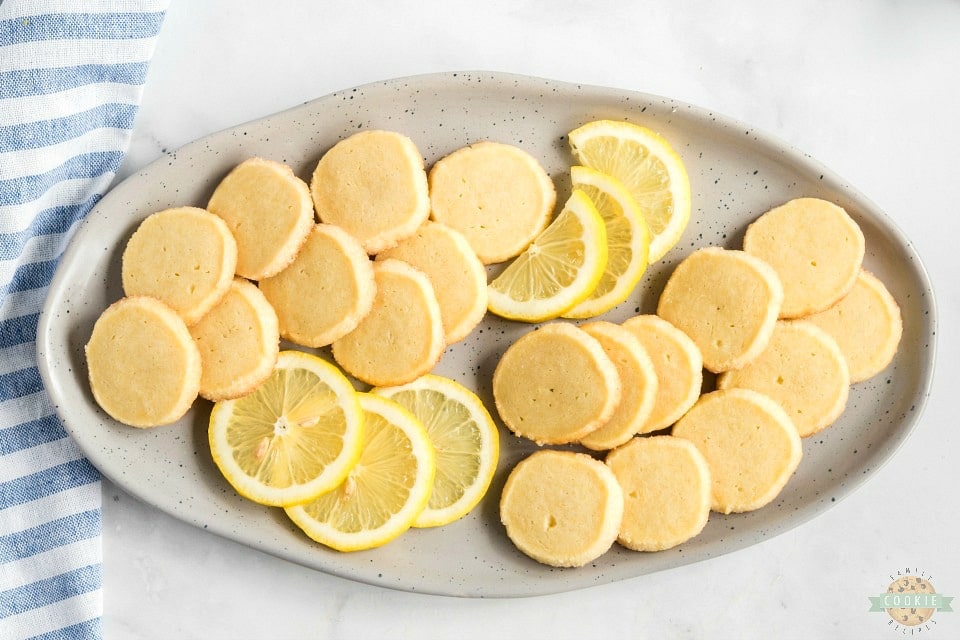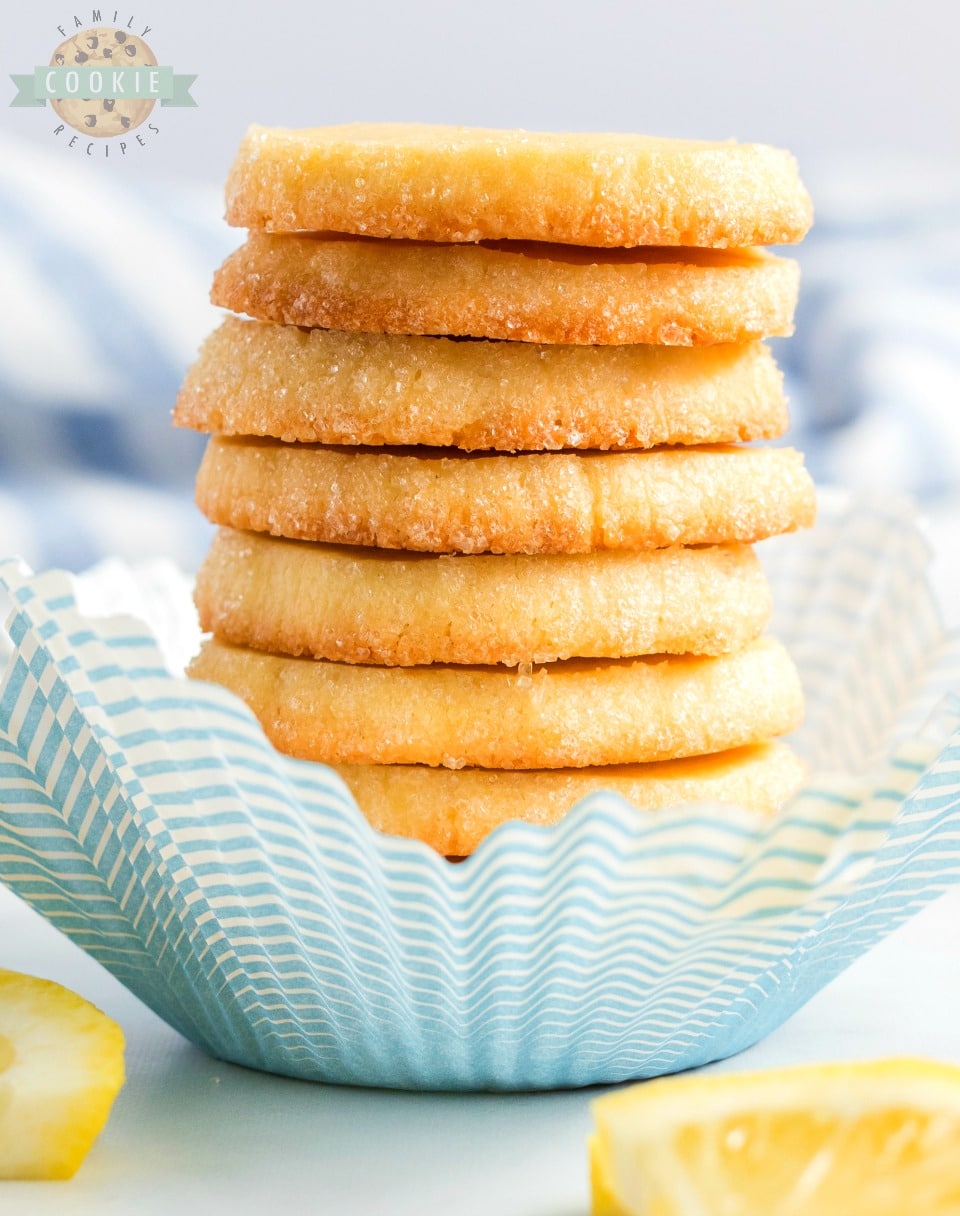 CAN I MAKE SLICE AND BAKE COOKIES IN ADVANCE?
Yes! The dough for these cookies can actually be made up to a month in advance! This is great when you want to make a bunch of cookies for a party but simply don't have time beforehand. It's also great for those holiday cookie exchanges you sign up for and forget about until the last minute.
HOW LONG DO COOKIES STAY FRESH?
After the cookies have baked and cooled, you can keep them fresh in an airtight container for up to a week. Any older than that and they may become staler or dry. It's always better to enjoy cookies when they're fresh anyways.
CAN I USE ORANGE JUICE?
Swapping out the lemon zest and lemon juice for orange zest and orange juice could be a great way to get another fun citrus flavor from this one recipe. Make a few lemon a few orange or even a few lime ones and enjoy a platter of colorful and tasty sweet and tangy cookies that melt in your mouth.
Need more easy citrus cookie recipes to try? Check these out!


We had our first set of stitches this past week! This boy of mine was also the first to break a bone, so I can't say I was very surprised. However I was surprised that they weren't the result of some type of sports activity. Rather we had a crazy mishap in the kitchen, which left this one needing to go to urgent care. No biggie- I've been there a few times over the years! Within an hour he was stitched up and off to play once again.