Orange Creamsicle Cookies are creamsicles in cookie form! Soft & chewy cookies with bright orange flavor and sweet white chocolate chips.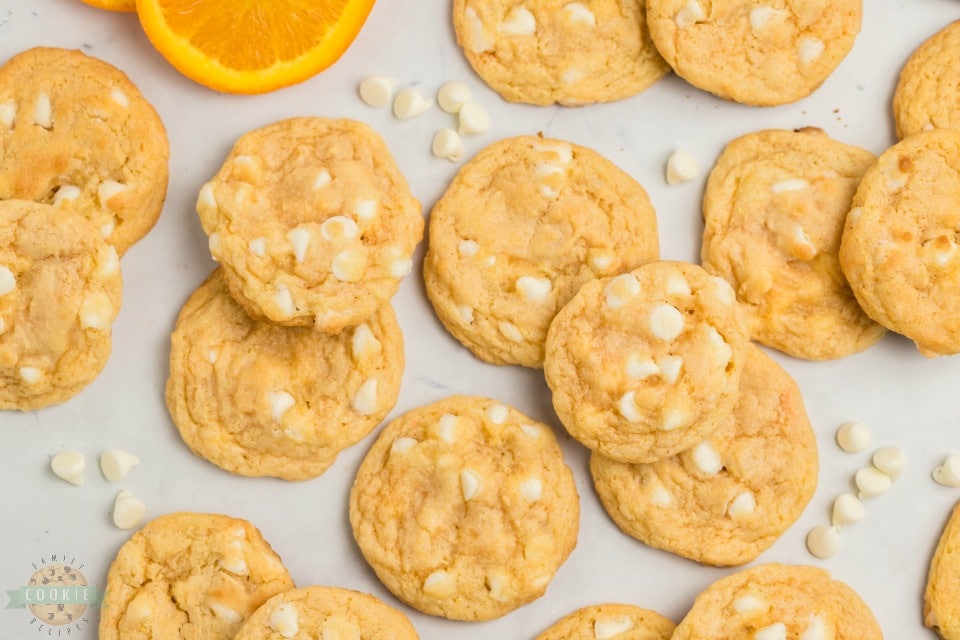 Orange Cream Cookies are from a recipe I stumbled upon one day when I was in the mood to bake, and when I found it, I knew that I immediately needed to whip up a batch…it was obvious they would be a total winner!
Everyone loves a twist on a classic cookie – and who doesn't like a hint of orange flavor in their desserts?
Especially in the summertime when we all crave something more light and refreshing – this is the perfect recipe to try. No doubt about it…these cookies will be a hit no matter where you take them! They are so easy to make and they taste delicious.
Making these creamsicle cookies
One of the coolest things about these orange flavored cookies is that you can use orange extract or orange essential oil. Both add a great amount of orange flavor in just a small amount. Although neither will really add to the orange color of the cookies and for that you can choose to use orange food coloring to accomplish the shade you want.
Can you freeze orange cookies?
Absolutely! You can keep your cookies frozen for up to 6 months in the freezer. Make sure to keep them stored in an airtight container to keep them fresh. You can also freeze them flat on a baking sheet before putting them in that container to keep them from sticking to each other as they freeze. This makes it a lot easier to grab one at a time when you want a snack.
Can I add orange zest?
Oh yes! That sounds incredible! Orange zest comes from grating the outside of a clean orange. It would not only help to give a stronger orange flavor but also add a level of freshness and gorgeous color.
Orange Cream Cookies Ingredients
Here's what you'll need to make these cookies:
-1 cup sugar
-1/2 cup softened butter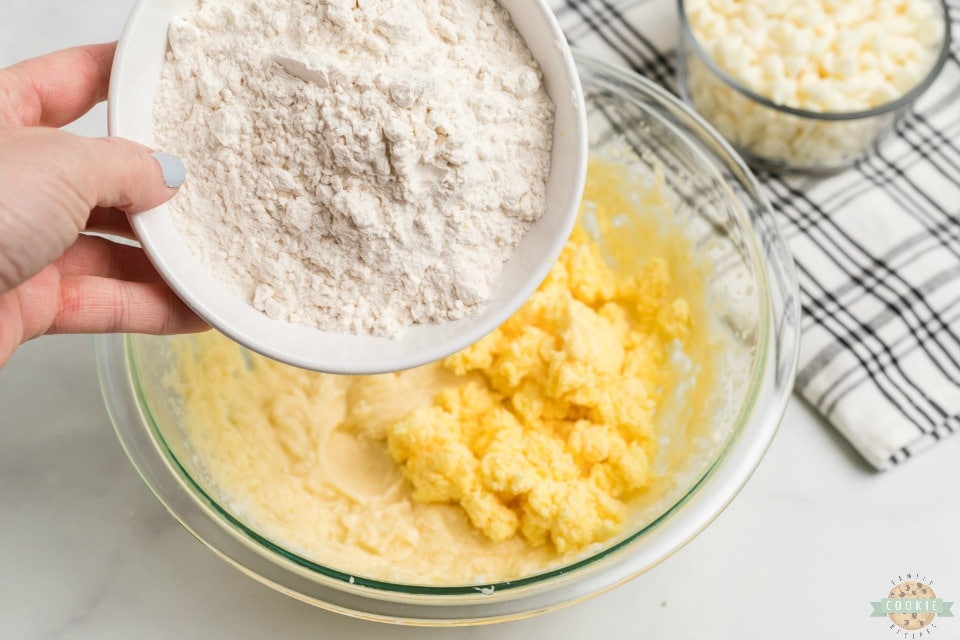 -1 egg
-1 tsp vanilla
-1 tsp orange extract (or 3-4 drops orange essential oil)
-1/3 cup sour cream
-1 TBSP milk
-1/2 tsp. salt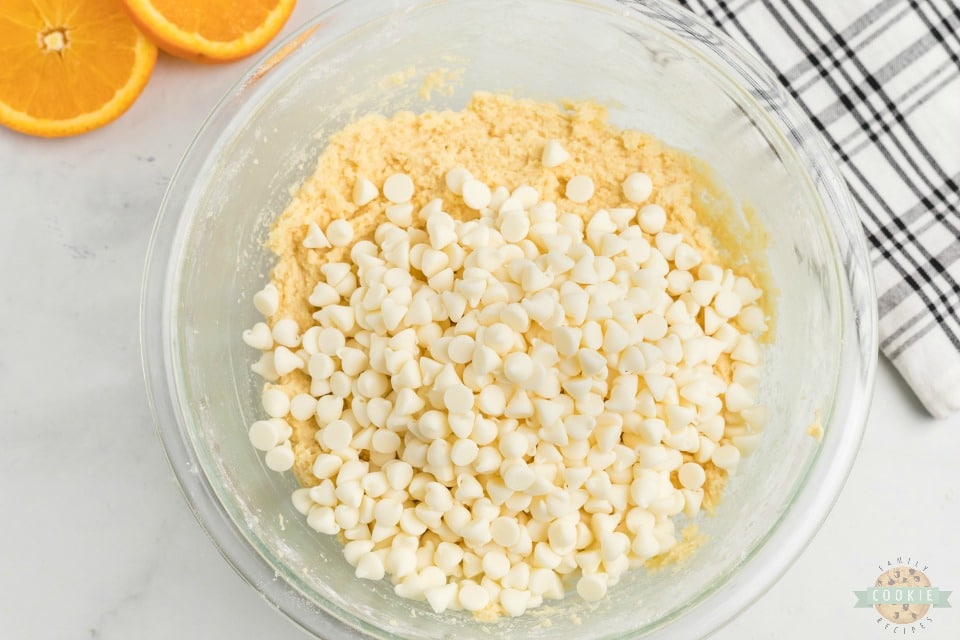 -1/2 tsp. baking soda
-2 cups flour
-1 (12 oz) bag white chocolate chips
-1 small box vanilla pudding mix
How to Make Orange Creamsicle Cookies
Using an electric mixer, cream together the sugar and butter. Add in the egg, vanilla, orange extract, and milk.
In a separate bowl, combine the sour cream, pudding mix, salt, and baking soda.
Add in the flour and the sour cream to the butter mixture. Mix until smooth.
Mix in the white chocolate chips. Add in the orange coloring as desired.
Drop by rounded tablespoonfuls onto a greased cookie sheet.
Bake at 375 degrees F for 10 minutes.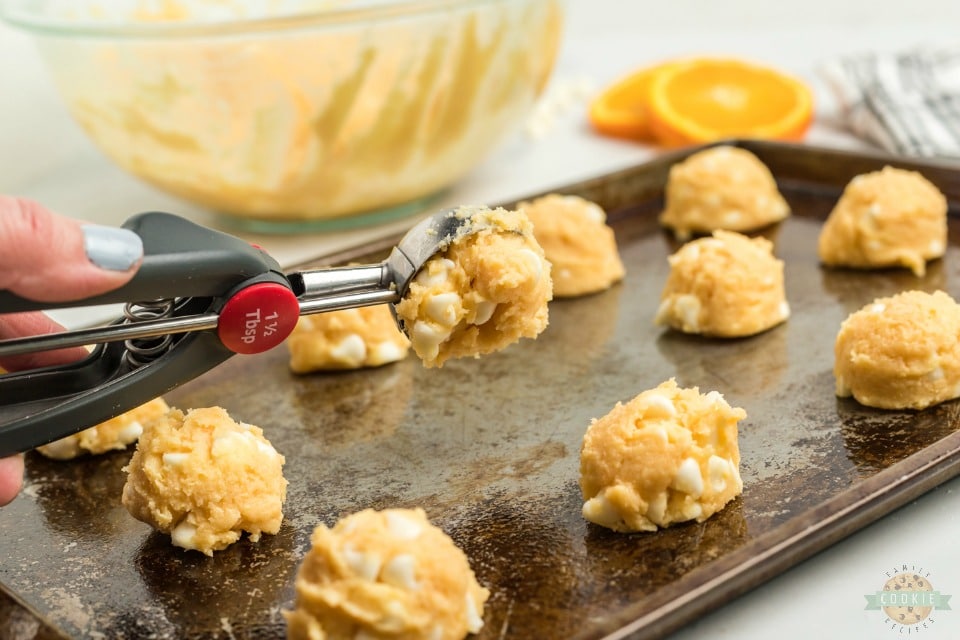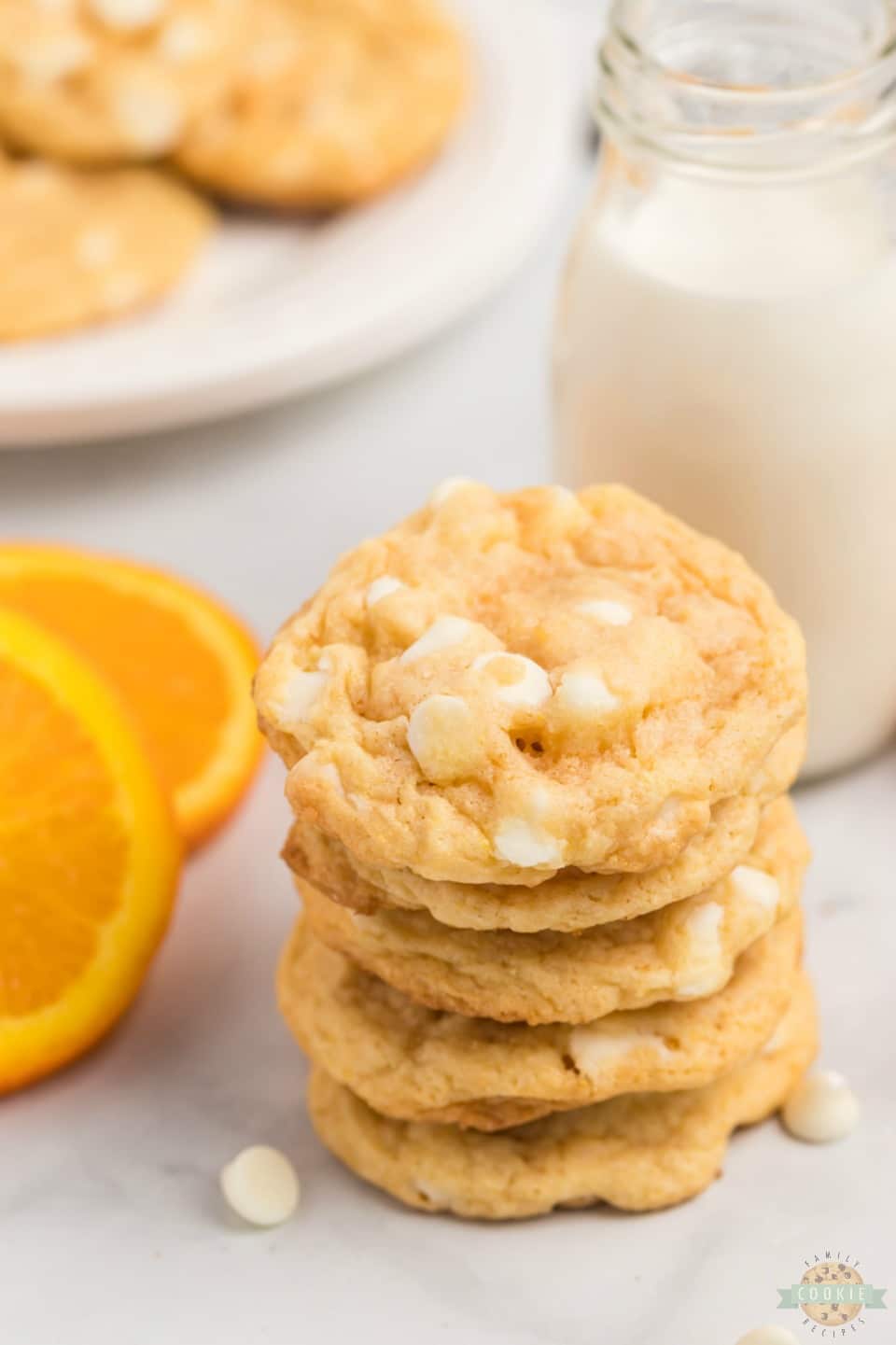 Why do these cookies have sour cream?
That's a baker's secret. Orange cookies with sour cream is a great way to keep your cookies light and moist. Sour cream when used in baking helps to provide a little acidity, much like buttermilk would but it also helps to make doughs and batters thicker to retain shape- which is something you want in a cookie!
How long do these cookies last?
If stored in an airtight container at room temperature these cookies can last up to a week and still taste great. Any longer than that and they may become stale (but they'd still taste good).
Other cookies that are perfect for summer


My oldest daughter has renewed her interest in photography during quarantine. It's so fun to see the moments she captures! Most are pretty silly but they do a great job of making us all smile and laugh. Her picture taking has actually been a great source of entertainment as of late- the kids spend a lot of time planning out pictures and trying to get them just right.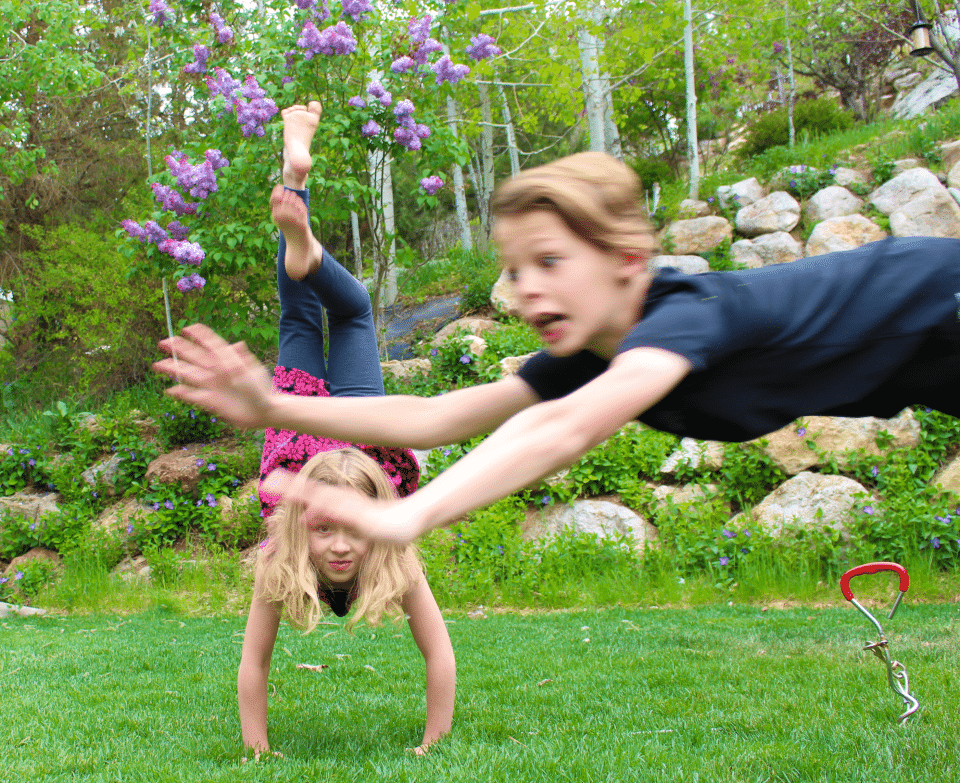 Plus, she's learned how to edit photos! I call that a home schooling WIN.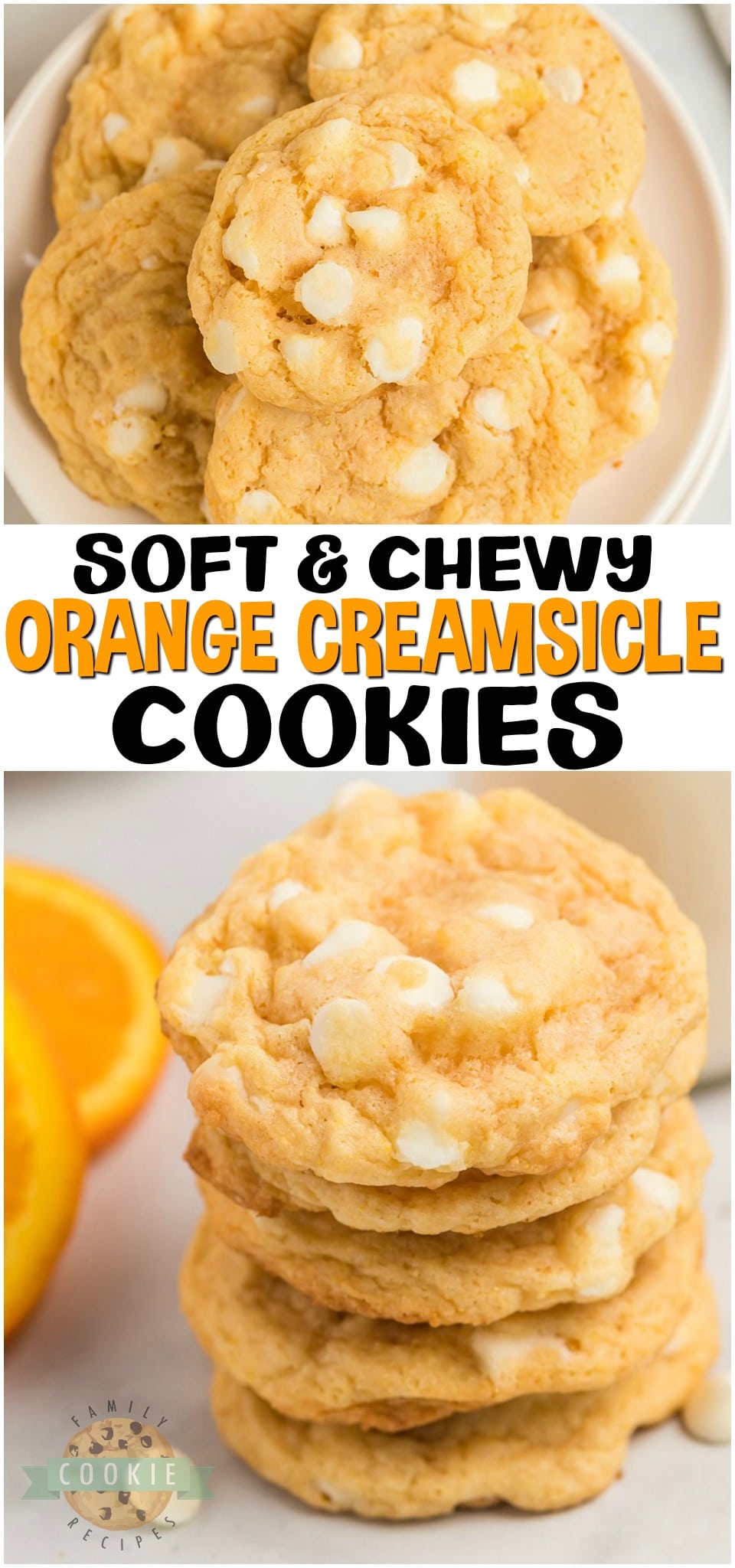 These orange cookies with white chocolate chips are a delicious snack when you're wanting an orange creamsicle flavor. They're chewy, beautiful and absolutely irresistible! Orange Creamsicle Cookies are creamsicles in cookie form! Soft & chewy cookies with bright orange flavor and sweet white chocolate chips.