Mini Hamburger Cookies are made from Nilla Wafers, York Peppermint Patties and melted chocolate! This easy no bake cookies recipe is super cute and one that kids will go crazy over.
Make these festive cookie burgers for your next backyard BBQ, they are a fun treat that are sure to be a big hit with family and friends. When it is hot outside, make this no bake cookie recipe to have a delicious treat without heating up your house any more than it already is.
[adthrive-in-post-video-player video-id="gQKIxPAz" upload-date="2019-08-26T21:04:35.000Z" name="Mini Hamburger Cookies" description="Mini Hamburger Cookies made from Nilla Wafers, York Peppermint Patties and melted candy! Super cute no-bake hamburger cookies that kids go crazy over!"]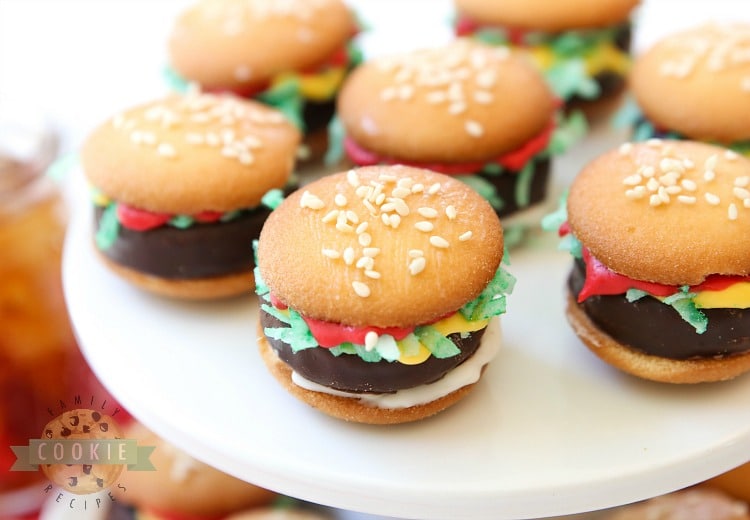 Festive Hamburger Shaped Cookies
I saw these darling Hamburger Cookies in an old Betty Crocker cookbook and my daughter insisted we make them. They are super easy to make and no-baking is required, a perfect treat recipe for the summertime! We made plates of these fun cookies and took them to a couple families in our neighborhood, seeing all the smiling faces was so worth it. These would be perfect for any summer BBQ, especially if you grill hamburgers for dinner.
WHY WE THINK YOU SHOULD TRY THIS RECIPE TODAY
In case you were not convinced yet to give this fun recipe a try, here are a few more reasons to do so.
Amazing flavor. The combination of flavors is one you will not soon forget. The peppermint patties combined with the crunchy Nilla wafers makes for an incredibly delicious treat.
Simple to make. This recipe is easy to make, don't let the pictures fool you. They look like a lot of effort, but really they are so simple and come together quickly. They are worth it!
Hamburger cookies. I mean, need I say more?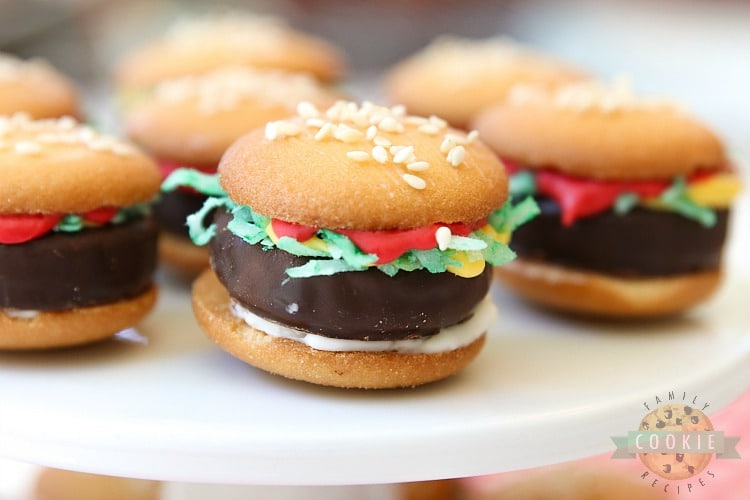 Hamburger Cookie Ingredients
Nilla Wafers: You will need 40 Nilla Wafer cookies to create these festive treats, this will create [20] assembled hamburgers.
York Peppermint Patty: For the meat of this cookie, use 20 mini York Peppermint Patty candies.
Coconut: To mimic the lettuce on the burger, use ¼ cup sweetened shredded coconut.
Green food coloring: Use a few drops of green food coloring to dye the coconut green to look like lettuce.
Yellow Chocolate: To create the "mustard" on the hamburger, use ⅓ cup of yellow candy melts.
Red Chocolate: Using ⅓ cup of red candy melts will be used for the "ketchup" part of the burger.
White Chocolate: A burger is not complete without the mayonnaise, use ⅓ cup of white candy melts to create this condiment on the cookie.
Candy Melts come in a variety of colors and can be found at craft stores, as well as large grocery stores. Small grocery stores have a few colors, but you'll probably want to shop at a craft store so that they have the colors you need. If you can't find yellow and red, you're welcome to dye white chocolate using food coloring.
Butter: Use 1 tablespoon of butter, melted, to lightly brush the top "bun" (cookie) before sprinkling with the sesame seeds.
Sesame Seeds: You will need 1 teaspoon of sesame seeds for the final topping to these hamburger theme cookies.

How to make No-bake Hamburger Cookies
Candy Melts
Start by placing the required amount of candy melts in a small zip locked bag or a piping bag (secured closed) and lay flat in the microwave. Heat each bag separately for 1 minute 30 seconds, then remove the bag and let sit on the counter, under a towel. The idea is to keep the candy warm so that it finishes melting.
After 2 minutes, massage each bag. Return to the microwave for 15 second increments if needed to melt completely. When they are warm and smooth, snip a small corner of each bag and get started with the assembly.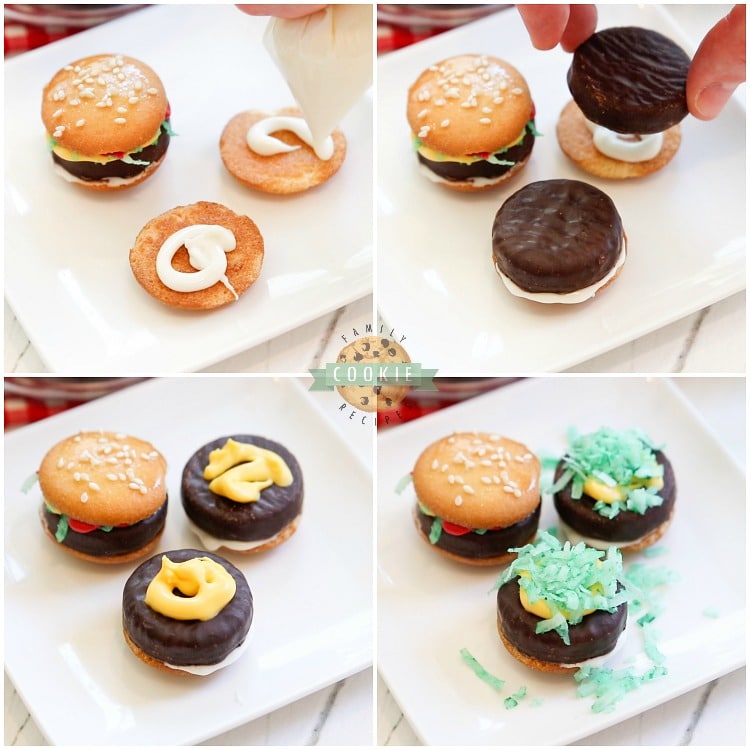 Assemble Hamburger cookies
Next, measure out the shredded coconut and in the measuring cup add a couple drops of the green food coloring. Start with 2 drops, stir and determine if that is the desired shade of green to resemble lettuce. You want a light green, starting with 2 drops should accomplish this.
After that, lay out a piece of parchment paper on a baking sheet. Then lay out [20] of the Nilla Wafer cookies, flat side up (this is the bottom bun).
Proceed to add a swirl of the white melted chocolate to each cookie, then press a peppermint patty on top of that so some of the white chocolate peeks through the edge.
Next, add a swirl of yellow chocolate to the top of the peppermint patty. Then add a pinch of green coconut to the top of that.
Now, grab the other [20] wafer cookies and lay those out flat side up and add a swirl of red chocolate to those cookies. Proceed to place these cookies (ketchup side down) on top of the lettuce and gently squeeze the hamburger together so the cookie stays together.
In a small bowl, melt the butter in the microwave for 30 seconds. Then brush a small amount on top of each hamburger and sprinkle with the sesame seeds.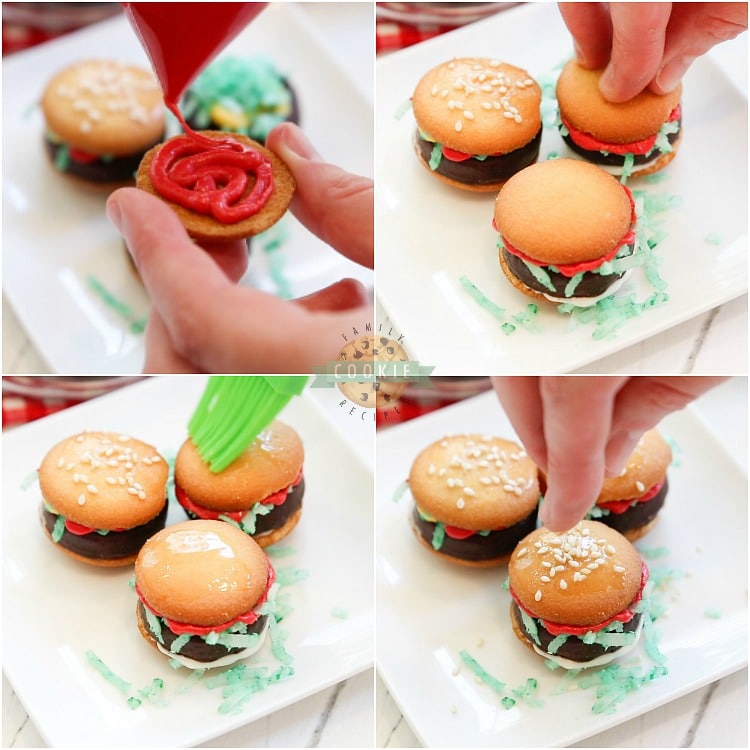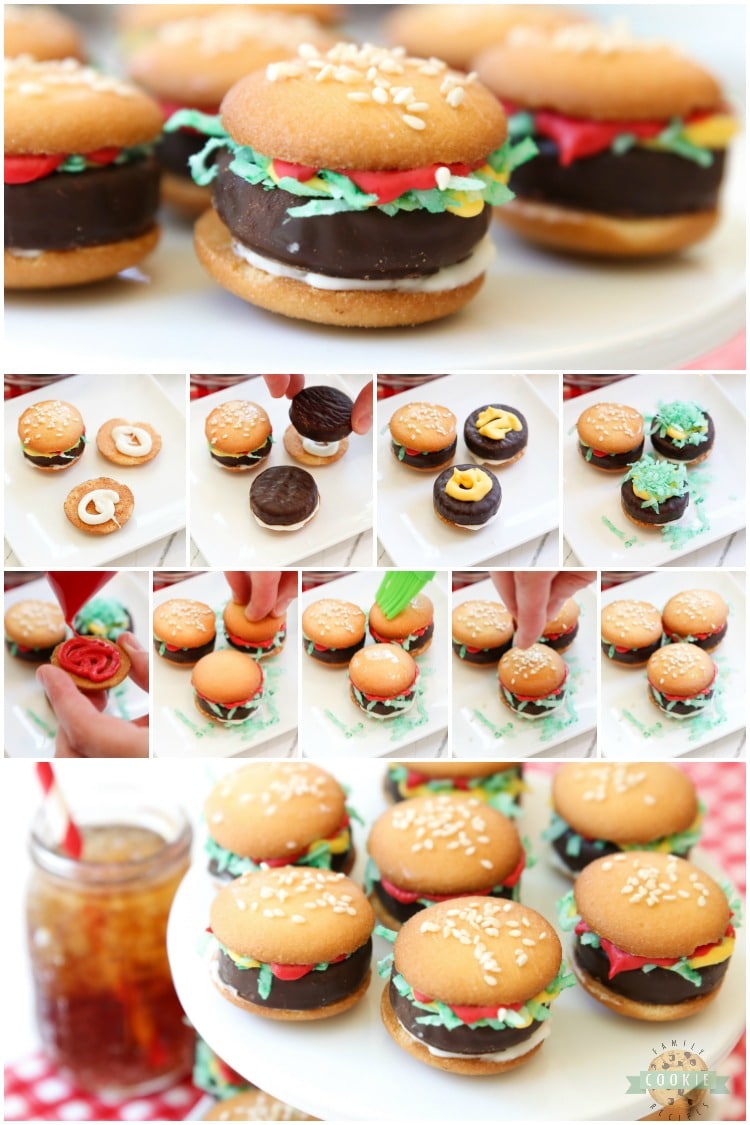 HOW LONG ARE HAMBURGER COOKIES GOOD FOR?
I recommend eating these cookies within 1-3 days for the best tasting results. You can keep them stored in an airtight container at room temperature, but eating these cookies sooner means they will taste so much better. Yum!
Kids love fun cookies! Check out more Kid favorite cookies here:
Mini Hamburger Cookies are made from packaged Nilla Wafer cookies, York Peppermint Patties candy and melted chocolate candy melts. This easy no bake cookies recipe is so cute and festive, one that kids will go crazy over.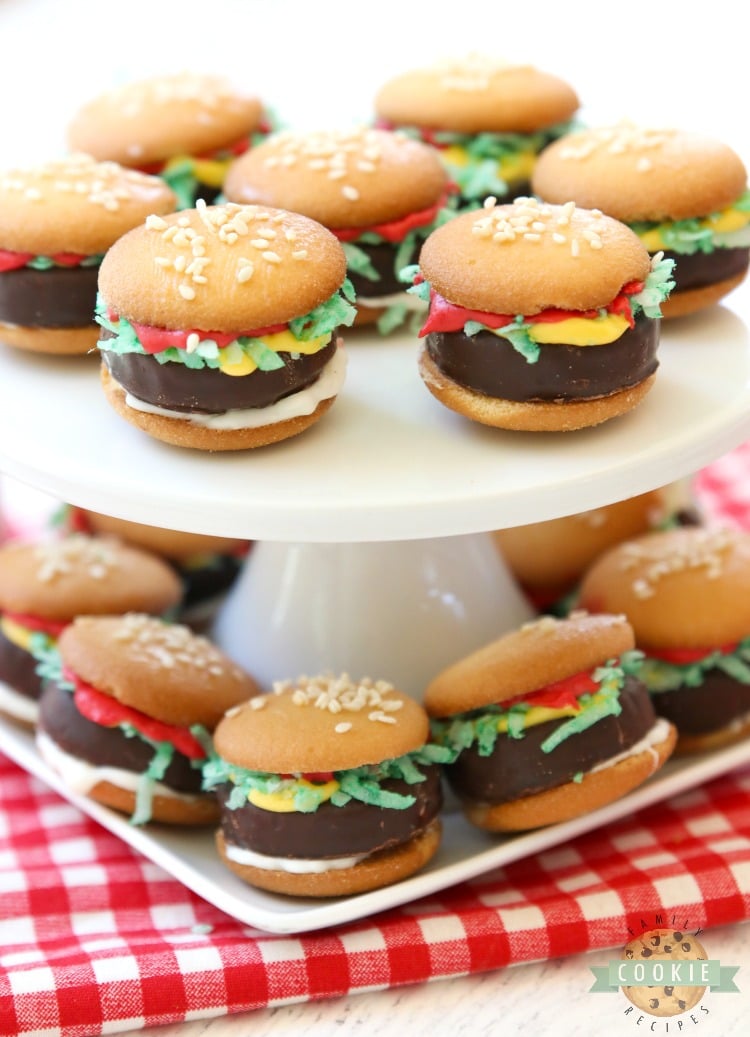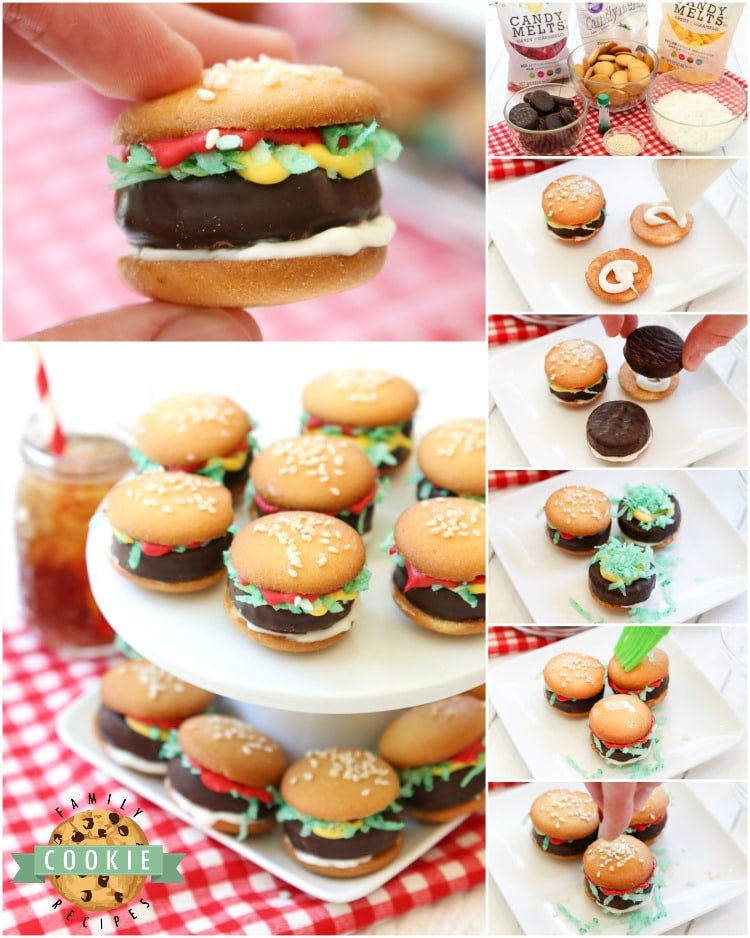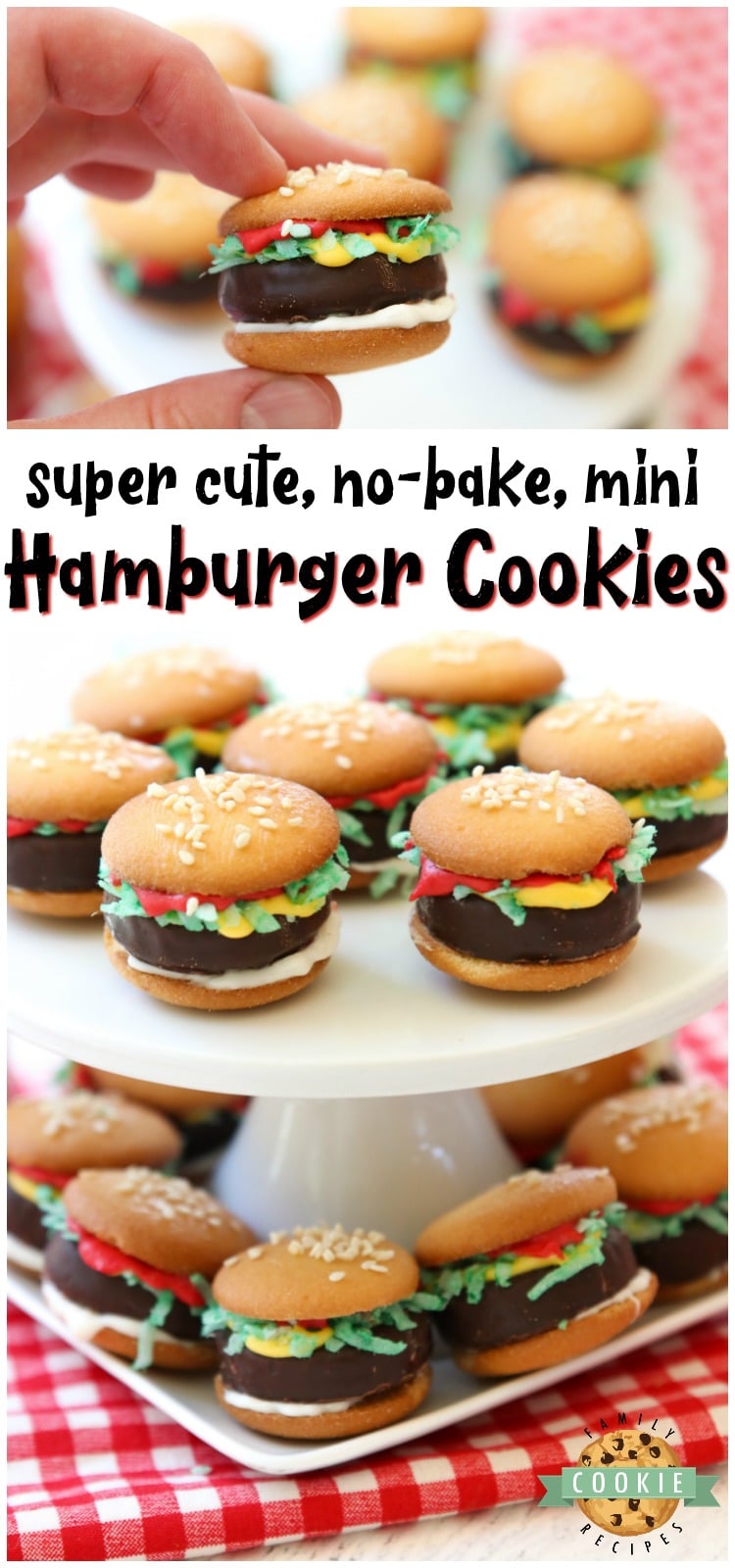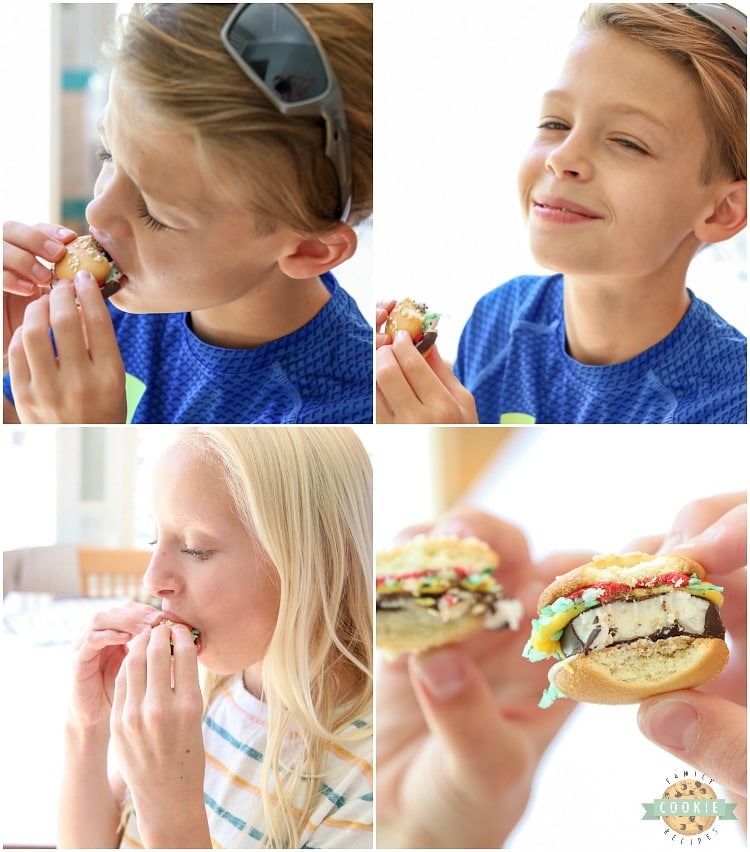 How could I not include these pictures of my kiddos enjoying their creations?! Aren't they cute?! The cookies and the kids of course. Dang my kids are getting big. When did that happen?! I love that they're never too old to have fun in the kitchen making treats with Mom.