Vanilla Cream Cookies are soft, chewy and full of vanilla flavor. This simple cookie recipe is made with vanilla pudding mix and lots of crushed Golden Oreos – they are amazing!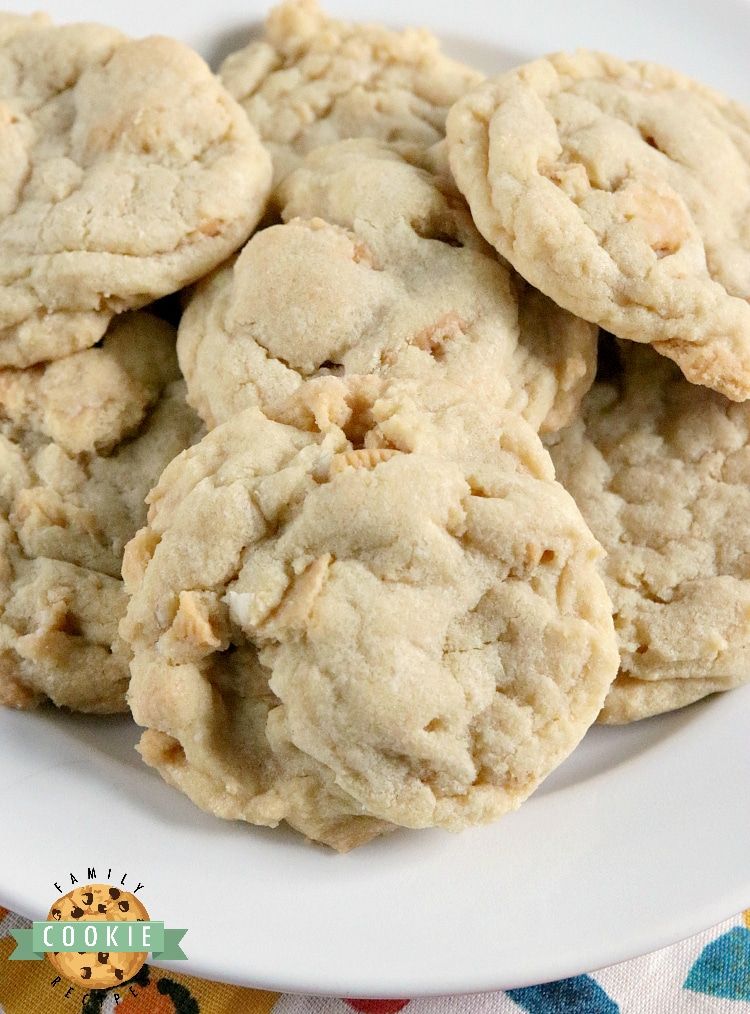 Vanilla Cream Cookies were invented when I decided to do a slight modification to one of my all-time favorite cookie recipes – Cookies and Cream cookies. I swapped out the Oreo pudding mix with vanilla and used Golden Oreos in place of the regular ones. Anyone else think that the Golden Oreos are the best variety of Oreos out there? There are a lot of varieties of Oreo cookies out there and some of them are a little bit strange, but the Golden Oreos are amazing. So if you haven't tried them, please give them a chance. Even if you don't like regular Oreos, you might love these.
Cookie recipes that include pudding always help create the soft texture we all love, but below you'll find a few other tips for making soft cookies!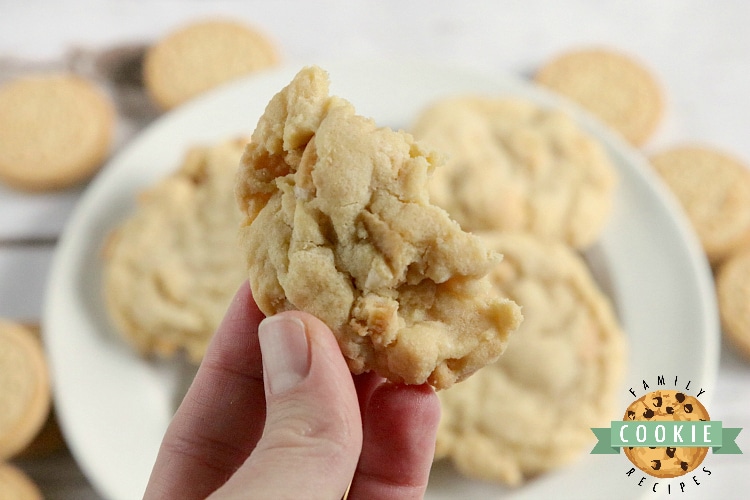 How to make the best cookies:
Make sure that you have enough flour in the dough. If the dough is too sticky, you may need to add a little bit of flour.
Spend a little extra time when you mix the butter and sugars. Creaming them together for 2-3 minutes will improve the consistency of your cookies.
Preheat the oven. This will help your cookies turn out right every time!
Use a cookie scoop! If you want all your cookies to be perfectly shaped and have them all be the same size, a cookie scoop is the way to go.
Use parchment paper or a silicone baking mat. Doing this will make it really easy to remove the cookies from your cookie sheet so that you don't have to scrape them off the pan – they will just slide right off in perfect shape!
Don't over bake the cookies – when I take mine out of the oven, they still look slightly under baked but they will continue to bake on the cookie sheet for a couple more minutes so that's ok!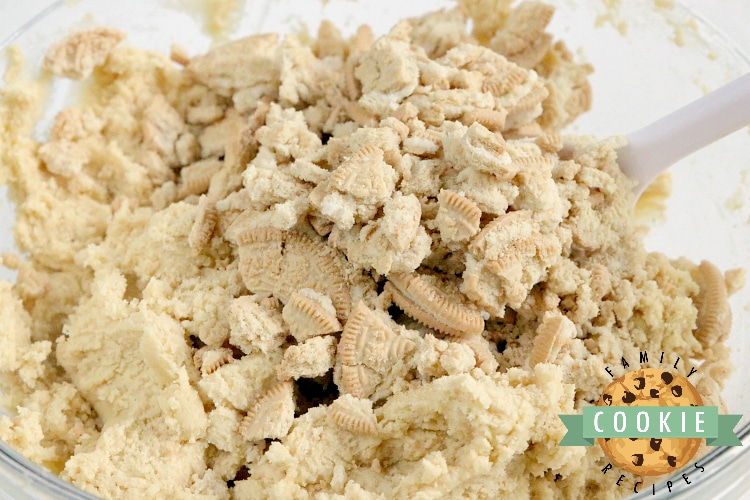 Ingredients in Vanilla Cream Cookies
1 cup butter, softened
1/2 cup brown sugar
1/2 cup sugar
1 (3.4 oz) pkg instant vanilla pudding mix
2 eggs
1 tsp vanilla extract
2 1/4 cups flour
1 tsp baking soda
15 Golden Oreo cookies, coarsely crushed (you want big chunks!)
How to make Vanilla Cream Cookies
Using a hand mixer, cream the butter and sugars.  Add the pudding mix and mix until well blended.
Add the eggs and vanilla and mix well.
Add the flour and baking soda and continue mixing.
Stir in the white chocolate chips and Oreo cookie chunks.
Drop cookies by rounded teaspoonfuls (I use a cookie scoop) onto a greased cookie sheet. Bake for 10 minutes at 350°.  Enjoy!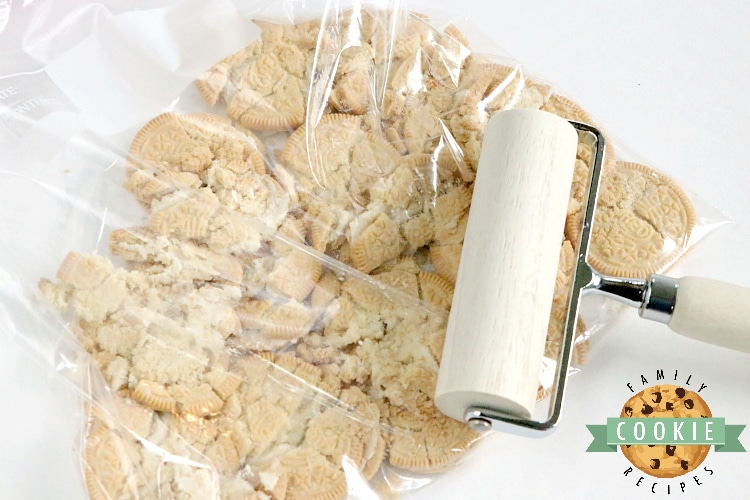 How do you crush Oreo cookies?
The Oreo cookies should not be crushed too much because you want to make sure to have large chunks of Oreos in the cookies. My favorite way to crush the Oreos is by placing them in a Ziplock bag and then smashing them with a meat mallet or a rolling pin. This method gives you more control over how finely the Oreos are crushed.
You can also use a blender or food processor to crush Oreos but make sure to pulse the Oreos for only a quick second at a time to make sure that you don't over blend. This method is wonderful if you want to make fine crumbs for an Oreo crust, but is a little trickier when you want larger pieces of cookie.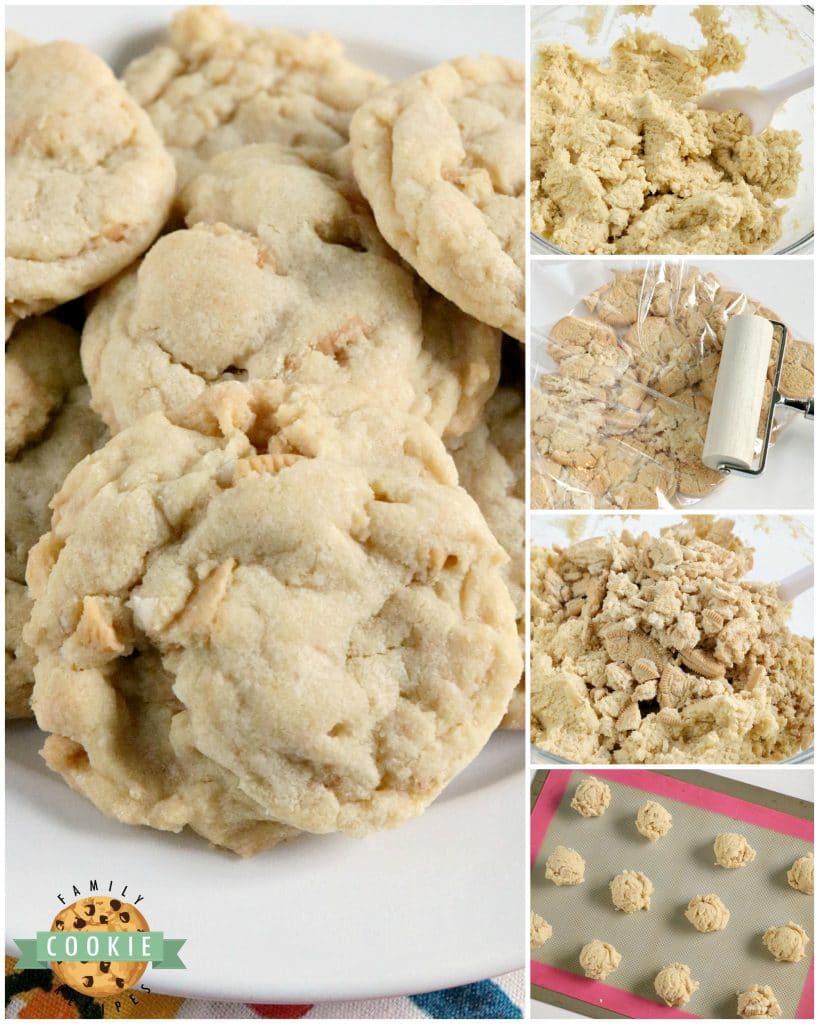 A few reasons that this Vanilla Cream Cookie recipe is one of my favorite cookie recipes!
First of all, they are very simple to make and I love simple cookie recipes since I like to make them often! I've tried other "best" cookie recipes that require a lot of extra steps and I haven't found the results to be worth the extra time and effort involved.
The dough is amazing! I have a couple recipes that make good cookies, but the dough isn't quite so good and to me, the dough is the best part so it has to be perfect.
They always turn out perfectly – they are soft and don't end up being flat or crunchy which is very important to me.
Everyone loves them! Every time I take these cookies anywhere, everyone is begging me for the recipe which is always a good sign for a must-have recipe.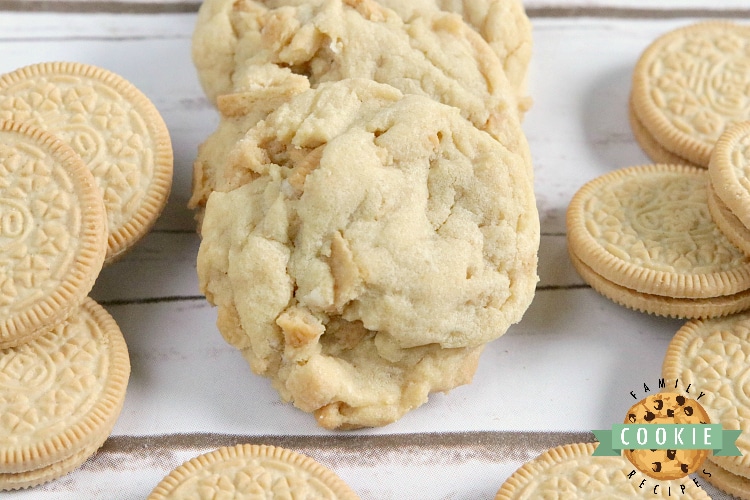 How do you soften butter to room temperature?
The best way to soften butter is to set it out for a few hours before you make your cookies. Since most of us (or maybe just me!) aren't that prepared or don't think that far in advance, there are a few tricks to softening butter perfectly in just a matter of minutes. My favorite way to soften butter is in the microwave. It's definitely fast, but you do have to be very careful not to melt it. Just put the whole stick of butter in the microwave (as long as it isn't wrapped in foil!) and microwave for about 6-7 seconds. If the butter is still really cold, try another 5-7 seconds and check it again. You may need a few intervals, and if the butter is starting to feel soft, you can shorten the final interval to just a few seconds to make sure it doesn't start melting.
actually prefer to use the defrost setting on my microwave – I don't know exactly what that mode does differently, and it takes a little bit longer (closer to 30 seconds), but it seems to be easier to get the butter to soften without melting.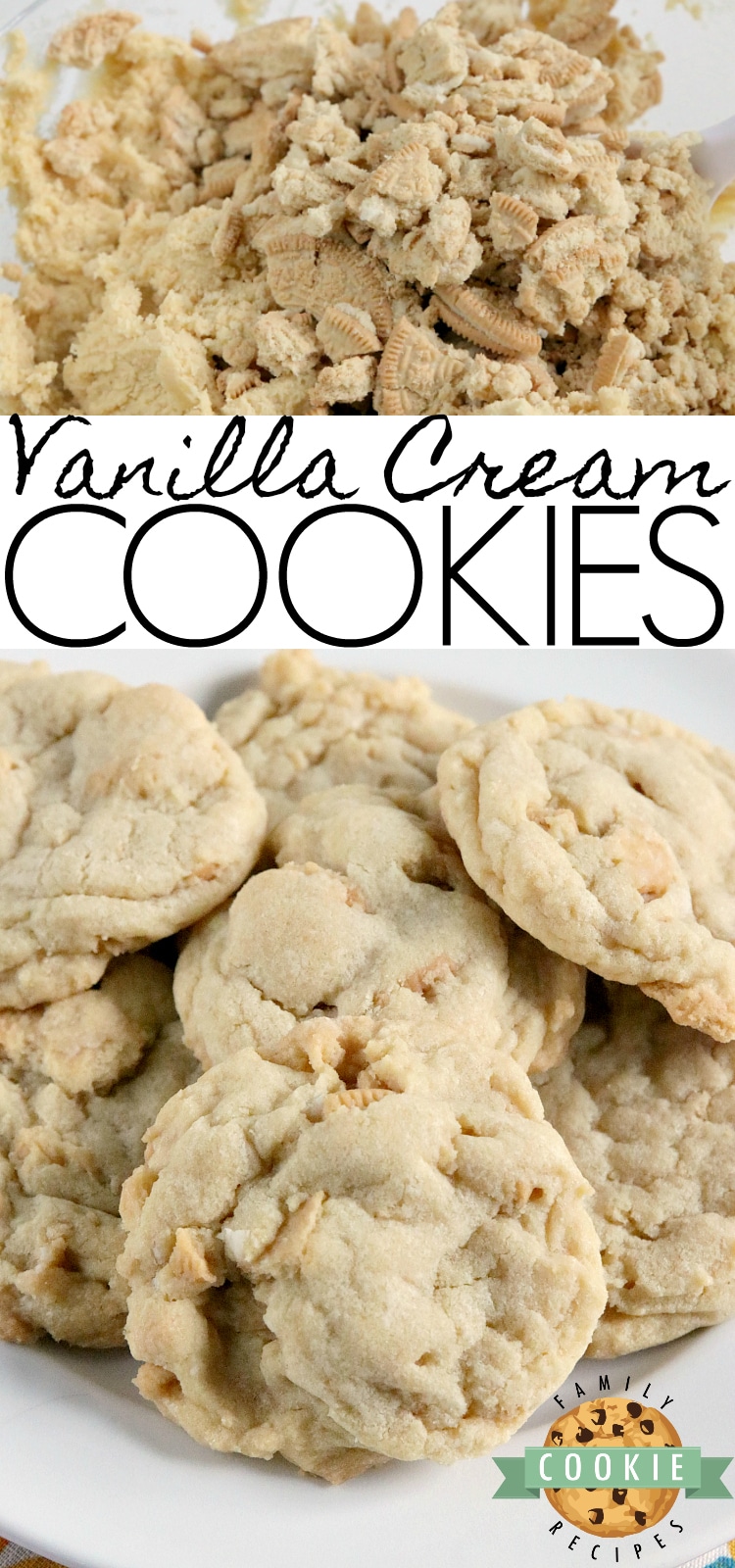 The weather is changing and the temperatures are cooling, so I had to buy little Miss B a winter coat. What is about a baby that just makes any article of clothing look so cute?! I absolutely adore this little girl of mine, and seeing all of her chubbiness in a puffy coat just makes me even more happy. She loves walks and bike rides and I'm hoping that if her coat is warm enough, we'll be able to spend a lot of time outdoors even when the winter sets in. Luckily, up here in Washington, it doesn't really get too cold so I think we will be ok, as long as the rain isn't too heavy!