Reese's Peanut Butter Pudding Cookies are soft and chewy peanut butter cookies made with vanilla pudding mix and chopped up Reese's peanut butter cups too!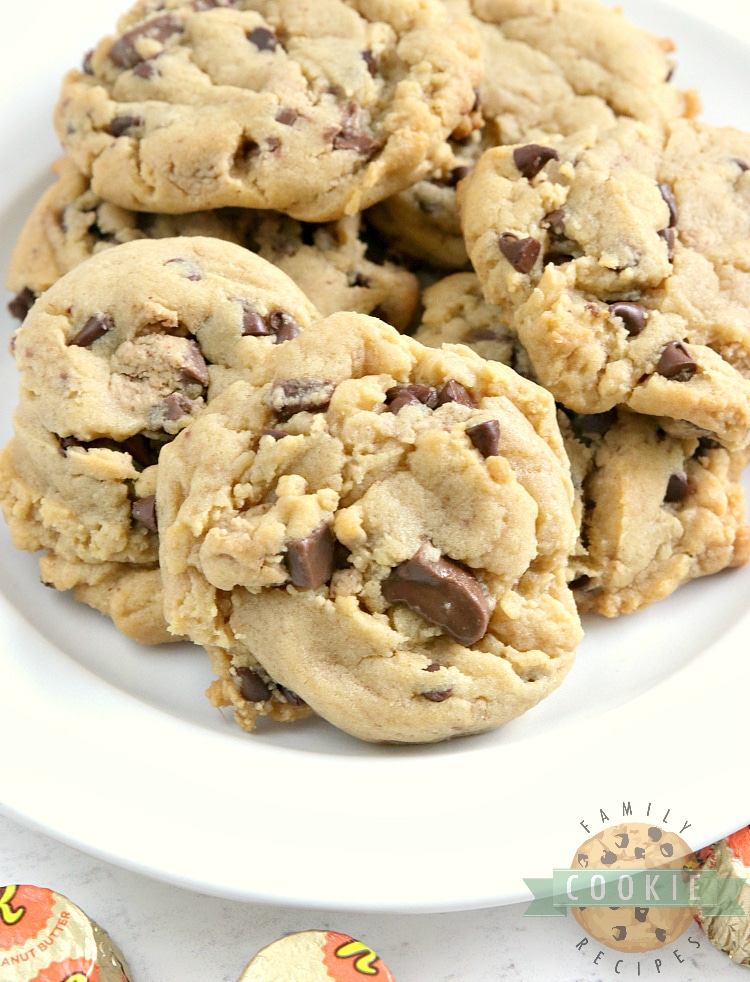 Reese's Peanut Butter Pudding Cookies are one of those recipes you've just got to try. I love peanut butter cookies. My go-to Chocolate Chip Peanut Butter Cookie recipe has been made at my home way more times than I'd like to admit and I loved it so much that I never even really tried any other recipe.
One day, I started thinking about how a lot of my other favorite cookies had pudding mix added to them and I began to wonder why I'd never tried to make peanut butter cookies with pudding in them. So I tried it and the results are absolutely delicious!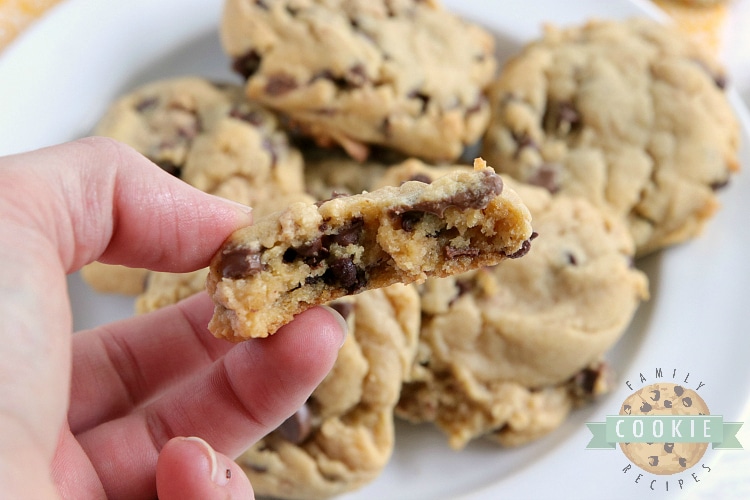 I had some mini Reese's peanut butter cups in the pantry and thought they would be good, so I chopped them up and threw them in along with some mini chocolate chips. This combination was amazing in the cookies, but Reese's Pieces would work well or just regular chocolate chips would be fine. You don't have to put anything in the dough if you don't want to – the plain peanut butter cookie is so good by itself that you would still be loving the results!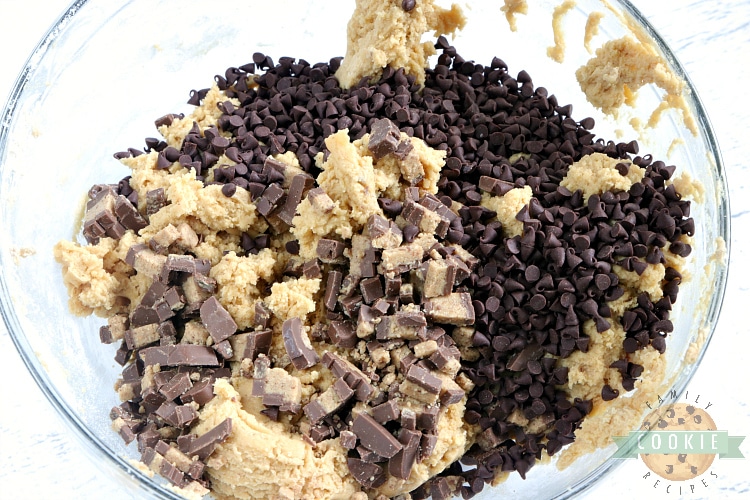 Ingredients in Reese's Peanut Butter Pudding Cookies
3/4 cup butter, softened to room temperature
1/2 cup creamy peanut butter
1/2 cup granulated sugar
1/2 cup brown sugar
1 small (3.4 oz) box instant vanilla pudding mix
2 eggs
1 tsp vanilla extract
2 1/4 cups flour
1 tsp baking soda
1/2 tsp salt
1/2-1 cup mini chocolate chips
1 cup chopped Reese's miniature peanut butter cups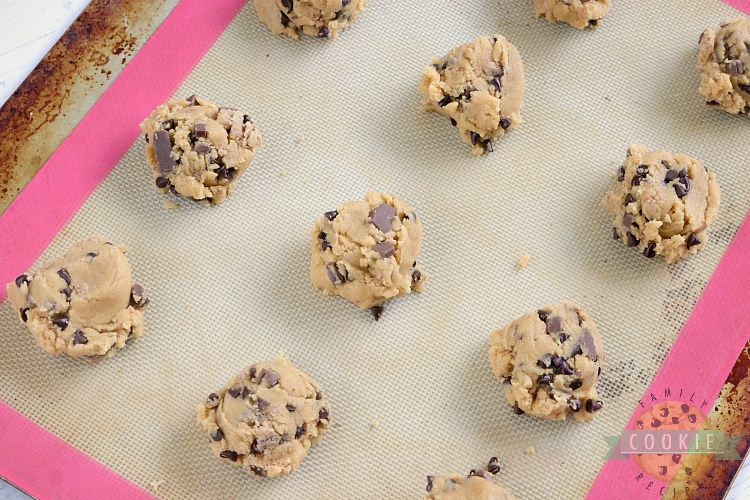 How to make Reese's Peanut Butter Pudding Cookies
Preheat oven to 350°.
In a large bowl, beat the butter until creamy and fluffy (about 2 minutes). Add the peanut butter and sugars and beat for another 2-3 minutes. Add the pudding mix and beat for another minute.
Add the eggs and vanilla and beat for another 2 minutes.
In a separate bowl, stir together the flour, baking soda and salt. Add this mixture to the butter mixture and mix just until combined.
Carefully fold in the chocolate chips and chopped Reese's peanut butter cups. And anything else you want to add in!
Use a cookie scoop to scoop the dough onto a prepared cookie sheet, placing the cookie dough balls about 2 inches apart.
Bake cookies for about 10 minutes – do not overbake!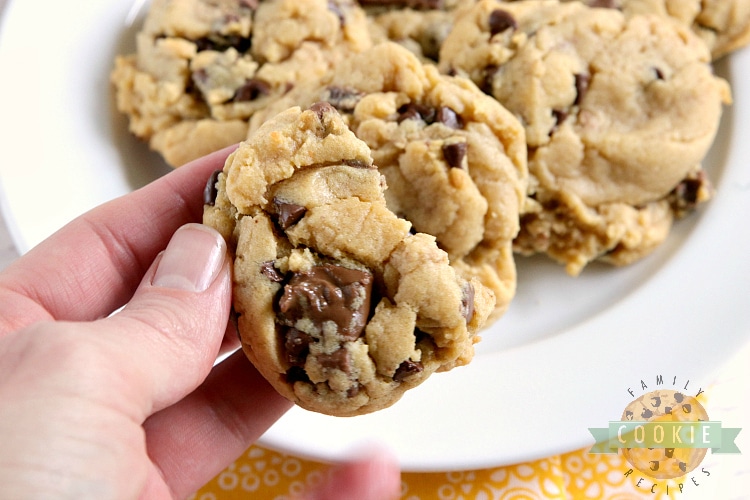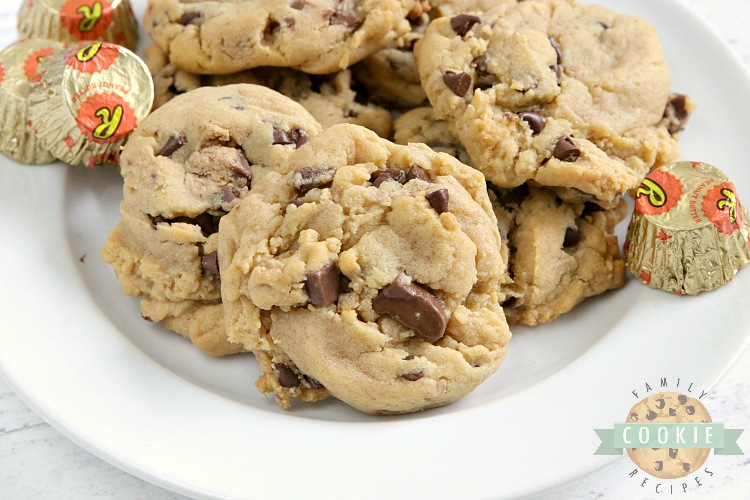 How to Make Better cookies
A few tips and tricks to making better cookies every time!
Use an Electric Mixer for Even Mixing
It's worth it to use an electric mixer! You can use a handheld one or a stand mixer; I prefer a stand mixer, but use what you have on hand.
Cream the Butter & Sugars for Longer
Spend a little extra time when you mix the butter and sugars. Creaming them together for 2-3 minutes will improve the consistency of your cookies.
Preheat the oven. This will help your cookies turn out right every time!
Cookie Scoops for Perfect Cookies
Use a cookie scoop! If you want all your cookies to be perfectly shaped and have them all be the same size, a cookie scoop is the way to go.
Make Sure your Cookies don't Stick to the Pan!
Use parchment paper or a silicone baking mat. Doing this will make it really easy to remove the cookies from your cookie sheet so that you don't have to scrape them off the pan – they will just slide right off in perfect shape!
Take them out of the oven Earlier
Make sure not to overbake your cookies. They may not even look totally done on the tops, but if the bottoms start to brown, I take mine out and they are perfect!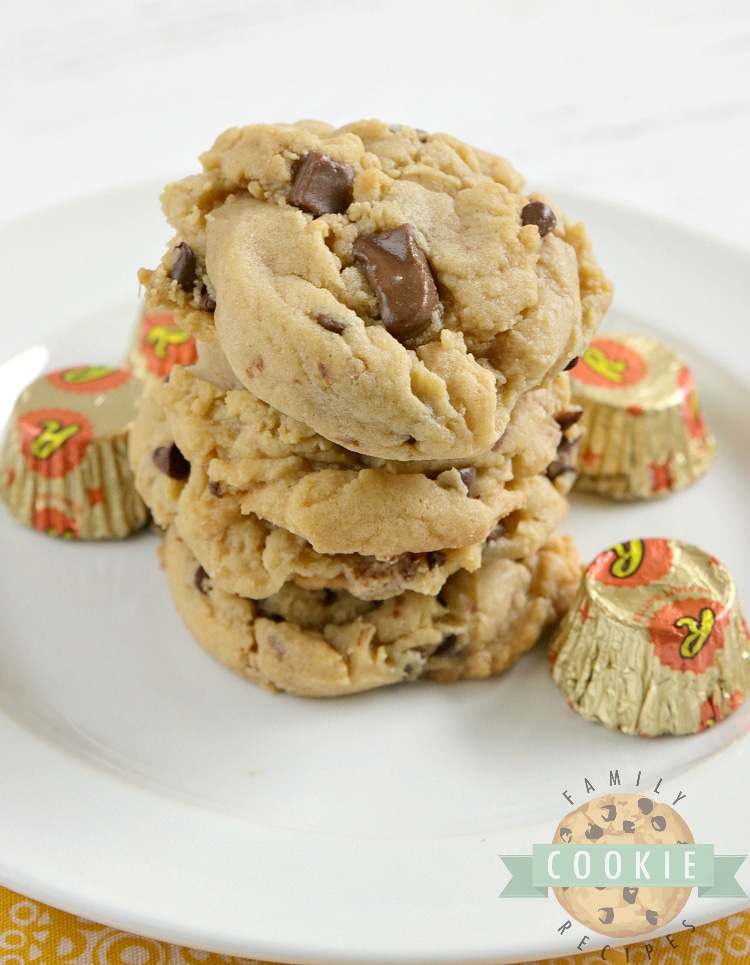 IF YOU ENJOYED THESE REESE'S PEANUT BUTTER PUDDING COOKIES, HERE ARE A FEW MORE PEANUT BUTTER COOKIE RECIPES YOU'LL ENJOY:


After 3 months of quarantine, we were excited when the local nail salon opened back up and we ventured out to get our feet ready for the summer! I took my two oldest daughters and it was an interesting experience. Plexi-glass everywhere, had to get our temperature taken at the door, wore masks the whole time…but our toes are pretty! This "new normal" is really weird, but I'm so happy that things are starting to open up again and we are finally able to leave our house a bit!