Cream Cheese Peanut Butter Cookies are soft, chewy and packed with peanut butter! Made with Reese's pieces, these peanut butter cookies turn out perfectly every time.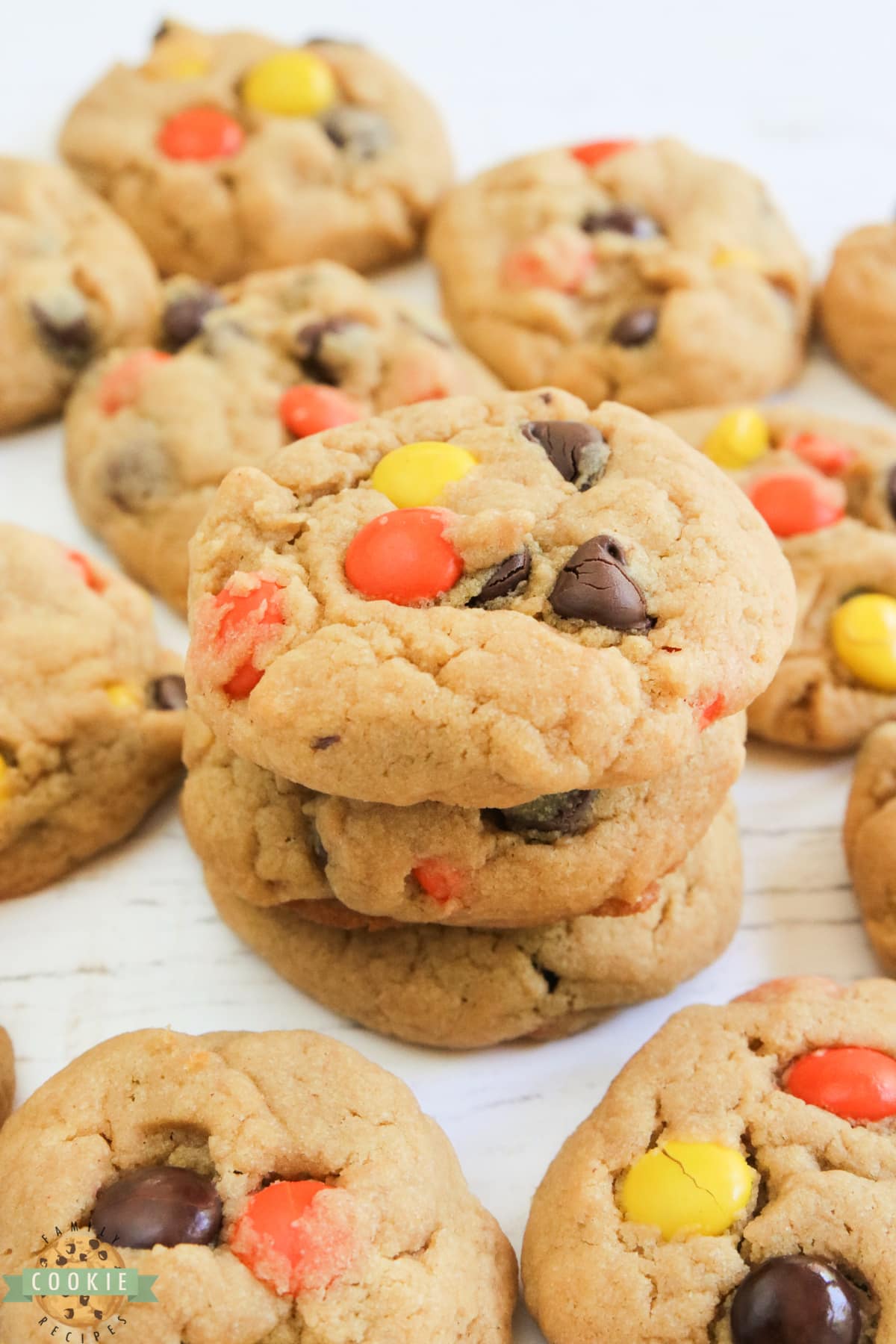 My family has loved peanut butter cookies for years, but it was only recently that I tried this peanut butter cookie recipe that has cream cheese in the recipe. It really does make some of the best peanut butter cookies I've ever tried!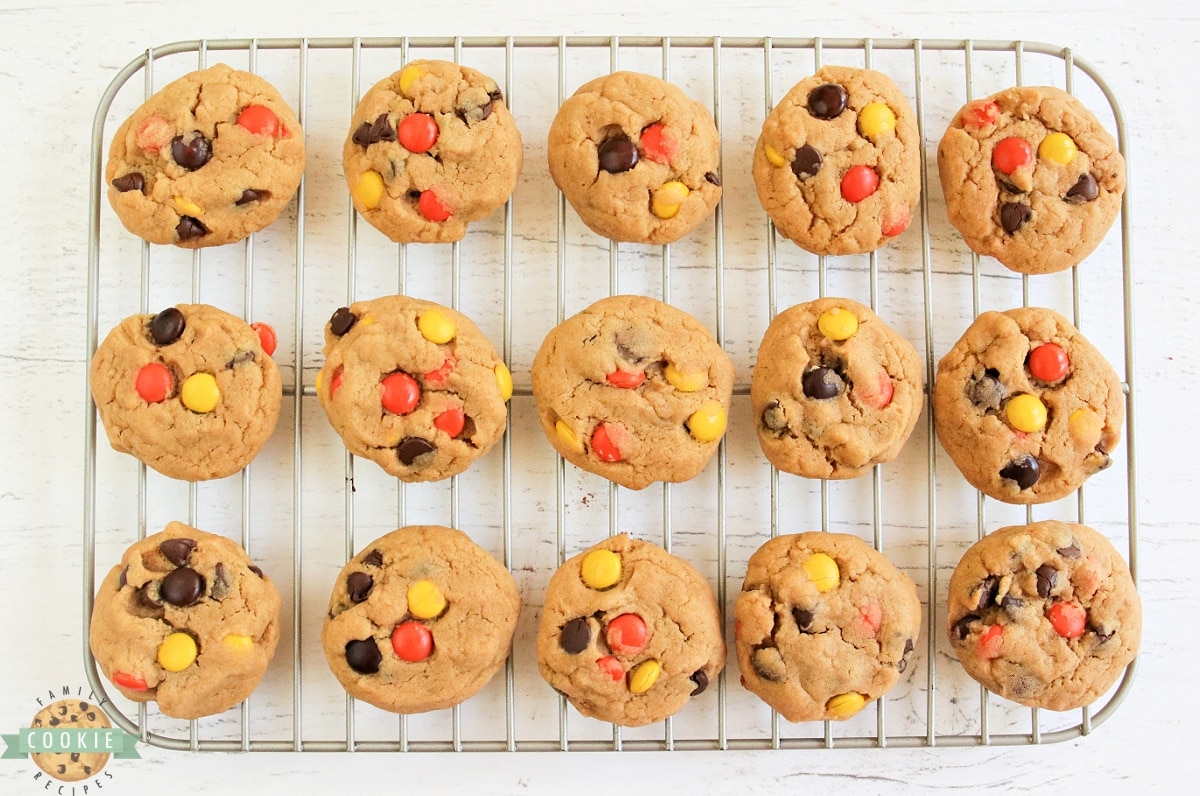 HOW TO MAKE PERFECT PEANUT BUTTER COOKIES
Making Cream Cheese Peanut Butter Pudding cookies is easy! Here are a few tips to getting perfect cookies every time!
Make sure you use softened butter – DON'T melt it! One of the most common errors in cookie making is using butter that is either really cold and hard, or using butter that is too warm and melted. If you have time, just leave butter out on the counter for about 1-2 hours before making your cookies. If you are like me and don't plan your cookie cravings that far in advance, just place the butter in your microwave and soften in 5 second intervals, being very careful to pull it out before it melts. I actually like to use the defrost setting on my microwave to soften butter- I don't know the technical reasons behind it, but it seems to soften the butter more evenly and takes a little bit longer so I'm less likely to start melting it!
Use regular peanut butter, not the more natural kind. The peanut butters where the oils separate out tend to be a little runnier and just don't yield consistently favorable results in baking!
Most cookie recipes require that you mix the dry ingredients separately before adding the wet ingredients. This is an important step!
Spend a little extra time when you mix the butter and sugars. Creaming them together for 2-3 minutes will improve the consistency of your cookies.
Preheat the oven. This will help your cookies turn out right every time!
Use a cookie scoop! If you want all your cookies to be perfectly shaped and have them all be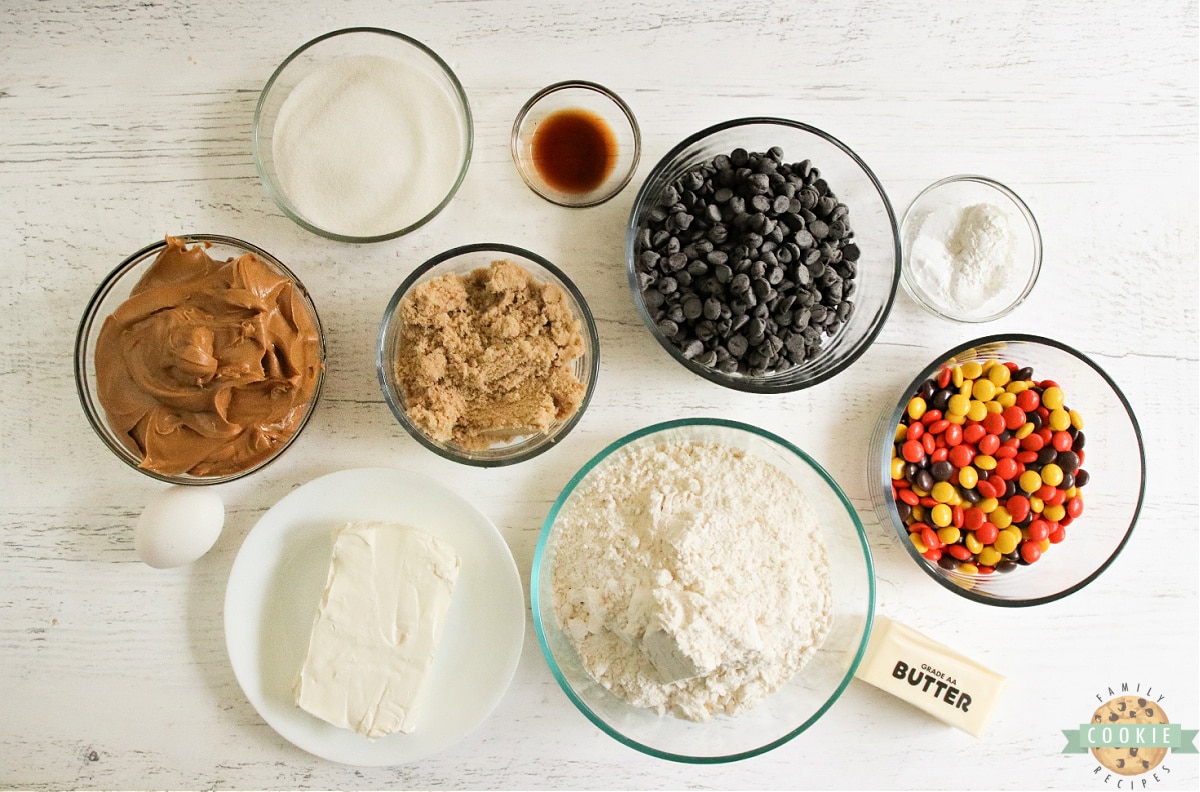 INGREDIENTS IN CREAM CHEESE PEANUT BUTTER COOKIES
Butter: I use salted butter, but you can use unsalted if you prefer. No margarine! Make sure the butter is softened, but not melted before adding to the recipe.
Cream cheese: This also needs to be softened to room temperature for best results. You can use regular cream cheese or a low-fat or non-fat alternative, but regular cream cheese is ideal for the best consistency.
Eggs: You need two eggs to bind the dough together so that the cookies cook properly and don't crumble.
Vanilla extract: The higher the quality of the vanilla, the better!
Peanut Butter: Every time I have made these cookies I have used a regular creamy peanut butter (like Jif or a store-brand alternative). Many readers have commented that peanut butter cookies do not turn out as well when using a natural peanut butter.
Brown sugar: For best results, make sure the brown sugar is fresh and soft.
Flour: All purpose flour works best in these cookies. Cake flour also works well.
Baking soda and baking powder: These are the leavening agents in the cookies so make sure they aren't old or expired.
Salt – A little bit of salt helps to bring out the other flavors in the cookies.
Cornstarch: Cornstarch really helps to improve the texture of cookies and I have started adding a little bit to almost every cookie recipe I make!
Chocolate chips: I like semi-sweet chocolate chips in these cookies, but dark chocolate or milk chocolate works great too!
Reese's pieces: Adding Reese's pieces boosts the peanut butter flavor of the cookie even more. It also makes these cookies very festive for Halloween or fall parties. You can also add chopped up Reese's peanut butter cups if you want!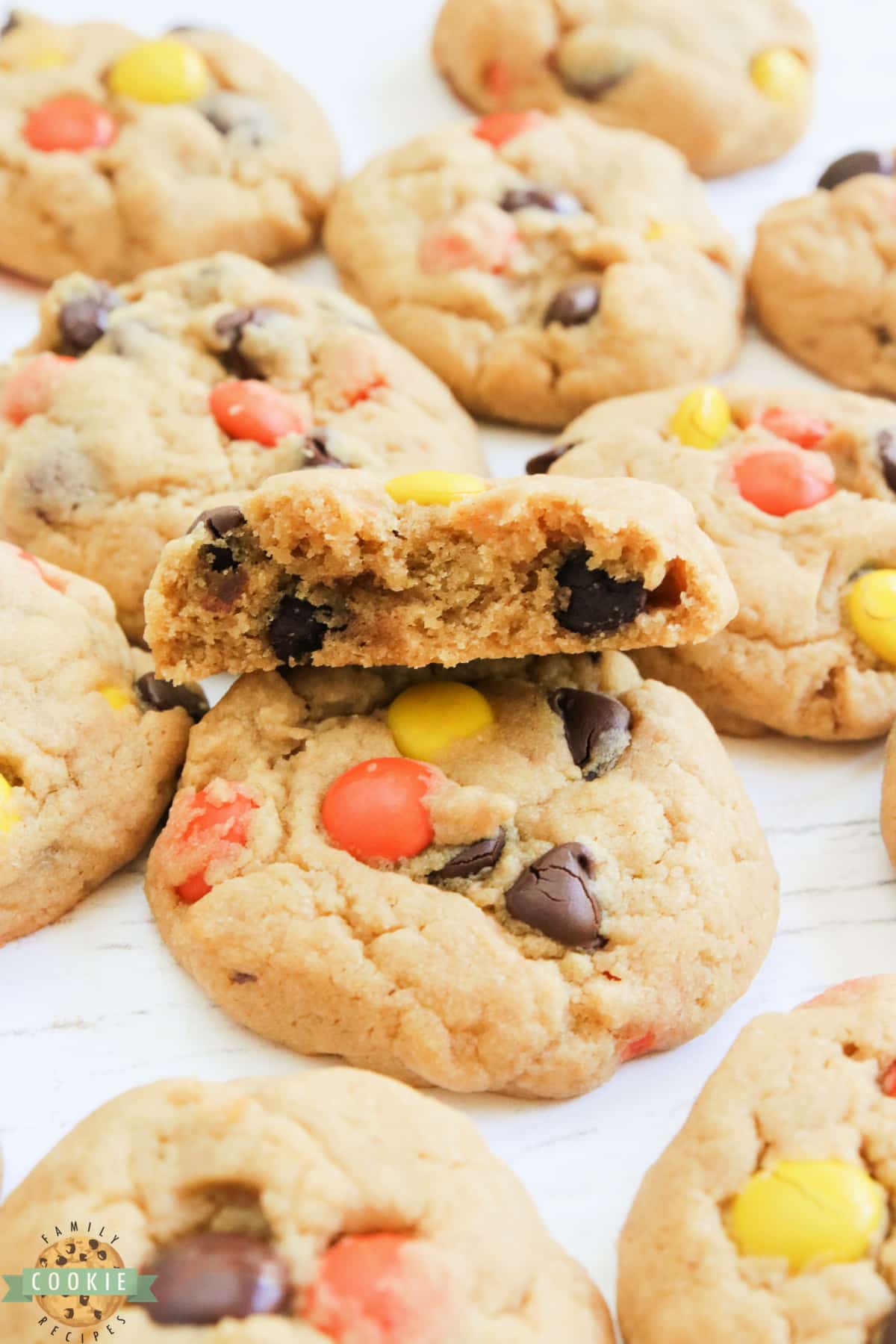 HOW TO MAKE CREAM CHEESE PEANUT BUTTER COOKIES
Preheat the oven to 350°.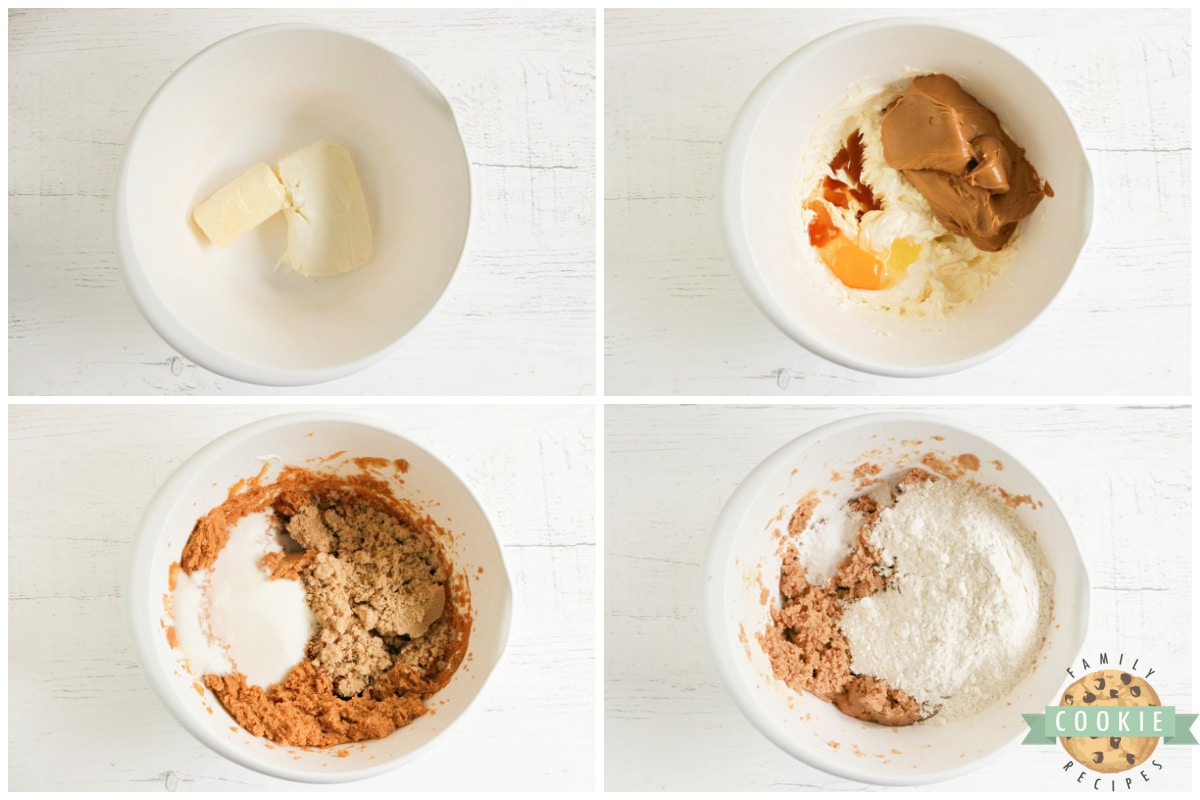 Add the butter and cream cheese to a large bowl and beat for 2-3 minutes with an electric mixer. Add the egg, vanilla and peanut butter and mix for another 2-3 minutes. Add the sugars and mix for 2-3 more minutes.
Add the flour, baking soda, baking powder, salt and cornstarch. Mix just until combined.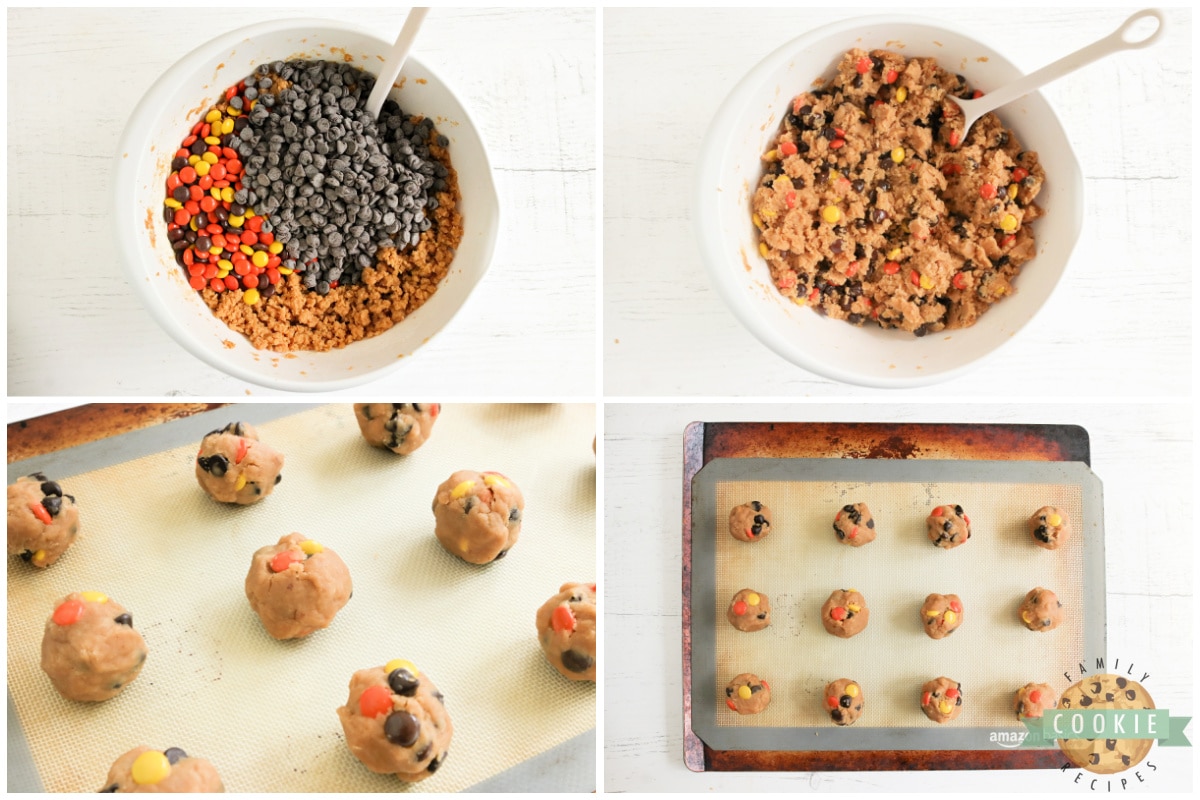 With a wooden spoon or spatula, fold in the chocolate chips and Reese's pieces.
Use a cookie scoop to scoop dough onto cookie sheets that are lined with parchment paper or silicone baking mats. At this point, I usually gently press a few more Reese's pieces on the top of the cookie dough so that the cookies look prettier when they are cooked.
Bake for 12 minutes or until the edges just barely begin to brown. Let the cookies cool on the baking sheet for about 3-5 minutes before transferring to a wire rack to cool completely.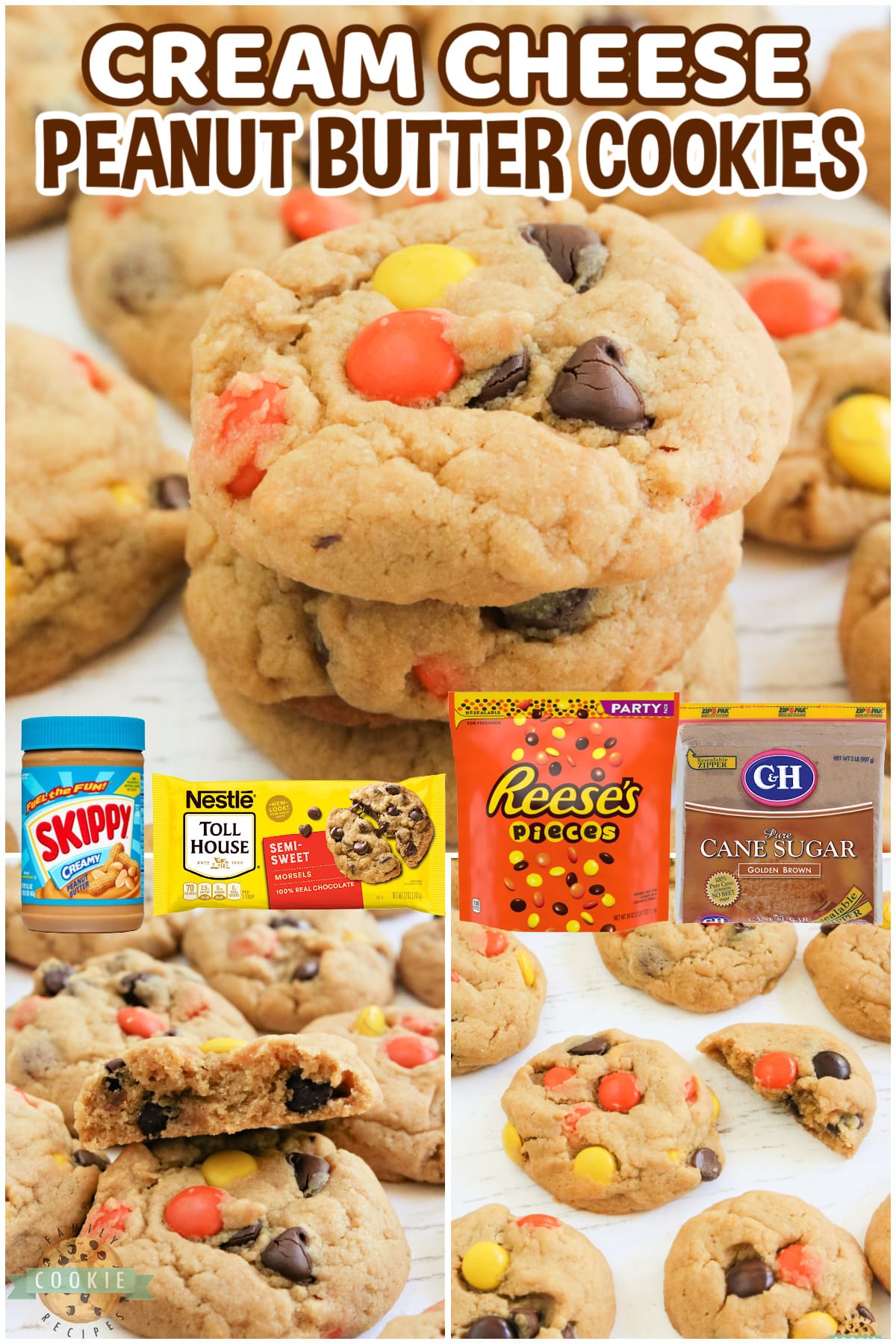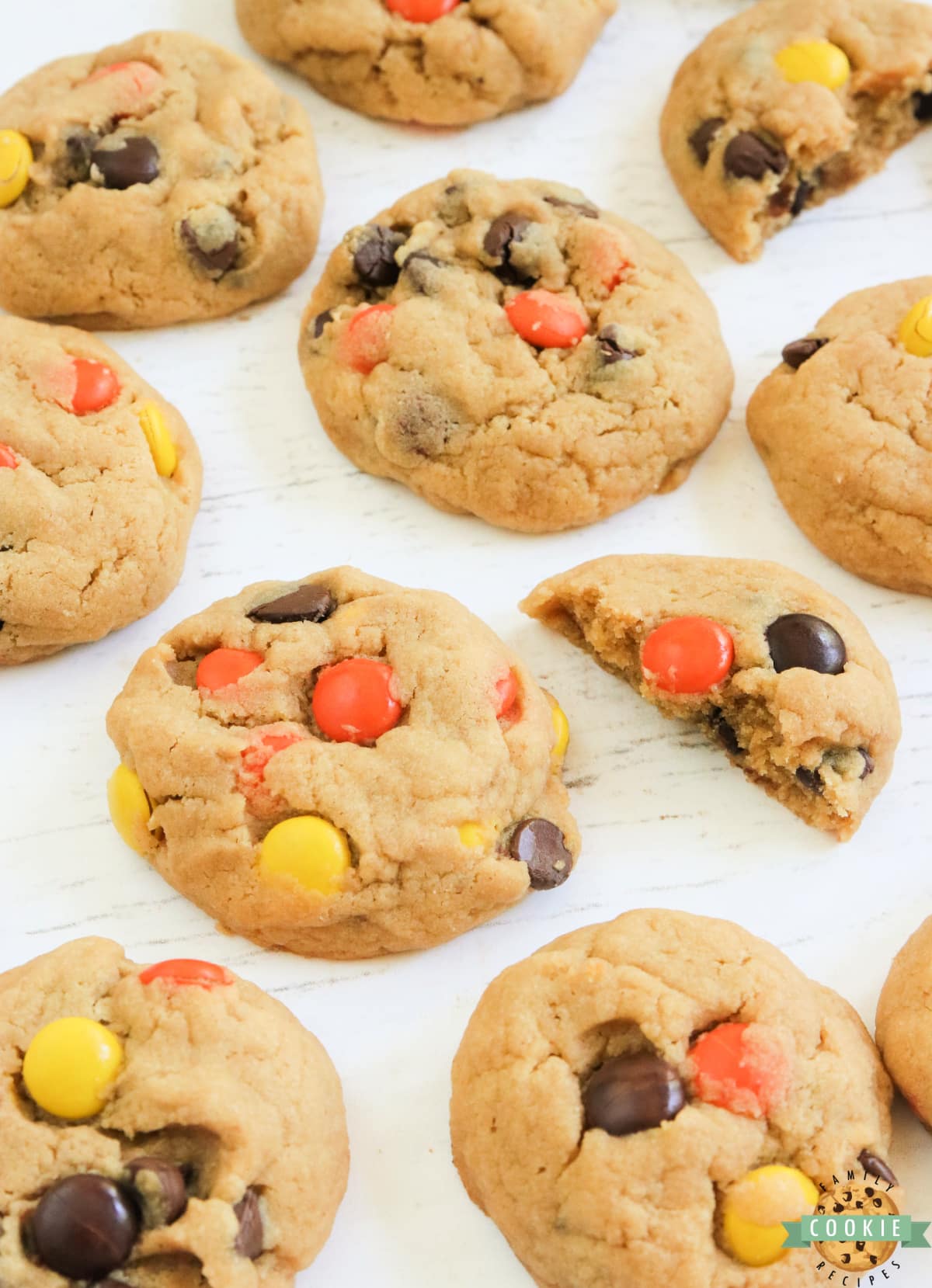 FAQS
When making Peanut Butter Cookies recipe, there are a few common questions that people may have. Here are some frequently asked questions and their answers:
HOW DO YOU KEEP PEANUT BUTTER COOKIES SOFT?
This is another reason to love these cookies, thanks to the cream cheese in the dough- they stay softer for longer! After the cookies have cooled, simply place them in an airtight container to keep them fresh for as long as possible. If they start to get hard, you can place a piece of bread in the container to keep the cookies fresh and soft for longer.
CAN I USE NATURAL PEANUT BUTTER INSTEAD OF REGULAR PEANUT BUTTER?
While the recipe calls for regular creamy peanut butter, some people may prefer to use natural peanut butter instead. However, it's important to note that the cookies may not turn out as well with natural peanut butter. This is because natural peanut butter tends to be runnier and oilier than regular peanut butter, which can affect the texture and consistency of the cookies.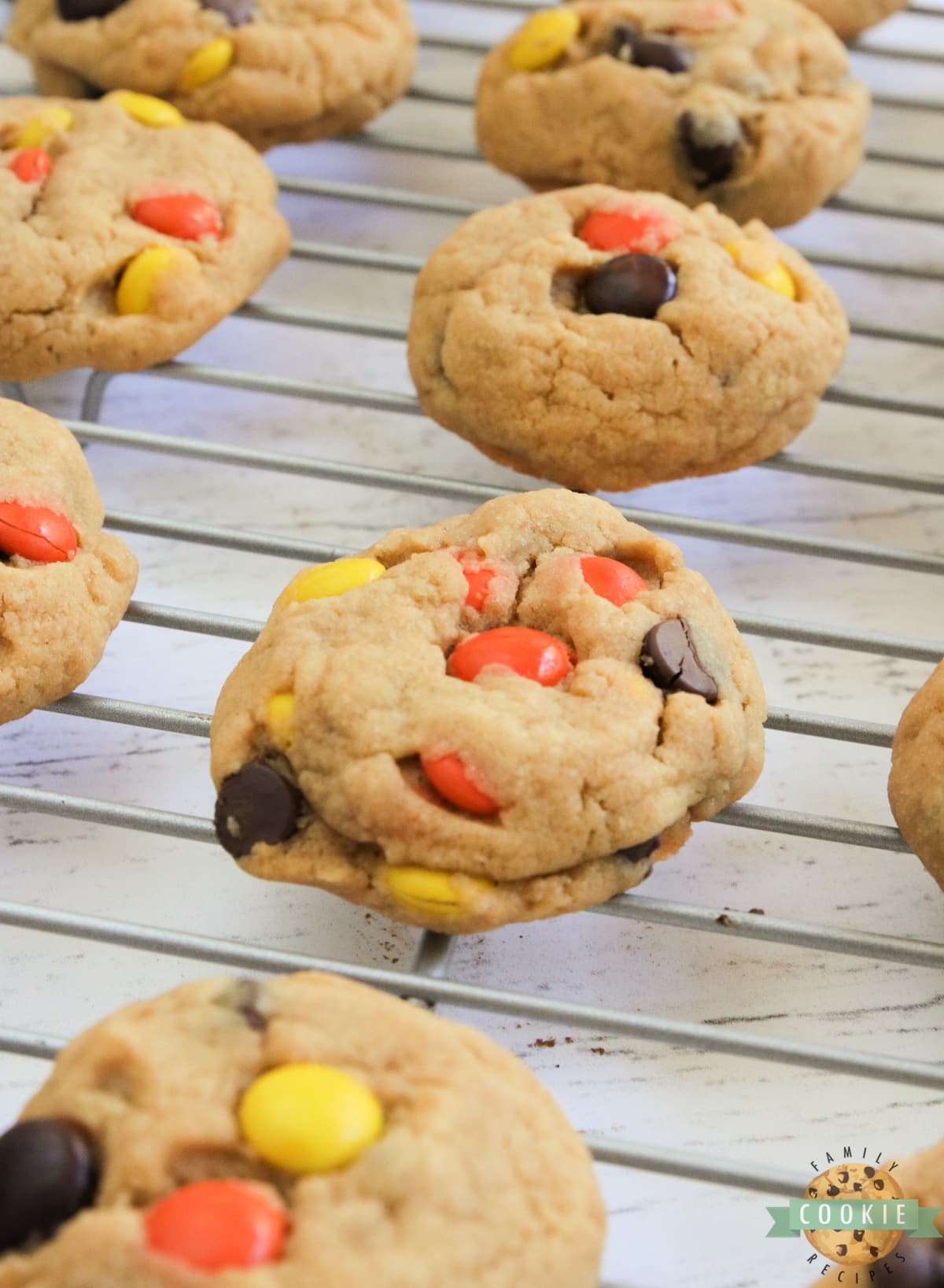 CAN I MAKE THE COOKIES IN ADVANCE?
Yes, you can make the cookies up to 2-3 days in advance and store them in an airtight container until ready to serve. They can also be frozen and thawed as needed. You can freeze the baked cookies, but I actually prefer to freeze the dough pre-scooped into balls so that I can make them fresh every time!
Just freeze the cookie dough balls individually (laid out on a cookie sheet) before placing all of them together in an airtight container or Ziplock bag. Pull them out when ready to bake. You may need to bake them for a minute or two longer than normal when baking from frozen.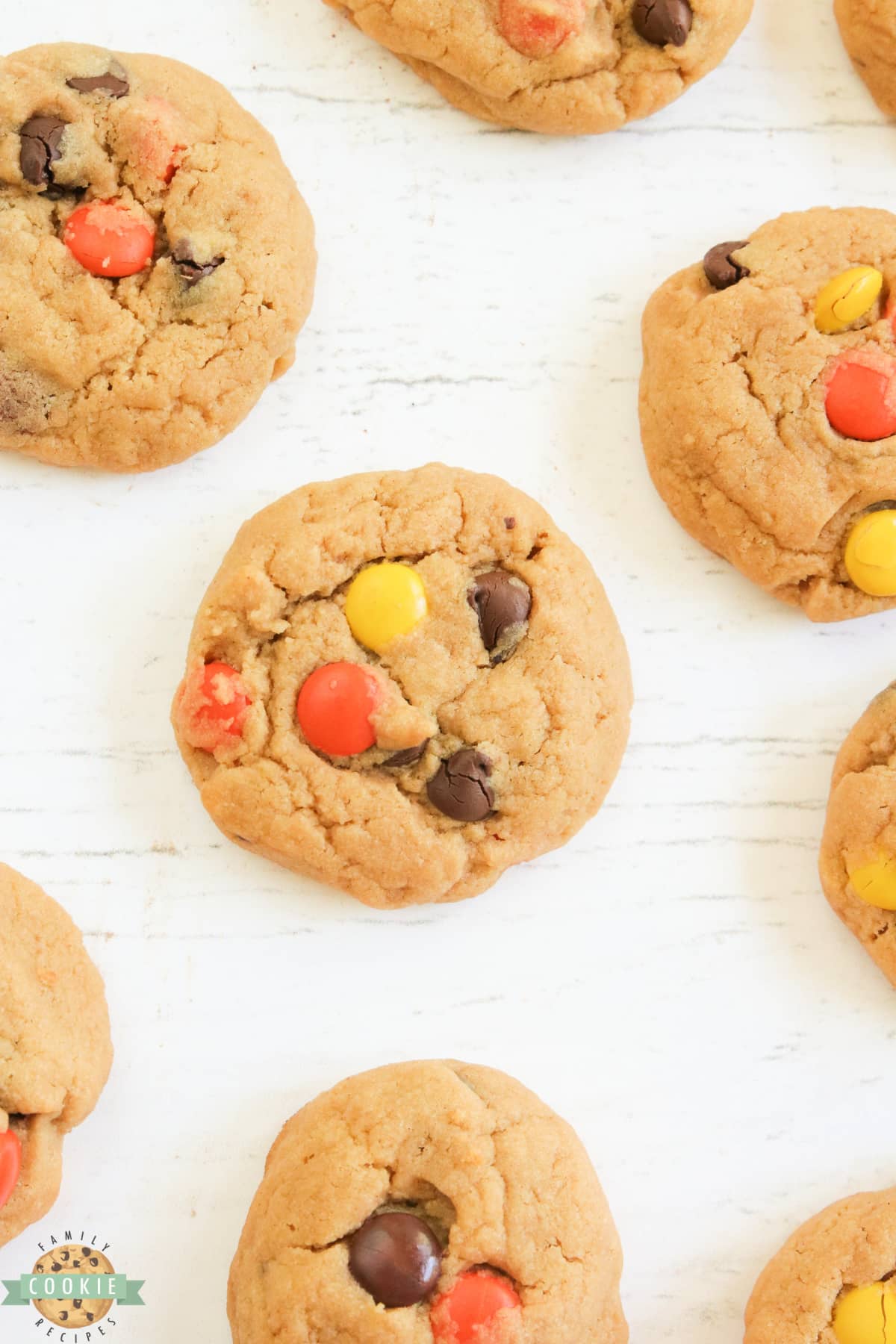 HERE ARE A FEW MORE PEANUT BUTTER COOKIE RECIPES YOU'LL ENJOY: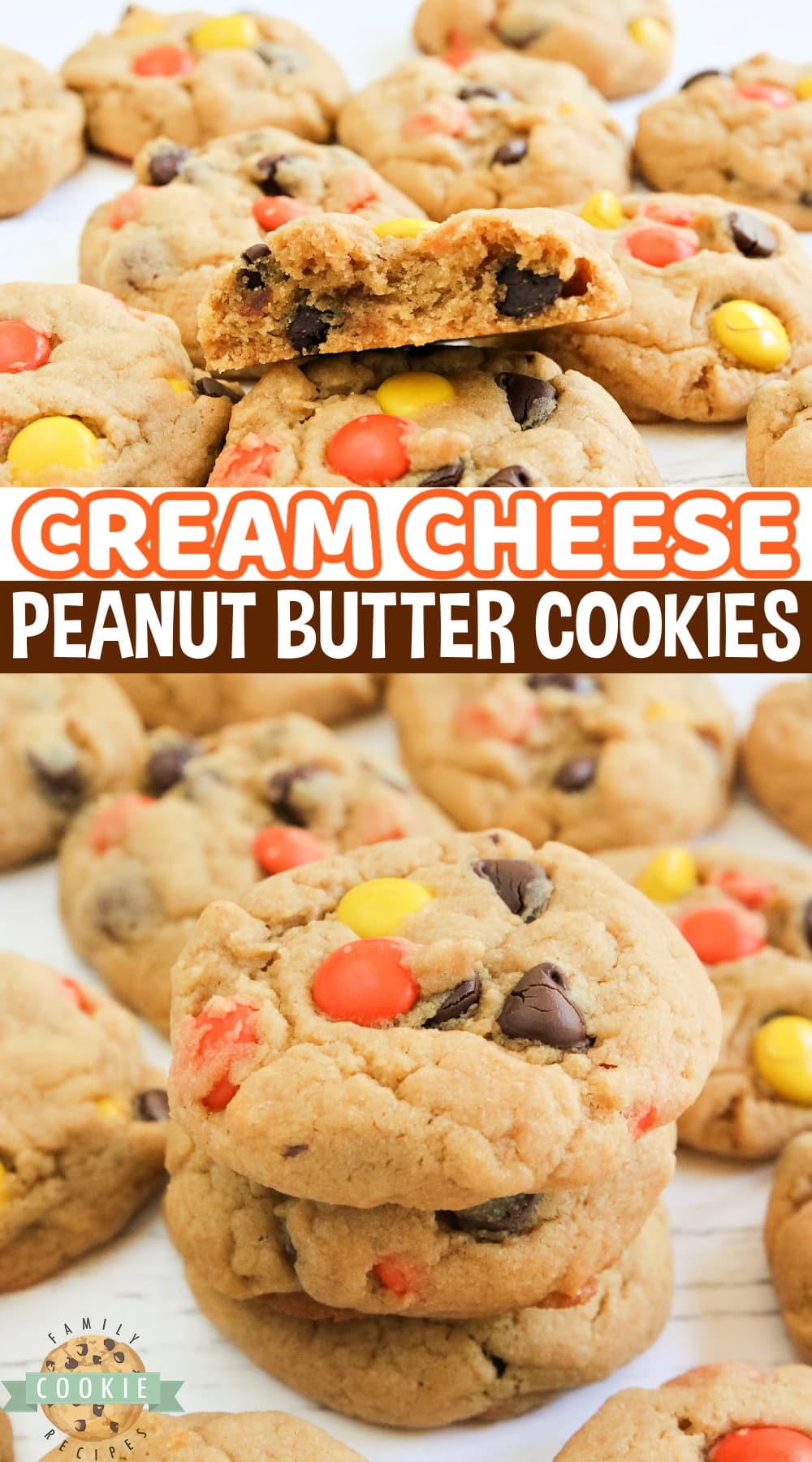 Cream Cheese Peanut Butter Cookies are soft, chewy and packed with peanut butter! Made with Reese's pieces, these peanut butter cookies turn out perfectly every time.