Snickers Peanut Butter Cookies start with an incredible soft and delicious peanut butter cookie recipe, and add a Snickers surprise in the middle!
Snickers Peanut Butter Cookies are a favorite at our house, and it's easy to see why! The cookie itself is soft with the perfect hint of peanut butter flavor, and when you bite into it, you get to enjoy a mini snickers hidden inside! Especially when these cookies are warm (I always microwave them for about 10 seconds if I'm eating them later), the soft and gooey combination is to die for. You might want to make an extra batch!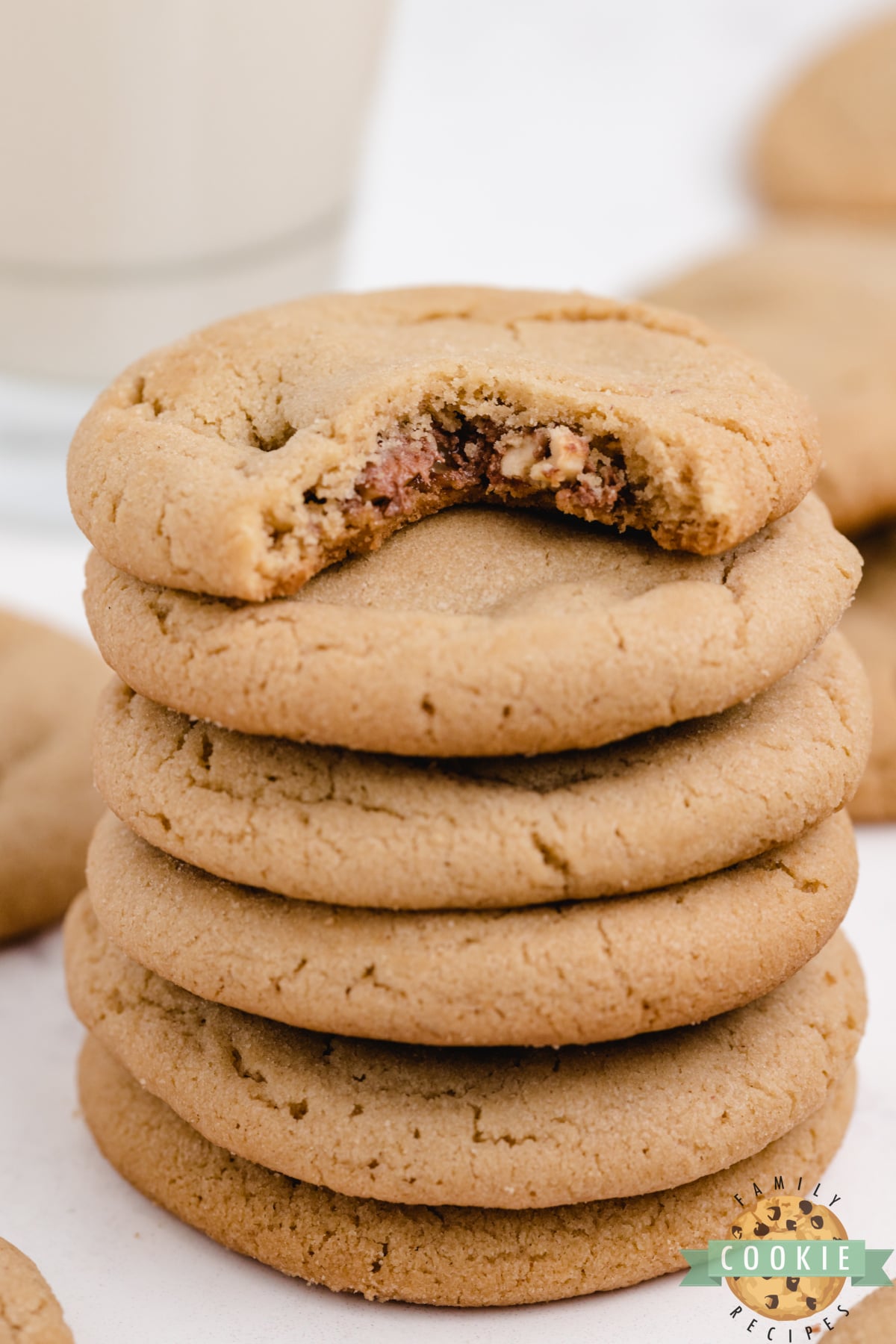 What are Snickers Peanut Butter Cookies?
Soft and chewy peanut butter cookies with a little mini Snickers hidden in the middle! So easy to make, and so yummy to eat!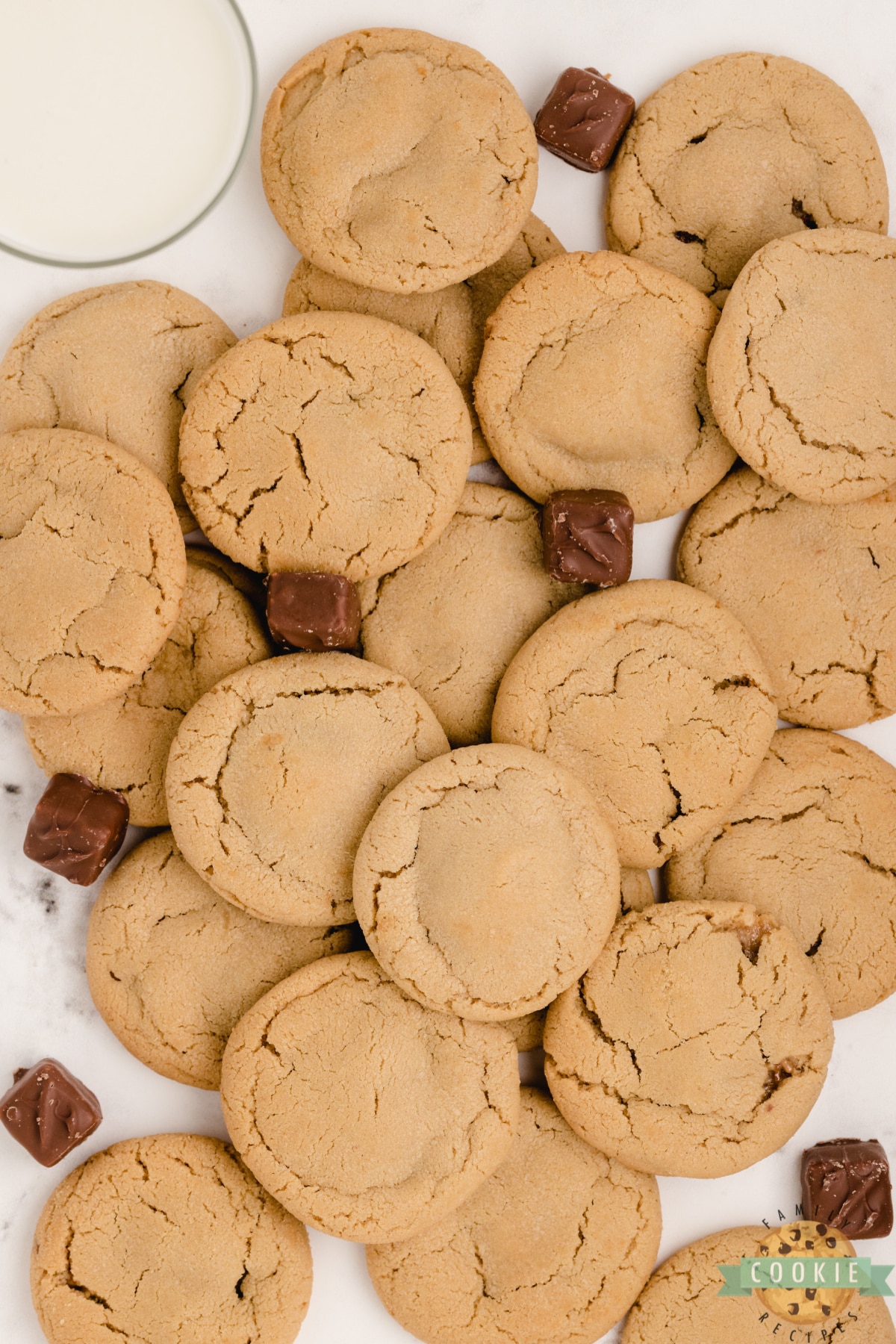 SOME TIPS FOR MAKING THE BEST SNICKER PEANUT BUTTER COOKIES:
Make sure your butter is softened, NOT melted! One of the most common errors in cookie making is using butter that is either really cold and hard, or using butter that is too warm and melted. If you have time, just leave butter out on the counter for about 1-2 hours before making your cookies. If you are like me and don't plan your cookie cravings that far in advance, just place the butter in your microwave and soften in 5 second intervals, being very careful to pull it out before it melts. I actually like to use the defrost setting on my microwave to soften butter- I don't know the technical reasons behind it, but it seems to soften the butter more evenly and takes a little bit longer so I'm less likely to start melting it!
Preheat the oven. This will help your cookies turn out right every time!
Use a cookie scoop! If you want all your cookies to be perfectly shaped and have them all be the same size, a cookie scoop is the way to go.
Use parchment paper or a silicone baking mat. Doing this will make it really easy to remove the cookies from your cookie sheet so that you don't have to scrape them off the pan – they will just slide right off in perfect shape!
Don't over bake the cookies – when I take mine out of the oven, they still look slightly under baked but they will continue to bake on the cookie sheet for a couple more minutes so that's ok!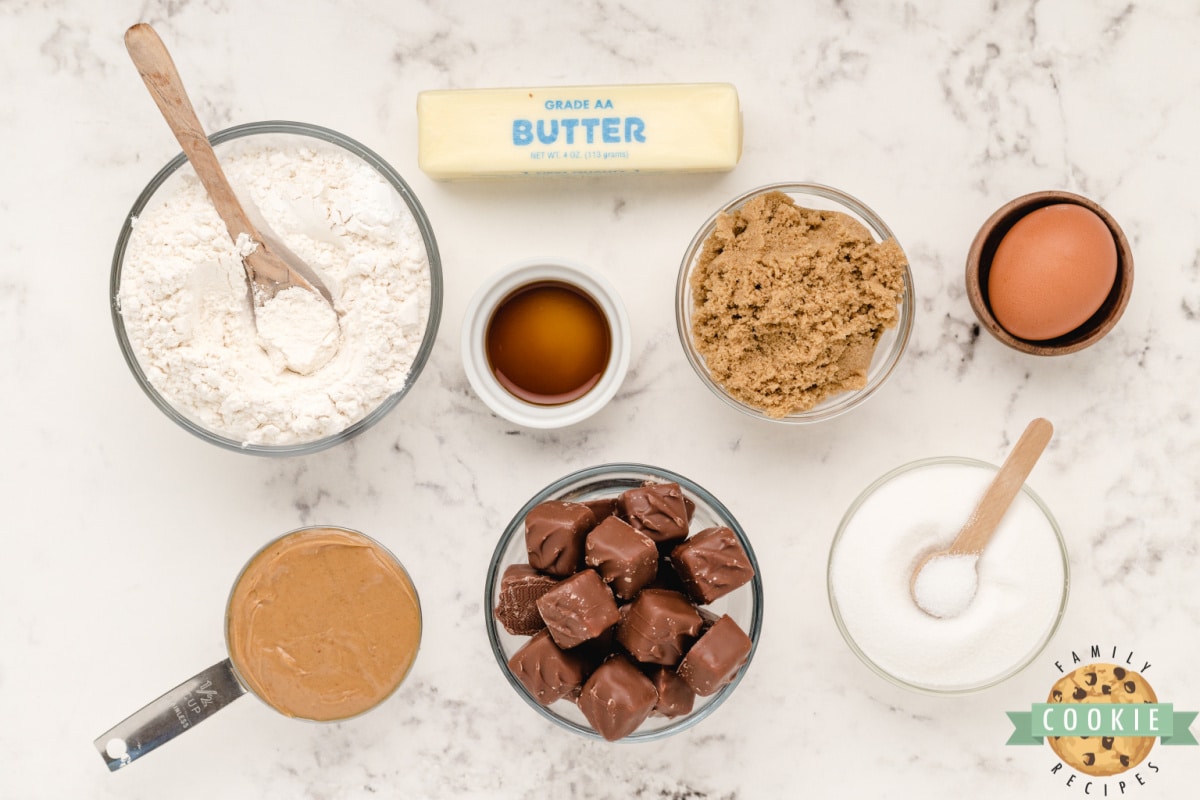 INGREDIENTS IN SNICKERS PEANUT BUTTER COOKIES
Sugar & brown sugar – Can't have cookies without sugar, right?! Make sure your brown sugar is fresh and not dried out for best results.
Butter – You will need one stick of butter, softened to room temperature.
Peanut butter – The recipe calls for regular creamy peanut butter. You can use crunchy if you prefer. For best results, avoid more "natural" peanut butters as they don't tend to work very well in most baked goods.
Vanilla extract – The higher the quality of vanilla, the better. The recipe only calls for 1 teaspoon, but feel free to add a little more if you want!
Egg – You just need 1 large egg to bind all of the ingredients together.
Flour – All-purpose flour works great!
Baking powder & baking soda – These act as the leavening agent in the cookies so make sure they aren't expired!
Miniature Snickers bars – You will need 30 mini snickers bars. The last few times I've made the cookies, I've used the Unwrapped Snickers Bites – they are about the same size but you don't have to unwrap them!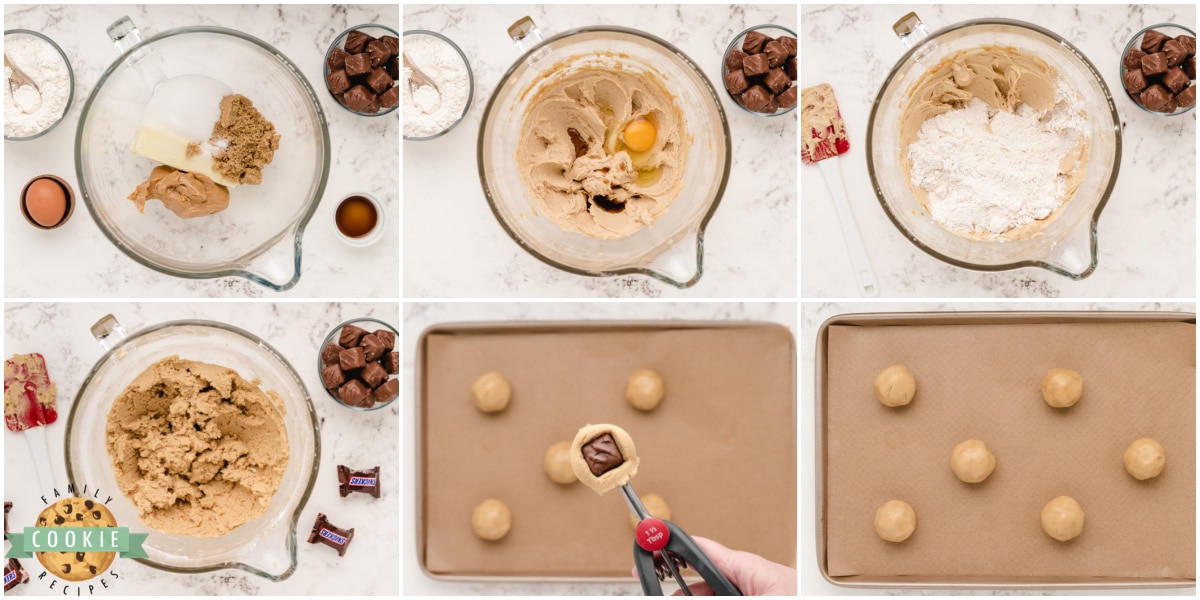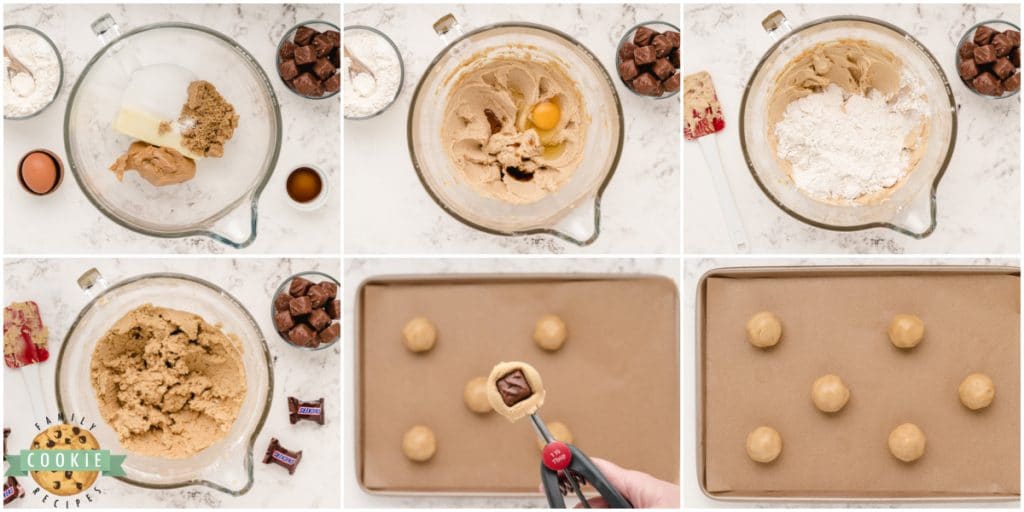 How to make Snickers Peanut Butter Cookies
Preheat oven to 350°.
In a large bowl, combine the sugar, brown sugar, butter and peanut butter. Mix together using an electric mixer and then add the egg and vanilla.
In another bowl, combine the flour, baking powder and baking soda and then add the dry mixture to the peanut butter mixture. Mix together until smooth.
Use a spoonful of the dough and shape it around the Snickers bars until completely covered.
Place on un-greased cookie sheets and bake for about 10-12 minutes, or just until slightly golden brown.
Like any cookies, these are the most delicious when eaten warm!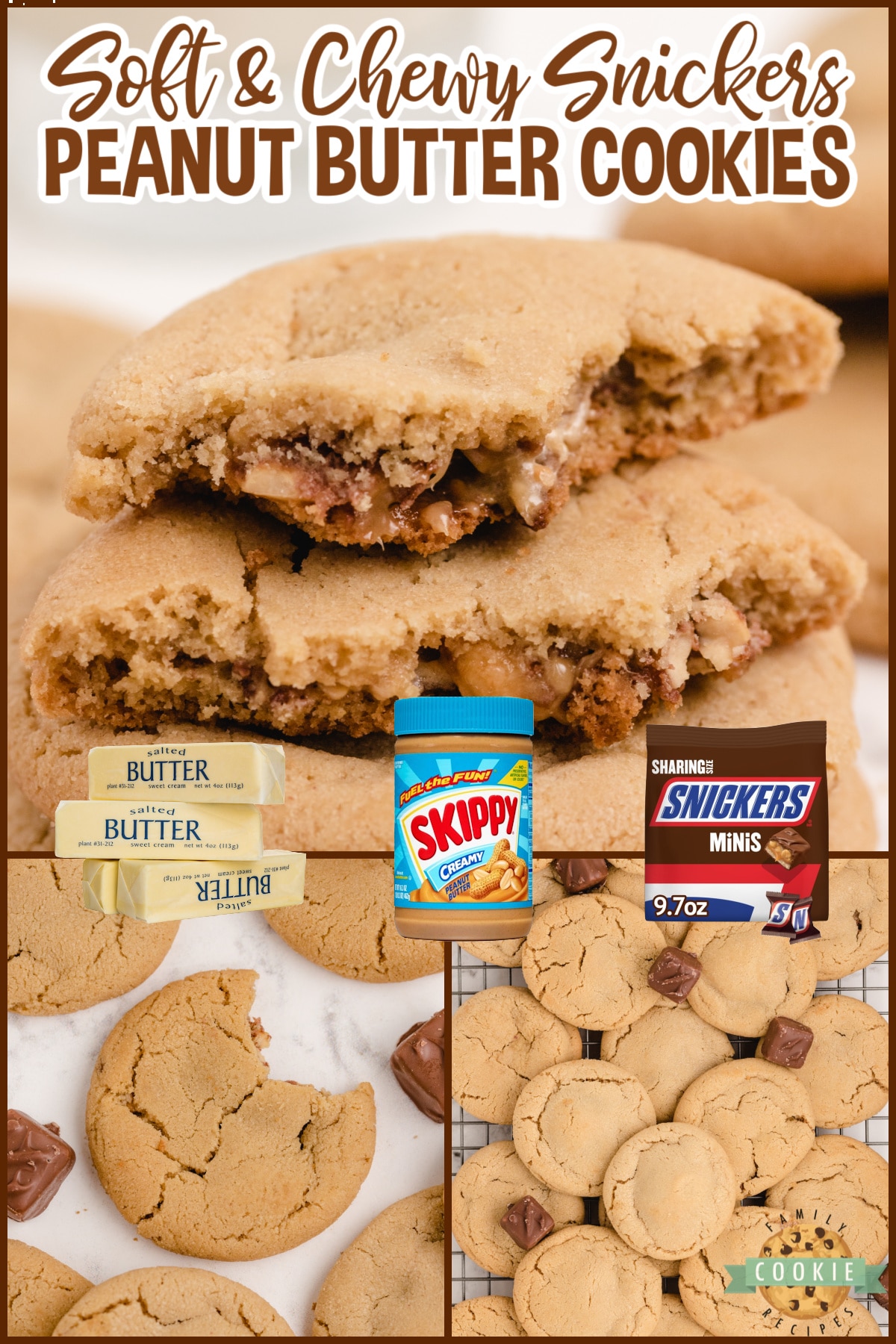 KITCHEN GADGETS FOR MAKING THE BEST COOKIES
Three kitchen items really help you make the best cookies ever! I actually use these items in nearly every cookie recipe I make, as well as several other types of recipes, so they're quite versatile.
First, I line my cookie sheets with a piece of parchment paper or a silicone baking mat. They're sold in sizes that fit a 12×16 cookie sheet perfectly and enable to cookies to bake well without sticking- and no mess from spraying oil on the cookie sheets!
The second item is a KitchenAid mixer. I love mine! I have a Bosch as well but I find I use my KitchenAid for cookies. There is a cookie paddle that comes with every mixer that you attach to the top of the mixer. They're easy to use and help you mix the ingredients uniformly. Add this to your wish list because it's one of my all-time used small appliances ever!
The third item is a cookie scoop! Years and years ago I used to use 2 spoons to measure and scrape cookie dough onto the pans. It wasn't a perfect process and I often ended up with oblong cookies in various sizes. A friend of mine brought cookies to a party and I noticed each and every one of her cookies looked PERFECT. Her secret? A cookie scoop! They come in three sizes- 1/2 tablespoon, 1.5 tablespoon and 3 tablespoon scoops. I used the smallest size- 1/2 tablespoon for these thumbprint cookies.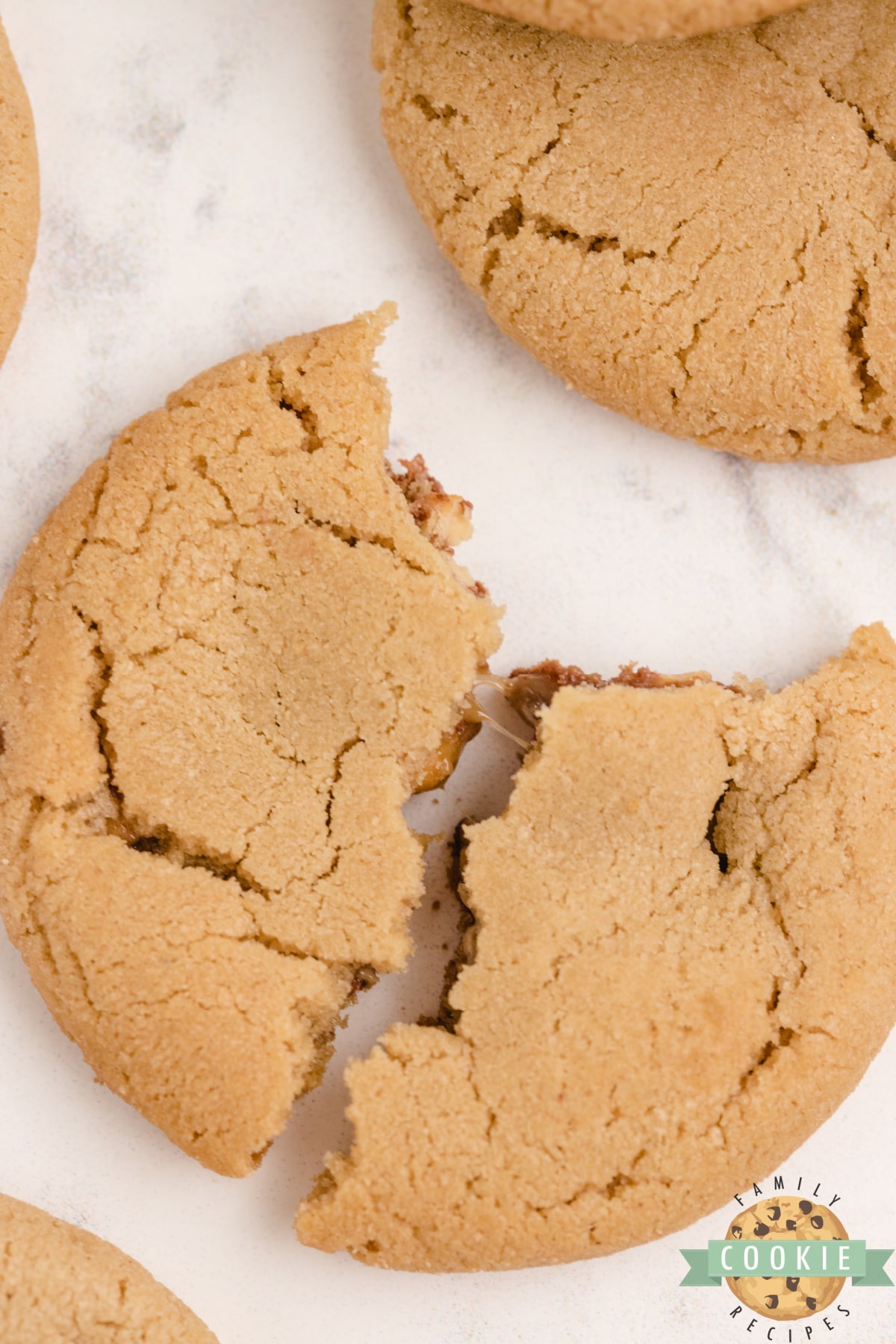 HOW DO YOU SOFTEN BUTTER?
I like to soften butter by using the defrost function on my microwave. If you need the full 1/2 cup cube of butter, you can leave it in the paper wrapper, otherwise, place the amount of butter you need in a glass or porcelain bowl. I use the lowest defrost setting on my microwave and just let it run for 20 seconds. Check the butter and see how soft it is by pressing it with a rubber scraper. If it is still not soft to the touch, meaning it doesn't indent when you press into it, let it warm for another 5-10 seconds. Watch it closely! Butter softens very quickly.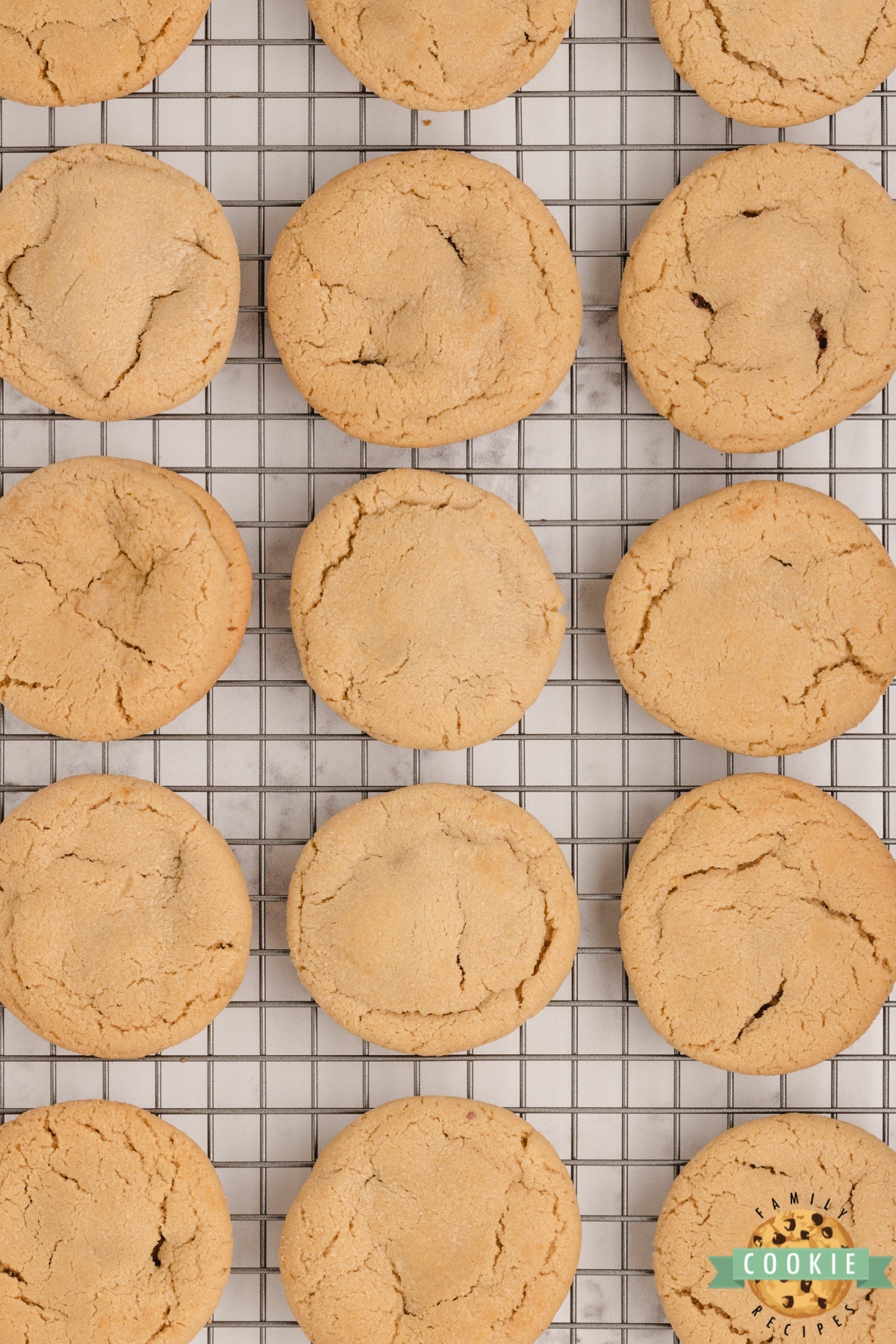 Love peanut butter cookies? So do we! Try some of our other favorite peanut butter cookie recipes!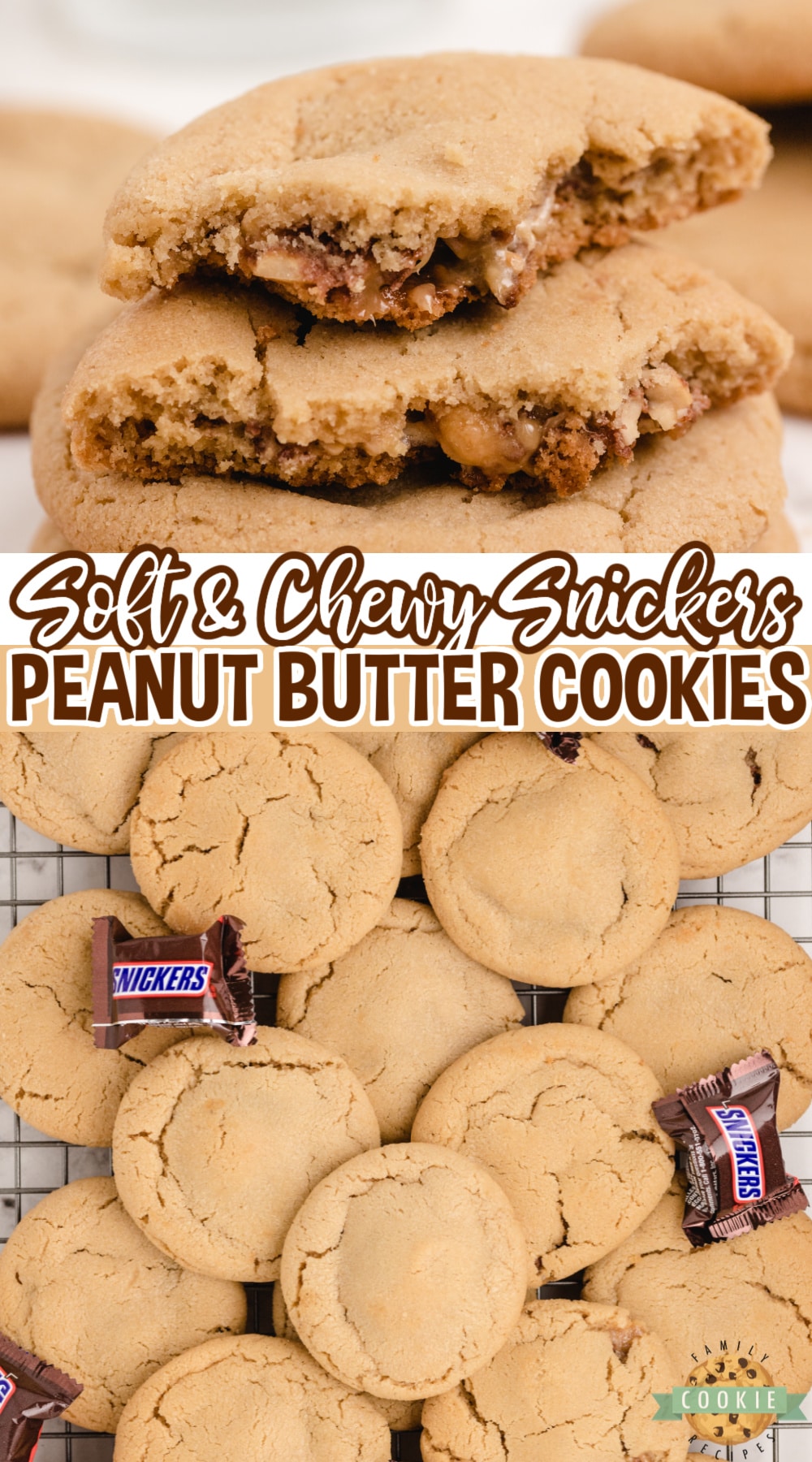 Snickers Peanut Butter Cookies start with an incredible soft and delicious peanut butter cookie recipe, and add a Snickers surprise in the middle!



We recently went to Disneyland for Spring Break, and little Miss B had a fabulous time. She wasn't a huge fan of the stroller and so she was definitely spoiled by being carried by Mom for the greater part of the 3 days we were there. She loved all of the rides, but I think her favorite part was being introduced to a little treat known as the churro. She's really not much of an eater, but that thing was gone fast!