Peanut Butter Sandwich Cookies made with chewy peanut butter cookies & a creamy peanut butter filling. Peanut Butter lovers rejoice! We're sharing our homemade peanut butter cookie sandwiches that everyone goes crazy over!
We love peanut butter and we love cookies, so why not take it up a notch and bring the two together for a truly sweet experience? This recipe is a variation on traditional peanut butter cookies with the addition of a luscious peanut butter cream filling. It's everything you love about your favorite cookies with a fun twist!
Peanut butter sandwich cookie Recipe
When you think of peanut butter filling sandwiched between cookies, you might think of those hard-filled sandwich cookies you can pick up in grocery stores, but these cookies aren't like that. These ones are much softer, chewier, and dare I say, perfect?! They're the best thing since homemade nutter butter cookies!
Peanut butter cookie ingredients
-Shortening: by using 1/2 cup of butter flavored shortening like Crisco, we can get the butter flavor we want without actually using a lot of butter. The texture of the cookie will be pretty grand too.
-Butter: Using 1/2 cup room temperature butter (one stick) we can get a nice rich texture and give our cookie some fats to stay moist and delicious.
-Peanut butter: We want these cookies to have a great peanut butter flavor, so we need 1 cup of smooth peanut butter to do this.
-Sugars: We need 1 cup of granulated sugar and 1 cup of packed brown sugar to make sure that our cookies are sweet and have nice chewy goodness in every bite.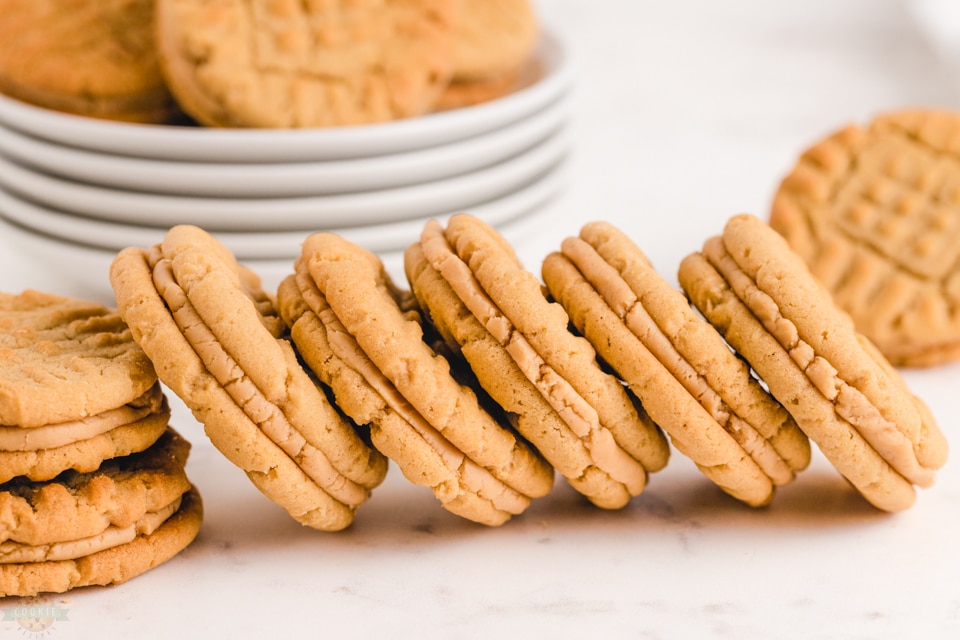 -Eggs: 3 large eggs will act as the binder in this cookie dough to help hold everything together perfectly.
-Vanilla: To help enhance the flavors, we want 1 teaspoon vanilla extract. High quality vanillas give better flavor results.
-Flour: The base of the dough is 3 cups flour. I generally use all purpose flour, but you can use bread flour or pastry flour too.
-Baking soda: 2 teaspoons of baking soda will get our cookies to rise and puff up nicely while baking so that they have a great texture.
-Salt: This is a natural flavor enhancer so adding 1/4 teaspoons to the dough will make the cookies taste even better.
For the filling, you will need:
-Peanut butter: 1/2 cup of creamy peanut butter will give us a rich peanut butter flavor without changing the texture of the sweet filling.
-Powdered sugar: To get the filling sweet and keep it from feeling grainy, we want to use 3 cups of powdered sugar, not granulated sugar.
-Vanilla: 1 teaspoon of vanilla will really help to make our filling taste incredible.
-Milk: You will need 5-6 tablespoons of milk, depending on how thick or thin you want the filling to be.
How to make peanut butter sandwich cookies
Preheat oven to 375°F. Line 2 cookie sheets with parchment paper. Set aside.
Use the cookie paddle attachment on a stand mixer (or a hand mixer) to cream together the butter, shortening, peanut butter, and both white sugar and brown sugar in a large bowl until light and fluffy. This should take about 4 minutes.
Beat in the eggs and the vanilla.
In a medium bowl, whisk together the dry ingredients; the flour, baking soda, and salt. Add the flour mixture to the creamed butter mixture and mix well to combine.
Use a medium or small cookie scoop to measure out the dough and roll it into 1 inch balls. Place them 2 inches apart on prepared baking sheets.
Flatten the balls with the tines of a fork to make them about just under 1/4 inch thick. Sprinkle the top with a tiny bit of granulated sugar.
Bake in the oven at 375 degrees F for 7-8 minutes or until golden in color.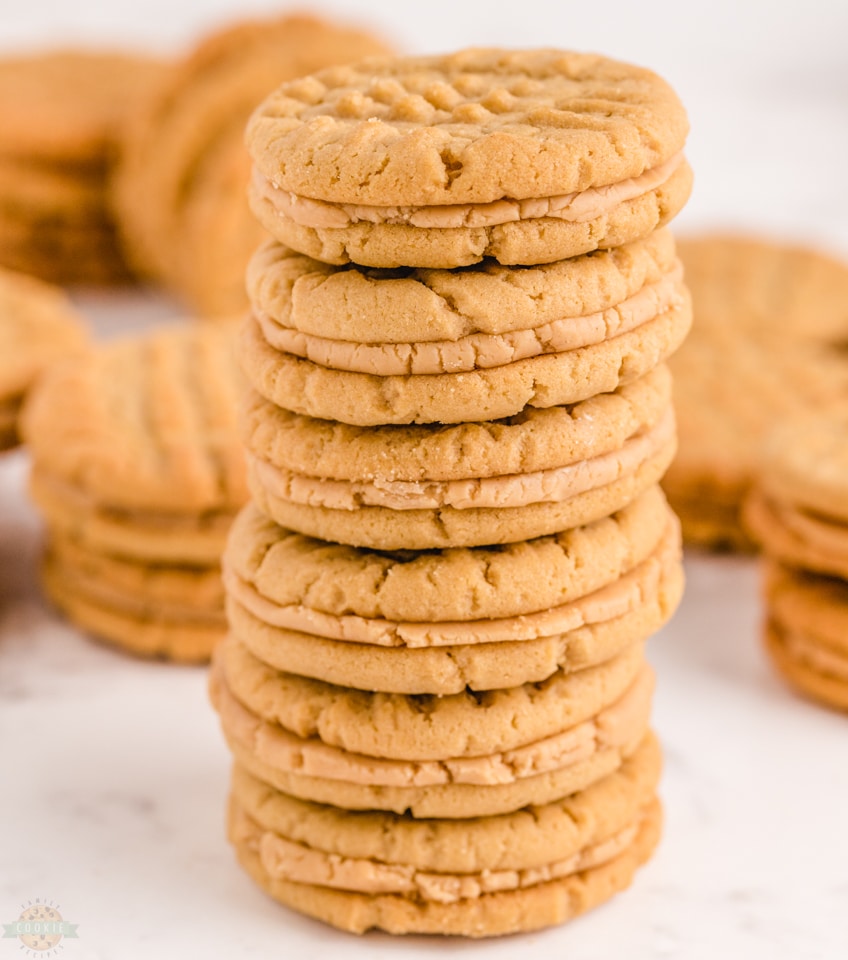 Remove the cookies and let them cool on a wire cooling rack.
Once the cookies have cooled, prepare the peanut butter mixture filling.
Beat the peanut butter, powdered sugar, vanilla, in a bowl. Add in enough milk to get a good spreading consistency. We generally use creamy peanut butter, but you're welcome to use chunky peanut butter! (You can even use natural peanut butter for the filling!) Just remember the type of peanut butter will affect the texture of the filling, so you might not need to add much milk.
Spread the filling on the flat side of the cookies and then top with another cookie. We use a knife to spread the filling, but you're welcome to transfer the mixture to a pastry bag and do it that way. So half of the cookies will be spread with filling and the other half will be toppers to make the perfect peanut butter sandwich cookies. Serve & enjoy!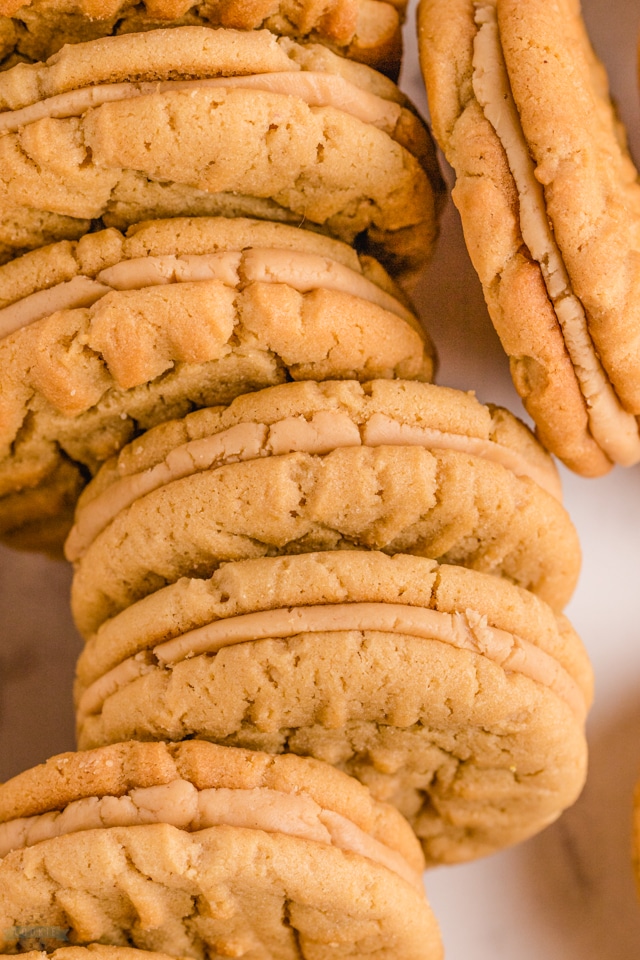 Variations on Peanut Butter Sandwich Cookies
Want to make something a little different? Here are a few ideas:
Top the peanut butter filling with a bit of chocolate ganache, then sandwich it with the peanut butter cookie. Peanut Butter + Chocolate= HEAVEN.
Use our Cream Cheese Peanut Butter Buttercream Frosting instead for the filling. Hello, AMAZING.
Melt 1/2 cup semi-sweet chocolate chips, then brush the bottoms of the peanut butter cookies with the chocolate. Set upside down to cool & set, then proceed with making the sandwiches. YUM.
Add 1/4 cup mini chocolate chips to the peanut butter sandwich filling.
Put about 1/4 tsp strawberry jam on top of the peanut butter filling. Boom- PB&J cookie sandwiches!
How long are Creamy peanut butter sandwich cookies good for?
These cookies once cooled and frosted could be good for about 3-4 days if stored in an airtight container.
Can I freeze Smooth peanut butter sandwich cookies?
Yes, you can freeze these cookies in single layers separated by parchment or wax paper in an airtight container. They can last up to a few months this way. Simply place the cookies on the counter to thaw before eating.
More cookie recipes you'll love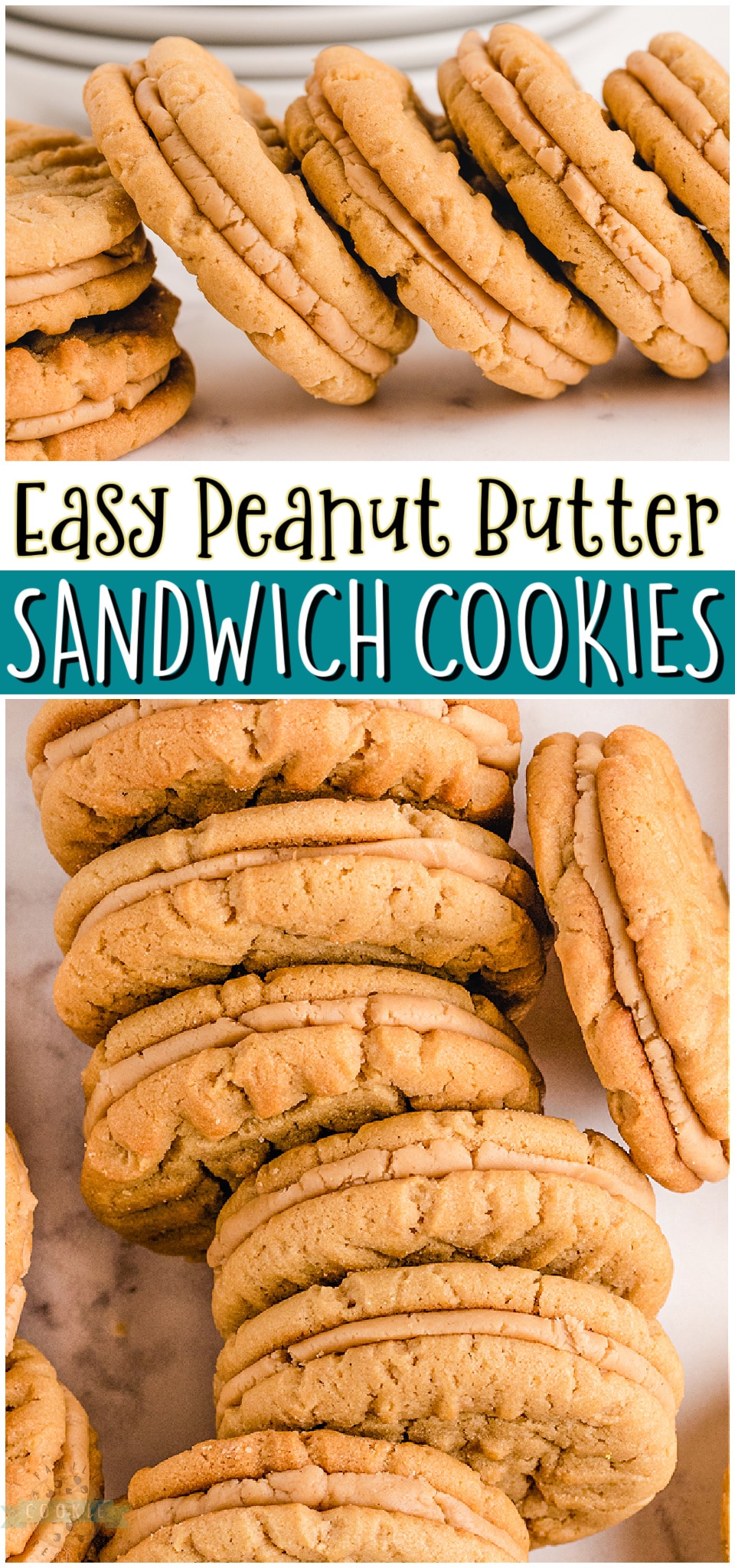 Peanut Butter Sandwich Cookies made with chewy peanut butter cookies & a creamy peanut butter filling. Peanut Butter lovers rejoice! We're sharing our homemade peanut butter cookie sandwiches that everyone goes crazy over!