Lemon Meltaways made with simple ingredients like butter, flour, lemon zest & cornstarch. Soft, tender cookies topped with a lovely fresh lemon glaze!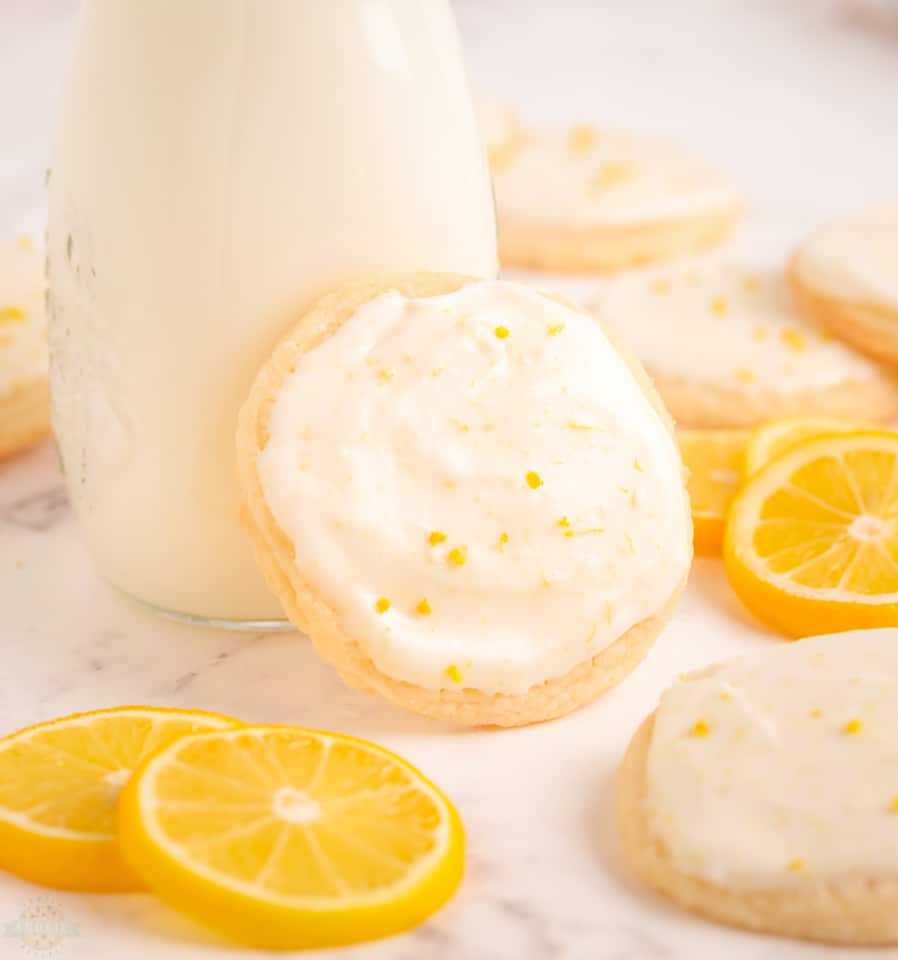 With a simple cookie recipe like this, you know you'll have an easy time in the kitchen. Just another reason to love these frosted meltaway cookies. With a tender and soft cookie and a tangy-sweet icing, every bite is as good as the last. We love meltaway cookies and while our Vanilla Meltaways might be delicious, I think these lemon ones are just as good (if not better). But I'm also a very big fan of lemon and love the sweet and sour contrast in flavors.
What are meltaway cookies?
Meltaway Cookies are a type of cookie that is very similar to Mexican Wedding Cookies or Russian Tea Cookies. The shortbread-like cookie with sweet powdered sugar or icing on the outside has your tongue singing praises the moment it touches your tongue. With the buttery and flakey cookie practically melting in your mouth, every moment of chewing feels like bliss and will have you going back for another cookie just as soon as you can.
Meltaway Cookies Ingredients
-Butter: We need 1 cup of butter (two sticks) to make the perfect buttery cookie that's rich in flavor.
-Cornstarch: Adding 3/4 cup of cornstarch into the cookie dough helps to make it lighter in texture that's perfect for these meltaways.
-Powdered Sugar: We want to add in 3/4 cups of powdered sugar to make our cookies sweet without changing the texture. Keeping these cookies soft is key.
-Vanilla: A teaspoon of vanilla will help to enhance the flavors in this cookie recipe.
-Lemon Zest: We want 2 teaspoons of fresh lemon zest so that every bite is packed with flavor.
-Flour: The base of our cookie dough is 1 to 1 1/2 cups of all-purpose flour. The amount will vary, see recipe card notes for more details.
Lemon Glaze Ingredients
-Butter: We need 3 tablespoons of butter to help give us a richer glaze that also has a nice shine to it.
-Lemon juice: One teaspoon of lemon juice will help to give our icing a great amount of lemon flavor.
-Lemon zest: With one teaspoon of lemon zest we can add yellow specks and fresh lemon taste into every bite.
-Milk: Using 3 tablespoons of milk we can thin down the icing to the perfect consistency.
-Powdered sugar: We will need 1 to 1 1/2 cups of powdered sugar to get the consistency and sweetness desired.
How to make Lemon Meltaway Cookies
Mix together the butter and cornstarch in a mixing bowl until well combined.
Add int the powdered sugar, lemon zest, and vanilla extract until smooth.
Add in the flour and mix until the dough comes together and the flour has been incorporated.
Cover the bowl and place it in the fridge to chill for 10-15 minutes.
Preheat your oven to 350 degrees F and line a baking sheet with parchment paper. Set aside.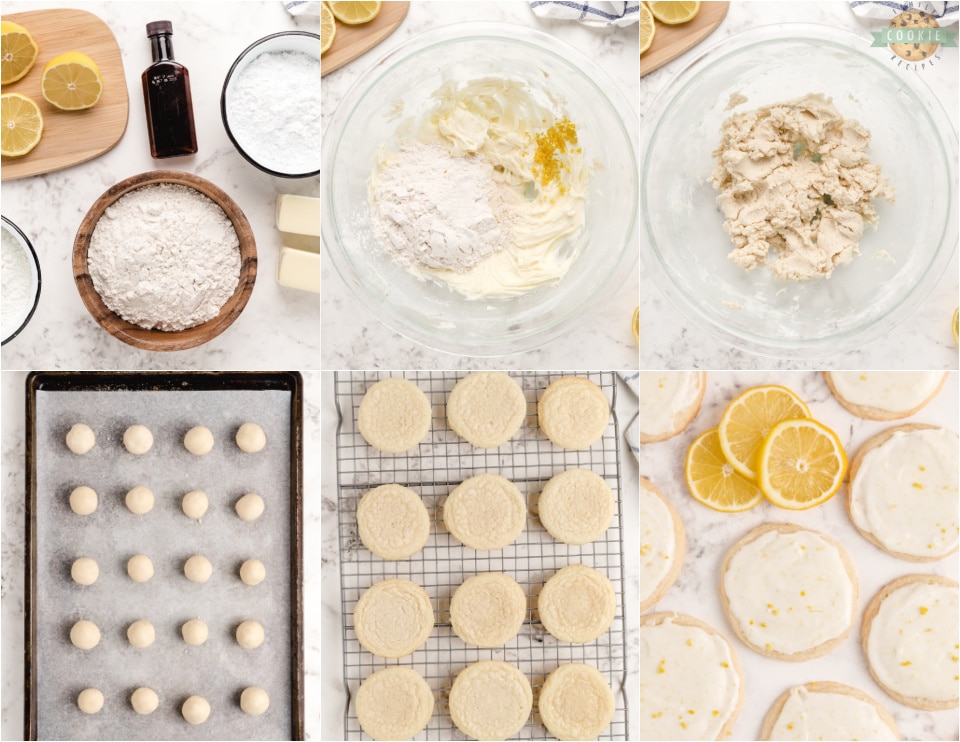 Using a small cookie scoop that's about the size of a half tablespoon, scoop your cookie dough out and roll it into a ball. Place on the baking sheet in 4 rows by 5 rows, fitting about 20 per baking sheet, if possible.
Bake in the oven for 9 minutes and then remove from oven. While the cookies are still hot and fresh, press down on them gently with the bottom of a glass to flatten.
Let the cookies cool on the baking sheet for a few minutes before transferring to a wire cooling rack.
Cool the cookies for 10 minutes before making the icing.
Melt the butter and add in the lemon juice, lemon zest, and milk.
Whisk in 1 cup of powdered sugar up to 1 1/2 cups of powdered sugar until desired consistency has been reached.
Spoon over the tops of the cookies and allow them to finish cooling and the glaze to set before eating or storing in an airtight container. Enjoy!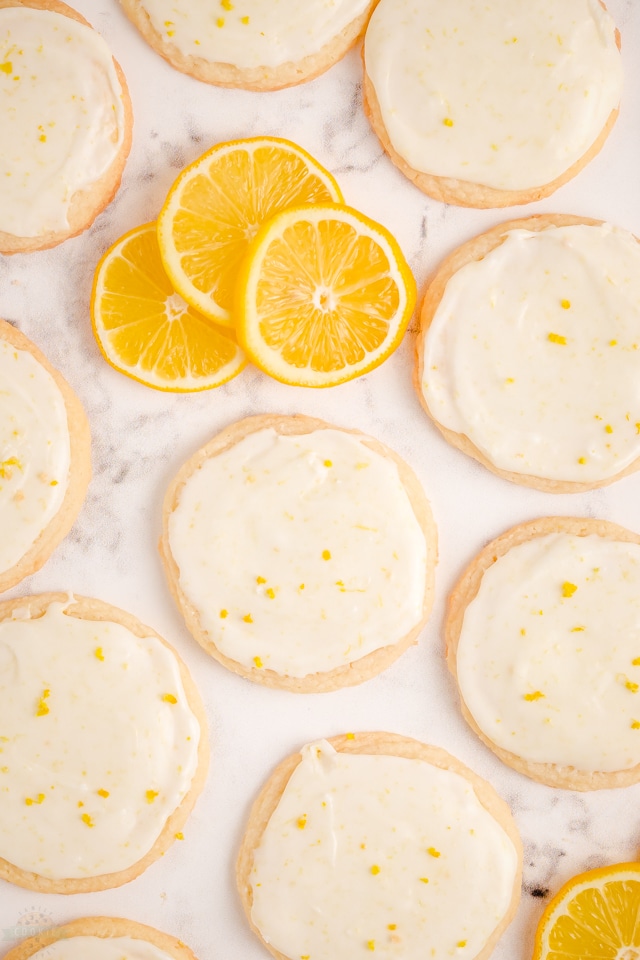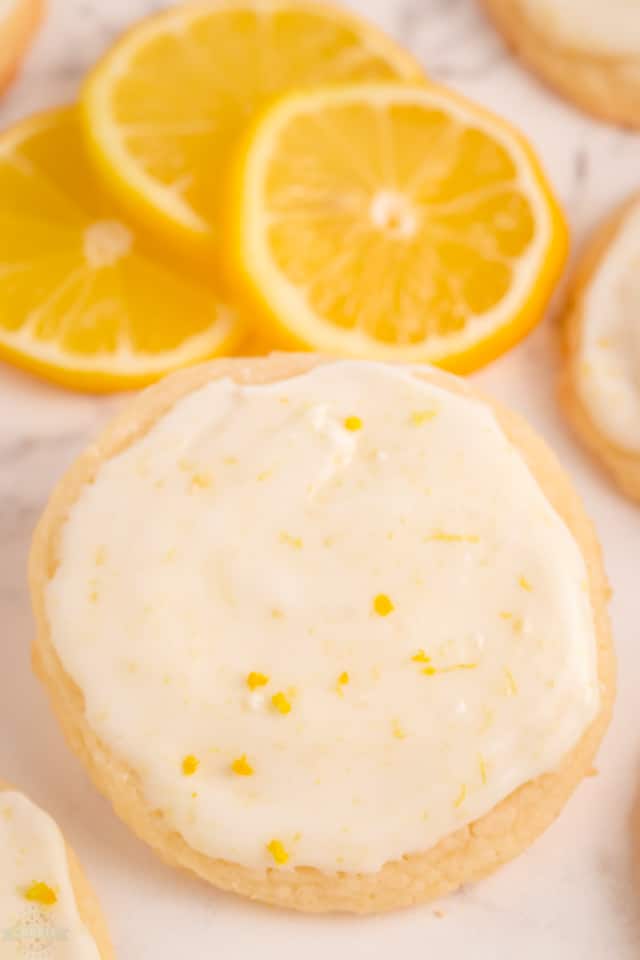 How long are meltaway cookies good for?
If you keep your cookies stored in an airtight container you can see them lasting up to 2 weeks. For best results though, I recommend eating them sooner rather than later because cookies always taste best fresh.
Can I freeze meltaway cookies?
Absolutely! These cookies do great in the freezer, but I do have one thing to point out first. The icing, as it thaws would become a runny and sticky mess. For this reason, I recommend freezing the cookies in an airtight container for up to a few weeks WITHOUT icing. Just make a fresh batch of icing and top the cookies when you're more ready to eat them or roll them in powdered sugar for an easier sweet topping.
Can I make meltaway cookies in advance?
Yes. You can make this cookie dough and then store it in an airtight container in the freezer for pu to 3 months before thawing and baking as needed. Thaw overnight in the fridge before baking as directed on the recipe card. For an easier time, I recommend freezing the dough in the rounded balls so that you can bake as many as you want at a time.


Don't tell anyone that my teenage son LOVES TO CUDDLE. With puppies! Melt my momma heart! I caught this cute moment before he left for work.
And yes, the good thing is he still gives his momma hugs too.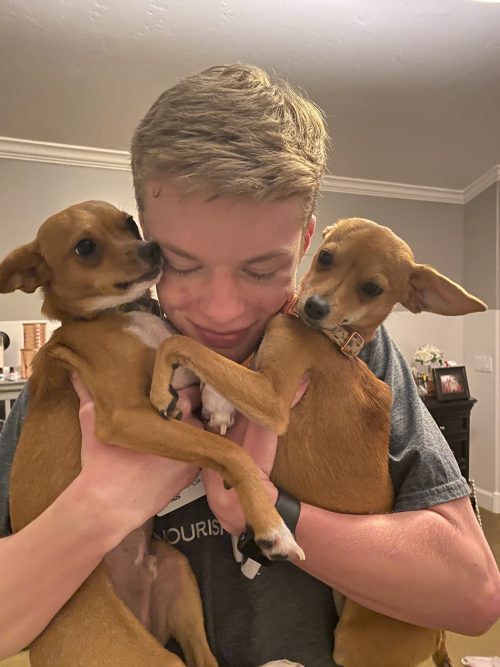 More cookie recipes to try soon
Lemon meltaway cookies are a delicious treat that's packed with sweet and tangy flavors. Every bite is like a burst of sunshine and these cookies are great year-round. You're going to love this easy meltaway cookie recipe!
Lemon Meltaways made with simple ingredients like butter, flour, lemon zest & cornstarch. Soft, tender meltaway cookies topped with a lovely fresh lemon glaze!