Simple Ranger Cookie recipe made with quick oats and lots of chocolate chips! Soft & chewy chocolate chip cookie with added oats for fantastic flavor & texture.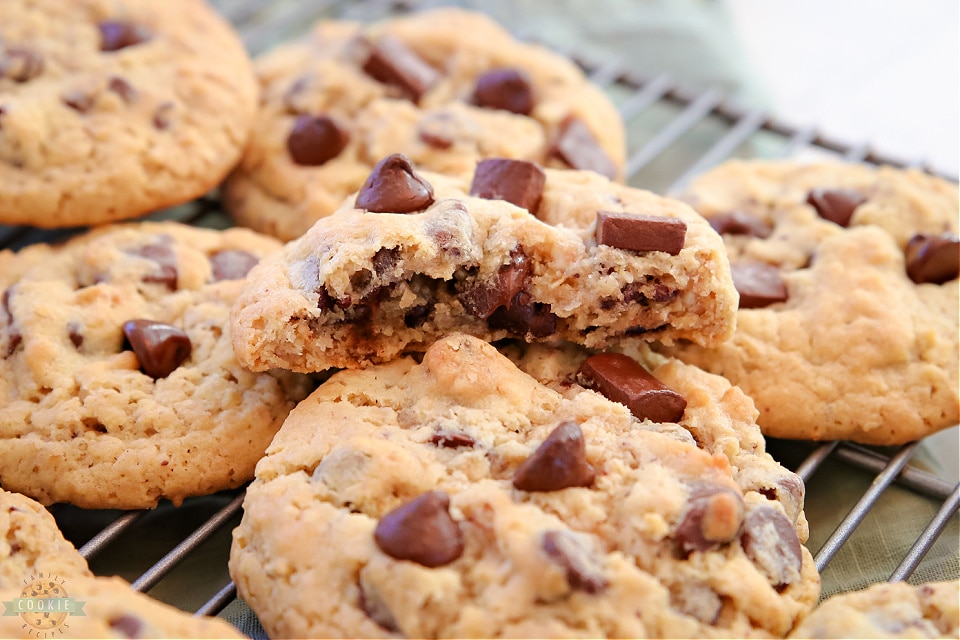 When I was in high school, my best friend often brought "Cowboy" cookies to share. I absolutely adored these cookies and found myself asking for the recipe many years later. She asked her mom, and this was her response:
"This raises mixed feelings! I'm rather possessive of that recipe, but have in the past shared it with those who asked. And it really isn't my recipe! Mom got it from a newspaper food column early in her married life. In the 1950's cowboy shows were a big thing in movies and on TV. Thus, Cowboy Cookies were aimed at all the little aspiring cowboys in the country. My mom must have made a zillion and her descendants have probably a six zillion more! It has always been the family favorite. An internet search shows several recipes by that name, but none match Mom's simple recipe!"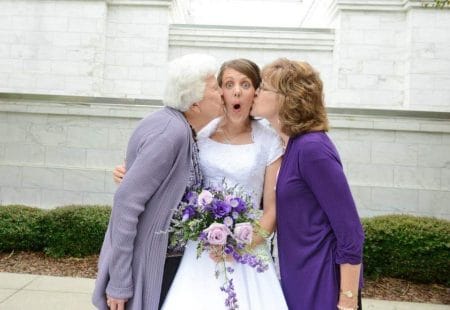 Pictured here is my dear friend, Gen, her mother and her Grandmother. I'm so grateful they were willing to pass along this cherished cookie recipe!
Cowboy Cookies or Ranger Cookies?
Doing a bit more research I did find that "Cowboy Cookies" generally have lots of added ingredients like coconut, raisins or dried cranberries, even rice krispies! Ranger Cookies are a simpler cookie; a heartier version of regular chocolate chip, but not quite enough oats to be classified as an oatmeal chocolate chip cookie. Thus, Ranger Cookies it is!
Ranger Cookie Ingredients
Butter: I stray slightly from my friend's original recipe here and use half butter in the recipe. You'll need 1/2 cup total.
Shortening: I love the light, crisp texture shortening gives cookie recipes. You'll need 1/2 cup either butter flavored or original shortening.
Granulated Sugar: We need 1 cup of regular granulated sugar. No brown sugar!
Eggs: 2 eggs gives these cookies great texture
Vanilla extract: I'm a fan of good vanilla! You'll need 1 tsp.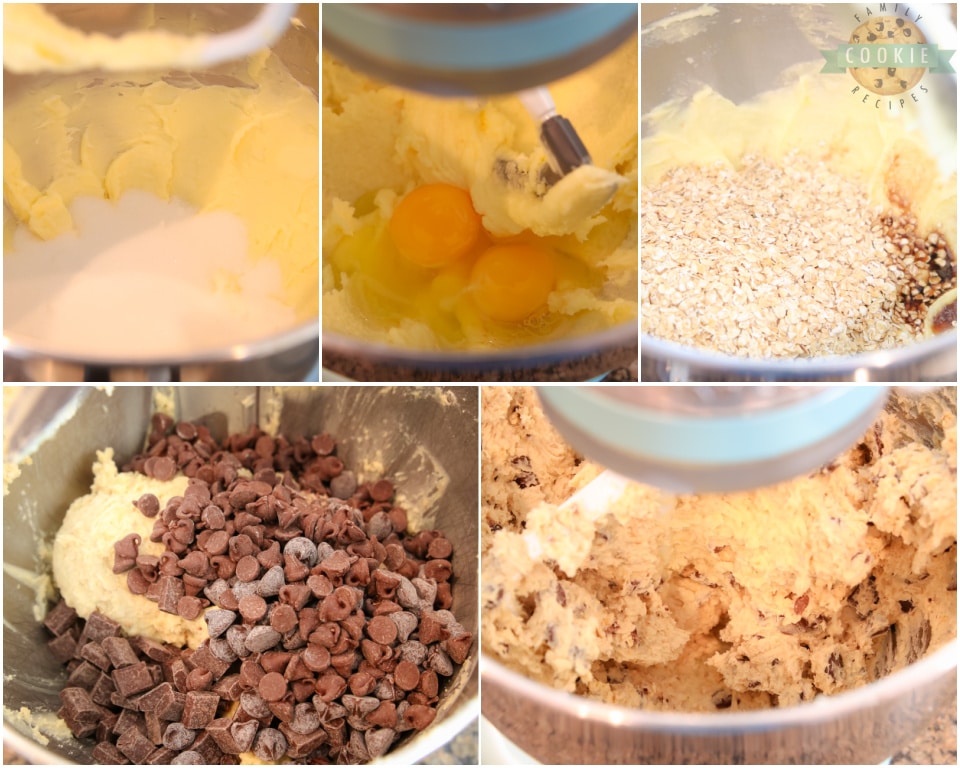 Leavening Agents: You'll need 1 tsp baking soda AND 1/2 tsp baking powder
Salt: Balances flavors, you'll need 1/2 tsp
Flour: I use just regular all-purpose flour, but bread flour works too. You'll use 2 cups.
Quick Oats: The smaller size of 1 1/2 cups quick oats contributes toward the chewy thickness of these Ranger cookies.
Chocolate Chips: I used a total of 3 cups split between chocolate chips and chocolate chunks. Reserve about 1/2 cup to use on the tops of the cookies!
How to Make this Ranger cookie recipe
Preheat oven to 350 degrees. Line a baking sheet with parchment paper.
In a large bowl, cream together the butter and shortening. Add in the sugar, eggs, and vanilla. Mix until smooth.
Combine the flour, baking soda, baking powder and salt; stir into the sugar mixture.
Stir in the oats and chocolate chips just until incorporated.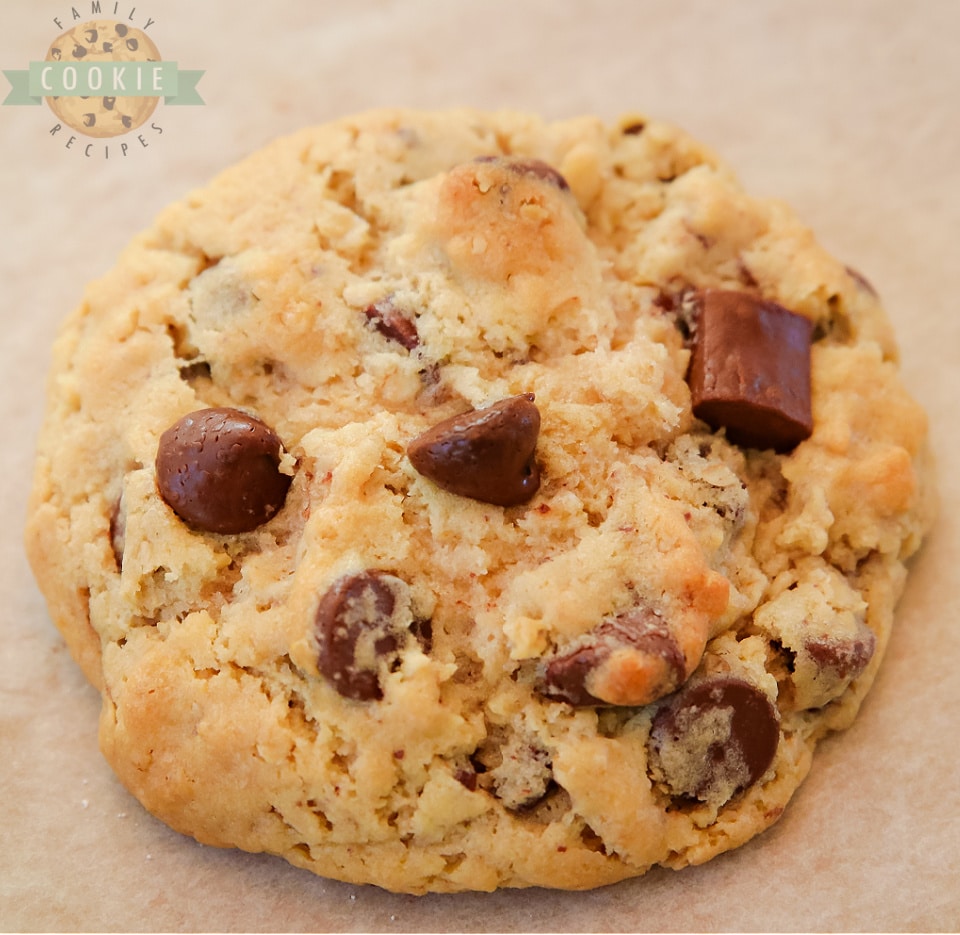 Drop by rounded teaspoonfuls onto cookie sheets. Top each cookie with an additional 3-5 chocolate chips.
Bake 8-10 minutes until light and dry looking around the edges. Do not over bake- since these cookies don't have brown sugar, they'll naturally be more light in color than traditional chocolate chip cookies.
Let cool for 5 minutes on the cookie sheet, then transfer to a cooling rack. Enjoy!
Yes! I love my cookie scoops! They come in three sizes- 1/2 tablespoon, 1.5 tablespoon and 3 tablespoon scoops. I used the middle size- 1.5 tablespoons- for these cookies. When I'm serving a large crowd, I like to use the small cookie scoop. People love having a smaller cookie, especially at an event with several other desserts.
For jumbo cookies, I piled 2 of the medium scoops of cookie dough on top of each other!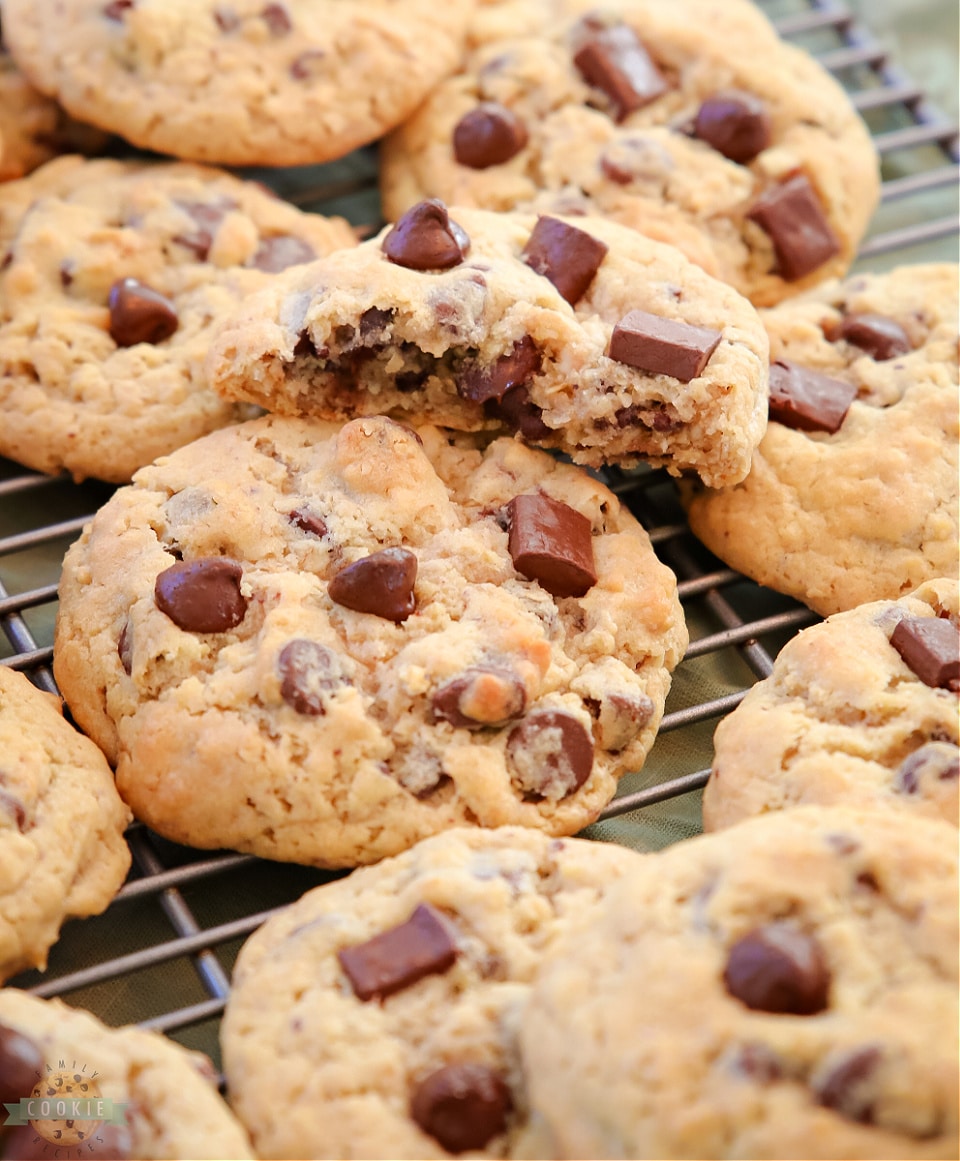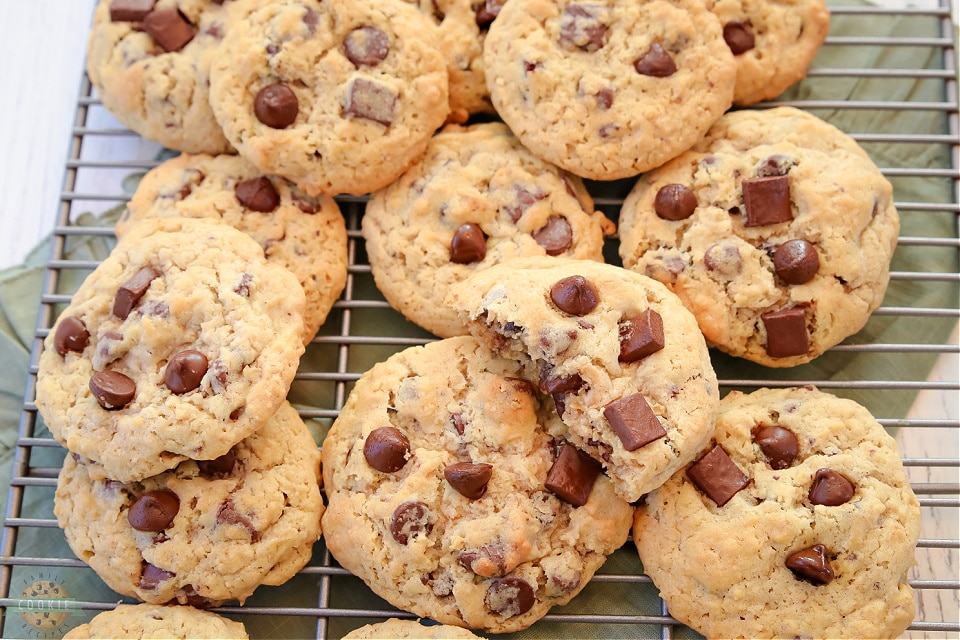 CAN YOU FREEZE Ranger COOKIES?
Yes, you can freeze most traditional chocolate chip cookies! There are several ways you can freeze them. First, you can freeze the dough in a large airtight container for up to 2 months. Just thaw in the fridge, then scoop the dough and bake when you're ready to eat them.
My favorite way is to scoop the dough into balls and freeze the cookie dough balls on a parchment lined baking tray. Once the dough is frozen, you can transfer the dough balls to a large ziplock freezer bag and store for 4-6 weeks in your freezer. When you're ready to eat them, place the dough balls on a cookie sheet and preheat the oven while the dough thaws on the tray. I love enjoying fresh baked cookies this way!
The third way is you can freeze the cookies after you bake them. I recommend storing cooled cookies in an airtight container. They'll be good for 3-4 weeks this way.
QUICK COOKING OR OLD FASHIONED OATS IN OATMEAL COOKIES?
Normally, I'd say I'm a big fan of using whatever you have on hand. However, for this recipe, Quick Cook oats are fairly critical in order to get the correct texture. If you don't have quick oats, you can pulse Old Fashioned Oats 2-3 times in a food processor and that will more closely mimic Quick Oats.
HOW DO YOU SOFTEN BUTTER?
I like to soften butter by using the defrost function on my microwave. Since you need the full 1/2 cup cube of butter, you can leave it in the paper wrapper, otherwise, place the amount of butter you need in a glass or porcelain bowl. I use the lowest defrost setting on my microwave and just let it run for 20 seconds. Check the butter and see how soft it is by pressing it with a rubber scraper. If it is still not soft to the touch, meaning it doesn't indent when you press into it, let it warm for another 5-10 seconds. Watch it closely! Butter softens very quickly.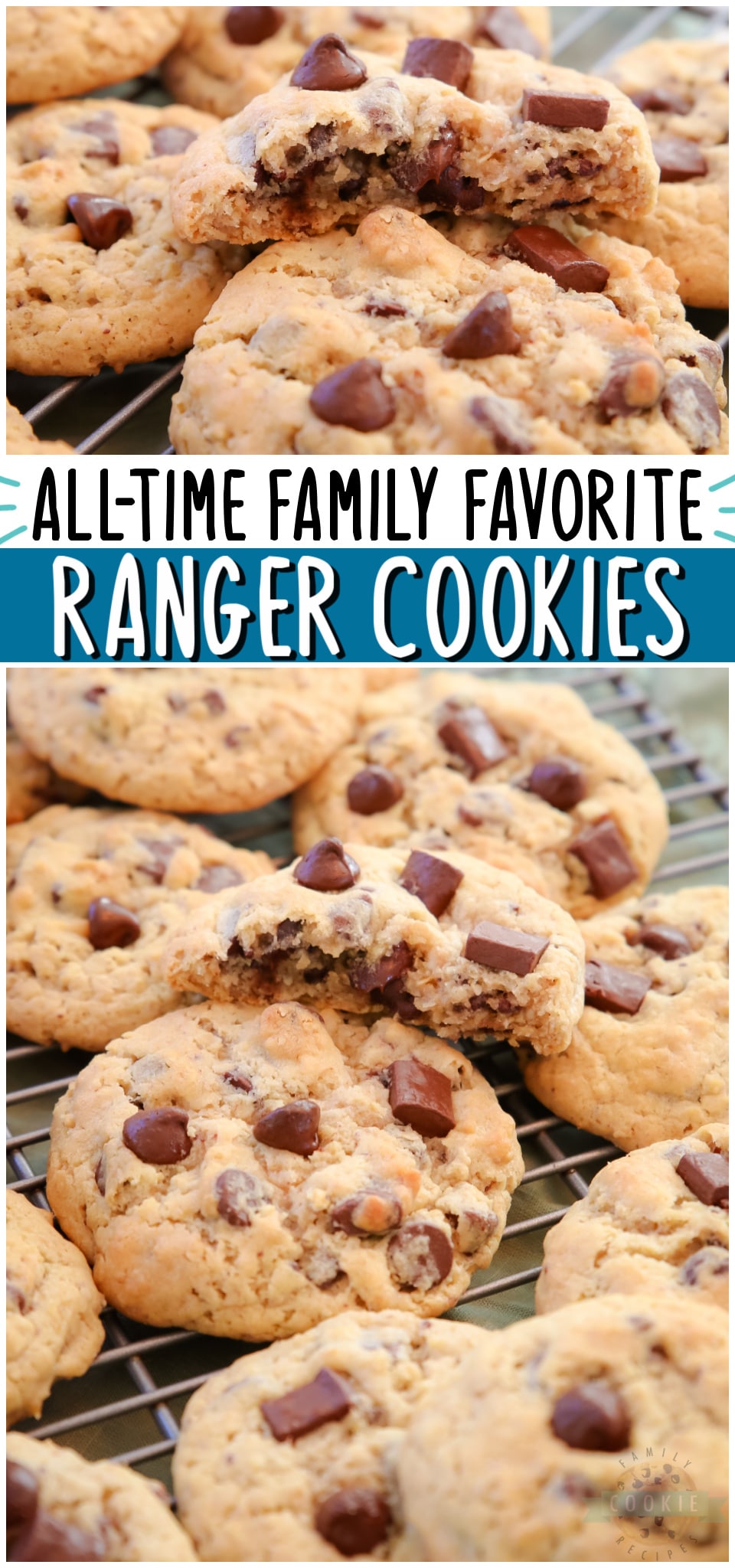 Simple Ranger Cookie recipe made with quick oats and lots of chocolate chips! Soft & chewy chocolate chip cookie with added oats for fantastic flavor & texture.