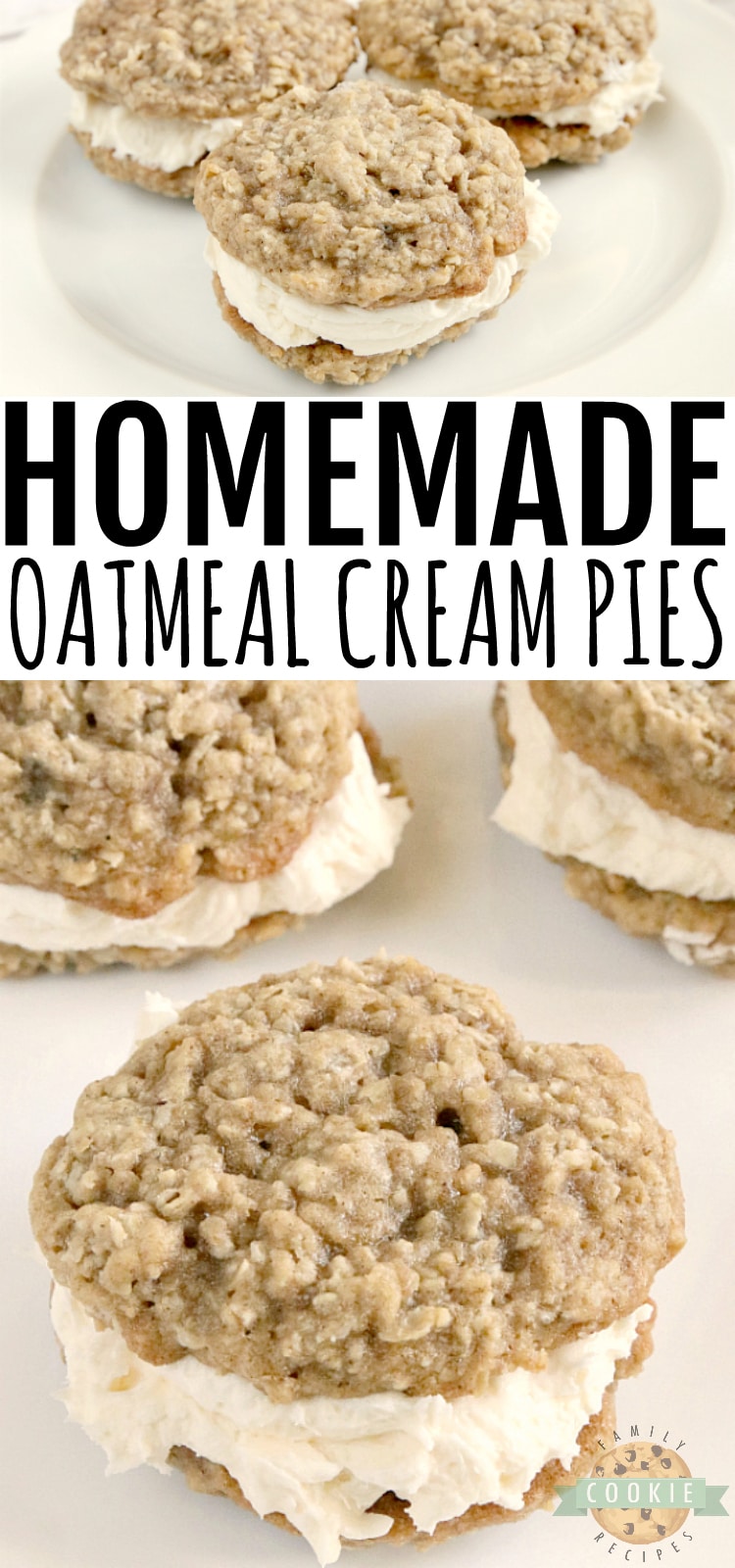 Homemade Oatmeal Cream Pies are made with a delicious creamy filling that is sandwiched between two soft and chewy oatmeal cookies. Even better than the store-bought variety that we all know and love!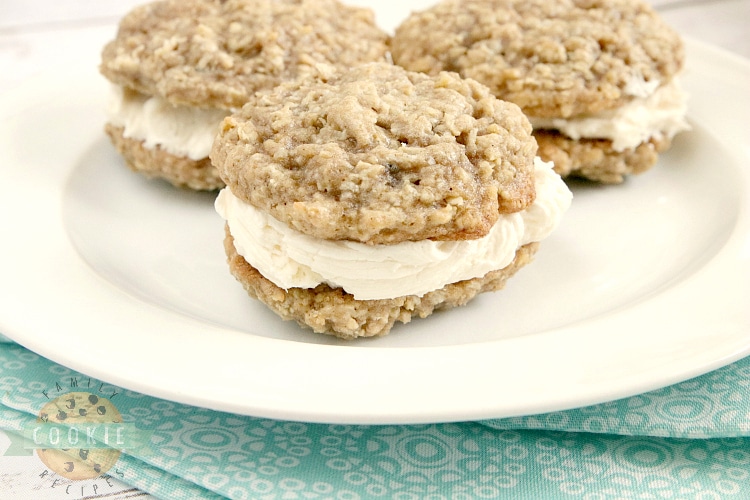 Homemade Oatmeal Cream Pies are my new favorite cookie. And not just because you are completely justified in eating 2 cookies at a time. I mean, you have to. They are stuck together! The oatmeal cookies are incredible with a little bit of cinnamon and nutmeg that add a ton of flavor. They are perfectly soft and chewy, just like oatmeal cookies are supposed to be. And then there is the stuff in the middle. A delicious marshmallow buttercream filling that is good enough to eat with a spoon straight out of the bowl (not that I've ever tried that). Just the right amount of sweetness to complement the cookies.
The cookies are amazing, the filling is amazing, but when you put them together? Absolutely incredible.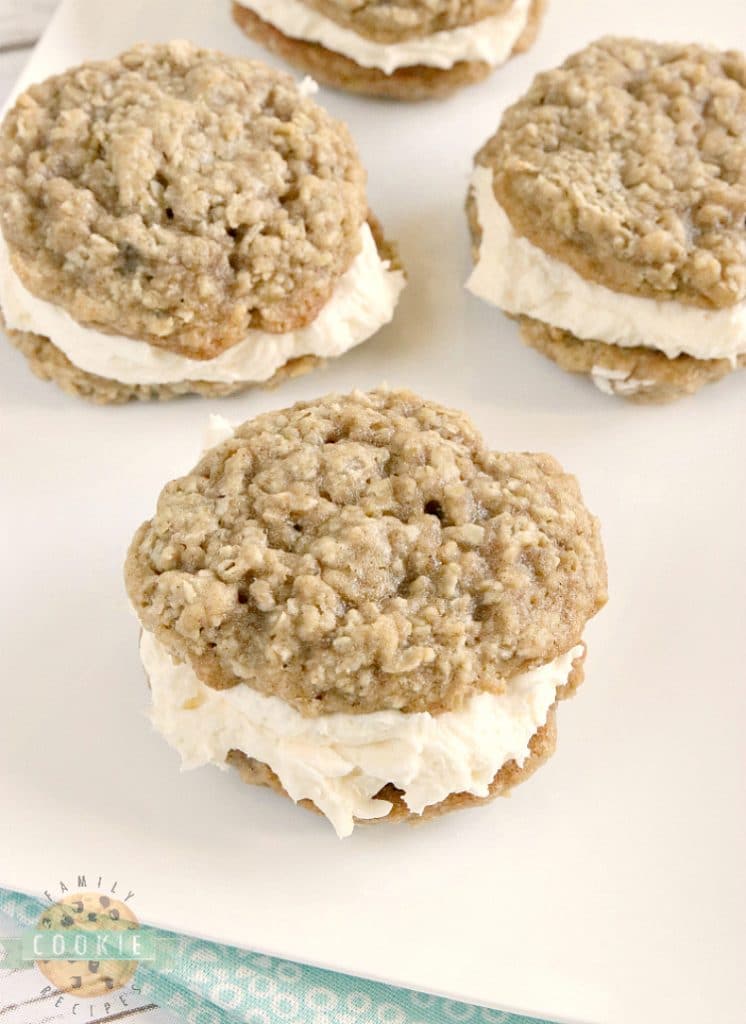 My husband gets to taste test a lot of treats for me and when he bit into one of these, he said that it was the best treat he's had in years and that he wanted to eat a dozen. Right then. I think he stopped after 3 or 4, but he couldn't stop talking about them. So just a fair warning, these won't last very long. Unless you all have a tremendous amount of willpower.
Ingredients in Homemade Oatmeal Cream Pies
For the oatmeal cookies:
Flour – Just regular all-purpose flour will do.
Cinnamon and nutmeg – You don't need too much, but don't leave these out. They add an amazing flavor to the cookies.
Baking soda and salt – Just make sure your baking soda isn't old or expired.
Butter – I always just buy salted butter and use it for everything, but you can use unsalted butter if that's what you have. Sometimes if I use salted butter, I will reduce or completely leave out the additional salt in the recipe. These cookies have so much flavor, it really doesn't matter too much either way!
Brown sugar – Light brown sugar works best in these cookies and make sure it's fresh. If your brown sugar is dry, it will definitely affect the taste and texture of your cookies.
Eggs and vanilla – The more authentic the vanilla, the better!
Oats – I used quick oats, but you can also use old-fashioned oats if you prefer an even chewier cookie. Sometimes I do half quick oats and half old-fashioned – any combination of the two will work well.
For the filling:
Butter – Again, I use salted butter just because that's what I use for everything, but unsalted works fine too.
Powdered sugar
Marshmallow cream – Sometimes called Marshmallow Fluff. Can be found in the baking aisle and I love the way that it makes the consistency of the filling so perfect.
Vanilla extract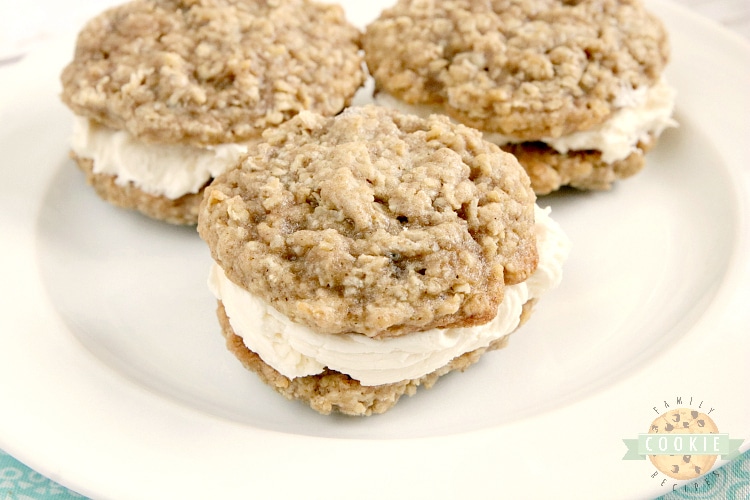 How to make Homemade Oatmeal Cream Pies
First, make the cookies. Mix the flour, cinnamon, nutmeg, baking soda and salt in a bowl and set aside.
In a large bowl, cream the butter and brown sugar together for about 2-3 minutes with an electric mixer. You can also use a stand mixer if you prefer.
Beat in the eggs and vanilla, beating the mixture for another 2-3 minutes.
Stir in the flour mixture, mixing just until combined and then stir in the oats. Chill the dough for about an hour. This will prevent the cookies from spreading too much while baking.
Preheat the oven to 350°. Line 2 cookie sheets with silicone mats or parchment paper.
Use a cookie scoop to scoop out 1″ balls of dough and arrange them about 2 inches apart on your cookie sheets. Slightly press down the tops and then bake for about 10-12 minutes, or until the edges just begin to brown. Let the cookies cool for about 5-10 minutes on the cookie sheet and then transfer them to wire racks to cool completely.
Once the cookies are cooled, you can make the filling. Beat the butter until smooth (1-2 minutes) and then add the powdered sugar. Beat until smooth and then add the marshmallow cream and vanilla. Continue to beat for about 2-3 minutes.
Spread the filling on the bottom of a cookie and then place the bottom of another cookie on top of the filling, sandwiching it in between the 2 cookies. I usually get about 30 cookies (depending on how much dough I eat), so you will probably have about 15 oatmeal cream pies.
Store in an airtight container for up to 4-5 days. The cookies don't need to be refrigerated, but will last longer if they are. Especially if you hide them in the very back of the fridge! If you do store them in the refrigerator, set them out for an hour or two before eating them – I prefer them room temperature instead of cold.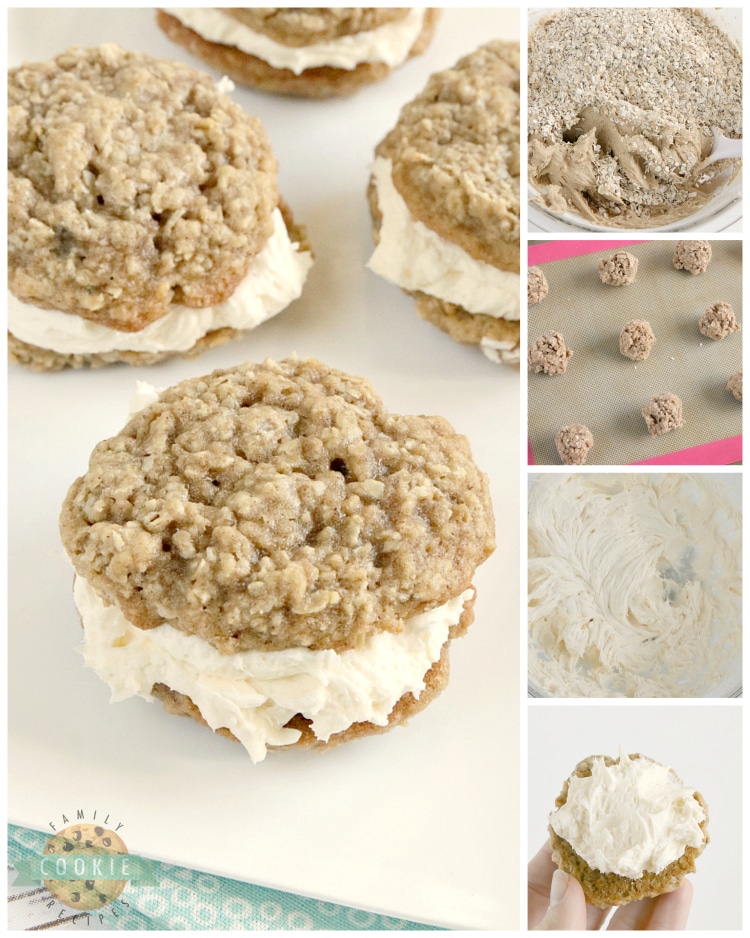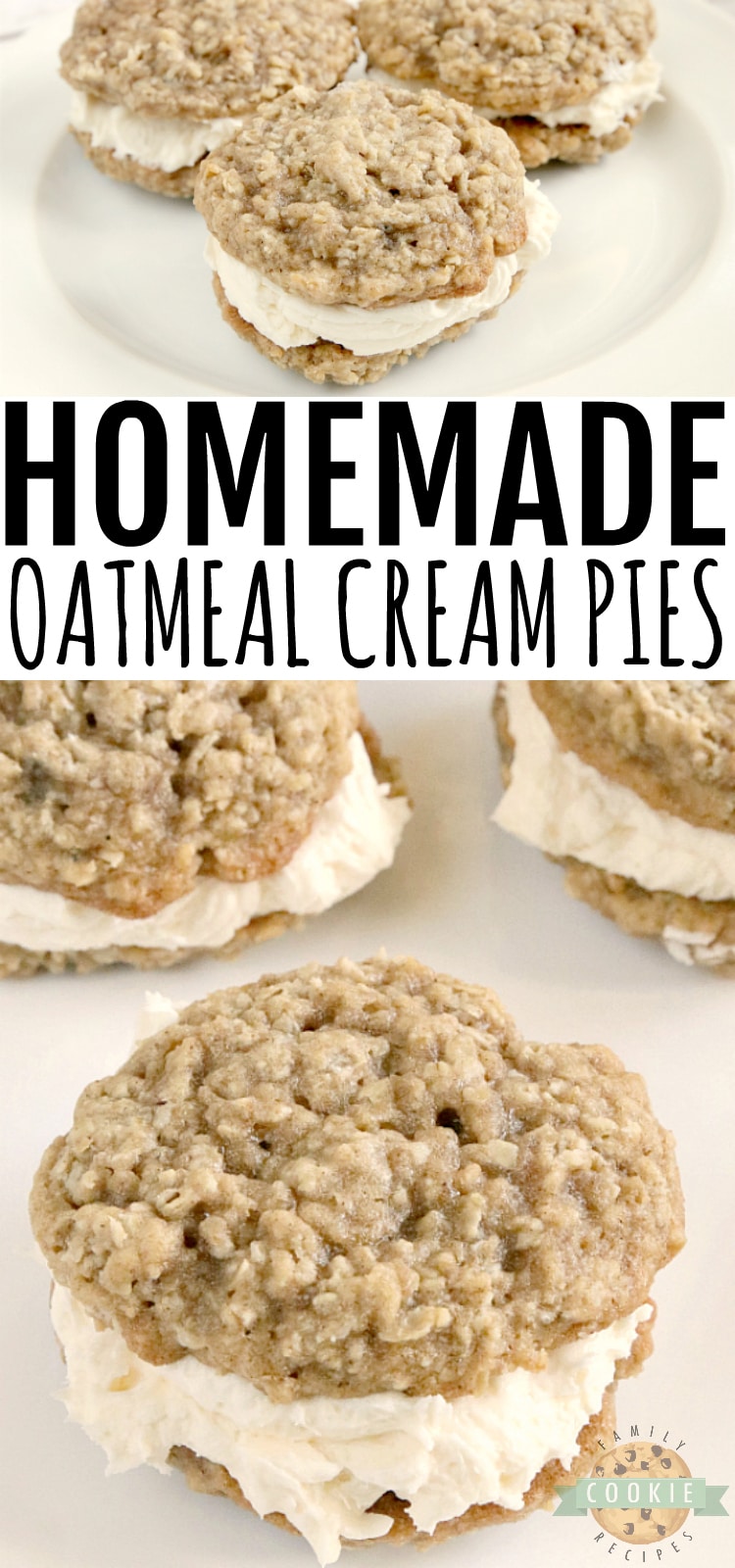 Homemade Oatmeal Cream Pies are made with a delicious creamy filling that is sandwiched between two soft and chewy oatmeal cookies. Even better than the store-bought variety that we all know and love!


I was organizing some pictures on my computer the other day and came across a whole series of pictures from a couple years ago of my middle child. She may be in the middle, but is definitely not forgotten! She has such a big personality and has always been kind of a goofball, even when she was really young. She just turned 10 a couple of months ago and continues to provide us with lots of laughs, drama and definitely keeps things interesting around our house!