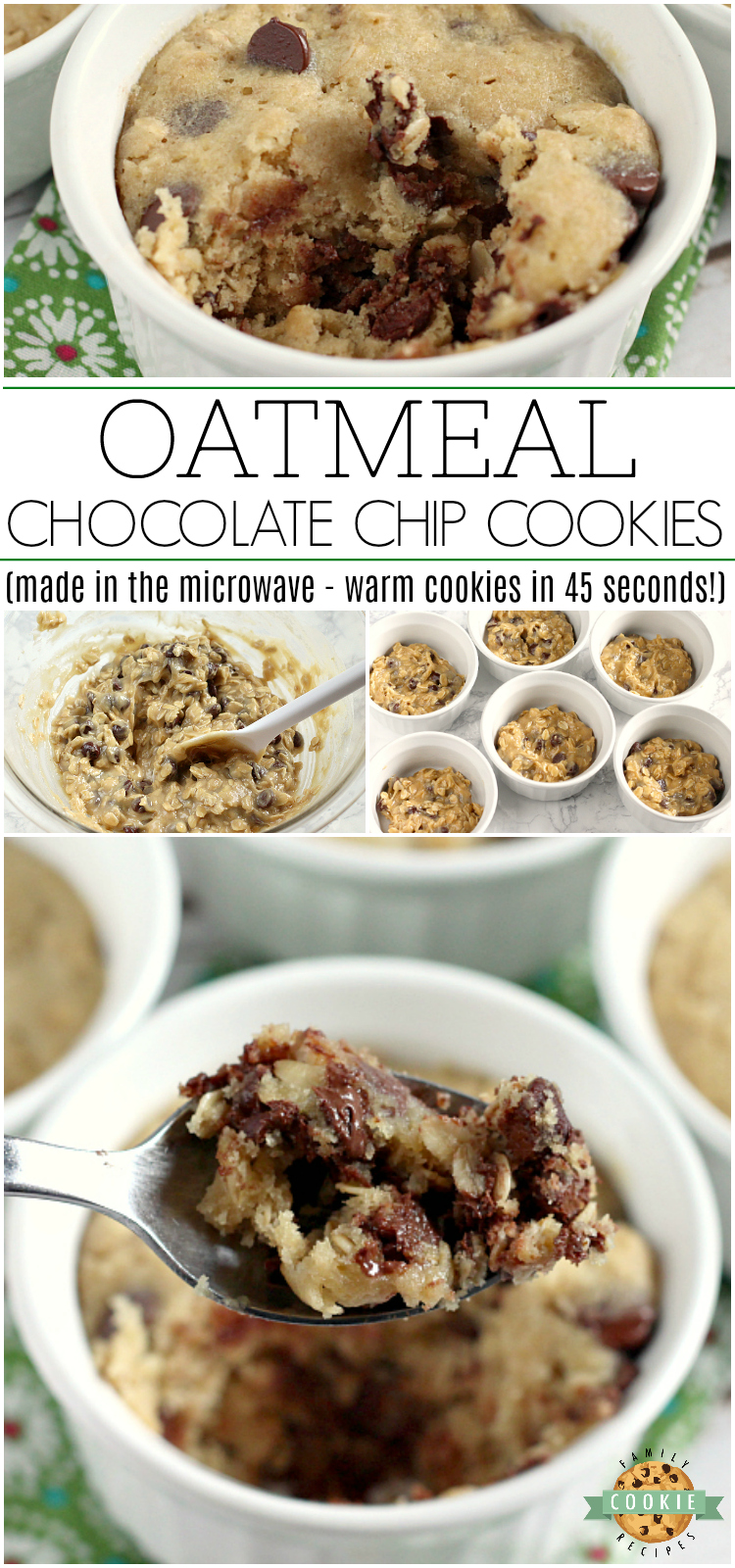 Oatmeal Chocolate Chip Cookies that are ready in less than 5 minutes! This basic oatmeal chocolate chip cookie recipe makes six soft and chewy mug cookies in the microwave – no oven required!
I love warm cookies! Especially warm Oatmeal Chocolate Chip Cookies. I was a little skeptical about making really good cookies in the microwave, but I promise that this recipe yields fantastic oatmeal cookies! They are soft and delicious and made with very basic ingredients that you most likely always have on hand. The batter can be divided into 6 mugs or ramekins so your whole family can enjoy warm, fresh Oatmeal Chocolate Chip Cookies within a few minutes without even turning the oven on!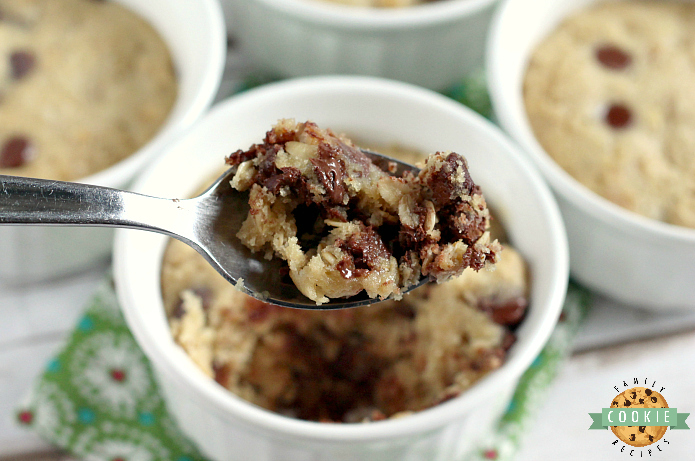 What kind of oats do you use in oatmeal cookies?
Oatmeal Cookies can be made with quick oats or old-fashioned oats. I prefer to use old-fashioned oats because they yield a chewier texture, but if you like to have the oatmeal flavor without the added chew and texture, you can definitely use quick oats.
Why make oatmeal cookies in the microwave?
I have become a huge fan of Mug Cookies or Cookies in a Cup for several reasons!
You can make the oatmeal cookies in a very short amount of time. There is nothing worse than craving a warm Oatmeal Chocolate Chip cookie and then having to wait 30 minutes to eat one by making cookies the traditional way!
You don't have to worry about the cookies spreading too much, or not spreading enough, or having them stick to the cookie sheet. All of the common cookie baking problems are eliminated this way!
You can very easily make a much smaller batch. Many mug cookie recipes only yield 1 or 2 cookies, this one happens to make 6. A lot of times, I want a cookie but I don't need 3 dozen of them and don't want to worry about having to shape and freeze the dough for later. A lot less potential calorie binges and less wasted ingredients this way!
What are the ingredients in Microwave Oatmeal Chocolate Chip Cookies?
1 stick butter, melted
1/2 cup brown sugar
1/2 tsp vanilla extract
1/2 tsp salt
1 egg
3/4 cup flour
3/4 cup old-fashioned oats
1/2 cup semi-sweet chocolate chips
How do you make Microwave Oatmeal Chocolate Chip Cookies?
Mix the melted butter, brown sugar, vanilla, salt and egg in a bowl with a spoon until well combined and smooth. Add flour and oats and mix well. Fold in the chocolate chips.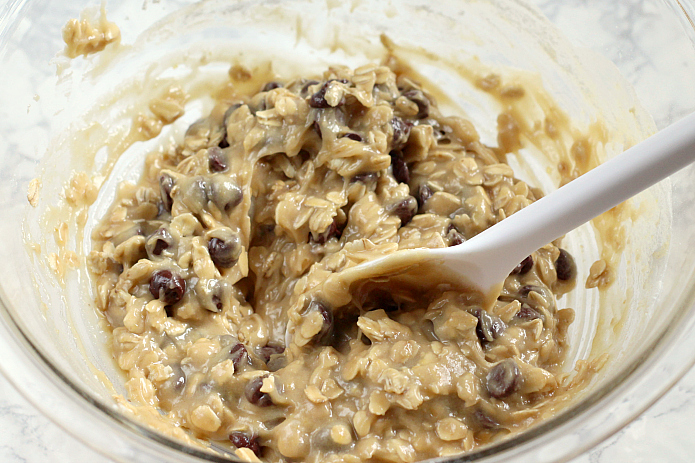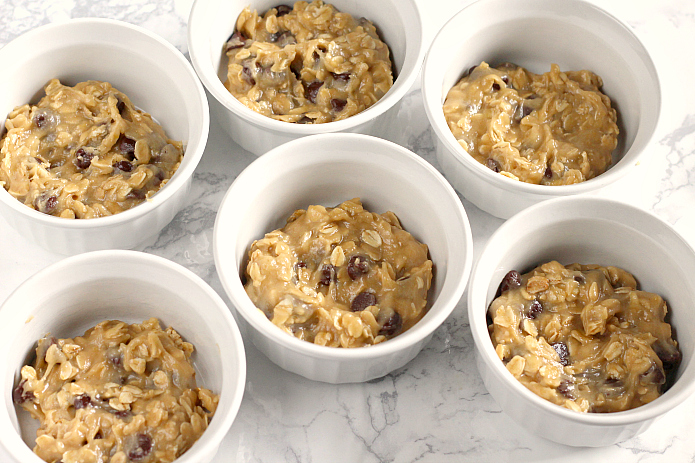 Divide the dough into 6 microwave-safe mugs or ramekins like these ones. I used a large cookie scoop and it worked perfectly for getting the exact right amount of batter in each cup! Microwave each mug separately, on high power for about 45 seconds. Serve immediately. Enjoy yours with some vanilla ice cream for an even more indulgent treat!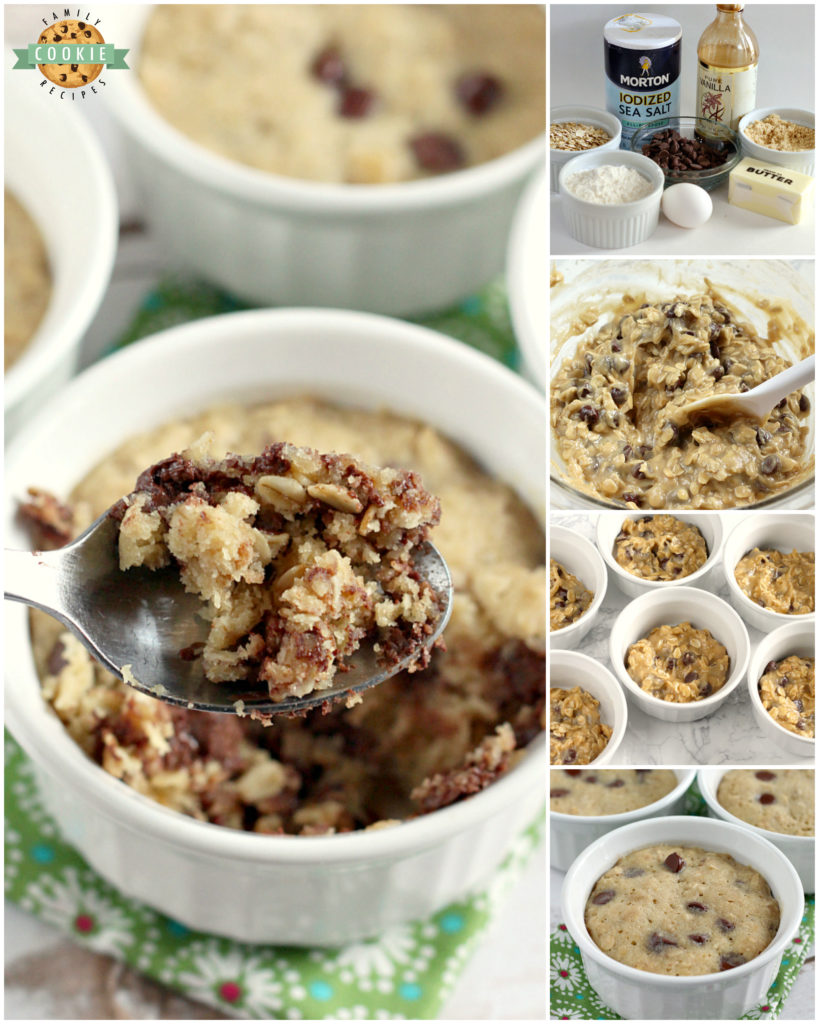 Can you store the oatmeal cookie batter?
The oatmeal cookie batter can be stored in the refrigerator for 2-3 days if you prefer to make one cookie at a time instead of all six at once. These cookies need to be eaten almost immediately after microwaving them so you can't store them after they are "baked" but you can refrigerate the batter and just microwave one at a time over the course of a few days.
Can you make oatmeal chocolate chip cookies healthier?
There are several swaps you can make your oatmeal cookies healthier and still enjoy a yummy treat.
Use whole-wheat flour in place of part or all of the flour. The more flour you swap out, the bigger the difference in taste and texture.
Use dark chocolate in place of the semi-sweet chocolate chips. Or swap the chocolate out completely and add raisins or other dried fruit instead. I think dried cherries would be amazing. Cherries and chocolate chips together sounds even better!
Add coconut or nuts for texture and a little bit of a nutritional boost!
You can also add a little bit of cinnamon to the batter! Not only does this add flavor, but cinnamon is a very healthy spice with all kinds of benefits!
If you enjoyed our Microwave Oatmeal Chocolate Chip Cookies, you might also enjoy the following oatmeal cookie recipes too: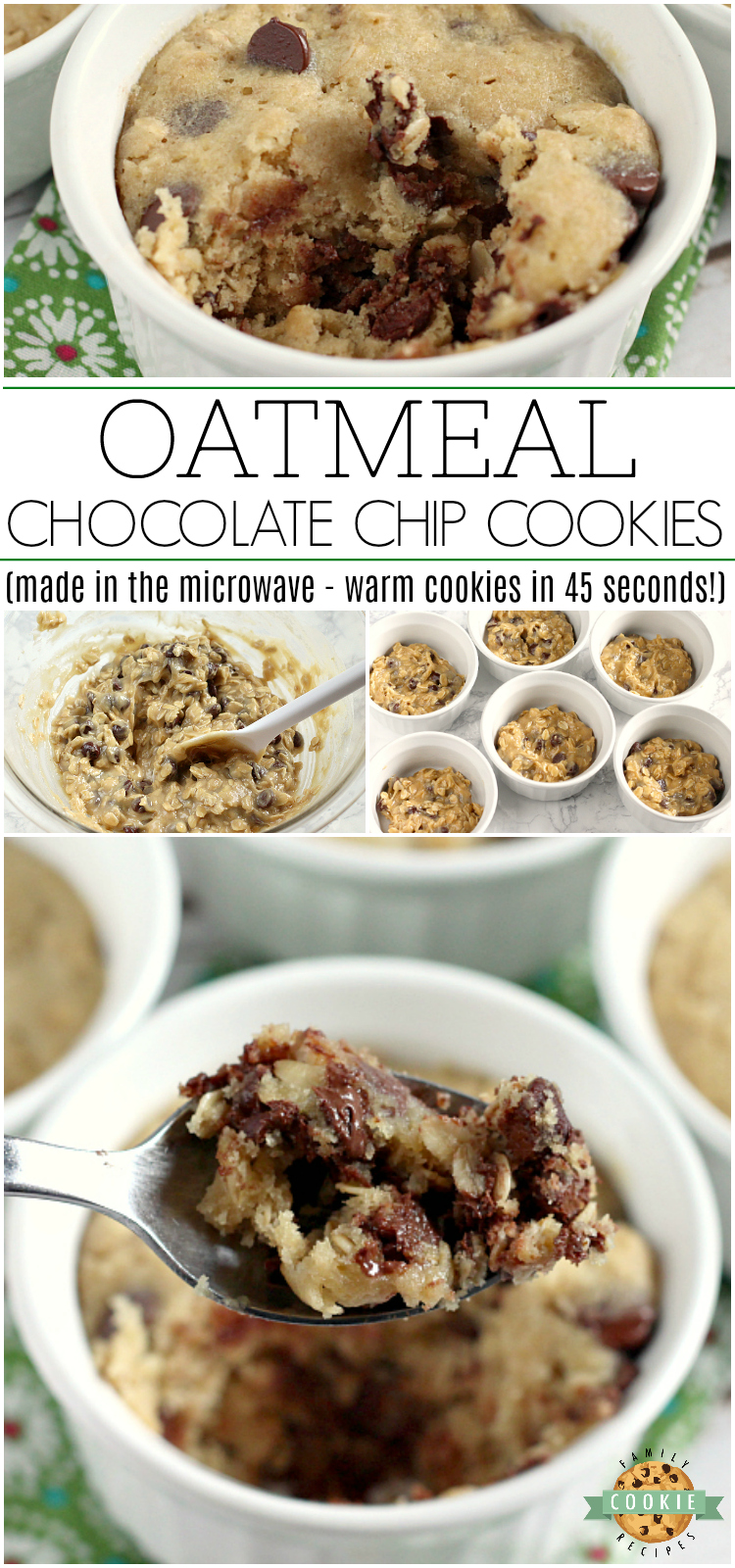 So I'm not really a runner. I've tried many times but I just don't love it. I love to work out, just not run. I've actually really tried to like it and there have been times in my life where I've been better at it, which definitely makes it a little more fun. I just get really bored after a couple of miles. And then my knee starts hurting. Then my feet hurt. Et cetera.
My kids seem to mostly take after me (and my husband because he isn't really a runner either). We have a lot of friends who do this same local 5K race every year as families and it's become a fun tradition for them – most of them do have at least one serious runner in the family. My kids didn't want to be missing out on something really fun so we decided this year that we would give it a try. So how'd it go? We made it. We weren't very fast. At all. We are still not runners. But we mostly had a fun time and made some great memories together. And we can all say that we finished a 5k. Still not sure if we will be doing it next year or not. I'm a little bit afraid to ask. Maybe some of us will do it and the rest of us will be cheerleaders. I'll keep you posted!