Banana Chocolate Chip Oatmeal Cookies are soft, chewy, and bursting with incredible flavor. These banana oatmeal cookies are not only delicious, but they're also a healthier alternative to traditional cookies!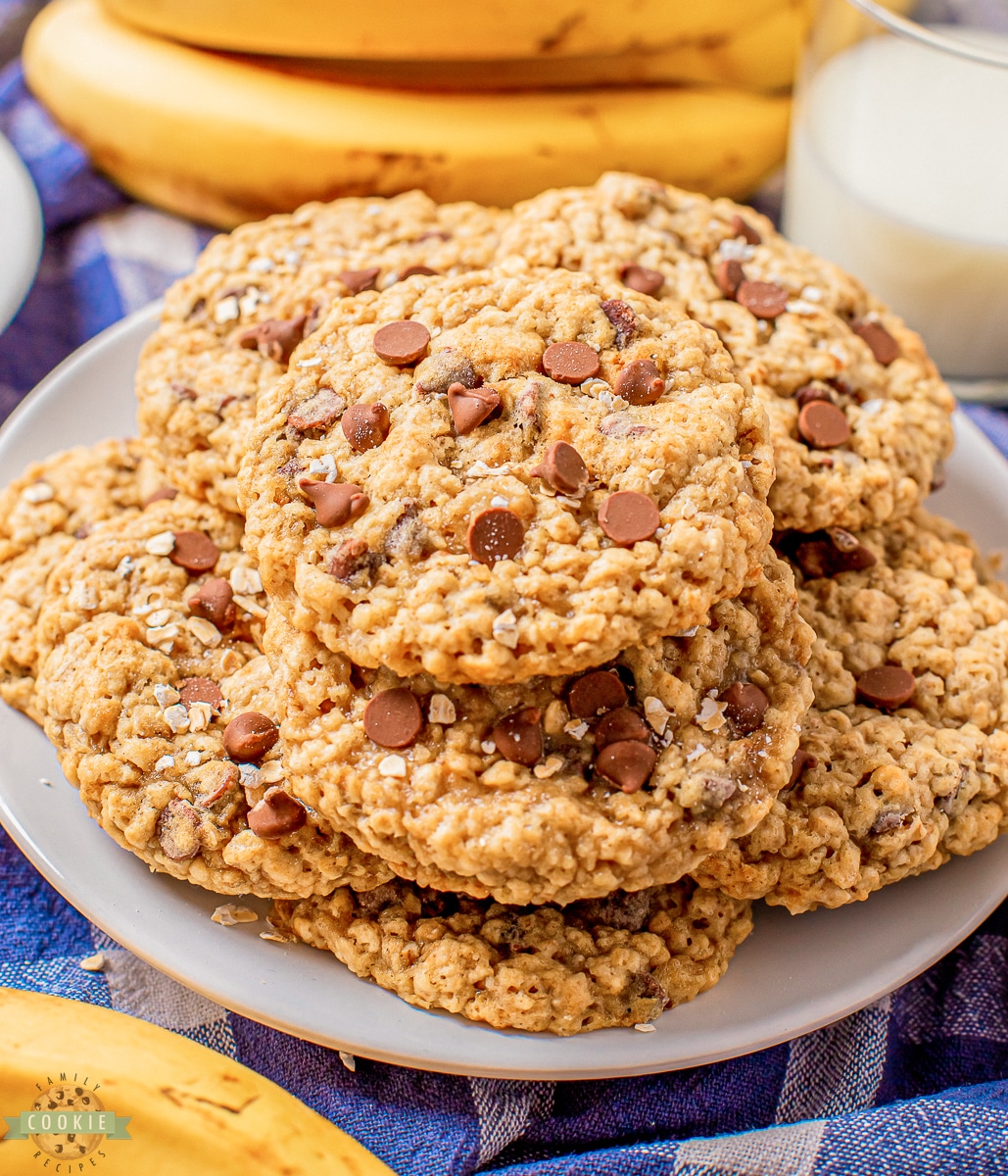 These Banana Oatmeal Chocolate Chip Cookies are a delightful treat that combines the sweetness of ripe bananas with the richness of chocolate chips and the heartiness of oatmeal. Make these banana oatmeal cookies for a perfect snack for any time of day, whether you're looking for a quick breakfast on the go, a mid-afternoon pick-me-up, or a sweet dessert after dinner.
Chocolate Chip Banana Cookies
Ripe bananas are not just for banana bread anymore, thanks to this recipe you can use up those ripe bananas in a new and delicious way! If you have never turned the ripe bananas on your counter into a batch of delicious chocolate-infused cookies the there is no time like the present to try! The faster you whip up a batch of these banana chocolate chip oatmeal cookies the faster you can fall in love with a new recipe.
The bananas add natural sweetness, which means you can use less sugar in the recipe. The oatmeal provides fiber, which can help keep you feeling full and satisfied. And the chocolate chips add a touch of indulgence without adding too many calories. This recipe is a healthier dessert option that leaves you satisfied without all the guilt!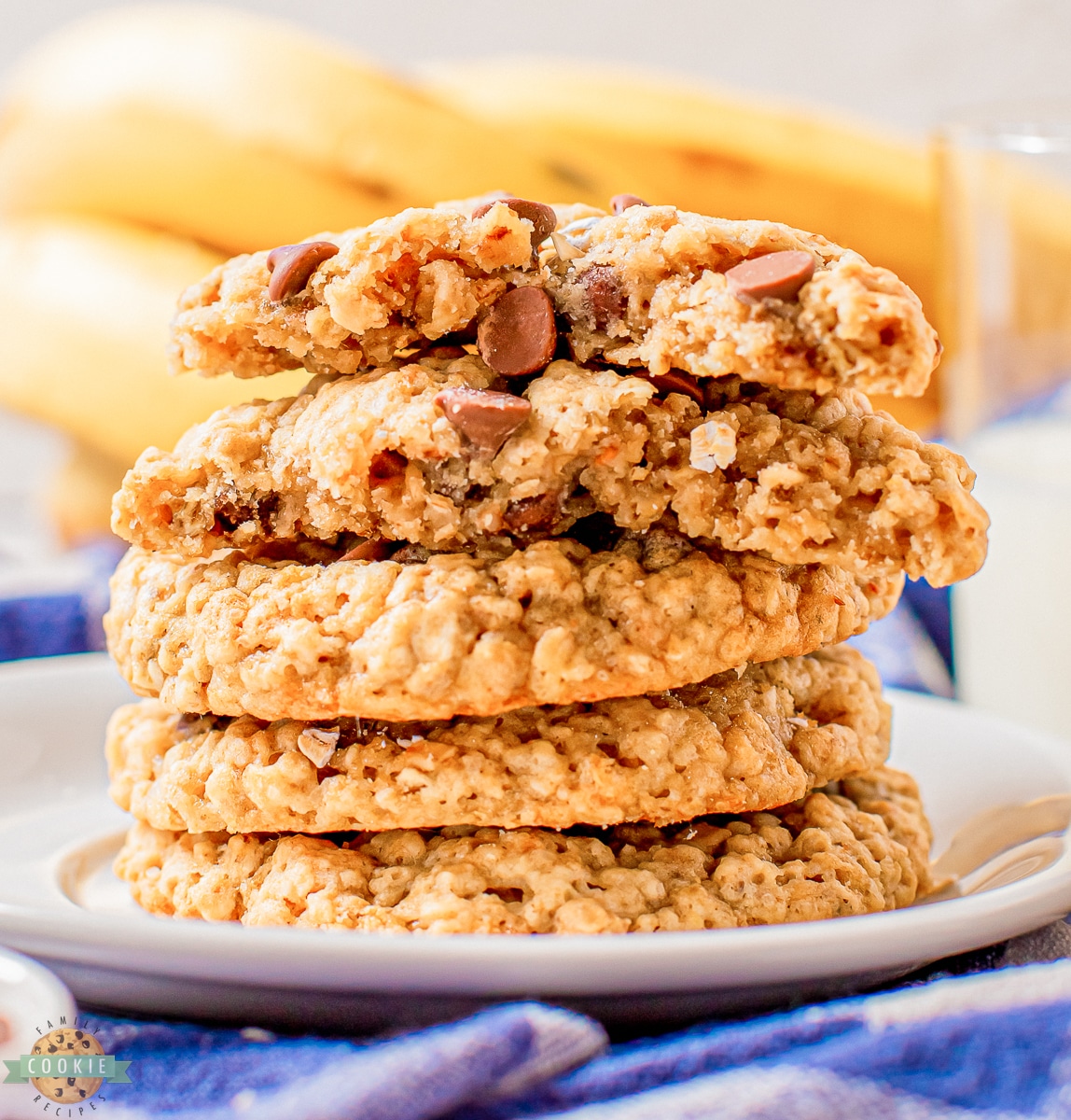 Banana Oatmeal Chocolate Chip Cookies

Ingredients

Bananas: You will need ½ cup of mashed ripe bananas for this recipe. This is equal to about 2 medium-sized bananas.

Sugars: Add in ½ cup of both brown sugar and granulated white sugar for this recipe. If you can help it, try not substitute one for the other as using both of these sugars help make these into buttery and soft cookies. Using all granulated can be done but the cookies will not have the same flavor that we are after here.

Butter: Use ½ cup of unsalted butter, softened, for this cookie dough to give it the fats needed to be moist and rich in taste.

Vanilla extract: You will need 1 teaspoon of vanilla extract to help enhance the flavors in these cookies.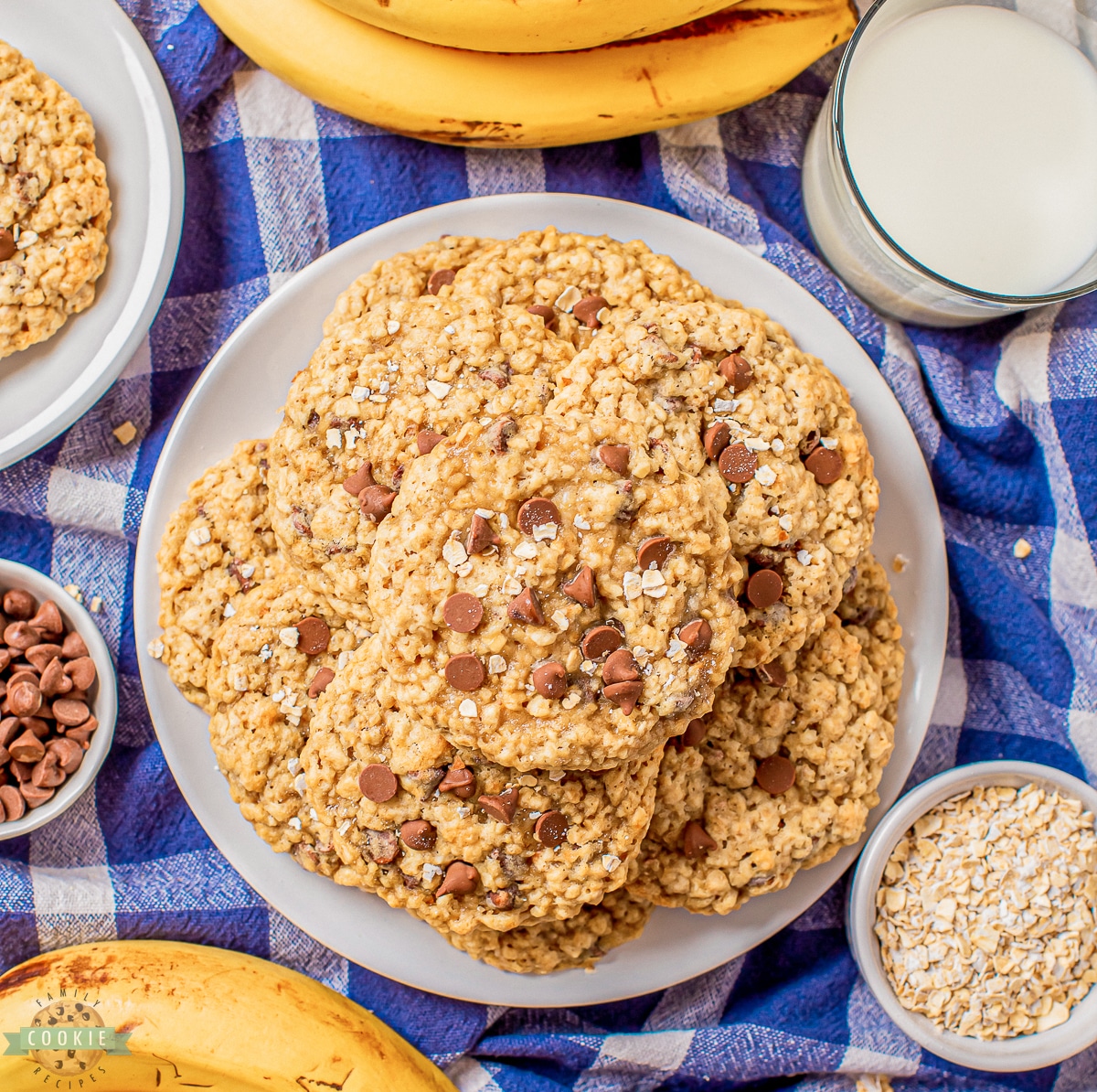 Egg: For great cookie texture, add in 1 large egg to this dough.
Flour: You need 1 ½ cups of all-purpose flour for the structural base of this cookie dough recipe.
Oats: Use 2 cups of quick oats or old-fashioned oats for these cookies. Using old fashion oats will give you a chunkier cookie texture, that is what we used for this recipe.
Leavening agents: Using 1 teaspoon of each baking soda and baking powder will help these cookies puff up nicely as they bake.
Salt: Use ½ teaspoon of salt to balance out all the different flavors in these cookies.
Chocolate chips: You will need between ½ cup and ¾ cups of semi-sweet chocolate chips for these cookies. Use more or less depending on your chocolate preference.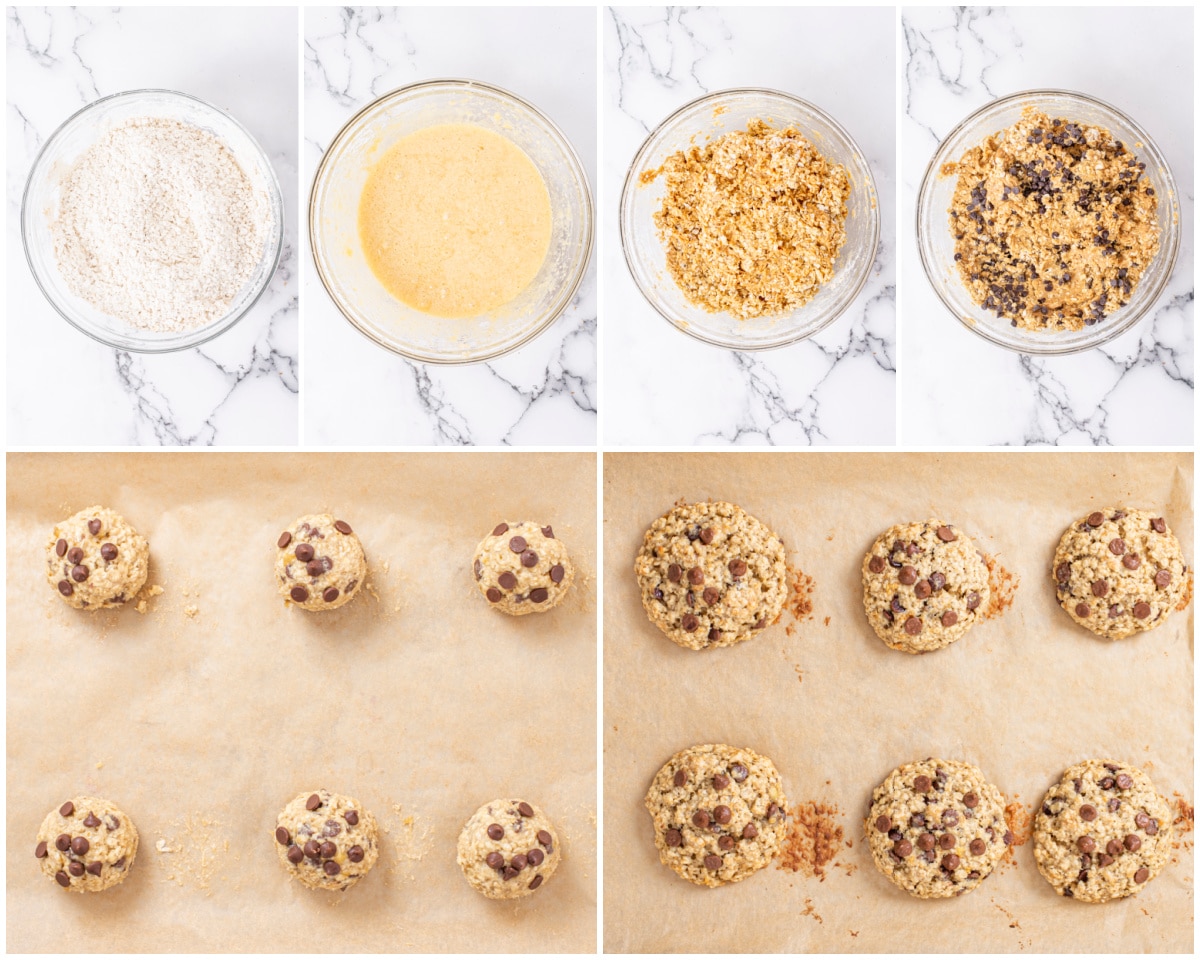 How to make Banana Chocolate Chip Oatmeal Cookies
Prep
Start by preheating your oven to 350 degrees F.
Then, line some baking sheets with parchment paper and set aside.
Make dough
First, in a large mixing bowl, combine the butter and both sugars with an electric mixer on low speed until smooth and creamy.
Next, add in the egg, mashed bananas and vanilla extract. Continue to mix on low speed until well combined, set the bowl aside.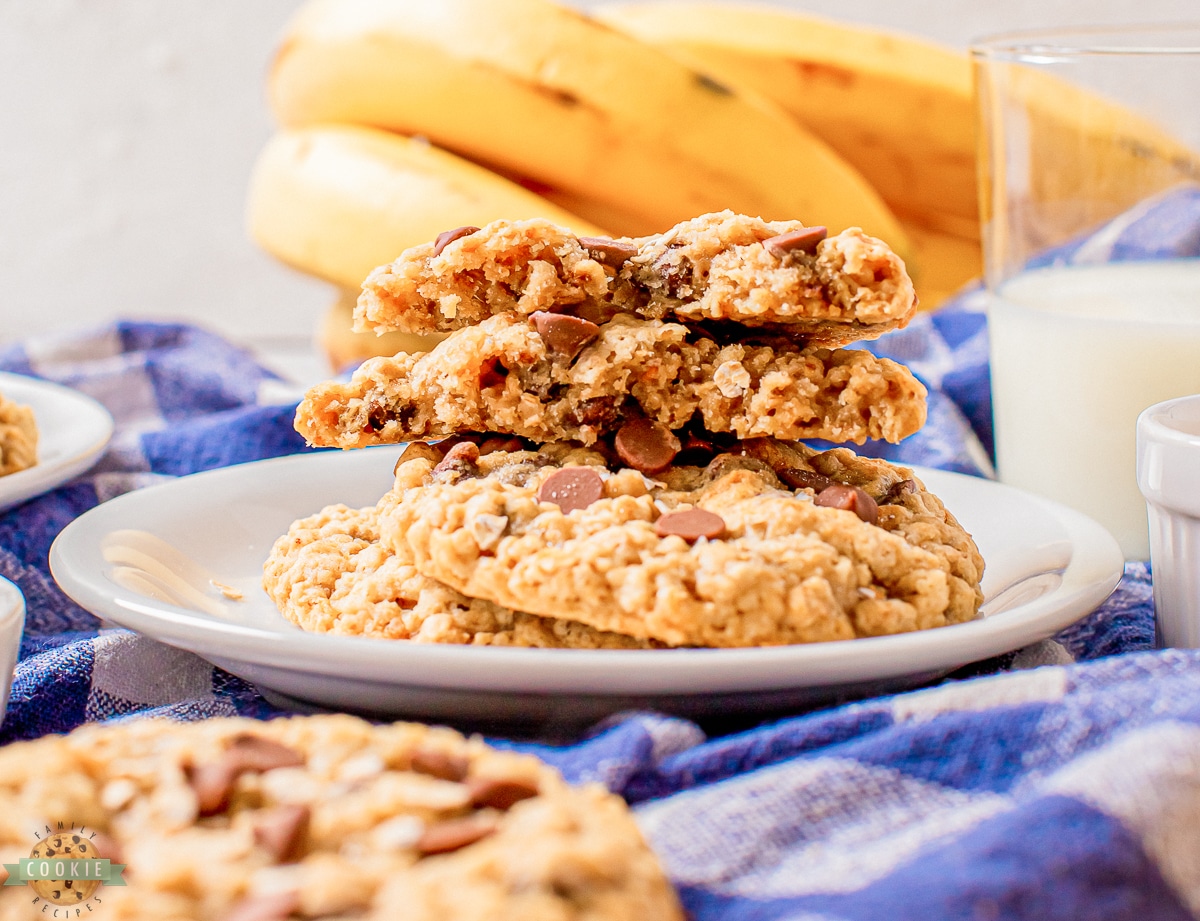 In a separate small bowl, mix together the flour, baking soda, baking powder, salt, and oats with a whisk.
After that, gradually add the bowl of dry ingredients to the wet ingredients by adding ½ cup or 1 cup at a time and mixing on low speed until all is blended and well combined.
Lastly, fold in the chocolate chips and stir until just combined.
Bake
Continue to scoop the dough into 2 tablespoons-sized portions and roll into balls. Place them onto your prepared cookie sheet with 2 inches of space between each. Do not press the cookies down.
Proceed to place them in the preheated oven and bake them for 11-13 minutes.
Serve
When the cookies have finished baking they will have a soft center inside. Allow for the cookies to cool to finish cooking and set up. It's best to let the cookies cool on the baking sheets for 5-10 minutes before transferring to a wire rack to cool completely.
Serve immediately and enjoy!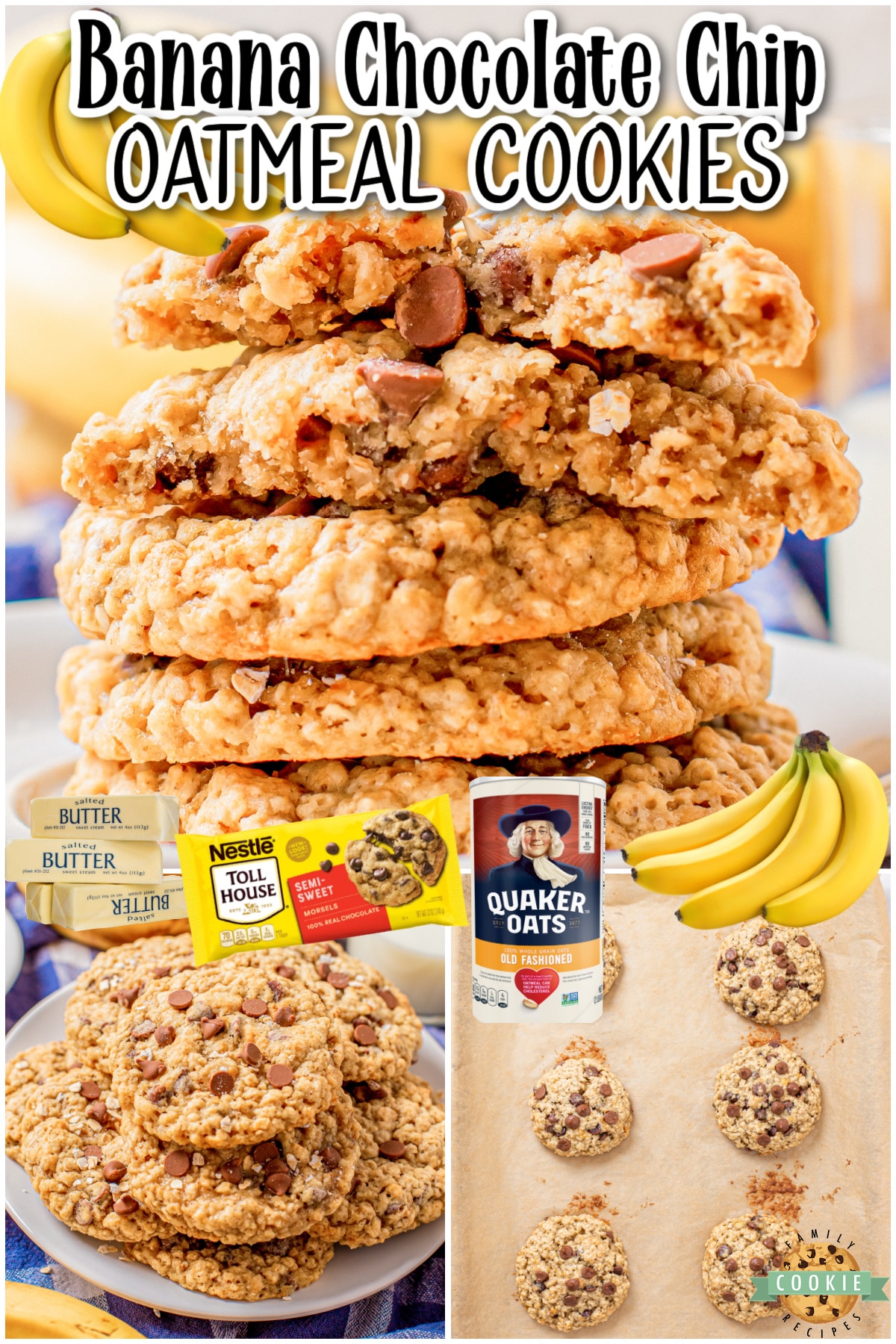 Tips & Variations
Use ripe bananas: The riper the bananas, the sweeter and more flavorful they will be in the cookies. Look for bananas that have brown spots on the skin, as this indicates they are fully ripe.
Add nuts or dried fruit: For some added texture and flavor, consider adding chopped nuts or dried fruit to the cookie dough. Walnuts, pecans, or dried cranberries are all great options.
Adjust the sweetness: Depending on personal preference, you can adjust the amount of sugar in the recipe. For a sweeter cookie, use more brown sugar. For a less sweet cookie, reduce the amount of sugar or use a sugar substitute.
Experiment with spices: To add some warmth and depth of flavor to the cookies, consider adding spices like cinnamon, nutmeg, or ginger to the dough.
Use different chocolate: While chocolate chips are the traditional choice for these cookies, you can experiment with different types of chocolate. Dark chocolate, milk chocolate, or even white chocolate can all be used in place of chocolate chips.
Make them gluten-free: To make these cookies gluten-free, simply use certified gluten-free oats and a gluten-free flour blend in place of all-purpose flour.
How long are banana chocolate oatmeal cookies good for?
These cookies should be kept stored in an airtight container in the fridge for up to a few days (about 3 or 4) for best-tasting results. You can always reheat them for a few seconds in the microwave or place them into the oven for a minute or two to warm up and taste fresh again. These are cookies that taste incredible while warm!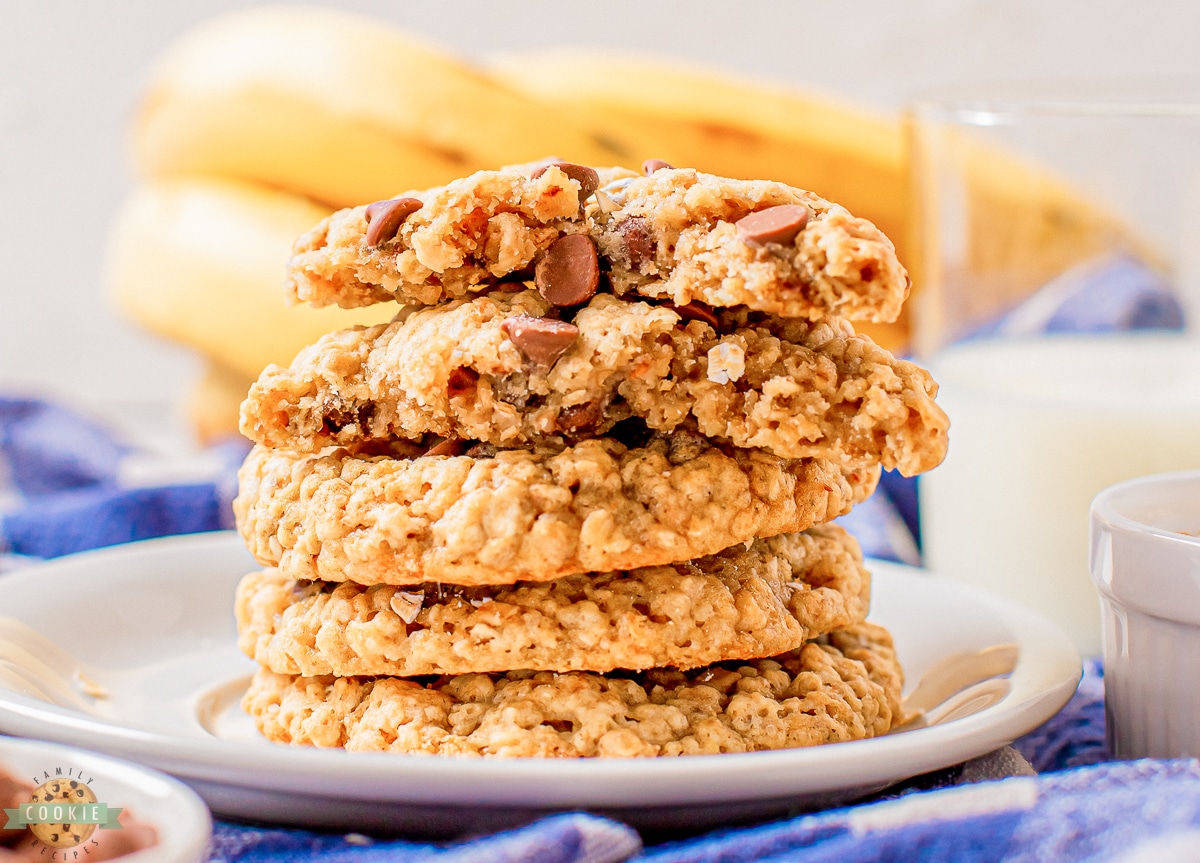 Can I use frozen bananas for these cookies?
Yes, if you have frozen ripe bananas, feel free to use them for these cookies. You will want to make sure that the bananas have thawed completely and are at room temperature before using. If there is liquid inside of the bag or container where the bananas we're stored, discard it. This added liquid will throw off the wet/dry ratio in the dough. If needed, you can add a tablespoon or two of milk or water to the cookie dough to get the consistency right if the dough ends up too dry when mixing.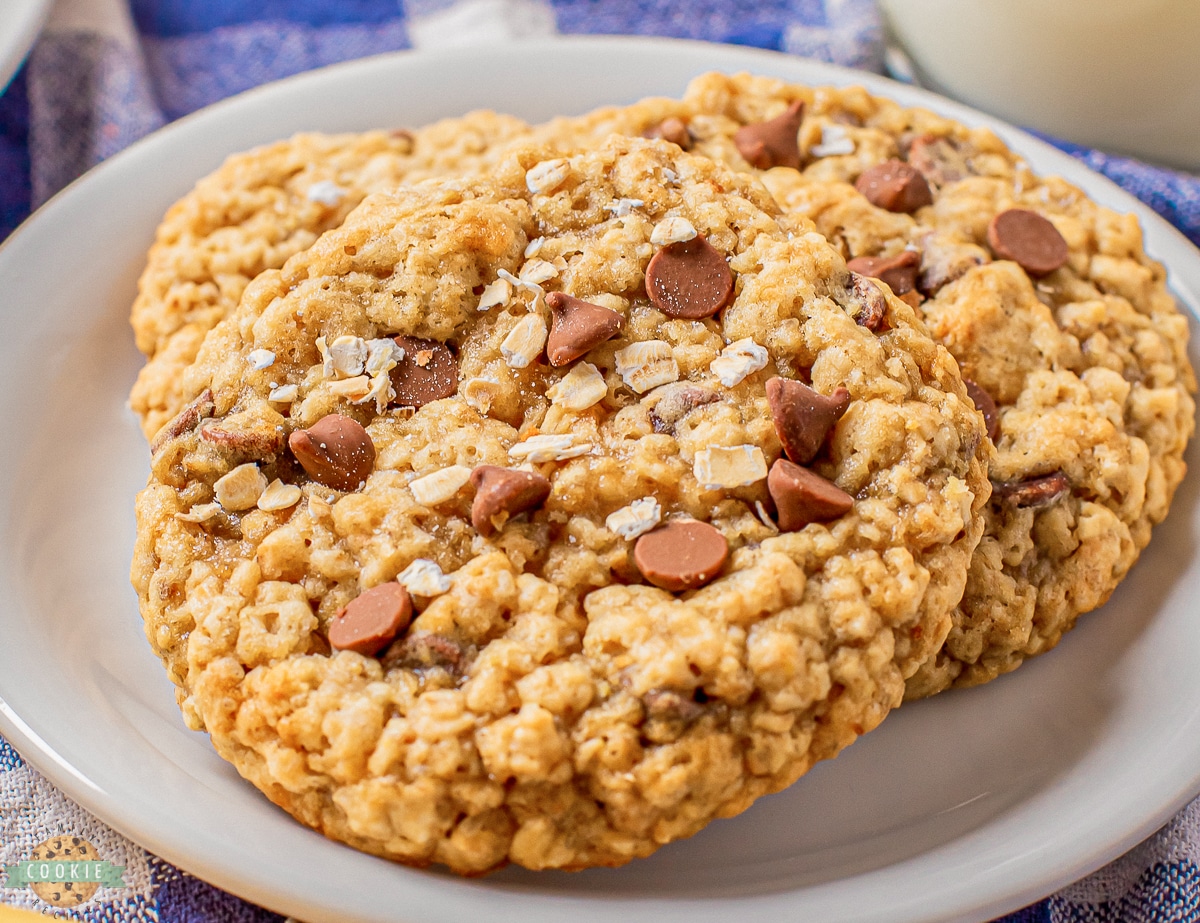 What is the difference between oats in cookies?
Old fashioned oats are larger and have been very lightly processed meaning that they still hold a true oat shape and have a harder texture. Quick-cooking oats have been heavily processed and no longer look like oats because they've pretty much been chopped into much smaller pieces so that they can cook more quickly. When used in baked goods quick oats usually blend into the background more for a softer cookie while old-fashioned oats remain chewy.


This picture feels like it was taken forever ago and it was taken just last month! Ha! Dang, people always told me kids grow up fast, but it hasn't really hit me until this past year. I love getting a front row seat to watching these amazing humans learn and grow!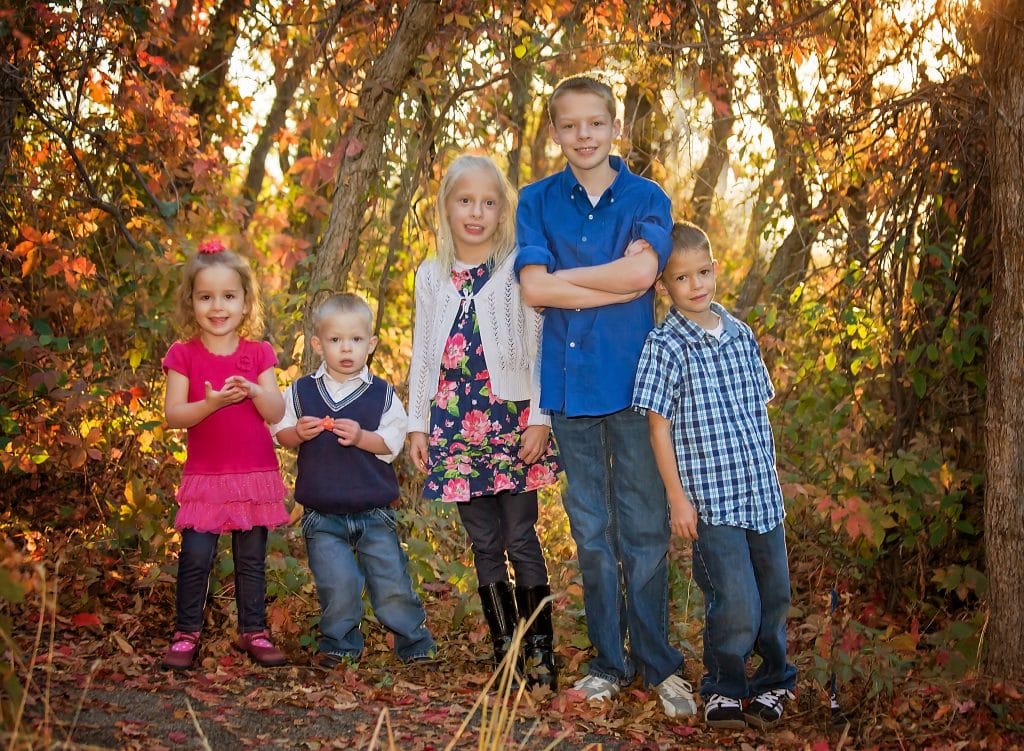 Check out these other great ripe banana cookie recipes:
Every bite of these Banana Chocolate Chip Oatmeal Cookies is comforting and delicious. These banana oatmeal cookies are chewy, sweet cookies, packed with incredible flavors and texture! You are going to want to share them with all of your family and friends.