Banana Split Cookie Cups taste like your favorite banana split dessert in cookie form! Banana flavored cookies filled with pineapple cream and topped with chocolate and a cherry!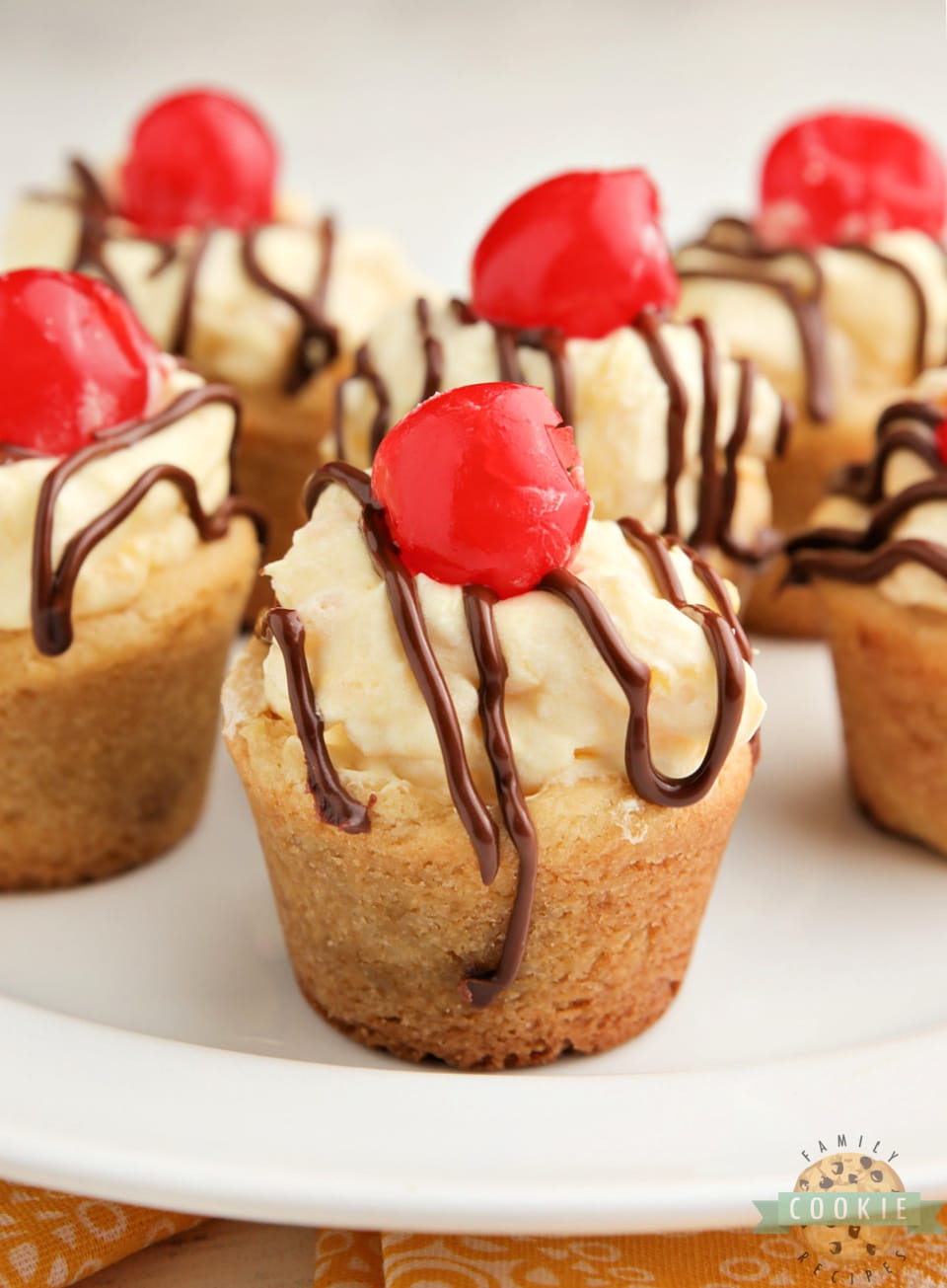 These Banana Split Cookie Cups are easily made in a mini muffin tin and then filled with a simple, 3-ingredient pineapple cream filling. I added chocolate and a cherry on top, and you could easily add sprinkles too. A cookie that tastes like a banana split!
Ingredients in Banana Split Cookie Cups
Cookies:
1 1/2 sticks butter, softened to room temperature
3/4 cup light brown sugar
1/4 cup sugar
1 small (3.4 oz) box instant banana cream pudding mix
2 large eggs
1 tsp vanilla extract
1 tsp baking soda
2 1/4 cups all-purpose flour
Filling:
8 oz Cool Whip, thawed
8 oz can crushed pineapple (with juice)
1 small (3.4 oz) box instant vanilla pudding mix
Topping:
Maraschino cherries
1/2 cup semi-sweet chocolate chips + 1 Tbsp shortening
How to make Banana Split Cookie Cups
Preheat oven to 350°.
In a large mixing bowl, cream butter and sugars together for 3-4 minutes. Add in the banana pudding mix and continue to beat for another 1-2 minutes.
Add the eggs and vanilla and beat for 2 more minutes.
Add the flour and baking soda and mix until well combined.
Use a cookie scoop to scoop the cookie dough into a well-greased mini muffin pan. Recipe makes 36 cookie cups.
Bake for 8-9 minutes or until the tops barely begin to turn a light golden brown. Remove from oven and immediately use the back of a 1/2 tablespoon to press an indention into each cookie cup. Don't press all the way to the bottom- you'll want to press the tops about halfway down. Make sure to do this while the cookie cups are hot, straight out of the oven.
Let the cookie cups continue to cool in the pan for about 15-20 minutes and then remove from the pan and cool completely on a wire rack.
When the cookie cups are completely cooled, make the filling. Use a fork or large spoon to mix the pudding mix and pineapple together. Fold in the Cool Whip. Use a small spoon to generously scoop the filling into each of the cookie cups.
In a small glass bowl, mix the chocolate chips and shortening and then microwave for about 30 seconds. Stir and then microwave in 15 second intervals, stirring in between each interval until chocolate is completely melted and smooth. Drizzle on top of the cookie cups and then place a cherry on top of each one. Keep refrigerated until ready to serve.
The cookie cups last pretty well completely assembled in the refrigerator for up to about 24 hours. If you need to make them farther in advance, just make the cookie cups and the filling separately and then wait to add the filling and topping until right before serving.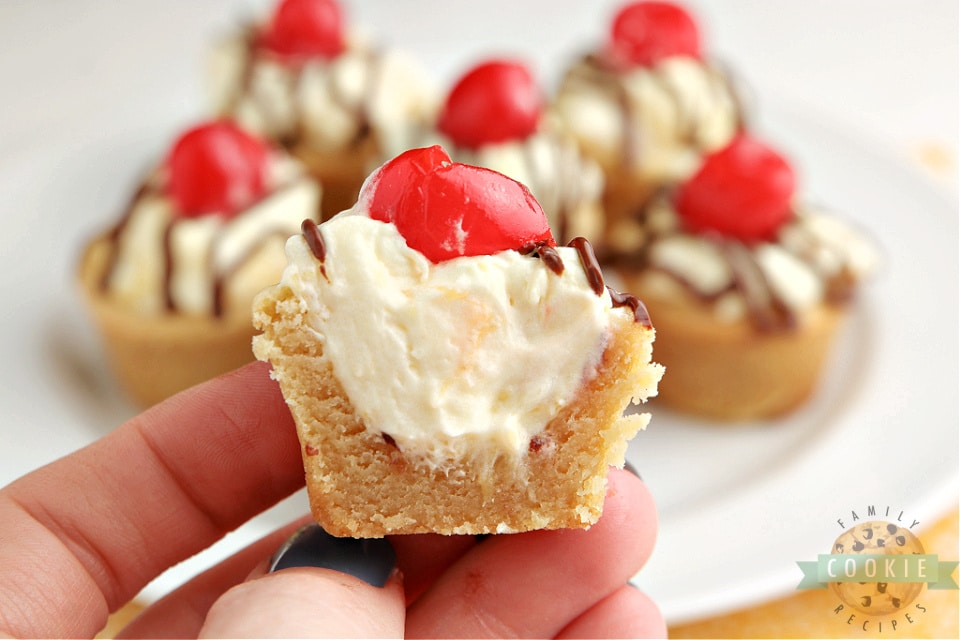 SOME TIPS FOR MAKING PERFECT COOKIES:
Make sure that you have enough flour in the dough. If the dough is too sticky, you may need to add a little bit of flour.
Make sure you use softened butter – DON'T melt it! One of the most common errors in cookie making is using butter that is either really cold and hard, or using butter that is too warm and melted. If you have time, just leave butter out on the counter for about 1-2 hours before making your cookies. If you are like me and don't plan your cookie cravings that far in advance, just place the butter in your microwave and soften in 5 second intervals, being very careful to pull it out before it melts. I actually like to use the defrost setting on my microwave to soften butter- I don't know the technical reasons behind it, but it seems to soften the butter more evenly and takes a little bit longer so I'm less likely to start melting it!
Spend a little extra time when you mix the butter and sugars. Creaming them together for 2-3 minutes will improve the consistency of your cookies.
Preheat the oven. This will help your cookies turn out right every time!
Use a cookie scoop! If you want all your cookies to be perfectly shaped and have them all be the same size, a cookie scoop is the way to go.
Don't over bake the cookies – when I take mine out of the oven, they still look slightly under baked but they will continue to bake in the pan for a couple more minutes so that's ok!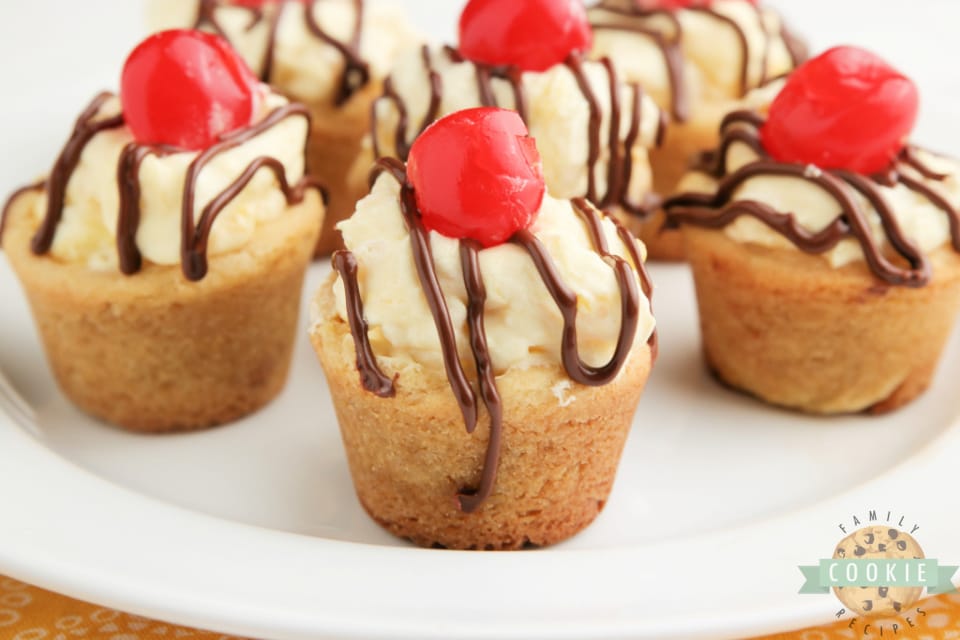 Can you replace the Cool Whip in the recipe?
If you can't find Cool Whip where you live or you prefer not to use it in recipes, you can use stabilized whipped cream instead. If you just use regular whipped cream, the consistency will be too light and the cream will not hold up very well when mixed into pudding mixture.
HOW TO MAKE STABILIZED WHIPPED CREAM
To make stabilized whipped cream, you will need the following ingredients:
4 ounces of cream cheese (softened to room temperature)
1/3 cup powdered sugar
1 tsp vanilla
1 cup heavy whipping cream
Beat the cream cheese with the powdered sugar and vanilla until soft and smooth.
In a separate bowl, beat the whipping cream just until soft peaks form.
Add the cream cheese mixture to the whipped cream and beat until stiff peaks are formed. Store in the refrigerator until ready to use.
A little tip for making whipped cream faster. Use a metal bowl for whipping the cream and place the bowl in the freezer for about 30 minutes before you make the whipped cream. This will significantly decrease the amount of time that you will need to beat the whipped cream – the process will go much faster!

Banana Split Cookie Cups taste like your favorite banana split dessert in cookie form! Banana flavored cookies filled with pineapple cream and topped with chocolate and a cherry!


Gotta love orthodontics. My kids were all blessed with very narrow upper jaws and have all required expanders and braces. In 2 different phases. Child #4 just got done with the cranking of the expander and just barely got his brackets on this week. I currently have 3 children in braces! I think I almost spend more time at the orthodontist than I do at home. Anyone else know their orthodontist's office a little too well?! Luckily, the older two are halfway through their second phase and child #5 has about 7 more years before she'll be old enough for all of this!