No Bake Cookie Bars recipe is a quick variation on THE BEST no bake cookies recipe. Made with quick oats & chocolate chips, these no bake oatmeal cookies couldn't be tastier!
These are literally THE BEST no bake cookie recipe I have ever had. Making No Bake Cookies in bars is a faster, easier process that I love.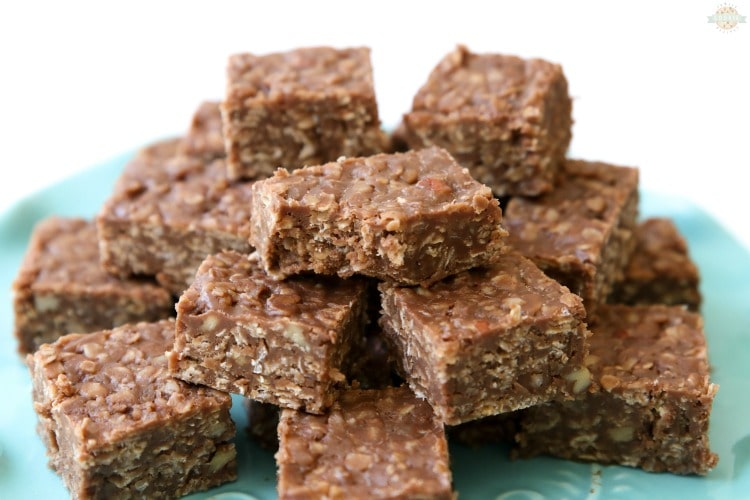 What are No Bake Cookies?
No bake cookies are an amazing, addictive cookie recipe. They include on chocolate, peanut butter, oats, and best of all, no baking!
Although there are many variations, they are all so incredibly tasty because they use real chocolate chips, instead of cocoa powder.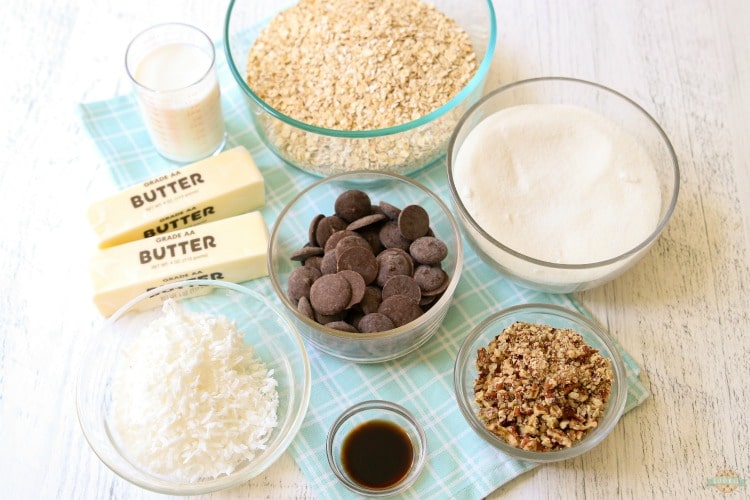 What's in No Bake Cookie Bars?
This is everything that's in this No Bake Cookie Bars recipe:
— Butter
— Sugar
— Milk
— Coconut
— Semi Sweet Chocolate Chips
— Walnuts
— Quick Oats
— Vanilla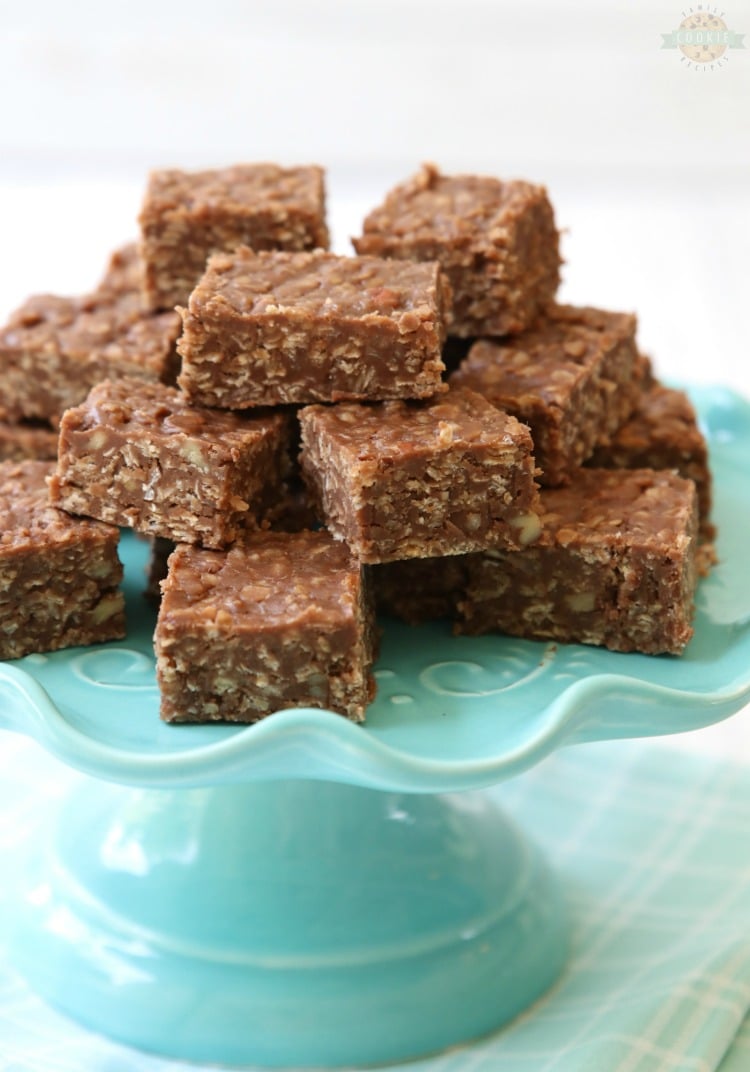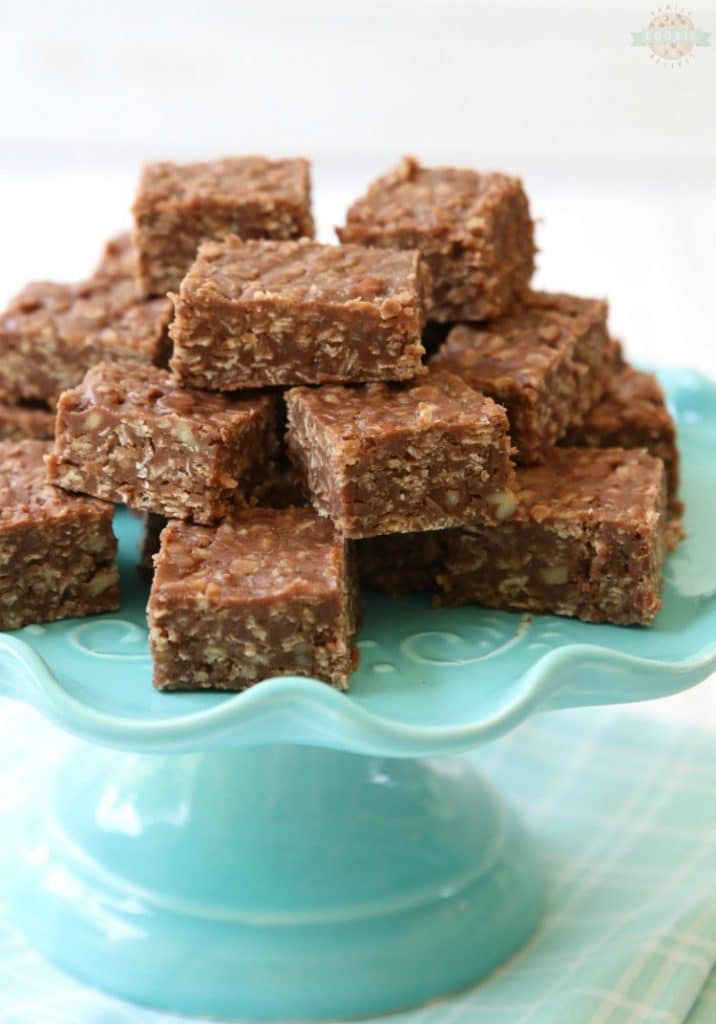 How to make No Bake Cookie Bars:
This is how to make No Bake Cookie Bars ~
First, prepare a cookie sheet for later by lining a 9×13 cookie sheet with wax paper.
Then, start making the recipe by combining the butter, sugar and milk in a pan. Bring the mixture to a boil and let it boil for 1 minute. Remove pan from heat.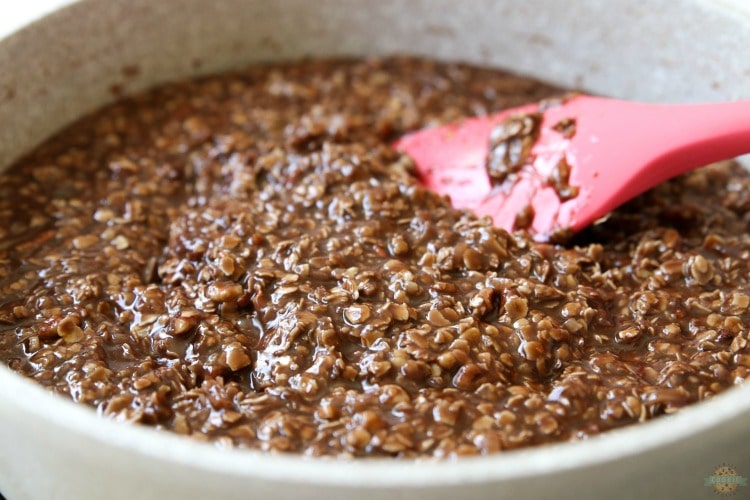 Make sure you only let it boil for 1 minute, or else your cookies might not set right.
Add the semi-sweet chocolate chips to the pan. Stir the chocolate chips until they have melted completely.
Then, add the coconut, walnuts, oats and vanilla. Mix everything until it's all thoroughly combined.
Pour onto the prepared cookie sheet. Gently smooth if needed. Let cool.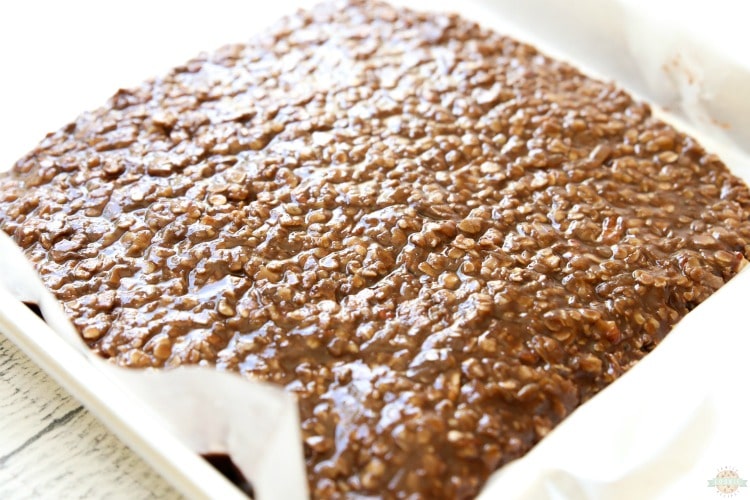 When completely cooled, cut into desired size of bar.
What to do when No Bake Cookies recipe won't set?
Putting your cookies in the fridge or freezer will help them firm up a bit.
To avoid your No Bake Cookies not setting, make sure you boil the cookies for 1 minute.
Another important component of No Bake Cookies that set right is using the right oats. I use quick oats in this recipe. Using other kinds of oats will change the consistency of the cookie, since quick oats are smaller.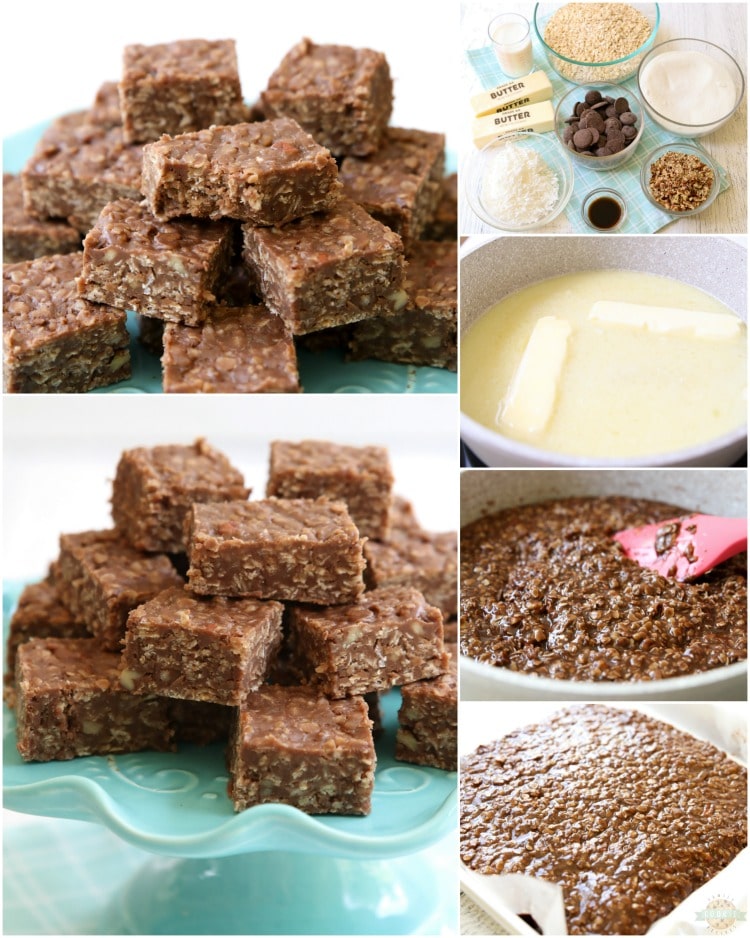 — REESE'S CHOCOLATE COOKIE CUPS
— DOUBLE CHOCOLATE CHERRY COOKIES
— CHOCOLATE CARAMEL CAKE MIX COOKIES
— MARSHMALLOW PEANUT BUTTER NO BAKE COOKIES
— PEANUT BUTTER NO BAKE COOKIES
— NO BAKE MICROWAVE OATMEAL CHOCOLATE CHIP COOKIES
— OATMEAL CHOCOLATE CHIP COOKIES
— SWIRLED PATRIOTIC COOKIE BARS
Can No Bake Cookie Bars be frozen?
Yes, No Bake Cookies can absolutely be frozen! It will help them firm up, and in my opinion, taste better! Especially in the summer. Now, if only I could get them to last long enough to make it to the freezer before everyone eats them all!
Which oats are best for No Bake Peanut Butter Bars?
Different No Bake Cookie recipes will call for different kinds of oats, but for this recipe you should use quick oats. Using different kinds of oats will change the texture of the bars, and you risk them not setting up right. Being the main ingredient in this recipe, it's important to get the right kind of oats.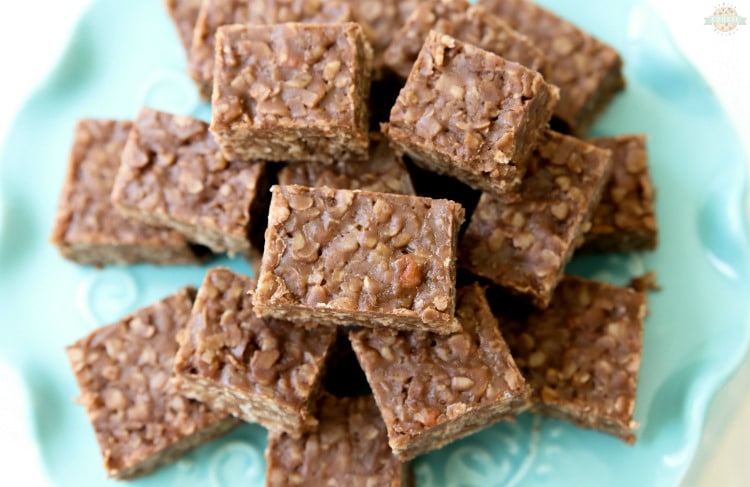 Do No Bake Cookie Bars need to be refrigerated?
Putting No Bake Cookie Bars in the fridge will help the cookies to hold a firmer shape. They also will last longer if you keep them in the fridge.
However, they technically don't need to be refrigerated. You can store them in an airtight container in room temperature and they will be fine.
How long does it take for no bake cookies to set up?
These no bake cookies only take about 15-20 minutes to cool and set up at room temperature, but you can reduce that time by at least half if you let them set up in the refrigerator. If you prefer the taste and texture of these cookies at room temperature just make sure to remove them from the refrigerator once set. You can definitely eat them while cold though too! I think they somehow taste better cold 🙂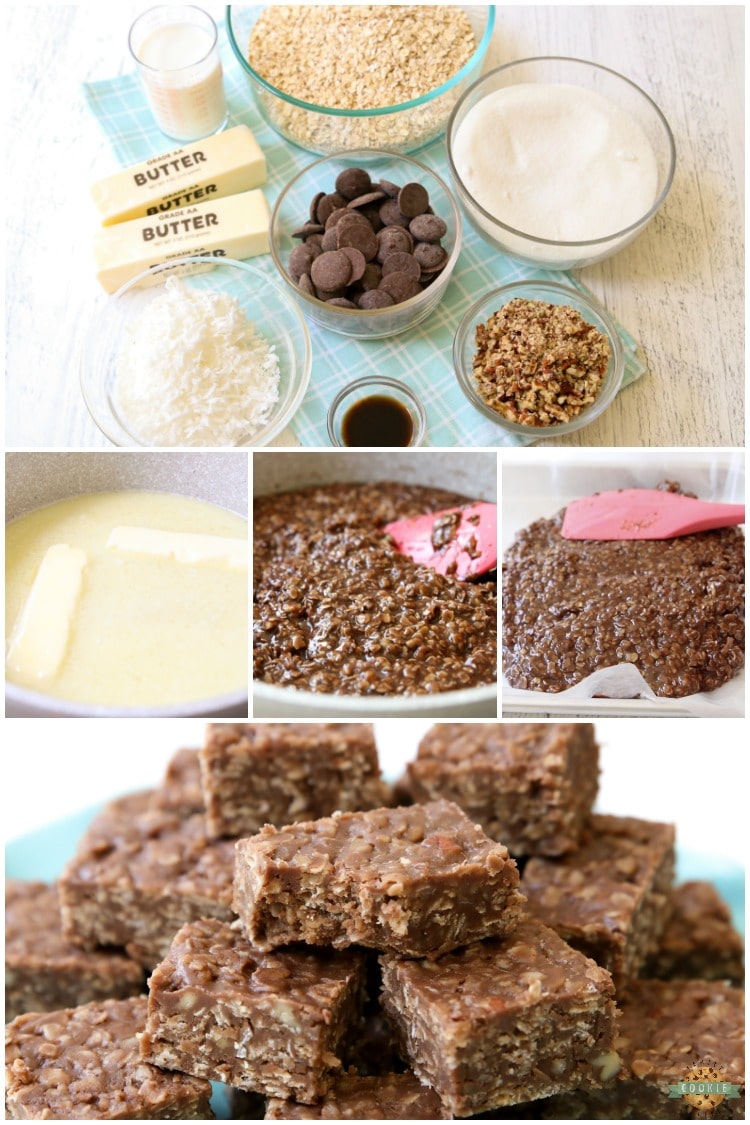 Will Chocolate No Bake Cookies stick to foil?
I've seen No Bake Cookies stick to aluminum foil before, but it doesn't always. To avoid the hassle and the risk I would recommend using wax paper. It's always worked for me, and they just slide right off!
What kind of peanut butter to use in No Bake Cookie Bars?
The recipe calls for creamy peanut butter but you can use crunchy peanut butter if you prefer. Any type of peanut butter, even the more natural varieties will work just fine in this recipe.
The easiest way to measure out peanut butter in a recipe is with a measuring cup like this one. You can measure the peanut butter and push it out so easily without trying to scrape it all out of a regular measuring cup! These measuring cups work so well for peanut butter, honey, shortening…I use mine all the time!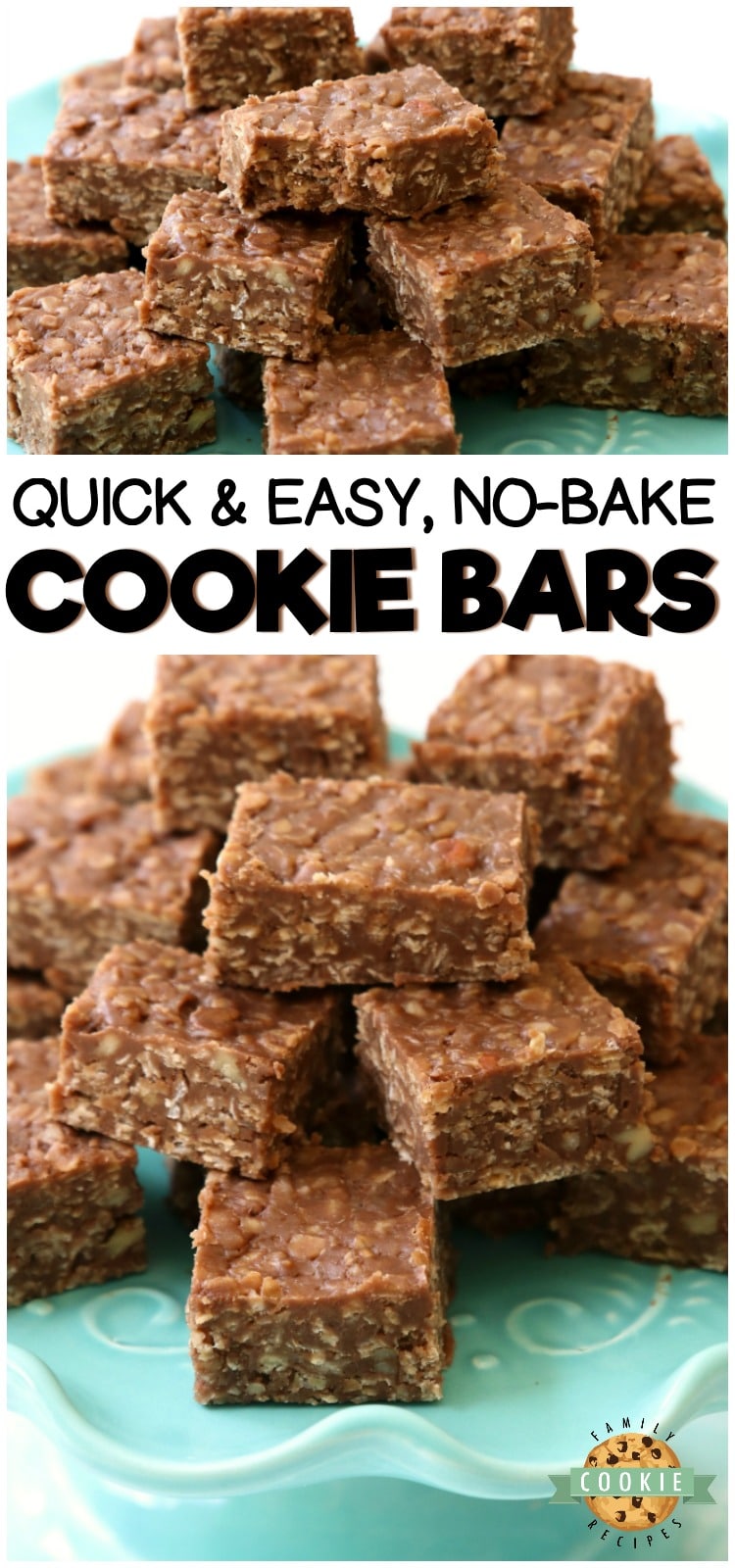 We celebrated the FIRST DAY OF SCHOOL this past week! WAHOO. When I say "we celebrated" I mean, I celebrated and my kids went along with it so they could see their friends again. Ha! I actually love this time of year- more set schedules, kids are active and engaged all day and I get some time to myself. All 5 of my kids are in school this year and I honestly don't know what I'm going to do with myself. I have a few ideas though!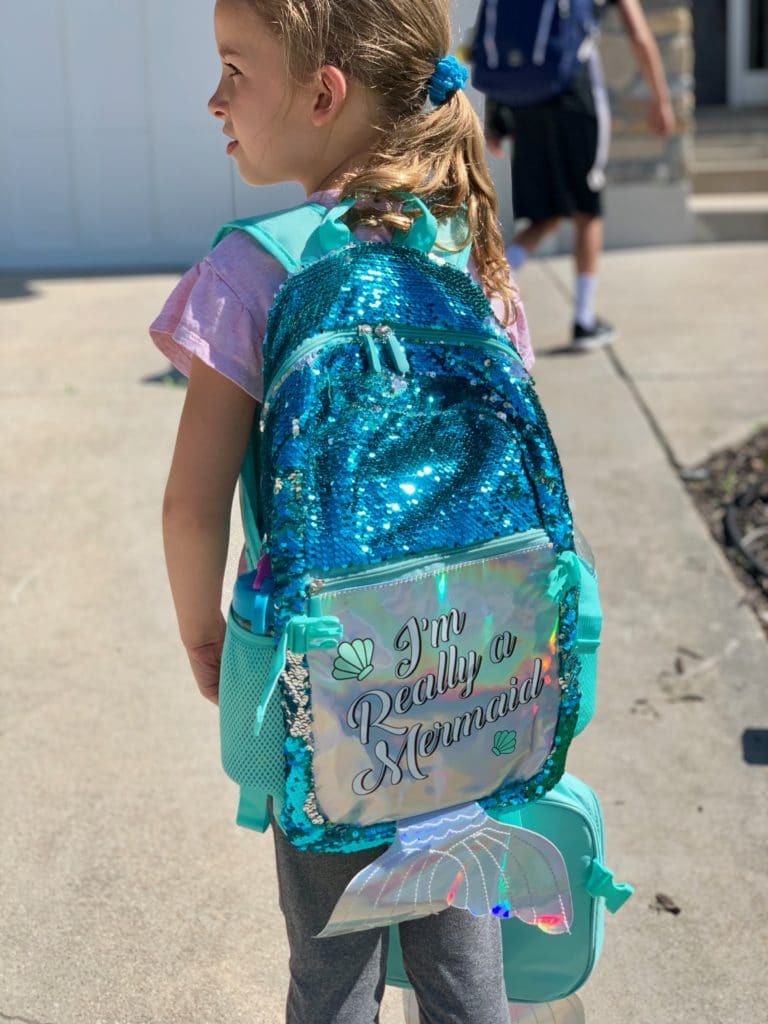 No Bake Cookie Bars recipe is a variation on no bake cookies. Made with real chocolate instead of cocoa powder, these no bake oatmeal cookies are easily the best recipe ever!