Marshmallow Peanut Butter No Bake Cookies are made with only 4 ingredients – marshmallows, peanut butter, butterscotch chips and chow mein noodles!
These little treats are so simple, but absolutely delicious and a little bit addicting. We couldn't stop eating them! My kids keep asking me to make them over and over. My older girls have been making them because they are so easy to make and perfect for a last minute treat or when you just need something sweet but don't want to wait for something to bake!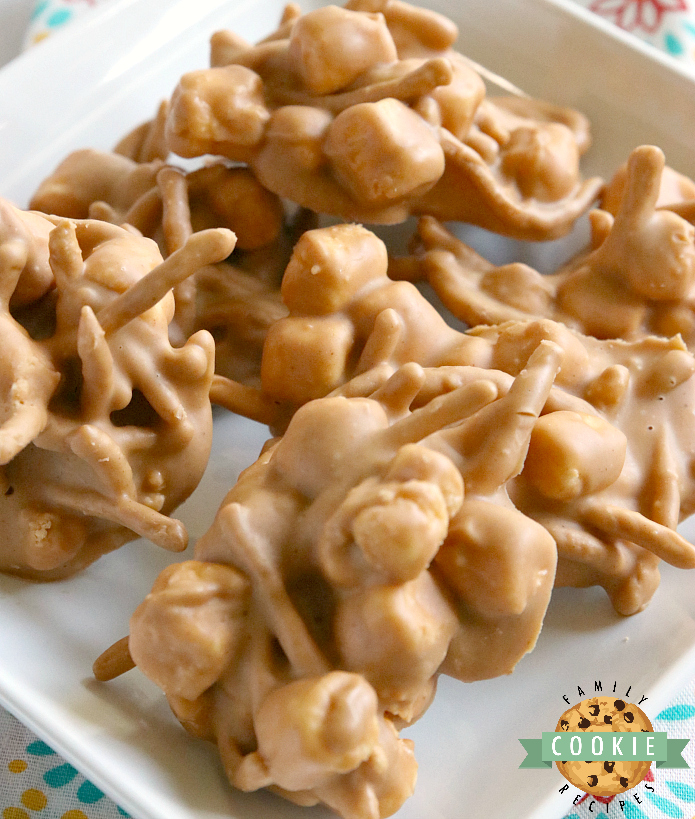 I love no bake cookies. There is the traditional chocolate/peanut butter/oatmeal variety that is extremely common and I also have a crunchy peanut butter no bake cookie recipe that has cereal in it that I absolutely love.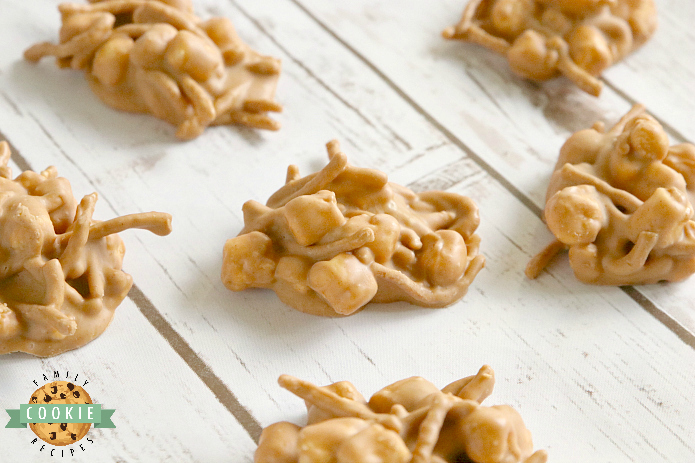 I found this simple recipe and decided to try it because it was so simple. Plus, anything with peanut butter and marshmallows in it has to be good, right?! Right. These no bake cookies are so yummy. And you don't even have to boil anything, you just have to heat the peanut butter and butterscotch chips enough to melt which only takes a minute or two.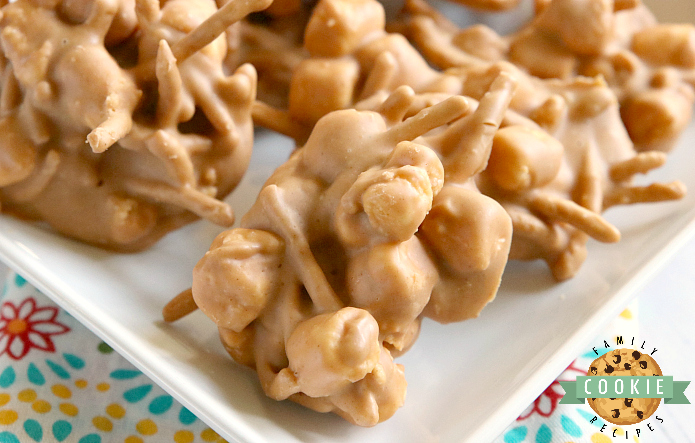 The peanut butter in the recipe does make them a little bit sticky so they take a little longer to set up than other no bake cookie recipes, but you can speed up the setting time in the fridge or just get your fingers a little bit messy if you want to eat them a little bit sooner. I've done both!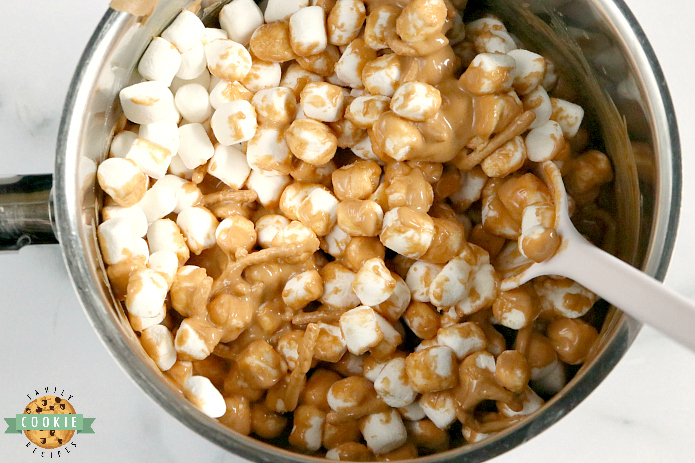 Ingredients in Marshmallow Peanut Butter No Bake Cookies
1 cup butterscotch chips
1 cup peanut butter
1 cup chow mein noodles
2 cups mini marshmallows
How to make Marshmallow Peanut Butter No Bake Cookies
First, melt the butterscotch chips and peanut butter in a medium saucepan over low heat, stirring just until barely melted and smooth. Remove from heat and add the chow mein noodles.
Wait 1-2 minutes before stirring in the marshmallows – you don't want them to melt so if your mixture is really hot, wait until it cools a bit before adding the marshmallows. Your peanut butter mixture shouldn't be very hot, but if you heated it a little bit too long, give it time to cool.
Use two spoons to drop mixture by cookie size onto wax paper to cool. The setting process will take a few hours at room temperature but takes a lot less time if you put the cookies in the fridge to set.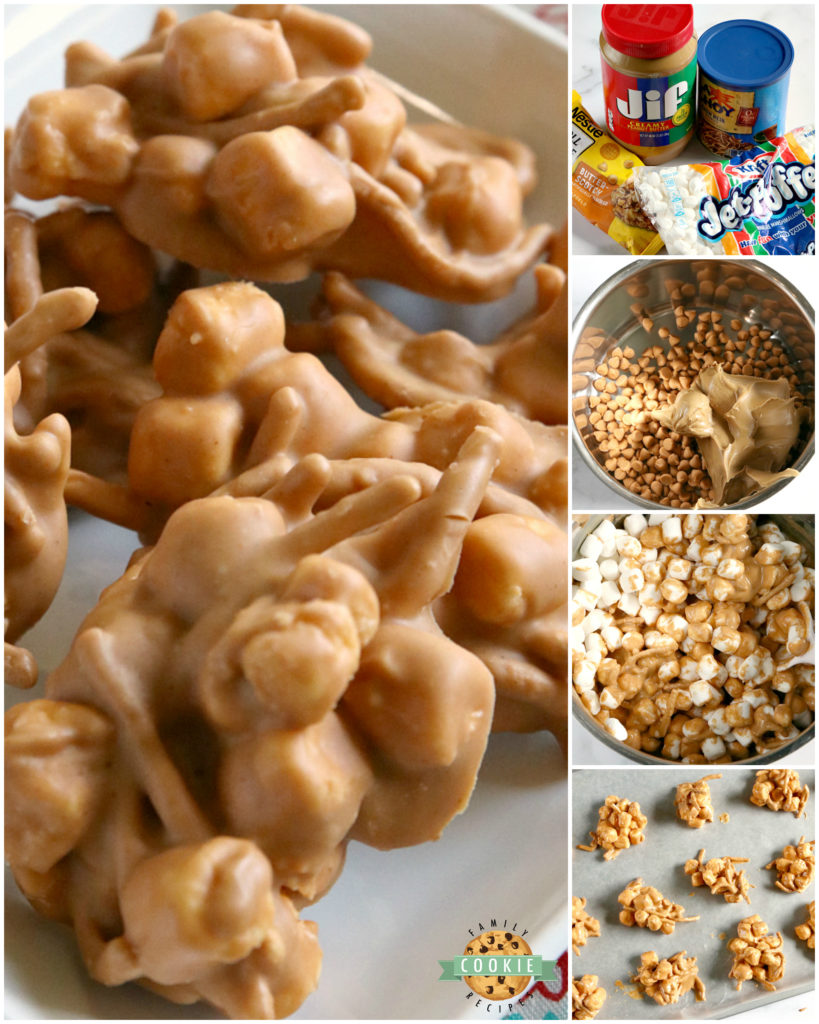 How to store no bake cookies
No-bake cookies can be stored in an airtight container at room temperature for 2-3 days or in the refrigerator for up to a week. At room temperature, the no bake cookies become slightly melted and soft so make sure you have a napkin handy!
Variations on no bake cookies
These cookies are amazing as is, but they are very easy to modify if you want to change them up a little bit.
-You can swap the butterscotch chips with semi-sweet chocolate chips if you prefer. I'm not a huge butterscotch fan, but the flavor isn't too powerful in these cookies because there is so much peanut butter. So make sure to try the original recipe even if you don't think you like butterscotch!
-Add some peanuts. Peanuts would be wonderful in these cookies, either in addition to all of the ingredients or instead of the chow mein noodles.
-Swap the chow mein noodles with cereal. If you don't have any chow mein noodles, make sure to swap them with something that has some crunch. You could use either Special K or Rice Krispies – either one would work!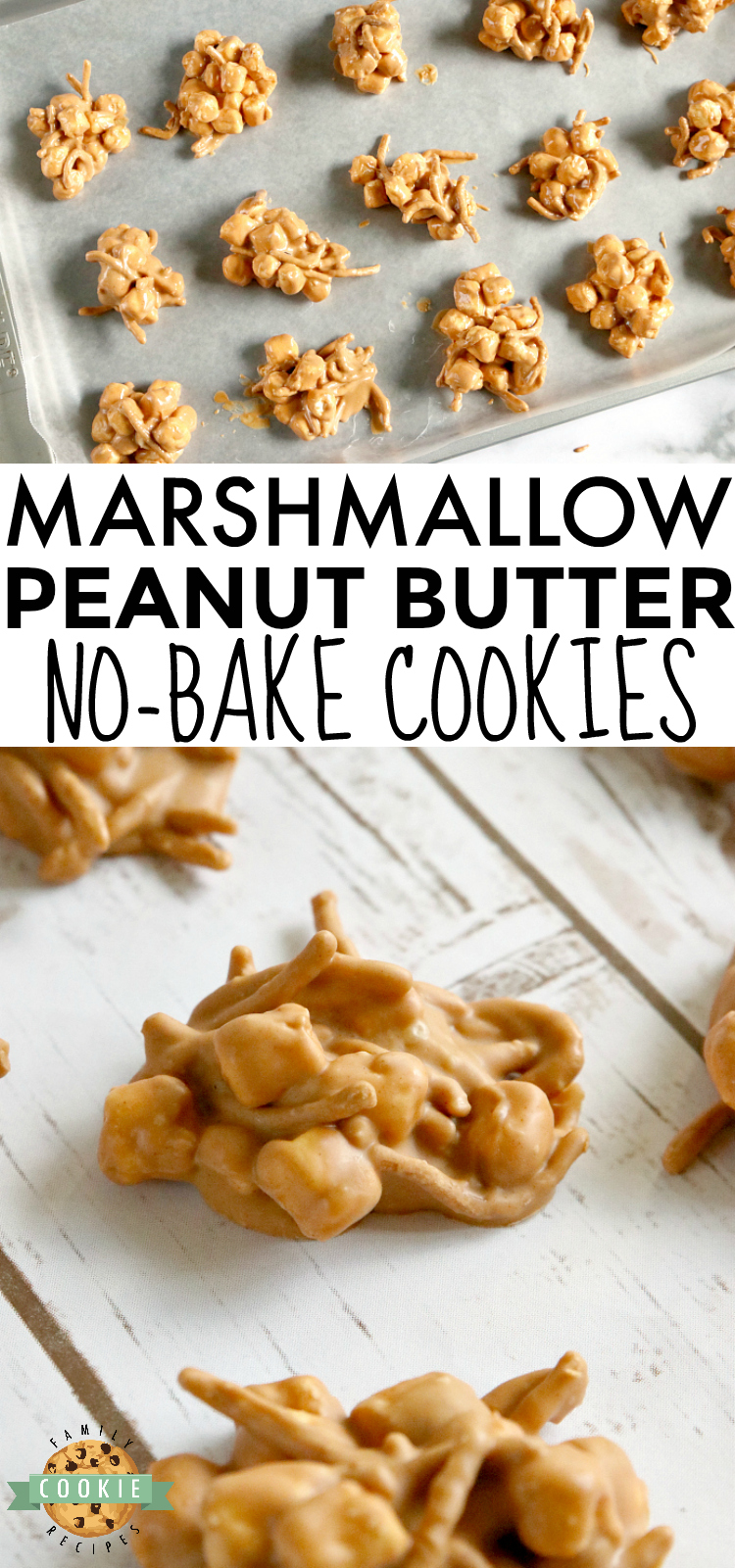 If you like peanut butter, make sure to check out some of our other favorite peanut butter cookie recipes!

Anyone else's kids have to take Flat Stanley home with them over Spring Break and take pictures of all of his adventures? This is my fourth kid who has had this little assignment in second grade. And the fourth kid who keeps forgetting to take Flat Stanley places so I end up having to use my Photoshop skills to make it look like we were responsible and remembered to take Flat Stanley all over with us! Haha. This is actually a legit picture of Flat Stanley at the one place we actually remembered to bring him along. The teacher should know better – I already have 5 kids to keep track of!!!