Double Chocolate Cherry Cookies are so divine, the cherry and chocolate are a great combination of flavors that go so perfectly together. The fudge frosting on top of these chocolate cherry cookies is chunky and decadent, the best part is that it only takes a few minutes to make!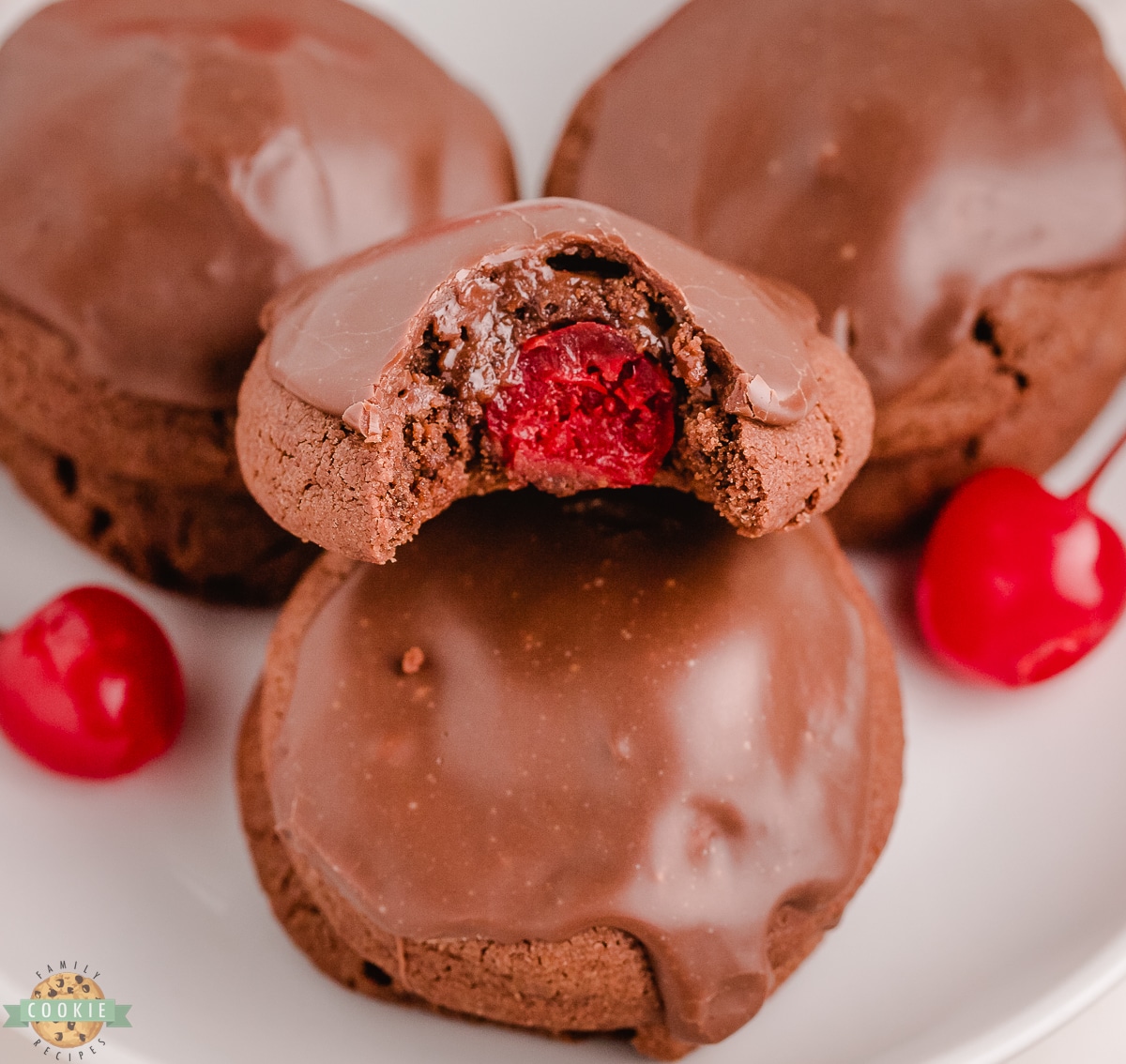 Chocolate covered cherry cookies are soft and chewy with a delicious maraschino cherry baked in the center. This amazing cherry cookie is also topped with a sweet chocolate ganache that is every chocolate lovers dream come true!
Double Chocolate Cherry Cookies
I absolutely love the flavor combination of chocolate and cherries and this recipe is the perfect blend of these two. The cookies are thick and fudgy – almost like brownies. And the fudge topping on the top? It is absolutely decadent – and you only need three basic ingredients to make it. I love that the frosting includes a little bit of almond extract which adds to the cherry flavor of the cookies. Making these cookies is so simple, most of the ingredients are probably already in your kitchen. It makes whipping up a batch of these amazing cookies that much easier! These cherry chocolate cookies make an attractive addition to any dessert table too, they taste great and everyone will want to know where you got the recipe. 
Why make these Cherry Chocolate Cookies?
They are quick and easy to make, prepared in a few minutes and baked in 10!
Made with basic ingredients found in your kitchen. 
The results are a yummy, chocolatey cookie with a literal cherry on top! 
If you enjoy the chocolate and cherry combination as much as I do, you might want to try our Cherry Chocolate Chip Cookies also!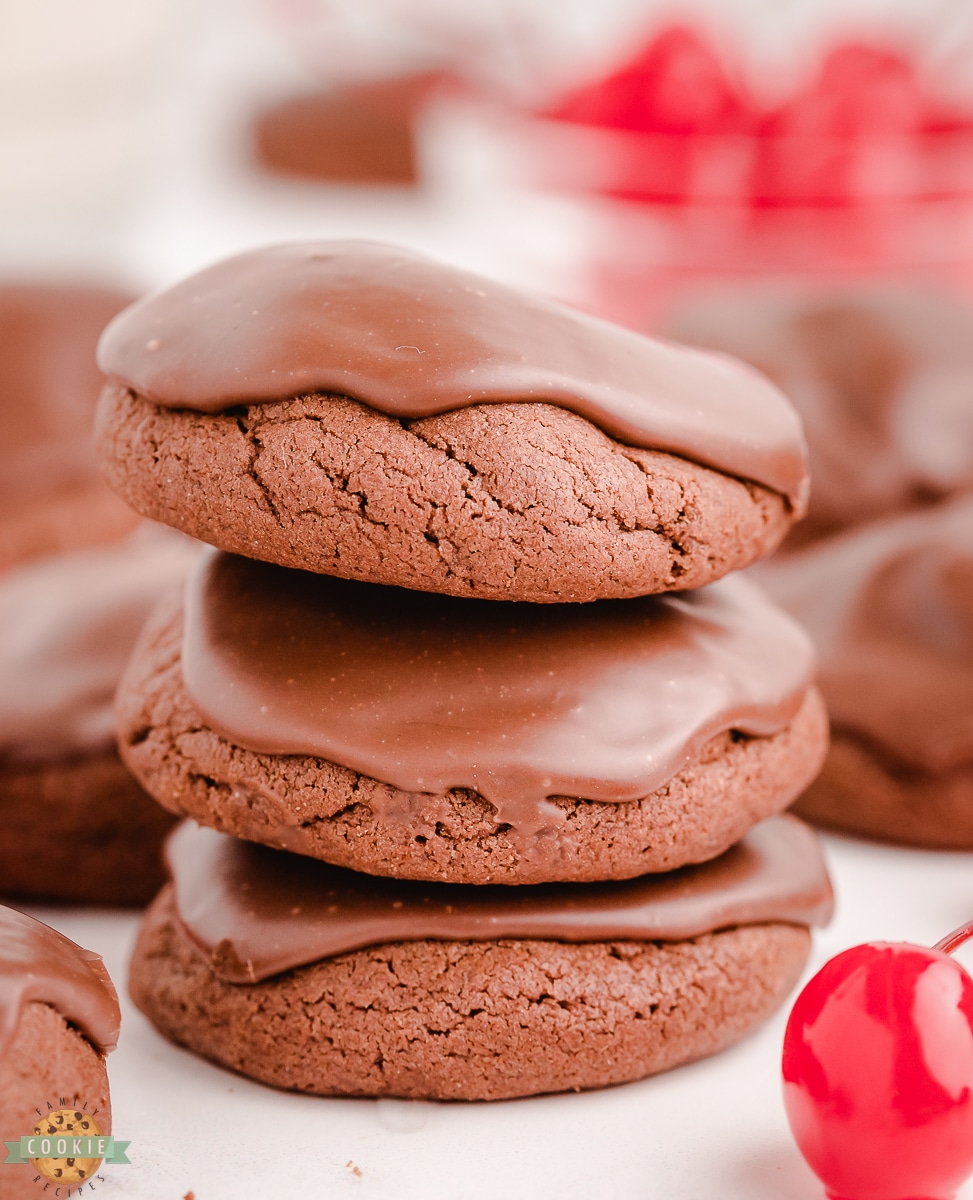 Tips for making the best Cherry Chocolate Cookies!
Preheat the oven, this will help your cookies turn out right every time!
Use a cookie scoop! If you want all your cookies to be perfectly shaped and have them all be the same size, a cookie scoop is the way to go.
Use parchment paper or a silicone baking mat. Doing this will make it really easy to remove the cookies from your cookie sheet so that you don't have to scrape them off the pan – they will just slide right off in perfect shape!
Do not over bake the cookies – when I take mine out of the oven, they still look slightly under baked but they will continue to bake on the cookie sheet for a couple more minutes so that is ok!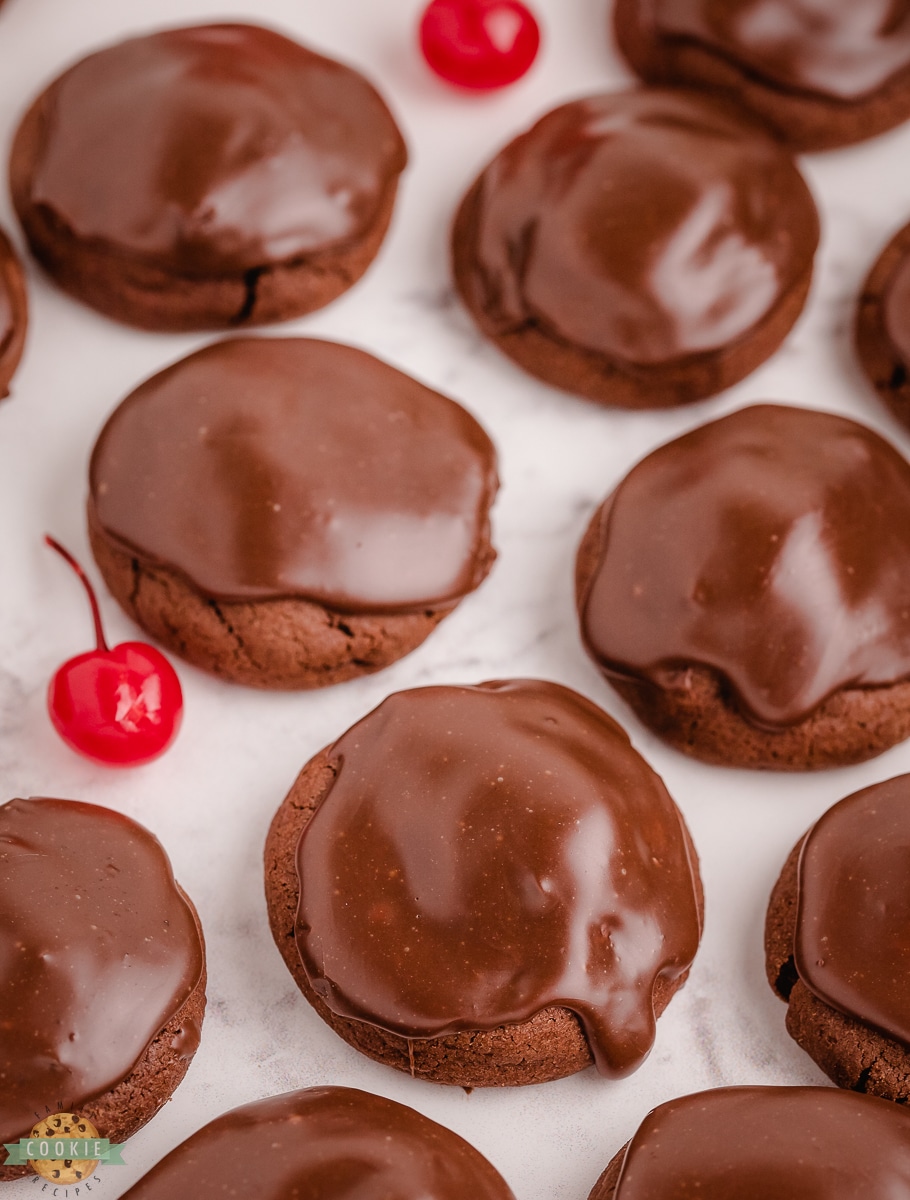 Double Chocolate Cherry Cookies Ingredients
For the cookies you will need:
-Flour: You will need 3 ½ cups flour for the base of this tasty thick cookie dough. 
-Cocoa powder: Using ¾ cup cocoa powder will give these treats the perfect amount of chocolate flavor. 
-Baking powder: Adding ½ tsp baking powder will help these cookies rise and puff up great while baking. 
-Baking soda: You need ½ tsp baking soda to create wonderfully soft and chewy cookies. 
-Salt: Use ¼ tsp salt to help balance the sweet flavors in this recipe. 
-Butter: You will need 1 ¼ cups butter to provide the needed moisture to create a lovely rich tasting treat. 
-Sugar: Using 1 ¾ cups granulated sugar will give these cookies the perfect amount of sweetness. 
-Eggs: Adding in 2 eggs will help bind the dough and create great cookie texture. 
-Vanilla extract: You need 1 Tbsp vanilla extract to help enhance the combination of flavors in this recipe. 
-Cherries: Use 1 12-ounce jar maraschino cherries, drained and cut in half, for the added deliciousness to this cookie recipe.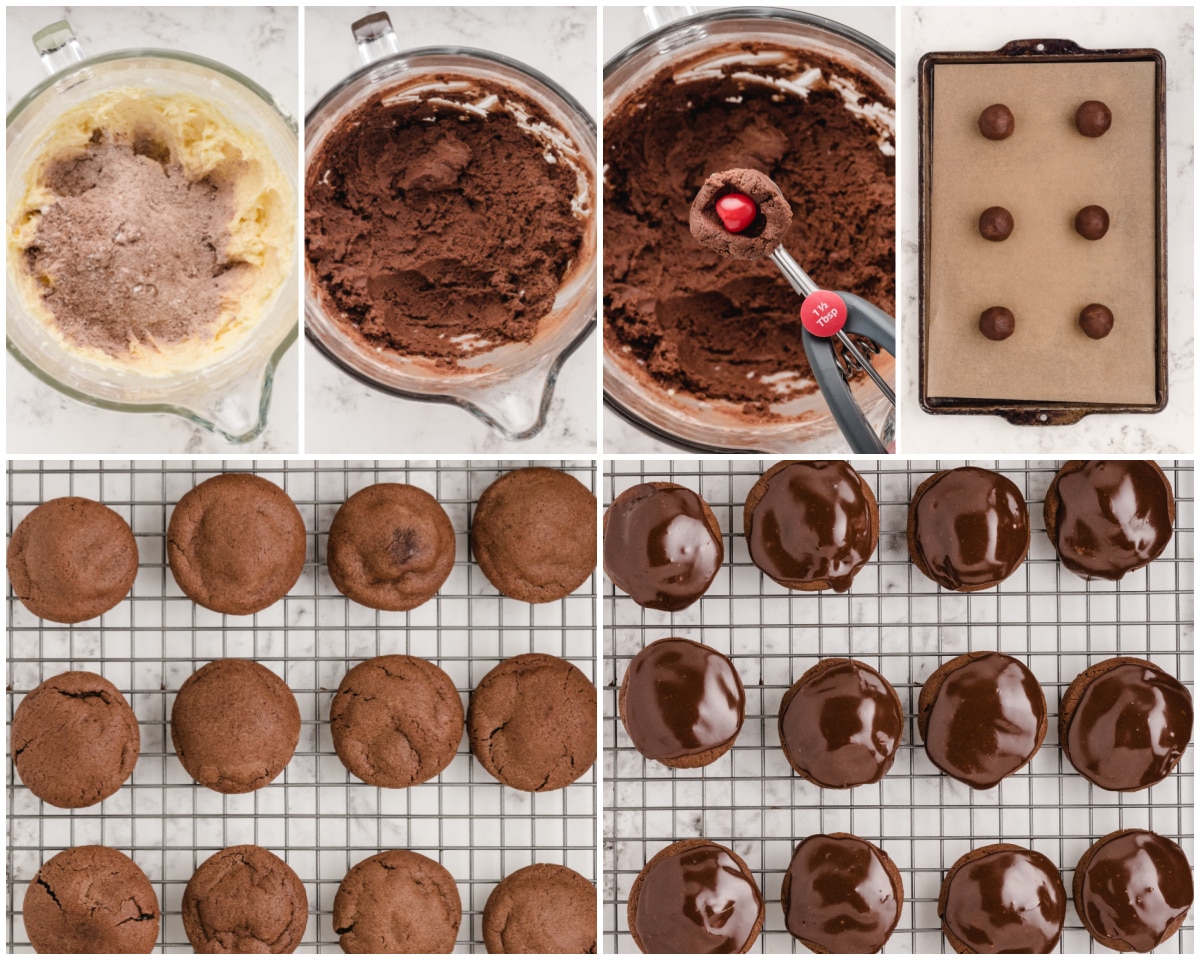 For the fudge topping, you will need:
-Chocolate chips: You will need 1 cup semi-sweet chocolate chips for the base of this yummy goodness. 
-Condensed milk: Using 1 14-ounce can sweetened condensed milk will give the frosting just the right consistency. 
-Almond extract: Adding ¼ tsp almond extract will provide great flavor that will pair well with all the other flavors in this cookie recipe.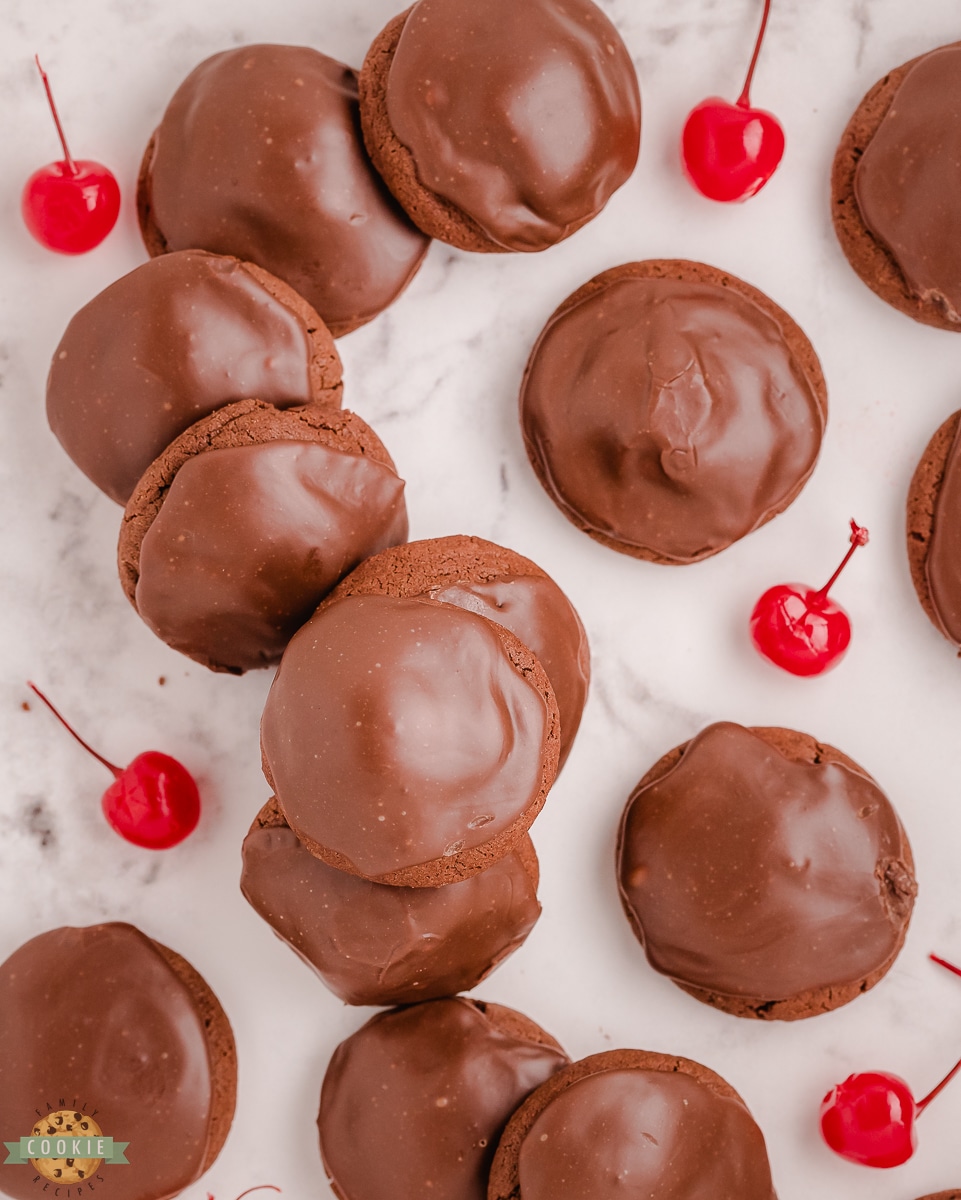 How to make Double Chocolate Cherry Cookies
Prep
Start by preheating the oven to 350 degree F.
Line a baking sheet with parchment paper or spray with non-stick cooking spray, set aside.
Also, drain your jar of cherries and cut each one in half. Set aside for later use.
Cookie dough
First, in a large bowl, combine the flour, cocoa powder, baking powder, baking soda, and salt.
In a separate small bowl, beat together the butter and sugar until creamy and fluffy.
Then, add in the eggs and vanilla extract to the butter mixture and the stir well to combine.
Next, add the wet mixture to the large bowl with the flour, mix well to combine until no white flour is showing.
Assembly
Begin to shape the dough into 1 inch balls, you can use a cookie scoop for this or a standard spoon.
After the dough is formed, press your thumb into the center of each ball and create a thumbprint sized indentation.
Then, place half of a cherry into each indent and place the cookie dough balls onto the prepared baking sheet.
Bake
Place the cookie sheet into the preheated oven and bake for 8-10 minutes.
When finished baking, leave on sheet to cool for 2-3 minutes. Transfer to a wire rack to completely cool before adding the fudge frosting.
Fudge Topping
In a medium size sauce pan, melt your chocolate chips. Check doneness by stirring, continue to heat for until the chocolate is completely melted and creamy.
Then, add in the sweetened condensed milk and the almond extract.
Continue stirring for about 3-4 minutes, over low heat, until the mixture has thickened. Stir well to combine until the mixture is lump free and smooth.
Once the cookies are completely cooled, using a spoon, frost the top of each cookie, covering the cherry.
Let the cookies set for a few minutes before serving. Enjoy!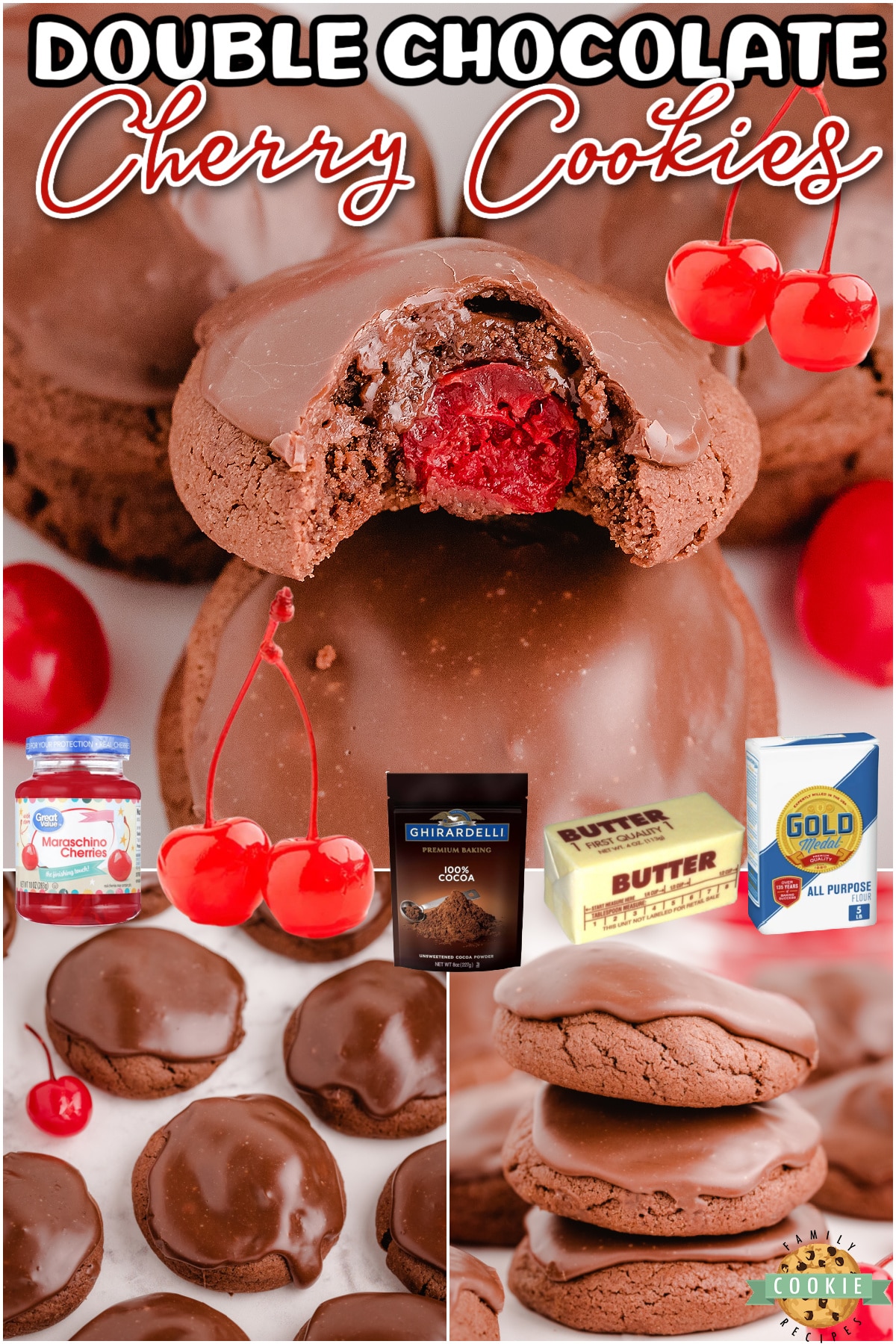 How long are these cookies good for?
These cookies will last about 3-5 days if kept stored in an airtight container. They do well at room temperature but you can keep them in the fridge if it's a hot day and you want to enjoy them chilled.
What is the best way to soften butter?
Make sure your butter is softened, NOT melted! One of the most common errors in cookie making is using butter that is either really cold and hard, or using butter that is too warm and melted. If you have time, just leave butter out on the counter for about 1-2 hours before making your cookies. If you are like me and don't plan your cookie cravings that far in advance, just place the butter in your microwave and soften in 5 second intervals, being very careful to pull it out before it melts.
I actually like to use the defrost setting on my microwave to soften butter- I don't know the technical reasons behind it, but it seems to soften the butter more evenly and takes a little bit longer so I'm less likely to start melting it!
Can you freeze these cookies?
I love freezing cookies! There are 2 ways I prefer to freeze them. The first is by freezing the unbaked cookie dough balls. I scoop and shape the balls round with my hands, then freeze them in 1 layer on a cookie sheet. You can position them as close together as possible without touching. Freeze, then once solid, transfer them to a ziplocked freezer bag. Then you can pull them out and bake them whenever you want! You'll want to either let them thaw on a cookie sheet while preheating the oven, or add a couple minutes to the bake time to compensate for frozen cookie dough.
The second way is to just freeze the baked cookies. My mother in law does this ALL the time. They turn out pretty well, albeit a tiny bit drier and more crumbly once thawed. Oh and you've got to make sure you thaw them. Frozen cookies are pretty hard to eat. Thankfully, they only take about 20 minutes or so to thaw out.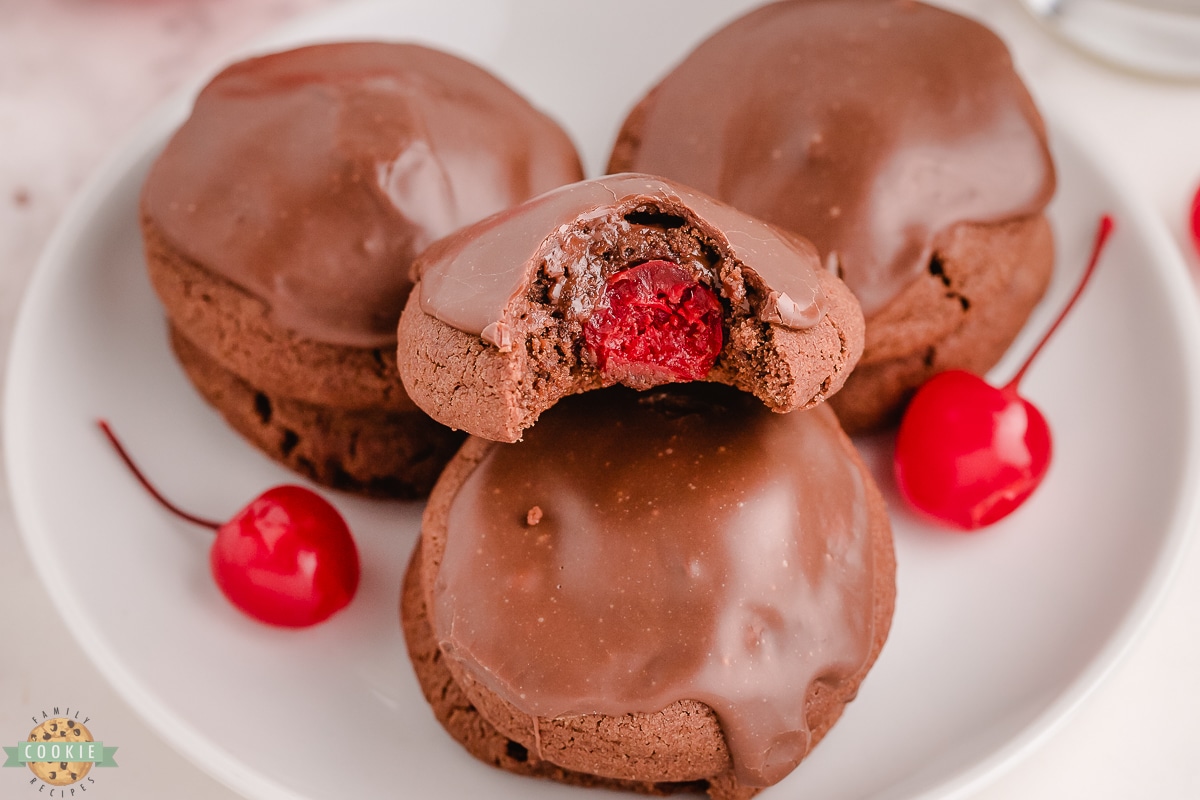 Last year, we started a new tradition in our family. We told the kids that when they turned 12, we would take them on a trip. They get to pick the trip (within certain limits!) and they get to go with just Mom and Dad by themselves. P is our second daughter and will be turning 12 in just a few weeks. She has been a huge Harry Potter fan for years and she finally got to go to Harry Potter World at Universal Studios in Orlando – we had such a fun time together! Even in the rain!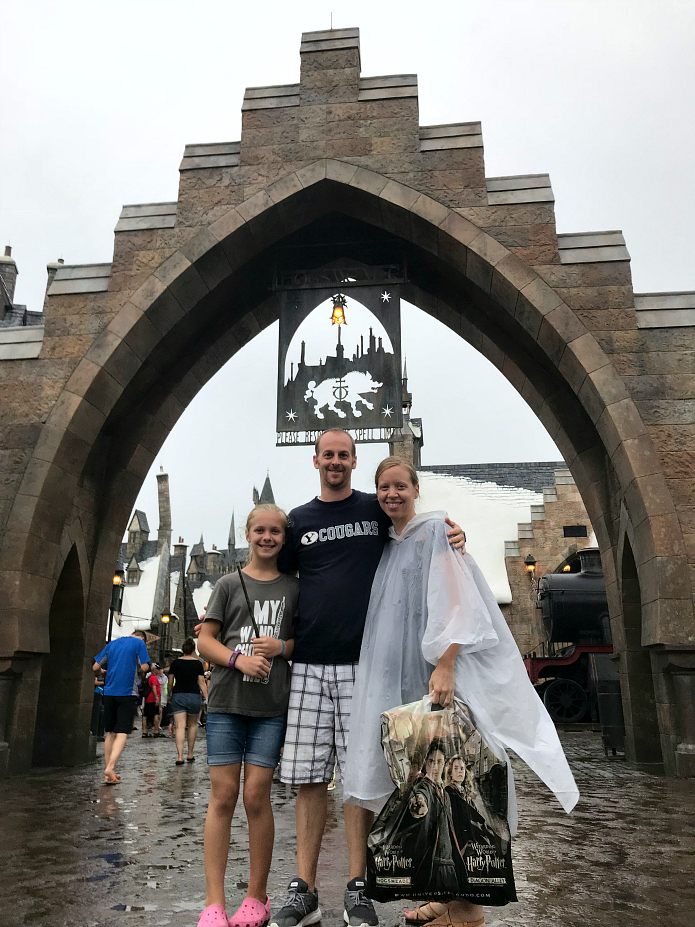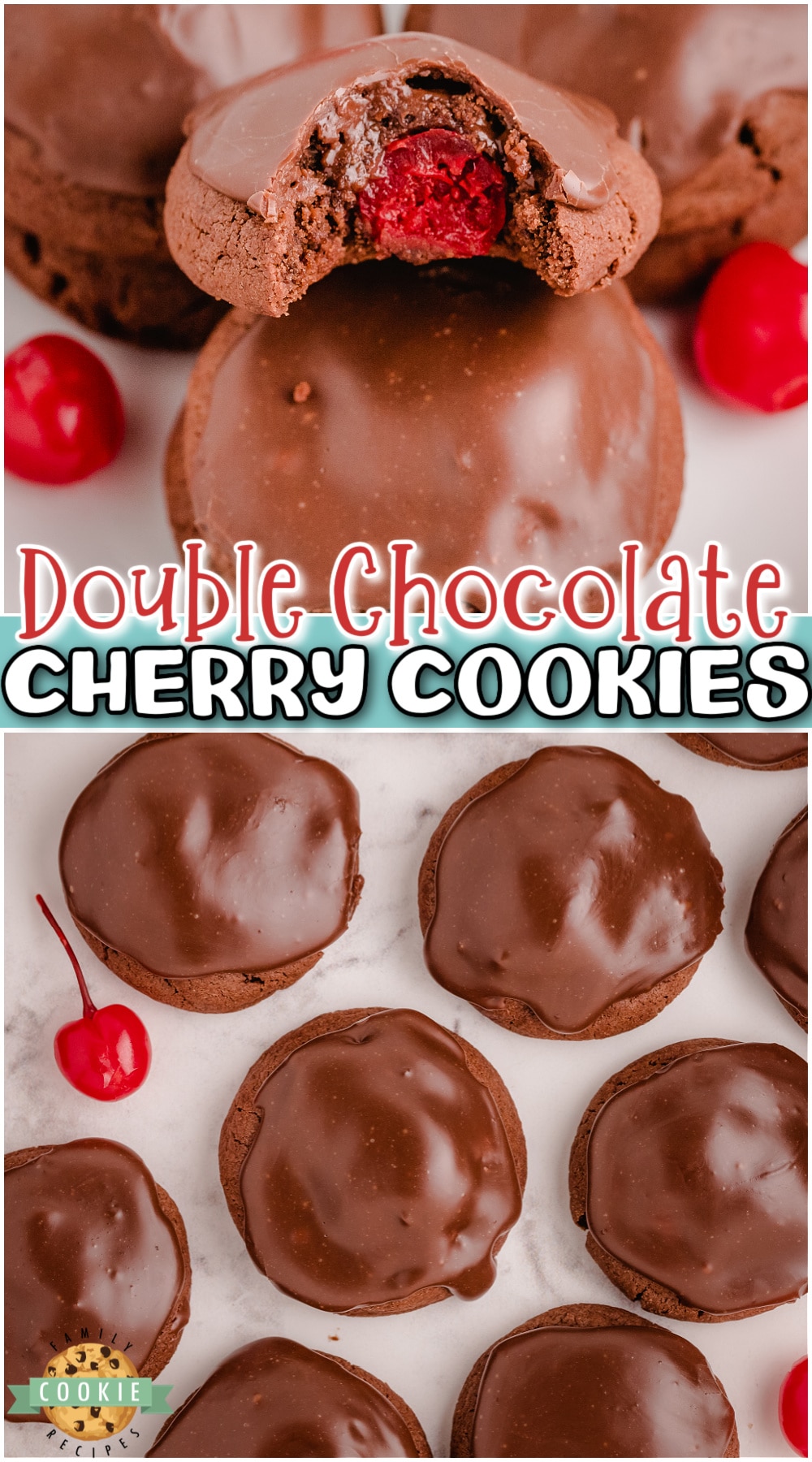 Double Chocolate Cherry Cookies are a sensational treat, the cherry and chocolate are a great combination of flavors that go so perfectly together. The fudge frosting on top of these chocolate cherry cookies makes these extra delicious too!