Cherry Chocolate Chip No Bake Cookies are fruity, festive  & so simple to make! Incredibly cherry almond vanilla flavor in these easy no-bake cookie recipe.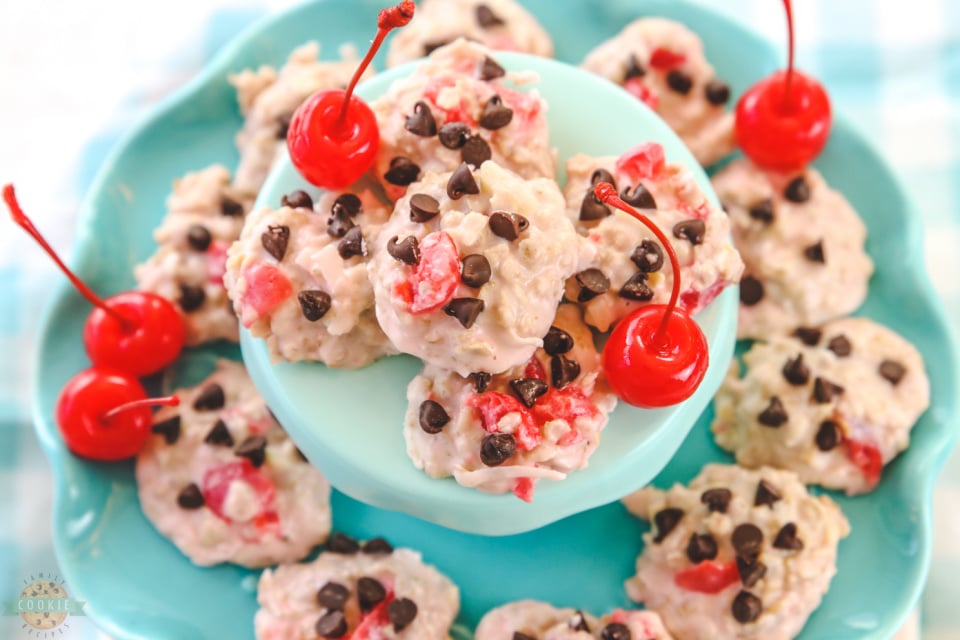 We've always loved No Bake Cookies. This variation is one of my favorites! I love the cherry-almond flavor and the tiny chocolate chips on top are so cute! These are a great Valentine's treat.
WHAT ARE NO BAKE COOKIES?
No-bake cookies are an amazing, addictive cookie recipe. This recipe has white chocolate chips, coconut, oats, and best of all, no baking!
Although there are many variations of these cookies, these really are the best tasting. The white chocolate adds incredible flavor and the oats and coconut combine for great texture.
INGREDIENTS IN NO BAKE COOKIES?
Here's what you need to make our Cherry Chocolate Chip No Bake Cookies:
— Butter: no margarine! I love using salted butter too. You'll need 2 sticks, or 1 cup.
— Sugar: just 2 cups of regular granulated sugar
— Milk: I use almond milk, but any milk work fine. You'll use just 1/2 cup.
— Coconut: 3/4 cup shredded sweetened or unsweetened coconut, depending on how sweet you like your cookies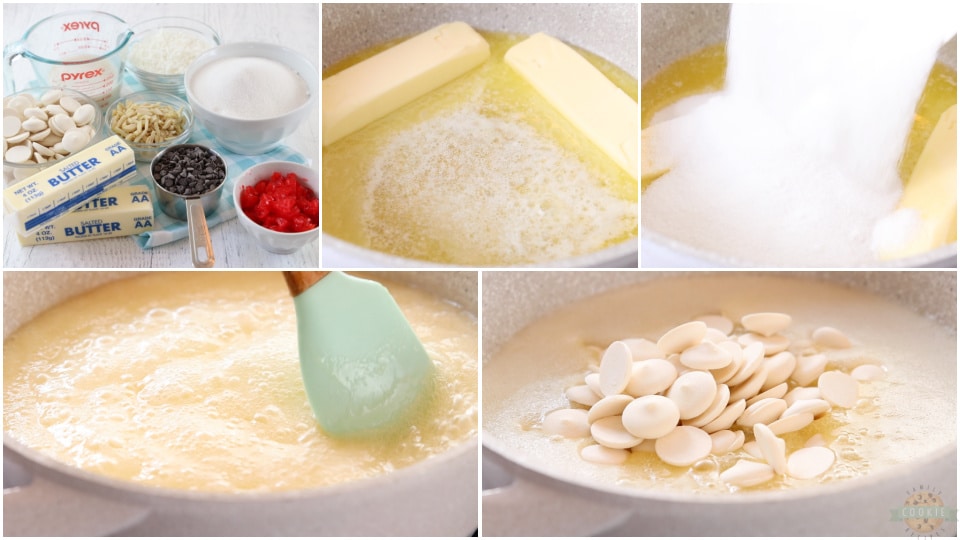 — White Chocolate Chips: I use 1 cup Ghirardelli White Chocolate melting disks
— Slivered almonds: 1/2 cup is needed. A 2.25oz bag is the exact amount needed.
— Quick Oats: Old fashioned will work, but the texture is better with Quick Oats. You'll need 3 cups.
— Vanilla extract & Almond Extract: 1 tsp vanilla & 1/2 tsp almond extract adds a lovely flavor to these cookies
–Maraschino Cherries: 1/2 cup chopped cherries adds flavor and a pale pink color to these cute cookies.
— Mini Chocolate Chips: You'll top the cookies with 1/2 cup mini semi-sweet chocolate chips, 6-7 per cookie.
HOW TO MAKE NO BAKE COOKIES RECIPE:
This is how to make Easy No Bake Cookies ~
First, prepare 2 cookie sheets by lining them with wax paper or parchment paper.
Next, combine the butter, sugar and milk in a pan. Bring the mixture to a rolling boil and let it boil for 1 minute.
The boil should remain even when stirring. After a minute, remove the pan from heat and stir in the white chocolate chips. Let sit a minute, then stir gently until the mixture is nearly smooth.
Then, add the coconut, almond, oats and extracts. Stir everything until it's all thoroughly combined.
Add cherries and stir gently. Let cool about 10 minutes.
Scoop mixture in balls onto the cookie sheet. Top with mini semi-sweet chocolate chips, about 6-7 per cookie. Let cool to set. Enjoy!
WHAT TO DO WHEN NO BAKE COOKIES RECIPE WON'T SET?
Putting your cookies in the fridge or freezer will help them firm up a bit.
To avoid your cookies not setting, make sure you boil the cookies for as close to a minute as possible.
QUICK OATS OR OLD FASHIONED OATS?
I use quick oats in this recipe. Using other kinds of oats will change the consistency of the cookie. Old Fashioned Oats are larger, so the cookie texture would be drier and likely more crumbly.

— REESE'S CHOCOLATE COOKIE CUPS
— DOUBLE CHOCOLATE CHERRY COOKIES
— CHOCOLATE CARAMEL CAKE MIX COOKIES
— MARSHMALLOW PEANUT BUTTER COOKIES
— PEANUT BUTTER UNBAKED COOKIES
— MICROWAVE OATMEAL CHOCOLATE CHIP COOKIES
— OATMEAL CHOCOLATE CHIP COOKIES
CAN NO BAKE COOKIES BE FROZEN?
Yes, these cookies can absolutely be frozen. It will help them firm up, and in my opinion, taste better! Especially in the summer. Although, mine are always eaten before I even open the freezer!
WHICH OATS ARE BEST FOR NO BAKE COOKIE RECIPE?
Different recipes will call for different kinds of oats, but to make the best No Bake Cookies, you should use quick oats. Using different kinds of oats will change the texture of the cookies, and you risk them not setting up right. Being the main ingredient in this recipe, it's important to get the right kind of oats.
WILL CHOCOLATE UNBAKED COOKIES STICK TO FOIL?
I've seen these cookies stick to aluminum foil before, but not if you spray with non-stick spray.  To avoid the hassle and the risk I would recommend using wax paper or parchment paper as that's what's always worked for me!
DO NO BAKE COOKIES NEED TO BE REFRIGERATED?
Putting No Bakes in the fridge will help the cookies to hold a firmer shape. They also will last longer if you keep them in the fridge.
However, they technically don't need to be refrigerated. You can store them in an airtight container in room temperature and they will be fine for up to a week.
HOW LONG DOES IT TAKE FOR NO BAKE COOKIES TO SET UP?
These cookies only take about 10-15 minutes to cool and set up at room temperature, but you can reduce that time by at least half if you let them set up in the refrigerator. If you prefer the taste and texture of these cookies at room temperature just make sure to remove them from the refrigerator once set. You can definitely eat them while cold though too!
We were able to do a quick trip North over Christmas break to see my mom, who was traveling from Alaska! She had to get out of the cold. I don't blame her.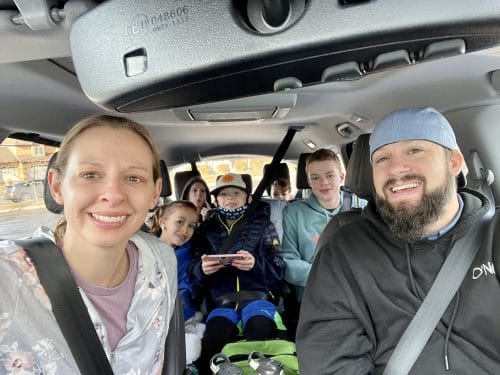 It still wasn't warm where we were, but it was still fun to get away for a few days. Anyone else SO READY to take a vacation?! PS: Can you spot all 7 of us in the photo?!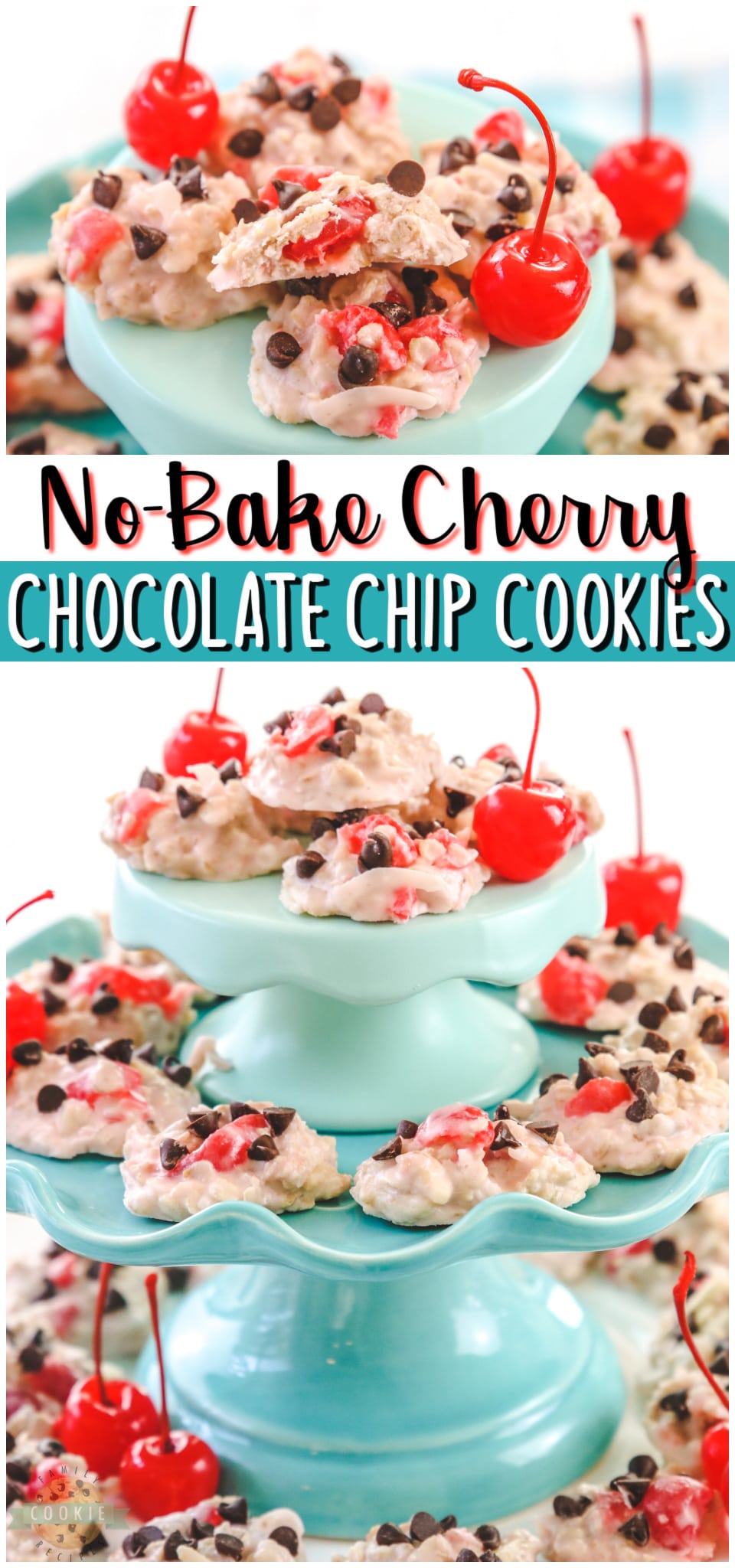 Cherry Chocolate Chip No Bake Cookies are fruity, festive  & so simple to make! Incredibly cherry almond vanilla flavor in these easy no-bake cookie recipe.