Toffee Oatmeal Cookies are a variation on a classic oatmeal cookie recipe, but with a toffee twist! The maple extract and crunchy buttery bits add delicious flavor to this amazing toffee cookie recipe.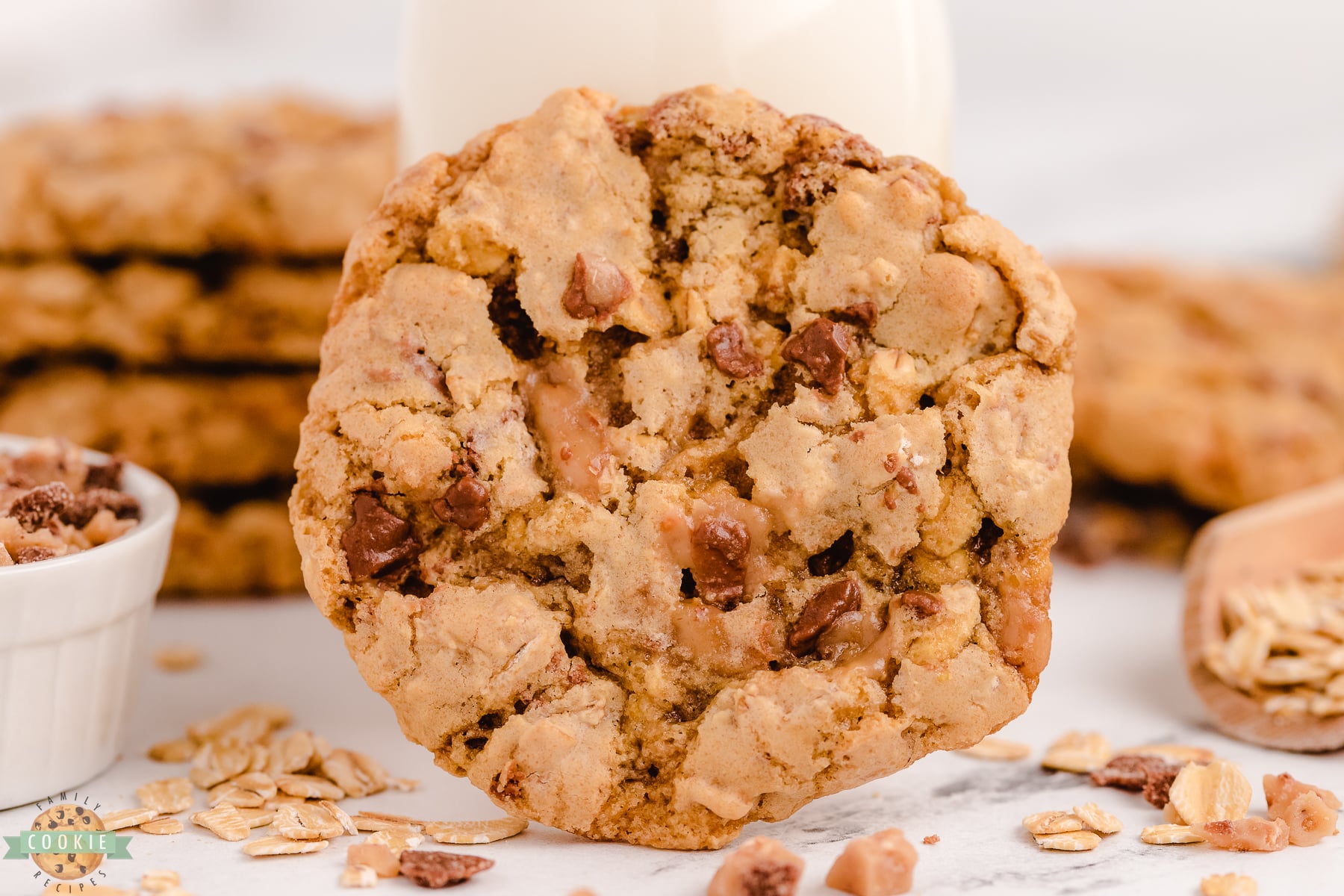 Oatmeal cookies will bring on the nostalgia for the classic treat, but they will please your taste buds in a more sophisticated manner. These toffee cookies have great flavor and a delightful chewy texture from the toffee and oatmeal combination.
Easy Toffee Oatmeal Cookies
If you love oatmeal cookies then you have got to try this delicious spin on this classic dessert. I added buttery toffee bits and replaced the vanilla extract with maple extract, which makes these toffee oatmeal cookies that much more outstanding. I love taking classic recipes and putting a new spin on them. The different textures in this recipe is simply amazing. The chewy cookies and crunch toffee bits make for an incredible cookie experience. Whip up a batch of these cookies for your next family gathering and watch how quickly they disappear.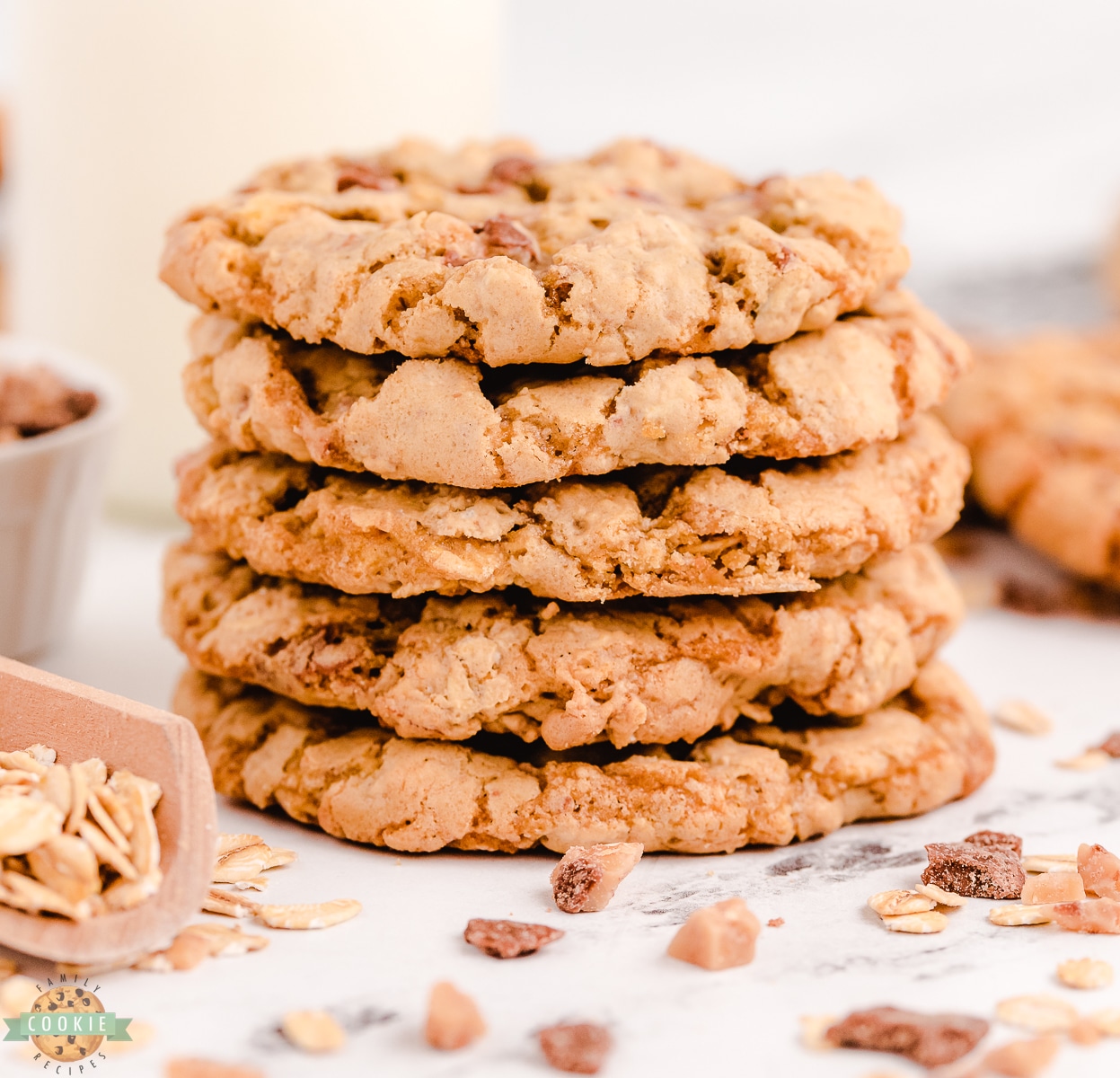 Tips for baking the best Oatmeal Cookies ever
These are just a few helpful tips that I find create the most amazing and delicious cookies every time. Read along to see what we recommend to make your baking experience outstanding!
Three kitchen items really help you make the best oatmeal cookies! I actually use these items in nearly every cookie recipe I make, as well as several other types of recipes, so they're quite versatile. First, I line my cookie sheets with a piece of parchment paper. They're sold in sizes that fit a 12×16 cookie sheet perfectly and enable to cookies to bake well without sticking- and no mess from spraying oil on the cookie sheets!
The second item is a KitchenAid mixer. I love mine! I have a Bosch as well but I find I use my KitchenAid for cookies. There is a cookie paddle that comes with every mixer that you attach to the top of the mixer. They're easy to use and help you mix the ingredients uniformly. I also use the metal whisk attachment in this recipe to make the frosting. It whips it up super fast! Add this to your wish list because it's one of my all-time used small appliances ever!
The third item is a cookie scoop! Years and years ago I used to use 2 spoons to measure and scrape cookie dough onto the pans. It wasn't a perfect process and I often ended up with oblong cookies in various sizes. A friend of mine brought cookies to a party and I noticed each and every one of her cookies looked PERFECT. Her secret? A cookie scoop! They come in three sizes- 1/2 tablespoon, 1.5 tablespoon and 3 tablespoon scoops. I used the middle size- 1.5 tablespoon for these, and most other cookies. (Although when I'm serving a large crowd, I use the small cookie scoop. People love having a smaller cookie, especially at an event with several other desserts.) For this Toffee Oatmeal Cookie recipe I used the middle scoop.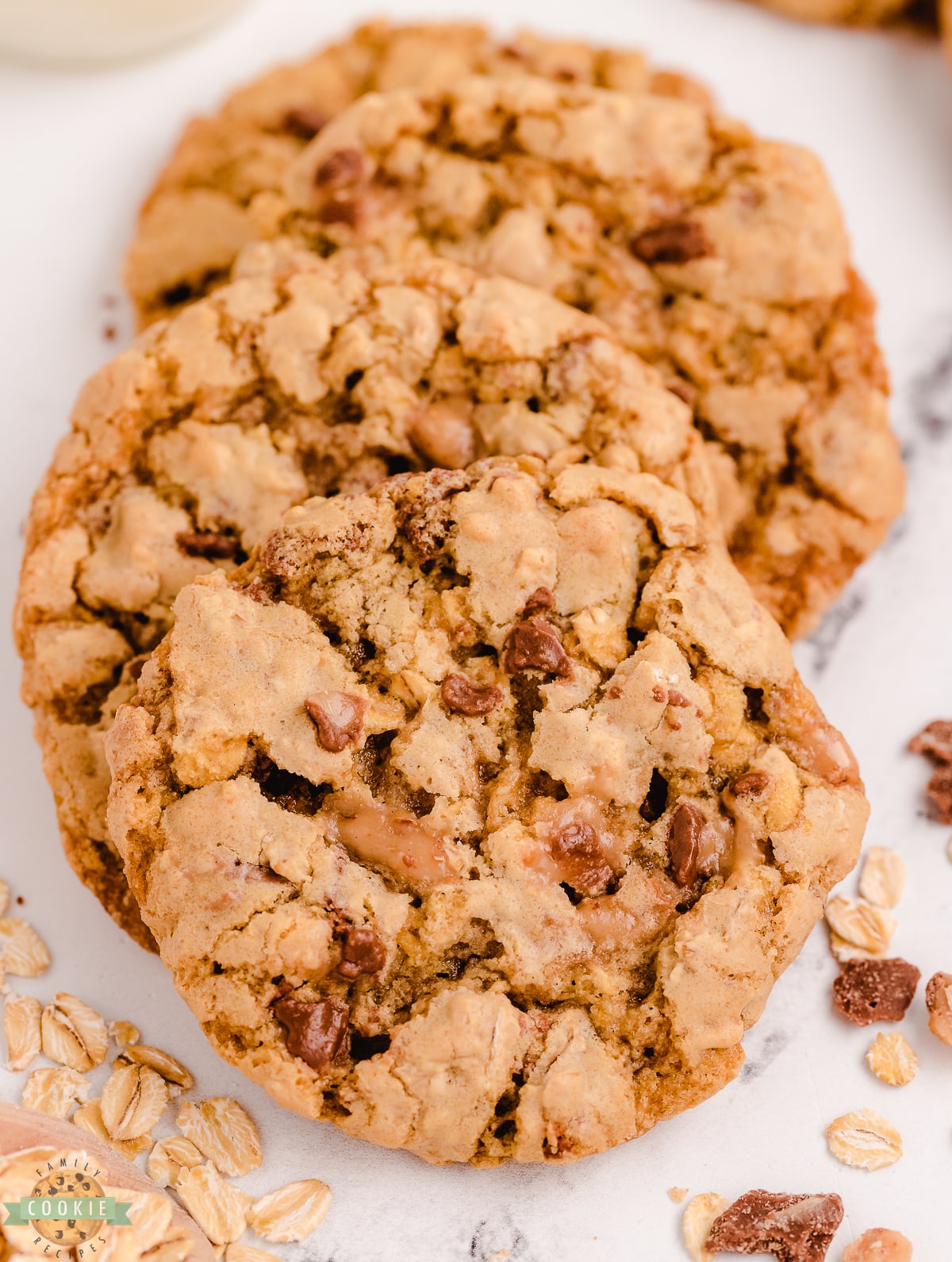 Toffee Oatmeal Cookie Ingredients
Flour: You will need 1 ½ cups of all-purpose flour for this tasty cookie recipe.
Oats: Add in 2 cups of old-fashioned rolled oats for the base of this amazing treat.
Baking soda: Use 1 teaspoon of baking soda to help the cookies rise well as they bake.
Salt: To help balance all the wonderful flavors, add in ½ teaspoon of salt.
Brown sugar: For the perfect sweetness, use 1 ½ cups of packed brown sugar.
Butter: Using ½ cup of butter, softened, will create the most moist and rich cookies.
Maple extract: You need 2 teaspoons of maple extract to give these treats the most amazing depth of flavor. You can use vanilla extract if that's what you have on hand too.
Eggs: To give these cookies great texture, add in 2 large eggs.
Toffee bits: Use ⅔ cups of toffee bits for a delightful crunch in each bite of these sensational cookies.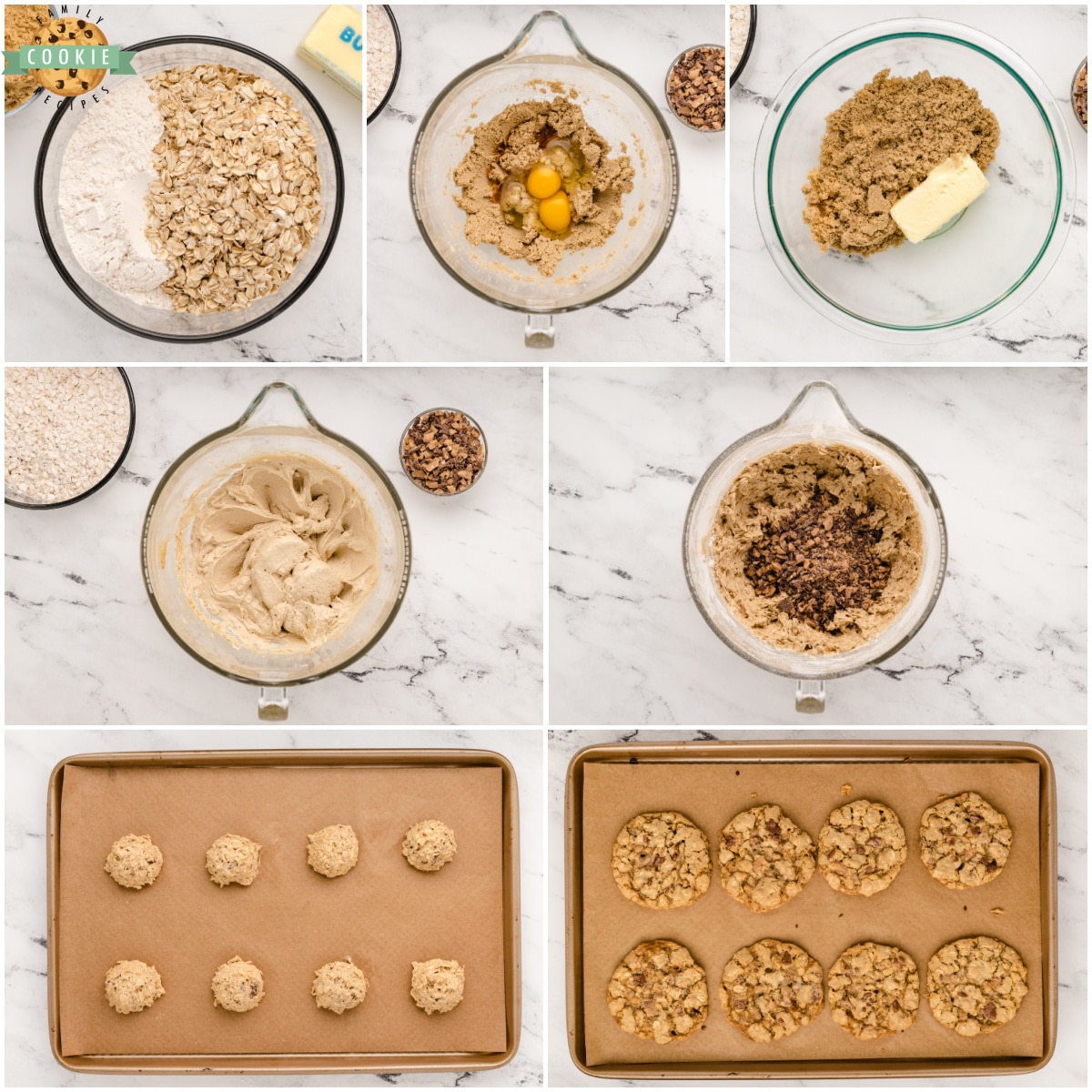 How to make Oatmeal Toffee Cookies
Prep
Start by preheating the oven to 350 degrees. Then, line a baking sheet with parchment paper or a silicon mat if you have any.
Cookie dough
Next, in a medium bowl, combine the flour, oats, baking soda, and salt, stir with a whisk and set aside.
Then, place the sugar and softened butter in a large bowl and beat with a mixer at medium speed until well blended (about 5 minutes).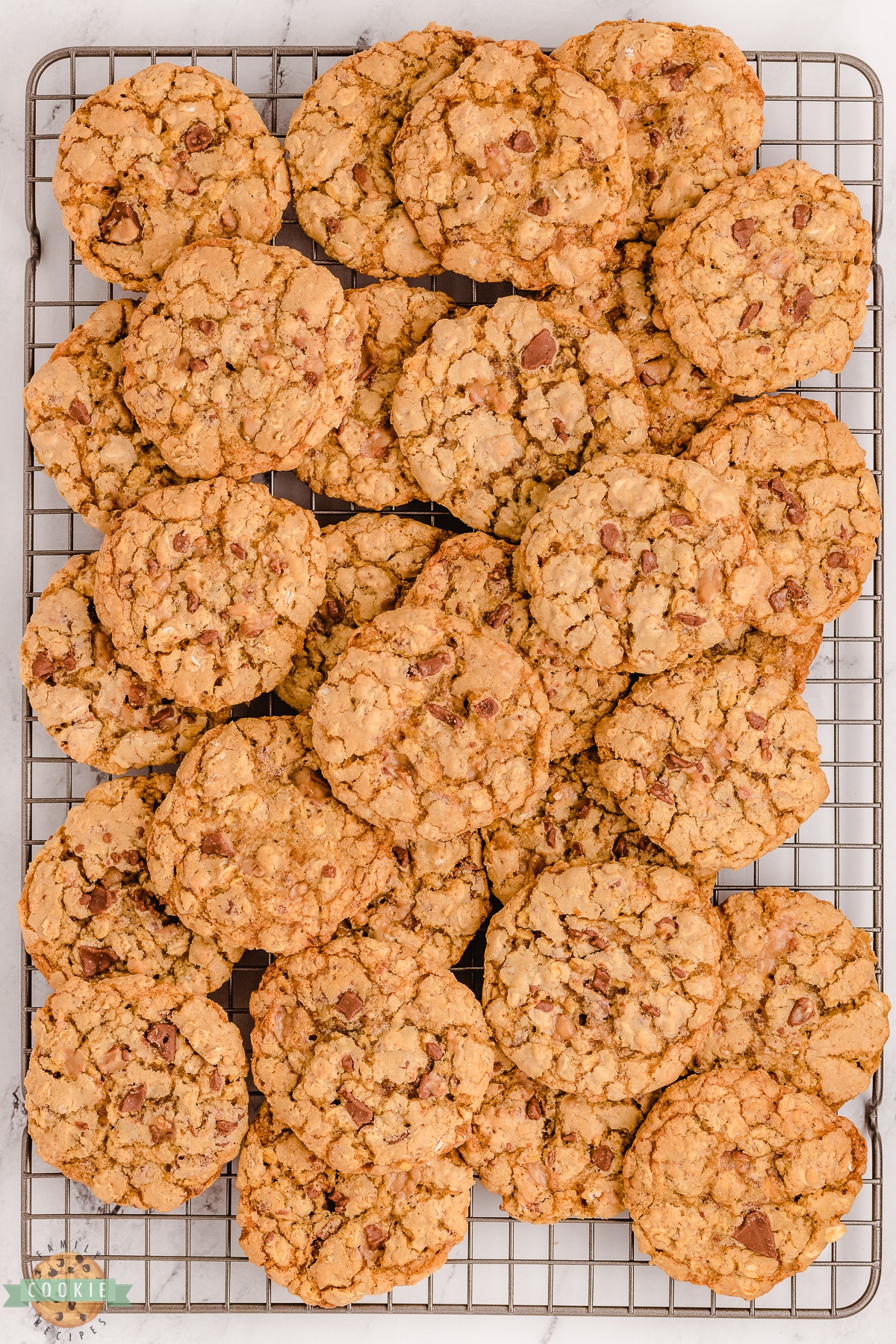 After that, add in the maple extract and eggs, continue to beat this mixture well. Proceed to add the flour mixture to the wet ones, then beat again until just combined. Last, fold in the toffee bits.
Bake
Next, drop dough by rounded tablespoonfuls, 2 inches apart, on the prepared baking sheets.
Place the cookie sheets in the preheated oven and bake for 9-11 minutes. Do not overbake! The cookies don't look quite done when you pull them out, but they will be perfect once they have cooled.
Remove cookies from the oven, let them cool on the pans for 1-2 minute. Then transfer the cookies to wire racks to cool completely.
Serve and enjoy!

Can oatmeal cookies be made with quick oats?
Yes, you can use quick oats to make oatmeal cookies. I like to keep a small container of both old fashioned oats and quick oats in my pantry, however, in a pinch I have used quick oats in place of old fashioned. If the dough looks too try, add a tablespoon or two of milk. Quick oats are smaller, so you'll have more oats in a 2 cup measurement. Scoop and bake just a few cookies and see if you like how they're spreading. If they're spreading too much, add 2-3 tablespoons of flour or oats. If they're not spreading enough, add milk as I described above.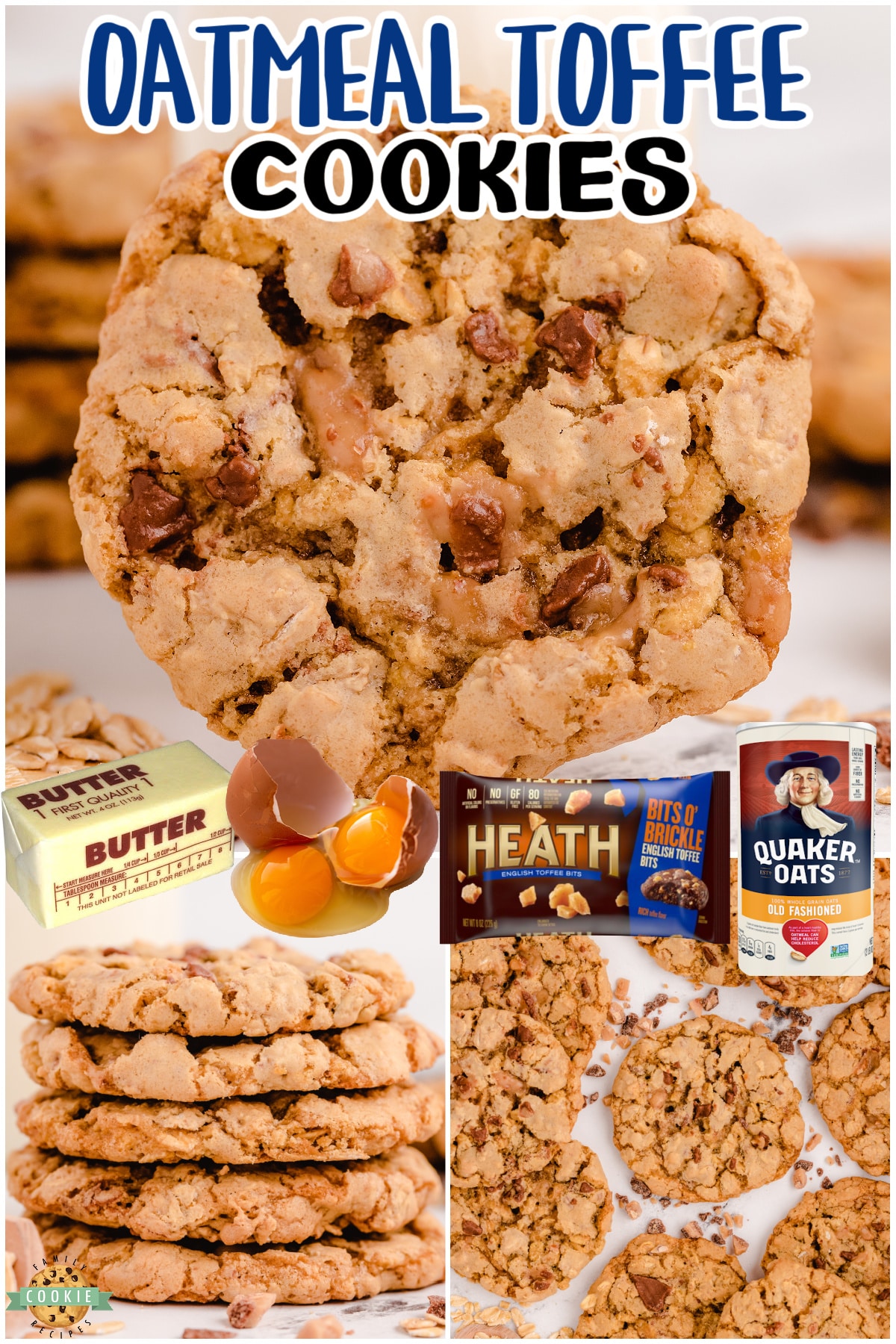 Can oatmeal cookies be frozen?
Yes you can either freeze the oatmeal cookie dough prior to baking or you can bake the cookies, then freeze them to eat later on. I like to scoop the dough into balls and line a cookie sheet with them, then placing the entire sheet in the freezer. Once frozen, remove the dough balls and place in an airtight container. Freeze up to 2 months. Before baking, place dough on cookie sheets and let sit 15 minutes to thaw. Bake as directed.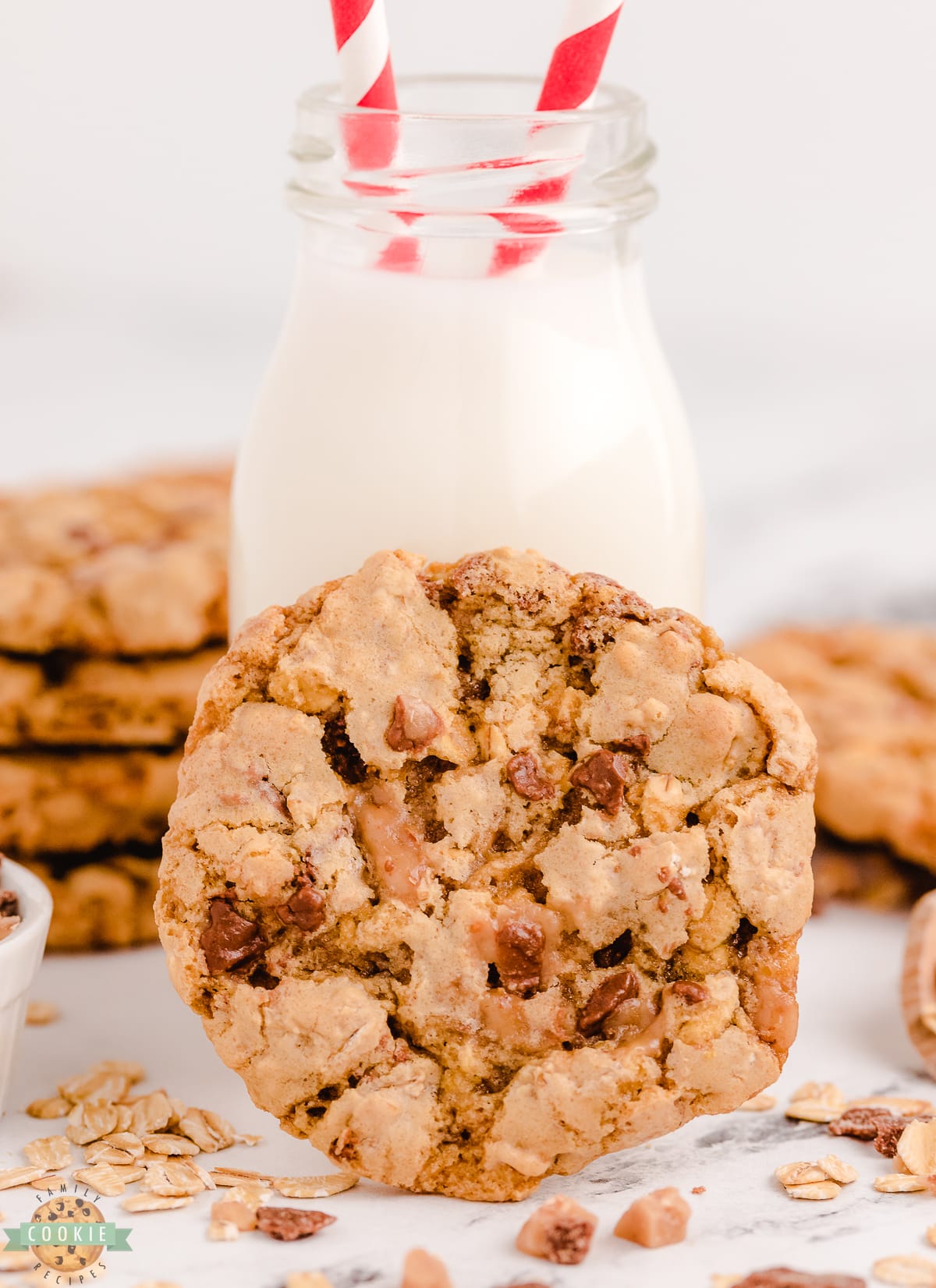 How long should I let these cookies cool?
Cookies are best left to cool on the baking sheet they're cooked on for 3-4 minutes, then you can transfer them to a cooling rack to cool further. This way, they don't fall apart as cookies are pretty soft still when they're pulled out of the oven. After a couple minutes on a cooling rack, cooking are usually cool enough to eat! Warm cookies are the best!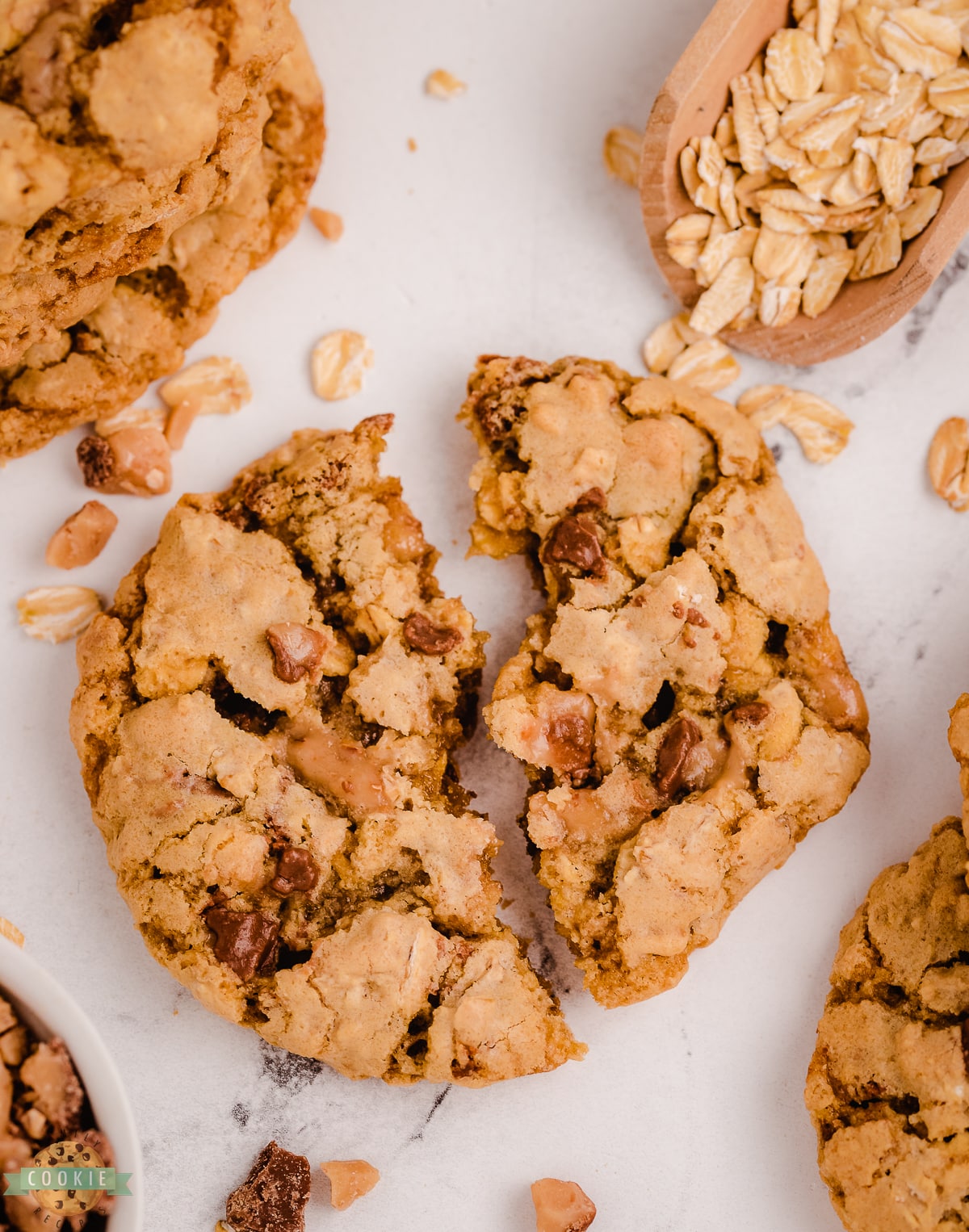 Like these Toffee Oatmeal Cookies? Try more here!
Toffee Oatmeal Cookies are a twist on a classic oatmeal cookie recipe, but with a toffee bits! The maple extract and buttery crunchy bites, add amazing flavor to this delicious toffee cookie recipe.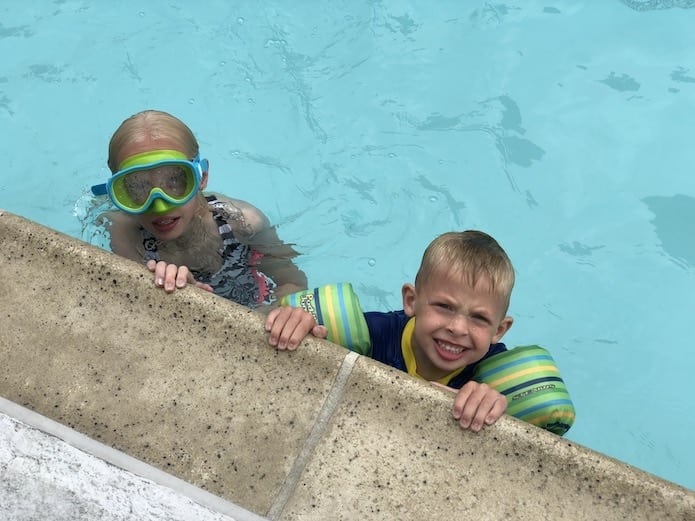 It makes me laugh, but one of the most important factors in our family vacations is the hotel pool. I'm not even talking about whether or not the hotel even has a pool… I learned quickly that we only stay in hotels that have pools. It's non-negotiable! Isn't that funny?! I would have never imagined it'd be that important. Here are my kids swimming in the glorious hotel pool, even though it was 63 degrees outside, cloudy and windy. I understand it's a very important part of their vacation experience, so I let them have as much time swimming as possible. I think it might have been a bit too much in this instance since we had to run to catch our flight! Oh the joys of traveling with 5 kids!